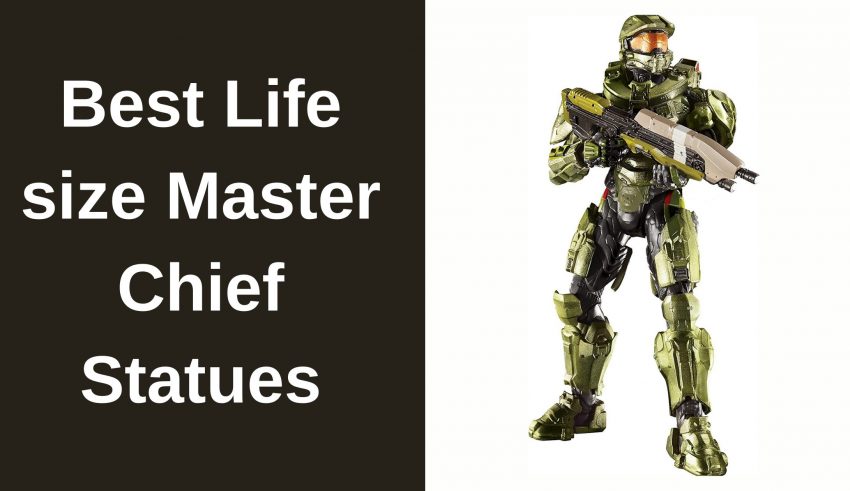 Halo is arguably one of the best first-person shooter games. The story is interesting and the characters are awesome. If you like seeing supersoldiers in a badass, futuristic, military suit fighting to protect the nation then this is the game for you.
The most popular protagonist of the game is Master Chief or John (his real name). He wears dark green armor with a helmet with a tinted display. He has served 30 years as a soldier of the United Nations Space Command.
If you are a fan of the character or just games in general owning a Life-size Master Chief statue can be awesome. But we know a lot of you may not have the budget or space for that. So, we have a couple of choices for small figures as well. So, check it out.
Here is the List of Best Life-size Master Chief Statues: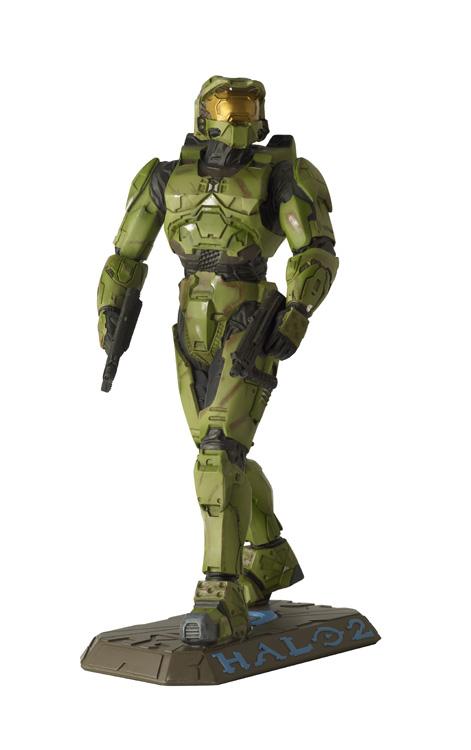 Halo is a great first-person shooter game. The design is awesome and so are the mechanics. We all know the protagonist of the series is Master Chief with his bulky armor that gives him better attributes. This supersoldier serves the United Nations Space Command. Master Chief is an exceptional soldier who effectively completes his mission.
He is a decorated veteran, having served for over 30 years, and has received all the United Nations Space Command awards except one, the Prisoner of War medallion. John, the man behind the mask, trains to become a powerful soldier.
He lived with his mother in Elysium City after birth. John is one of the many children who become part of the Spartan-II program. His great physical attributes make him better than his peers. No wonder he is able to move like that in a bulky suit.
Life-size-universe is a nice online store where you can find a variety of life-size statues. If you are a fan of Master Chief then you will like this statue. It is 6 feet and 7 inches tall and weighs 80 kilos.
High-quality fiberglass makes up the main material of the statue. Oxmox/Muckle studio does a really good job of creating something very realistic and amazing.
The details on the statue are something which will satisfy you to the core. Every area of the suit seems amazing as if the character himself is standing in front of you. Master Chief seems to be posing with a gun. The price of the statue is 3490.90 Euro.
---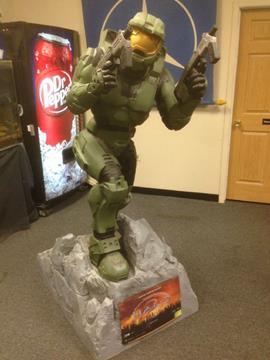 If you want to buy a Life-size master chief statue then you can check out this next site as well. The life-size prop is another website that has a bunch of cool life-size statues and props.  Halo is such a popular game.
Almost everyone who loves playing the first-person shooter played this game. It is a nice game with a good story and nice characters. Until like the last game Master Chief is the character that you embody.
You interact with the virtual game world with this character. He is a supersoldier who always slays hostiles and looks badass while doing it. Part of the reason why he looks so freaking cool is the amazing suit that he wears.
The suit enhances his attributes and he takes on missions from the United Nations Space Command. This statue looks pretty dope, if we may say so. This statue was made to promote the release of this game which was a hit among the XBOX users.
It shows Master Chief in a sort of running pose with two guns in his hands. The base has the design of a rocky mountain sort of staying with the theme. This base also showcases a promotional poster of the game. If you want a cool posing statue of Master Chief you can contact the seller on lifesizepropshop.com.
---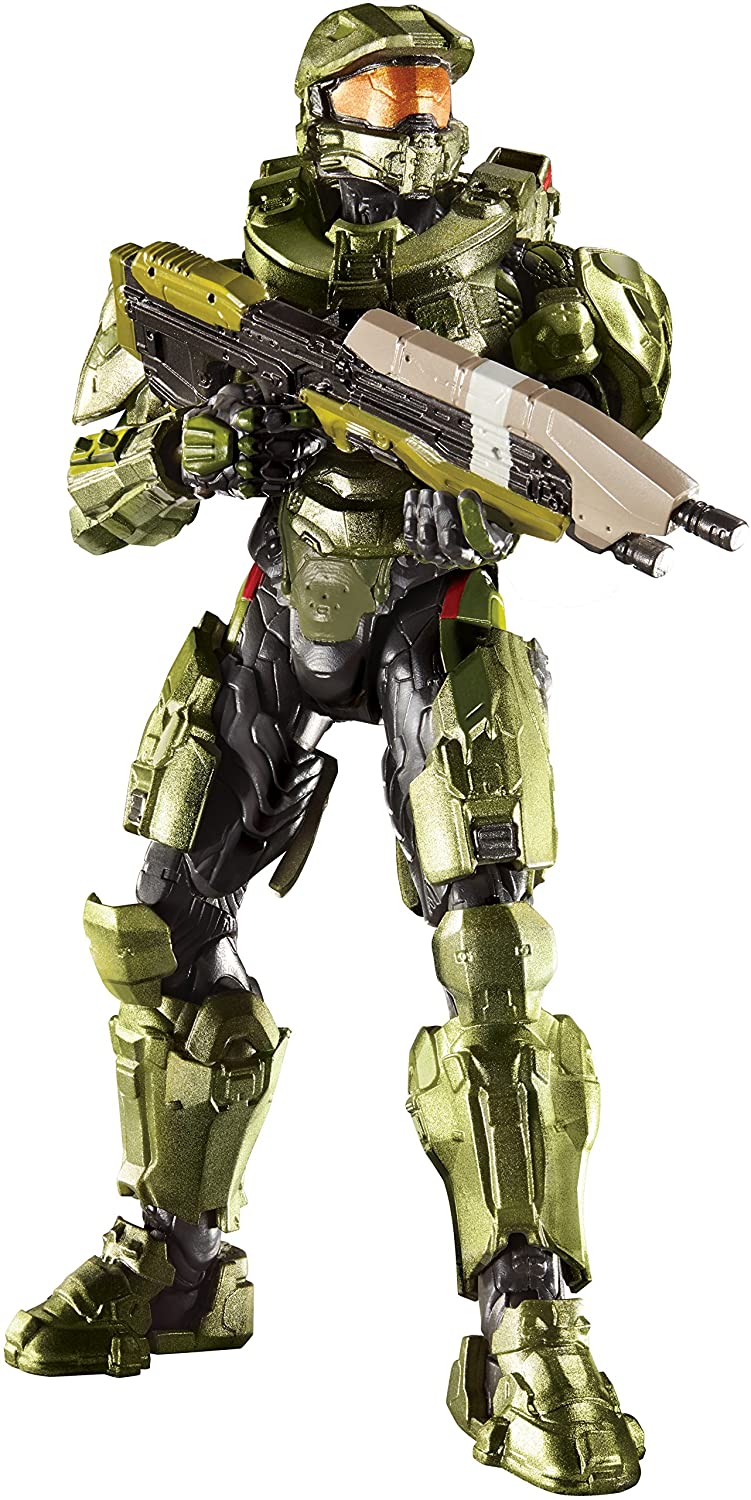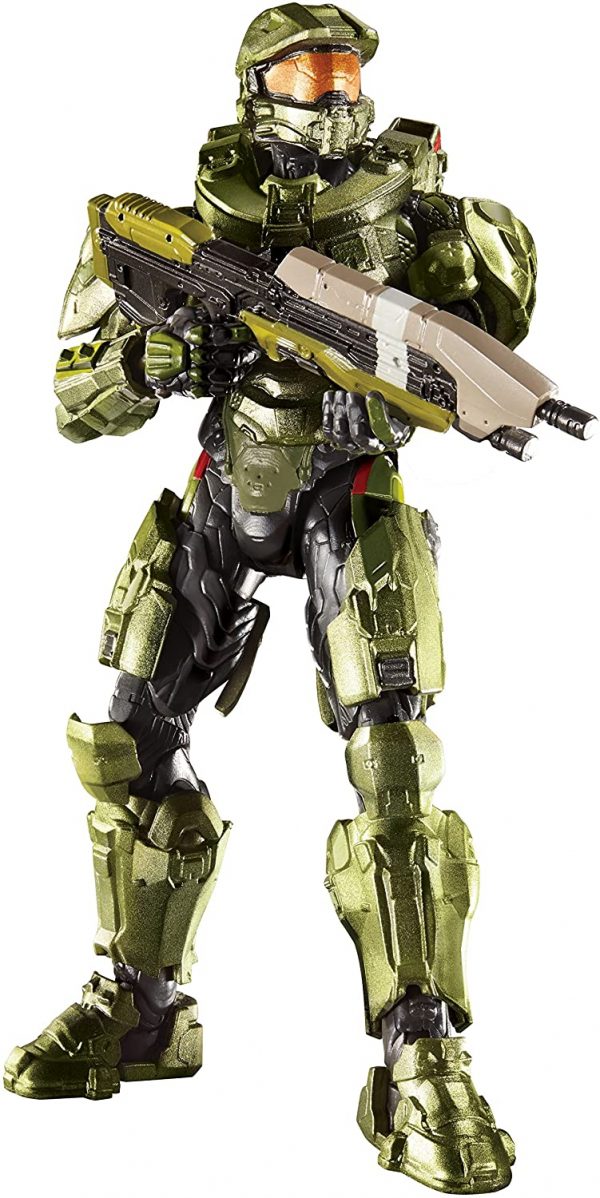 Amazon is one of the most popular online stores. One of the reasons for this is that Amazon is easy to use the website and it has a wide selection of items. So, it is not a surprise if you find Life-size statues on sale on this online retailing giant. But this is not such a statue.
This is for people who want something smaller to keep on a shelf or their work table. Something that reminds them of their fun time playing the iconic game Viz. Halo. But don't worry, this 6 inch Master Chief figure has all the details of the character. One of the main advantages of owning a small figure is the number of movement options.
This statue has over 30 points of articulation. Which means you can pose it in multiple forms. So, you can suit your stop-motion animation movie with this figure.
Another good feature of this figure is that the armor comes apart and you can mix and match suits to your liking. You can strip the armor of the character and customize it, putting bits partially. Depending on the figure you purchase you also get a couple of weapons. You can have a lot of fun playing around with this figure. The current rate of this figure is $129.99.
---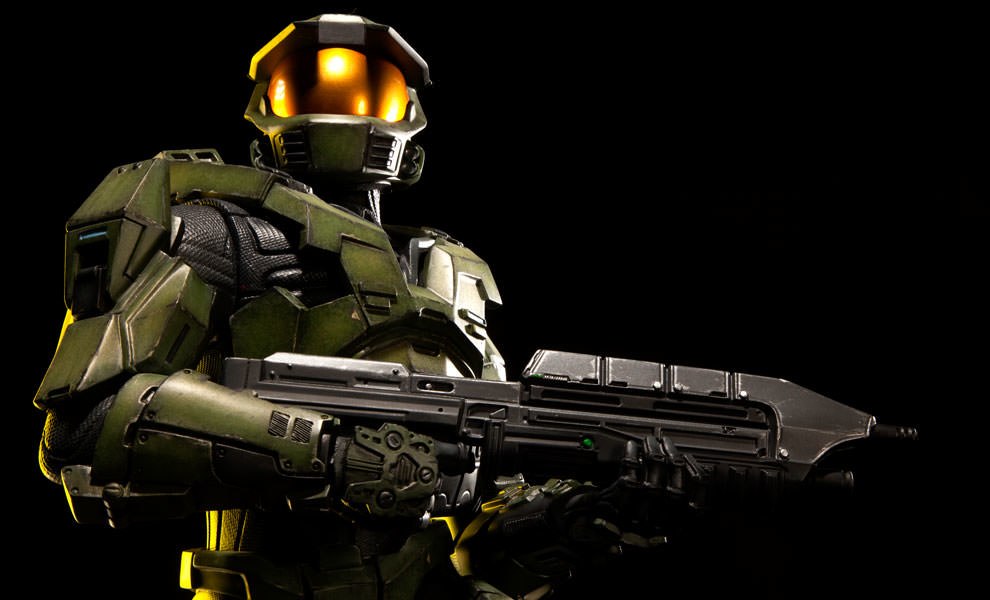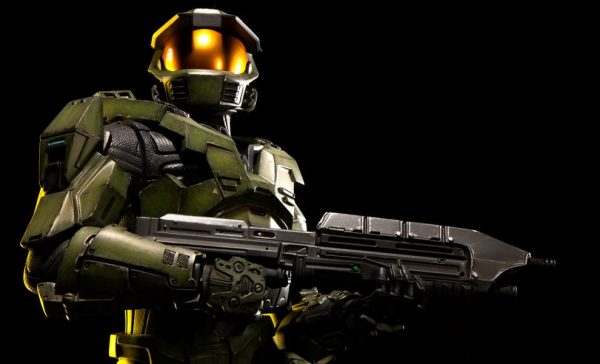 Whenever we talk about life-size statues, be it a Life-size Hulk statue or a Life-size star wars statue we have to mention Sideshow Collectibles. This is because this company produces some of the best figures and statues related to pop culture. You can find figures and sculptures of characters from games, movies, comics, and many more.
The company is really good at this. Everything from the materials to the craftsmanship to the paint job is amazing. If you are looking for a Life-size Master Chief statue then you may not be completely happy with this one. This is just over 1 foot tall. But if you want an amazing figure which is big enough to not feel like a toy while being compact enough to easily store it then this is your stuff.
This statue is just awesome. The armor looks pretty real. The artist did a great job sculpting this figure. One of the main reasons this looks realistic is because the armor has scratches and rusts. It feels as if Master Chief is just returning from an intense mission.
The statue stands atop a rocky base. It follows the design of the 2011 re-imagination of the character. You also get two weapons for this statue, an assault rifle, and a powerful magnum pistol. The price of this statue is $399.99.
---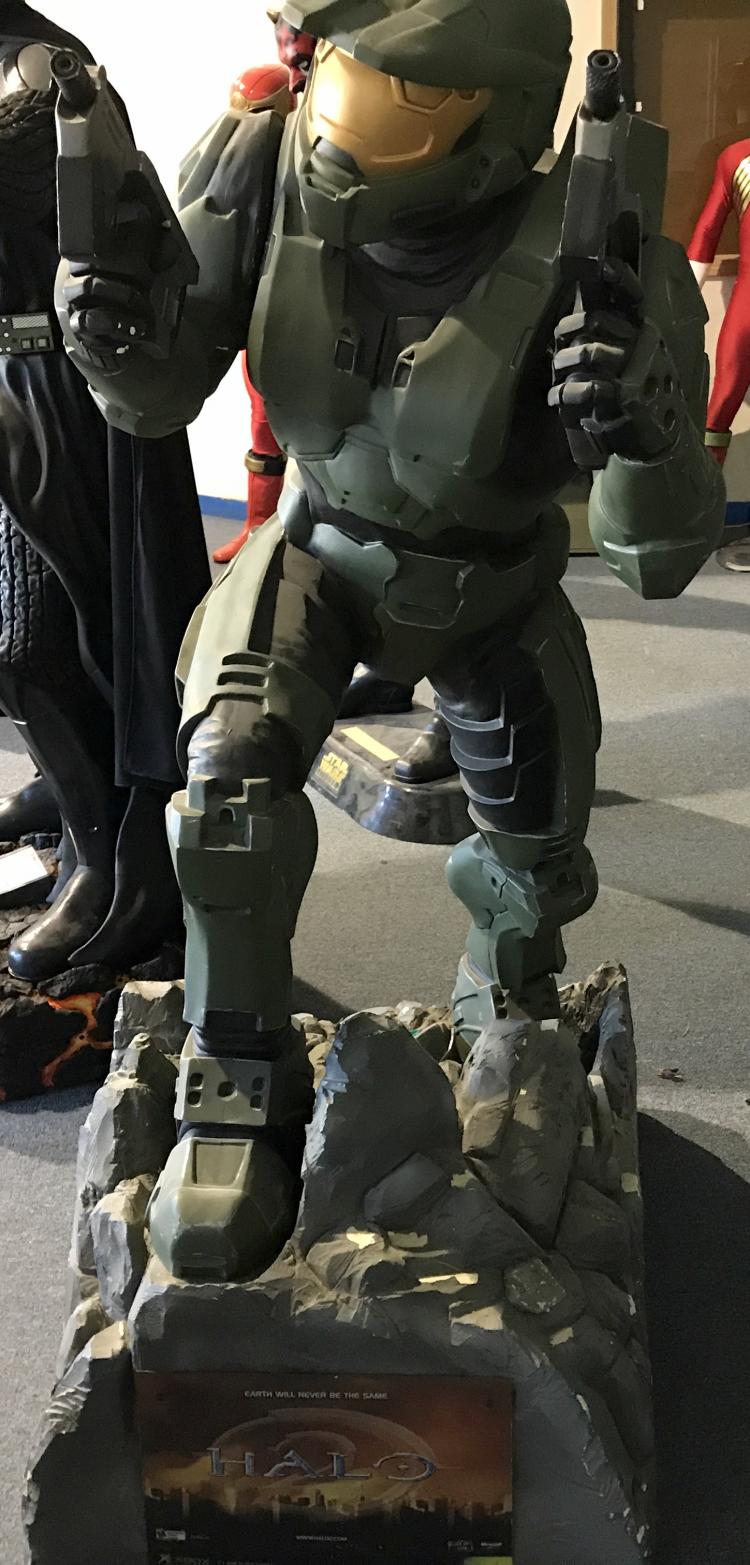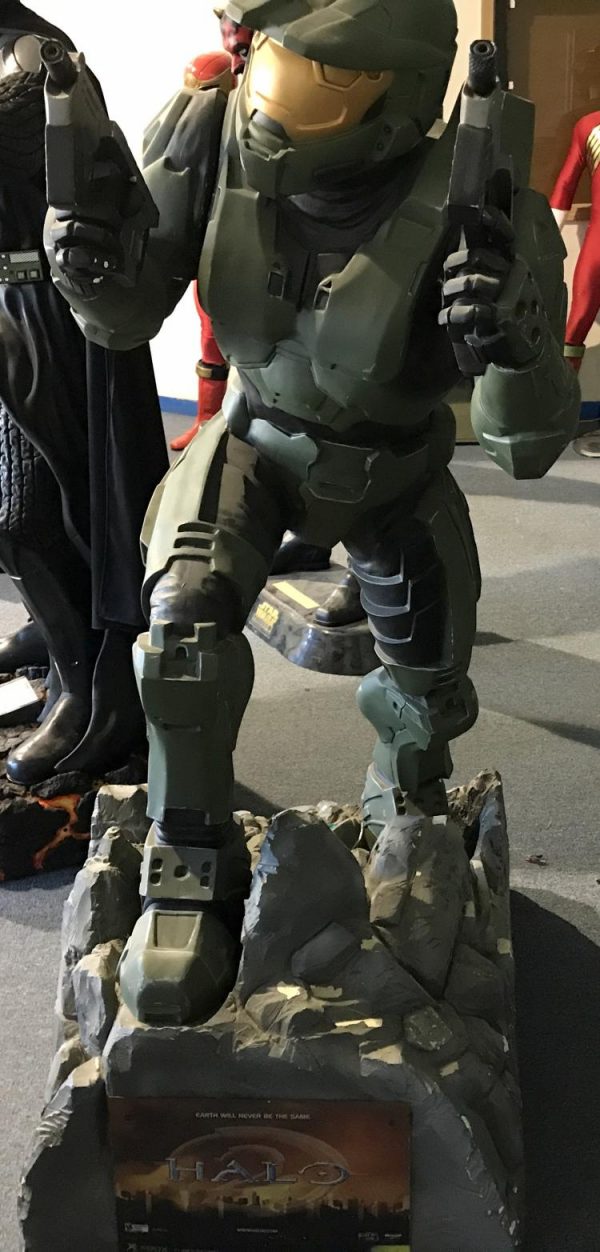 The next statue is a second-hand one. This statue is very rare as it was available to video game stores and other commercial establishments. The statue is big. It is a Life-size Statue. Since it is a second-hand product it does have some scratches.
It was on a display in a store after all. The owner says that the statue still looks awesome. It is around 6 feet tall and is holding two guns in its hand. The pose is that of a running Master Chief.
The detail on the suit is amazing and if you want something big for your store or man-cave this can be a good fit. You can contact the owner of the statue to get a quote and arrange either shipping or pickup.
---
Final Verdict
We hope you find the right statue to decorate your man-cave or your room. Master Chief is an awesome character and we hope your purchase brings along this awesomeness along with the statue.