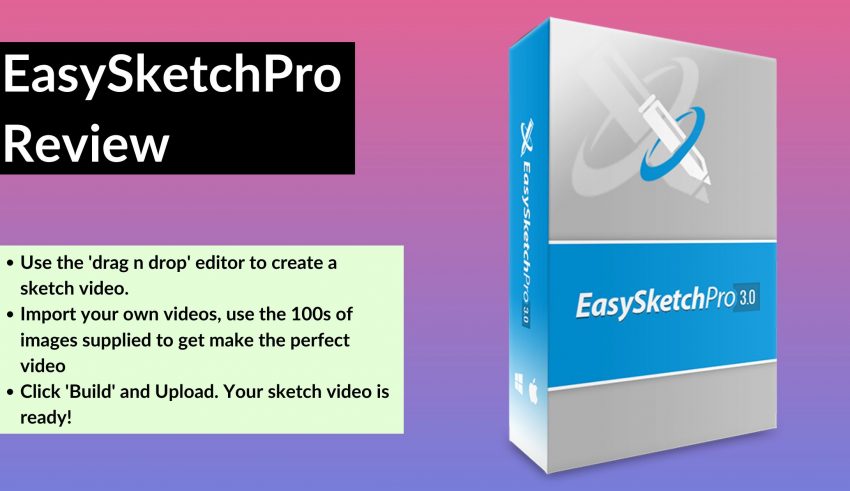 It is no overstatement to say that the digital world is a largely visual world. Be it on social media or on the web, people tend to buy the products which they see, rather than the ones they read about.
This is why brands are leveraging the power of visual marketing more than ever, to get leads and boost conversions. Creating videos is a skill, therefore, that can come in handy if you are into digital marketing.
But like every other skill, it may take years for you to acquire and gain expertise. Now, instead of waiting till you perfect the skill, you can use online video making software. This software allows you to create professional-level videos without any design or graphic skills altogether!  
About Easy Sketch Pro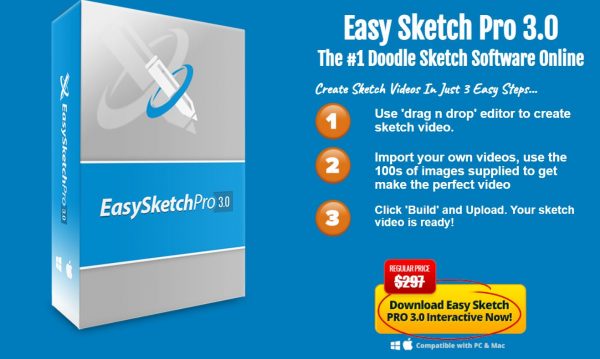 Are you looking for ways to create stunning videos online without any technical design skills? Then, Easy Sketch Pro might be your answer. With this software, you can create sketch videos, whiteboard animations, or doodles.
You can also convert real-life videos to sketch videos using this software. It comes with an easy drag and drops editor along with a wide variety of other readymade tools and resources. You can use these tools and resources to create customized videos for your brand, educational purposes, or for anything else.  
Whether you are a white-collar professional, a freelancer, or even if you are a student, Easy Sketch Pro is a digital video-making software solution for everyone. Their unique drag and drop editor makes it convenient for almost anyone to create videos like a pro. Moreover, it's quick, easy, and affordable.
If you are a digital marketer and want to create whiteboard animations, or make infographics, this video making software is surely not going to disappoint you. In fact, it will make you look like an expert if anything.  
Read our complete Easy Sketch Pro review to get a detailed overview of its features, packages, and more.  
---
Features

of Easy Sketch Pro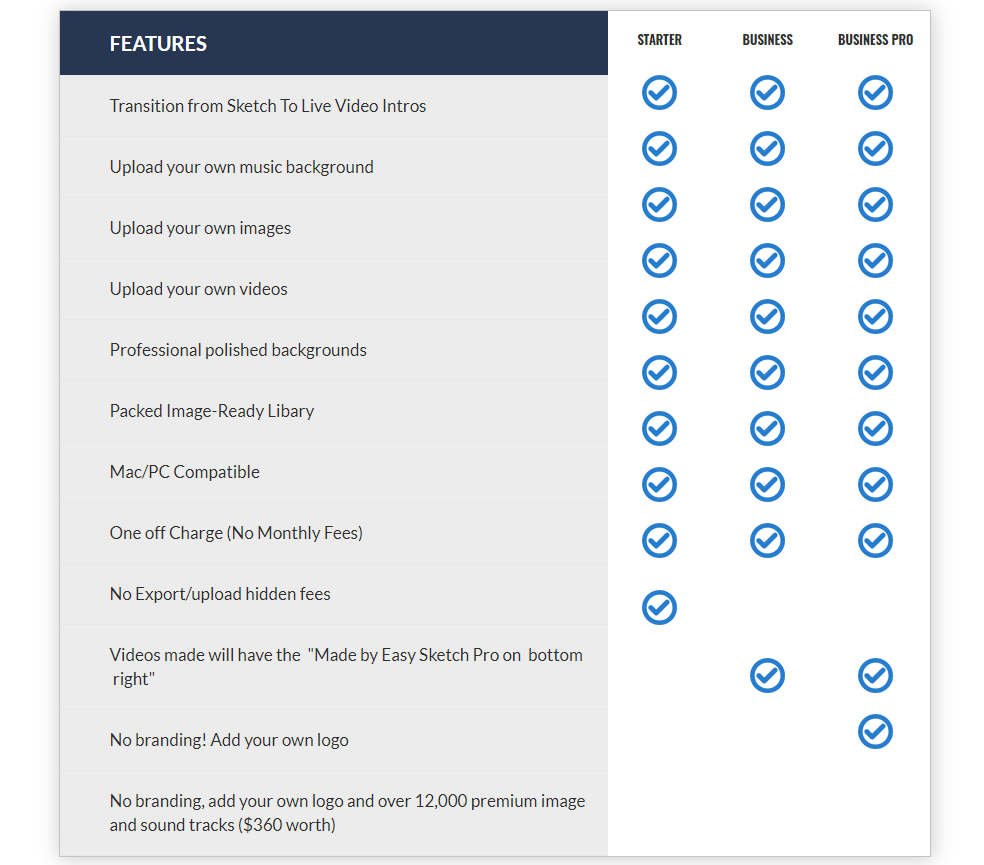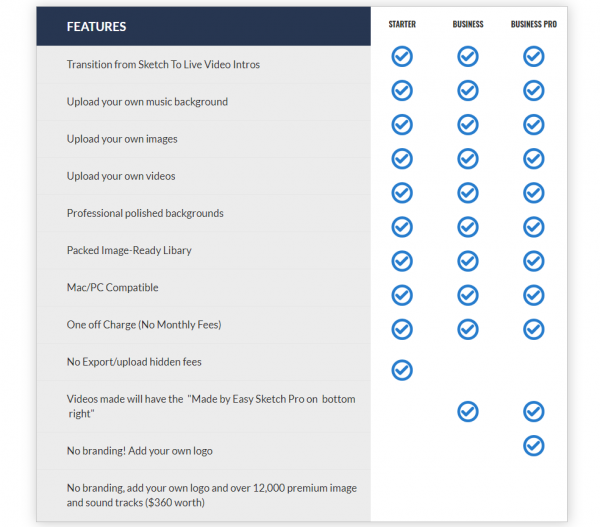 Easy Sketch Pro does exactly what its name suggests. It helps you in creating sketch videos like a pro. And it does so, with the many useful features that it provides.
Some of them are as follows: 
The transition from Sketch to Live Videos
With this video making software, you can upload any live video and Easy Sketch Pro will sketch out the opening scene. It will then, beautifully transition the sketch to live video. Moreover, you can set the drawing time of the sketch. You can even add your own voice or music to the sketch or live video.  
Easy Drag and Drop Editor
If you do not have the skills required to make a video, fret not. That's because there is absolutely no learning curve involved here. You can use their inbuilt drag and drop editor to sketch any text or image over the live video. With this interface, you can also select any image from their massive library of images and add it to your videos with a click. Just drag and drop whatever elements you want to customize, and your video is ready.  
Amazing Backgrounds
Easy Sketch Pro boasts a massive library of stunning backgrounds and canvases. You can add these backgrounds and canvases to your sketch videos with a click. They have all kinds of backgrounds for you to choose from. Be it glimmering city lights in the night time or the sun-soaked mornings of the beach. With their collection of background images, your videos will truly come alive.  
Choice of Strokes
Every brand or individual has its own unique aesthetic. This is why it is important to customize literally everything to adapt to your brand voice. If you want to add text to your videos, then Easy Sketch Pro provides more than 50 stroke types.
This includes chalk effect, brush strokes, pen effect, or crayon style text. With such a vast range of customizable strokes, you can create videos exactly the way you want them to be.   
Double Engagement
With Easy Sketch Pro, you can import any live video onto your sketch video with a few clicks. This is beneficial for your brand in two ways. Firstly, it grabs the audiences' attention through sketch videos. Then, when your live video plays, it gives a realistic appeal to your brand and hence, builds credibility. This can be revolutionary for your business as it boosts potential conversions and maximizes sales. 
Customize Live Videos
You do not have to work with fixed templates or designs when you create videos using this software. Instead, it gives total customization freedom in your hands. You can upload your live video to the platform and add text, images, voice and music to it as required. Personalize the aesthetic as much as you like to suit your brand's voice and style. Plus, you can select resources from their free library or add your own as well.  
---
How to Create With Easy Sketch Pro?
Creating videos with this video making software is super easy. Just follow the three simple steps given below and your video is ready to use or publish.   
Create Your Sketch
Firstly, upload a live video or create your own sketch using the inbuilt elements on offer. Then, with their drag and drop editor, you can add images, doodles, texts, audio files, and more to your video.  
Customize
As mentioned before, customization is the single most important factor when it comes to your brand's digital marketing success. With this video making software, you have the full liberty to modify elements and customize your videos. If you import your own live video, you can customize that as well. You can do so by adding images, texts, modifying fonts, strokes, and more.  
Build and Upload
After you are finished customizing, simply click on the 'Build' option. Your final video is now ready to upload, publish or resell. Further, this video will be in a universal playable mp4 format. What this means is that you can download or upload your video to any platform or device without the need to convert it. 
---
Plans and Prices


Easy Sketch Pro comes in three basic plans. Whether you are a freelancer, a startup, or a full-grown business, these packages are tailored for every budget.
Read more about these plans as follows:  
Starter
This plan is ideal to buy for individual digital marketers, teachers, students, or independent professionals. It comes loaded with useful features. Some of these are transition from sketch to live videos, the option to upload your own images, music or videos, professional backgrounds and canvases, an image ready library, and much more.
Also, you can download this software on MAC as well as PC. The videos created with the Starter plan will have copyright saying 'Made with Easy Sketch Pro' on the bottom right of your videos.  
Price: $37 
---
Business
The Business plan is ideal for use by freelancers with a considerable number of projects, or for use by startups as well. It comes with all the features included in the Starter plan. In addition, you can add your own brand logo to the videos which you create. But, they will also be copyrighted with the trademark, saying 'Made with Easy Sketch Pro' on the bottom right. 
Price: $67 
---
Business Pro
This package is suitable for professionals and grown businesses. Apart from all the features of the Business plan, this plan also includes 12000 premium images and soundtracks. Further, the videos made using this package comes with absolutely no branding. This means that you can add your brand logo and the video will belong exclusively to your brand.  
Price: $97 
---
Should You Use 

Easy

 Sketch Pro?

 
The latest version of this video making software comes with a unique video interactive feature. Using this feature, you can add Hotspots to your videos and customize them even more. You can even add a call to action button or social media widgets.
Now, although this software comes loaded with useful features, one can simply not know whether it works or not without buying it. This is because it does not have a free trial or test version available.  
On their website, there are quite a handful of demo videos. But, you cannot know without buying the software, if it will be compatible to perform specific tasks that you require.
Another thing that gives off this software is that it does not come in a cloud-based version. This means that you will have to download, and manually transfer your saved work every time you switch devices.   
---
Conclusion
So what are you waiting for? Create stunning sketch videos and video animations to leverage the power of visual marketing for your business. Fortunately, with Easy Sketch Pro, you do not need technical skills to create videos like a professional.