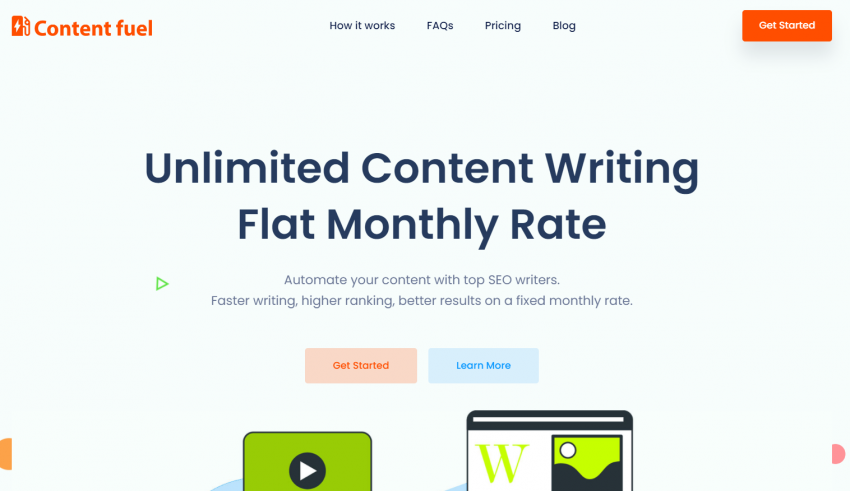 Content is the most crucial yet least worked out aspect of digital marketing. Consistent, good quality and original content can make your brand or break it if it is otherwise. In fact, if your content is not worthy, you might as well wave your farewell to the field of digital marketing. Now as important as content is for your digital marketing business, let's acknowledge that it is not easy to create.
This is because in the vast ocean of online content already existing on the web, creating digital content that sells itself is a task for the pros. This is where content writing services come into the picture, especially for a beginner or an amateur digital marketer.  
About Content Fuel
Content Fuel is one such writing service to automate all your digital media content and content marketing. Just like its name suggests, this writing service fuels your content strategy and optimizes it for better search engine rankings.
With Content Fuel, you can get high quality, SEO proof content created by professional writers to level up your digital marketing campaigns. They do so by curating content that is readable, SEO optimized, unique and that will improve your website's search rankings. Further, their SEO writing service enables you to generate content faster at a fixed monthly price.  
Content Fuel offers a range of writing services to choose from. Some of these are SEO writing services, ghostwriting services, articles and blog writing subscription,s and more.
Besides, you can also avail of other types of digital content from here including Email newsletters, infographics, and more. With such incredible, targeted content created by top writers, Content Fuel ranks among the highest writing services on the Internet today.  
Read further into our Content Fuel review to see how you can channelize this content writing service for your digital marketing business. 
---
Some Features
The following are some of the features of Content Fuel that make it a unique content marketing and writing service provider: 
SEO Proof, High-Quality Content
When you purchase a writing service from Content Fuel, you are signing up for content optimized for SEO. Their writers are fully trained for best SEO practices and constantly improvise with updates and the latest SEO guidelines. Not only this, their writing service offers content that is original, plagiarism-free, and unique such that it sells itself.  
Membership Model
What makes Content Fuel unique is precisely the way they sell their SEO writing services. They operate through a subscription model. In this model, users purchase a monthly or yearly membership instead of individual content pieces like other content providers. This also makes their ghostwriting services highly affordable. 
Dedicated Writer and Account Manager
When you buy a package from Content Fuel, a personal account manager and a writer will be assigned to you. This writer will create content exclusively for you for the entire duration of your project. Also, all the writers over here are qualified and hired after a rigorous assessment. Similarly, your account manager will be responsible for overseeing your content marketing strategy.  
Diverse Content Types
As mentioned before, this writing service offers writing services for a variety of content types. This includes articles and blog writing subscriptions, email newsletters, and infographics besides SEO writing service and content writing subscription. All the content that you avail from here will be in the English language and grammatically proficient.  
Moreover, they provide an original copy with every new content request and not repeated sections. Also, your content writing subscription will include a copy for infographics. For availing one, you will be required to provide the relevant visuals and themes and they will do the rest.  
Cancel Your Subscription Anytime
With Content Fuel, you are not bound by any contract or whatsoever. If you think that you no longer want to avail of writing services, you can cancel your content writing subscription. Absolutely no questions asked. As mentioned before, their services are charged at a fixed monthly cost. Whenever you cancel your subscription, you will not be charged from the next month onwards. It's that simple.  
---
How Does It Work?

 
Signing up for a writing service with Content Fuel is super easy. All you need to do is, follow the simple steps given below, give some instructions to your writer and get the best quality content. 
Submit Content Requests
Submit requests for multiple content pieces at once. The writer assigned to you will work on these articles one at a time.  
Get a Qualified Writer Assigned
After you create a queue of article or blog requests, the Content Fuel team will assign a writer to you. This writer will not only be the one best qualified to take your project but also the best suited to write for your niche. Also, he/she will start working on your article immediately and will submit the first draft within 48 to 72 hours.  
Communicate Your Requirements
You might need your content pieces to be a certain way and the writers at Content Fuel know this. Therefore, they will discuss your requirements in advance to personalize the content exclusively for your or your client's brand.  
Review and Edit
When you are availing a content writing subscription from Content Fuel, the final word rests with you. Once the writer submits the first draft of the article, you can send in your suggestions and revisions. After this, the writer will edit your article and send it back to you.   
Approve Your Article
Once you get your content piece with the suggested revisions, simply approve it on their dashboard. Your content piece is now ready for use or publication anywhere. Following this, your writer will move on to the next blog or article in the queue.  
---
Who Is Content Fuel For?

 
You are a Digital Marketer
Want to boost your content marketing efforts for increased revenue and better engagement? Then, Content Fuel is the right place for you to be at.
You own a Small Business
Thinking about bringing your business online and generating passive revenue? Content Fuel can do precisely this task for you. So while you think about strategies for expanding your business, this writing service will take care of your content needs. Plus, if you can make money from blogs, you can use that revenue generated as a result, of investing to grow your business. 
You are an SEO Agency
Experiencing a client flood? With Content Fuel, you have no reason to worry. This is because this writing service will deliver high-quality SEO blogs directly to your client. You can also automate the delivery and make your lives easier.  
---
Plans and Prices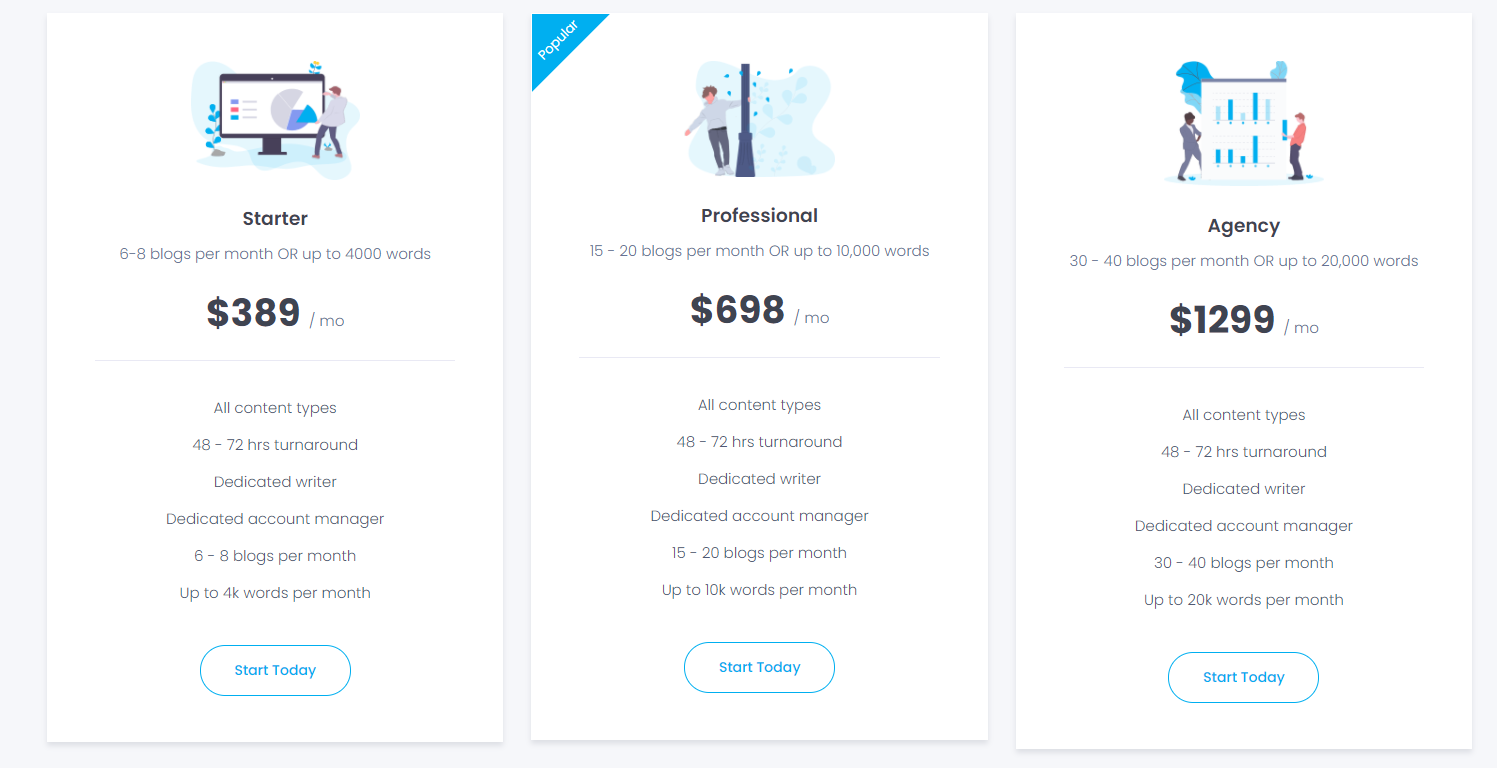 Starter
This plan is ideal for beginners or digital marketers with considerably less business. In this plan, you get 6 to 8 blogs of up to 4000 words per month. The turnaround time of these articles will be between 48 to 72 hours. This plan includes all content types – infographics, blogs, email content – besides a dedicated writer and an account manager assigned exclusively to you.  
 Price:  $389/month  
Professional
This plan is for professional digital marketers with a bunch of clients to work with. It includes 15 to 20 blogs or up to 10000 words monthly. Like the previous plan, the Professional plan supports all content types. It consists of all the other features included in the Starter plan.  
Price: $698/month 
Agency
If you are a digital marketing agency, then this plan is ideal for you. In this plan, you will get 30 to 40 blogs or up to 20000 words per month. The other features are the same as included in the Professional and Starter plan.  
Price: $1299/month 
Apart from this, you can also buy a whole year of content writing subscription and get an additional 15% discount. The annual subscription is available for all the three packages mentioned above. 
---
Conclusion
Be it content for your blogs or marketing content for email newsletters, get it all at this one content destination. If it has something to do with digital content, then Content Fuel is likely to have a service to offer. So get started to optimize your content marketing strategy with the best in class SEO writing service.
With their ghostwriting service, your website or blog is sure to rank higher in search results. Their qualified writers can level up your content marketing strategy like a pro. Plus, if you are purchasing content for a client, writing services from here will get you more business than ever.