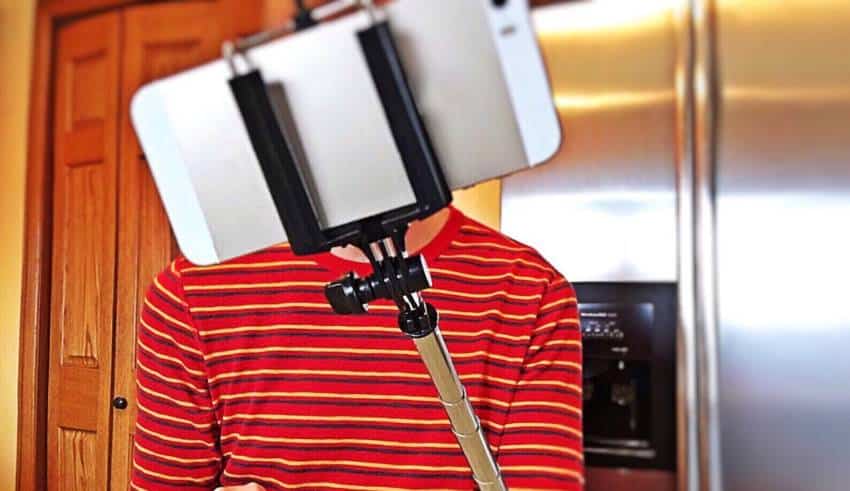 Today is an era of smartphones with beautifully performing cameras which makes Selfie a popular trend in the market. But clicking Selfie is not just a trend anymore; it has become the need of a common person to click his/her/group pictures without getting missed out on these pictures. That put Selfie into the mainstream self-photography.
However, bigger the group gets, or the scenery behind, more difficult it becomes to capture everything using the clicks on the phone. To ease the minds off of this situation, Selfie sticks were launched in the market, which helped people click their own photos from a good distance.
Selfie sticks gained popularity immediately after coming into the market, especially among youngsters groups, adventurous people, honeymooning couples, party attending young folks and families.
All of us want that convenience to be in the picture, while essentially being the picture-taker. Within this article and on https://www.ProductExpert.com you can quickly navigate and choose the best candidates for you. Allowing you to have the experience you want wherever you go, with whoever you happen to be.
But there are still some people who haven't utilized this technology for getting great pictures, while the evolution of new era Selfie sticks shot up from 'the regular AUX compatible, wired, one dedicated button' Selfie sticks to 'Bluetooth enabled, multi-buttoned, zooming capacities' Selfie sticks. So, if you haven't bought your Selfie stick yet, this is the best time to buy one.
Now the question arises, what all would you like your Selfie stick to have?
While looking for top Selfie Sticks for android, you must make sure that it is compatible with your phone, and its width should fit it perfectly. Also, you should look for your needs, like if you need the zoom buttons on the stick, or if you need Bluetooth connectivity, you should look for it.
It should be robust enough to support your phone and/or digital camera. It should have a movability of a greater angle if you have to capture with a go-pro.
Size is also a matter of concern for some people. People who want to keep it in the pocket want its compressed size to be the smallest possible so that they can easily carry it around.
Moreover, there are some people who always move in a group, or want to capture maximum possible background and want their expanded Selfie stick to being extra-long for good shots. If you are one of these, you must see the length of both compressed and expanded versions of your Selfie stick before making a choice.
Given below is the table of these Selfie sticks and the basic characteristic features they come with. Because of their performance and looks, these Selfie sticks have been are rated as the Best Selfie Sticks in India.
All these Selfie sticks are great-looking with a size that easily fits in the pocket. They mostly support all the phones which have a width of 2 inches to 3.5 inches.
These are lightweight but made of sturdy materials to give them extra strength and stability. The telescopic opening system makes sure these do not bend after continuous use. Also, they all have silicone or rubberized materials for extra grip on the handle and on the phone clamp. Many of these also come with a warranty for replacement and repair.
Here is the list of  top 10 Most Selling and Latest selfie stick in India to Buy in 2019: 
Unigear YT Selfie Stick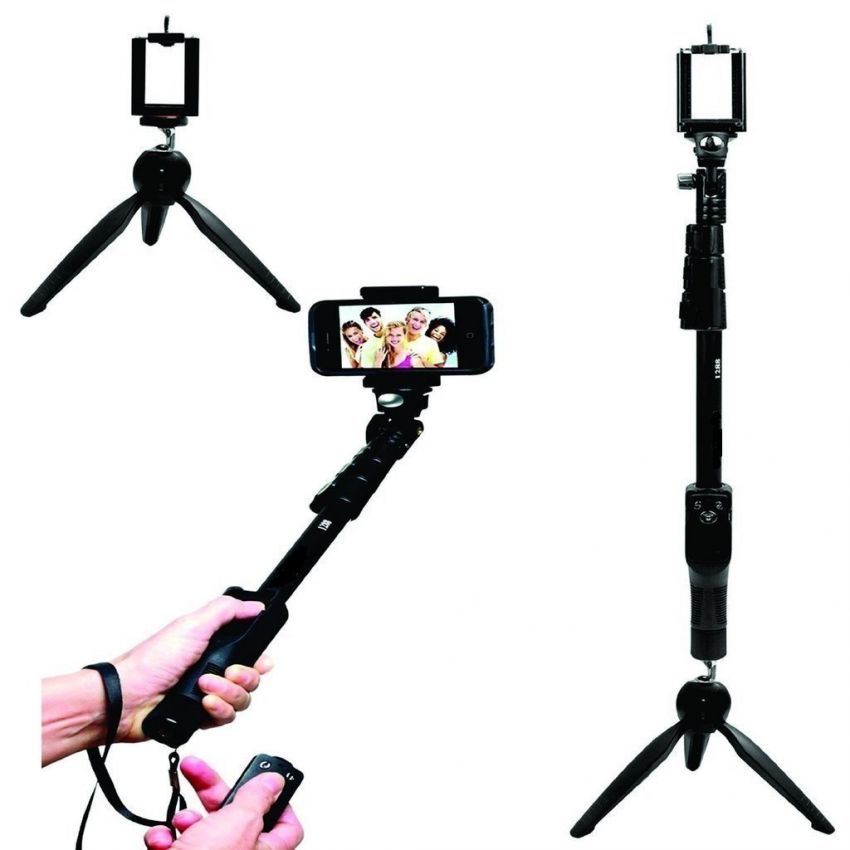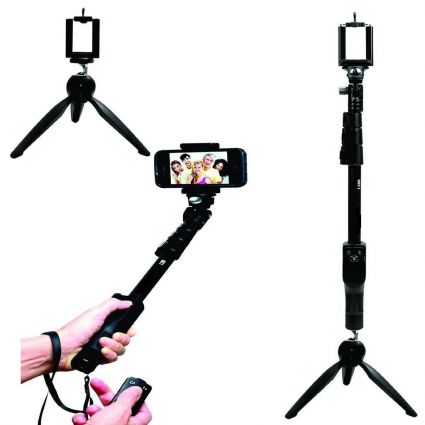 Weight: 490 g | Dimensions: 54.4 x 12.2 x 8.6 cm
Compatible Devices: All Smartphones & DSLR
Rotation: 360 Degree
iVoltaa Selfie Stick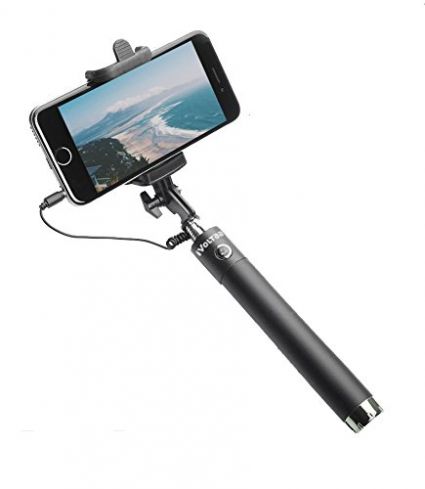 Weight: 159 g | Dimensions: 21 x 8 x 8 cm
Compatible Devices: Samsung, Sony, Oneplus, HTC, Lenovo, Nokia, Asus, Lg, Oppo, Vivo, Coolpad, Xiaomi, Micromax and iPhone
Rotation: 270 Degree
Zaap Nustar4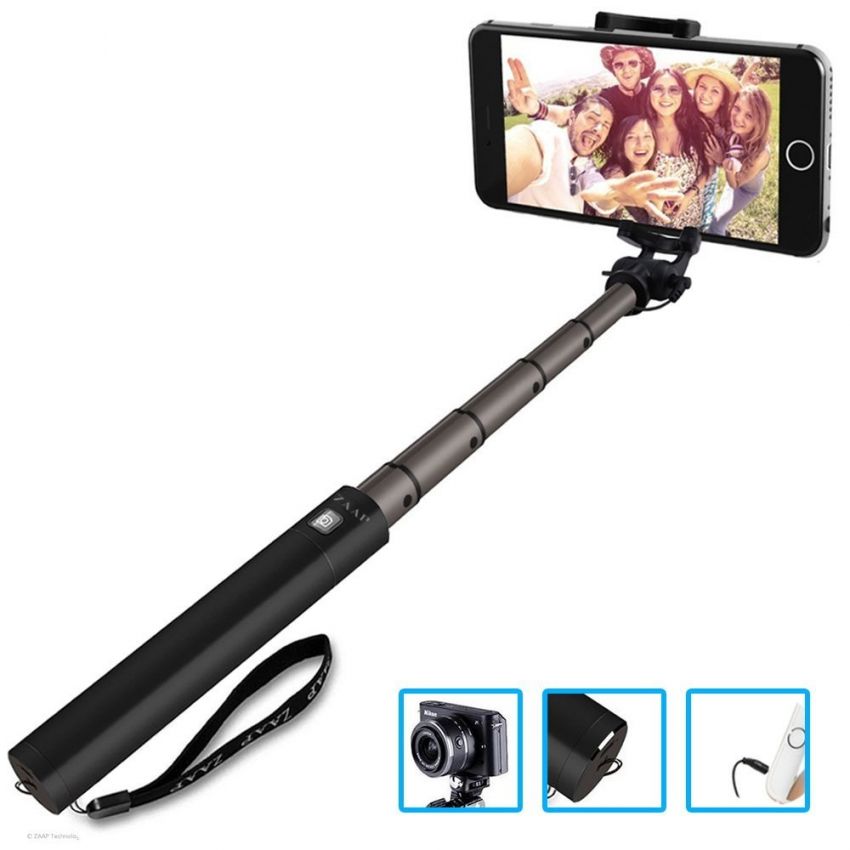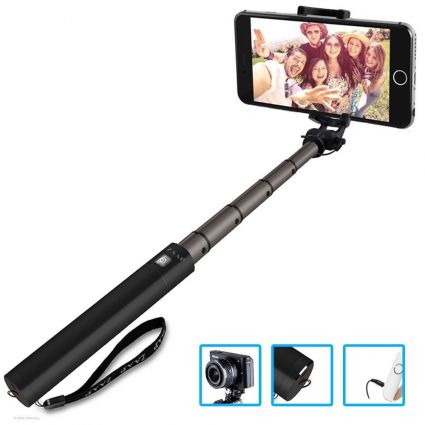 Weight: 118 g | Dimensions: 18 x 4.5 x 2.5 cm
Compatible Devices: iPhone, Android
Rotation: 275 Degree
Leoie Travelling Xmas Party Selfie Stick
Compatible Devices: All Android Smartphones, iPhone X, iPhone 8
Rotation: 360 Degree
Classytek Selfie

Weight: 105 gm | Dimensions: 12 x 6 x 3 cm
Compatible Devices: Android 4.2.2 Or Above And iOS 5.01 Or Above
Rotation: 270 Degree
MpowiSnap Yselfie stick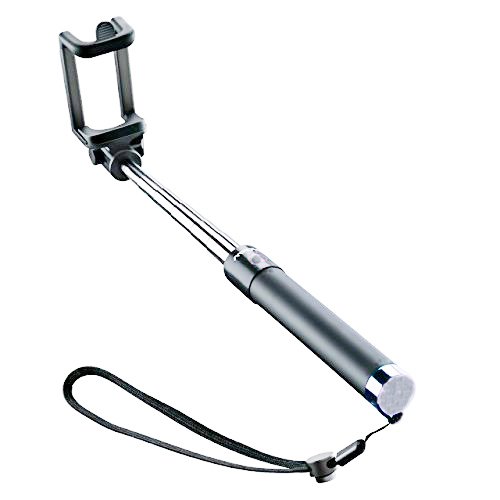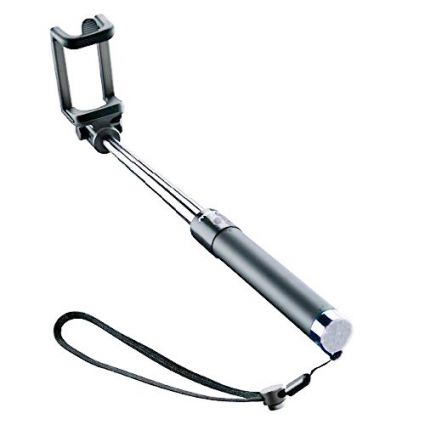 This is a great looking Selfie Stick for your phone, which comes out as an elegant and classy choice. It is of regular, or rather shorter length, but it is sturdy and very lightweight. It is made up of stainless steel and has protective silicone for good grip. You can buy MpowSelfie Stick on Amazon for INR 2,065.  It has built-in Bluetooth remote shutter which allows you to effectively connect to your smartphone and take pictures with a great speed.
Since it is a handsome looking stick with very good features, MpowiSnapSelfie stick becomes the first choice of Selfie-stick lovers.
ApeCasesSelfie Pod(YunTeng) Sport Ultimate Camera Extender Pole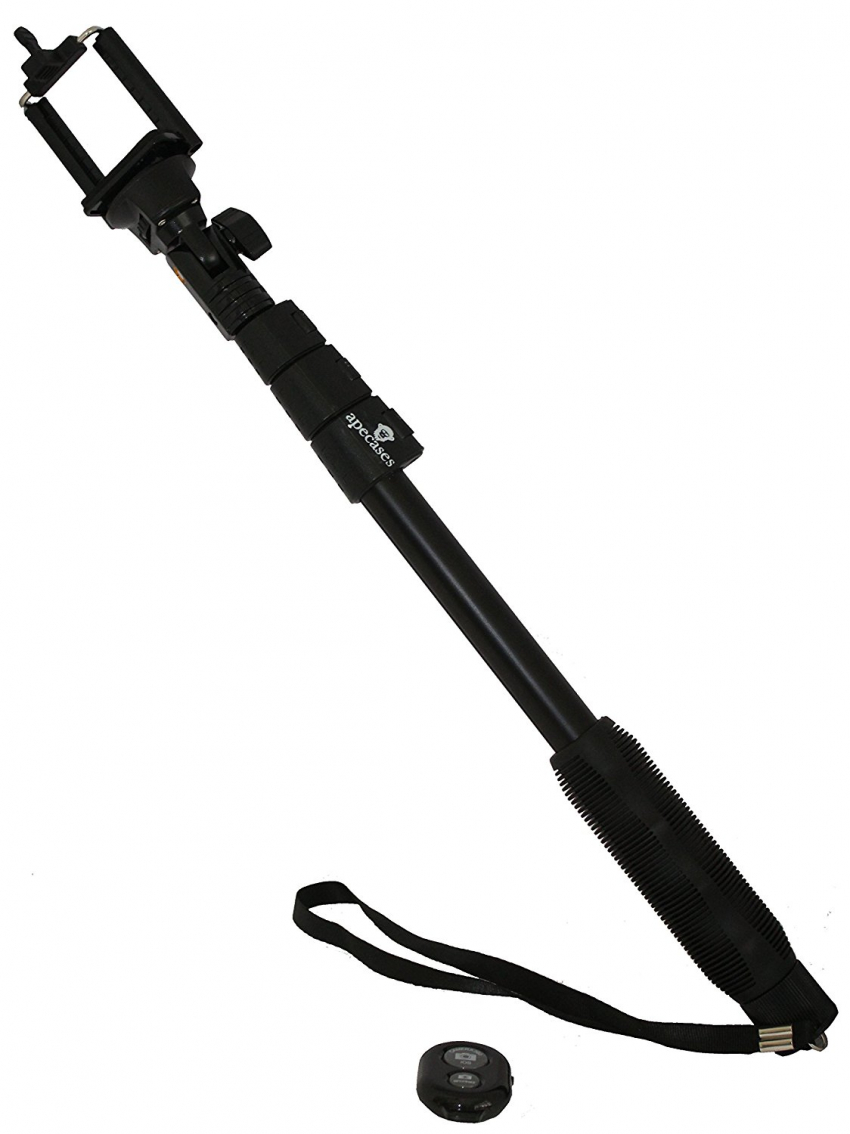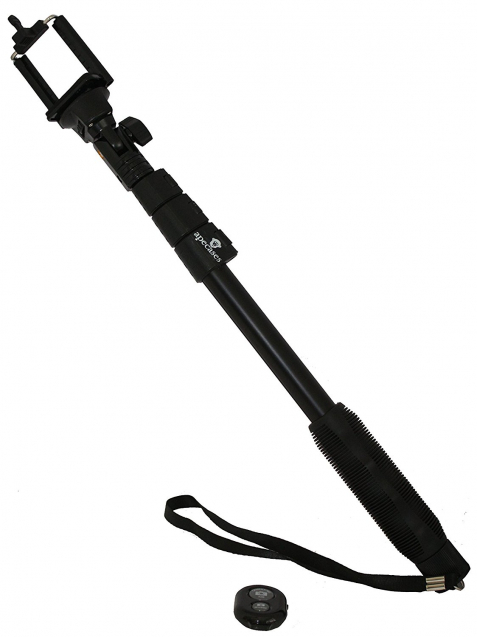 ApeCases provides several smartphone accessories out of which one of its most successful products is its Selfie pod. If you want to buy ApeCases Extender Pole on Amazon, it is available for INR 499, which is quite reasonable for what it offers. It supports all the smartphones as well as cameras. You can use your Selfie stick for your digital camera, DSLR, GoPro, iPhones and Smart Phones. It comes with an external Bluetooth shutter and flexible mobile holder.
The best thing about this Selfie stick is that it is unbelievably long, in fact, the longest in this series. It is made up of strong stainless steel and PVC, which doesn't let the Selfie stick bend even if it is expanded to its maximum length. Also, it is perhaps the only Selfie stick that can hold up to 2.5 kg of weight, which means, you can practically take a Selfie using your DSLR.
Fonesoselfie stick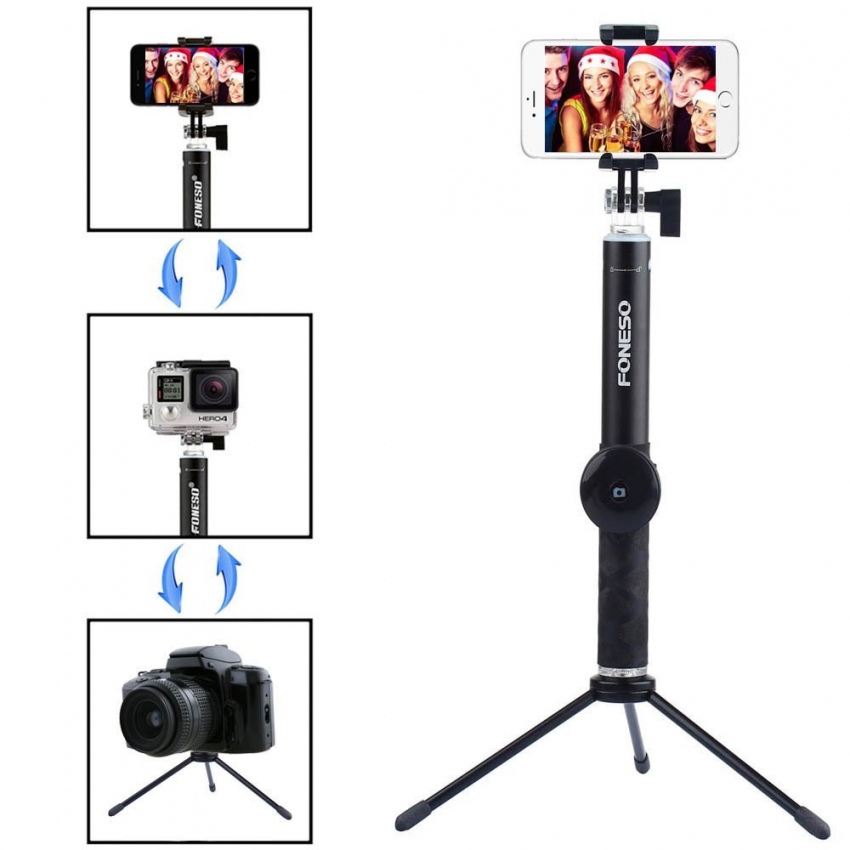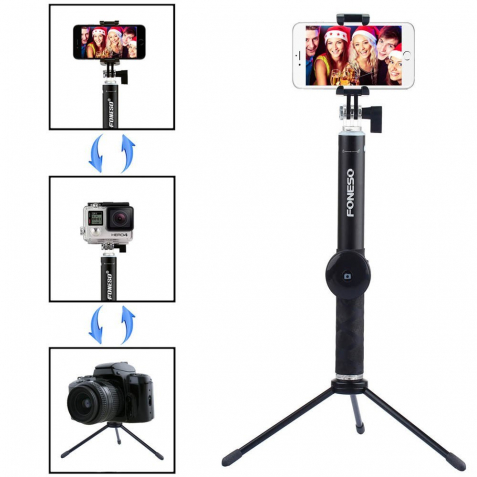 You can get the FonesoSelfie Stick on Amazon at the price of INR 2,825. This premium Selfie stick is made up of aluminum which makes it a very strong and super light-weight, at about 140 grams. This extendable Selfie stick comes with Bluetooth Remote Shutter to get pictures without getting caught up in the wiring system. It has a decent length and supports a wide range of smartphones and cameras.
The best part is that it comes with a tripod which can be fixed to make it stand. Also, this tripod can be used to fix your camera to take good pictures, which gives you the stable image.
The Memory Journalists MJ Selfie pro extendable pole: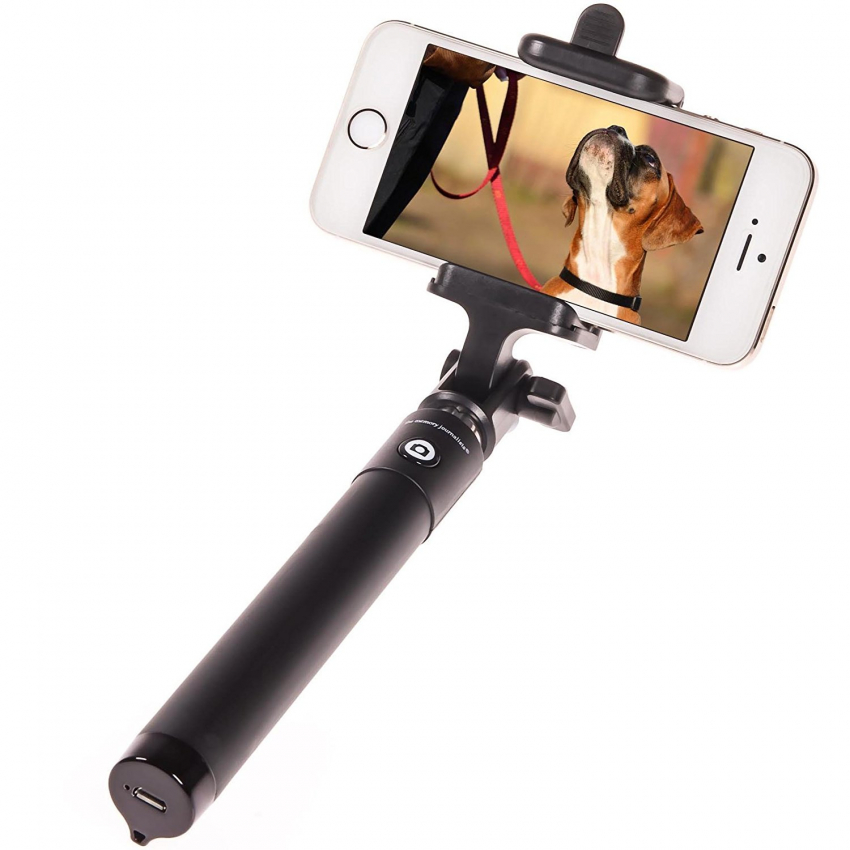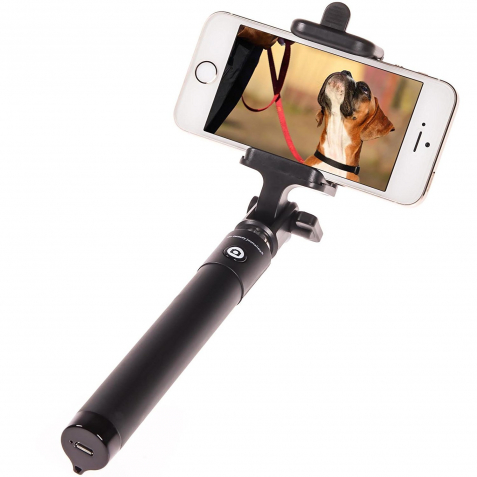 It is the extendable pole monopod which supports all the smartphones, including the android phones, iPhones, and other smartphones. It does not only allow you to take the pictures but can also take the videos.
It is the professional Selfie stick and you can get The Memory Journalists Selfie on Amazon for INR 3,476. It might seem to be a little expensive at first sight, but it is a good value for money as it has all the required features and good looks.
Essot Extendable Bluetooth SelfieStick: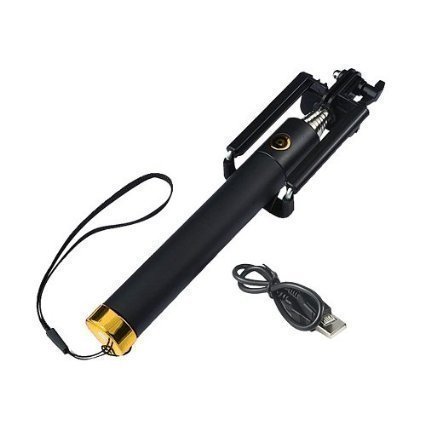 Essot extendable Bluetooth Selfie stick is made up of stainless steel with hard plastic which makes it extra-strong to hold the weight of the phone and durable to last very long. It has a rubber handle with a wrist strap to keep the Selfie stick in place while taking the pictures.
EssotSelfie Stick can be bought on Amazon for INR 449, which is quite reasonable for the features offered in the product and is also affordable for the normal middle-class people. Its built-in Bluetooth remote shutter gets the picture right and quickly every time. It supports all the android phones, Apple iPhones, and digital cameras.
Fugetek FT-568 professional Selfie stick: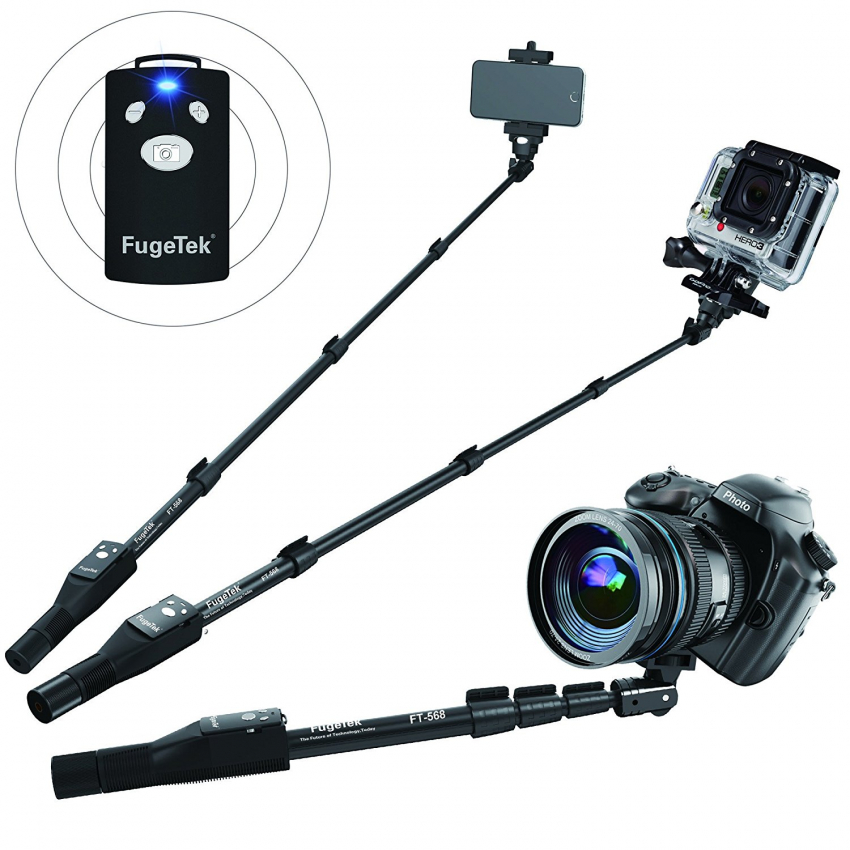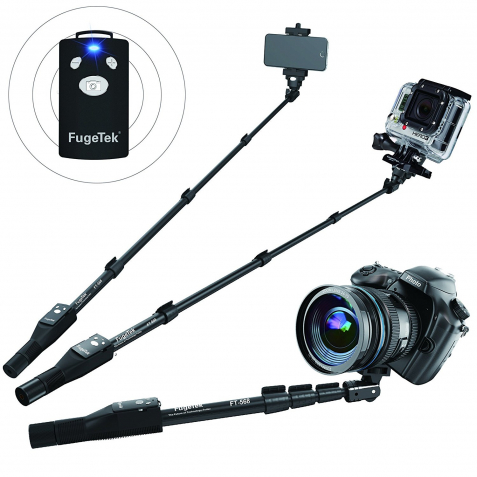 Fugetek FT-568 Professional Selfie Stick, which is available on Amazon for INR 3,685, is a professional Selfie stick in the true sense. It has been rated number 1 among all the professional Selfie sticks. It is because it is a high-end product which is weather resistant, has the removable remote shutter, is extendable to a very high length of 49 inches and is one of the fastest connecting Bluetooth remotes.
The USP of this Selfie stick is that it has a self-portrait mirror, which enables you to take the picture from your high performing primary camera, instead of using the secondary Selfie camera on the phone. Plus it is easy to use for everyone and it can also be made a great gift for your loved ones. Also, it allows you to tightly mount your phone with just one screw to prevent slippage, dropping the phone or wobbling pictures.
Zaap Nustar3 Selfie Stick: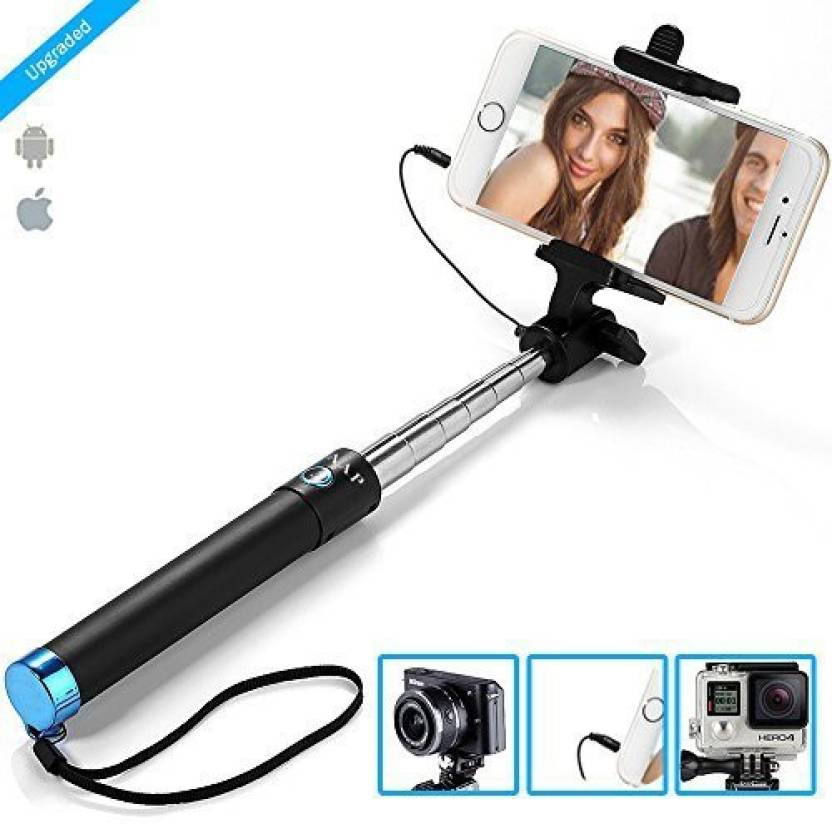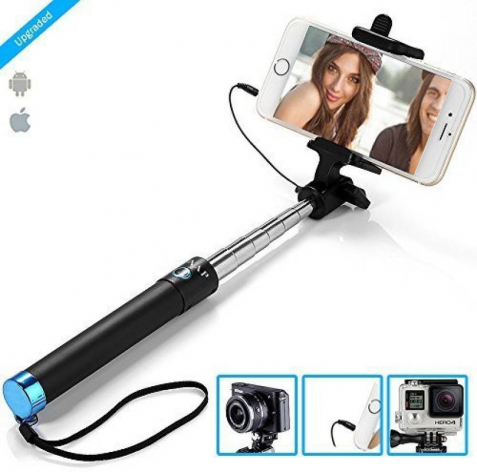 Zaap Nustar3 Selfie Stick, which is available on Flipkart for INR 999, is one of the most loved Selfie stick by the people who have bought it. The reviews on Flipkart give it 4.5 stars out of 5. One of the most loved features in it is its battery-free, plug and play facility. It doesn't need a battery to operate, just plug in the wire and start taking awesome Selfies right away.
It supports all the digital cameras and most of the smartphones. It does not support HTC, Motorola, Redmi and Sony Xperia Phones, which is a big let-down, especially since Moto and Redmi are gaining popularity these days. Still, it is one of the most loved Selfie sticks among the demographic which is not using the phones from these brands.
Check Latest Price On Flipkart
KARP Wireless Extendable Selfie Handheld Stick: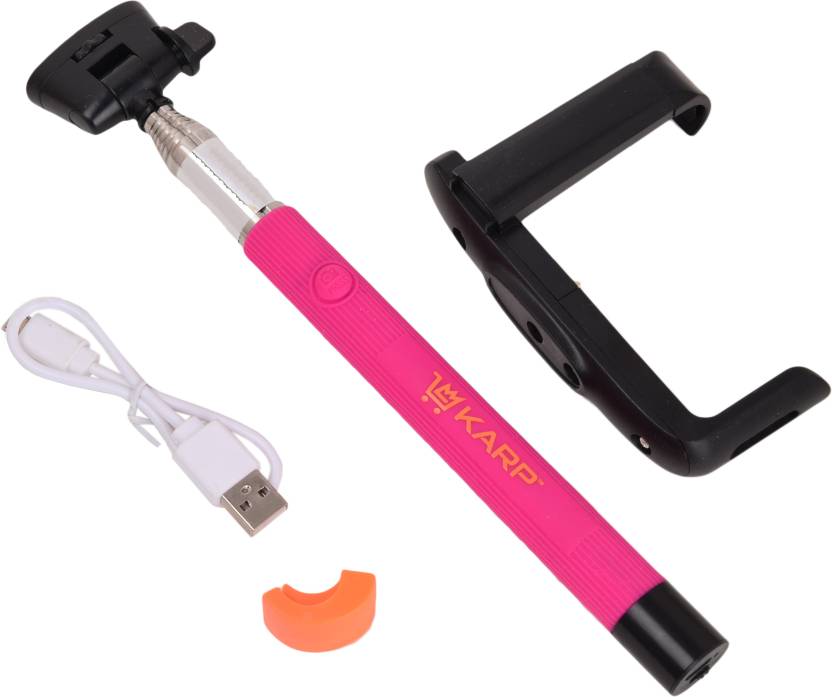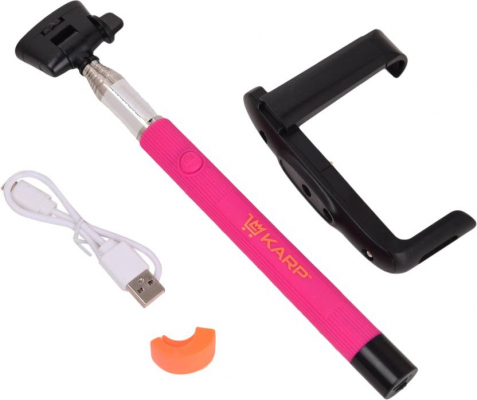 KARP Wireless Extendable Selfie Handheld Stick is available on Flipkart for a meager amount of INR 329, which is 67% off from its original MRP INR 999. It comes in many colors and here we have given the link of Selfie stick with a pink colored handle. It has a built-in battery which is rechargeable and can be recharged for an hour to last up to 100 hours of standby time.
It comes with an adjustable Phone Holder & built-in Bluetooth Shutter which is compatible with almost all the Smartphones and it comes with 1-year full replacement warranty.
Check Latest Price On Flipkart
Stuffcool Shutter Bluetooth selfie stick: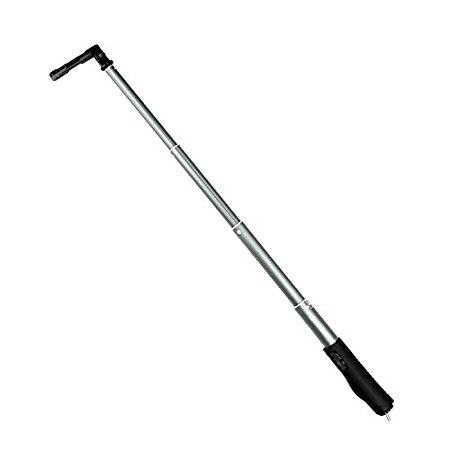 It is one of the most attractive looking Selfie sticks with matt finished handles in attractive covers and it has a secure locking mechanism to change length of the Selfie stick and lock it so that it doesn't get loose-fitting even after the continuous use for years. Stuffcool Shutter Bluetooth Selfie Stick is available on Amazon for INR 1,199.
It is made up of stainless steel which renders it sturdy and suitable for use on a full length for a longer period of time. It can also bear quite some weight and silicone rubber provides it full grip to the phones and the handle to hold it firmly in place.
iVoltaa Next Gen Compact Selfie Stick: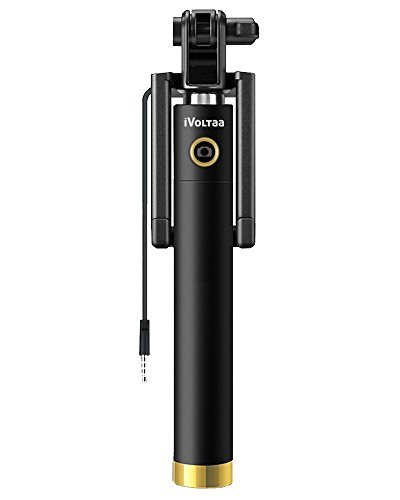 iVoltaa Compact Selfie Stick on Amazon is priced at INR 299 which is the lowest sum of money to be paid for such a good branded Selfie stick. Out of these 10 in the list, it is the cheapest with all the necessary features which make it the most desirable Selfie stick in the market. It is small in size when compressed completely and easy to carry around in the pocket. Also, it supports more than just ordinary smartphones; in fact, it supports iPhones, all androids, and digital camera.
It is great in design and built of high-quality aluminum which makes it the strongest as well as the lightest of all the Selfie sticks.
All you smartphones owners, who are still looking for a decent Selfie stick, would love to buy one from these.
So, which one are you going for? Reply to comments and let us know.