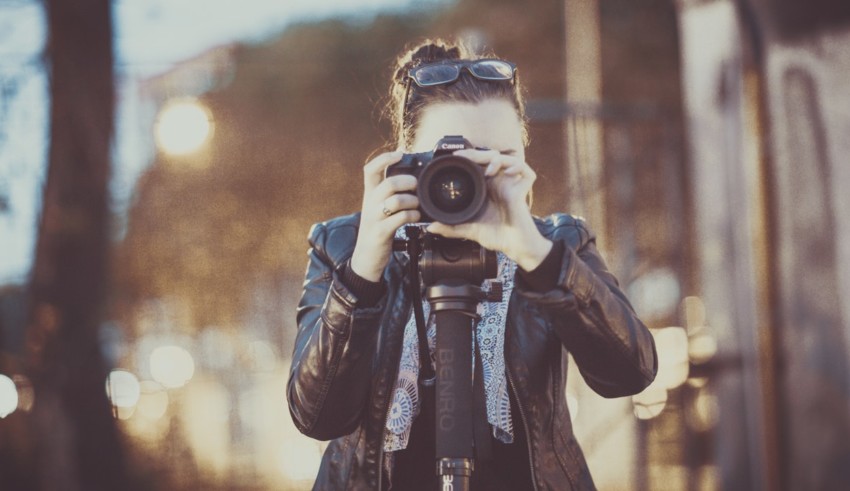 Point and shoot cameras are today under threat from the popularity of smartphones. But they still hold a place in the camera segment where both enthusiasts and amateurs use them and want their existence to continue. There are several categories of point and shoot cameras available in the market. Today I am going to write about the best cameras under 20000 category.
Many options are available in this segment, but my focus is to bring to you the top 7 cameras in this category and tell you about their positives and negatives. So let's get started.
Top 7 Cameras under Rs.20000
Sony Cybershot H300
If you are in the market for an affordable point and shoot with plenty of telephoto reach then you might want to take a look at the Sony Cybershot DSC-H300. It is certainly an older model since it came out in 2014, but given the specs and price point, the H300 has made it to my list of best cameras under 20K. Today the camera is priced just above Rs.13K in both Flipkart and Amazon and offers a 35X zoom capability.
Now I know given cameras with much higher zooming available today in the market, 35X seems rather paltry. But I am giving you a camera with 35X at only 13K. None of the higher zoom cameras is available at this price. It is really a bargain for what you are getting.
Now let's get back to the camera itself. The H300 comes with a 20.1-megapixel sensor and boasts of features such as 80-3200 ISO, 3-inch LCD screen, built-in IS and 1fps shooting. The camera itself is built like a DSLR, which is the norm these days with point-and-shooters, with a comfortable grip. The absence of a viewfinder means you will be holding the camera at an arm's length all the time.
As I have mentioned already, the H300 comes with a 20.1-megapixel 1/2.3-inch type CCD image sensor, in front of which sits the Sony made 35x zoom optic with a generous 25mm-equivalent wide angle and a powerful 875mm-equivalent telephoto. The camera has contrast detection AF system which offers various AF modes and also has an AF illuminator to get sharp photos of close by objects.
Apart from full auto mode shooting, the camera also has a program and full manual modes which can be used by beginners to learn something about manual mode. But sadly, the camera misses out on aperture and shutter priority modes.
The built-in IS system works pretty well for a 13K camera and the images produced by it also quite good.
Verdict: Great camera at a low price with some pretty impressive features. Are there better cameras available? Sure. But prices are a bit higher than this.
Pros: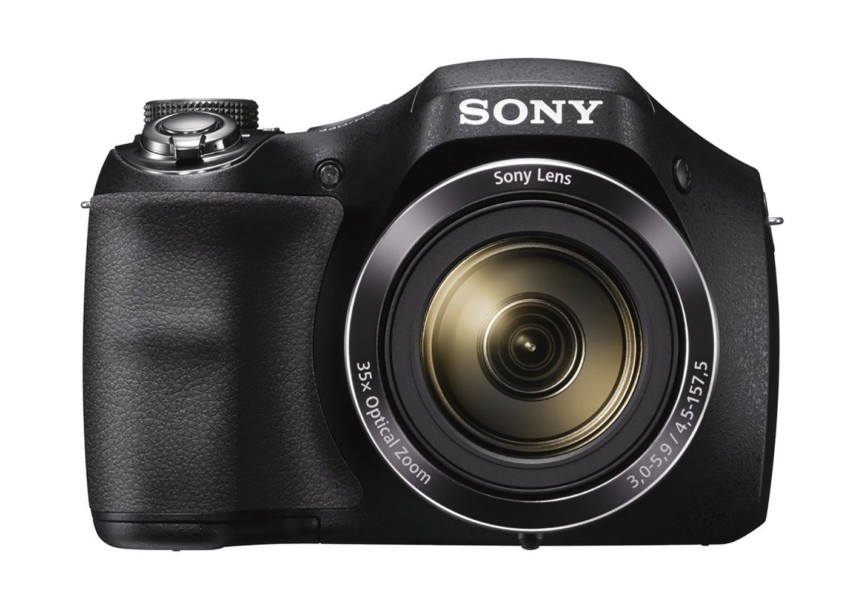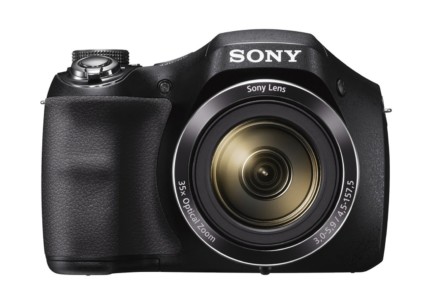 Built-in IS
Face detection AF
Good image quality
35x zoom
Panorama
Good battery backup
Cons:
Low screen res
No WiFi
No full HD video support
[ryvl video_url="https://www.youtube.com/watch?v=P6vgbfG9wes" auto_play="yes"]Watch Sony Cybershot H300
video review[/ryvl]
Also Read:10 Best Cameras Under $200 Every Photographer Who Want to Start
 Canon Powershot SX540 HS
50X zoom, 20.3 megapixel sensor, 5.9fps max shooting, built-in IS, WiFi and NFC and an around 20K price point – that's what the Canon Powershot SX540 HS offers to you. The previous version of this camera, i.e. the Powershot SX 530 HS, had 30X zoom. So increase in zoom capability by 20X is the biggest update that Canon could offer with the Powershot SX540 HS.
So how does the SX540 HS stack up against its competitors? Well, to start the design of the SX 540 HS remains almost same as before. In this case, Canon seems to believe in the saying" if it isn't broken don't fix it" and I don't blame them for it. The SLR like body has a good proportion about it with a comfortable grip and fairly good build quality.
Under the hood, the 20.3MP sensor along with the new DIGIC 6 processor takes control of various functions. It should be noted here that the SX540 HS skips a generation when it comes to processor. The SX530 HS had the DIGIC 4 where the SX540HS gets the new DIGIC 6 processor. This results in increase in frame rate from 30P to 60P for full HD.
When it comes to images, the SX540 HS seems to get the job done. The camera's focusing ability when proper light is available is pretty good, but when lights go down it struggles as is the case with most point and shoot cameras.
Noise reduction is not very good though. Images up to 400 ISO are usable, beyond that grains become progressively worse.
Verdict: A pretty good camera for the price, the Canon SX540 HS offers some neat features. But I feel, given the price point, Canon could have improved camera's noise reduction capability and in some lighting conditions, the image quality.
Pros: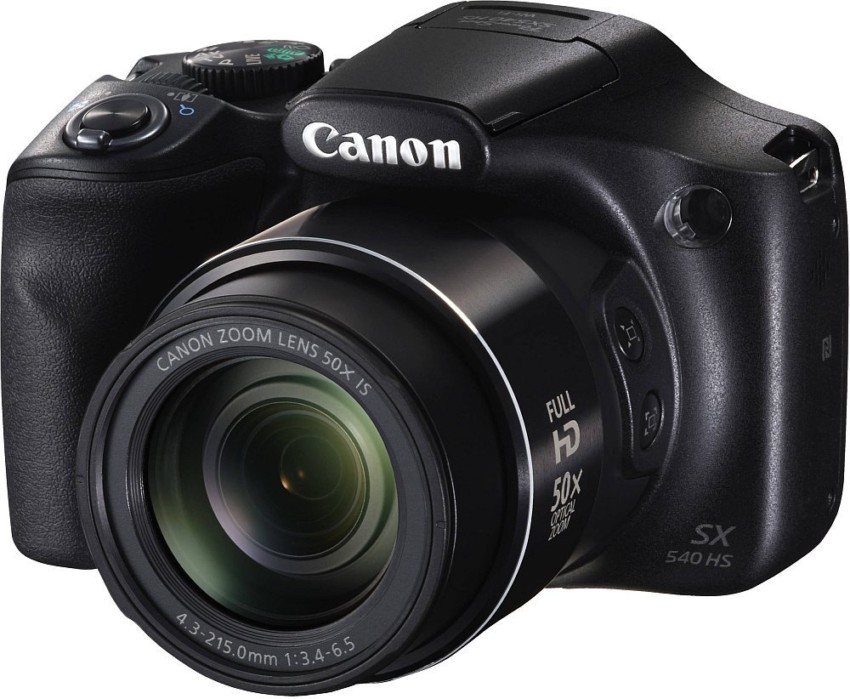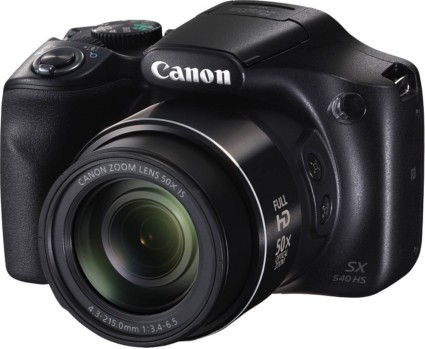 Built-in WiFi and NFC
Built-in IS
9fps shooting capability
Manual focusing
50X zoom (equivalent to 1200mm)
Cons:
Low screen res
No environmental sealing
No viewfinder
High noise in images
[ryvl video_url="https://www.youtube.com/watch?v=ZMvWFGFyeD8″ auto_play="yes"]Watch Canon Powershot SX540 HS video review[/ryvl]
SonyCybershot DSC H400
The Sony Cyber-shot DSC-H400 is an affordable super-zoom camera, offering a 63X, 24.5-1550mm zoom lens, 20.1 megapixel Super HAD CCD sensor, 720p HD video recording with stereo sound, and Sweep Panoramas.  Designed like an entry-level DSLR, the Sony H400 has a comfortable feel in hand with a comfortable grip and quite good build quality.
To complete the DSLR like look, the camera even has a viewfinder and a mock pentrapism housing on top. But on the negative side, the camera weighs 655 grams which is definitely a bit on the heavy side.
Images clicked with the Cybershot DSC H400 have both positives and negatives about them. While quality of images is pretty good, the noise reduction capability of the camera leaves a lot to be desired. In just 400 ISO, noise in the photos becomes apparent, becoming progressively worse as you go up the ISO ladder.
Images beyond 800 ISO almost become unusable. But again on the up side, chromatic aberrations are very mush within control.
Verdict: Overall a satisfactory camera with some not too major negatives, the Cybershot DSC H400 impresses on many counts. But I believe the price of 20K is a bit high for it and Sony should consider lowering it a bit.
Pros: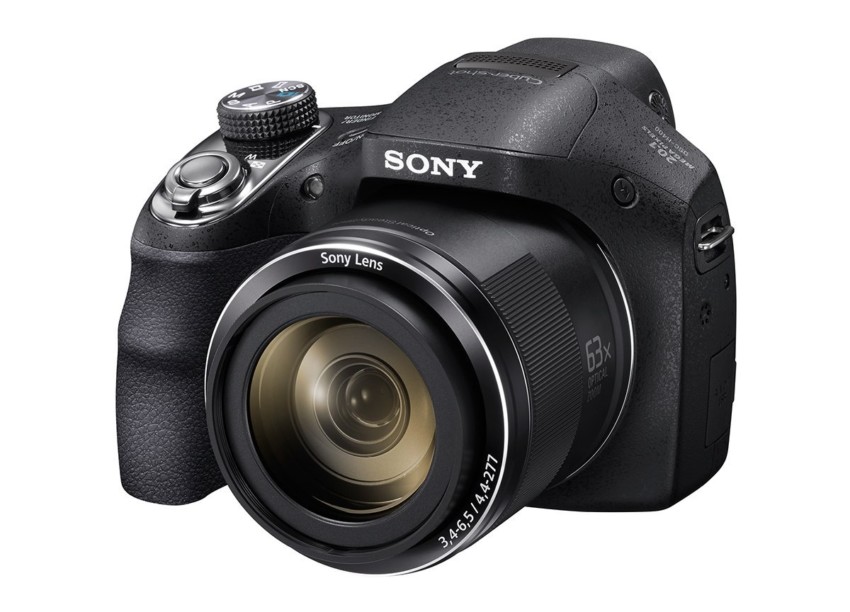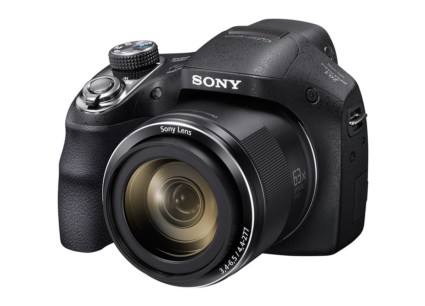 Good sensor
63X zoom
DSLR like body
Viewfinder
Cons:
Bad noise control
High price
[ryvl video_url="https://www.youtube.com/watch?v=GjaiUp3mVXk" auto_play="yes"]Watch SonyCybershot DSC H400 video review[/ryvl]
The USP of the Sony DSC WX 350 is that it is the lightest camera in the world to have a zoom capability of 20x. Other features of the camera include an 18.2MP Exmor R sensor,Sony's Optical SteadyShot image stabilization system, a new BIONZ X image processor and a continuous shooting rate of 10fps for a 10-shot burst. Unlike other cameras in this price bracket, the Sony DSC WX350 gets a typical compact camera design. The body of the camera is ergonomic and is lightweight at only 164 grams. On top there is a proper mode dial and beside it there are the power button, zoom ring and shutter release button. The Sony Cyber-shot DSC-WX350's compact dimensions and large screen means any remaining space for buttons on the rear panel is at a premium. Consequently, there aren't many, and those that do make the cut are on the fiddly side.
Enough about the design. How does it do its job? AF performance of the DSC WX350 is excellent at proper light, but it faces difficulty while focusing in low light conditions. Images produced by the camera are pretty good if you keep the ISO below 800. Above ISO 800 images become progressively noisy and beyond 1600 they become unusable.
Verdict: As I have already said, the biggest USP of the Sony DSC WX350 is its size and extendibility. But image quality at high ISOs disappoints.
Pros: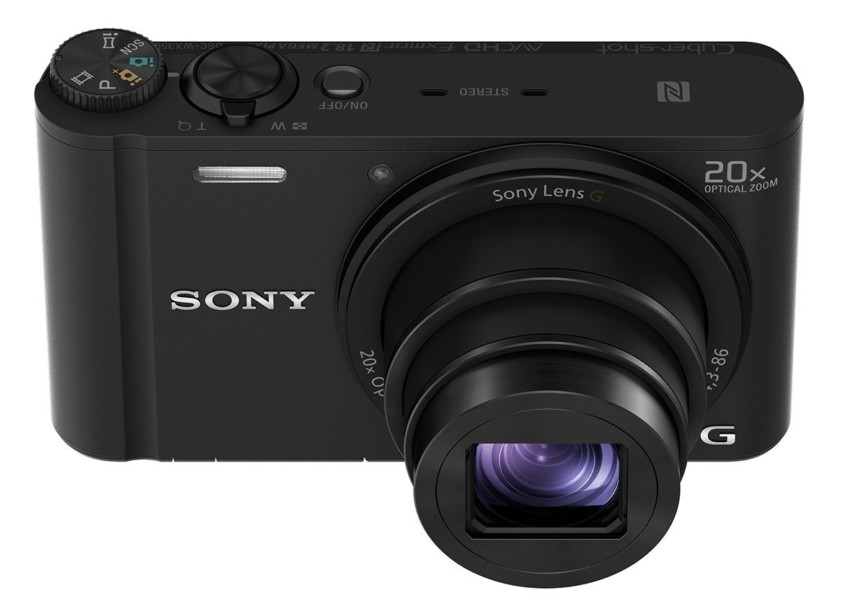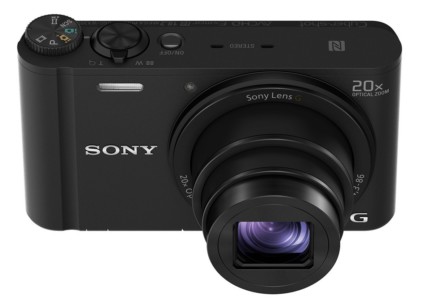 Small size and low weight
20x zoom
10fps shooting speed
Good AF performance
Cons:
High noise
Average image quality at high ISOs
Fiddly buttons
[ryvl video_url="" auto_play="yes"]Watch Sony DSC WX350 video review[/ryvl]
Nikon Coolpix B500
The Nikon Coolpix B500 is another point and shoot camera in the below 20K segment and comes with a 16 megapixel sensor, 40x optical and 80x digital zoom, SnapBridge, a 3.0-inch tilting screen, built-in flash etc. Design of the Nikon Coolpix B500 is SLR like with a chunky grip that protrudes quite far from the body. This grip provides for comfortable hold of the camera and the camera feels secure in hand. Build quality of the Nikon B500 is also pretty good and the camera is lightweight and easy to carry around.
Layout of the camera is quite traditional with a four way navigational pad with each button having its own particular function. The screen on the back tilts up and down, but you cannot make it face forward for taking selfies. It is also not touch sensitive.
Just like any other camera in its segment, the Nikon Coolpix performs its best in bright and clear lighting conditions. It is in these conditions that the camera's Af system works flawlessly and images come out with great details and colors.
For beginners, the result can be quite pleasing. There's also quite a bit of fun to be had with the Creative Mode, which is worth experimenting with if you're a fan of digital filters and the like. At longer telephoto lengths you might need to switch on the VR (Vibration Reduction) to reduce camera shake.
Verdict: Overall, the Nikon Coolpix B500 is a good bridge camera for beginners. Don't expect it to do too much. It just gets the job done and does what is expected of a point and shoot camera.
Pros: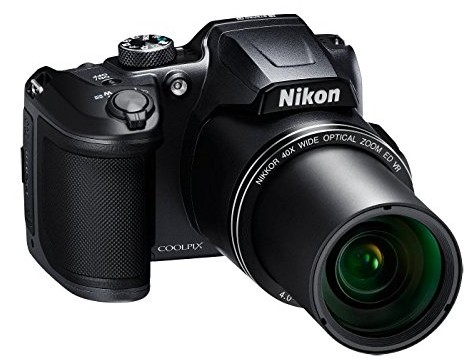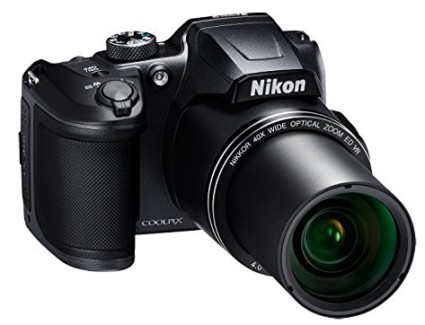 Snapbridge
40X optical and 80X digital zoom
4fps shooting
1/4000s max shutter speed
Built-in VR/IS\
Lightweight
Cons:
No touchscreen
No viewfinder
No weather sealing
[ryvl video_url="https://www.youtube.com/watch?v=io3MWcwXjJg" auto_play="yes"]Watch Nikon Coolpix B500 video review[/ryvl]
Nikon Coolpix B500 Review, Best Lenses, Sample Images & Videos 
Canon Powershot SX620 HS
25x optical zoom, 20.2-megapixel back-illuminated CMOS sensor, DIGIC 4+ processor, continuous shooting speed of 2.5fps, 3-inch 922,000-dot LCD monitor, Wi-Fi connectivity with NFC pairing and Full HD video recording – these are the features the Canon Powershot SX620 HS comes with.
This is not so bad when you consider that the camera is priced only around the Rs.16K mark and even higher priced cameras in this segment does not have many of the features this camera boasts of.
Design wise, the SX620 HS is exactly the same as its predecessor the SX610 HS. The biggest change visually is the longer zoom lens which is slightly faster at both ends of the range. It is also slightly smaller and lighter (by 9 grams) compared to its previous version. Canon has successfully increased battery life of the camera where it can now take 295 shots.
Build quality remains high, with premium plastics accented with tactile metal details. There's also a metal tripod mount – a rare luxury at this price point – and you can choose from black, red and white case colours.
Images produced by the SX620 are as good as its predecessor – no improvement can be seen in this regard. The camera produces fairly clear and sharp images in good lighting conditions, but where it stumbles is the noise department. While at low ISOs noise can barely be seen, images shot at and upwards of ISO 800 and quite noisy. The camera handles chromatic aberration quite well though.
Verdict: The Canon SX620 HS doesn't really feel like an upgrade of the 610 HS. Yes there are some changes made to the camera, but it is essentially the reboxed 610 HS. But that does not mean it isn't a good camera. It has some pretty neat features for the price it comes in and is definitely a good buy.
Pros: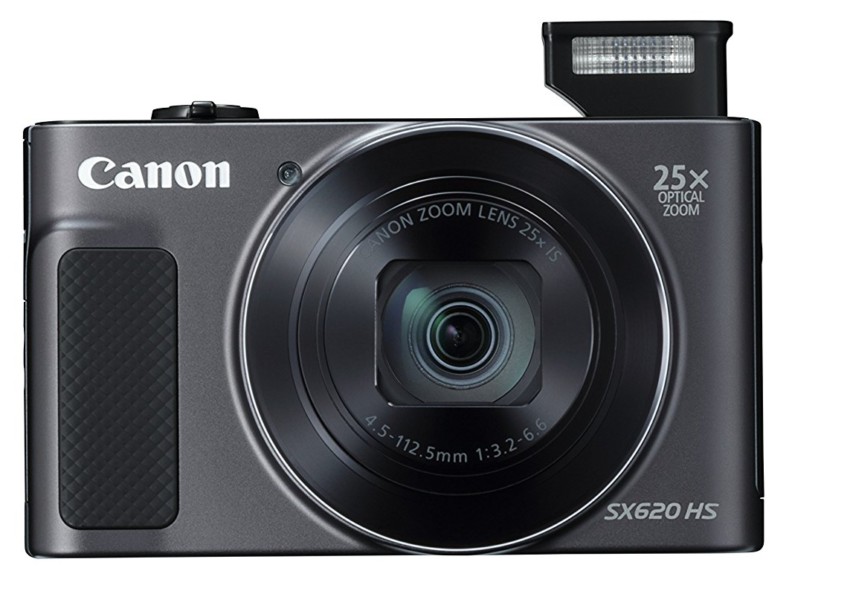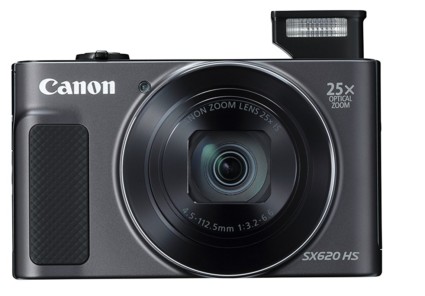 2 MP sensor
Good battery backup
Good build quality
Lightweight
Metal tripod mount
Faster lens operation
Cons:
Average image quality
Bad noise reduction performance
[ryvl video_url="  " auto_play="yes"]Watch Canon Powershot SX620 HS video review[/ryvl]
Canon Powershot SX430 IS
A very recent launch from Canon, the Powershot SX430 IS comes loaded with features like 20.5 megapixel 1/2.3-inch CMOS sensor and a 45x optical zoom lens, Wi-Fi and Dynamic NFC connectivity, 720p movie recording, and intelligent Image Stabilizer for stills and movies etc. The specs of the camera may seem modern, but when you are using it the Powershot SX430 IS may seem like a throwback to a more simpler time.
For instance, the control layout of the camera is somewhat reminiscent of older point and shoot cameras which you may have used 10 years back. But that apart, the design of the camera is pretty neat and build quality is also fairly good – as you'd expect from a Canon product.
When it comes to performance, the Canon Powershot SX430 IS does not disappoint. The 45x zoom lens works fast and even at the highest zoom camera focuses pretty well. During the day, the camera produces photos with nice details and sharpness. The LCD screen in the back of the camera is quite large and it helps the photographer to easily compose shots and review them. In certain condition, the camera does show some amount of purple fringing, but that's ok as it is only limited to a very minor portion of photos.
But where the camera truly excels is in the field of noise reduction. Even at 1600 ISO the camera takes pretty low noise photos, but this noise reduction takes a toll on sharpness and some amount of softening can be clearly seen.
Verdict: The Canon Powershot SX430 IS is really a value for money camera in the under20K category with good performance and design.
Pros: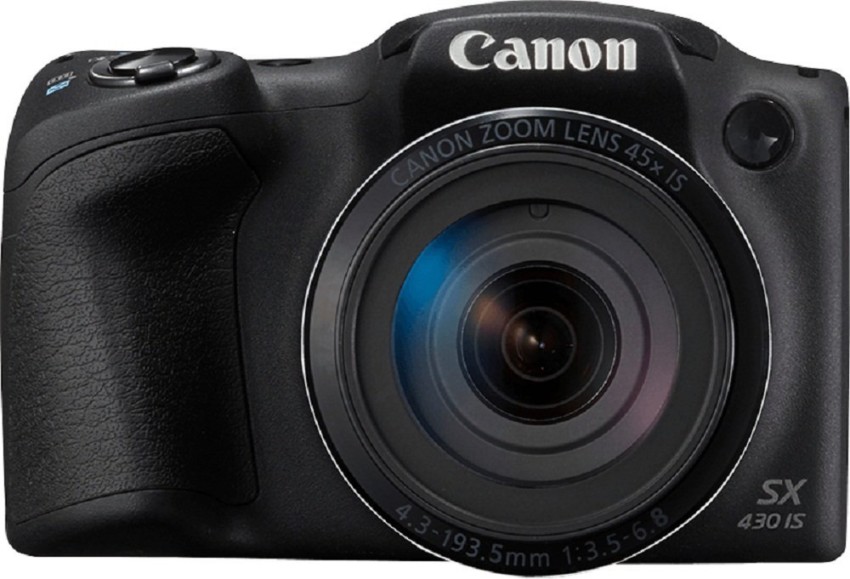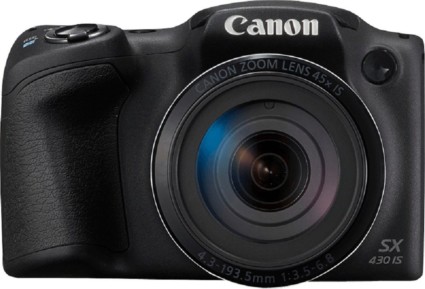 45X zoom
WiFi and NFC
Good image quality
Good AF performance
Cons:
[ryvl video_url="https://www.youtube.com/watch?v=DsmVvp4YgQQ" auto_play="yes"]Watch Canon Powershot SX430 IS  video review[/ryvl]
So these were my pick for the best cameras under 20K. Do leave your feedback on my list whether you agree or disagree with it.