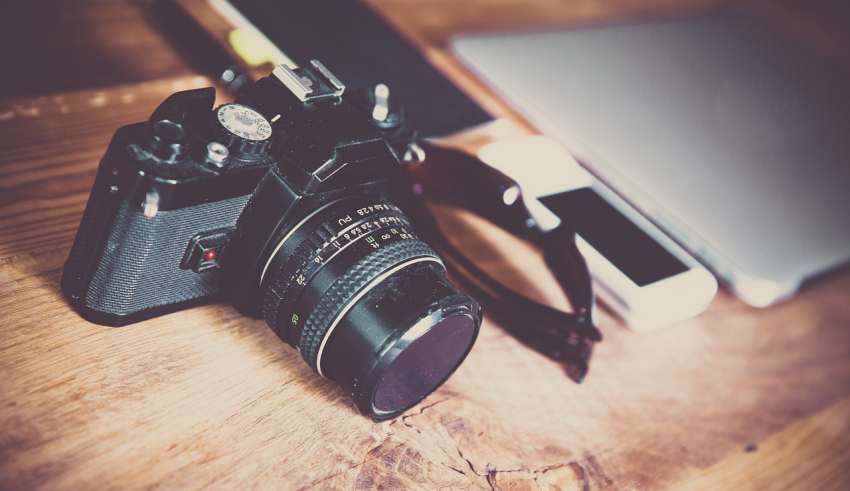 When you hear the word camera, you probably just think about a 'Nikon' or a 'Canon'; however, there are so many other brands in the market today which have equally solid camera products, and are gaining widespread popularity slowly but surely.
Hence, shopping for a camera currently is not a very easy task, especially if you don't want to shell out a lot but still want something which caters to all your needs. A substantial research usually needs to be done regarding the different kinds of brands and models, before you can arrive at a cost-effective decision. So, we decided to make things a little easier for you.
Check out our compilation which taking the market by storm right now!, and hopefully, it will help you when you go camera shopping.
Our list of Best digital cameras under 200 dollars
Samsung WB 1100F
If you're after a camera with the ergonomic feel of a traditional DSLR, but also the ease of a point-and-shoot compact, the Samsung WB1100F could well fit the bill. It sports a 16.2MP CCD sensor with a sensitivity range of ISO80-3200 and a 35x optical zoom lens with a focal range equivalent to 25-875mm (in 35mm-camera terms).
Capture light trails and panoramas, or make your mark with six Smart Filters including miniature and fish-eye effects. At a relatively modest price tag, you still get HD 720p video recording, plus extensive wireless image sharing options with the convenience of NFC pairing.
Specifications: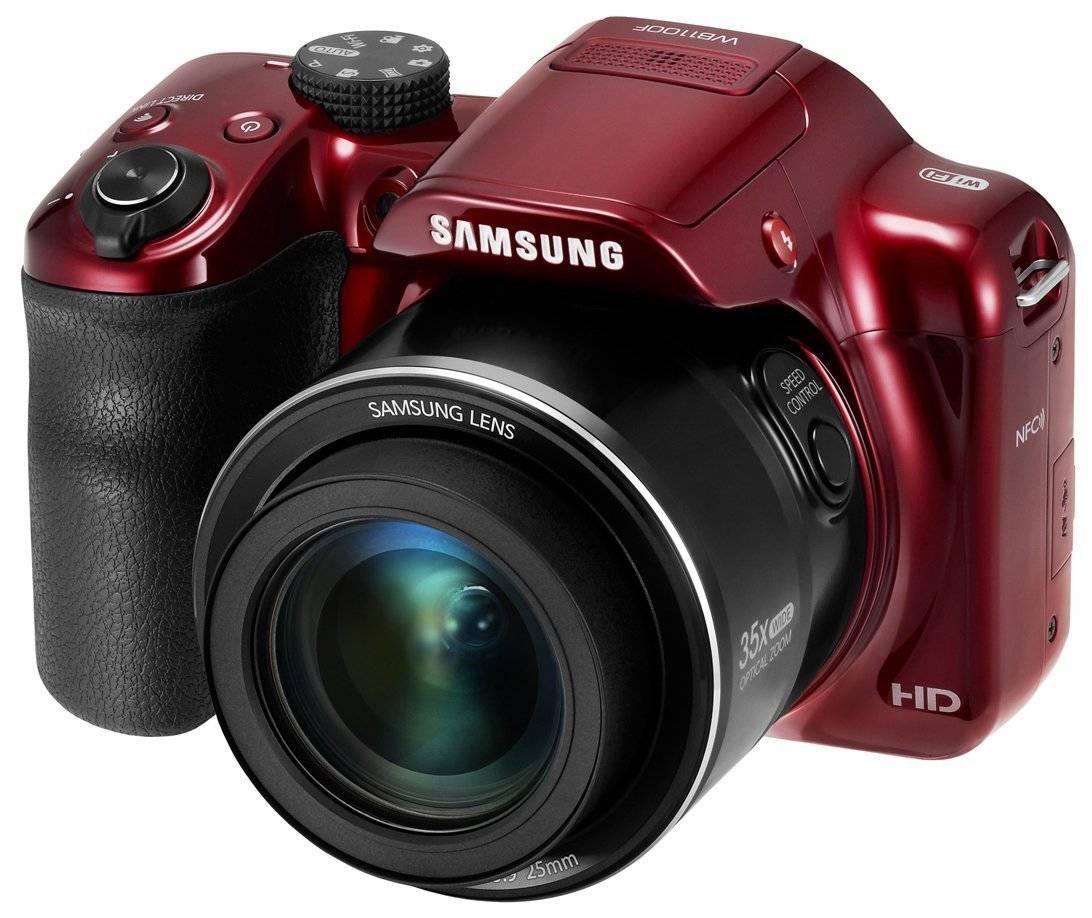 16MP – 1/2.3″ CCD Sensor and ISO 80 – 3200
25–875 mm F3.0 – F5.9 Zoom Lens
Comes with Optical Image Stabilization
3″ Fixed Type Screen and 10fps continuous shooting
1280 x 720 video resolution and equipped with Built-in Wireless
Weighs 512g, and dimensions are of 125 x 87 x 96 mm
Pros:
Built in WIFI and NFC – Share your photos easily and fast.
Takes incredible quality photos.
You can upload photos directly to social media websites like Facebook. Also, you can send photos via Email.
All-Share: Stream photos directly to your Smart TV.
35X optical zoom. Take great long distance shots.
Records HD videos.
Wide angle lens, high quality 3″ LCD display and excellent battery life.
Very affordable.
Cons:
No Articulating Screen or External Flash Shoe
Lacking in Full HD Video and Touchscreen
Does not have built-in Viewfinder and RAW Shooting
No Face Detection Focusing
Maximum sensitivity is only of ISO 3.200
Only Unknown Focus Points
Low screen resolution (460k dots) and a heavy body at 512g
.
Fujifilm Finepix XP80
The Fujifilm FinePix XP80 features a 16 megapixel BSI CMOS sensor, a wide-angle 5x optical zoom lens, equivalent to 28-140mm in 35mm terms, and optical image stabilisation to aid taking photos in less than ideal light. The camera has been updated to include a new Wi-Fi remote shooting feature, making it compatible with the Fujifilm Remote Shooting app.
Interval timer shooting has been included, apart from additional advanced filters. The XP80 is waterproof to 15 meters, drop-proof from 1.75 meters, and freezeproof to -10C. So the camera should be able to withstand almost anything you throw at it.
Specifications: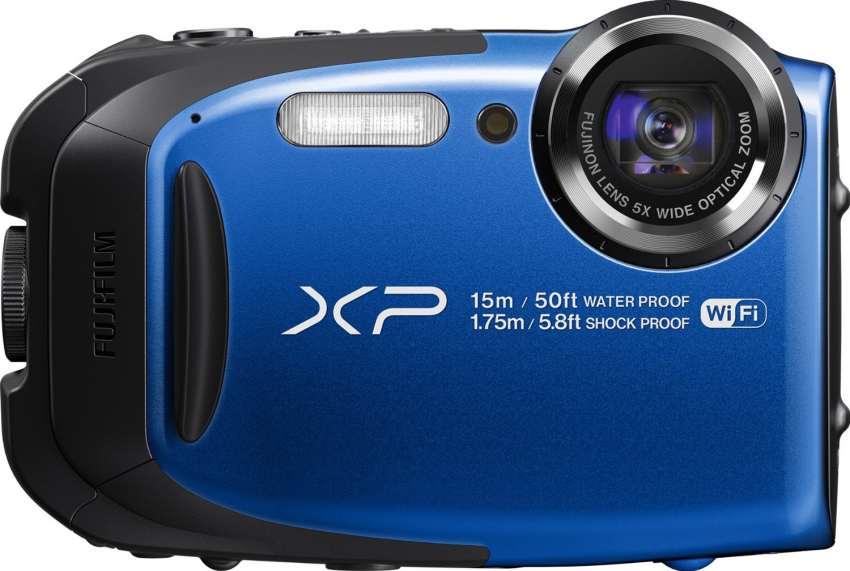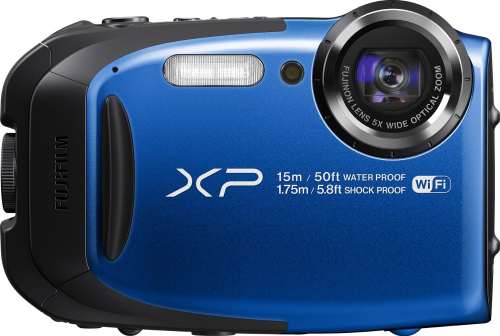 16MP – 1/2.3″ CMOS Sensor, ISO 100 – 6400, and 28–140 mm F3.9 – F4.9 Zoom Lens
Sensor-shift Image Stabilization
2.7″ Fixed Type Screen and 10.0 fps continuous shooting
Comes with a 1920 x 1080 video resolution and has Built-in Wireless
Weighs 179g. measures 104 x 67 x 26 mm, and has a Weather-Sealed Body
Pros:
Built-in Wireless (Wi-Fi) and armed with Image Stabilization
1920 x 1080 Max Video Resolution and comes with Face Detection Focusing
0fps Fast Continuous Shooting
179g Light Body and Environmental Sealing
Cons:
No Articulating Screen or External Flash Shoe
Lacks Touchscreen and Built-in Viewfinder
RAW Shooting is missing and has a Small LCD Screen ( 2.7″)
Low Screen Resolution ( 460kdots ) along with Low Battery Life: 210 shots
No Manual Focusing or Manual Exposure
Slow Lens at Wide: f3.90 and Slow Lens at Tele: f4.90
No Panorama Shooting or AE Bracketing
[ryvl video_url="" auto_play="yes"]Watch   video review[/ryvl]
Nikon has been recognized as one of the most renowned brands internationally, thanks to its power-packed cameras which are definitely high in quality. And Nikon Coolpix S7000 is one such camera which is ultra slim and stylish in its entirety. Don't be fooled by the size; it comes with a power zoom of over 20x.
Moreover, the built-in Wi-Fi further complements the gadget. You can also indulge in transferring multiple photos from the digital camera to a smartphone of your choice, in a wireless manner. This will definitely be one of those prized assets that you've always wished for.
Specifications: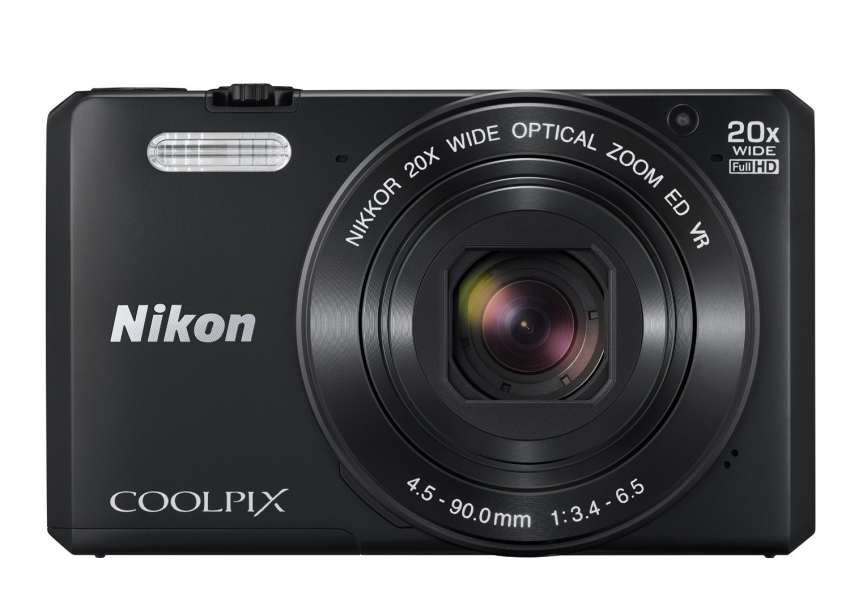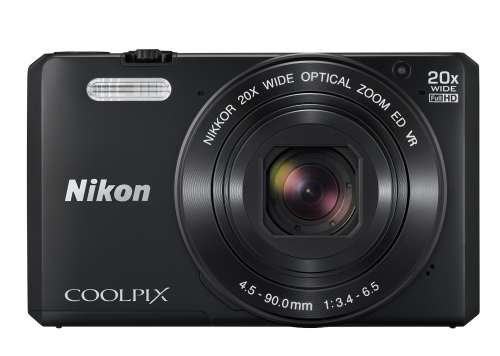 Boasts of 16MP – 1/2.3″ CMOS Sensor and Face detection capability
Live view present and average battery life is over 180 photos
Available in black colour and has a continuous shooting speed of 9.2 fps
Digital zooming capacity of over 4x with TFT display present
Maximum display resolution of 460000
The camera has a 3-inch display size and 16.76 MP effective still resolution
Dimensions are 2.36 x 1.06 x 3.9 inches and the camera weighs 0.36 pounds
Pros:
Is equipped with Wireless Wi-Fi (Built-in)
Has Optical zoom of 20x and a dynamic fine zoom of 40x
Full HD quality videos – 1080/60i with high quality stereo sound
18 different scene modes, and flaunts intelligent autofocus which is target finding in nature
Near field communication technology which enables you to transfer photos to compatible smart phones effortlessly
You can share photos on-the-go
Comes with Hybrid VR (vibration reduction), which allows you to shoot videos without the need of a tripod
Cons:
Does not have External Flash Shoe or Touchscreen facility
Built-in Viewfinder is absent
LCD Screen could've been bigger and battery life is far from impressive
Absence of both manual focusing and manual exposure
Panorama Shooting facility is not present
[ryvl video_url="https://www.youtube.com/watch?v=epvKyVL0z6o" auto_play="yes"]Watch Nikon Coolpix S7000  video review[/ryvl]
Nikon COOLPIX L830
If you want to be delighted by your photos and HD videos; if you want to catch detailed close-ups of faraway action; if you like the styling of advanced cameras but want the simplicity of a point-and-shoot, say hello to the COOLPIX L830. With a superb NIKKOR super telephoto glass lens that offers 34x optical zoom and an amazing 68x Dynamic Fine Zoom, you'll be thrilled by how far you can go with this gadget. The Hybrid Vibration Reduction feature helps ensure that a slight camera shake won't blur your videos— which is a big advantage when you are shooting at long zoom distances. While shooting moving objects, you can use Target Finding AF which recognizes and focuses on your subject. The COOLPIX L830's comfortable design, elegantly simple controls and intuitive menu system make operation a breeze.
Specifications:

34x optical zoom lens (35mm equiv: 22.5-765mm) with Optical image stabilization
Armed with 3.0 inch 921k dot tilt-able LCD screen
The camera runs on AA-size batteries and features full 1080p HD video recording
ISO 125-1600 (ISO 3200 available when using Auto mode)
Minimum focusing distance is 1cm and has 6.7 fps continuous shooting mode
The camera comes with easy panorama mode and is available in red, black or plum hues
Pros:
Full HD 1080p with optical zoom and stereo sound
Hybrid VR and large rubberized hand grip
This camera is definitely good value for money
Comes equipped with tilting screen with excellent resolution, and is great for macro shots
Cons:
Barrel distortion is an issue for this camera and screen is difficult to view in bright sunlight
The viewfinder is absent and there are exposure issues in panorama shots
[ryvl video_url="https://www.youtube.com/watch?v=yq3cMJBsmrc" auto_play="yes"]Watch Nikon COOLPIX L830 video review[/ryvl]
Canon PowerShot SX150 IS
Sitting proudly in this list of good digital cameras under 200 USD, Canon Powershot SX150 IS lets you discover how easy it is to create memorable photos and videos of your favourite subjects. Its compact size makes it easy to carry everywhere you go, and capture those memorable events which can happen anywhere anytime. Its advanced technologies like Intelligent IS and Smart AUTO make it easy to capture those gorgeous still images and HD videos. From Smart Auto to full manual you can easily adjust the camera to any skill level.
Specifications: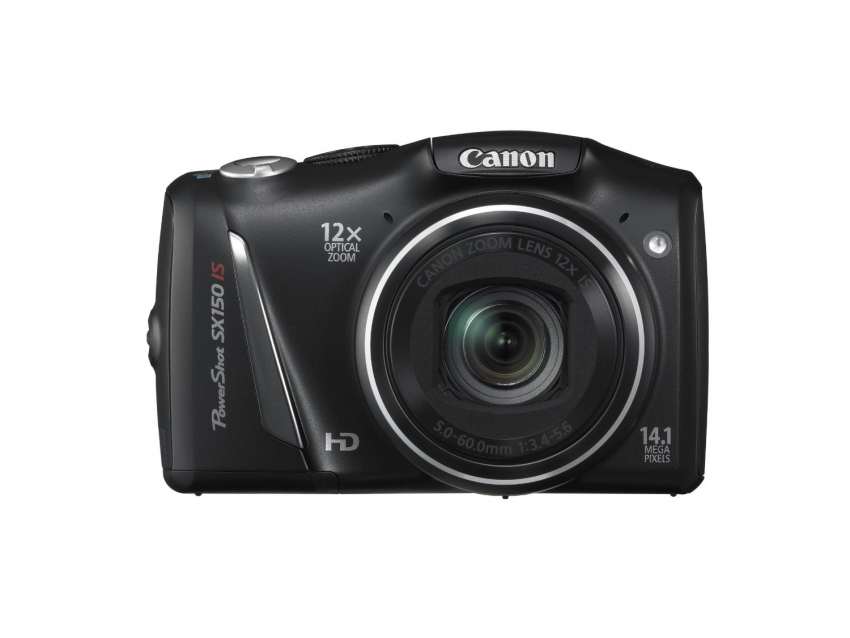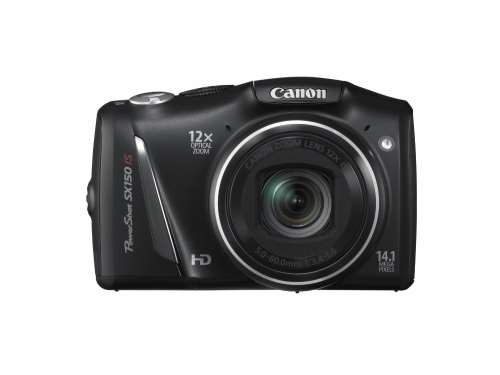 12x optical zoom with wide angle
1 megapixels, with steady images and movies in every situation
Powerful DIGIC processing and auto mode with 32 scene detection
The camera is equipped with simple controls and 7.5 cm LCD
It offers 720p movies with video sound and optimises people shots
You can enjoy various effects for more creativity, and benefit from aperture and shutter speed control
Comes with convenient power ( AA )
Pros:
Very compact and can be easily accommodated in the pocket
Has 12x wide angle zoom to capture sharp images
Comes with 14 megapixel CCD zoom and sports excellent battery life
Good video capturing quality and features manual mode for shooting
The camera has good control layout and smart shutter with wink self timer
Creative filters. Miniature effect and Iframe movies are some other benefits
Smart auto and easy mode detects 32 scenes, and the camera also comes with Intelligent IS
Cons:
Very short battery life. NiMH rechargeable batteries are almost a necessity
Respectable but not outstanding image quality
Fairly high noise/ low resolution at high ISOs
Manual pop up flash with slow shooting speed
Lens suffers from chromatic aberration and the camera uses AA batteries
[ryvl video_url="https://www.youtube.com/watch?v=XU9zE9EHNB8″ auto_play="yes"]Watch Canon PowerShot SX150 IS video review[/ryvl]
Polaroid Z2300 10MP Digital Instant Print Camera (White)
Polaroid is a type of camera that has been in use since years, as it gives out the print of the photographs instantly. Given the advent of the digital age, it still enjoys its importance and now comes in a new range of models. One such model which has been presented to the customers lately is Polaroid Z2300. This instant digital camera is essentially a single point and shoot camera which creates smudge free pictures in seconds. This 2 in 1 equipment is a must buy for the value for money it offers.
Specifications: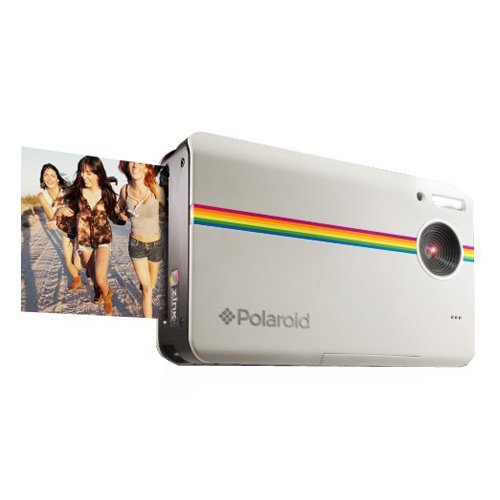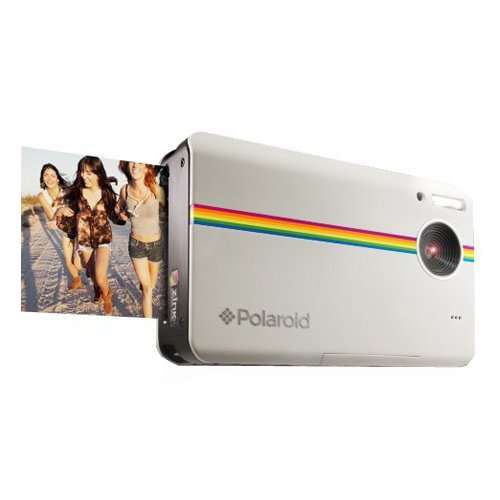 It was launched in the month of July, 2012.
With an image sensor of 10 megapixels zoom, it is a Polaroid digital camera.
ZINK photo paper slot is built in the camera already, to process the images.
The camera requires four AA batteries to run.
It produces 2×3 inches instant prints of the photographs, and offers features like viewing and crop before printing.
The weight of the gadget is 9.3 ounces in total, and it has a memory space which can be expanded up to 32 GB for storing images.
Pros:
The camera comes with coloured printout ink for the photographs.
With a 3" inches LCD screen, it is stylish in design and handy to use.
Expandable memory of the camera is up to 32 GB.
It provides options to print date and time on the photographs.
It prints within one minute's processing time.
Cons:
With only 10MP zoom level, the quality of the images might get affected.
It holds up to 10 photo papers only for the print.
With 4 AA batteries required, it might run out of power very often.
[ryvl video_url="https://www.youtube.com/watch?v=Wz_e9t9kCWo" auto_play="yes"]Watch Polaroid Z2300 video review[/ryvl]
Canon PowerShot SX410 IS Price
First launched in February 2015, Canon PowerShot SX410 IS is a digital camera that offers a lot to the customers, as far as features are concerned. With the best of latest technology used, this introduction by Canon in the range of PowerShot cameras has been a remarkable one. With brilliant options and sleek in style, it can be easily carried anywhere anytime. Within the budget and apt for the casual travellers, this camera comes handy and easy to use. It is a worth buy and gives value for money too.
Specifications: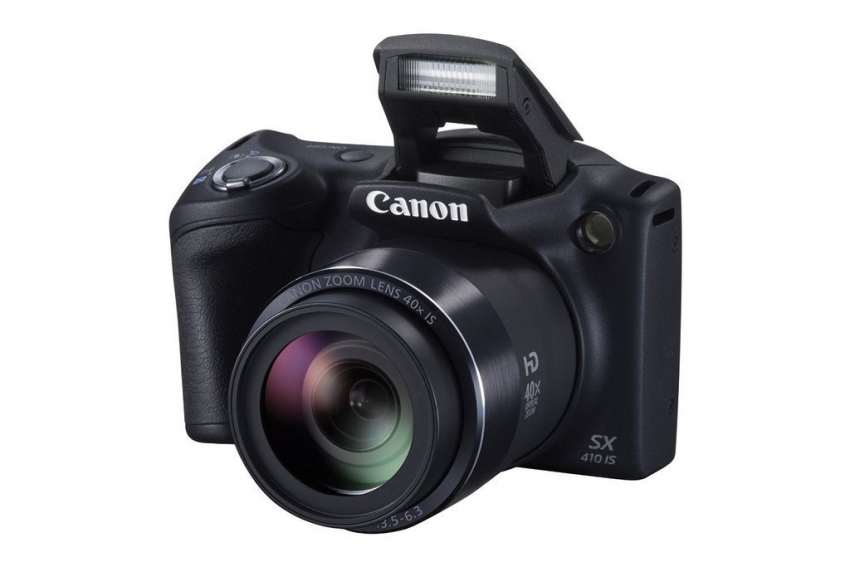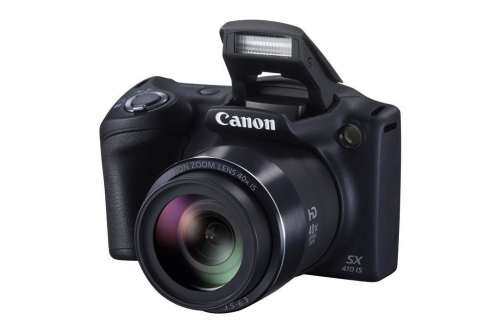 It comes with a 3" inches LCD screen.
The camera features a built-in flash for light photography.
The kit includes deluxe camera case, Commander Starter kit, 33rd Street Cleaning Cloth, commander dust Blower, 2 in 1 Lens Cleaning Pen and high-speed memory card of 32 GB.
A weight of the product is 2.5 pounds, and the dimensions are 10.5 x 8.5 x 6.5 inches.
It features optical zoom level of 40X power.
The camera comes with DIGIC 4+ Image Processor for best of performance.
The kit lens is of 24-960mm (35mm Equivalent) length.
Pros:
In-built 32 GB high speed memory card gives it an edge over the older versions.
The camera comes with a 2 in 1 lens cleaning pen and features a CCD sensor.
It also provides full HD video recording to bring special moments to life.
And it also goes up to 40x optical zoom level.
Cons:
It has a very low burst mode, only 2.2 frames per second.
Doesn't have features like manual mode or raw shooting option.
The camera doesn't support Wi-Fi.
[ryvl video_url="https://www.youtube.com/watch?v=TcDfuFZIsAo" auto_play="yes"]Watch Canon PowerShot SX410 IS video review[/ryvl]
In the marketplace of the camera and related equipment, it gets difficult to decide as to which one will be the best pick out of so many options. Therefore, here we bring to you a brief review of the Nikon COOLPIX L340, a point and shoot camera, which was launched in January 20, 2016.
This easy to use digital camera has a stylish build and designer body crafted for the photographers on the go. The kit includes a 32 GB class 10 high speed memory cards, 3 piece cleaning kit, black case and AA-AAA charger for 2 Batteries.
Specifications: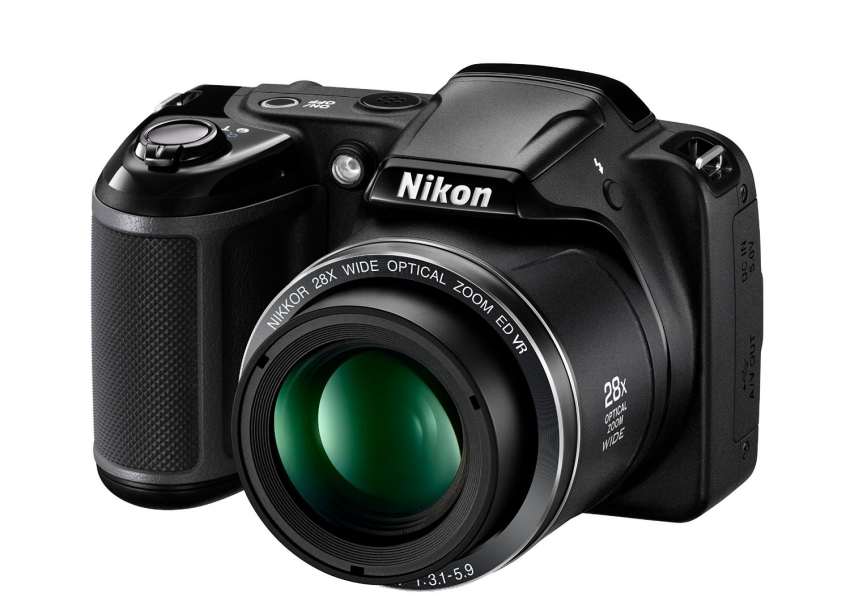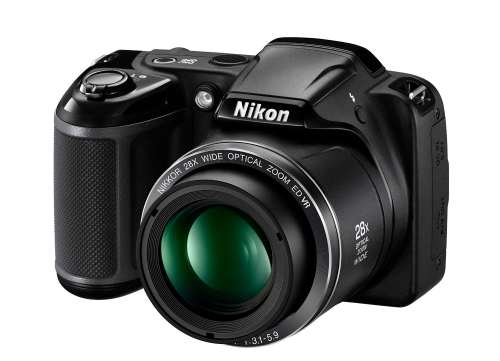 The camera provides 720p videos to be recorded in HD.
It runs on 4 AA batteries and comes with an AA charger and an HDMI cable.
It allows optical sensor resolution up to 20 MP and optical zoom of 28x.
Features like VR option and 16 shooting modes make the camera more easy to use.
The product weighs 4.9 pounds.
Pros:
With up to 28x optical zoom, you can snapshot anything near or far.
It allows producing videos at 720p in HD.
The camera features 16 scene auto selector modes for different situations.
It also has a Vibration Reduction (VR) option for clear and sharp images and allows 20.2 megapixels to the lens.
Cons:
The noise in the images gets noticeable after ISO 400.
With AA batteries, it only allows 300 shots after full charge.
When at 28x zoom level, it starts to produce chromatic level aberration.
With only 720p resolution, it has power equal to that of a smartphone.
[ryvl video_url="https://www.youtube.com/watch?v=Vu9yS2ZQT8g" auto_play="yes"]Watch  Nikon COOLPIX L340 video review[/ryvl]
Panasonic Lumix DMC-TS30R Digital Camera
No such list of top cameras can be complete without a Panasonic edition. This Panasonic Lumix camera has taken the photography industry by storm ever since its release. It comes with a wide repertoire of features which separates it from the other counterparts in the market today. Preferred by frequent travellers, this is suitable for most shooting situations. Moreover, the presence of creative effects further adds to its charm.
Specifications: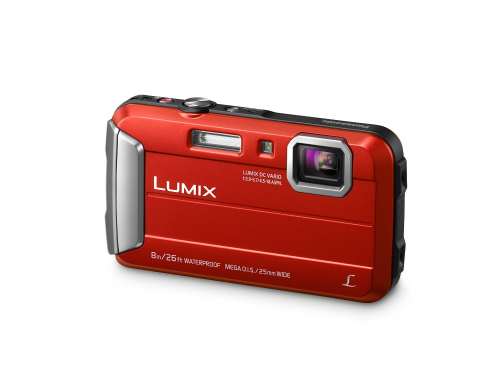 It comes in an attractive red coloured body.
With 35mm focal length, it equals to 25-100mm range of wide-angle length and optical zoom of 16 MP.
It also exhibits waterproof properties up to 23 feet, shockproof from 5 feet level, freeze-proof to 14 degrees F, and is dust-proof too.
The camera has a 2.7 inches TFT Screen LCD display for better viewing.
MEGA O is the type of Optical Image Stabilization used in this camera.
It requires 1 Lithium ion battery to operate, that weighs 15 grams.
The camera supports shooting while skiing, snowboarding or skating, even at 10 degrees freeze point.
Pros:
Equipped with 720p HD video recording and can be used in and out of water
A camera is shock-proof in nature and the gadget exhibits freeze-proof and water-proof properties
Possesses quad-proof toughness which makes it ideal for travellers
Creative re-touching capabilities possible
An expansive built-in memory of 220 MB
Comes with MEGA optical image stabilizer (O.I.S.)
Photographers can also indulge in time-lapse shooting
Offers automatically adjustable brightness of the screen.
Cons:
Can't be used for a Panorama effect
The in-built memory could have been larger and battery life could have been higher
The camera allows the aperture to go only up to f/3.9.
At the highest level of optical zoom, the quality of images might get hampered.
[ryvl video_url="https://www.youtube.com/watch?v=ooyHig5MoHc" auto_play="yes"]Watch  Panasonic Lumix DMC-TS30R video review[/ryvl]
Nikon COOLPIX S6900
Nikon launched the COOLPIX S6900 in the month of February 2015, replete with the latest version of the technology and inbuilt features. It gives the power to the user to get the best of the equipment and obtain some awesome photographs at the end. With a slim and stylish body type, it comes in a cool and bright pink colour to attract attention easily.
Features like Wi-Fi and cool gesture makes it more in demand. For the casual travelers and those who want something easy to use, this point and shoot camera is the best pick of this year. No wonder this camera makes it to the list of top digital cameras under 200.
Specifications:
The camera features Vibration Reduction (VR) mode for clear and sharp images.
It weighs 6.4 ounces and allows 16 MP optical zoom on CMOS sensor.
Comes with built-in Wi-Fi and kickstand for clicking selfies.
The camera includes Nikon's cool Gesture Control feature.
With 19 Scene Modes, it has 1080p video recording mode too.
The gadget is compatible with smartphones having Android 4.4 KitKat or later versions.
0" inches vari-angle LCD Screen present for a better view of the images.
Pros:
Its best feature is the inbuilt Wi-Fi that helps transfer photographs in no time.
It also has a built-in kickstand for an ideal selfie position.
Along with the shutter button, you can now click pictures with Nikon's cool Gesture control feature.
The camera comes with a full HD 1080p videos and stereo sound system.
It allows 19 Scene Modes in the settings option and is an ideal camera for self-portraits.
Cons:
With only 16 MP its zoom is quite lesser than other Nikon models already launched.
[ryvl video_url="https://www.youtube.com/watch?v=uYPmnoe8qXw" auto_play="yes"]Watch  Nikon COOLPIX S6900 video review[/ryvl]
If a camera was just a gadget, your choice would've been a whole lot easier. But it's not! A camera is essentially a tool which captures our best moments and turns them into cherished memories instantaneously. Hence, the need for careful choosing is felt.
 Do you think we've Missed Out On Something?
If you think we've missed out on a particular camera which deserves to be on this list of great digital cameras for $200, let us know and we will be happy to consider your suggestions.