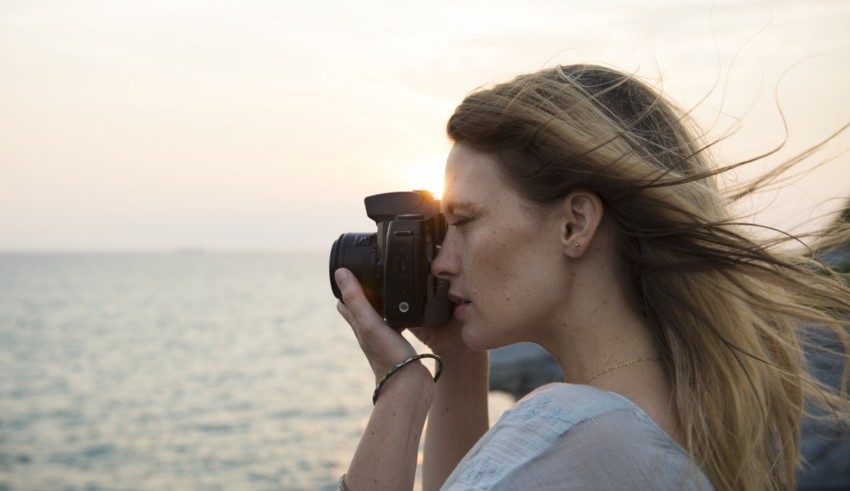 The entry-level point and shoot segment was once a booming segment. But with time, this segment, in particular, has taken a hit primarily for two reasons.
People buying cameras these days want more. They are not just happy buying a cheap camera which will give them an auto mode and average images. They want more. They want better image quality, more control features etc.
Secondly, the advent of entry-level DSLRs and smartphones has really hit these cameras hard. Any good smartphone camera can do what these cheap point-and-shoots can. So why buy a camera and not a phone right? And those who want something more go for DSLRs directly.
But if you are someone who still has a thing for entry-level point-and shooters then here are the 8 best cameras under 10K.
8 Best Cameras under 10K
Canon IXUS 190 
The Canon IXUS 190 came out along with the IXUS 185, which we are going to talk about in this list later on. Both the cameras are almost identical except a few differences here and there. Some of the notable features of the IXUS 190 are its 20MP sensor, built-in NFC and WiFi,10x optical zoom and a capability to shoot 720P HD videos.
When it comes to design, the Canon IXUS 190 is lightweight and compact, but the biggest design feature of this camera is that it is extremely slim and can easily slide into your back pocket. Build quality is not very good since the camera is made of plastic. The zoom switch is small and can take a bit of practice to operate it perfectly.
When it comes to performance, the IXUS 190's autofocus performs well in proper lighting conditions. In fact, autofocus is quite fast for a camera at this price range. But when a light goes down forget about shooting with it. Focusing from close up is rather easy as the macro mode gets turned on automatically when you are trying to focus from a close distance. Otherwise, you have to turn it on from the program menu.
When it comes to image quality, the 20MP sensor really fails to deliver. The biggest drawback is noise. Even in bright light and low ISO, images produced by this camera shows grains. But on the plus side, the colors and dynamic range of this camera are pretty good. So if you are good with Lightroom and Adobe Photoshop and know how to control noise then you can definitely go for it.
Pros:
Compact design
Good colors and dynamic range
Slim body
Built-in WiFi and NFC
Cons:
Noisy images
Bad build quality
Fidgety zoom button
[ryvl video_url="https://www.reviewsxp.com/blog/canon-ixus-190-review" auto_play="yes"]Read Canon IXUS 190 Detailed Review[/ryvl]
Nikon Coolpix A100 
The Coolpix A100 is Nikon's entry into the below 10K club. Since it is meant for a more 'family crowd', it comes in five bright color options. But let' leave the stupid color options aside and get into the more technical aspect of the camera. Features of the Coolpix A100 include a 20.2 megapixel CCD sensor, 4x optical zoom, a 25mm wide angle lens (at its lowest zoom) and a capability to shoot 720P HD videos. But here's a downer. The Coolpix A100, despite a new name, is not really a new camera. It is almost identical to the Nikon S2900 which came out back in 2015, except a few tweaks here and there.
When it comes to design, the Nikon Coolpix A100 is identical to the S2900. So if you have used the S2900 earlier and is planning on buying the A100, you wouldn't really need to get used to this camera since all the buttons and controls are at the exact same place. So there are no surprises there.
When it comes to performance, the Coolpix A100 disappoints. Even in good lighting condition, the A100 produces pretty average quality images. With an ISO setting of 100 to 1600, the Coolpix A100's images are fairly noisy even at low ISO settings. Image processing speed of the camera is also leisurely at best. But one of the better performance features of the A100 is that it performs rather well for a camera at this price range in fairly low light, but that too is overshadowed by the quality of images it produces.
Pros:
Relatively good low light performance
Built-in IS
Face detection
Lightweight body
Cons:
No WiFi
No weather sealing
Average image quality
Low image processing speed
No tilt screen
[ryvl video_url="https://www.reviewsxp.com/blog/nikon-coolpix-a100-review/" auto_play="yes"]Read Nikon Coolpix A100 Detailed Review[/ryvl]
Nikon Coolpix A300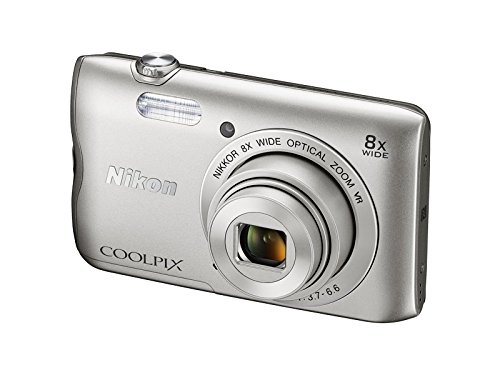 The Nikon Coolpix A300 is really meant for those who want to own a very basic camera at the cheapest possible price. That's why don't expect too many fancy features from it. The A300 has an 8x zoom lens, a 20.1 megapixel CCD sensor and native ISO sensitivity of 100 to 3200. The camera comes only in one color option – silver. This can disappoint a few buyers as there are other similar cameras available in the market with much more exciting color options. When it comes to design, the A300 is slim and compact like every other camera in this segment.
Unlike smartphones, the A300 has a traditional camera flash (smartphones carry LED lights most of the time). There's an exposure compensation button on top along with the Macro, self-timer and scenes buttons.
The A300 comes fitted with Nikon's SnapBridge remote connectivity tech. SnapBridge uses WiFi, Bluetooth, and NFC to transfer photos from the camera on to your PC, smartphones, and tablets. When it comes to performance, the images produced by the Nikon A300 lack sharpness and details. In moderate lighting condition, pictures clicked with this camera show huge noise and chromatic aberrations.
When it comes to recording videos, the A300 shoots 720P HD videos at 30fps in AVI format. But video quality too disappoints. While recording video, the camera has a sure focusing problem especially if you try to zoom into your subject. But the built-in mic is pretty solid and has excellent noise cancellation capability for a camera at this range.
Pros:
Snapbridge
Slim and lightweight design
An excellent built-in mic
Cons:
Poor image and video quality
Only one color option
A focusing problem during video recordings
[ryvl video_url="https://www.reviewsxp.com/blog/nikon-coolpix-a300-review" auto_play="yes"]Read Nikon Coolpix A300 Detailed Review[/ryvl]
Canon IXUS 185
I am not sure how much fun can one have in photography with this type of camera, but let's believe Canon for now. The glossy finish on the camera body and the various bright color options will surely please the more family crowd as far as the IXUS 185 is concerned.
The biggest 'ease of use' feature of the Canon IXUS 185 is its easy auto mode where all the user has to do is simply point towards his subject and click the image. But here's the catch. There is a program mode for more 'manual control'. If you turn it on, the shoot more or less still feels like auto mode. But on the plus side, the IXUS 185 does have some digital filter options within its menu if you ever want to go for more 'manual'.
Difference between the IXUS 190 and the 185 lies in the fact that the 185 misses the all-important NFC and has a capability to shoot 1280P in full-HD (IXUS 190 shoots 720P HD).
Coming to performance, the AF of the IXUS 185 works pretty fine as long as there is enough light. When it comes to image quality, sadly the IXUS 185 suffers from the same problem as the IXUS 190. Quality of images is poor because noise even at low ISOs, but somehow the camera manages to produce good colors in its images.
Pros:
Slim and compact design
Bright colored body
Good color in images
Built-in WiFi
Cons:
Average quality images
No 4K
Less manual control features
[ryvl video_url="https://www.reviewsxp.com/blog/canon-ixus-185-review" auto_play="yes"]Read Canon IXUS 185 Detailed Review[/ryvl]
Sony CyberShot DSC-W810 
The CyberShot DSC-W810 is Sony's cheapest digicam in the below 10K price segment. But even after being the cheapest, the camera comes with a pretty impressive 20.4 megapixel CMOS sensor, 6x optical zoom, and built-in electronic image stabilization. In terms of size, the W810 is small – not much bigger than the size of a credit card. It is ergonomically designed and looks stylish. In the back, it has a 6.7cm TFT screen, which is technologically pretty old compared to today's standards.
The image quality of the Sony CyberShot DSC-W810 on first glance may look bad and that's actually because of the TFT screen in the back. But if you see the images on a desktop, they look pretty good with the good color outcome. Noise performance is also pretty good till ISO 400, but after that images become progressively noisy and after a certain point they become unusable.
Pros:
Compact and sleek design
Pretty good image quality
4 megapixel CMOS sensor
Attractive color options
Cons:
Old TFT screen
Average noise performance
[ryvl video_url="https://www.youtube.com/watch?v=vaJNkb1TRfI" auto_play="yes"]Watch Sony CyberShot DSC-W810 full Review[/ryvl]
Nikon Coolpix A10 
The Coolpix A10 is Nikon's cheapest Coolpix camera and it shows. The sensor is a 16.1 megapixel CCD type and other notable features include 5x zoom, a capability to shoot 720P HD videos, built-in IS etc. Since Nikon Coolpix A10 is a cheap digicam, Nikon has undertaken several cost-cutting measures in this camera.
The biggest of them all is the plastic body and the inclusion of the 2.7-inch, 230k-dot LCD screen. Its resolution is one of the lowest you will find in a camera. This low resolution makes a menu and other icons look pixelated. Another negative of the Coolpix A10 is its speed. Image processing is extremely slow.
But on the plus side, the Nikon A10 is packed with Nikon's Smart Portrait system through which you can soften skin tone and remove some of the blemishes on someone's face. Another cool thing the Smart Portrait system does is what Nikon calls Blink Proof. It alerts the photographer when someone being shot, blinks. We found it to be quite cool.
Images produced by the A10 are surprisingly good. They have good colors, although dynamic range could be better. It is especially suited for shooting people, but if you try to shoot distant subjects like landscape, you may not get the same result.
Battery backup of the camera is also good as Nikon claims that the camera can shoot up to 700 photos when fully charged.
Pros:
Good image quality at this price
Good battery backup
Compact and slim design
Smart Portrait and Blink Proof systems
Low price point
Cons:
Plastic body
Low res display
Slow image processing
[ryvl video_url="https://www.youtube.com/watch?v=vaJNkb1TRfI" auto_play="yes"]Watch Sony CyberShot DSC-W810 full Review[/ryvl]
Sony Cybershot DSC-W830 
The Sony CyberShot DSC-W830 was introduced back in 2014 worldwide, but it came to India a year later. The camera has an 8x optical zoom, a 20.1 megapixel CCD image sensor and 2.7-inch screen. It can also shoot videos of up to 720p. When it comes to design, the W830 is a sure shot looker.
It is sleek, stylish and looks contemporary in every sense of the term. But even after all this sleek design, I feel Sony could have made this a little curvier at the edges to enhance its looks further. But nevertheless, the Sony DSC-W830 looks a stunner anyway.
When it comes to performance, the W830 produces pretty good results as far as image quality is concerned. But the problem comes with the built-in image stabilization. At full 8x zoom, you may see some camera shake even with the IS on and that's really a disappointment.
Noise performance of the camera is pretty good at lower ISOs, but noise becomes visible as you go higher up in the ISO order. One more drawback of the W830 is that its Carl Zeiss Vario Tessar lens goes up to 25mm at its widest while there are cameras available in this segment which comes fitted with the lens that can go even wider.
But that's really a minor negative and can be overlooked.
Pros:
Sleek and modern design
Impressive image quality
Good noise performance
Cons:
Average IS performance
Min focal length could have been wider
[ryvl video_url="https://www.youtube.com/watch?v=ry0uTWJf970″ auto_play="yes"]Watch Sony Cybershot DSC-W830 full Review[/ryvl]
Canon IXUS 285 HS 
Looking like any other digicams in the market, the Canon IXUS 285 HS offers a pretty good 12x optical zoom and 48x digital zoom capability. Combined with a 20.2 megapixel CCD sensor, the IXUS 285 HS looks to be a good buy. Other notable features of the IXUS 285 HS includes built-in WiFi and NFC, where these can be used through the Canon Camera Connect app available both in iOS and Play Store. Design-wise, there is nothing in the IXUS 285 HS that separates it from existing digicams. Yes, it's compact and slim enough to slide into your trouser pocket, but it does look like any other digicam.
Coming to performance, the IXUS 285 HS does have a few surprises up its sleeve. For instance, the 20.2-megapixel sensor does provide good detailing and noise control is also pretty impressive as compared to the IXUS 185 and 190 that we have spoken about earlier in this list.
Even at full 12x zoom and at 48x digital zoom, we didn't see much pixelation in the images. But these images were taken in good lighting conditions. In low lights, the image quality takes a severe beating as noise and chromatic aberrations become visible.
But the IXUS 285 HS is not without its faults. While the WiFi works smoothly, there are certain issues with the NFC.
Pros:
Built-in WiFi and NFC
Good image quality
12x optical and 48x digital zoom
Cons:
A design doesn't have any excitement
NFC has problems
[ryvl video_url="https://www.reviewsxp.com/blog/canon-ixus-285-hs-review" auto_play="yes"]Read Canon IXUS 285 HS Detailed Review[/ryvl]
So these are the best cameras under 10K in India today.
Don't expect DSLR like performance in any segment from any of them, but for 10K these cameras will give you satisfactory results.