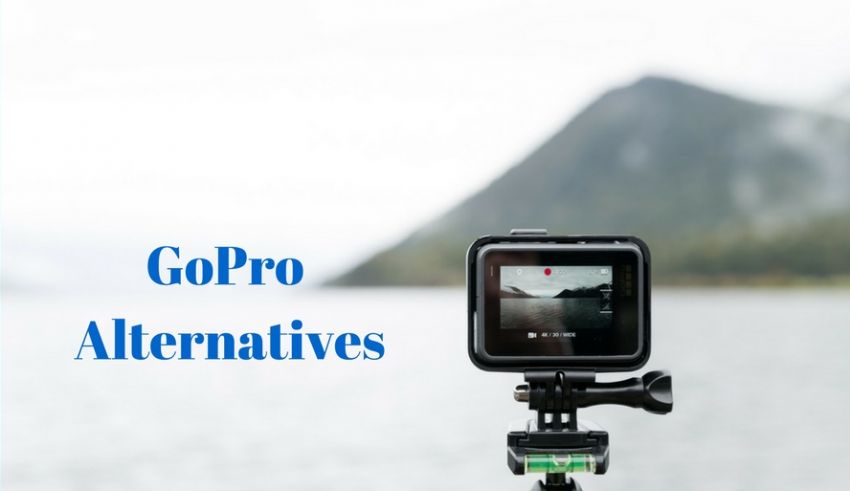 GoPro has become to action cameras what Google is to search engines – it's almost synonymous.
The moment any of us buys an action cam, the first question thrown at us is which GoPro model is it. But not all of us use GoPro, nor is it always the best out there. Yes, GoPro rules this camera segment, but there are other models which provide an equally capable performance.
So if you are unable to buy a GoPro or if you find GoPro to be a bit too mainstream, worry not. We have brought for you the best GoPro alternatives for 2018.
For the benefit of our readers, we have divided the GoPro alternatives into three different segments. If you have a deep pocket and looking for something with a high-level of performance then we have brought to you a few high-end cameras.
For others on a tighter budget, there are the mid-level and entry-level GoPro alternatives.
High-end GoPro alternatives
Garmin's new flagship model – the VIRB Ultra 30 really carries forward the legacy of the VIRB XE. Just like the VIRB XE, the VIRB Ultra 30 also uses a GoPro like form factor. But where the VIRB XE maxed out a 1440 pixel resolution, the VIRB Ultra 30 reaches an astounding 4K. The 1/2.3-inch 12 megapixel sensor is the same you get in the VIRB XE, but its performance in the VIRB Ultra 30 has been significantly improved.
The camera comes with some really neat high-speed shooting options – 2.7K at 60fps, 1080p at 120fps, 720p at 240fps, and 480p at 300fps. It has a weather sealed body which means the camera can be used in any weather condition.
Pros:
4K high speed shooting options
Wi-Fi and live streaming for YouTube option
ANT+ and Bluetooth Connectivity
3-axis electronic image stabilization
Built-in GPS, altimeter and accelerometer
Cons:
Absence of image stabilization at 4K
The Sony RX0 is tiny, but boy it packs a punch. The RX0 comes with a 15 megapixel sensor and a 24mm f/2.4 Zeiss lens – something no GoPro has offered till date. The result is high resolution 4K videos and tack sharp photos. When it comes to size, the RX0 is exceptionally small and weighs in at a mere 110g.
The lens in the RX0 does not protrude from the front and that means it can fit in even the smallest of places. The camera can be used in any weather condition since it has 10m weatherproof protection and 2-3m shockproof protection and can also withstand 200kg of pressure.
Pros:
Built-in WiFi and Bluetooth for remote connectivity
Highly efficient 24mm Zeiss lens
4K shooting capability
FullHD videos at 100/50/25fps
High-speed recording at 250/500/1000fps
16fps continuous shooting
Cons:

The Olympus TG-tracker looks unconventional in design and looks stylish. It separates itself from the rest simply because it does not have the traditional box like design that all action cameras carry these days.
But apart from the unconventional design, the TG-Tracker has a lot going for itself. The TG-tracker has a 7.2 megapixel 1/2.3-inch CMOS sensor combined with an ultra-wide 204 degree view lens.
Other than this the camera comes with features like built-in Wi-Fi, GPS, motion sensors and 4K video capability. The camera shoots 4K at 30fps, 1080p and 720p at 60fps and 30fps respectively.
Pros:
Unconventional design
Ultra wide angle lens
4K at 30fps
Flip out screen on the side
Waterproof design
Cons:
Bit heavier compared to a few GoPros
Shorter battery life
Absence of a rotating screen
The VIRB XE is an older action camera model from Garmin and really took on GoPro in a big way. It builds on the original VIRB Elite and offers some really neat features to those who are looking ut for something other than GoPro.
The camera is waterproof and can operate at a depth of 50 meters. The VIRB XE comes with a 12.4-megapixel 1/2.3-inch sensor and offers a maximum of 1330 pixels shooting capability.
It can shoot 1440p at 30fps. It does not have 4K capability simply because 4K wasn't really in vogue much 3 years back. For remote connectivity, the VIRB XE comes with ANT+ and Bluetooth.
Pros:
Waterproof design
ANT+ and Bluetooth connectivity
Impressive still image and video capability
Cons:
No 4K
Smaller battery than the VIRB Elite
Mid level GoPro alternatives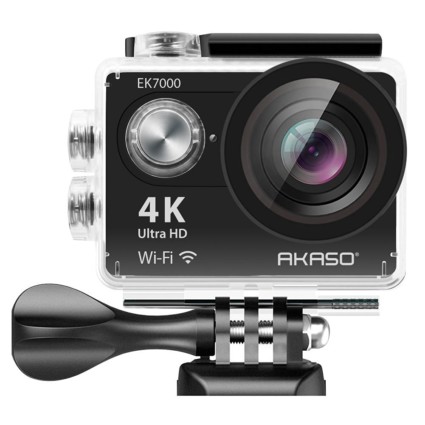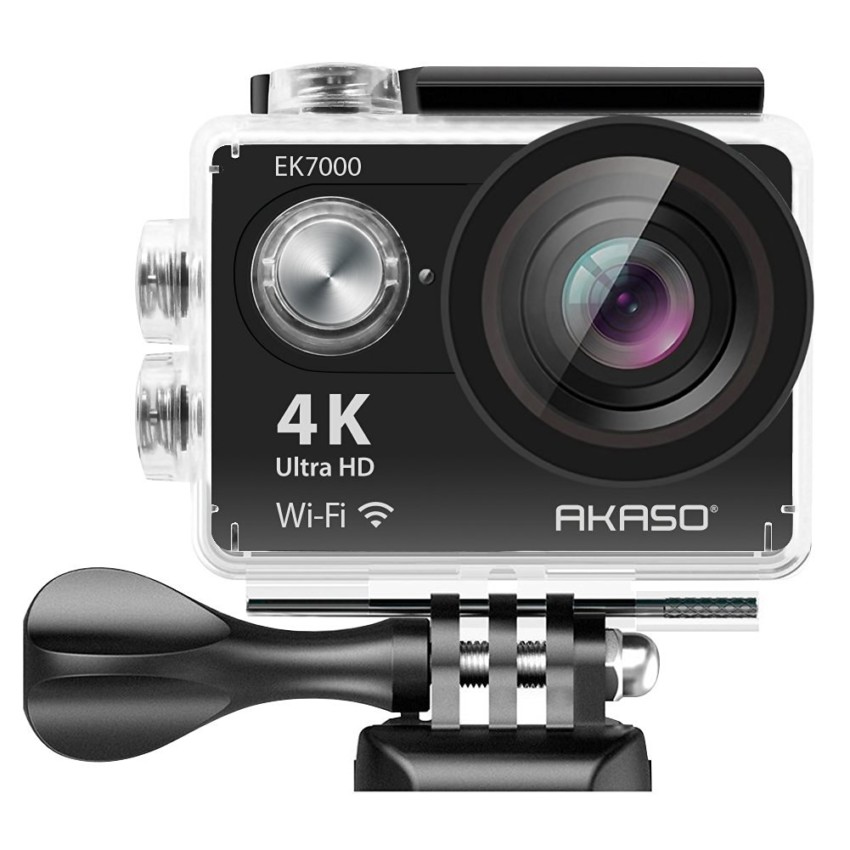 The Akaso EK7000 4K action camera was actually the no.1 selling low priced action cam in Amazon just a few months back. It received rave reviews from its buyers. What it had going for it is the fact that at a mere $72 the Akason EK7000 offers the capability to shoot at 4K, which separates from other action cams in this price bracket.
It has a 12-megapixel sensor, which shoots stills and records videos at 4K. But then getting a true 4K best action camera at a price lower than $200 is quite impossible these days.
So don't expect the 4K to be like GoPro or Higher end Yi action cams. The camera itself is not waterproof, but it does come with a waterproof housing.
However, according to CreativePhotoConnect, you can use this device 100 feet underwater and, thanks to the waterproof housing, you don't have to worry about the damage. Check out their Akaso EK7000 Action Camera review for a more in-depth look at this great GoPro alternative.
Pros:
4K capability at a price below $100
Large screen
Built-in Wi-Fi connectivity
Low price
Cons:
4K videos are not up to the mark
Build quality can be better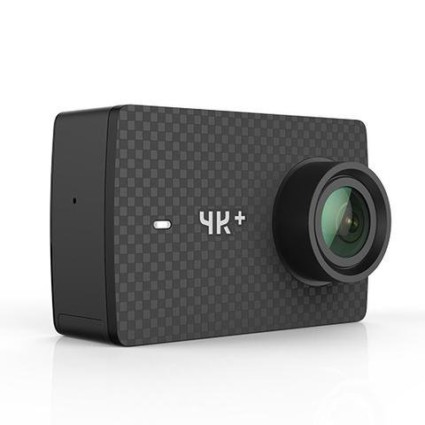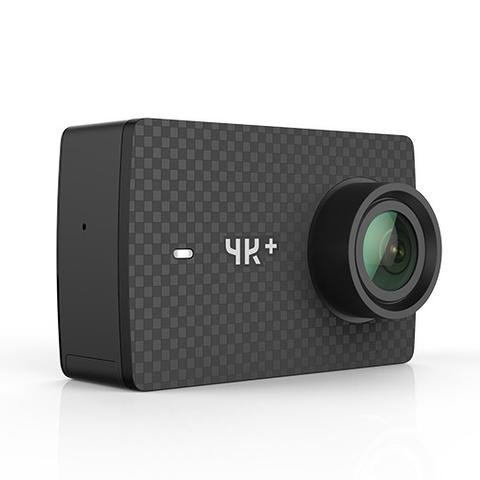 Another good GoPro alternative in the md-level segment is the Yi 4K+. Capable of recording 4K at 60fps, the Yi 4K+ comes fitted with a 12 megapixel sensor and electronic image stabilization.
In fact, one the biggest positives of the Yi 4K+ is the fact that it provides image stabilization at 4K (absent in the Garmin VIRB Ultra 30). Images and videos shot with the Yi 4K+ are of extremely high-quality.
Another huge thing the Yi 4K+ has going for itself is the fact that it is cheaper compared to the newer GoPro models (Hero 5 and Hero 6).
While the GoPro Hero 6 has been priced at $474 USD and the Hero 5 now costs at $360 USD, the Yi 4K+ comes at a mere $255 USD. But inspite of having so many positives, the Yi 4K+ has some glaring negatives about it.
Pros:
Cheaper than new GoPro models
Very high-quality image and videos
IS at 4K
User friendly interface
Cons:
Lack of weatherproofing
No built-in waterproofing. You have to buy a waterproof case along with the camera which raises the price a bit
Voice control is not very reliable
No GPS
Mediocre audio quality
If you are someone who likes to get on with shooting without wasting much time on camera settings then the iON Air Pro 3 is the perfect camera for you. The iON Aur Pro 3 is a one-piece design and unlike other action cameras is doesn't require a waterproof housing to protect it from water.
It has a perfect design for mounting atop vehicles and bike helmets and record footage while on the move.
It shoots full-HD videos at 1080P at 30 and 60 fps while it shoots 720P at 30, 60 and 120 fps. Lack of 4K is definitely a glaring miss. Photo and video quality in the iON Air Pro 3 is quite good.
Pros:
Streamlined design
Doesn't need waterproof housing
Good image and video quality
Built-in WiFi
Cons:
Lacks 4K
Lack of controls
Another unconventional but brilliant design action camera is the TomTom Bandit. The design of the Bandit really takes from TomTom's sport watches and the similarities are visible. For starters, the Bandit is waterproof and can shoot without any hassle up to a depth of 50 meters.
But for this, you may need an additional lens cap which would cost you $45 extra over and above the price of the camera. Another unique feature of the Bandit is the 'Batt-stick', which really is a USB port that houses the battery. With this battery charging and file transfer happens at the same time.
The Bandit has an LCD screen on top which makes using it easy. It carries a 16 megapixel sensor for shooting still and 4K videos.
Pros:
4K capability
Unique design
Top plate LCD
Easy to use
Waterproof
Cons:
Premium looks and features at half the price of  GoPro Hero 5 Black. Yes that's what the SJcam SJ7 Star gives you. This 4K capable camera comes with many neat features.
It is lightweight and small, which makes it easier to carry. It carries a 16-megapixel sensor which ensures crisp image details and although you lack the RAW option which was there in the SJ6, the JPEGs shot with the SJ7 fares very well. As I said it is 4K capable, but shoots 4k at 40fps.
There's a 'Superview' mode in which you can shoot 4k at ultra-wide angle and at 25fps, but this increases barrel distortion in the captured video footages.
Overall, the SJ7 Star is an extremely good action camera at the price it comes in. It's a total value for money purchase.
Pros:
Premium looks and features
Low price
4K capability
High-resolution stills
Cons:
Lacks RAW like SJ6
Old fashioned USB type chargers
Can shoot at 4K for only 50 minutes
Entry-level GoPro alternatives
16-megapixel sensor, waterproof body, built-in mics and all the other necessary stuffs – the bright yellow Kodak PixPro WP1 is not something you can easily wish away, especially given it's below $100 USD price.
Although, compared to the SP1, the WP1 is inferior in many segments, but it still delivers a enough punch which transcends a $100 action camera.
The PixPro WP1 is waterproof up to 5 meters while the SP1 has a 10 meter waterproofing. It has a 31mm equivalent lens which gives you fairly good image and videos.
Pros:
Low price
Waterproof body
16-megapixel sensor
Cons:
Lacks many features compared to SP1
Related: 37 Best & Must have GoPro Accessories and Kits (2018)
Although Yi is best known for its smartphones, it does have some pretty neat action cameras in its kitty.
We have listed the Yi 4K+ above in the high-end segment and in this entry-level segment as well Yi makes its presence felt with the Yi Action Camera. This tiny $70 action camera offers more for its price than you can ever hope for.
A 16-megalixel sensor takes stills at 3, 5 and 7 fps over 2 seconds while the camera records videos of 1080p at 60, 48, 30 or 24fps. There's also a Snapshot mode that captures 10 seconds of VGA-quality video for quick social sharing.
Pros:
Low price
Tripod mount
Removable battery
Decent video and image quality
Cons:
Instruction manual is in Chinese, So if you are not Chinese it might require a bit of guesswork on your part
Body isn't waterproof
Does not come with any accessory
Small battery life
For a budget action cam, the SJCAM SJ 5000X packs more features into its tiny body than many and is definitely one of the best cheaper alternative to GoPro. It shoots 4K at 24fps and comes with things like built-in WiFi. For stills, the camera packs a 12.4-megapixel 1/2.3-inch Sony EXMOR CMOS sensor which does a fairly good job.
Design wise, the SJ 5000X looks like any conventional action camera and comes with a waterproof housing. It also has a built-in image stabilizer which can be activated via a button on the side of the camera.
Pros:
Low price
Good video and image quality
Various resolution choices to shoot at
Cons:
Lack of video streaming options
Case difficult to handle and clean
The cute little Polaroid Cube is nearly not as tough or high-quality as a GoPro Hero Session, but it does its job rather well especially given the price point it is available at.
The small size of the Cube means it is designed to go to places where bigger size action cams can't go. The Cube+ records video footage at 1440P and shoots stills with its tiny 8-megapixel sensor. It also comes with a timelapse option.
The camera by itself is waterproof, but if you want you can buy a waterproof casing. It also has a built-in WiFi and can be controlled through a smartphone if you install the Cube+ app.
Pros:
Inexpensive
Compact
Lightweight
Cons:
Video and image quality can be better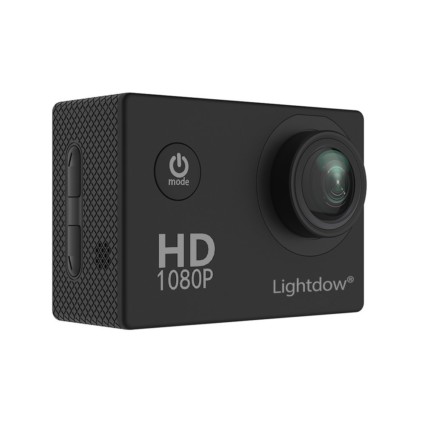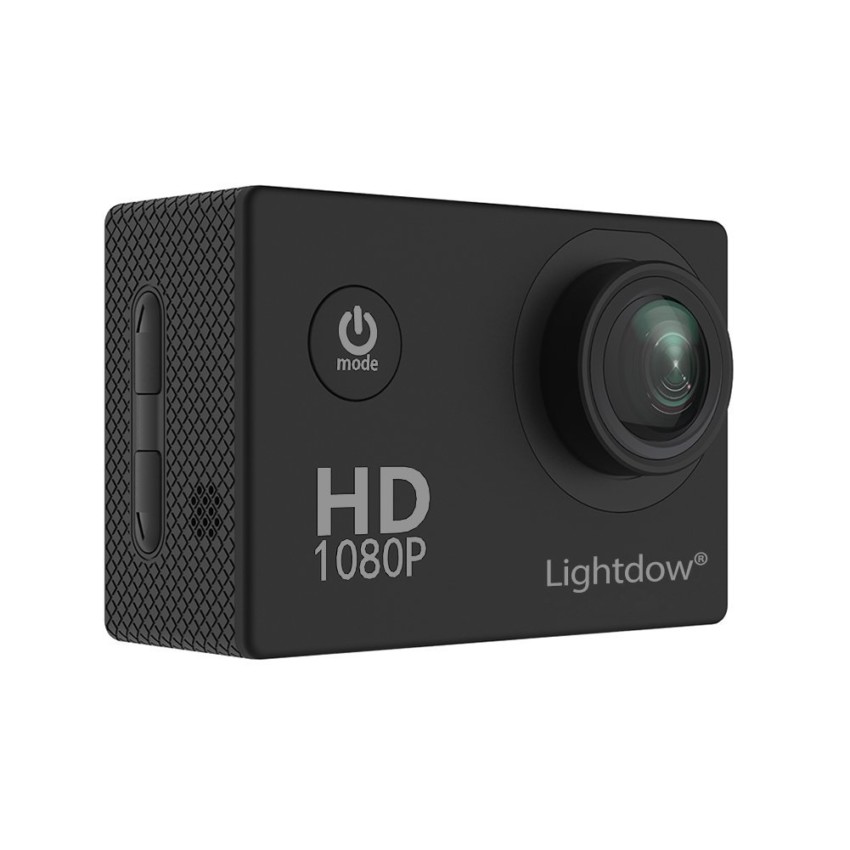 If you are looking for a value for money action cam then the Lightdow LD4000 HD might just fit your bill. At just $40 USD, the Lightdow LD4000 HD offers some pretty neat features.
It comes with a 12-megapixel sensor which records HD videos up to 1090p at 30fps. The camera boasts a 170-degree wide angle lens and is waterproof.
Pros:
Extremely Low price
HD recording
Extremely wide angle lens
Cons:
HD quality not up to the mark
Lack of 4K
Another below $100 4K action camera. 16-megapixel sensor, 4K capability and Wi-Fi connectivity makes the Aokon ARC500 a product worth looking at. One unique feature of this camera is that it comes with a wrist mounted 2.4G Rechargeable Wireless Remote Control.
It has dual screen on – one at the front and another at the back. It shoots 4K at 24fps, but like all other entry-level 4K action cams, the quality leaves a lot to be desired.
Pros:
Low price
4K capability
Dual screen
Built-in Wi-Fi
Wrist mounted remote control
Cons:
Also Check: 10 Best Camera Brands of 2018 to Start your Professional Journey
So this is it.
These are the 15 Best GoPro alternatives across various price segments.
Do let us know what you think of this listing. Cheers!