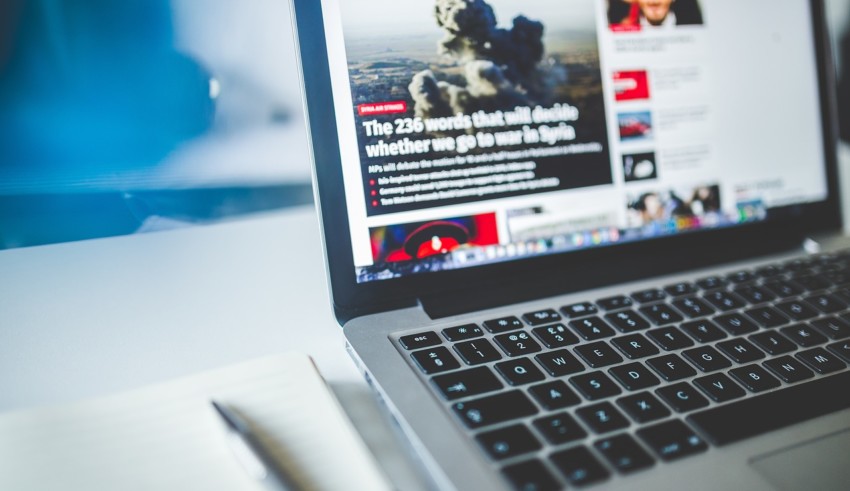 Are you a gamer or someone who uses their laptop heavily all day? You've possibly faced the problem of an overheated laptop at some point. It's immensely frustrating when a laptop heats up and switches off right when you're in the middle of something important. You might lose your hard-earned game progress or you might even lose an important file that you'd forgotten to save. In cases like these, a cooling pad for the laptop is a life saver.
Overheating is a common problem with laptops, especially ones that are a few years old. This becomes even worse if you're working out of the basement or live in a place that gets hot in the summers. If you're not in an air-conditioned room all day, chances are that you must have faced troubles due to overheating of laptops.
Now the main question in your mind would be: are laptop cooling pads worth buying? Lets first look at the reason why laptops overheat.
Laptops often overheat when the system is stretched over and above its capacity. For example, many gamers tend to overclock their processors which puts additional load on the system. Similarly, constantly running heavy files too will cause your processor to work overtime which heats up the system. While most laptops have built-in fans for this purpose, they are inadequate if the system has overheated.
This is where the best laptop cooling pads come to the rescue. A gaming laptop cooling pad allows a gamer to continue playing unhindered without worrying about the system heating up. Even for other heavy users, a cooling pad for the laptop is highly recommended in order to keep their system functioning normally.
Related: 14 Best & Must Have Laptop Accessories (2018) For You to Buy!
Finding a good laptop cooling pad can be quite a task. To help you, we decided to put together this article which has the best laptop cooling pad reviews. All you need to do is read on and take your pick.
Here's a list of top 10 cooling pads for laptops:
#10 Belkin CoolSpot USB-Powered Laptop Cooling Pad

Belkin is one of the most well-known manufacturers of peripherals in the United States. As a result, you're assured of a fantastic quality product with the Belkin Coolspot USB-Powered laptop cooling pad.
Weighing just 1.3 pounds, this laptop cooling pad is extremely portable and can be carried along with you anywhere. The design too is ergonomic with an angled top that ensures that your laptop stays in place.
Moreover, this cooling pad features grips on the bottom which ensures that it doesn't move when you're using your laptop. The other thing that amazed us about the design of this cooling pad is how quiet it is. The fan on this pad works efficiently and yet generates minimum noise. After a while, you won't even remember that you're using a laptop cooling pad. Also, the Belkin CoolSpot draws power from your laptop's USB port so there no need to look for a plug point anywhere.
#9 Jelly Comb Gaming Laptop Cooler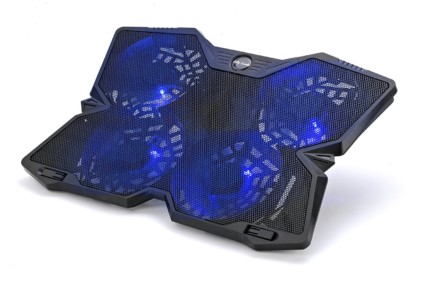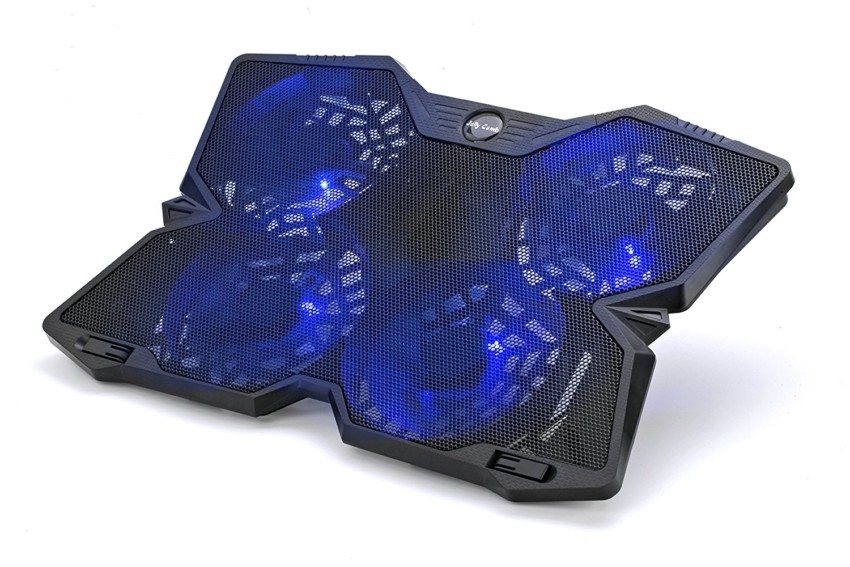 This Jelly Comb device is primarily a gaming laptop cooling pad. With a fancy and futuristic-looking design, the Jelly Comb laptop cooler is a heavy-duty device which promises to keep your laptop from overheating.
Designed with 4 fans, this cooling pad works furiously without generating any significant noise. Moreover, the fan speed is adjustable depending on your requirement. Designed using a special metal mesh, the Jelly Comb Gaming laptop cooler ensures that heat doesn't get trapped and is dissipated away from your laptop.
Moreover, this cooling pad also features an in-built USB hub. As a result, you don't have to waste a precious USB port on your laptop. In fact, thanks to this USB hub, you can also connect an additional device if you wish. The Jelly Comb Gaming Laptop Cooler works perfect for laptops between 10" to 17" in size.
#8 Belkin CoolSpot Anywhere Laptop Cooling Pad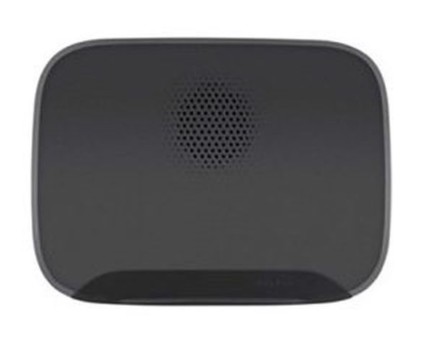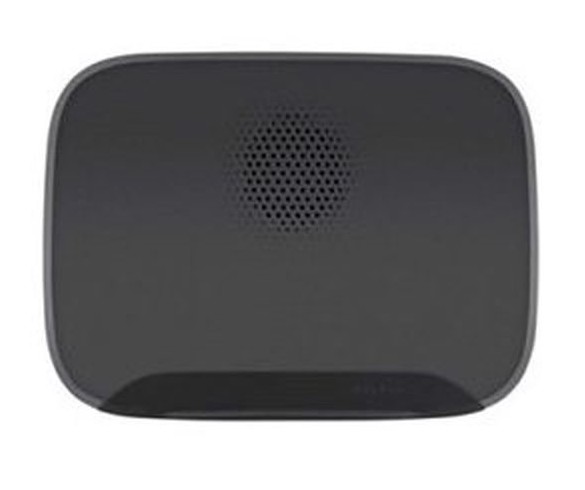 This cooling pad made by Belkin has been designed keeping widescreen laptops in mind. Featuring a black form factor, the Belkin CoolSpot Anywhere, as the name suggests, is an extremely lightweight and portable device. This laptop cooling pad features two intake vents which suck in hot air from all sides of your laptop. The specially designed AirFlow Wave fan ensures that your system remains super cool without generating any noise.
The raised rubber rim on top of the cooling pad ensures that your laptop stays firmly in place and doesn't slip. This makes it ideal for users who also like to work on the go and aren't sitting at a table all day. The Belkin CoolSpot Anywhere cooling pad also comes with a 1 year manufacturer warranty.
#7 Lotfancy Portable Chill Mat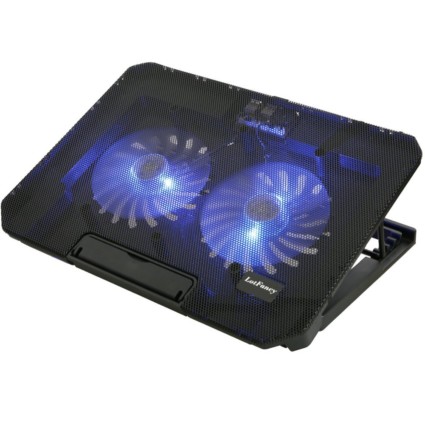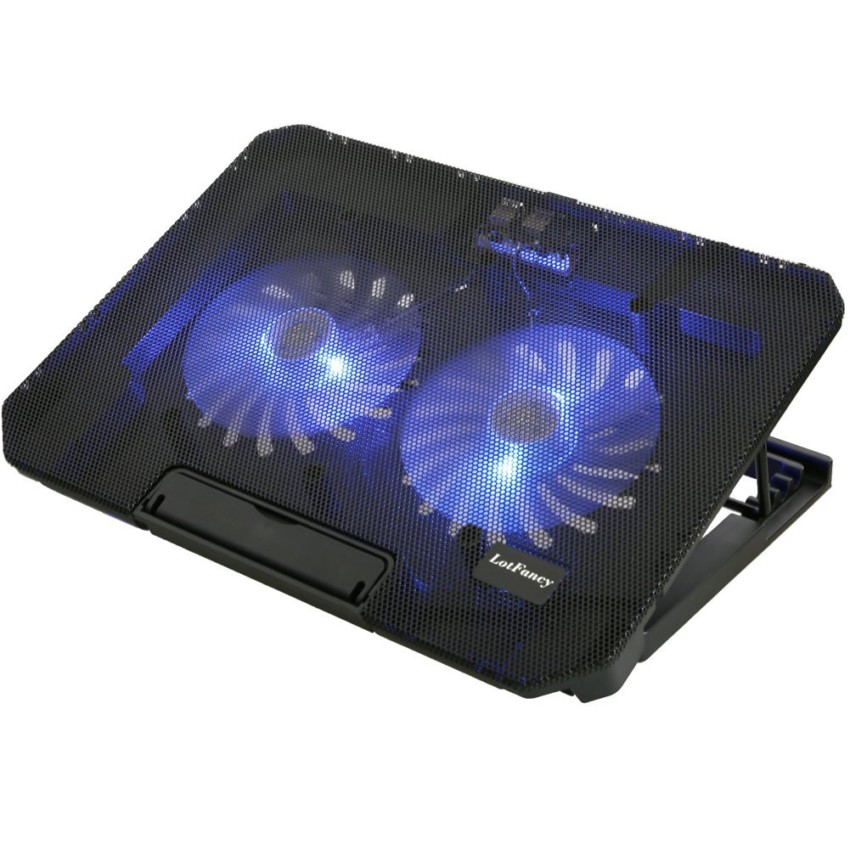 Designed with 4 ultra-quiet fans, the Lotfancy Portable Chill Mat keeps your laptop cool without generating any additional noise. This means that you can comfortably watch your favorite movies and play music without any interference from the cooing pad.
The best feature of this laptop cooling pad is that it comes with 4 adjustable height settings. Therefore, depending on where you're sitting, you can adjust the cooling pad for the best possible view of your laptop screen. Moreover, the Lotfancy Portable Chill Mat comes bundled with a USB hub which can be used for connecting the device and also for extending the number of USB ports on your laptop.
The only drawback that we see here is the price of the Lotfancy Portable Chill Mat which could have been $3-$4 less than the current $16.59. That said, this laptop cooling pad is versatile and works with laptops of all sizes between 10" to 17".
#6 Cooler Master NotePal X-Slim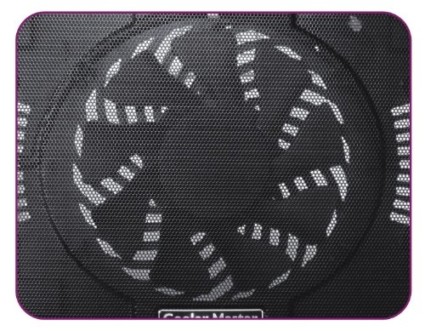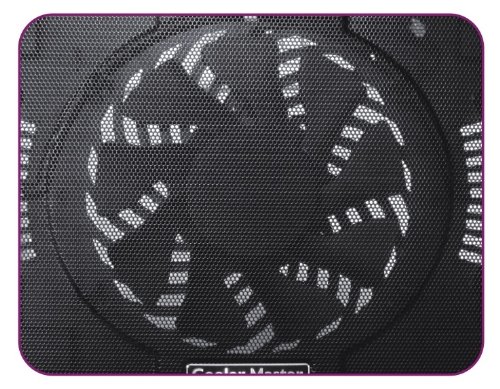 The Cooler Master NotePal X-Slim is one of the slimmest laptop cooling pads available in the market. With a width of just 46mm and a weight of 1.5 pounds, this laptop cooling pad is extremely portable and perfect for those who are always on the go.
Rather than use multiple fans, this cooling pad uses a single 160mm large fan which provides 70 CFM of fresh air that prevents your laptop from overheating. Thanks to the ultra slim size, you won't even realize after a while that you're using a cooling pad. Built with a metal mesh, the cooling pad offers adequate airflow and yet remains quiet enough for you to carry on with your work uninterrupted.
The other highlight of this cooling pad is the 2-level adjustable setting which allows you to optimize the angle for the best viewing experience. Moreover, the connecter cable features little grooves which allow you to easily roll up the wire without having to sort through a tangle.
#5 Mobility Laptop Cooling Pad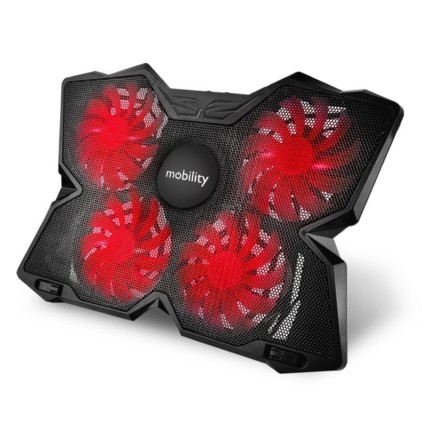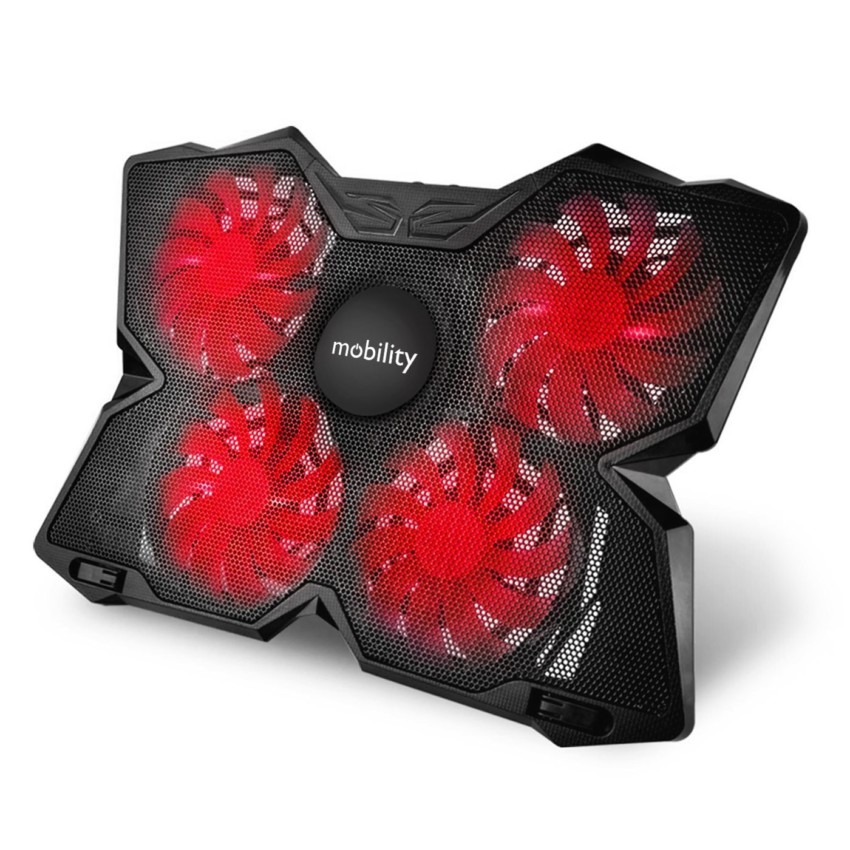 Just one look and you know that the Mobility Laptop Cooling Pad is designed for hard core gamers. Featuring red streaks on the fan blade with a black form factor, this futuristic-looking cooling pad is also a powerhorse.
At the onset, let us state this: the LED lights on this cooling pad might be awesome for some though many would see it as an immense distraction. That said, the other features on this cooling pad help redeem this device.
With 4 ultra-quiet cooling fans, the Mobility Laptop Cooling Pad will help cool your system no matter how heavy your use is. The fans come with adjustable speeds so you can tweak it depending on how heated up your laptop is at that moment. At 2.1 pounds, this cooling pad can feel slightly heavier than the others but is still portable enough to carry around with you. Thanks to the bundled USB hub, you don't need to worry about losing a precious USB port on your laptop anymore.
#4 TeckNet Portable Laptop Cooling Pad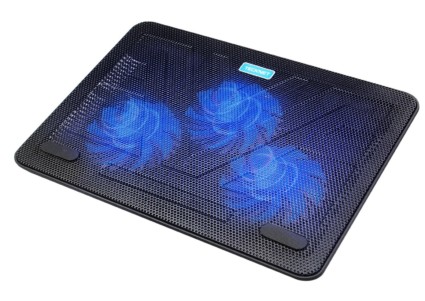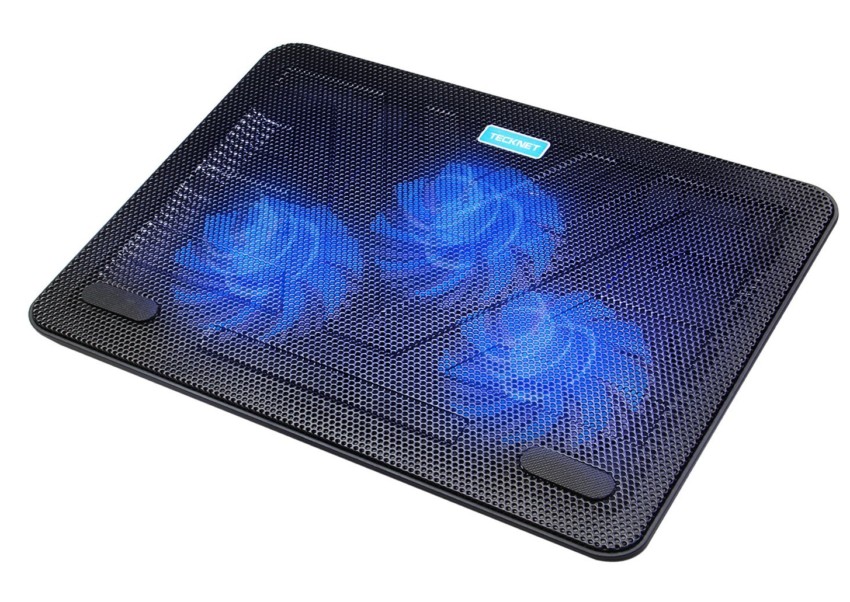 This laptop cooler from TeckNet features 3 ultra-quiet fans that work constantly to cool down your system. Despite the amazing fan power of 1200 RPM, this laptop cooling pad is ultra-quiet and non-intrusive. In fact, this laptop cooling pad is so quiet that there's blue LED indicators at the back which tell you whether it is powered on and working efficiently.
Needless to say, you won't even realize that you're using a cooling pad while this workhorse works silently in the background. The TeckNet Portable Laptop Cooling Pad also features rubber grips at the bottom which help keep it in place when you're using it on a table or desk. This cooling pad comes with 2 adjustable settings to ensure that you have the best viewing experience regardless of where you're sitting.
The price of this laptop cooling pad at $16.99 is quite value for money considering that this is a rather powerful device.
#3 TekHome 2-Fan Laptop Cooling Pad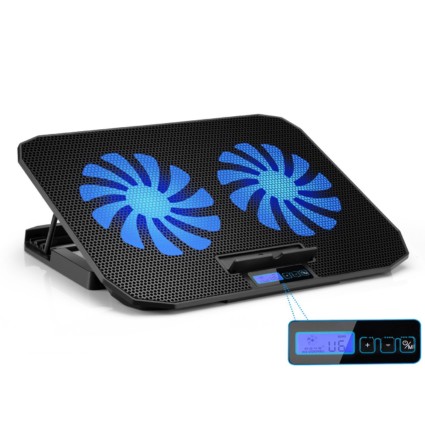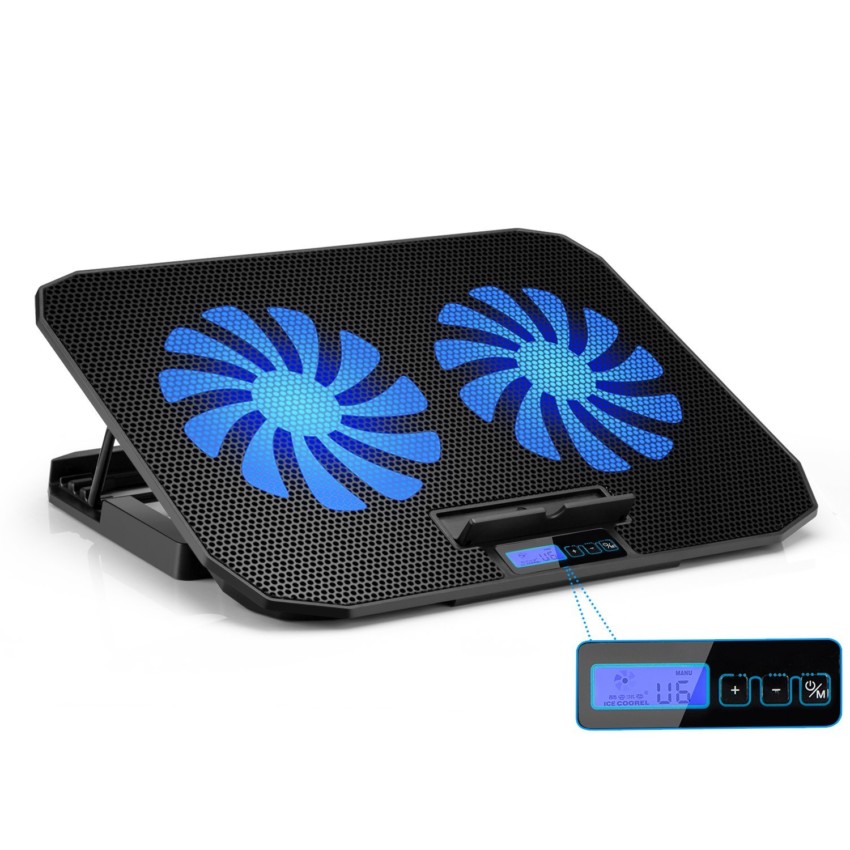 This is one of the few cooling pads in the market thats designed for extra wide-screen laptops. With the TekHome Laptop Cooling Pad, you can comfortable use laptops between the sizes of 10" to 15.6" making it one of the largest ones in this category.
The 2 in-built fans provide something called shock cooling: thanks to a force of 1500 RPM, this pad cools your laptop within seconds. Moreover, with 6 adjustable fan speed levels, you enjoy a very high degree of customization with this laptop cooling pad.
Along with 5 adjustable height settings, the TekNet Laptop Cooling Pad also features exhaust vents all over its form factor. These vents are designed to pull away heat effectively regardless of where you're using the laptop. This is especially helpful for those that love to watch movies in bed and are concerned about their laptop overheating.
The price tag of $21.99 is a bit steeper compared to the average price of cooling pads which tends to be between $16-$17. While the extra 4 bucks might be for a larger size, we still think that a price drop of a couple of dollars will sweeten the deal even more for this laptop cooling pad.
#2 Kootek Laptop Cooling Pad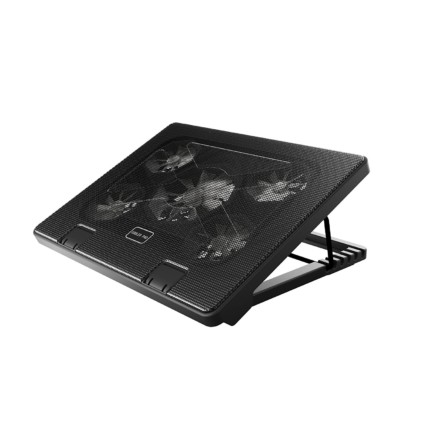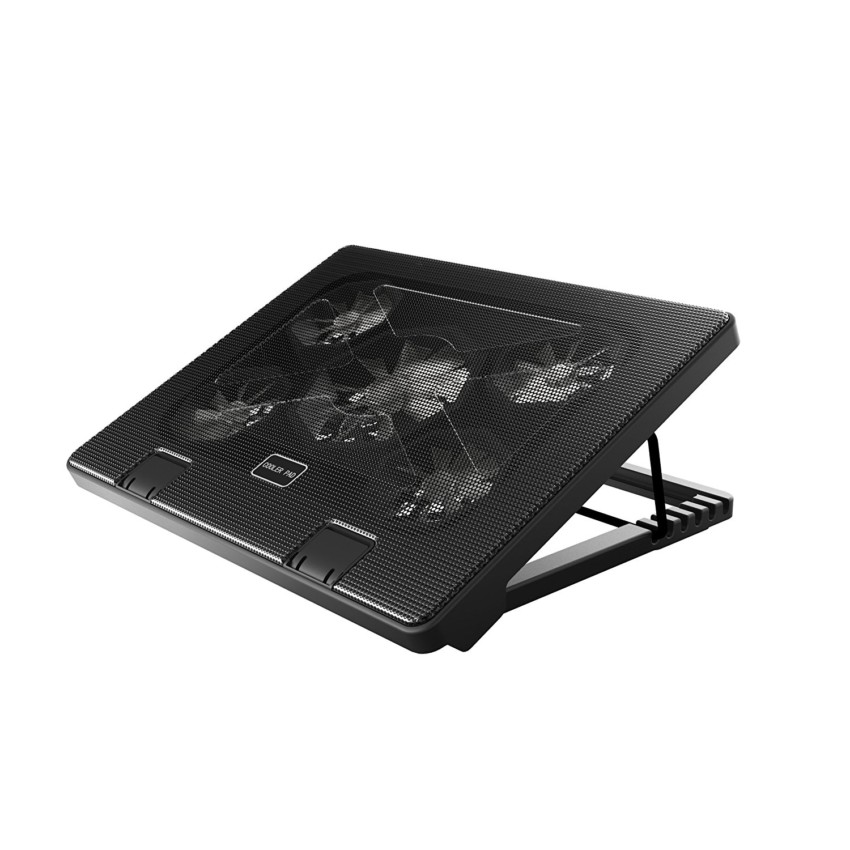 Regardless of the size of your laptop, we promise that the Kootek Laptop Cooling Pad will be sufficient for it. Thats because the range of supported laptop sizes on this cooling pad goes from 10" to a whopping 17".
With 5 built-in fans, this laptop cooling pad is perfect even for the most overheated systems. What we loved was the high degree of customization available for the fans. This Kootek cooling pad features 1 large fan of 5.9" and 4 small fans of 2.76" in size which work together to keep your laptop super cool even under heavy duty use. Moreover, a switch on this cooling pad allows you to turn on just the large fan, the 4 small fans, or all the 5 fans together depending on your specific need.
Moreover, this cooling pad also features 6 adjustable height settings (compared to 2 settings offered by most other companies). This ensures that you'll have a comfortable viewing angle of the screen regardless of where you use your laptop.
#1 TeckNet Portable Ultra-Slim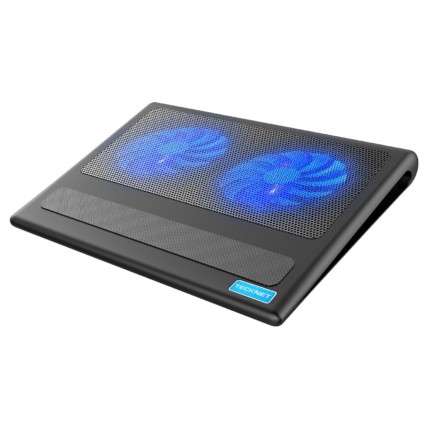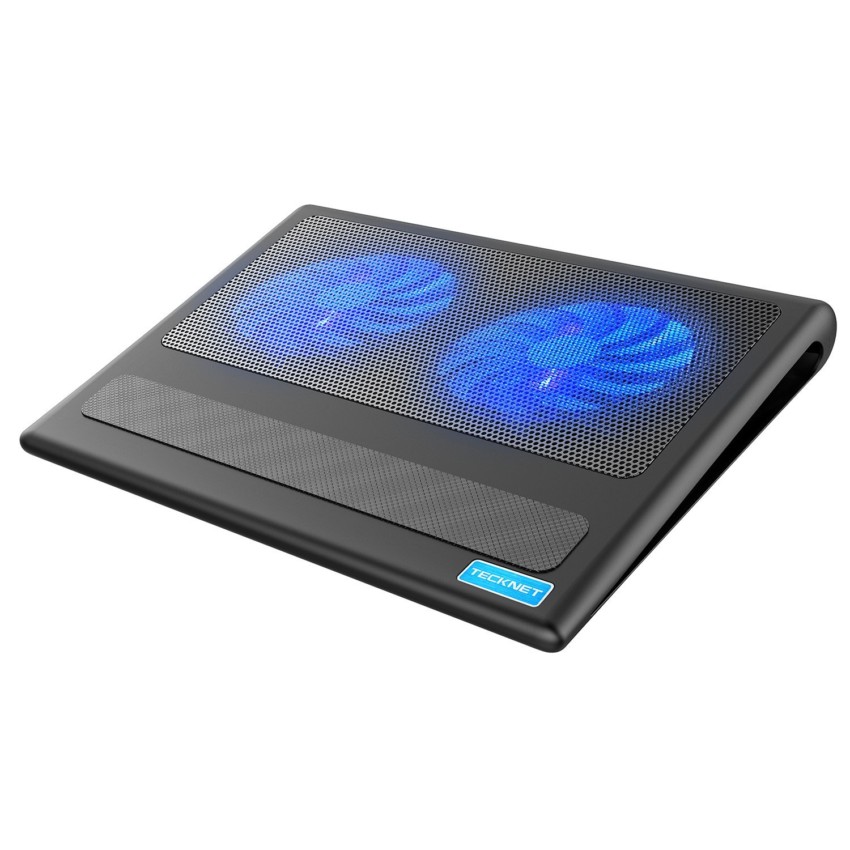 The TeckNet Portable Ultra-Slim cooling pad works for laptops within the size range of 10" to 16" which includes most of the brands including wide-screen models.
This cooling pad features 2 fans of 110mm diameter which provide the necessary cooling even for extremely overheated devices. Moreover, the fans are ultra-quiet and the cooling pad features an LED indicator at the back which allows you to check whether it is functioning efficiently.
With a weight of just 1.8 pounds and a thickness of 1.8 inches, the TeckNet Portable Ultra-Slim cooling pad, like its name suggests, its extremely mobile and can be taken with you anywhere on the go. For a size range as vast as this, the price tag of this cooling pad at $17.99 is extremely reasonable and value for money.
Verdict
Now that you have the list of the top 10 laptop cooling pads in the market, its time to take your pick. While making a decision, it is best to keep your particular needs in mind in order to select a cooling pad that suits your device best.
Most of the laptop cooling pads that support wide-screen devices will be perfect for gamers as well as movie watchers. If you're someone who travels a lot, you might wanna pick a cooling pad thats lightweight and won't occupy too much space in your bag.
Even when using a cooling pad, ensure that you're sitting in a place thats properly ventilated. Any hot air inside your laptop needs a place to escape so that it can be replaced with cooler air. Also ensure that you keep your laptop away from direct sunlight especially if it has a tendency to overheat.
So which of these laptop cooling pads did you find to be the most impressive? Are there any specific features you absolutely need in your cooling pad? Do let us know your views in the comments section. We would absolutely love to hear from you!