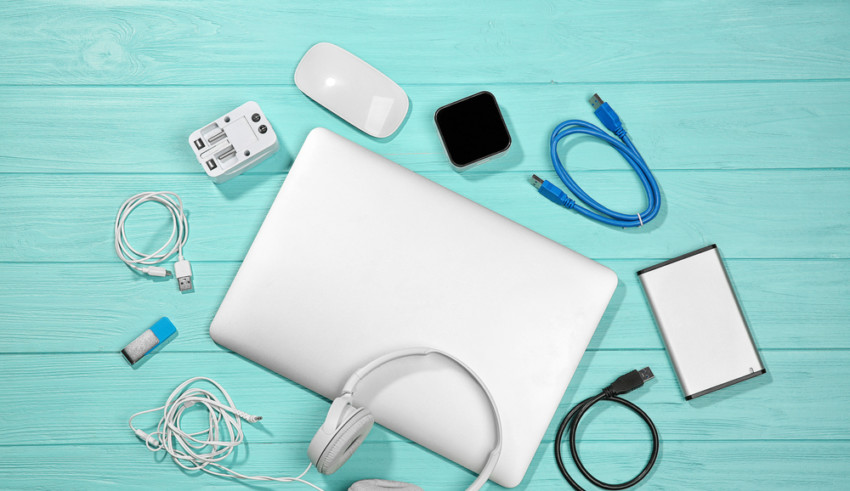 In the world full of smartphones and tablets, laptops have still not faded away due to the reason that no hand held device can match the sheer power of a 15 inch display, 8 GB RAM and 1 TB storage of most standard laptops. Laptops still play a very fundamental role in our everyday lives because of their versatility.
From working and surfing the net to watching HD movies and playing video games, laptops can do pretty much everything that you might think of. You can simultaneously surf videos on YouTube while making a presentation for tomorrow's board meeting, thus increasing efficiency and helping you in utilizing your time and energy to the maximum.
Laptops due to their size, which is larger than smartphones and smaller than desktops, offer you the best of both worlds. Therefore, they are the most loved gadget of the millennials. They offer a full keyboard, good battery life, higher processing power and brilliant storage space.
However, it doesn't matter if you are using a MacBook or a Windows device, if you don't accessorize your laptop with the best laptop accessories of the year 2022, you won't be able to unleash the full potential of your notebook. Accessories perform a variety of beneficial functions and tasks for your laptop, depending upon their nature. From protecting your device to enhancing your productivity, there is an accessory for each of your requirements.
So, regardless of the fact that you use your laptop for business, gaming or just for watching movies,
Here are some must-have laptop accessories to make the most of your laptop.
Laptop Bag

It's been rightly said that safety comes first and therefore, a laptop bag takes the first spot on this list. You can't carry your notebook to your work or anywhere without a bag or a case. It's highly risky and can ruin your thousands of rupees worth of investment. Imagine, carrying a laptop without a bag and it starts to rain. Unthinkable. Right?
 A laptop bag and skin are must-have accessories for safe computing and safeguarding your notebook against impacts, drops scratches, and water. This simple yet useful accessory is the most important one that you must invest in.
Laptop bags are available in a variety of shapes and sizes, but the most desired ones are in the form of a normal shoulder bag/backpacks. If you are a working professional and need to carry your laptop to all the meetings, you can even try more formal and professional-looking bags.
Whatever type of laptop bags you prefer, just make sure that they offer necessary padding and ample protection for your notebook. It is advisable to buy a laptop bag of the same brand as your laptop as they will offer bags specifically designed as per the specifications of your laptop.
A USB/Bluetooth Mouse

Another crucial accessory is a laptop mouse. Whether you prefer a wired or a wireless one, is completely up to you. A laptop's mouse pad, let's face it, does not provide the comfort and ease of working with an actual mouse. An external mouse makes computing much easier and an effortless task. It is a must-have accessory if you have to compile reports or do other office work on a daily basis.
Also, it is a blessing for professional gamers who need freedom to roam around in a game map, which just can't be achieved with a touch pad.
Portable USB Flash Drive 
These tiny devices can easily fit into your pocket and can store up to 1 TB of data. Extremely useful for transferring important data, a USB Flash Drive is a perfect storage companion for your laptop.
You don't have to invest for a huge storage drive, but having a 4 or 8 GB USB drive is quite essential for day to day transfer of data and must always be there in your laptop bag.
E

xternal Hard Disk Drive 
External HDD acts as a perfect backup storage for unthinkable amounts of data. Just like a USB drive, they can be easily plugged into your device and you can create a backup of your entire system, photos, videos, games etc. in them. This allows you to free up space in your laptop and start anew.
External Hard Disk Drives also help you in sharing movies, entire discographies of your favourite artists, games and other large files with your friends.
Some of the best External HDDs are offered by Toshiba and HP with a capacity of up to 2 TB and An average transfer rate of 4MB/s.
Stereo Headset

Whether you are watching a movie, enjoying music or playing a game, clear sound with good base is extremely important. Therefore, we suggest investing good amount of money in quality Stereo Headsets. Headsets allow you to enjoy your movie watching or gaming experience without disturbing anyone and are extremely useful while travelling.
With the introduction of universal 3.5mm jack, you can also use these headsets with your smartphones. It is the most versatile accessory which is a must have for all tech enthusiasts and for those who prefer to stay lost in their world in crowded spaces.
JBL, Skull Candy, Logitech etc. are a few brands that will offer you amazing sound at affordable prices.
Security Device 
Keeping your notebook safe and secure is very important, especially while travelling. There are various types of security devices available for laptops in the forms of cables and docks that attach your laptop with some stationary object. Browse through the various options here.
Cleaner Tool Kit 
Your laptop has various tricky areas where cleaning is not possible. That results in accumulation of dust and dirt with time. It is important to keep your laptop neat and clean to ensure long life and optimum performance and that's why you must consider investing in cleaning kits.
These small brushes and cleaning solutions reach the trickiest corners and crevices of your laptop and efficiently remove the accumulated dust over time.
Also, cleaning your screen every couple of days with a disposable cleaning tissue, provided in the cleaning kit, is a good idea.
Cooling Pads 



Realted: 10 Best Laptop Cooling Pads to Buy one in 2018
If you are using your laptops for extended periods of time, then a cooling pad becomes a necessity to keep it cool. A cool pad is one of the most important, but underappreciated accessory as not many people understand its importance, purpose and benefits. If you want to prolong the life of your laptop and avoid some serious heating problems, then you have to get a cooling pad.
So, if you don't want your laptop to also perform the function of your personal heater, buy a cooling pad. The new generation cooling pads are extremely slick and don't occupy much space in your bag. Moreover, the cooling pads are designed ergonomically which makes typing while using them a lot easier and effortless.
Keyboard Covers

A keyboard cover does the commendable job of protecting the laptop keyboard from spills, scratches and other forms of wear and tear. It is a simple sheet of a thin transparent material, like plastic, that covers the keyboard and can be easily used while typing. It can also be removed when not in use.
Bluetooth External Speakers 
This is the best laptop accessory for all the party freaks who want loud music with brilliant base. Most of the laptops are known for their terrible speaker quality and that's what make external Bluetooth speakers a must have, if you are a music fan.
 These wireless speakers can be easily connected to your system via Bluetooth and then you can easily tap your feet to the tunes of your favourite music. These speakers also offer a far better media and movie watching experience than your laptop speakers can ever provide.
Headsets are also a good option, but you can't enjoy music with other people with headsets and that's what makes Bluetooth speakers a cool accessory to have.
Some of the best portable speakers you can buy are offered by JBL, Bose and Beats Audio.
PC Gaming Controller 
Say what you may, but the best experience of gaming is provided by a console. For professional gamers, a gaming controller, like that of XBOX One, is as important as water to a fish. A gaming controller is, hands down, one of the most awesome laptop accessories for gamers.
USB PowerStick Charger 
An average laptop's battery lasts for 4-5 hours at the most. So, what can you do if the battery runs out and you have no power source to charge it? This is where a laptop power bank comes into picture.
Offered by PowerStick, this laptop power bank can be easily plugged into your laptop's USB port and charge your battery effortlessly, while you continue with your work.
Lapdesk 
A lapdesk offers plenty of space for your laptop, smartphone and tablet. This simple yet stylish accessory with soft touch wrist pads offer amazing comfort and stability while working on your device.
Laptop Stand 
A laptop stand is a perfect accessory for people who have to give a lot of presentations to the crowd and type while standing. It also helps in elevating the laptop to the right level to avoid straining of the eyes.
Conclusion
Having a laptop without these accessories is like wearing an armour, but possessing no sword.These cool laptop accessories will make your laptop more proficient and will increase your productivity.
So, order them now and make the most of your laptop in the most efficient manner.