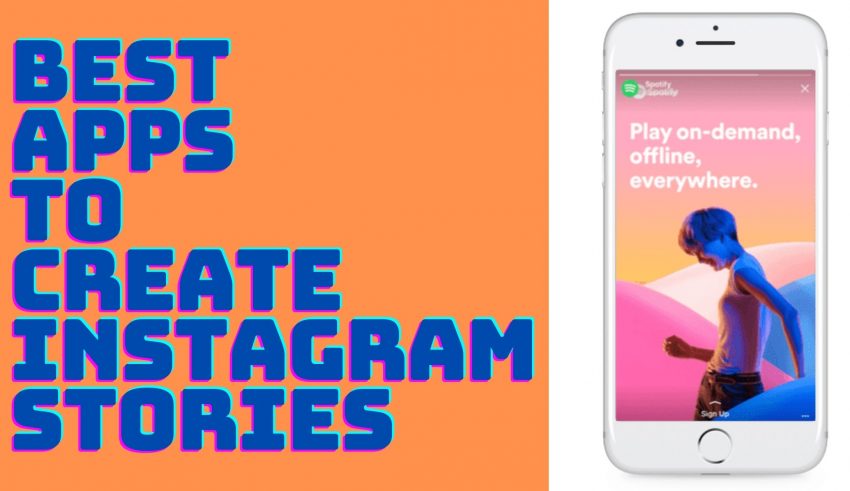 If you are looking to make it big on Instagram's crowd, a hunt for the best apps to create Instagram stories is obvious. With the world having shifted online, the internet has become the best platform for talents, skills, and hobbies.
Social media sites have replaced clubs and societies, and have brought together thousands from across the globe. No wonder, platforms like Instagram have become highly popular across all age groups, individuals, and business ventures alike.
With an Instagram account or page, however, things are not all cakewalk either. The page feed and posts must be engaging and unique. The stories and video posts need to be frequent and insightful.
Without these, one cannot expect genuine followers to either approach or stay around for long. While the content and design of the posts is something we will try to cover separately, let us try to understand how one can keep people engaged with brilliant Instagram Stories.
What is Instagram Stories?
Out of the many attractive and fun features, Instagram is home to, Instagram Stories are perhaps the most popular. The feature allows users to post one or many images and short videos that will stay on for 24 hours. One also has the option of 'highlighting' these stories so that they appear on their profile for as long as they want them to.
Instagram stories are a brilliant tool for people who are using the platform to express themselves. It allows them to weave a narrative and stick on to it; update it daily and maintain a conversation with their followers.
Therefore, one must add a little extra effort when creating these stories. How? Well, multiple applications can help you create the most eye-catching Instagram stories in no time! Read on to find out which are the best options for you.
Here is a list of the 10 best apps to create Instagram stories:
Inshot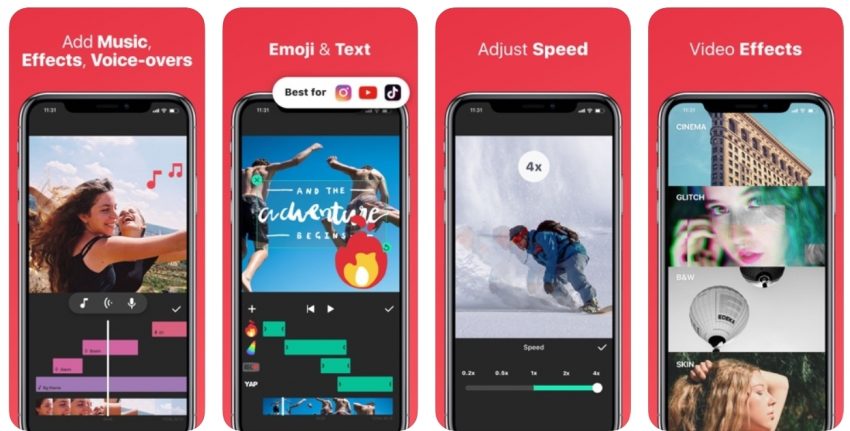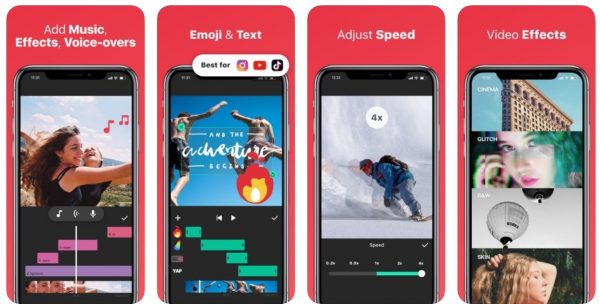 Whether you are a professional or a beginner in the Insta game, this is one choice you shouldn't ignore. It is one of the best apps to create Instagram stories on the go. Users can edit photos and videos and add texts, stickers and filters to make them more interesting.
When it comes to video editing, InShot allows one to trim, merge, split or even crop the clips to create a beautiful post. One is free to add music if they want to, either out of the InShot resources itself or any file they have on their device. One can also use the fade in and out an option to the music to not make it sound abrupt. The speed of the videos, their sequence, their aspect ratios as well as their brightness can be adjusted.
InShot is a must-try if you are looking to post short video clips on their Instagram stories to keep your followers updated and also gain new ones.
Why InShot?
Can double up as both photo and video editor
Possible to add music to the video, which can be faded in and out
Split, crop, merge and trim videos with simple tools
---
Canva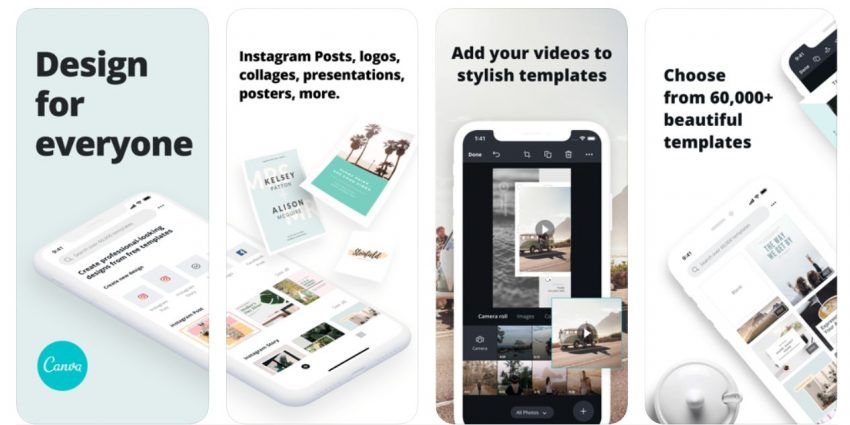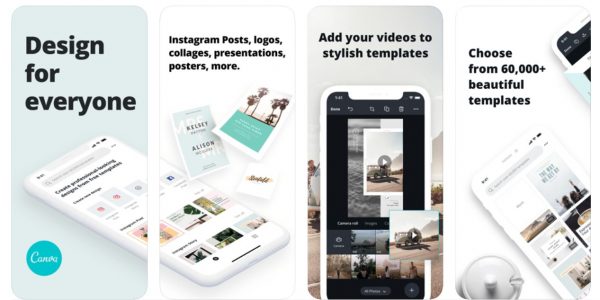 Canva is perhaps the most popular online editor these days when it comes to photos and social media posts. The app is one of the best apps to create Instagram stories these days, especially when it comes to creating flyers and posters for your social media page.
Need to make special announcements? Hosting a giveaway? Have an amazing idea and want to present it as a story before your online audience? Need to gain immediate attention? Well, with Canva, you can create story posts covering any or all of the above with ease. Elegant color schemes, amazing fonts and a never-ending library of templates and features, Canva is a must-try for the soon-to-be social media sensation.
Why Canva?
Over 60000 templates in varying styles and effects
Multiple design tools to enhance pictures like a blur, enhance, vignette and so on
A large pool of background images, textures, icons, and frames for your posts
---
PhotoGrid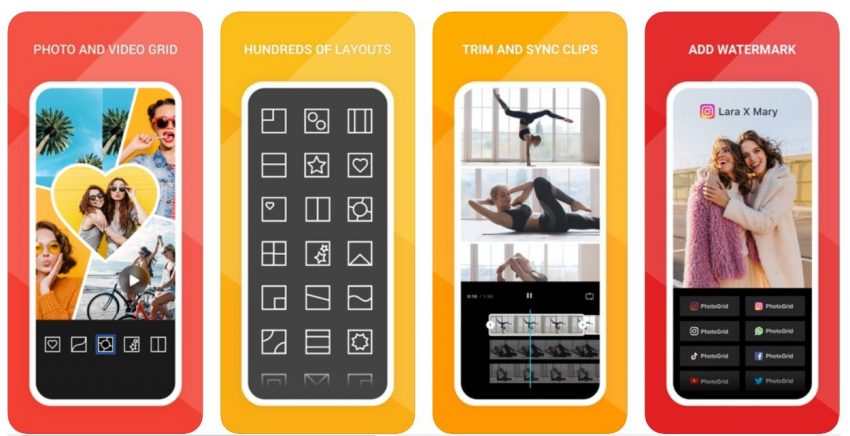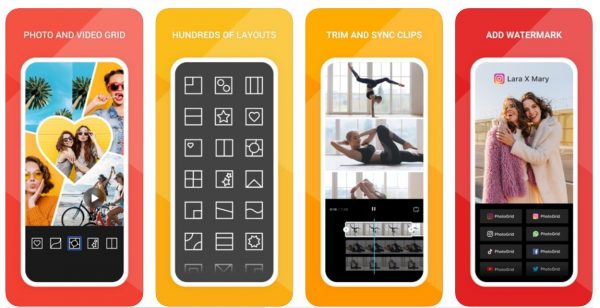 Android | iOS
Instagram is the hub of "influencers" today. From fashion to books, lifestyle to shopping, art to music, "influencers" in various fields is making their mark on the social media platform like never before. They need to maintain a certain level of personalized aesthetic content on a day-to-day basis.
PhotoGrid is an app that's just perfect for the Instagram "influencer". After all, it assists them in creating beautiful collages, or editing photos using the most elegant of templates.
Besides, the makeup feature of the app allows them to add or remove makeup from pictures as they like. The camera tool with the app also allows them to choose the kind of makeup they wish to put on artificially. To top it all, PhotoGrid can be used to create memes and gifs.
With a superior interface and unique features like background removal and beautification all wrapped into one, PhotoGrid is one of the best apps to create Instagram stories on the go. The library of filters, effects, backgrounds and collage templates is sure to make you spend hours and hours browsing them.
Why PhotoGrid?
Create beautiful collages on the go
An amazing array of filters, themes, templates, and styles
Makeup and beauty tools for the Instagram influencer
---
StoryArt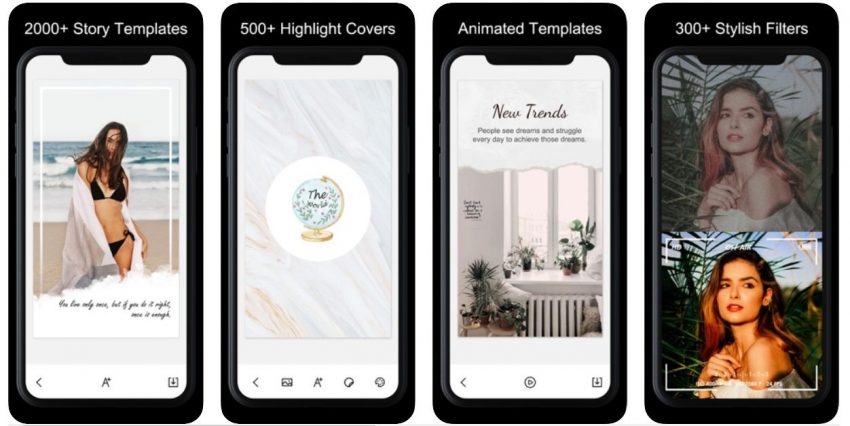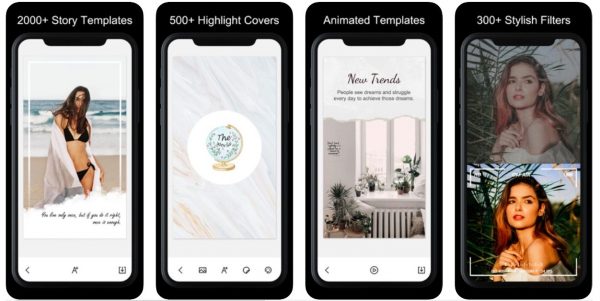 Android | iOS
If there is one site that has been tailor-made for 'Stories' on Instagram and other social media platforms, it has to be StoryArt. The app has an impressive array of ready-to-use templates, which are nothing like old-school montages. They are cool and trendy, utilizing the right colors, the right feel and the right effects to get your story, well, just right.
Besides, if you are someone who likes to experiment, the app provides ample freedom to you to twinge and tweak the existing templates. You can add your own texts, play with styles and effects, experiment with filters and layouts, and so on. The pre-set templates being a huge hit themselves, it is easy enough to create a striking story-post with this amazing app.
Why StoryArt?
Incredibly easy-to-use, designed for social media stories
A huge collection of 200 templates and over 20 themes
Weekly updates and additions to the template library
---
Also Check: Best Sites to Buy Free Instagram Likes
---
Typorama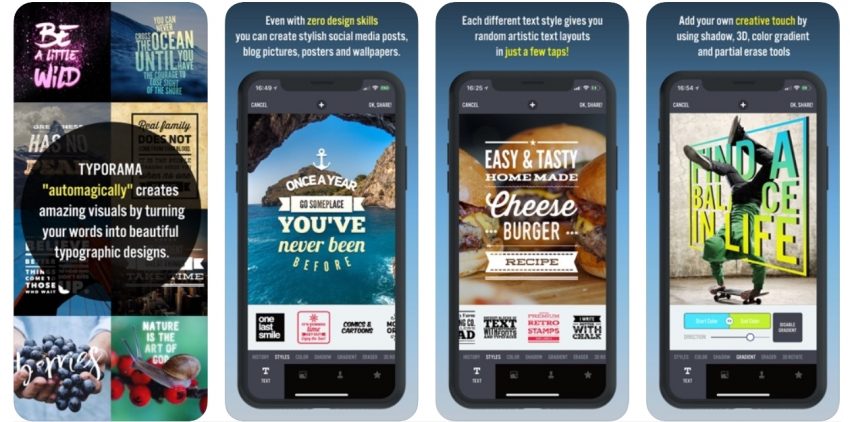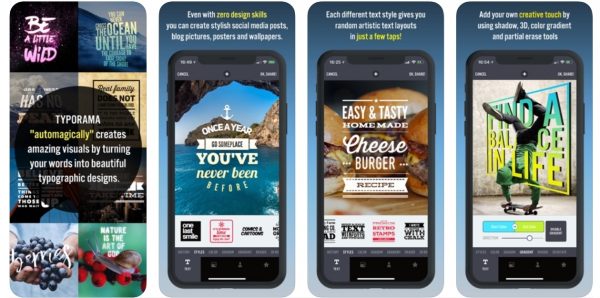 In the first glance, you might feel Typorama is a little out-of-place in a list of the best apps to create Instagram stories. Yet we assure you it isn't. These days, Instagram stories are not about pictures alone. Instagram stories are as much about motivating people, spreading awareness, gaining attention, and sharing thoughts.
Typorama fits in the picture-perfect here. With its vast library of stock images and ready to use quotes, it becomes quite easy to post interesting content several times a day.
You can put its wide variety of typographic styles and fonts to good use to create interesting Instagram stories with videos and photos of your choice. Typorama is perfect for those who are looking to propagate ideas and awareness through their page and turning crowds of followers every day to engage with their posts.
Why Typorama?
No app can compete with it in terms of typography
Over 100 font styles, over 50 styles to choose from
Interesting and a vast library of stock images and quotes for stories
---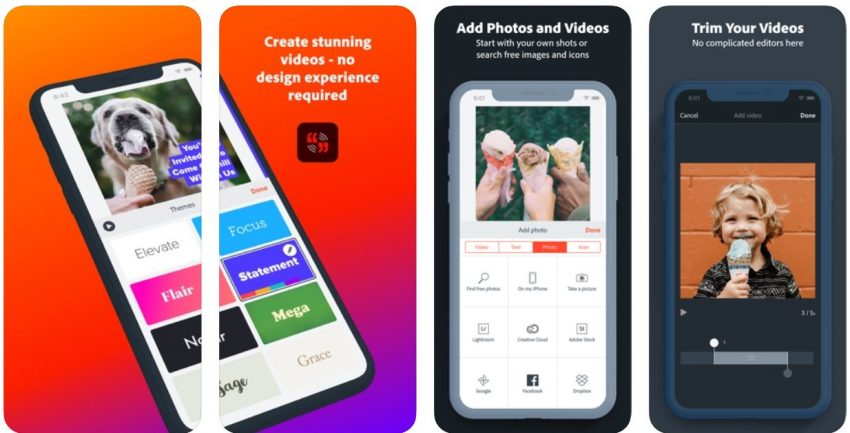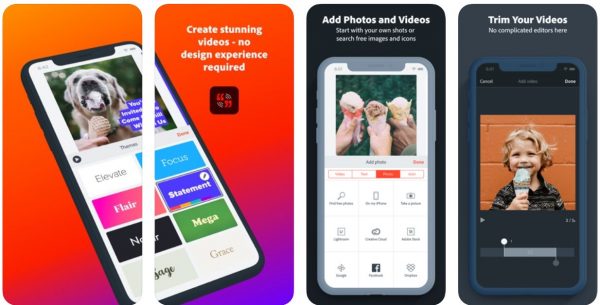 When hunting for the best apps to create Instagram stories, Adobe Spark is an obvious choice. It is one of the few reliable apps when it comes to creating elegant video stories.
The text layouts and typography options take their game a notch higher. The best part is that even a novice can end up creating posts that hint expertise in design.
Instagram stories are as much about the texts as they are about pictures or videos. Compared to other video and photo editors with limited capacities, Adobe Spark has a great text library.
You are free to tweak layouts, add effects, gorge on some splendid text styles, and transform the entire look and feel of the story with a few buttons. Besides, there's an entire family of Spark apps ready to be explored.
Why Adobe Spark?
The reliance of a cloud backup for all files
The option to create animated video posts
Perhaps the best app when it comes to texts – layouts, fonts, styles, and effects are the best
---
8mm


Not all Instagram users have the same style, do they? Even for a particular user, depending on the kind of message or target audience aimed at, the style and effect of the post must be varied accordingly.
This should also be decided based on the latest trends, the kind of audience interception, and the occasion of posting a particular content.
The retro style has been in vogue for quite some time now. Whether you are a business launching, say, clothes and accessories, or you are, say, someone with a "bookstagram" account, going for the retro style now and then adds a special flavor.
With the 8mm app, you can now shoot and post videos with a retro touch, like the 8mm cameras of the days gone by. There are over 7 types of lenses to choose from, along with multiple effects, styles, and themes.
8mm app is a clear choice for those occasional posts that are bound to bring engagement to your content. It is also perfect for anyone who is looking to create pages dedicated to retro styles, fashion, and media. This is what makes it one of the best apps to create Instagram stories these days.
Why 8mm?
Tailored to meet expectations of the retro style
Over 12 types of retro styles to design your post in
The premium option allows you to explore multiple themes and styles
---
CutStory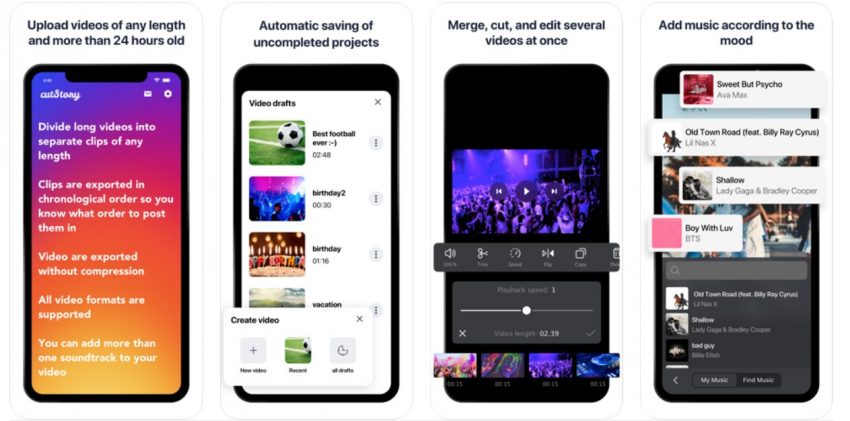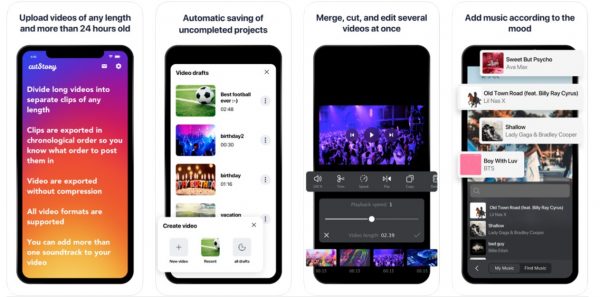 No matter how many and how lengthy videos you shoot or create, Instagram allows only a 15-second video upload. This becomes problematic in case you have intentions to highlight a particular portion of the clip.
With CutStory, an app that is tailored to suit the needs of Instagram users, videos can be edited and trimmed. A 15-second video clip, exactly as long as an Instagram story is permitted to be, can be created with this app. Now you can choose which part of the video to cut into a story.
Why CutStory?
Effortless trimming of videos to create short clips
All video formats supported
Tailored for Instagram stories
---
Microsoft Hyperlapse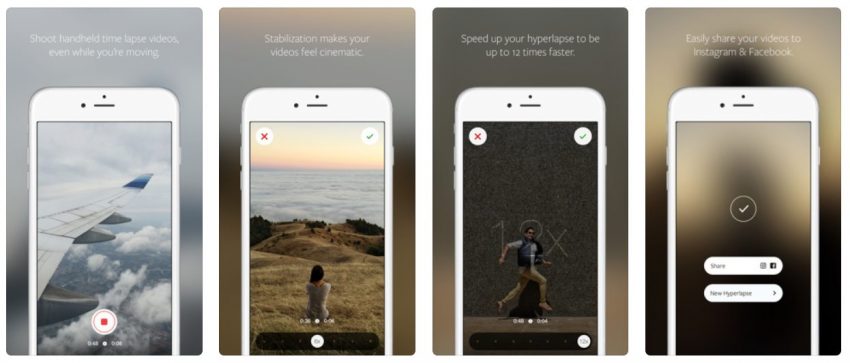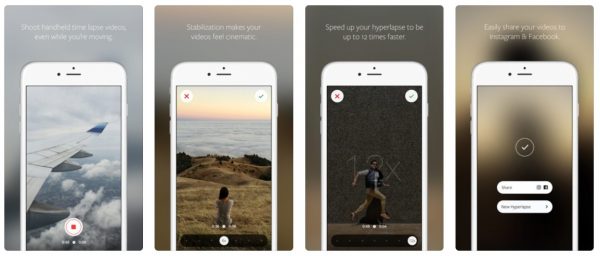 Time-lapse videos are a huge hit on social media, aren't they? This holds especially true for travel blogs and related accounts who come up with engaging content like this. Be it a bustling street, a sunrise on the beach, or a public square, time-lapse videos always see the huge following.
With Microsoft Hyperlapse making time-lapse videos is super easy and quick. Sharing the videos as stories on Instagram is only a matter of a click with the app.
There is a time limit for the time-lapse videos though, which is 20 minutes. This is, therefore, the best option for creating short videos for the Instagram story with practically no need to sit down and edit a video later.
Why Microsoft Hyperlapse?
The best app to create time-lapse video content
Huge flexibility in terms of video speed – 1x to 32x
No fear of losing out on the video resolution and quality
---
Unfold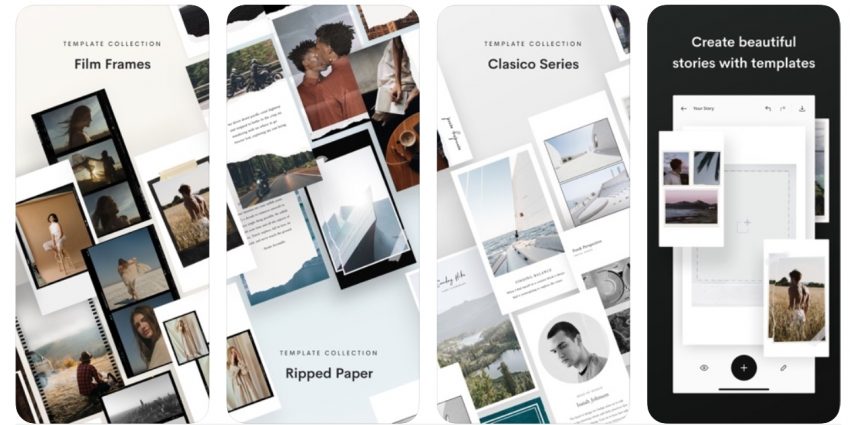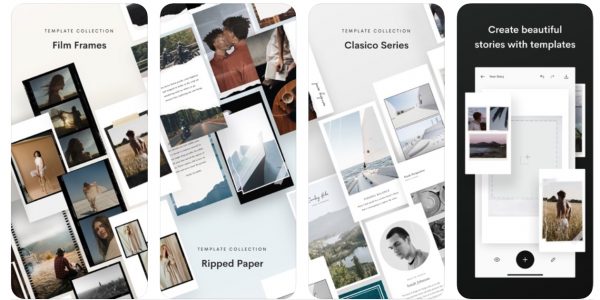 For the bunch of us who believe in minimalism in aesthetics, Unfold is the perfect app for creating beautiful Instagram stories. The app is not completely free, and you would need to have a premium account to be able to utilize all the elegant templates the platform has on its cards. Yet, this can be seen as a great investment for churning out amazing content for your everyday posts.
The app serves its purpose brilliantly though and allows you to work on not just photos but videos alike. Another catch is that there are no hassles such as setting up an account.
You can start using the app as soon as you have downloaded it for use. The easy-to-use and pleasant interface already radiate with aesthetic charm. With Unfold on your device, you do not need to spend hours brainstorming what kind of look suits your "Story of the Day".
Why Unfold?
Minimalist designs and themes
Over 25 and over 60 premium templates
Can double up as a photo as well as a video editor
---
Conclusion
With the kind of fan following Instagram accounts get these days, the competition to make a mark for themselves is high. What kind of posts and content one puts up is as important as how engaging they are.
Aesthetics, minimalism, color palettes, themes that talk about the identity of the page, and patterns are some of the major trends of the day. How you manage to cope up with the latest trends while not compromising on your uniqueness is the actual crux of the game.
Therefore, it is of utmost importance that one picks up these requirements quickly and holds on to them. Updating not just the feed but also the stories frequently is absolutely important to keep followers engaged.
With our list of the best apps to create Instagram stories, one can explore the different options before them. Depending on your style and target audience, you can use these apps to weave beautiful and awe-inspiring stories for posting daily or even multiple times a day. Do let us know which of these apps you are a fan of!