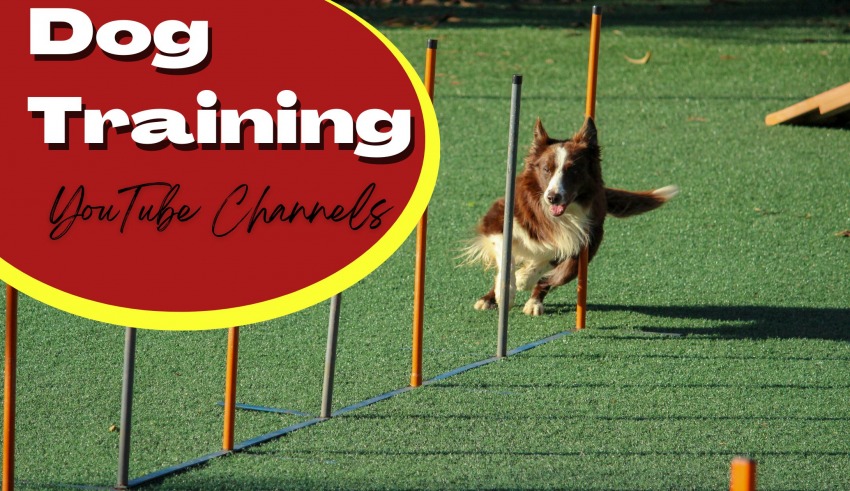 Want to train your dog at home? Then Dog training YouTube channels are your resource. Although the best way to train your dog is to consult a professional dog trainer or take a course on dog training. However, if you are looking for options to learn dog training spending no money, YouTube is your go-to place.
There is a plenitude of dog training YouTube channels that teaches unique and fascinating ways of training your dog's behavior. It doesn't matter if you are a beginner or an experienced dog trainer. There is so much useful and educative information on some of the best dog training YouTube channels that will benefit you always.
It is possible that while searching for dog training YouTube videos, you may come across some channels that follow unethical practices. Therefore, to make it easier for you, we have made a list of the best, most reputed, and authentic dog training YouTube channels. These YouTube channels will inspire you to start your dog training journey and build a wonderful relationship with your dog. Furthermore, it will educate and support you to bring out the best version of your dog.
So, let's dive into the blog and look at the ten best dog training youtube channels that'll help you train your dog at home.


Zak George's Dog Training Revolution is one of the most popular and biggest dog training YouTube channels. With over 2 million subscribers and video views, Zak George is a YouTube star. This is mainly because of the excellent production quality. All his videos give an Animal Planet persona with beautiful backgrounds. The length of each video is also optimal to grasp all the information in one go.
In his dog training YouTube channel, Zak teaches how to train and improve your dog's unique traits. Moreover, he gives useful advice and tips on increasing their energy levels, leading to a happier and healthy life. Besides the information provided, Zak's personality brightens up the entire video and makes it more entertaining.
He is an incredible host and an amazing dog trainer. His concise and clear concepts make it easy to train your dog fast. And to top it all his relationship with his dog Inertia is adorable to watch. So if you are looking for some entertaining dog training YouTube channel, do not miss out on Zak George's Dog Training Revolution.
---


Stonnie Dennis's dog training YouTube channel is a treasure box for every aspiring dog trainer. Being a professional dog trainer himself, Stonnie provides various services, such as service dog training, obedience training, family guard training, and boarding. But what makes him different from other dog trainers is the professionalism that reflects in his videos.
Stonnie Dennis has a different way of building a relationship between a human and a dog. Hos training methods are usually based on the cooperation levels of the dog with its owner. This provides a very personalized touch to every video and reflects the quality of training that Stonnie provides.
Watch any video of Stonnie Dennis and you will see how his dogs listen to him and how he in return listens to his dog's needs. This is exactly what every dog trainer needs to learn. Communication and cooperation are the key concepts of Stonnie's dog training YouTube channel. And this is why his channel is considered among the top ten dog training YouTube channels.
---


Another valuable dog training YouTube channel is hosted by Mr. Peter Caine. His channel is the quirkiest of all. Although his channel does not have a huge subscriber list or viewership on YouTube. His unique style of presenting dog training information hilariously makes him stand out among his competitors.
Peter Caine Dog training channel showcases a mix of dog training and hunting videos in the form of satirical skits and witty political commentary. All his videos are authentic, raw, and entertaining to watch. It is fascinating to see how one person can do so many things at the same time. From obedience training and service dog training videos to tutorials for teaching general manners to the dog, Peter Caine takes care of all the dog training aspects.
Not just that, his teaching methods are mostly based on verbal communications rather than the use of clickers. And it is amazing to see how well dogs understand and follow his instructions. To sum it up if you are looking for dog training YouTube channels that are informative yet fun to learn, then Peter Caine's dog training channel is a must-watch!
---


Larry Krohn is another professional dog trainer who focuses on teaching the fundamental issues of dog training. Apart from obedience training, his videos help to reinforce structure and behavior among dogs. For example, Larry says that aggression is a dog's instinct to act because of a lack of structure. So unless the dog owner knows how to control that behavior, the dog will do what it wants. Isn't that interesting?
Larry's training philosophy and methodology focus on training the dog owners to correct themselves rather than correcting the dog. Some people resonate with his concept and some do not. However, overall Larry Krohn's dog training YouTube channel is definitely valuable for dog owners. So, give it a try and see if you like his training methods.
---


Emily Larlham is a very well-known name in the dog training world. She is a world-renowned dog trainer and a public speaker at dog training conferences. Every dog trainer who follows professionals in this field must have heard about Emily Larlham's training methods. The way she approaches dog training to bring out amazing results makes her the best dog trainer worth listening to.
Most dog owners are impatient and look for quick fixes to train their dogs fast. But while doing so, they get involved in acts of physical intimidation such as screaming or lashing out at their dog. This is an issue that Emily Larlham addresses in her dog training YouTube channel Kikopup.
Being an advocate against violent dog training practices, Emily encourages positive reinforcement techniques where the dog is rewarded for his efforts and good behavior. This methodology brings out the best results of dog training. In her videos, Emily Larlham simplifies complex behavior modification techniques and makes them easy to understand and apply. So if you are looking for some cruelty-free approach to dog training, have a look at Emily Larlham's dog training YouTube channel.
---


Alex Antoniazzi is a wonderful dog trainer who hosts the most comprehensive dog training YouTube channel called the BrightDog Academy. In his videos, Alex teaches the proper ways of training which exclude punishing or reprimanding your dog. He focuses on the principle of encouraging and positive environment.
When you watch BrighDog Academy videos, you can see the excellent production quality and efforts put into explaining every technique in a detailed manner. All of Alex's videos reflect his knowledge and understanding of dog behaviors. Moreover, his videos break down complex training methods into simple techniques that you can use to train your dogs at home.
Alex's unique way of combining positive re-enforcement training techniques with an amazing understanding of dog instincts is what makes BrightDog Academy the topmost dog training YouTube channel. Here you will find the bare fundamentals of training your dog most happily and healthily.
---


As the name suggests, this dog training YouTube channel revolves around the daily life and adventures of Jesse, a Jack Russel Terrier. This channel is an inspiration to observe how an obedient and well-trained dog behaves. It is one of the best dog training YouTube channels for trainers who are more impatient and lose motivation quickly while training their dogs.
There is nothing unusual that Jesse does in the training videos. What attracts people is the time and effort put into the training to help Jesse modify his behavior. Dog training surely requires a lot of patience and determination. So, hop on to the Just Jesse dog training YouTube channel whenever you feel demotivated. Take some inspiration and learn some tricks to train your dog at home.
---


Fred Hassen is the founder of 'Sit Means Sit' – one of the largest dog training Franchises in the world. He is an exceptional dog trainer and a coach with impeccable knowledge and skillsets. Fred Hassen hosts one of the most authentic dogs training YouTube channels that are raw, to the point, and provide the right amount of knowledge.
Within a few minutes of watching his videos, you'll be able to apply and see visible improvements in your dog's behavior. These videos are excellent for beginners as well as experienced dog trainers to learn or refresh their dog training skills.
Therefore, make sure to follow Fred Hassen's dog training YouTube channel and hit a big thumbs up for his valuable videos!
---


Although Dona Hill has very little recognition on YouTube, the content put out on this channel often exceeds in value. Donna Hill is a Canadian behaviorist and dog trainer who posts videos on dog training, dog care, and cleaning. Her videos may not be flashy like other dog training videos but her content is very informative and easy to understand.
She is a profound dog trainer and her tips and methods are very simple and effective. What makes her videos stand out is that all the dog training methods that she has mentioned in her videos are cruelty-free practices. In fact, Donna focuses more on showing love to your dog and training them with bliss and simplicity. Further, she also describes how you can tackle complex dog behaviors and train them well.
With such an information-rich channel, Donna Hill still lacks viewership on YouTube. And this could be due to the visual quality of her videos. Most of her videos lack production quality but we still consider Donna Hill's dog training channel as one of the best on YouTube.
---


If you are a beginner dog trainer then Tab Shamsi's Training Positive YouTube channel is much more appropriate for you. For example, in his videos, Tab Shasmi explains why a dog acts in a way they do. Moreover, he teaches how dog trainers can tailor this knowledge to the dog's needs and positively train them. This technique may look tedious but it works pretty well. Besides this, you can also find videos on obedience training, potty training, and much more. So if you are more interested in understanding the science of dog training, you must check Tab Shasmi's Training Positive YouTube channel.
---
Final Thoughts
If you are a dog owner, you know how challenging it can be to train your dog. However, if you are motivated and have the zeal to learn new ways of dog training, you must check out the above-mentioned list of best dog training YouTube channels.  YouTube videos are a fantastic way of understanding your dog better and learning new techniques to modify their behavior. You can also watch a dog training video from the comfort of your home and teach amazing tricks to your dog.
Although several dogs are training YouTube channels, the above list comprises the most popular and valuable dog training YouTube channels that you may like. All these channels are from trusted professional dog trainers who have dedicated their lives to teaching the best and easiest ways to train your dog at home.
Some YouTube channels demonstrate unethical dog training methodologies that may hurt or harm your dog. Therefore, make sure that you always subscribe to an appropriate and authentic dog training YouTube channel.