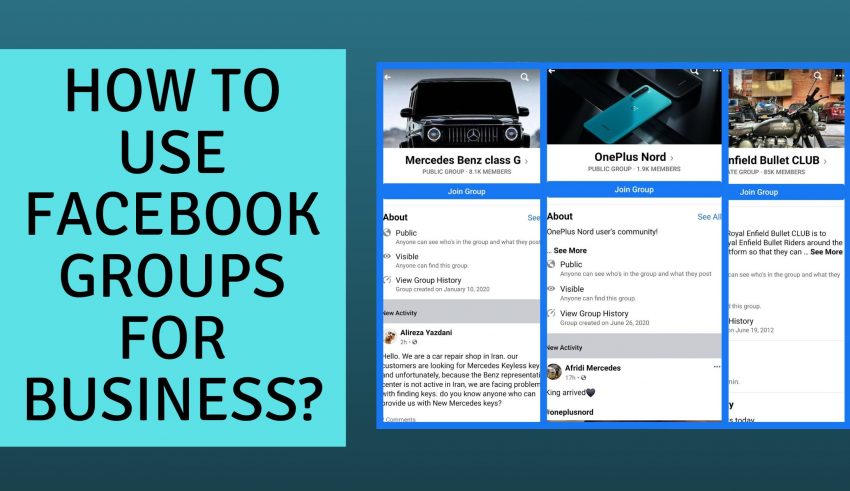 Facebook groups are a place for your fans/customers/readers to show their love. This is a place where the discussion takes place, weird memes sprawl rallying around common causes, etc. Further, it helps people to learn about your product, get access to exclusive knowledge, etc.
A group might serve the purpose of chatter or meaningful content. This article will contain tips and tricks for Facebook business groups. Read the article to find out the best strategy for your group.
Merits of Facebook Groups for Business:
Direct line to customers:
Your loyal customers or fans will spend their free time thinking and talking about your business. And believe us this happens on purpose. Get some real insights from the people who know your business best. You'll build long-lasting relationships with customers. You may be aware of the fact that customers are loyal to companies that treat them well. Invite fans to be part of your community and engaging with them directly for a high level of trust. Take Facebook groups seriously for engaging with customers in the best way possible.
Increase your organic reach:
Facebook's algorithm is designed in such a way that content with high engagement gets prioritized. Your reach in the newsfeed is directly proportional to your group are posting and interacting. We hope that you become a star one day.
Salient features of high-performing marketing teams (business group teams):
Provide extra value for customers:
Your groups can provide great value for your clients. Further, they can also be used for the growth of brand communities. Your customers will be able to engage with your business effectively with these groups.
Create a sense of community:
Well, you know that connecting with the audience is an integral part of every business. Facebook groups allow you to build a sense of community without the use of specialized technology to build a community within your website. Without these groups, it would have been an arduous task, especially for small businesses.
Create a sense of exclusiveness:
Ever wanted to feel special. Facebook groups can do this task for you without any charge. Moreover, only specific people can be added to a group. This can be done with the help of privacy options. You'll be able to set the privacy to the 'private' and 'secret' group options. People will not even be able to search for secret groups.
Finally, you'll be able to gain the advantage of the News Feed algorithm of Facebook. Remember that get your posts seen by your group members must be a priority. Without this, the purpose of a group will be defeated.
---
How to create groups on Facebook?
Create a Facebook Group for Business
The first step involves clicking on Create a Group on the main Group page. After this, you should decide the name of the group, set the privacy level, and add people. In order to go further, you must add at least one person to your group. Now, comes the privacy settings. Based on the privacy, there are public, closed, or secret groups.
As the name suggests, these are meant for the general public and are accessible to all. Anyone is free to join and take part in group activities. Such groups attract people who join simply to spam other members with their own content. Hence, these should be selected only if you want to build a group community around a certain topic or event.
These are the most common types of business groups on Facebook. The rules for these go as follows. Anybody can ask to join, but requests should be accepted by a group administrator. Non-members of closed groups cannot see group posts. This is helpful if you want to educate your members with tutorials without giving everyone the ability to see your training.
As discussed earlier, secret group posts and the group can't be found in search. Only members can access this information. Secret groups are an ideal choice for establishing the authority of your business. These are meant for very specific members and are often centralized around a service you provide such as high-level coaching. People may even pay a monthly fee to join your group.

---
Related: Gain Followers On Your Facebook Page
---
Customize Your Facebook Group
Want to have a personalized feel? Add a cover photo highlighting the events of your business. If possible, you should attach a cover picture that represents the focus of your group. After this, you'll have to decide the kind of group designation from a host of options.
You can go to a travel group, buy and sell a group amongst others. After you're done with this, complete the description, tags, locations, and web and email address settings. Preferably, add three to five posts for new members to read.
---
Invite People to Join Your Group
Now that you have personalized the group, it's time to invite some acquaintances and newcomers to your group. According to your group type, you can decide about whom to add and whom to exclude.
Focus on your segment or niche to know your customers better. Don't forget to add valuable clients to the group. You can add an invitation to website visitors. Apart from this, you have the option to email subscribers and provide them a link to the group's page. Further, add a social button on your website to make people land at your official group.
---
Curate Content for Your Group
Formulate a long-term content strategy aligned with your group's goal. You'll also need to decide about the content to be distributed. Moreover, valuable content can be found on various websites/blogs and even news websites.
---
Encourage Members to Engage
You should encourage your teammates to post things that garner a huge response. For fulfilling this purpose, six ideas are necessary:
Challenges:

Design a challenge and encourage participants to win it.

Tutorials

: Continue establishing your business with the help of tutorials. Upload a tutorial video on a weekly basis for helping and supporting your members.  

Live Q&As: Live questions and answers have gained popularity.

Continue to support your group members.

Quizzes:

Unveil your next product or service by asking members to take the quiz.

Polls

: You are free to create a poll for your group to vote on.
Now, let's discuss the ways to use Facebook groups for marketing effectively:
Providing Value for Clients: This is really important as rewarding customers and making them feel special will increase your brand loyalty. This is equal to retaining customers and satisfied clients may bring new customers.
Discuss Current Events:

Discussion about the prevailing events is significant for every business as it shows the latest trends and happenings around the globe. Apart from this, social media discussions can be held.

Building Your Community: Ensure that you regularly provide value to your group members rather than thinking about them once in a while.
Communicating with Brand Ambassadors: Stay in touch with your biggest fans for the long term for the best results. Strong relationships with top advocates & brand ambassadors are invaluable.
Promoting events:

This comes

handy when it comes to organizing or promoting lots of events. Perhaps, you should promote every important task in your group.

Strengthening your team:

If you have a diverse team of people working from different locations, create a Facebook group to keep in touch with them. Ensure that you promote company culture.
Get started today to embark on your journey of having a loyal and authentic online community. And remember that you can have an impact on the lives of millions of people.