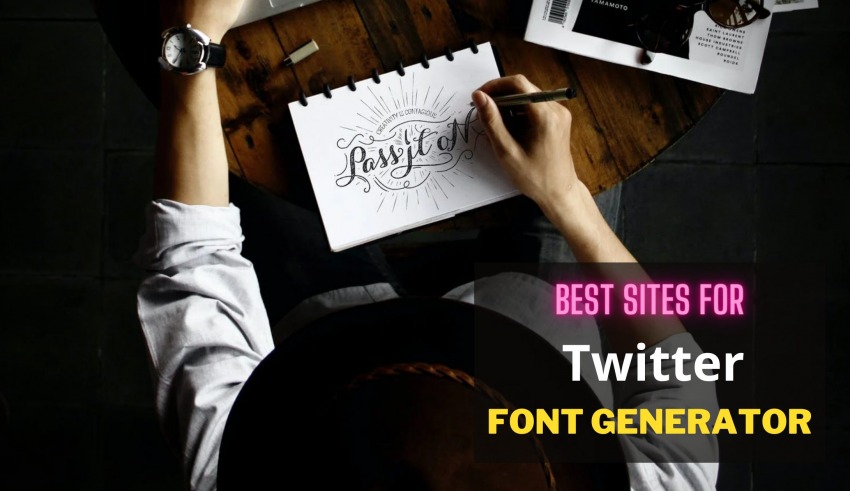 A font style is one of the first things that someone notices in your writing. A font can have a great effect on the person reading it. The best part about fonts is that they can create a big impression but do it in the most subtle way possible. Studies have shown that using an attractive font style can help to increase more views on that particular text. Twitter and other social media platforms have specific fonts that they allow you to use. To stand out from the other people on the platform you should use a good Twitter font generator. These tools help you to either select or create a customized font for your use. These tools are very easy to use and give you excellent results. In this article,
we have listed some of the best font generators to give a bit of style to your text-: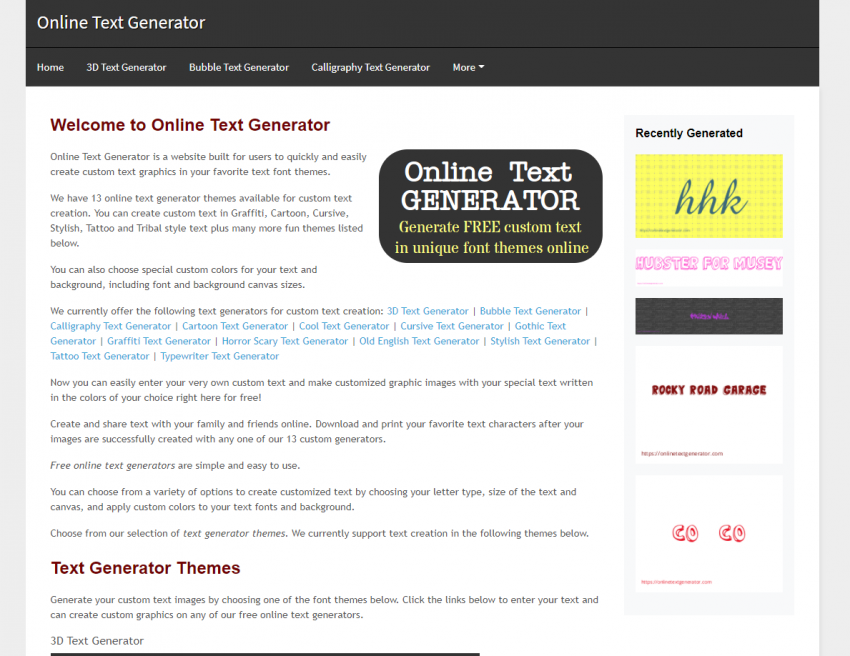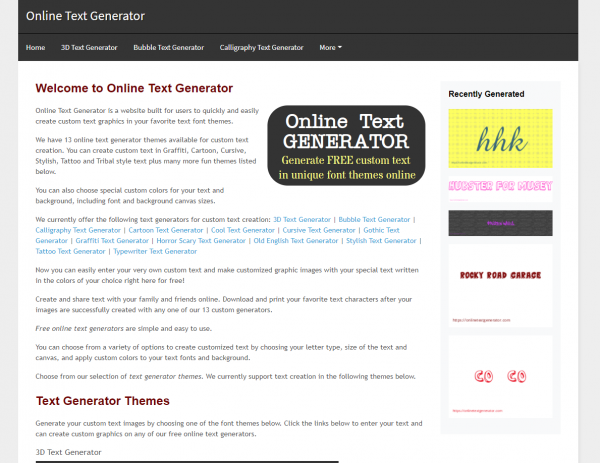 Online Text generator is one of the most popular tools on this list and rightly so. The font that they provide can be used on the majority of social media platforms. Their tools are completely free to use and provide quality services. The developers do regular maintenance to ensure that their fonts can be used on different social platforms. It is considered to be a top Twitter font generator.
When using the Online Text generator you get a variety of options to choose from. Any time of font that you could imagine is present here. They have one of the largest collections of fonts on the internet. These fonts are classified under different categories for you to choose from.
They offer a 3D text generator, bubble text generator, Calligraphy text generator to name a few. You can have endless possibilities of fonts with their tool. Other fonts that you get access to include cartoon text, cursive text, gothic text, typewriter text, and others. The different categories provide multiple font styles to play around with.
When you select a particular category you get to customize your text. You have to choose from the hundreds of font types under that particular category. Then You Can choose the size of your image and the font size. You can choose the font color and the background color of the text as well. Additionally, you can add a background texture to make your font stand out. You enter the word that you want to be converted and then just download the result to be used later. The tool has gained popularity due to the several font styles and customization options available.
---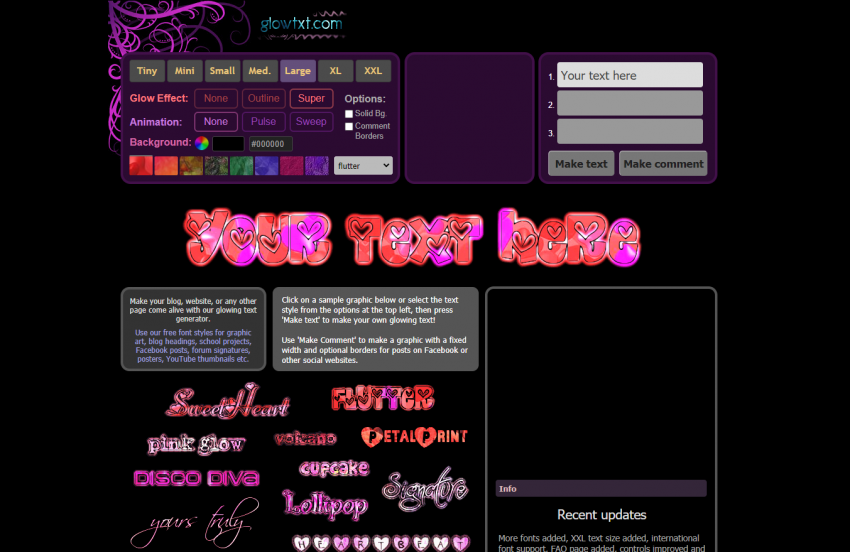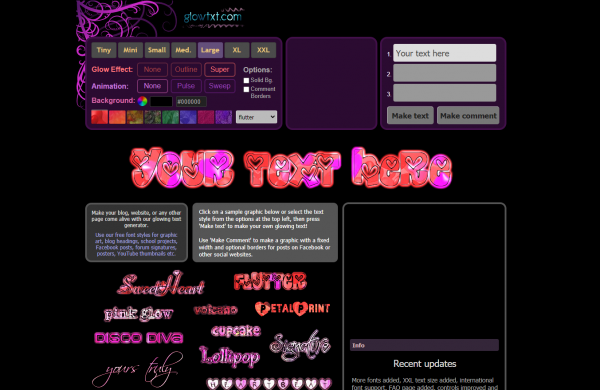 Glowtxt is a good Twitter font generator. It has customizability options and is quite popular for use on different social media platforms. As the name suggests Glowtxt specializes in generating fonts that glow. These fonts are unique and will help your text stand out from the rest. When you use their tool the last thing your texts will be is boring. They deliver some of the most colorful texts on the internet through their font generator.
The website is very easy to navigate. All of the font types and customization options are laid down on a single page. This allows you to view all the styles together and come to a decision on choosing a particular font.
The different font styles are present as sample texts. Looking at them you can understand exactly how they would look on Twitter. Select a particular font you like and then customize it through the tool present at the top of the page.
It allows you to customize every aspect of the font. You can decide the size of the font from the 5 available options. You can add different glow effects to your chosen style. The tool allows you to select the animation style ad the background color of the text as well.
At the bottom of the customization tool, you can select different preset textures that you could add to your font. The tool is free to use and the website has a few advertisements. These advertisements however do not affect your use of the tool. They have support for different languages as well such as Arabic, Chinese, Japanese, and others. Their FAQ section provides you with detailed solutions to any questions you may have.
---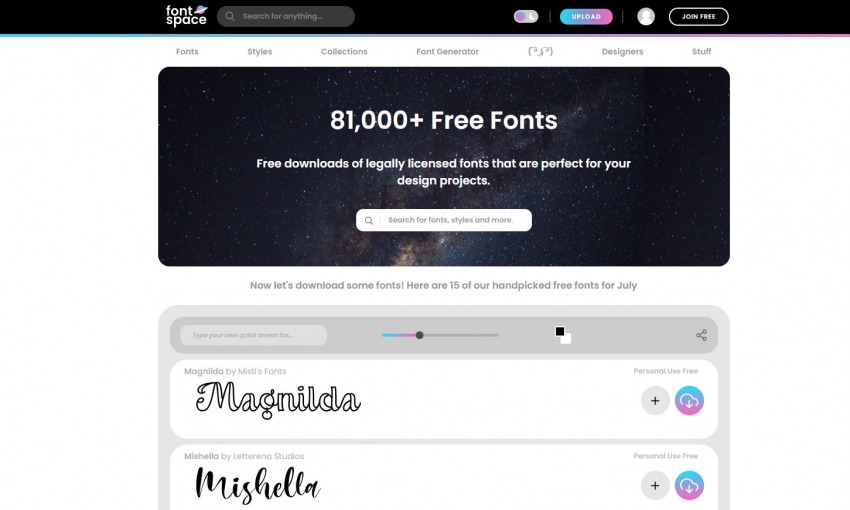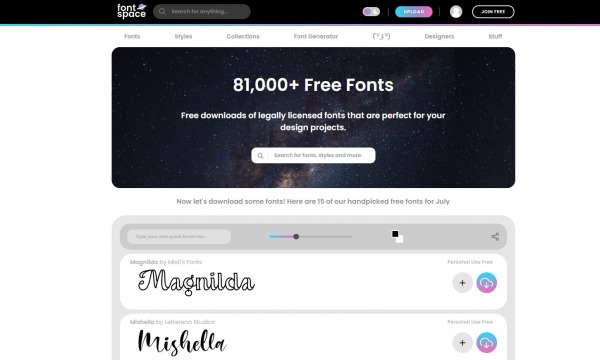 Fontspace has an extensive collection of fonts. These fonts range from professional fonts to funny and quirky ones. The company states that they have over 81,000 free fonts available to download. All of their fonts have been legally licensed and can be downloaded to be used on different platforms and for personal work. They have become a Twitter font generator that is well-liked by the masses.
Their large range of fonts has been divided into different categories to make it convenient for you to browse the fonts. One standout feature that this tool has is the ability to create emojis through the use of different symbols. You can create a custom emoji through their tool. You can select the different features of the emoji. This tool is called the Lenny face generator and is great for adding a little style to your texts. Their te presents you with the best picks for each month on the homepage. You can change the page to dark mode to reduce the strain on your eyes.
Since its foundation in 2006, they have improved their website to become one of the best. Their website offers a hassle-free user experience to its customers. They get access to great fonts with ease. There are no unnecessary complications that you will have to deal with while using their font generator. Their team of over 3000 designers keeps coming up with new font styles. This helps to make additions to the already extensive list of fonts they have. Fontspace has around 16,000 commercial use fonts available on their website as well. When looking for a reliable and user-friendly font generator, you should give Fontspace a try.
---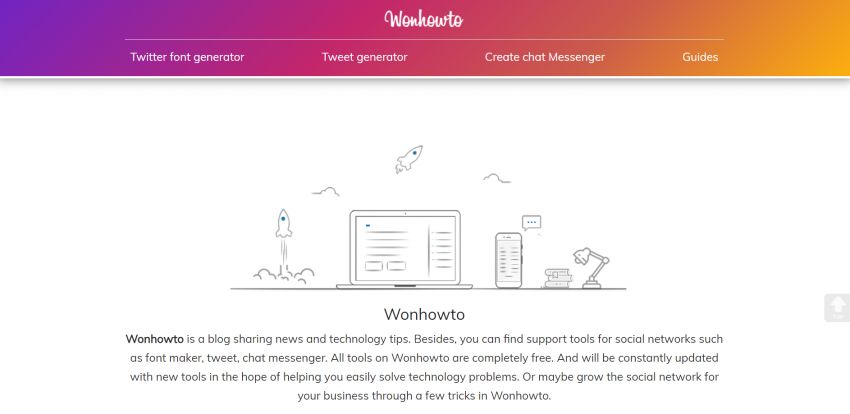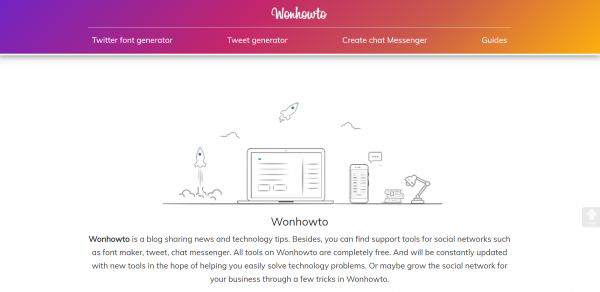 Wonhow to understand the difficulty of changing fonts on Twitter. The company has developed a tool exclusively for Twitter. The tool has multiple formats and font styles available for use. Based in New York they have focused on providing good quality font generator services
The website is dedicated to providing twitter tools. They have features such as a tweet generator and a chat generator. These features work fine and serve the purpose they were built for. Their most used tool is the Twitter font generator. This is one of the simplest font generators available. You can choose from a variety of sample font styles that are displayed on their page. The sentence that you type is converted to all of the different fonts. You can view which font suits your needs the best in a single go.
They do not confuse their clients with unnecessary options and customizations. What you see on the screen is what you get. This tool is ideal for people who just want a font style quickly. They just type the text and copy the style they like the most. This saves a lot of time. The simplicity and efficiency of this tool are a reason why people use it a lot. If you are looking for a quick change of font styles this tool is best suited for you.
---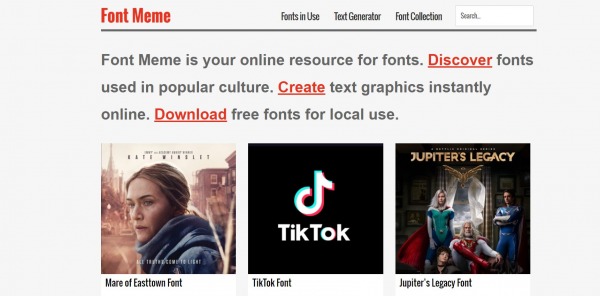 Font meme is a great tool for people interested in pop vulture. They have a unique range of different fonts based on pop culture references. The unique approach of this tool has made them one of the most popular Twitter font generators among the younger audience. The website has a great user interface. It is simple and time-efficient. You will be able to find the exact fonts you need in just a few minutes.
The unique selling point of the website is that they offer fonts that are related to pop culture. When browsing their website you can see numerous posters of movies, video games, applications, and much more. These are the font styles they provide. Any font that has been used in a movie or pop culture material is available with them. This tool helps those people who see particular interesting fonts on posters and applications but do not know the name of them. All of these fonts are displayed on their website.
The company realizes that not everyone wants a font style that is used in a popculty=ure reference. They have a separate text generator available on their website. Using this generator you can choose many standard fonts and use them on different social platforms. They have a large range of standard fonts as well. This makes them an ideal all-in-one tool for generating fonts.
---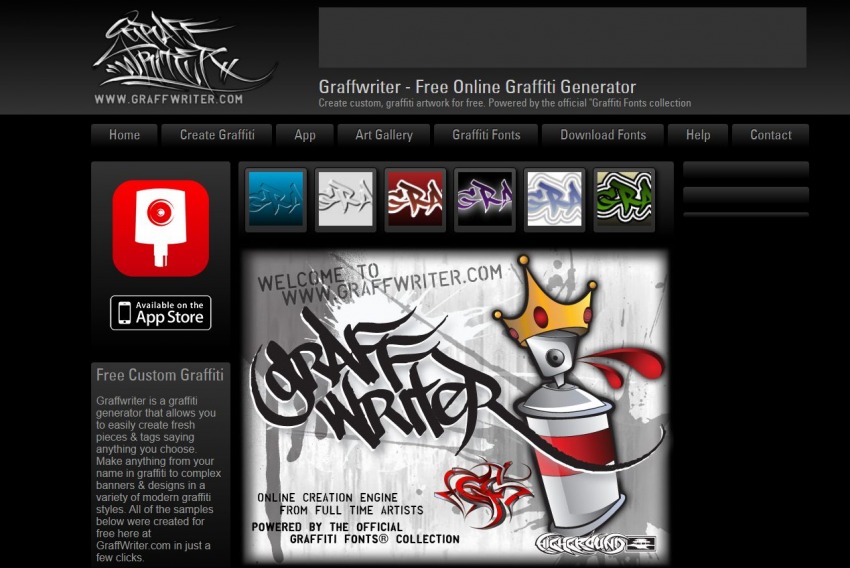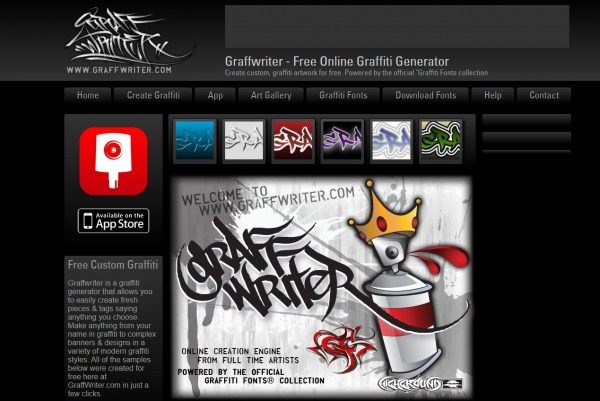 If you are interested in getting graffiti-themed fonts, GraffWriter is your best option. The entire website revolves around having some of the best graffiti fonts and artwork. The tool is free to use. The tool is available online. There is no need for any downloads or installations. With their help, you can create personalized fonts and other artwork. This has made them the best Twitter font generator for everything related to graffiti.
The user experience on their website is smooth and you should not face any issues while using their tool. They provide you with numerous personalization facilities. They have a great selection of fonts that have been created by other users. You can use these fonts and they would save you from having to make your own. Using their tools you can create your graffiti artwork. Be it a graffiti font style or a banner, with their tools you obtain the best results. These graffitis can be stored on your device for future use.
GraffWriter has support for mobile devices. Their applications are available on the app store and can be downloaded for free. The support for mobile devices allows you to create graffiti fonts and artworks on the go.
---
Fossbytes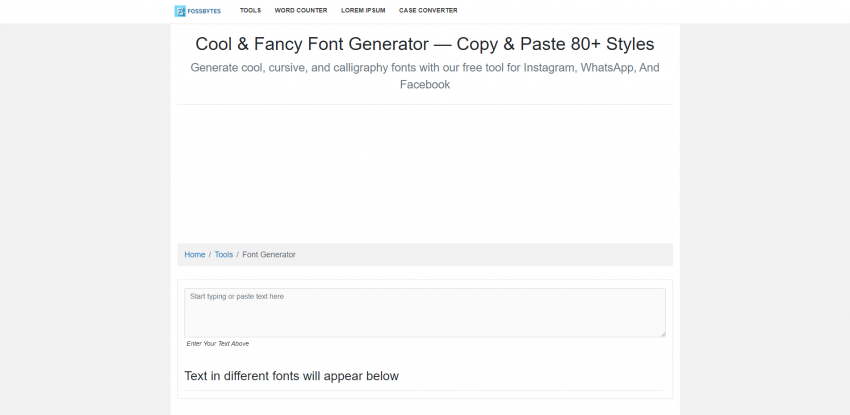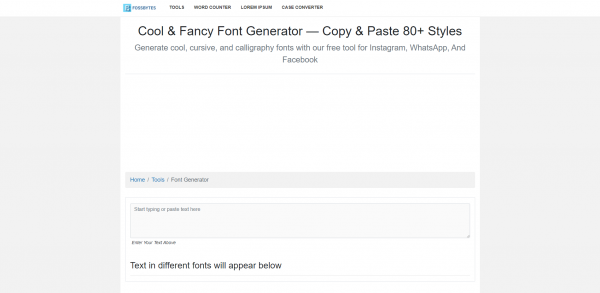 Fossbytes is probably the simplest Twitter font generator. This website has been specifically optimized for beginners who do not have tons of knowledge on this matter. This tool makes downloading and using custom fonts very easy. With a few clicks, you can get a suitable fon for your social media purposes.
The website focus on keeping a small and high curated list of fonts. They offer around 80 different styles. Unlike the other websites, they do not try to overdo it. It is a simple yet powerful tool that will get your job done.
If you are looking for a font generator that gives you instant options and is simple to use, Fossbytes is the one for you. It offers a smooth user experience and has a minimalistic design. If you want to have a simple but effective tool for your fonts, get Fossbytes.
---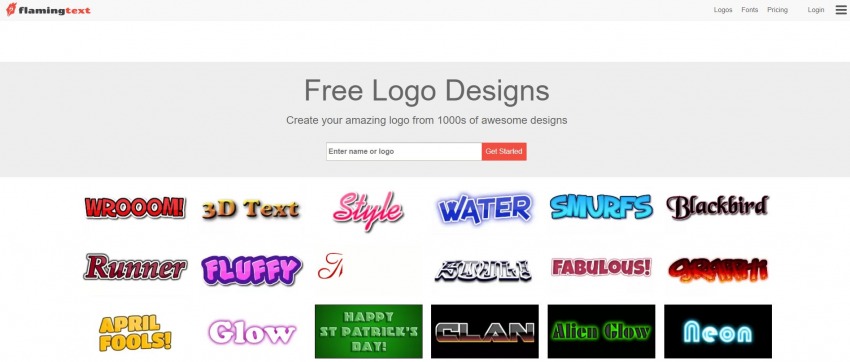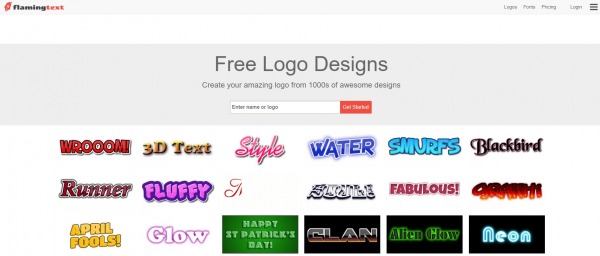 The Flaming text is a great tool for generating fonts. They have a wide selection of fonts and are free for everyone. Their tool is not just restricted to fonts but you can make banners and logos with it. They provide you with a professional tool that is free to use. Though the website and the tool are free, it contains features that give paid packages a run for their money.
There are numerous pre-designed fonts to select from. Be it professional or casual, you will find a font that suits your taste.
---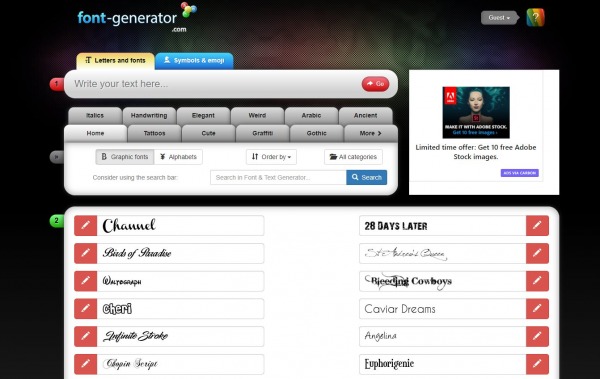 Font Generator is a great website that offers you a powerful Twitter font generator. You can choose from a fine selection of fonts that are available on their website. They offer you different types of fonts and alphabets to play around with. The customizations they offer helps you to get many impressive font styles that can be applied on various social media platforms.
On their website, you can search for a font style that you may have in mind. You can also sort the styles by selecting the various categories they have. This helps you to access the type of font style that you want quickly. With their tools, you have access to symbols and emojis as well. Using this helps you to make your text more attractive and appealing to the readers.
They have approximately 500 different font styles available for free. The website can also be accessed in 5 different languages. They tend to put a watermark on downloaded material from their websites that are a big con.
---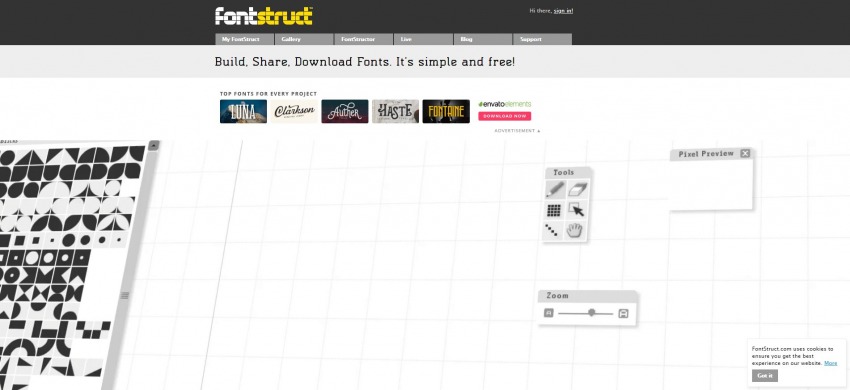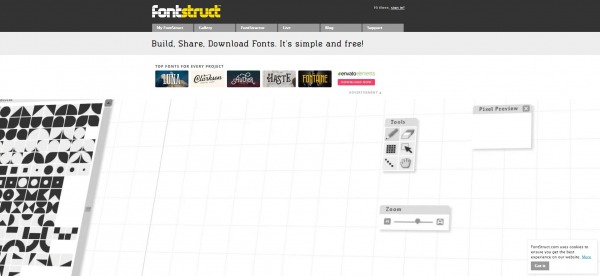 FontStruct is a unique Twitter font generator. The tool is free to use and they do not have any hidden costs associated with the use of their products. Over the years they have become one of the best places to find new fonts. Their website is easy to understand and navigate creating a positive user experience. FontStruct has over 60,000 font designs available with them
Their website has been divided into four categories. The gallery, live, my Fontstruct, and support. The gallery contains all of the innovative fonts that the platforms offer. You can browse them by selecting various categories available. You can also filter them with the date they were uploaded or the license that they have. After selecting the font you want you can just click download and it will download the font to your device.
When you open a particular font you can see how every letter will look in that font. My Fontstruct portion of the website allows you to create your font. This is one of the best tools available on the website. You do not need any prior knowledge for this. The website allows you to create your personalized font by using geometric shapes. The support section contains a detailed guide that helps you understand the process of making your font. You also get access to their FAQ and the contact option.
Fontstruct is the best tool for anyone who wants to create a personalized font. This degree of customizability is a big reason why it is so popular. The service is completely free but you can support the project through their FS Patrons option.
---
Conclusion
With the help of these font generators, you will be able to add a dash of style to your social platforms. The variety of font styles that they have gives you a lot of options to work with. You can make your text look different and get much more attention on your tweets. These font generators have a smooth interface. The majority of these fonts are licensed and you can use them on your projects and tweets without any concerns.