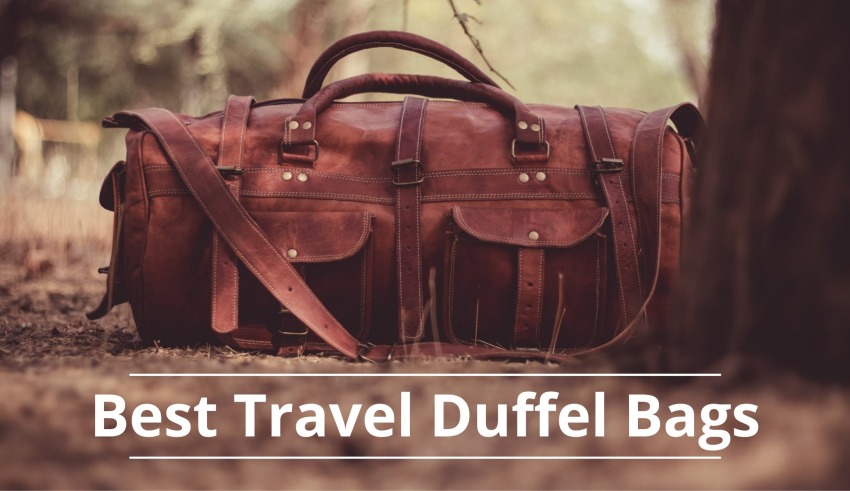 Travel bags are essential when it comes to traveling and Duffel bags are one of the essential must-have Travel Accessories. Anyone who likes to travel knows the importance of a good travel bag. Travel bags help you to travel smarter and pack all of your essentials. With the limitations in weight on multiple flights across the world, people have started to search for boys' travel bag that is lightweight and durable. As people want lightweight bags they are not ready to sacrifice durability and toughness. Another advantage of boys' and girls' travel bags is that they can serve multiple purposes. You can use them as a gym bag and in other ways apart from just traveling. Thus having a single good quality travel bag takes care of a lot of your needs.
In this article, we have listed the best travel bags that should be a part of your travels
Canway 65L Travel Duffel Bag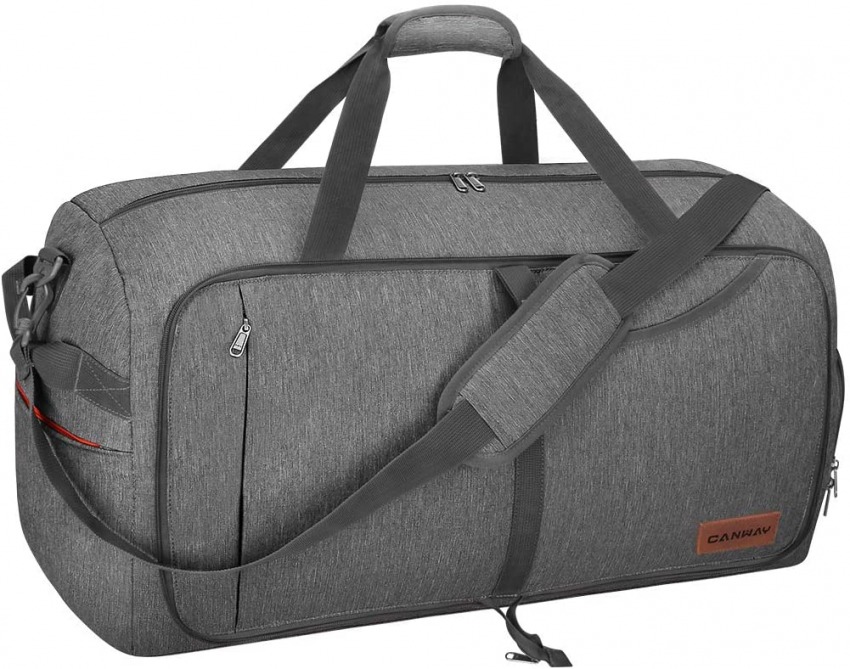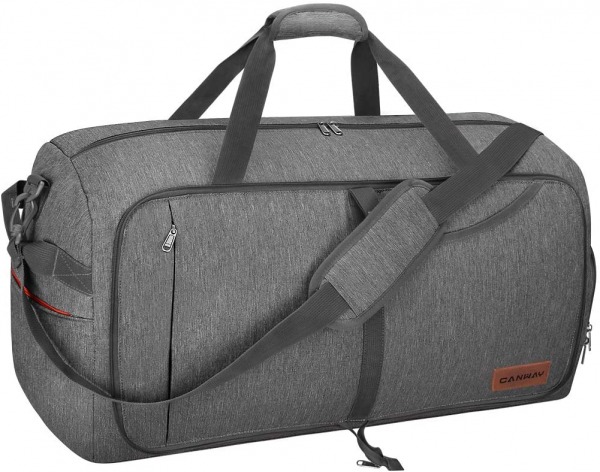 Canway travel duffel bags are the best boys duffel bag in the industry. The company has become a big name in the travel bag industry. Their products excel in all quality checks. They have ensured that their clients have some of the best materials used on their products. You will never see them produce bags that have inferior materials and technology. All of the bags manufactured by them have to go through stringent quality checks to be approved for sale.
Their duffle bag is built from some of the toughest materials to ensure that it is durable in the long run. The bags are made out of 600D polyester fabric. This helps to make the bag waterproof and remain tear-resistant. They use SBS zippers on their products. These zippers are made from premium metals which ensure that the zipper stays strong even after hundreds of thousands of zips. These duffel bags are ideal for travel and can even act as a replacement for your suitcase.
They are tough and provide tons of storage while being up to 80% lighter than an average suitcase. The straps are stitched using a special process which ensures that they can take a lot of load without ripping apart. The bag has a separate laundry and shoe compartment on the side.
This compartment is well ventilated and odor-resistant. The smallest size is 64 liters, the medium being 85 liters and the largest being 115 liters.  The bag is available in 5 different color choices- Aegean blue, mint green, and more. Having so many color choices makes them the best boys travel bag. The price of the bag is $39.99 for the smallest one but you can buy it at $30.99 on Amazon and even affordable to give as a gift for Travelers.
---
DALIX 21″ Blank Sports Duffle Bag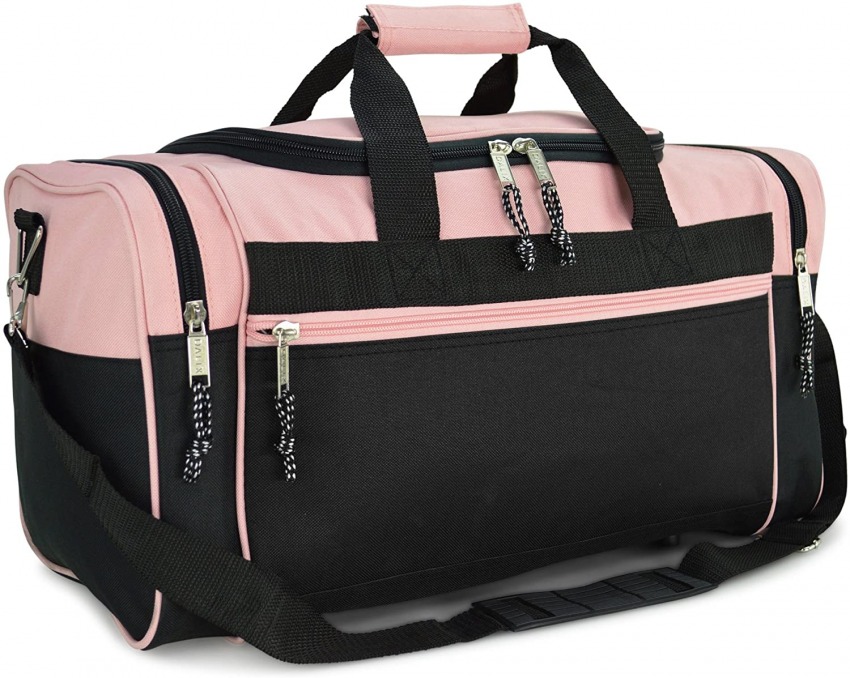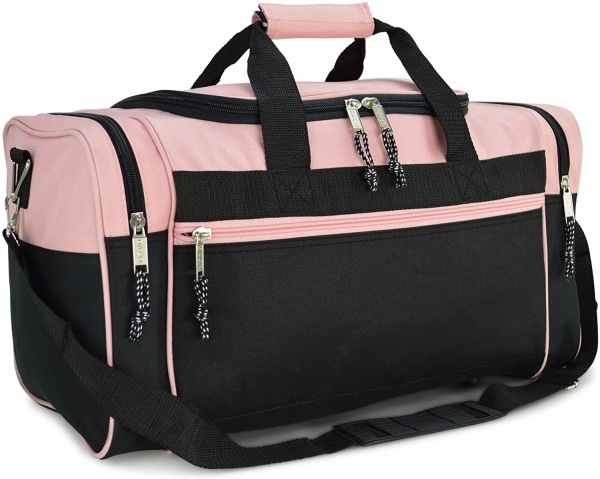 Dalix provides their clients with duffel bags that can be considered the best girls' travel bag. The company has ensured that they use top-quality materials on their products. They want their relationship with their client to be one of trust. DALIX want their clients to trust them with all of their travel bag needs and work tirelessly to earn that trust. They believe in serving their clients only the premium products and thus never comprise on build quality.
The bag is made from strong polyester. Their duffel bags are ideal for travel or as a gym bag. The bag has a large compartment that holds the majority of your clothes and other items. There is a zippered front pocket. This pocket is good for keeping essentials such as your phone, keys, and other small items which are of importance. They have padded side straps that help you carry the duffel bags with your hands While your Travel Trip. The side strap is attached to the bag with metal hoks of good quality.
Being attached by metal hooks allows you to detach the hook when you do not require the side strap.  Their bag is oriented towards being used by gym-goers and athletes but serves the function of a great travel bag as well. The two additional side pockets can store valuable and items such as water bottles. They have flap pockets as well for storing items you may want to have ready for easy access. These include black, blue, pink, gray, and others. Having such a variety of color options make them a great girls' travel bag. They have great ratings and reviews on Amazon. They have secured 4.6 stars out of 5 with over 7,000 ratings. The bag costs $21.95 on Amazon.
---
Samsonite Tote-A-Ton 32.5-Inch Duffel Bag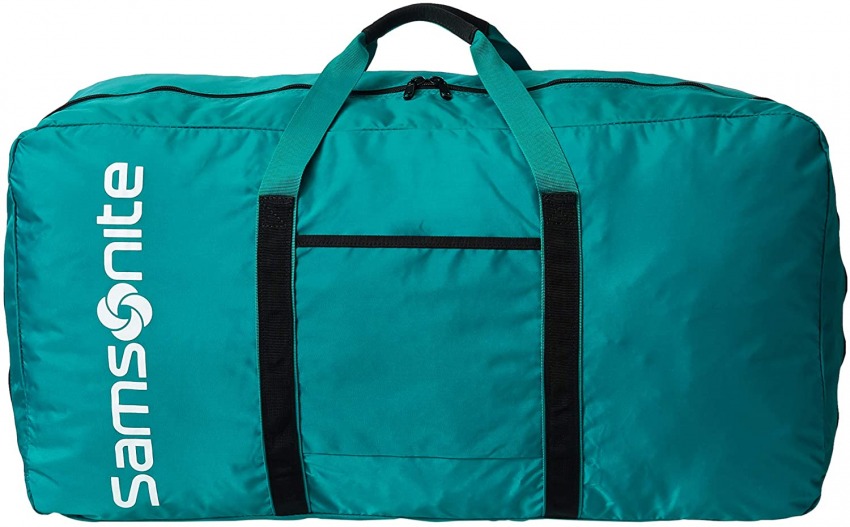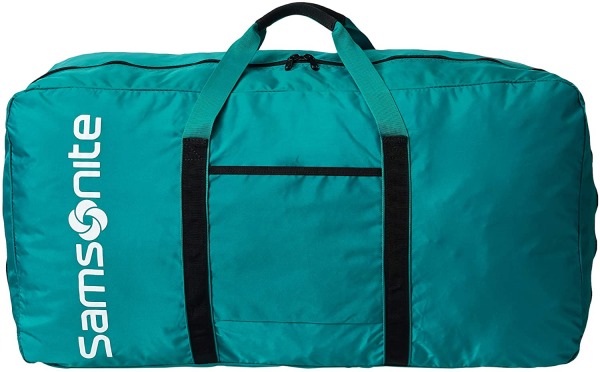 Samsonite is a well-known brand in the travel industry. They provide some of the best travel bags and accessories. Samsonite is known by customers as a premium brand that has been providing exceptional quality with all of its products. They are regarded by quite a few people as the first store to visit for travel-related products. They have established such a good reputation for themselves by providing excellent services over time.
Samsonite keep improving their standards to create better products. The Samsonite Tote-A-Ton is a great boys' travel bag. It is a 32.5-inch bag that is ideal for carrying when out on travels. Just like all of their products they have focused on providing good quality. The bag is made out of 400 Denier Nylon which is lightweight and durable. You can handwash this material as well. The bag is collapsible.
This helps you to store this product with ease when you are not using it. The product is available in attractive colors. Their selection of unique colors for this bag has made them a popular girls' travel bag. You have the main storage compartment along with smaller pockets to store all of your products.  This is a multi-purpose bag. Though it is marketed as a travel bag you can easily use it for the gym or other purposes. The strap is made from durable materials and is not at the risk of snapping with regular use. The bag costs $42.98 on Amazon.
---
Puma Evercat Contender Duffel Bag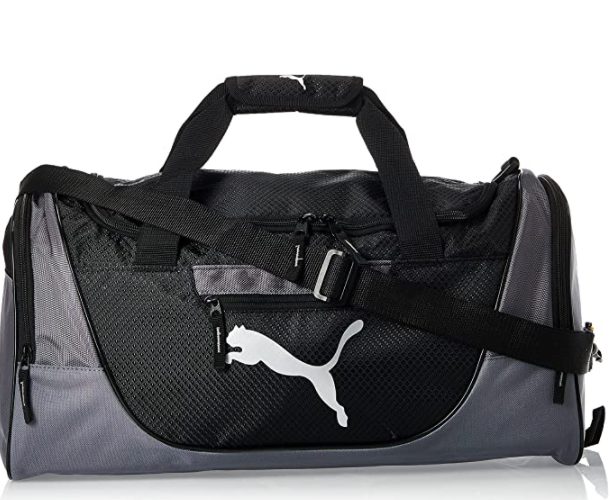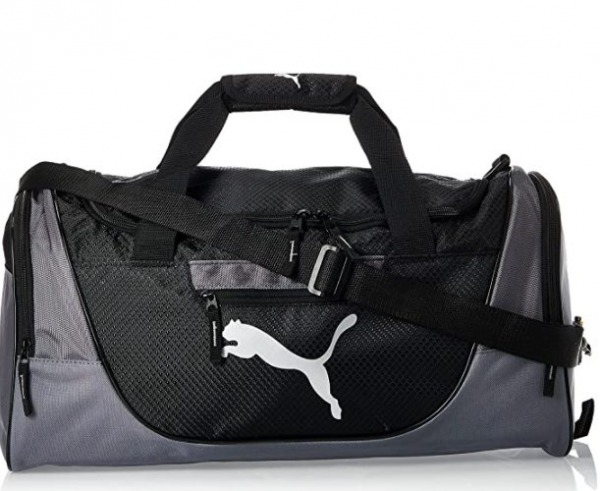 Puma is one of the leading sports and athleisure brands in the world. They are a global chain that is preferred by individuals and athletes all over the world. Since they have such a huge brand reputation, they manufacture products that live up to their high standards. The Puma Evercat Contender travel duffel bags are great for boys'.
The bag has been imported by Puma and has a zipper closure for all of the compartments. They have a detachable and adjustable shoulder strap. This provides you with the option to remove the strap when you are not using it. You can adjust it for the perfect fit as well. The bottom panel of the bag is padded to prevent any damage to the items stored in it with rough use. The bag is stylish and has the Puma logo on the side panel. There is a separate pocket for your shoes.
This pocket has been ventilated to prevent any odor from developing in your shoes. The side pocket is ideal for keeping small valuables in them. You could keep your phone in it as well.  They have used HD printing technology for the logo which had made it stand out. The bag is available in 11 color combinations. You will surely find a color combination that suits your taste. The large storage space has made it an ideal girls' travel bag. The travel bag can be purchased for $23.82 on Amazon.
---
Fila 7-Pocket Large Rolling Duffel Bag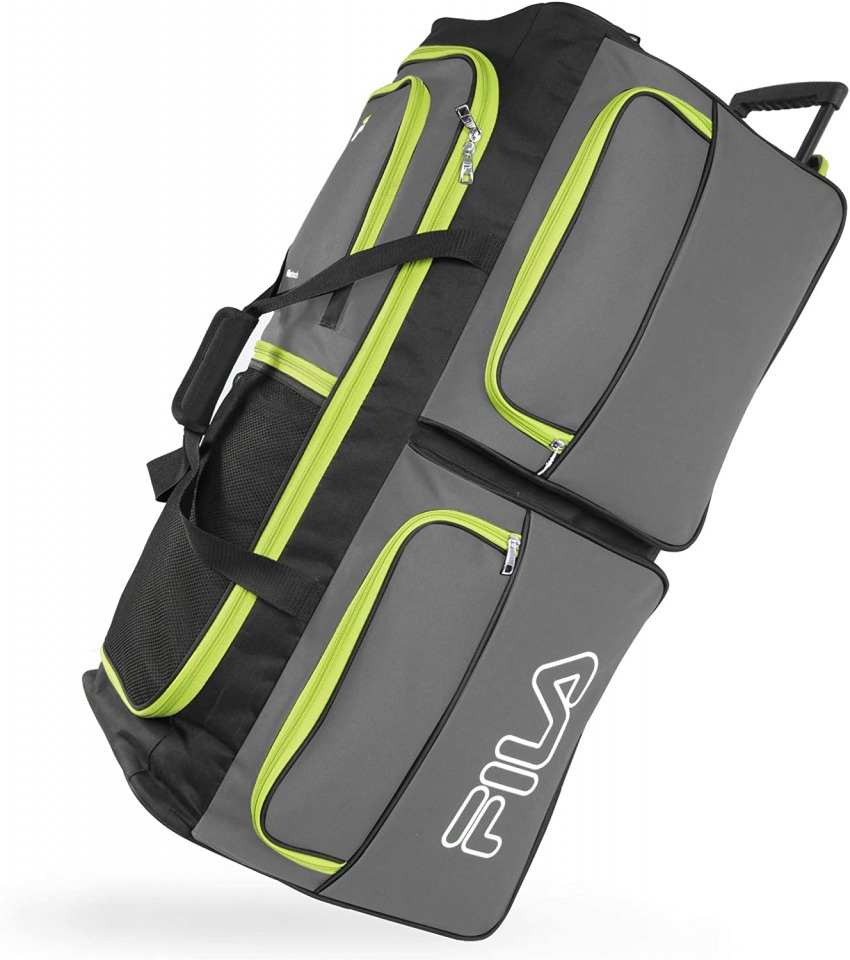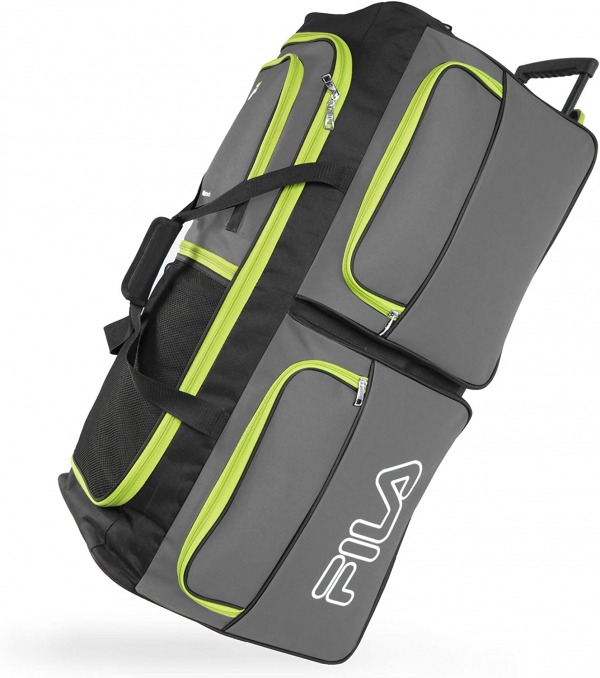 Fila is a sports-oriented brand. They have been competing with some of the top companies such as Addidas and Puma. They are a global brand that emphasizes delivering top-notch products to their clients. Fila has invested money to find and adopt the best technologies for their products. The Fila duffel bags are high-quality boys' travel bag. The bag is made from durable polyester which remains in fine condition even with the years passing by.
Fila has provided multiple zippered pockets for storing your items. They have used good zippers to ensure that all of your belongings are safe when placed in their bag. The main compartment of the bag is very spacious and can house many items. The inline skate system is what makes this travel bag stand out from the crowd. You can use this bag like a trolley as well. You can drag the bag using the wheels and handle provided with it.
The handle is adjustable to ensure that it can be used without any discomfort. The wheels allow you to relieve pressure on your back by not having to carry the bag. This girls' travel bag is available in two color combinations. Each combination is a dual-tone featuring two complimentary colors. You can purchase the black and blue or the grey and lime color combination. The bag costs $120 but can be found at a cheaper price on Amazon depending on the color.
---
Newhey Duffel Bags for Traveling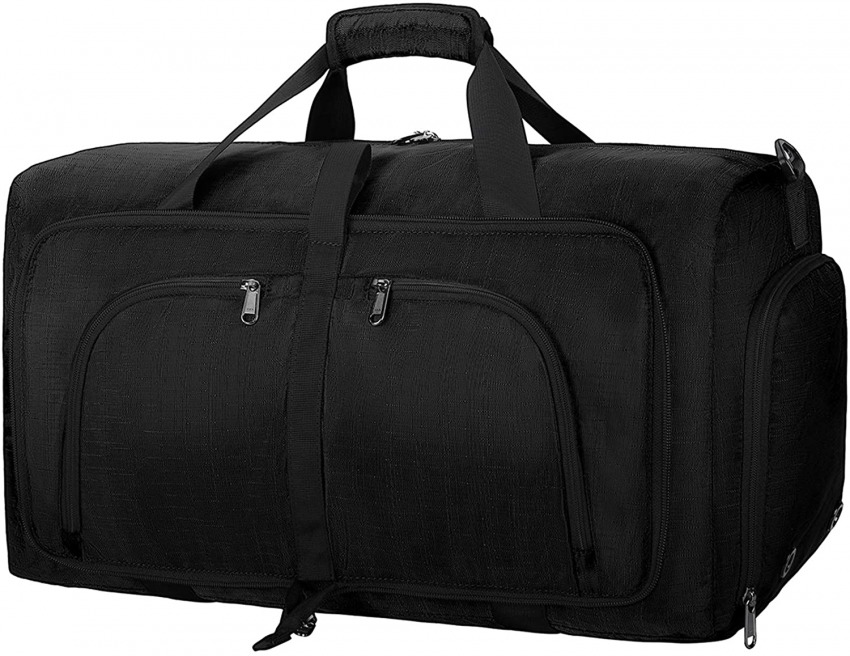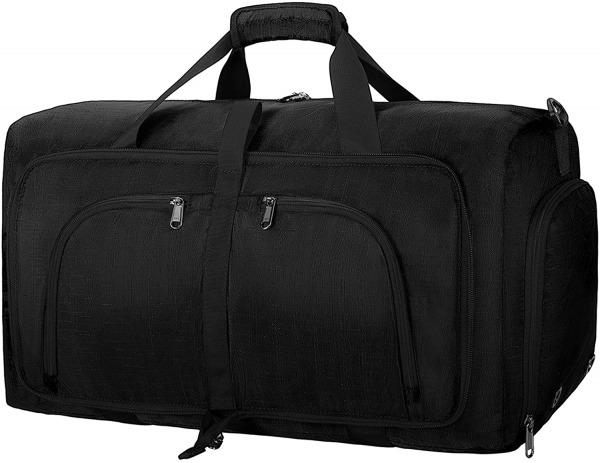 Newhey has mastered the art of making good travel bags. Their bags are extremely durable and have been known to withstand a lot of load and wear. Their duffle bag can be folded to take up less storage space when not in use. The bag is made from waterproof fabric. This allows you to use your bag in all weather conditions without running the risk of running the items kept inside. Their zippers are smooth and well built.
They do not get stuck when using the bag. They have provided thick padding on the straps. This helps you to have a more comfortable experience when carrying the bags. This bag is great for use as an alternative to regular suitcases. It is light and provides the same durability that a suitcase has. They have many pockets which allow you to organize your stuff when packing the bag.
They have a separate shoe compartment which helps you to store your shoes without bringing them into contact with the rest of your clothes.  Newhey Duffel Bags for Traveling Bag have 3 different sizes. They are 40 liters, 65 liters, and 80 liters respectively.  The bag can be used on multiple occasions. This makes them a great girls' travel bag. The bag of 65l costs $23.99. The price varies when choosing the other variants. The bag is available in 5 color choices.
---
Amazon Basics Large Travel Luggage Duffel Bag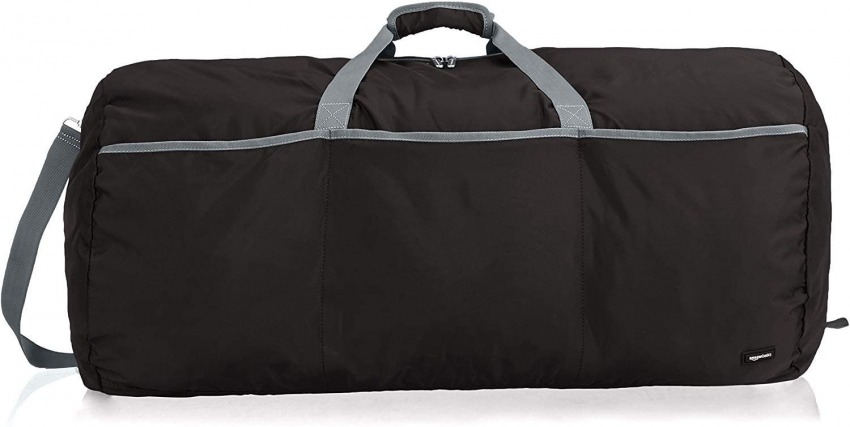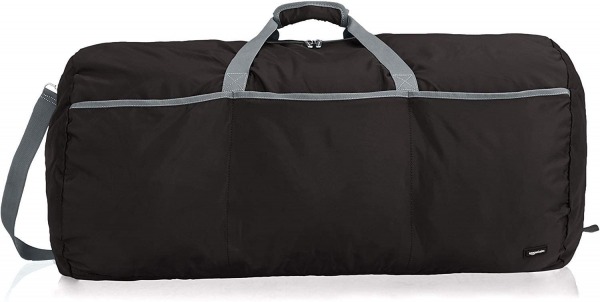 Amazon Basics is a native brand from Amazon. They specialize in making minimalistic products that have great quality. They have been making travel bags that are minimalistic in design and supreme in quality. Amazon Basics boasts of good quality with all of their products and their bags are no different. The bag can carry up to 50 pounds of weight. It is made from nylon which makes it lightweight and long-lasting. They have small external pockets.
This is to provide you easy access to items such as your phone and keys. They have well-stitched side handles as well as a shoulder strap for carrying the bag. The bag has interior pockets. These help you to organize the products that you store in the main compartment. They claim the bag to be a perfect girls' travel bag. The bag has gained popularity as a good boys' travel bag as well. The bag is available in three color options. This includes black, navy blue, and red. The bag is very affordable when compared to its competitors. It is priced at $19.99.
---
NISHEL Large Hanging Travel Toiletry Bag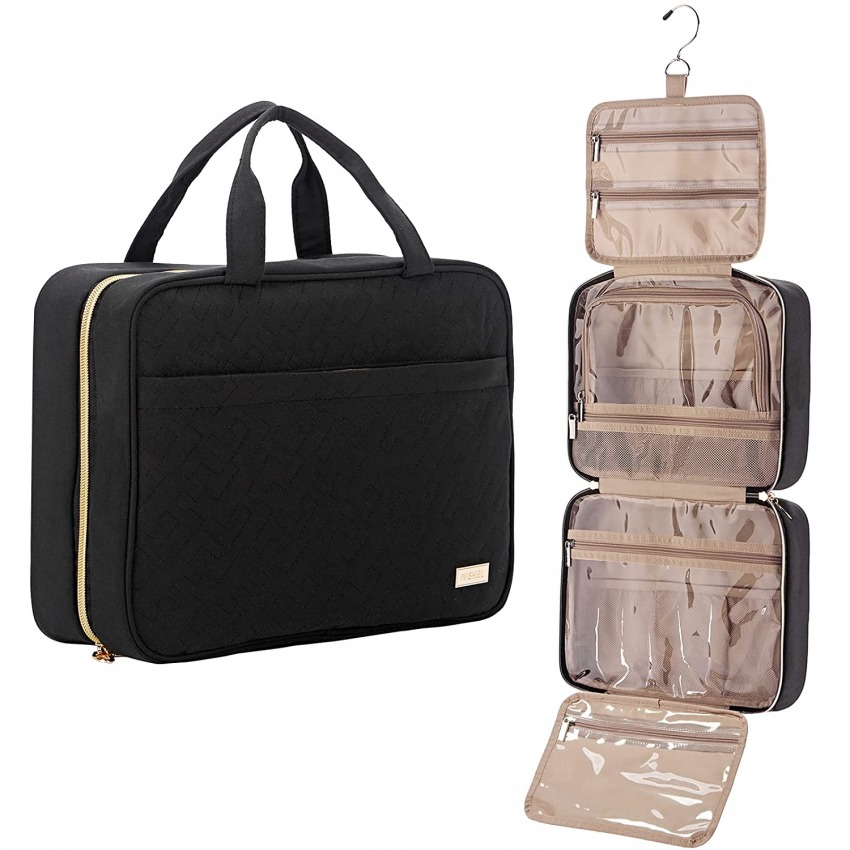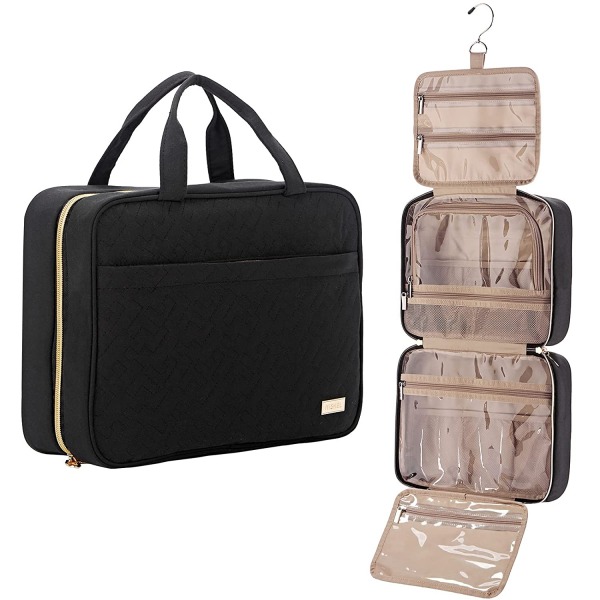 Nishel has come up with an innovative travel bag. The bag can be transformed into a hanging toiletry bag. This can also be used as a makeup organizer which makes it a popular girls' travel bag. The bag has many compartments for you to organize your items.
When you want to use the bag you just have to unzip it. This allows you to hang the bag. They have leak-proof chambers which prevent any spillage from affecting the rest of your products. The spillage gets contained in the compartment. This acts as a good boys' travel bag as well as it can be used to store toiletries. This is an innovative storage idea. They have separate pockets for wet and dry products. The bag is available in 4 colors. The bag can be bought for $27.99 on Amazon.
---
UPPAbaby Travel Bag for Vista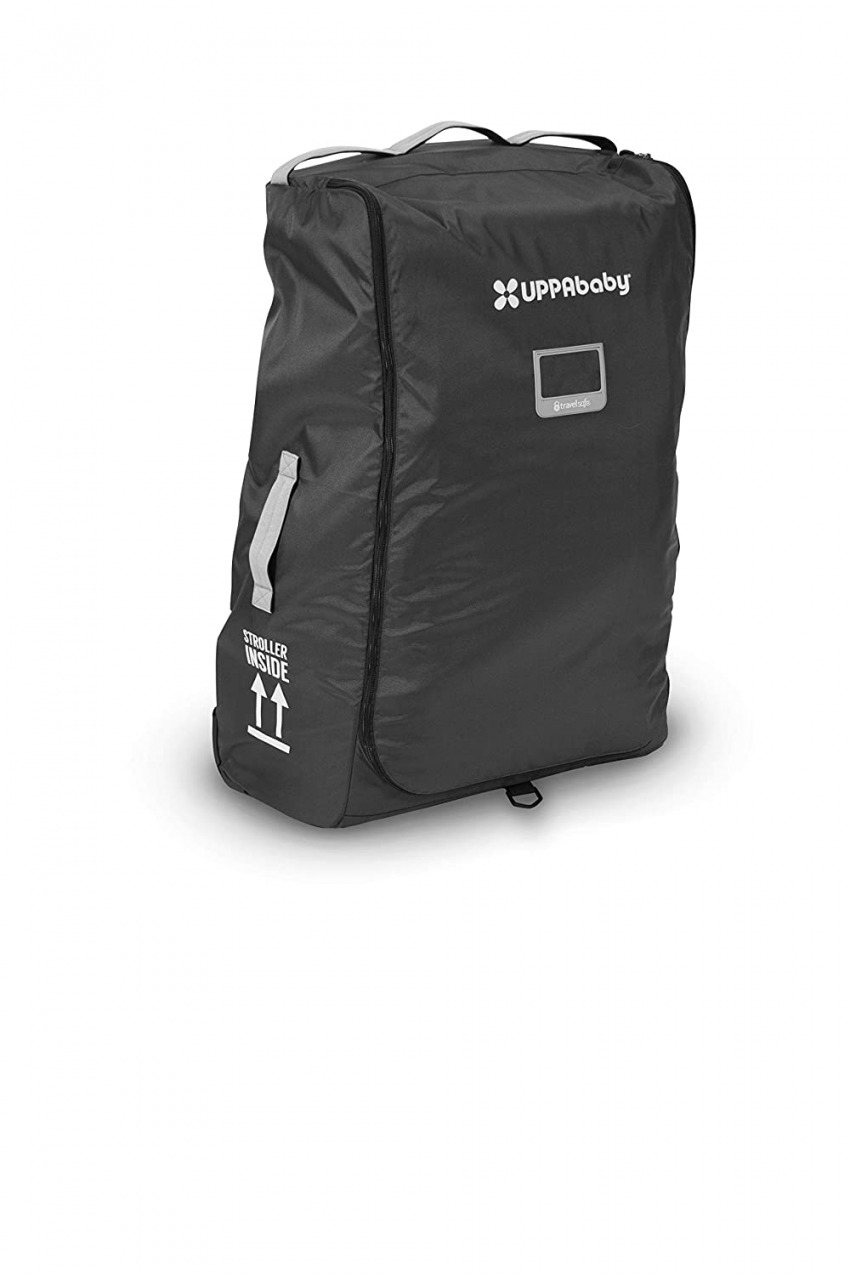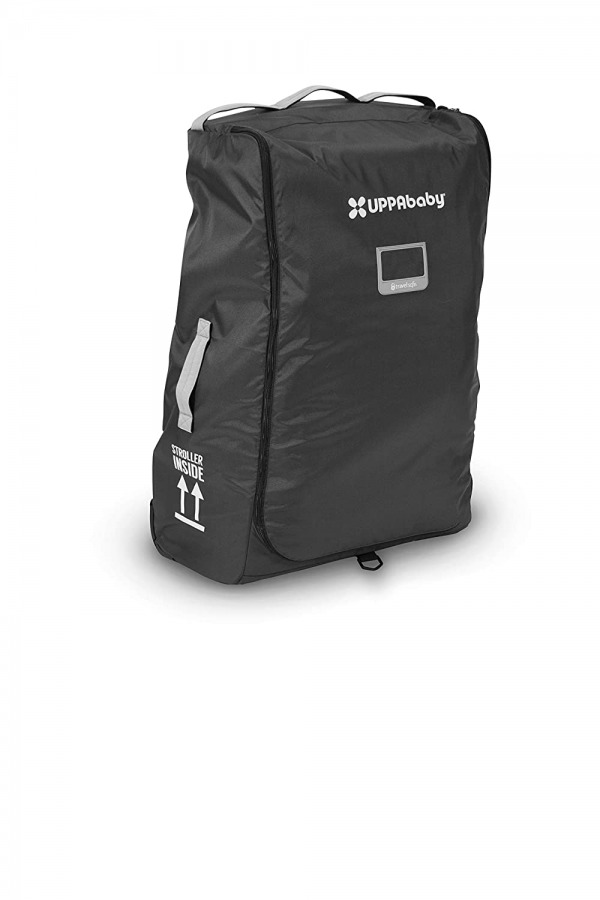 UPPAbaby has developed a travel bag for strollers. The product protects that strollers from damage while traveling. The product can be used to store strollers while traveling. They ensure that you can use their wheels to roll the stroller rather than having to carry it. This product is compatible with popular baby strollers such as Vista, V2, Cruz, and Cruz V2. They have good ratings on amazon. People have left positive reviews regarding the build quality and usefulness. This travel bag can be bought for $129.99 on Amazon.
---
Hibag 12-Pack Roll-Up Space Saver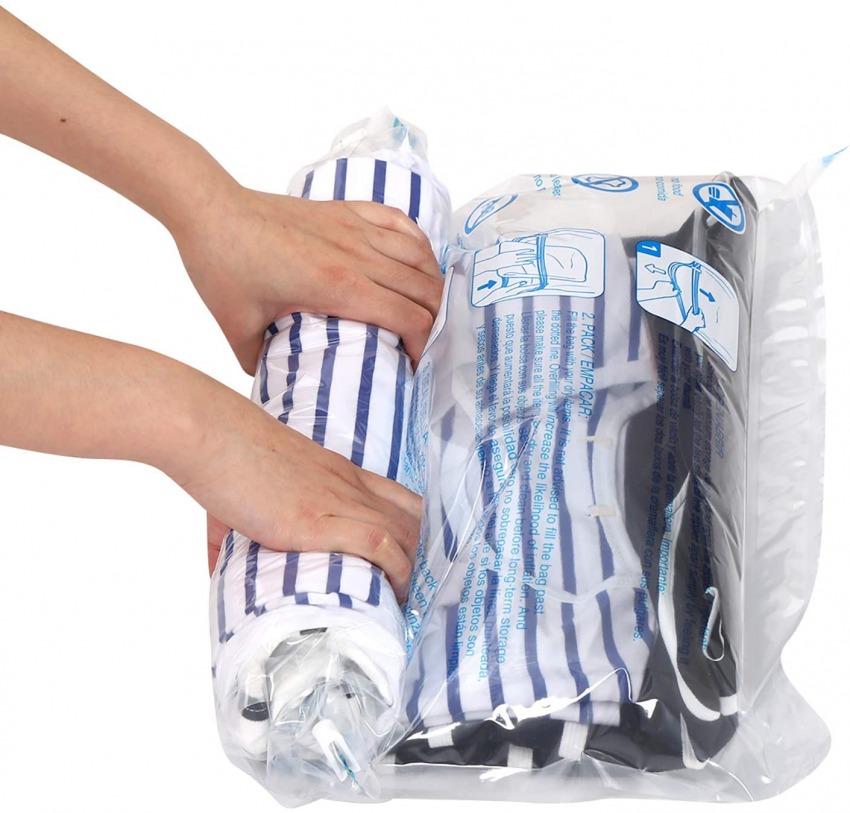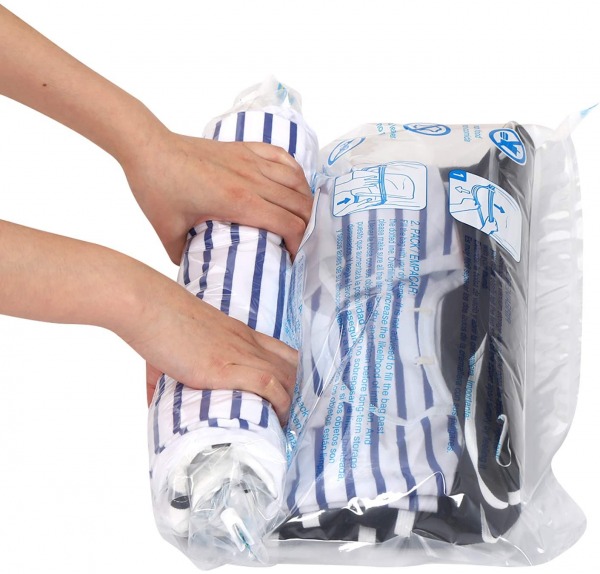 Hibag makes travel compression kits. These help you to improve the storage capacity of your suitcase or travel bag. These travel compression bags are transparent bags that help you to pack clothes and store them before travel. They are an ideal boys' travel bag. Their minimalistic design has helped them to gain many clients. Hibag sells their compression bags in packs of 12. They provide you with 6 medium-sized bags and 6 large-sized bags.
They provide you with a smart travel bag storage solution without the use of a vacuum which makes them popular. It have dual zippers. This helps to seal and pack the clothes easily reducing the hassle that people have to face with other brands. They have made it much easier for their users to understand if they have properly zipped the bags. They have colored the zippers blue and yellow which helps people to understand if they have got a good seal.
These bags are made from polyethylene. Using their bags will help you to save space when comparing them to traditional storage methods. To use this product you will have to start by putting your clothes into their bags. After filling the bags you will have to fasten the zipper multiple times to ensure there is a good seal. After this, you just have to roll your clothes. This helps you to save space when packing. They claim that using their product can help you save up to 75% space in your suitcase. Their price starts from $18.99. They have become the ideal girls' travel bag.
Conclusion
All of the bags in this list are from reputable companies. When deciding upon the bag you want to purchase you should consider the utility that a bag will provide you. If you want your bag to serve more purposes, you should opt for one of the sports brands on the list like Puma. All of these bags have different areas in which they excel. When looking through the list you will find the bag which suits your criteria the best.