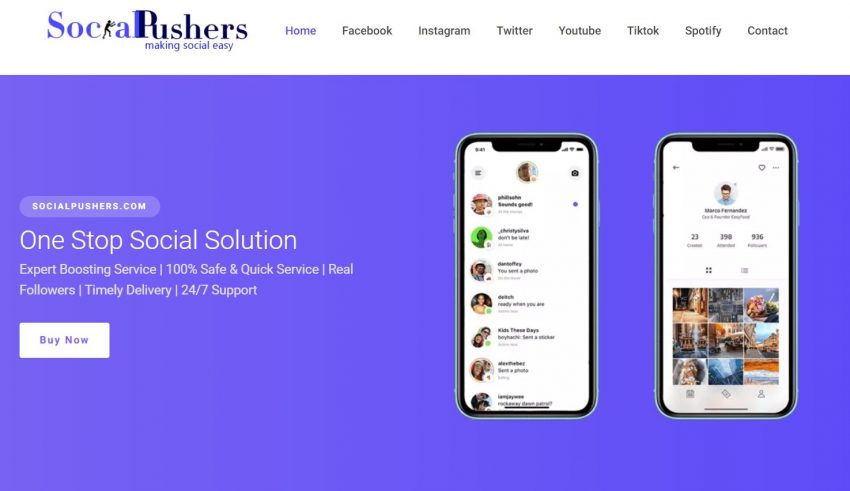 Social media is becoming increasingly important in today's times. Through this platform, you are allowed to reach the people you like, irrespective of their location. Thus you can engage, and nurture an audience miles away from you. Also, social media helps increase sales, revenue, leads, and brand awareness.
Socialpushers is a site that has come like a blessing in today's network society. There are various people who are trying to enhance their business online. If not, they wish to increase the impact they have on the world in general. Socialpushers do exactly that and increase your visibility on various social media sites like Twitter, Youtube, Facebook, and Instagram.
Why Should I Use Socialpushers?
Although there are many sites in the world that offer to increase online engagement, there are some specific reasons we recommend Socialpushers. These include:
Maximize Social Engagement
Social media has immense power. This means, that it can either make or break your career because of its far-reaching impact. There is overwhelming content that can be found online today.
Thus, it becomes difficult to get people to see your content and give it due time. Even if someone knows you exist they may not necessarily engage with you.  However, if you want to increase the amount of engagement you have on social media, Socialpushers can lend you a hand.
They allow you to be "at the top of the ladder" by making your accounts stand apart from everyone. The site gives you a chance to connect properly with the world, and show you skills and talents to a wide range of people.
Meet Social Media's Demands
We are facing unprecedented times, being stuck in a pandemic unlike any we have faced before. All of us are confined to our homes, and can only rely on the internet to receive entertainment in any form. Thus, having social media becomes as important as having money in your bank account.
With societal growth, the forms of social media are also changing. There are various platforms with blogging sites like medium to vlogging sites like YouTube with numerous people using the same. To make sure that you get the best of all these platforms, Socialpushers employs all its resources and helps you keep up with the world.
This is especially true for businesses. However, it applies to all the people using social media today. In this age and time, we are all selling something or the other. It could be our talents like music, art, or cooking, or maybe it's our lifestyle- how we exercise, what we wear, and so on. If you run a business you are also selling your products to people.
However, there are too many businesses in the market. A consumer sees too many services, skills, and products, and might not land on your profile at all. SocialPushers help you do exactly that. Through this site, you will be able to market to the people who are your fans already. Thus you will be able to reach a specific demographic that can later turn into real customers.
---
Services Offered by SocialPushers
Instagram
Gaining the right kind of support on social media has become increasingly difficult. There are too many people on the web today who are searching for recognition and appraisal.
In such competitive times, socialpushers give you a chance to buy likes and followers on Instagram at nominal prices. Moreover, these can all be bought ethically, so no one will suspect the interference of a third party.
---
Twitter
Socialpushers has figured out the algorithm of most social media platforms including Twitter. They know exactly what kind of people would like to see your content and subscribe to it.
The site also works for Twitter wherein you can get your tweet visible to a larger number of people. We all know that everyone on the internet today is trying to make an impact. Twitter has over a billion people using it every day, thus socialpushers will help you not get lost in this crowd.
---
YouTube
The first step at gaining social media leverage on YouTube is increasing your visibility. On your own, there is not much that you will be able to do for posts or videos that are not immensely attractive.
Even when you have put in all your effort, socialpushers will make sure that your hard work doesn't get to waste. Thus, they will ensure that a large number of people get to view and share your content on YouTube. Not only will you be able to buy views but also subscribers!
---
Facebook
As a social media sharing platform, Facebook is still used by a large number of people. When you're trying to establish an online presence, you also have to consider expanding your reach on this platform.
Socialpushers will help you become more visible on Facebook as well, promoting posts along with your profile. Even if you're a budding business, you can rely on this site to increase your virtual impact.
---
TikTok
Social media has expanded greatly in the last few years. TikTok is another one of such platforms where people are creating and sharing content on the daily. We are sure that as an influencer you would like to leave an impact here as well.
Thus, you can buy TikTok views and followers using socialpushers. They choose a perfectly legal way to increase your following, so your account always remains valid.
---
Spotify
Socialpushers has not neglected the needs of budding artists as well. Spotify remains the most used music streaming app in the world. There are a large number of people who sharing their works on this app every day.
Thus, you might get sidetracked among too many people and too much content. To make sure your music gets the recognition it deserves be sure to use Socialpushers today! It increases the number of Spotify streams and followers in the most organic fashion. Nothing could be better!
---
How to Use SocialPushers
Let us now quickly walk you through the process of registering yourself with SocialPushers. To do the same, follow the steps below:
You first need to select the service you want. It could be Youtube, Twitter, Instagram, or Facebook. Within these niches, there will also be some packages that you can choose according to your requirement.
After you have selected the required package you need to fill in details in the required fields. The first step is choosing a username that rightly fits your personality.
You can then click on an option that says "buy now", which will open the payment gateway. You can quickly complete your payment through PayPal and that's it! Now you have to sit back and watch as your following increases.
Pros
Your account is solely responsible for how you are portrayed out in the world. Sadly, we don't have the privilege of using newspaper ads, and even television ads like we did before. Things are no longer this forward since sharing is only encouraged through a social media platform.
Socialpushers will make it easy for you to create an impact with the help of online campaigns. You can share your content and promotions through the site and create guide traffic towards your profile. Although people might not directly share your posts, they will surely talk about them and help build the audience that you need.
Increases Social Reputation
When engagement on your pages will increase, so will the people who talk about you. Thus, there will be more reviews, feedback, and comments on the posts you leave online. Not only is this true for Instagram, but all other platforms as well.
SocialPushers will allow you to have conversations with the various people visiting your profile. By solving the issues others face you can start a chain of positive interactions between you and your customers. Of course, you also need to learn effective crisis management, the art of regular monitoring, as well as actively reaching out.
The modes of social media are also evolving with society's development. There are different blogging channels such as Medium to vlogging pages like YouTube. Moreover, there are multiple entities using the same. Socialpushers uses all its energy to guarantee that you get the most of all these channels and allows you to keep up with the world.
There is a lot of competition in the market. A customer sees so many programs, talents, and goods, and does not land at all on your profile. SocialPushers will help you do just that. You will be able to advertise to individuals who are now your followers through this website. You would thus be able to enter a certain audience that can later be converted into actual consumers.
---
Conclusion
Social media has tremendous authority. The above implies that, because of its impactful effects, it could either make or destroy your reputation. There is tremendous material that can be viewed now online.
It has turned difficult, however, to get people to see the material you create and give it proper time. Moreover, They might not actually communicate with you, even though they know you exist.
Socialpushers solve this problem exactly. It lends you a hand in your social media endeavors so you don't have to do anything solely on your own. It will help you reach out to the right audience that can turn into loyal followers or customers.