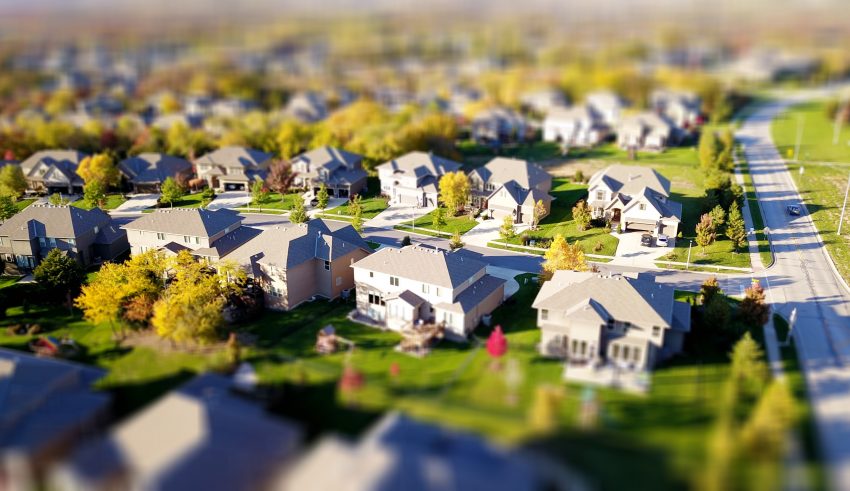 Bygone are the days when you go all by yourself into the market to find and invest in a property. The times have changed and the industry has seen a transition in the investing trends like crowdfunding on online platforms, making it evident that real estate has got to go places. With the trends shifting towards digitization, real estate websites have gained all the attention to make the investing process easy.
Here are some companies that offer Commercial Real Estate Investment services in India: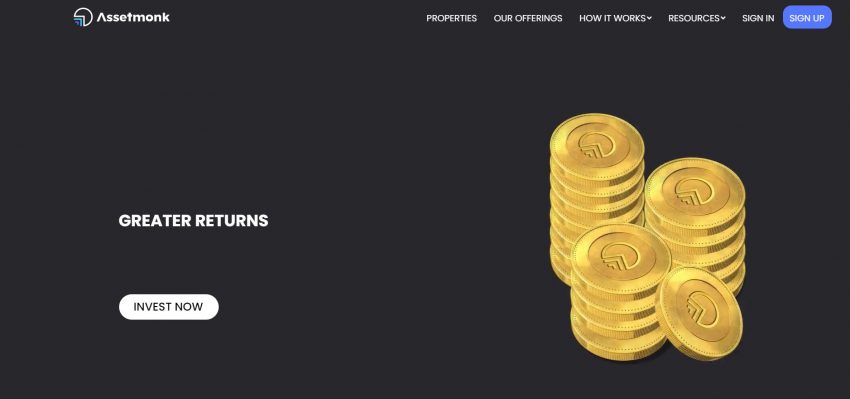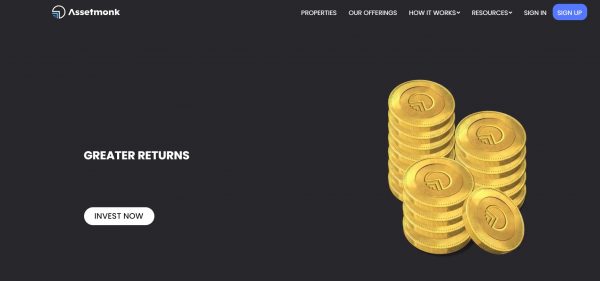 Assetmonk is an online platform for real estate investments. The properties from the best cities like Bengaluru, Hyderabad, and Chennai are listed out on the website.
The platform provides you with trending investment options like Condos and suites that have recently gained traction in India. Assetmonk offers properties through fractional ownership that lets the investors own a part of the property with small ticket sizes.
There are three categories of investment opportunities – Growth, Growth Plus, and Yield. Growth is for long term investors with low investment and high growth potential and an IRR of up to 21%. Growth Plus is for short-term investors through fractional ownership with an IRR of up to 16-19%.
Yield is the third category of investment plans which is for long-term investors who want to generate periodic rental returns with an IRR of up to 15-18%. With the various investment plans for investors, Assetmonk tries to meet the needs and aspirations of every investor.
---
Propertywala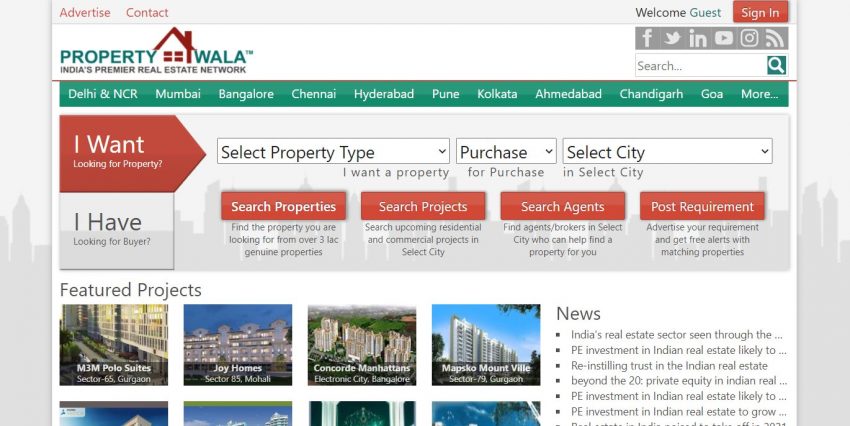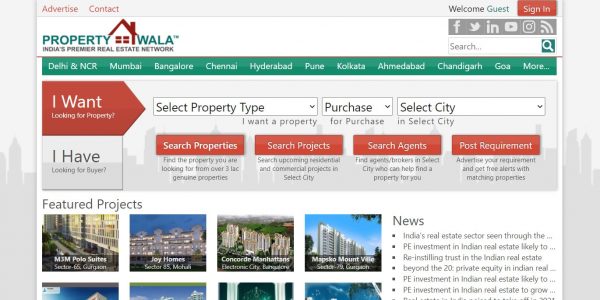 The website bridges the gap between the owner and buyer by providing a platform for advertising services. With over 3 Lakhs genuine properties on its website, the platform offers a wide variety of services from residential properties to commercial properties. The website also offers channel partner services that help you find the best for you in over 400 cities across India.
Almost every property type is available on the website. Traditional commercial properties like shops and showrooms to ongoing investment trends like office spaces, multipurpose buildings, and warehouses are listed on the website.
The interesting feature is partnering with the top banks of the country to provide the best quote for the home loans, helping them to bag the best deals of the market. This website has an all-round service program right from advertising the property to finding the best finance options for you.
---
Strataprop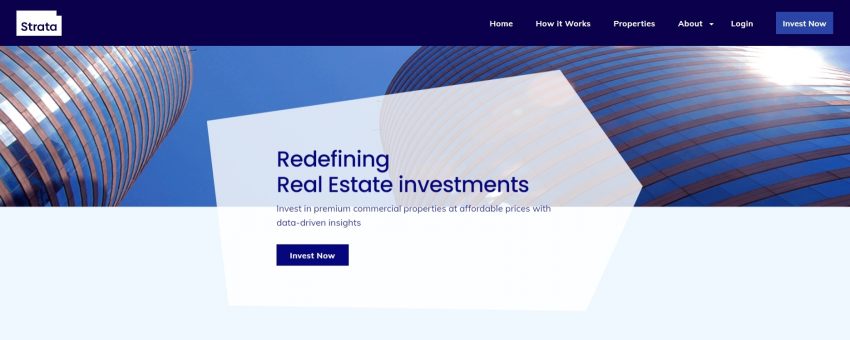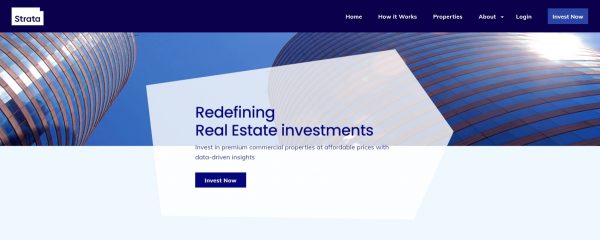 Strata is a commercial property investment company that helps investors create wealth through investing in commercial real estate assets through fractional ownership.
The fractional ownership concept democratizes the real estate investment in A grade properties with investment as low as 25 Lakhs.Strata list credible commercial properties like warehouses in various sectors like pharmaceuticals, e-commerce, logistics, and supply chains.
It lets the investors earn through owning fractions of multimillion-dollar properties that are rented out to world-class companies.
The rental yields of the properties across Karnataka and Tamil Nadu are at  8-10% and have a targeting IRR in the range of 16-18% for various properties over a period of five years. You can resell the fractions as and when required on their platform or sell them to the interested private parties.
---
Magic Bricks


The company lists myriad property investments under commercial real estate, office space, co-working spaces, shops or showrooms, and warehouses to name a few.
With over 1 Lakh office paces and 60,000 shops or showrooms, Magic Bricks renders commercial property agency services with over 5,000 agents. It lists the properties across various cities of India with minimum investment as low as Rs.5 Lakhs.
The users can buy, sell, rent, or post an ad regarding their properties on this platform. Tenants can pay the rent using the Magic Bricks platform and the end-users can make rental agreements with reasonable prices through Magic Bricks.
They also provide users with property related services like home cleaning, sanitization, pest control. Magic Bricks builds credibility thorough property inspection and tenant verification.
---
RealestateIndia


The company provides all real estate services from real estate agents, vastu consultants to home inspection and interior decor. Since its inception in 1997, this website has built an empire with its wide reach across all the states of India. With over 50 major cities involved in commercial property dealings, RealestateIndia is a one-stop solution for buying, selling, and leasing properties.
The ticket sizes start from sizes as small as Rs.5 Lakhs and go up to Rs.100 Plus Crores. The commercial properties include shops, malls, business centers, and hotels.
The trending investments like office spaces and warehouses are also on their list leaving the investors with a broader range of choices. It boasts high visitors which is more than 1,00,000 visitors landing each day, as RealestateIndia reaches nook and corner of the country.
---
Also check: Top 10 Construction Companies In Jaipur
---
h-Bits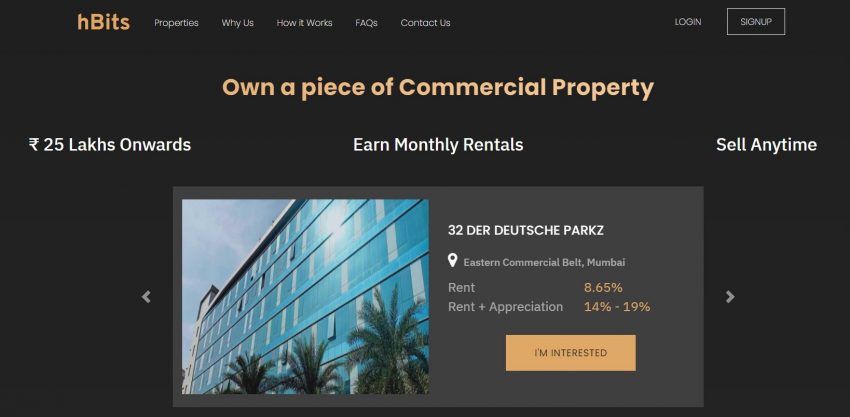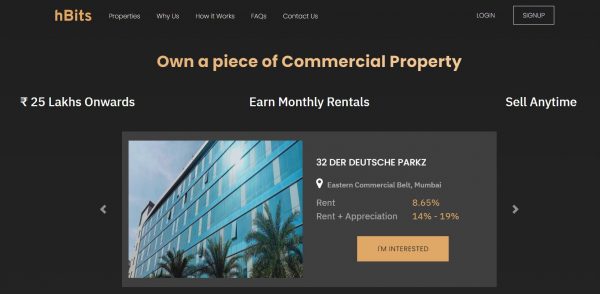 The startup is started in 2019 October for providing commercial real estate investing services through fractional ownership. Within a year, h-Bits has made transactions with Rs.15 crores on the commercial real estate properties in prime location-Mumbai.
The commercial properties are A G grade assets within commercial buildings and Information Technology parks. You can own a part of the tech giant properties with a mere investment of Rs.10 Lakhs.
The rental yields and the potential appreciation together are estimated at around 12-20% on the assets which is a lucrative and competitive figure in the market conditions.
---
99acres


99acres is an online platform launched in 2005 for listing properties for buying, selling, and leasing. With over nine lakh property listings across six hundred cities, the website has grown into a huge platform trusted across the nation.
The listed commercial properties include office spaces, shops, warehouses, factories, and cold storage, with investments as low as 5 Lakhs and as high as a few hundred crores. This platform has won accolades like PropTech mobile App for the year 2019 award and many more.
---
Bottom line
These are some of the websites that offer the best and credible services in Commercial Real Estate Investment. If you are a beginner, these websites help you bag the best deals on the market.
If you want to expand your portfolio or start at the ground level, you can definitely visit the websites for proper guidance. Happy trading!