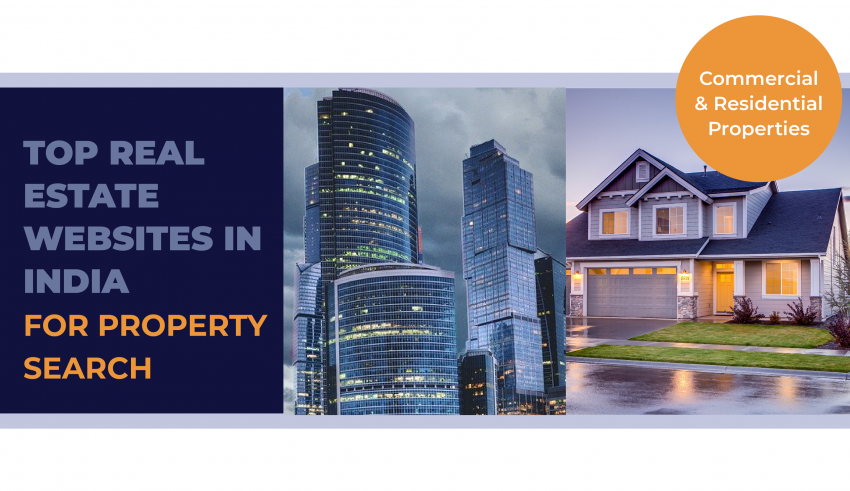 We all dream of having that perfect space, be it home or office and end up making various images related to that home. For example, for me, the perfect home would probably be a penthouse with a small swimming pool with an average sized rooftop garden where my parents could relax and drink their cup of tea in the morning. Or the perfect office would be one that's got a modern look and feel with lots of natural sunlight and all necessary amenities.
However, we cannot turn these dreams into reality if we don't have the proper guidance and help on our sides. And when it comes to properties, then that guidance and help are in terms of real estate experts.
When we think or plan of getting a space, be it home or office, our minds immediately go towards hiring a property dealer to help us. And while that solution may have been the best a decade or two ago, the times have now changed. There are thousands of property search sites online which can help anybody in finding the best home or commercial space which fits their needs and requirements.
This allows an individual to directly approach the seller and get better offers. That is why we at ReviewsXp have decided to bring you the best and most informative list of property search sites in India.
The list is mentioned below. So, here's The List Of Best Property Search Sites In India: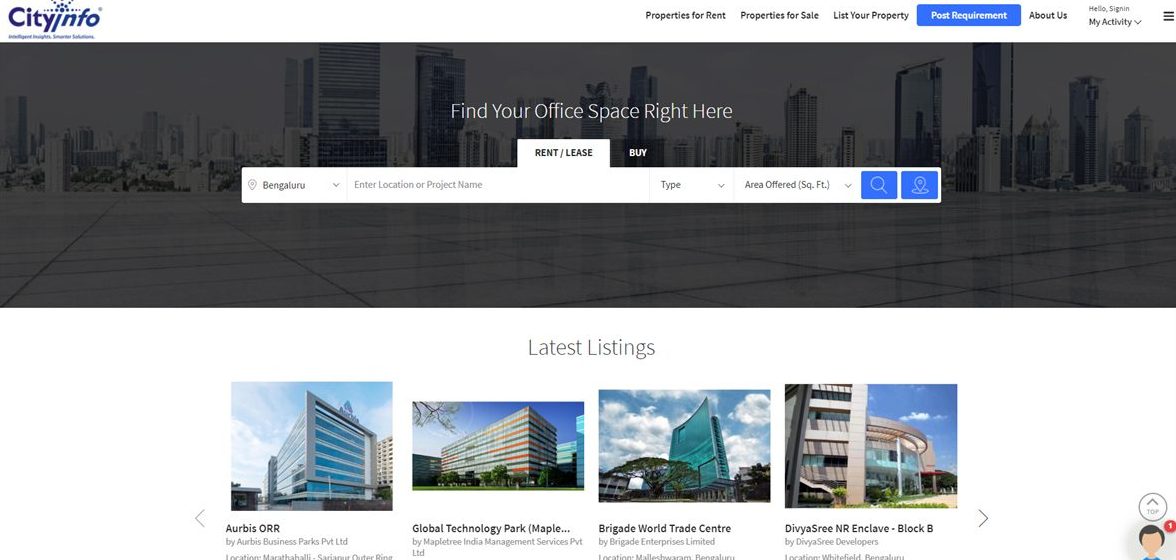 Cityinfo Services Property Portal is an office and commercial space listing portal serving prime cities across India. With over 10,000 properties, this website brings India's expansive commercial real estate landscape under one roof that users can access with ease. One can find both, properties to lease, as well as buy. Each listed property has been thoroughly vetted and verified by Cityinfo Services in-house team making it a trustworthy and credible way to search for office spaces online.
Packed with crucial details such as area specifications, amenities, occupants, current availability and pricing details about each project, Cityinfo Services offers comprehensive data about each building to its users. Users can also narrow down their search using a wide range of filters available on the website including location, type, area offered and more. Cityinfo also offers a service where users can post their requirement details and someone from the website's team will get in touch with you to help you find the right office space for rent or buy for your organisation. A sizeable list of projects coupled with easy navigation makes Cityinfo Services property portal one of the best ways to search for a commercial space in India.
99Acres is probably the most popular website which allows its users to search for properties. This website provides its users the flexibility to look for property in over 50 cities. This real estate website also has a mobile application which allows its users a chance for better navigation through the listings. The mobile application of this website is also the GSF Mobile Appies Award Winner 2015 under the real estate category.
This website allows its users to filter or narrow down their search by selecting property type and the desired construction status. Apart from purchasing a property, this website also allows users to rent or be a paying guest. There is also a newly introduced section of home loans on this website. To use this website, you just have signup or register and find the home of your dreams.
This is the second property search site on our list and according to an independent survey; this property portal has been deemed the most preferred property website in India. This website aims to provide all its users with transparent and unambiguous information about the property of interest with just a few clicks. This website allows users to post about properties for free and to search for real estate throughout the entire country.
This website has currently over 7000+ properties for sale and it also features a number of new projects. Users can also use this website to rent different properties. And with the help of this website, users can also learn more about home loans, home insurance, legal, taxation, and government policies related to private properties. One can get property alerts on this website and the navigation is also very easy.
NoBroker claims to be the largest property search website in the entire world as it connects more than 10 lakh buyers and sellers every single month. This website allows individuals to buy, sell, rent, or even get a property for commercial purposes. This portal has a unique feature that allows users to pay their rent directly through the secure payment portal of this website. This website allows users to list their space for free and further provides its users with assistance during the process of creating rental agreement and other paperwork.
This company further provides relocation services for corporates and also has a very convenient mobile application. This website mainly provides its services in Chennai, Pune, Gurgaon, Mumbai, and Bangalore. This website also has some sort refer and earn policy which one can take advantage of. This company believes in not paying any brokerage at all. And to use this website to find your dream home, you just have to sign up and start exploring.
India Portal is a website how much effort and time can go into finding the required real estate. And that is why this website has a group of experts who allows users to explore the properties which are suited to their needs and requirements. This platform allows all users to purchase, sell, or rent properties. This website provides its services to users from over 1500 cities and believes in providing them the complete support from the start of their search untill the end.
This website has over 623,475 listings and they continue to add more property listings every single day. This website also has quite extensive media coverage from organizations like The Hindu, NDTV, CNBC TV 18, and the Red Herring. There are verified properties listed on this website and they also provide users with features like 3D Floor Planning, Virtual Tour, TruView, and Expert Video Reviews. You can also get home loan services from this website and calculate your credit score. And to use all of those services you just have to sign up.
Housing.com is another quite popular property search site on our list. This website provides users with verified property listings and currently boasts of over 1 lakh sellers on its website. This portal allows users to buy and rent properties in a number of cities all across India. You can also add a listing to the 'favorite' column which will allow you to compare some listing easily. To access the services of this website you would just be required to sign up and begin your search.
To help users this website also has a featured collection which allows users to look at some of the most prominent property listings. This website also has a very interesting blog in which they provide their users with various tips on how to find the best property listings on their website. This website also hosts various housing festivals which can be interesting for readers who might be planning to purchase or rent a home in the near future.
Nest Away is a website which beliefs in solving the common problems of every individual which he or she might end up facing when looking for a home in a large city. This firm was started in January 2015 with the aim of aiding those who are trying to find the perfect home in a large city. This firm also connects people on a more social and community network. This website is also known as the fastest growing managed home rental network.
This website provides users with all the support which they need to rent a home in a new location. From finding the homes, assisted visits, and to the move-in itself, they think of everything and make sure that you are not stressed. No matter the budget, this website allows users to rent shared rooms, full houses, or private rooms with just a few clicks. The security deposit is low, the rates are very affordable, and there is zero brokerage on this website. To hire the incredibly enticing services of this company you just have to sign up and begin your search.
This is another popular property search website on our list. This website has great verified property listings. However, the one downside is that this website only serves for some of the major cities like Delhi, Mumbai, Bangalore, Gurgaon, Kolkata, and Ahmedabad. So, if you live in cities like Bhopal or Lucknow then this website won't be of any help to you. This website has also received the Real Estate Excellence Award and also provides its users with home loan services.
You can use this website to buy all sorts of property types like apartments, villas, and plots. This website also allows its users to rent a property. There are currently over 3,17,077 verified listings on this website and more are added every single day. With the help of this website, you can also learn about some of the new real estate projects which might be going on in India. To get the services of this website, you just have to sign up and start looking for the home you want.
This company has a large group of qualified experts who understand that everybody wants a home to call their own and that is why they ensure that everyone can experience the joy of getting their own homes. This website has a unique rated seller platform which allows users to find the properties listed by the best sellers.
There are currently over 10,000 highly rated sellers on this website. With the help of this website, users can buy and sell properties. This website also provides home loan services to all its customers. Users can also list their property on this site and there is also a very user-friendly mobile application too. To get started on with this website you just have to sign up.
Prop Tiger is a property search website which believes that finding the best home actually means finding happiness. This website has a very good customer satisfaction rate as they have over 18,000 satisfied customers. There are more than 2,00,000 verified listings on this website which are still active.
To get started on this website you have to first sign up. Once you have signed up then you should view properties and shortlist the ones you are interested in. After that, you just have to inquire about those properties and visit the allocated site. Once you have followed these steps then nothing more remains then to actually book the home of your dreams.
This is the last proper search website on our list. And what separates this website from the other websites on this list is the fact that it does not just allow users to find property listings in India but it also allows users to look for property listings in abroad. With the help of this website, users can learn about price trends and some of the best investments projects in the locations of their choice. Users can buy, sell, and rent properties on this website with just a few clicks and if you wish to begin then you would just have to sign up.
Some of the properties which users can find on this website include apartments, villas, plots, lands, and builder floors. You can also learn about the upcoming residential or commercial real estate projects on this website. This website has a very efficient and easy-to-use mobile application. This website also boasts of a very high customer satisfaction score.
The Conclusion:
These are all the property search sites which could make it to our list. We have ensured to give the spots on our list to websites which are extremely reliable and have great customer satisfaction rating. However, if you think that we missed something or if there is anything that you would like to suggest then feel free to comment it down below. Until next time, happy browsing!