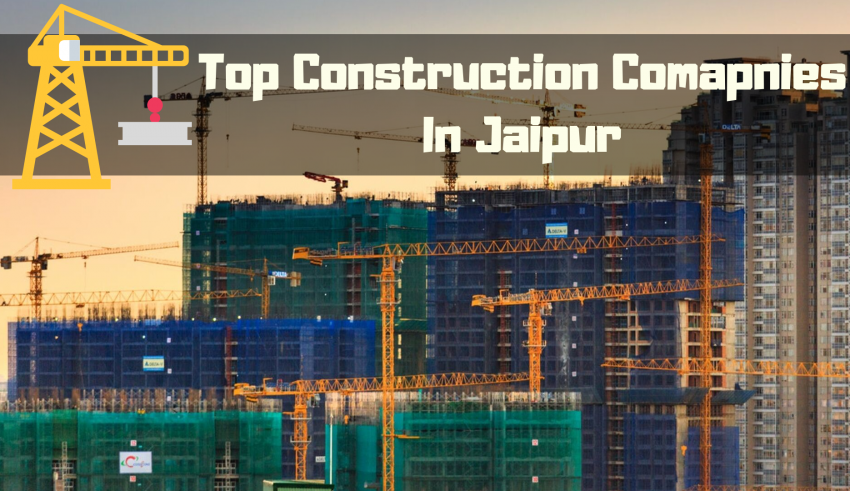 After working for long hours, you get to home all worn-out and exhausted, yearning for a time-out and what you get is a house with loads of maintenance and construction issues and you know it then and there, that the night won't be any better. And it gets worse when you're planning a party, but neither there's enough space in your house nor is it presentable enough to wow your guests. It would be a lot better if you could just get yourself a new and better house, just the way you want it to be. Right?
And what better place to get a house in, than Jaipur- The Pink City! Jaipur is a great city to live in or even for investment, as it is the eleventh largest city and will be a Mega City by 2025. The city's excellent connectivity by road and air and its proximity to New Delhi and Gurgaon is another reason of why it's becoming a preferred destination for investment purposes.
So here's a list of the top 10 construction firms in Jaipur, if you intend to get a new house or even if you like to plan ahead:
HOMESTEPS
What makes a house a home, is not only the people but also the vibe of the place and also the fact that it should meet your basic expectations and hopes. Homesteps makes sure they give you a home not just a dwelling. As they are flexible with every project, they'll flawlessly accommodate your requirements into an artwork, which you will be proud to live in.
They work on Lock & Key solutions in construction and also provide interior designing and exterior services. They have worked on a lot of big projects and experience is what makes them trustable and an expert in their field.
Address: 36, Rathi Nagar, Opposite Evergreen Marriage Garden, Gopalpura Bypass Rd, Jaipur, Rajasthan 302020
Contact:  09461040282
---
FS REALTY
FS Realty is a venture of First Stone, which has many ongoing projects located at popular locations in Jaipur and strongly believes in paying back to society for all its endowments and blessings. The enterprise is trying to contribute to the society by promoting Green Architecture and all its projects are sustainable green developments as per the guidelines of Indian Green Building Council(IGBC).
And when they are also a highly experienced team that never disappoints with their creativity and quality, it is a cherry on the cake. Their inventive designs and methods with the refined and chic feel in all of their projects is a total heart-winner.
Address: The Crest, Suite 9, A-4 Airport Enclave, Near Marriott, Jaipur, Rajasthan 302018
---
ILLUSTER STUDIO
If you're planning to get your office renovated or want to give your home a luxurious look, take a look at Illuster Studio's projects. Their designs are versatile and innovative and bring positive energy in the space by relaxing the minds of the onlookers and visitors. Though consistent with their basic elements, they never fail from experimenting and bringing into the world of design a new masterpiece, which is truly their own creation.
Illuster Studio is effectively able to inculcate traditional motifs and designs into contemporary architecture, just like the present day India, which maintains a balance between its cultural roots and modernization necessary for growth. The firm provides architectural, interior design and landscaping services and has been able to build its reputation in the market by continuously striving to become better and better.
Address: H-25, Chitranjan Marg, C-Scheme, Jaipur, Jaipur, Rajasthan 302001
---
GHARBANAVO
A residence is complete when the littlest of things are taken care of and nothing is missed out and that is what you'll get when you give this responsibility in the hands of Gharbanavo. They give importance to all of the factors that define 'a complete house' for you.
They offer plenty of services like, land measurement, map designing, plumbing, interior designing, exterior designing and elevation, material consultancy, vaastu consultancy, civil engineering and architectural services, home repairing and redesigning, etc., which can be molded according to your requirements. And you can't miss the opportunity to get your garden's landscaping done by them! They are in fact a complete solution to your construction troubles and they're so reasonable too.
Address: 508 Alankar Plaza,, Central Spine, Vidyadhar Nagar, Jaipur, Rajasthan 302039
---
HOMELAND GROUP
If you need a house in a secured, covered campus, that makes you feel connected to the rest of the city at the same time, you should explore state-of-the-art townships and residential flat projects completed by Homeland Group. They rightfully are one of the top construction firms in Jaipur and will definitely be, even in the future.
Homeland Group has successfully completed 10 residential projects with thousands of satisfied clients at prime locations of the city. The team has practiced personnel working towards growth of the nation by creating fine investment opportunities for its customers with world class design and planning.
Address: 2nd Floor, Plot No. 7, Kings Rd, Ajmera Garden, Nirman Nagar, Jaipur, Rajasthan 302019
---
VISHAL CONSTRUCTION COMPANY
A home on a budget and still exquisite looking, is a dream for many people. But Vishal Construction Company makes people's dreams come true by being affordable yet innovative and imaginative in their design approach. They hold on to the basic values of customer trust and quality in their work.
As they have completed many projects and helped people live their dreams, they are no less than experts in their fields, with polished skills and abilities. Above to all this, they value and care for their workers and sub-contractors and believe that it is only through mutual concern, that they can get benefits in the long run.
Address: 19-A, Brij Vatika, 7 No. Bus Stand, Mahal Rd, Jagatpura, Jaipur, Rajasthan 302017
---
AIR HOMES COLONIZERS AND DEVELOPERS
If you're looking for a beautiful sub-modern abode that you can make your own, checkout Air Homes Colonizers and Developers, a construction private company in all its glory, that is making a difference in the real estate world by being consistent, creative and continuously improving and progressing.
Their classy taste and perseverance for better quality is really commendable and justifies their position as a great option for availing architectural and construction services. When we get an amazing place to call our own, which will be always at the cynosure of spectators, and that too at affordable rates, it's an opportunity not to be missed.
---
KUMAWAT CONSTRUCTIONS COMPANY
Kumawat Constructions Company, a company that would make your contentment their first priority, is a wonderful choice if you want the construction to go on hassle-free and smoothly. In addition to great planning and high-quality construction, the group also provides services like exterior designing and elevations.
The firm's flexible work hours and extremely skilled workers further add to the innumerable benefits. They offer chic and elegantly built  houses within your means and would also be there to guide and help you in all the related aspects. They are truly a team that you can trust and rely on and which will never let you down.
Address: 67-A pratap chauraha, Sikar Rd, Sindhu Nagar, SONI KA BAG, Murlipura, Jaipur, Rajasthan 302039
---
GOYAL INFRA PROJECTS
Goyal Infra Projects Pvt. Ltd. is a company with more than 20 years of experience in construction and engineering and has many ongoing residential projects under the name Onyx. They state their mission as: "to become world class real estate developers with high standards, professionalism, ethics and customer service and to contribute in the growth of the economy as a whole".
The group has a dedicated team that believes in customer satisfaction being the most important of all and works toward the same. So, if you're concerned about quality standards, Goyal Infra Projects is a company to place your trust in.
Address: Goyal Infra Projects, Mansarovar, Jaipur, Rajasthan 302020
---
KAREEGAREE
There's no wrong in saying that KareeGaree is in fact one of the leading construction firms in Jaipur and rightfully so. The enterprise is inventive in its construction methods and also delivers interior designing services to its customers at realistic prices. Their commitment towards their work and efforts in becoming a leader in their field is why they are a fantastic option to get your dreams built.
They work according to your needs, simultaneously making sure that the project stays in your budget, but without compromising on its worth as a future asset.
Address: Shop No 12 – 13 Tirupati Vihar, Govindpura Niwaru Link Road,, Jhotwara, Jaipur, Rajasthan 302012
---