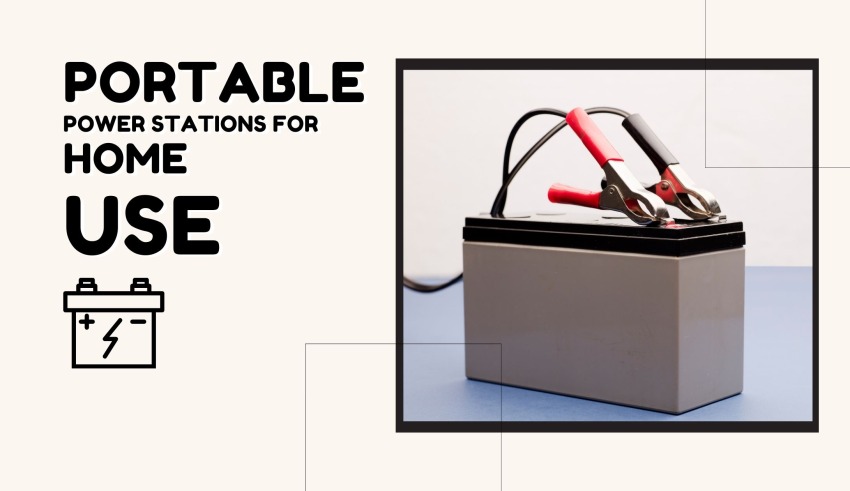 In today's world, it is becoming increasingly important to be prepared for unexpected outages or power shortages. Portable power stations are an excellent way to ensure that you have backup power available when the grid fails. Portable power stations provide a reliable source of energy for home use, allowing you to keep vital appliances running during times of emergency or when the main power supply is unavailable. They come in different sizes and capacities, so you can find one that fits your specific needs. There are many different types of the portable power station on the market today, from basic models with limited output capacity to advanced units with large storage capacity and multiple outputs.
It can be challenging to know which one is right for your needs, but if you take the time to research and compare options, you can find the perfect portable power station for your home. To help make it easier, we've compiled a list of the top portable power stations for home use. Each of these models has its unique features and benefits, so you can select one that meets your specific needs.
All of them provide reliable backup power whenever you need it, so you never have to worry about being without electricity when the main grid fails. Read on to learn more about each model and why they are among the best portable power stations for home use.
Here is the List of the Best Portable Power Stations: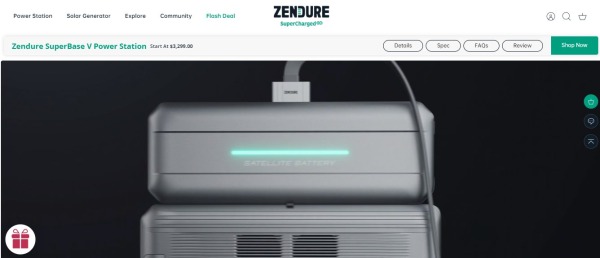 Are you tired of your sensitive electrical equipment failing due to brief power interruptions? Introducing Semi-Solid State Power Station – Zendure SuperBase V Power Station, the world's first Zero-Downtime Online UPS! This patented GridFlow 2.0 Real-Time Bidirectional Inverting Technology allows this unique power station to switch on in 0ms, providing an uninterrupted and reliable source of energy for all your appliances and power tools.  
What makes this Semi-Solid State Power Station truly exceptional? It is its ability to supply both 120V and 240V from a single base unit – no other product on the market can do that! The supremely efficient SuperBase V also features a powerful battery with up to 1674Wh capacity that is capable of charging up larger devices such as laptops, tablets, cameras, etc. And given its versatility, it is perfect for both residential homes and worksites. So make the smart decision today and go with the revolutionary Zendure SuperBase V Power Station – it will never let you down!
---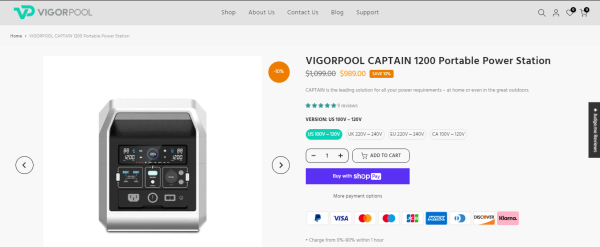 The VIGORPOOL CAPTAIN 1200 Portable Power Station is the perfect solution for providing power when you need it most – at home, on the go, or even in tough outdoor conditions. With 1268 Wh of capacity and a 1-hour charge time of 0%-80%, the CAPTAIN is sure to keep your devices charged no matter where you are.
You can control it remotely with our app and power up to 12 devices at once. Moreover, its 10ms UPS system provides harmless power solutions for any electrical device all with unparalleled speed and reliability. Get everything you need for your next adventure – get the CAPTAIN 1200 Portable Power Station today!
---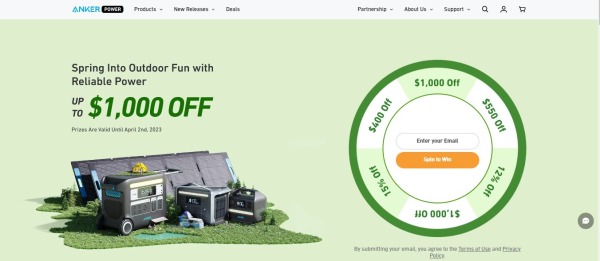 Make your spring and summer even brighter, more active, and more exciting with Anker Power Station for Home. Here, the selection of portable power stations lets you choose the device that best matches your travel needs. 
The Anker PowerHouse models – 767 and 757 come with a whopping 2048Wh and 1229Wh of capacity respectively, giving you enough juice to power almost any appliances in your home or RV. Connect up to 12 devices (PowerHouse 767) or 13 devices (PowerHouse 757) with their adapter-free ports. Both models also offer fast solar rechargeable capabilities, ensuring constant power while traveling outdoors. 
The PowerHouse 767 is designed with a TT-30RV port which makes it perfect for powering your RV lifestyle. And how can we forget the dual-grip design of the PowerHouse 757, making it extremely portable and lightweight for day trips? 
For a limited time only, spin to win for the chance to get up to $1,000 off on your purchases and unlock exclusive discounted prices! Get ready for those glamping weekends or day trips this spring and summer – because with Anker Power Station's phenomenal capacity in compact designs: they have your portable power needs covered!
---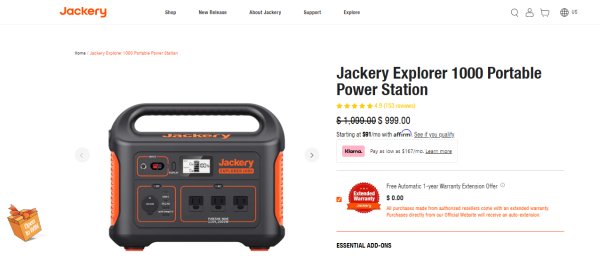 Life is unpredictable. With the Jackery Explorer 1000 Portable Power Station by your side, you can always be prepared for whatever life throws your way. With this powerhouse of electricity at your disposal, you'll never have to worry about going without power, no matter where you are or what the circumstances may be. 
The Jackery Explorer 1000 is engineered with an upgraded 1,000W lithium-ion battery that gives it incredible reliability and versatility. It provides enough energy to power up a variety of electronics such as laptops, drones, CPAP machines, and more and allows you to operate them anywhere—in the wilds of nature, during a natural disaster, or even just in your own home when there's a blackout—with zero worries over access to electricity. 
And to make it all easier on you, the Jackery is designed with intuitive portability in mind. Lifting it is easy thanks to its lightweight body yet robust construction and when using the removable handle or carrying bag options included in your purchase, you can take it wherever life leads you with ease. 
It also includes stress-free installation processes, enabling users to plug in almost any device with simple setup instructions that come standard within product packaging so there's no guesswork involved. To boot, each purchase comes with an extended warranty auto-extension offer providing convenient service and peace of mind for years down the line. Don't let Mother Nature or anything else have her way with your power needs ever again! Get the powerful freedom of truly portable electricity by ordering yours today!
---

Ready for reliable power? Look no further than GoalZero's award-winning lineup of home backup portable power stations! This product provides the energy you need, whenever and wherever you need it. Whether it's an emergency home backup situation or you just need a battery to power your outdoor activities, its noise-free, fume-free and ultra-portable line of AimZero products have you covered!
Ready to take on all your toughest power needs, the Yeti 6000X, Yeti 3000X and Yeti 1500X are perfect for when you need maximum output in minimum time – with 4.5 stars out of 5 after reviews by passionate users, this is the go-to home power station designed to be versatile and convenient. Get the power that fits your lifestyle today with GoalZero!
---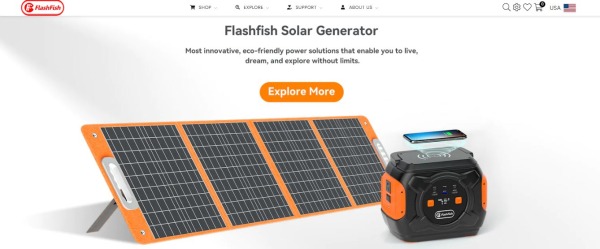 This award-winning FlashFish A601 is the perfect backup generator for anyone living in a remote location or those who want to reduce their carbon footprint. This reliable home solar power station packs a massive 540Wh capacity and 600W of peak power output, with 17 ports supporting all your device needs. Plus, its convenient portable design makes it easy to move around if needed.
Get ready for uninterrupted access to electricity wherever your adventures take you! With FlashFish's unparalleled service and quality, this amazing home solar power station will bring you one step closer to energy independence!
If you're looking for a compact and lightweight power station to take with you wherever life takes you, then look no further than FlashFish home solar power station. This powerful yet portable energy source is perfect for camping, tailgating, and more!
---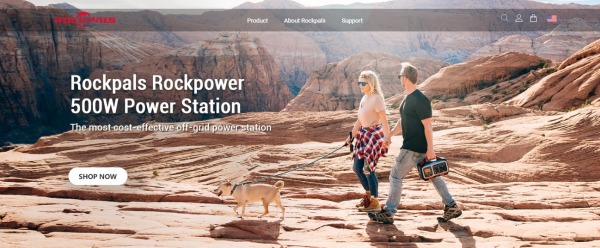 Introducing RockPals Power Station – your ultimate tool for total freedom! The team understands that being away from the grid doesn't mean having to compromise on your quality of life. That's why they have created RockPals Power Stations, a portable and all-in-one power solution that allows you to explore and experience your outdoor adventures without having to worry about a power source. Whether it's running appliances like microwaves and TVs, or simply charging your phone, the rockpals will have you powered up in no time! 
Enjoy the convenience and ease of the foldable solar panels that offer unlimited access to the sun's energy wherever you are. Plus, with several solar generator bundle kits, you can enjoy a green and clean off-grid power supply. And just to make sure you can keep exploring with peace of mind, RockPals backs it all with free shipping mainland U.S., 30-day money-back guarantee, and a 24-month warranty – so there's no stress when comes to powering up your adventures! Get ready for additional freedom, fun, and exploration with RockPals!
---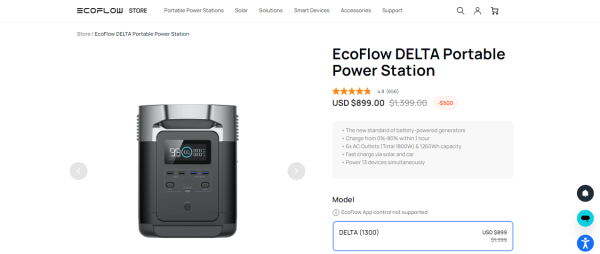 Bring power wherever you go with the amazing EcoFlow Delta Portable Power Station. This advanced device can provide up to 1200 watts of electricity for 12 hours so you never have to worry about running out of battery when you're out and about. With a powerful 600-watt-hour lithium-ion battery, two high-power AC outlets, four USB ports, and innovative solar charging technology, the EcoFlow Delta Portable Power Station can handle any job – from preserving food in a cooler to powering major appliances in an emergency.
The lightweight but sturdy design is perfect for camping trips or rugged outdoor adventures. Whether you're looking for a dependable source of emergency power or just something to keep your phone charged while camping, the EcoFlow Delta Portable Power Station is exactly what you need. Pick one up today at an unbeatable price of $899!
---

Are you ready to revolutionize the way you generate power? Look no further than the Geneverse HomePower series. The state-of-the-art LiFePO4 lithium-ion storage system is just what you need to keep your home running smoothly and efficiently. With an amazing 1000W rated/2000W surge capacity, this power station is perfect for powering your household electronics and even small appliances during emergencies or while camping.
And the exclusive Madness sale means you can get it at an incredible price – up to 35% off! Plus they offer interest-free installment plans and financing options starting at $73/mo so that it's easy for everyone to make this purchase. Shop now and don't miss out!
---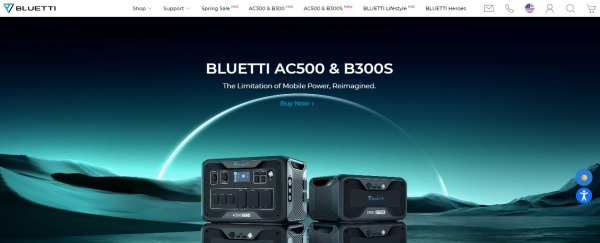 If you are looking for a more sustainable way to power your home, the Bluetti Power Station for Home is the answer. With its all-around upgraded beast, the BLUETTI AC200MAX, you can count on continuous power no matter where you are. Stop worrying about the prospect of losing electricity for hours or days at a time – it won't happen with this powerful and reliable device.
Whether you're going camping, traveling in an RV, or simply need an extra source of energy for your house, this unit is made for anyone who wants a long-lasting power solution without ties to infrastructures or increased costs.
Featuring solar capabilities and support to power cameras, drones, smartphones, laptops, and GPS devices on top of providing quality electricity to your appliances so you can go ahead and make use of your home while ensuring that your energy consumption is friendlier to our environment. Don't miss out on this innovative option brought up by the experts in portable energy solutions – Bluetti is here to stay!
Conclusion:
The days of relying solely on traditional power sources are over. Nowadays, you can enjoy the convenience and reliability of a variety of portable power solutions that allow you to take electricity with you wherever you go. From RockPals' solar generators to EcoFlow's Delta Portable Power Station and Geneverse's HomePower series, there is no shortage of products designed to bring clean energy everywhere.
But if it's something for your home or business that you need, then Bluetti Power Station for Home has got you covered. With its advanced features and wide range of capabilities, this device offers an unprecedented level of freedom in terms of powering your home while also being friendly to our environment.
At the end of the day, investing in portable power solutions is one of the best decisions you can make if you want to take control over your energy needs while also being mindful of how you consume resources. So don't wait any longer, explore the many options available and find out what works best for you. You won't regret it.