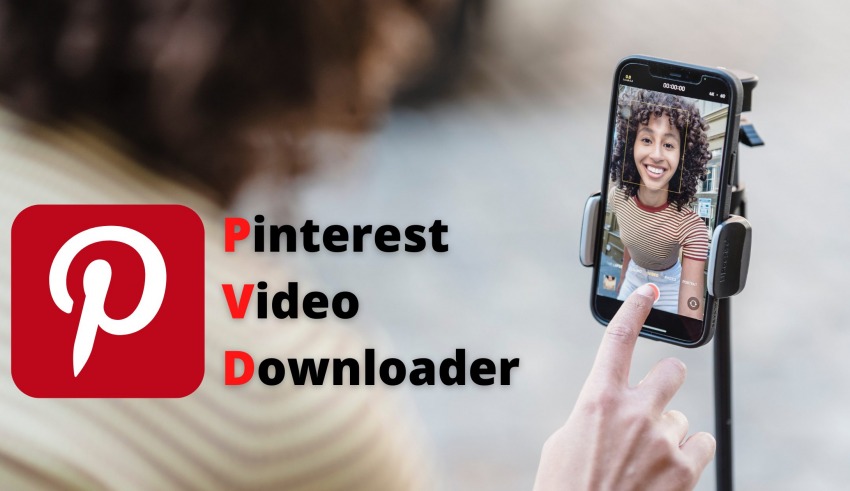 Pinterest is one of those social media applications that are very easy to get addicted to. It is the most prominent image and video sharing platform today. Helpful tips, inspiration, cooking recipes, and aesthetic images are some of the things which this platform is quite popular. It is also a really good means to generate traffic to your site, through the use of backlinks on your posts or pins, as they are called in this app which may be a picture of your product or service, this is extremely helpful as your audience would automatically be directed to your site. Here are Some Pinterest Video Downloader in the Article.
Nevertheless, if you are just on the platform to relax, learn, and perhaps, just to be entertained, then you would surely have a lovely time doing so, all you have to do is follow the right content creators, connect, and most of all,  just enjoy yourself. However, there are some downsides to using this application, one of which is that you can't download videos on Pinterest, this is sad because you may need to watch the video offline sometimes and for a whole bunch of other reasons but the site simply wouldn't let you download videos. Luckily, there are ways you can go around this limitation and this is through the use of Pinterest video downloader.
In this article is a compiled list of 10 of the best Pinterest video downloader which would make your time on the social media platform an even more enjoyable experience.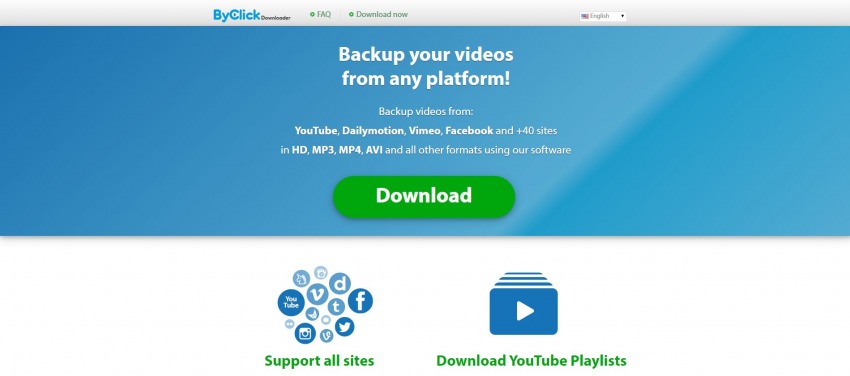 If you have been looking for a means to get your favorite Pinterest videos saved to your mobile device then this tool would effectively solve that problem, with the ability to download audio and video from well over 50 sites, this application lets you easily save your favorite videos on your phone while letting you choose what quality is most preferable to you and in what format (whether in audio or video format). 
This application also supports your computer, this means you could also use your PC for downloading videos from Pinterest without any hassle. Finally, the application is entirely free and does not require any payment to access any of the features.
---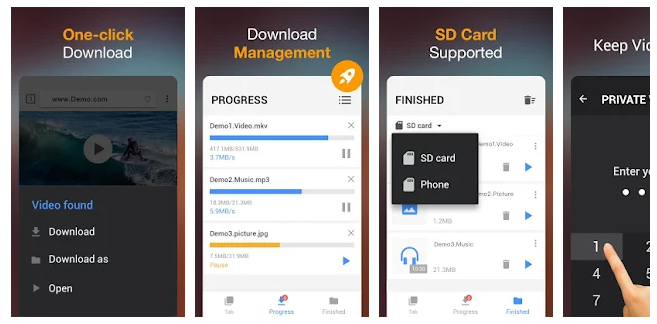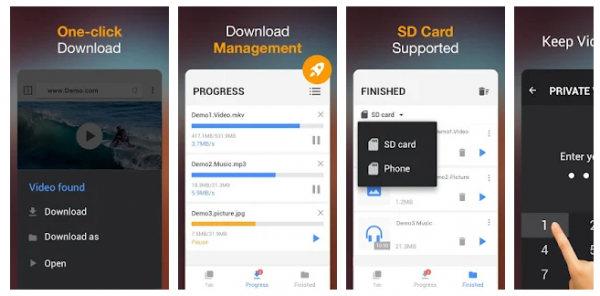 Android Video Downloader or AVD for short, is a very efficient tool if you truly care about having your favorite video with you always. It has a bunch of unique features, among which allows the user to watch their video on the app. It even lets you download shared videos.
However, this application has its limitations, the first is in the name- this application sadly does not support iOS devices. Another is the fact that while this application works very well with Pinterest and a bunch of other sites, it does not work quite as well for downloading YouTube videos, but this should not be an issue since your main aim is to download videos from Pinterest.
Nevertheless, if you are looking for a do-it-all video downloader, then you may want to consider the next application on the list. It is one of the Best Pinterest Video Downloader.
---
Also, Check Pinterest Analytics Tools
---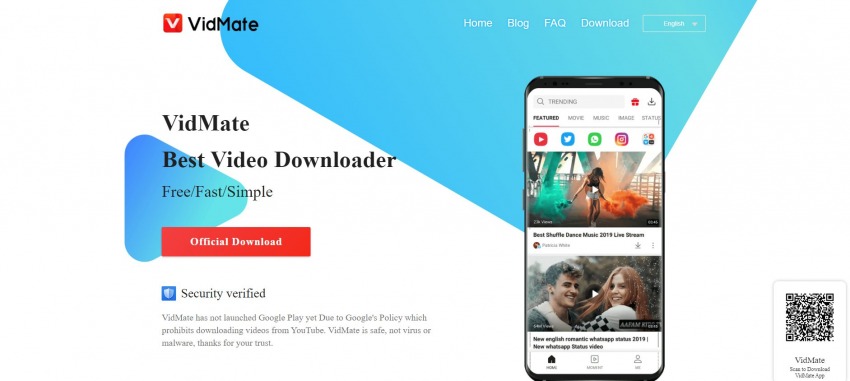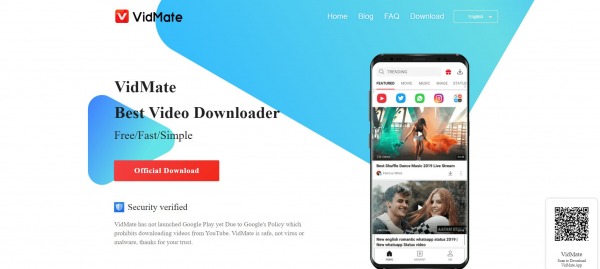 There is no exaggeration if this application is referred to as do-it-all, this is because this application allows downloading of videos from a whole lot of websites and social media platforms such as; YouTube, Facebook, Instagram, Twitter, and of course, Pinterest and to add to that this application is also a great browser too. 
To download your Pinterest video, all you need to do is copy the link of the video of interest from the Pinterest app then paste it here, then your video would be displayed for you, you can also decide to watch the video through the app, just to confirm if it's the right video, next, you can proceed to download the video.
You could also decide to open the Pinterest web application through the Vidmate app, after all, it is a really efficient browser, by so doing any video that interests you can simply be downloaded by clicking on the video, then the next page loads, this page contains a floating red button in the shape of the popular download option at the right side of the screen, simply click on it. 
Then you are provided the option of downloading the video in really high quality or lower quality to save data, simply click on your preferred choice, and just like that the video is saved onto your mobile device. It should also be added that you could originally watch videos through the application but now it would require that you download another application. Nevertheless, it still is a great app for downloading Pinterest videos. 
---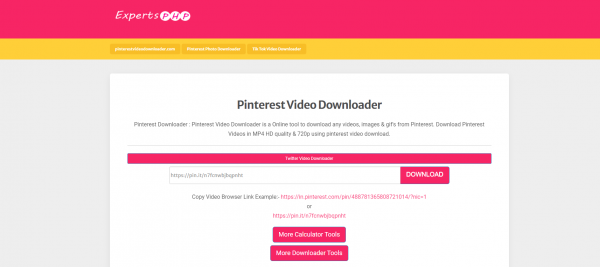 Any video that interests you would never be a hassle to get your hands on again. This multi-purpose application also serves as a browser which means you could directly access the Pinterest site through it. With a very user-friendly navigation system, this application is very easy to use and understand. This tool also works quite well with different devices and software, such as; Android, iOS, Windows, and even MacOS for downloading your videos in HD. 
To download Pinterest videos using this tool, all you need to do is simply find the video that interests you, copy the link from that video, open the Experts PHP application, then paste the link in the search bar. Now, your video would become visible to you but with the option of downloading it onto your phone, you are also provided with the option of downloading the video in MP3, which means the application also provides the user with conversion options.
This tool comes as an application as well as a website, whichever one you choose, it's just as effective. This tool also works on your computer as well as your phone for easy accessibility. With all these functions and features, there can be no denying that this is hands down one of the best tools for downloading videos, as well as downloading Pinterest videos.
---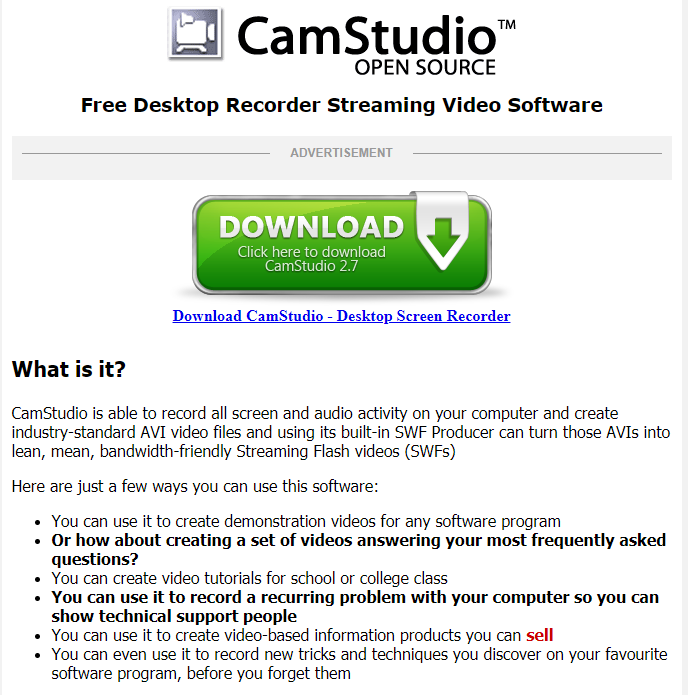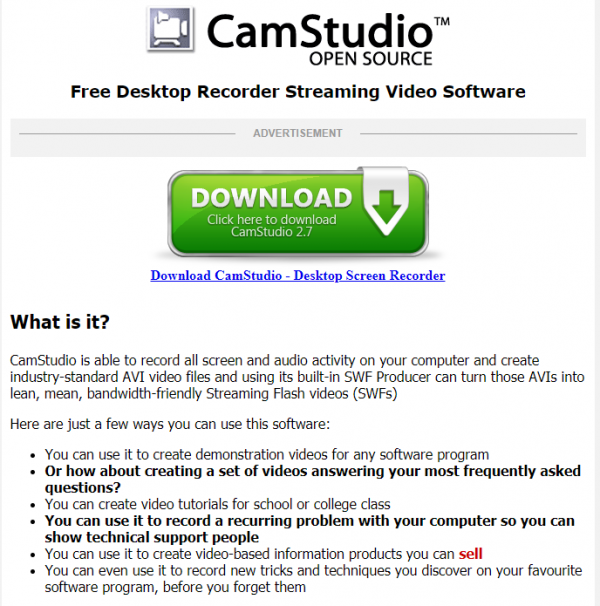 This application goes beyond just downloading Pinterest videos, it has a whole lot of other amazing features. The most prominent of these features is that this app allows the user to record videos in  High Definition, this app also allows the user to edit images through it. 
In addition, unlike many of the other applications, Cam studio is compatible with iOS devices and features a very user-friendly system for simple navigation. This application, however, is not free. It comes at an affordable price of $1.99 which means with all these features you would be getting more than your money's worth.
---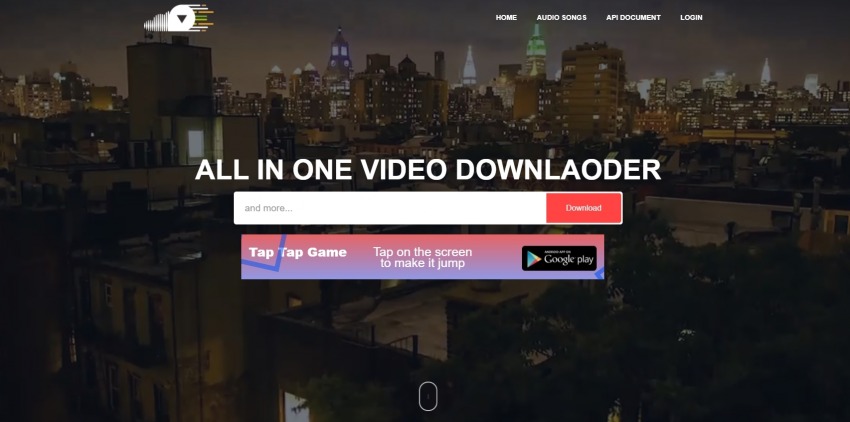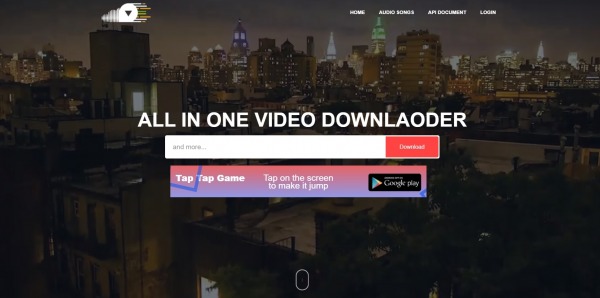 The Keep Save It application is a very efficient tool for downloading your special Pinterest videos, without any form of stress at all. In fact, this tool rids you of the need to have another Online video downloader because it works with multiple sites qt the same great quality. Speaking of quality, this tool lets the user save their video in excellent quality, at extremely high resolution but also with great speed. It is also compatible with both iPhone and Android devices which makes it accessible to all.
To download a Pinterest video through this tool, simply open the Pinterest application or website, navigate through it till you find a video that catches your attention, click on the share button, then copy the URL. 
Once this is done, you can open the Keep Save it application and paste the link onto the search bar above, then click download, and by so doing, you now have the video saved onto your device. This also works in the same manner for a whole bunch of social media sites including; Facebook, Twitter, Instagram, and so on.
---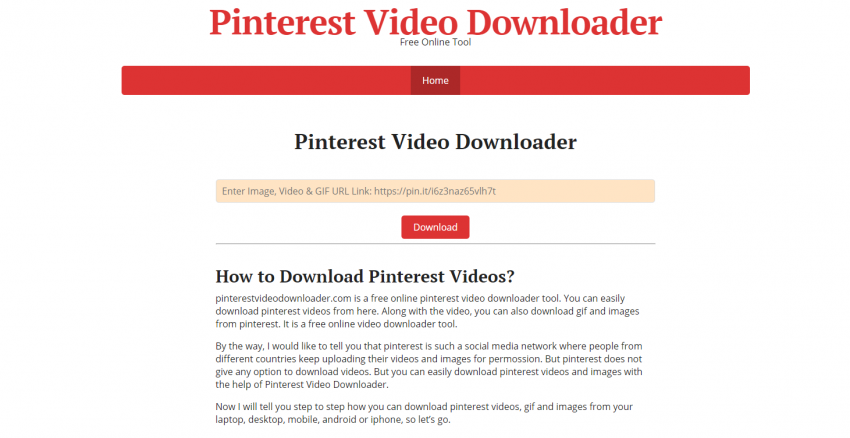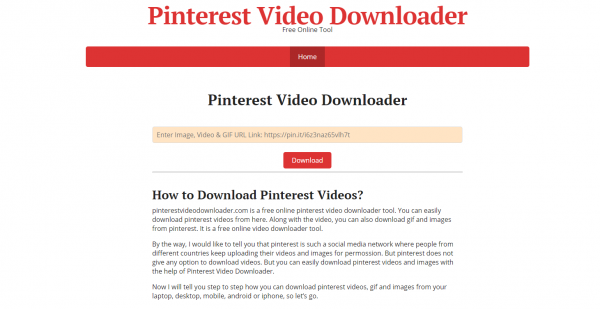 The name of this application already tells you what it does, and indeed it does so perfectly. This tool provides the user with features that make it very effortless for the user to have offline and unlimited access to a video on Pinterest.
To download a video on the application, Log onto the Pinterest site, find your desired video, copy the link, paste it onto this application, select your video quality, click on download, and now you just watch the video get saved onto your device, you can now see that the Video Downloader for Pinterest does exactly what the name says it does. This application is available for free download on the Google Play Store.
---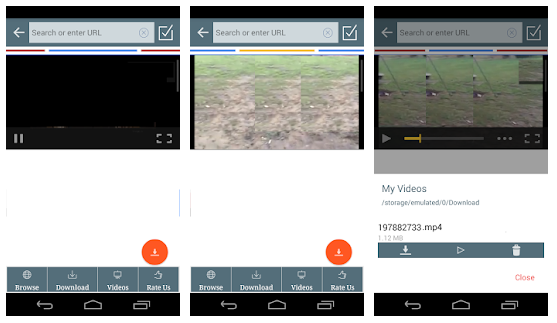 This cloud-based tool should not be far from your mind when you are looking for an easy and effective way to download a video from any website. After all, they claim to be able to download videos from any website, anywhere. 
To be honest, this may be no exaggeration, as this tool allows you to download videos from any social media application which you can think of, be it Facebook, Instagram, Twitter, and our beloved Pinterest. 
To download any video all you have to do is copy the link, and paste it on this application for your file to be saved onto your device. This application is available for download on the Google Play Store and with over 16 million downloads already, there is more than enough reason for you to go try it out yourself.
---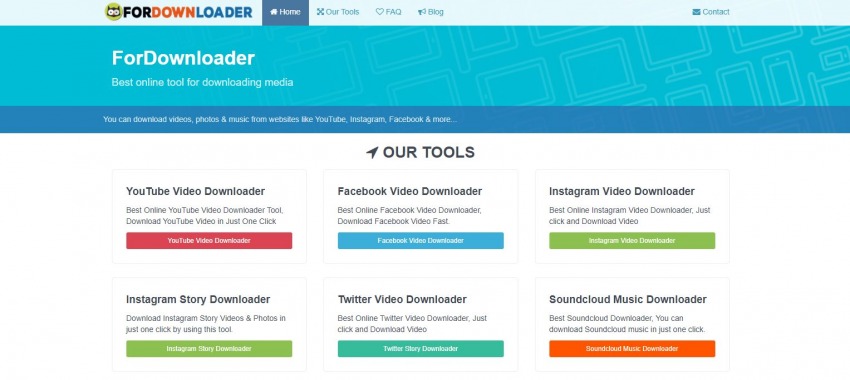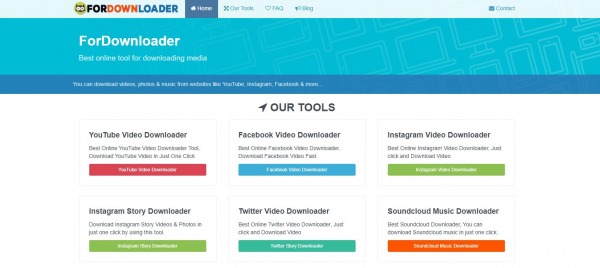 With this tool, you can it is assured that any Pinterest video which you desire you can use this downloader. It also works in the same fashion for other top-notch sites and applications, so long as you can watch videos and view pictures on it.
It is a really unique tool that automatically generates different downloaders for every site and provides you with the best quality of resolution for each video without much to do on your part, just follows the same copy and paste system and the video is as good as yours. Copy the URL from your video, Open the For Downloader website, paste the video into the space click download and just watch the process happen. 
---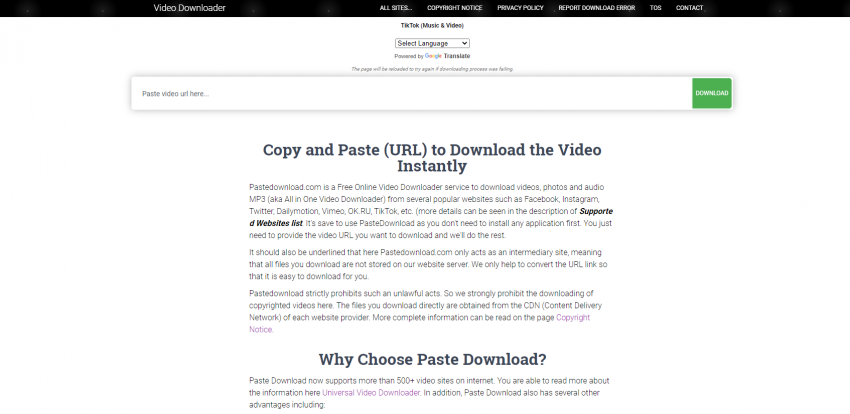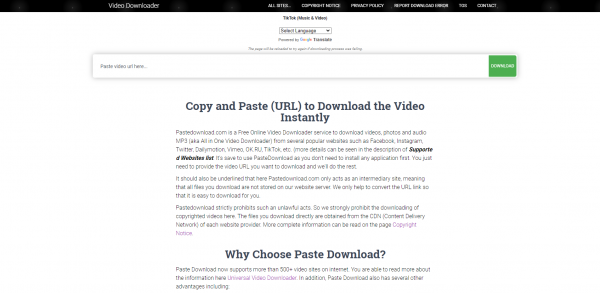 This one is extremely easy to use as the name already does all the necessary explanations for you. All you have to do is check for your video on the Pinterest application, click on the three dots at the top right side, select the copy the URL option, open the paste download website, paste the link here and click on download. After a couple of seconds, your phone now has an extra video saved onto it.
---
Conclusion
Pinterest has been around for a while now which makes it a top-notch social media platform with many people coming on it to connect, network, and just be entertained. A main image-sharing service, however, has a certain lack of features that may hinder the user from enjoying the application at a full blast. 
The major disadvantage is the lack of an option to download your desired video or images, but not to worry, there are lots of ways you can go around that. You may be wondering why you can't just simply screen record the video, there is no issue with that except for the fact that the audio, as well as the video quality, would end up being messed up, so you have to go with another option, video downloaders. 
There are many applications and websites which claim to be able to download your video at a very high quality but end up failing woefully at performing the task. This is why this article helps you, by compiling 10 of the very best Pinterest video downloaders today which are easy to use as well as the fact that they provide the user with great video quality and audio that would sound like music to your ears.