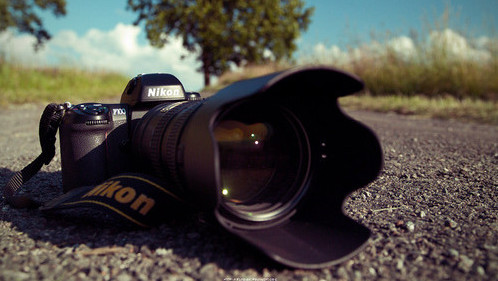 With the launch of the D7000, Nikon started a whole new DSLR segment which was meant as a bridge between enthusiast and pro DSLR users. Many call this segment as 'semi-pro' probably for the lack of a better word. The DSLR does have some 'pro' like features like its dual SD card slots and combines it well with everyday crop sensor DSLR features. As far as headline features are concerned, the Nikon D7000 comes with a 16.2 megapixel APS-C CMOS sensor, ISO range of 100-25600, optical viewfinder with 100% coverage, 39 AF points with 9 cross types, 921,600 dots 3-inch LCD display and a capability to shoot full HD at 1980P at 24fps. Big misses are of course lack of any WiFi capability, touchscreen and image stabilization.
The D7000 series has seen many launches since this camera came out. Currently this lineup has 4 cameras (D7000, D7100, D7200 and D7500) with varying degree of upgrades. Design of all of these is more or less same. The D7000, for instance, gets a tank like body since it is a semi-professional DSLR. The camera is almost 33% larger in size compared to Nikon entry-level DSLRs like the D3300 or the D3400. But a big negative about the D700 is its weight. At 690 grams the camera does feel a little heavy in hand and can make your arms ache if you carry it around for a longer duration. But the camera does have a solid and comfortable grip which is necessary for photographers. Just like full-frame professional Nikon DSLRs, the D7000 gets a top plate LCD display. The back is dominated by the 3-inch 921,600 dot display which is clear and bright. We had no problem manual focusing using the live view. The buttons are laid out in a pretty disorganized way, but somehow it still works.
Start up time of the Nikon D7000 is fast. It starts working even before you can get your thumb on the shutter button. Focusing is fast in all lighting conditions. The D7000 also focuses well in low lighting condition. In single shot, images are written fast on SD cards, but when you are in burst mode, especially if you are shooting in RAW, there can be a lag in writing images.
Quality of images produced by the D700 is excellent and if you pair it with professional grade lenses then quality goes up further. Noise performance of the D7000 is excellent if you are shooting JPEG. Images till 1600 ISO comes clean, but in RAW this threshold comes down to ISO 800 or so. Therefore, it becomes necessary to have a good noise removal software afterwards if you are shooting in high ISO.
Pros
Good image quality
Good noise reduction performance
39 AF points
Twin SD card slots
Cons
Heavy
No WiFi
No 1080 and 30fps
Video focusing has issues
Ratings
Design and build: 8/10
Performance: 9/10
Image quality: 8/10
Value for money: 9/10
Specifications
16MP – APS-C CMOS Sensor
ISO 100 – 6400( expands to 25600)
3″ Fixed Type Screen
Optical (pentaprism) viewfinder
6 fps continuous shooting
1920 x 1080 video resolution
780g. 132 x 105 x 77 mm
Weather Sealed Body
Best Lenses for the Nikon D7000
Here's a list of some of the best lenses you can pair with the Nikon D7000 to get the maximum out of it.
AF-S Nikkor 50mm f/1.4 G
Sigma 50mm F1.4 EX DG HSM
AF-S Nikkor 50mm f/1.8G
Zeiss Planar T 50mm f/1.4 ZF2
Sigma 85mm F1.4 EX DG HSM
Samyang 85mm f/1.4 Aspherical IF
Zeiss Makro-Planar T 100mm f/2 ZF2
AF-S VR Micro-Nikkor 105mm f/2.8G
Tamron 90mm f/2.8 SP Di MACRO 1:1 VC USD
Sigma 105mm F2.8 EX DG OS HSM Macro
Tamron SP 24-70mm f/2.8 DI VC USD
Sigma 24-70mm F2.8 IF EX DG HSM
Tamron SP AF 28-75mm F/2.8 XR Di LD Aspherical [IF]
AF-S VR Zoom-Nikkor 24-120mm f/4G ED
Sigma 70-200mm F2.8 EX DG OS HSM
AF-S Nikkor 70-200mm f/2.8G ED VR II
Sigma 70-200mm F2.8 EX DG APO Macro HSM II
Tamron SP 70-200mm F/2.8 Di VC USD
AF-S VR Zoom Nikkor 70-300mm f/4.5-5.6G IF-ED
Tamron SP 70-300mm F4-5.6 Di VC USD
AF Zoom Nikkor 70-300mm f/4-5.6D ED
AF-S NIKKOR 600mm f/4G ED VR
AF-S NIKKOR 500mm f/4G ED VR II
AF-S NIKKOR 300mm f/2.8G ED VR II
Tamron SP 150-600mm f/5-6.3 Di VC USD
Price of the Nikon D7000

Nikon D7000 Sample Images
YouTube Reviews
Overall, the Nikon D7000 is an excellent camera for both indoor and outdoor use. The camera is meant for those who are looking to step up from their entry-level DSLRs and it does offer some pretty professional grade features. That is why, the Nikon D700 is highly recommended if you are looking for a below 50K camera with some professional specs.
Featured Image : Whicdn