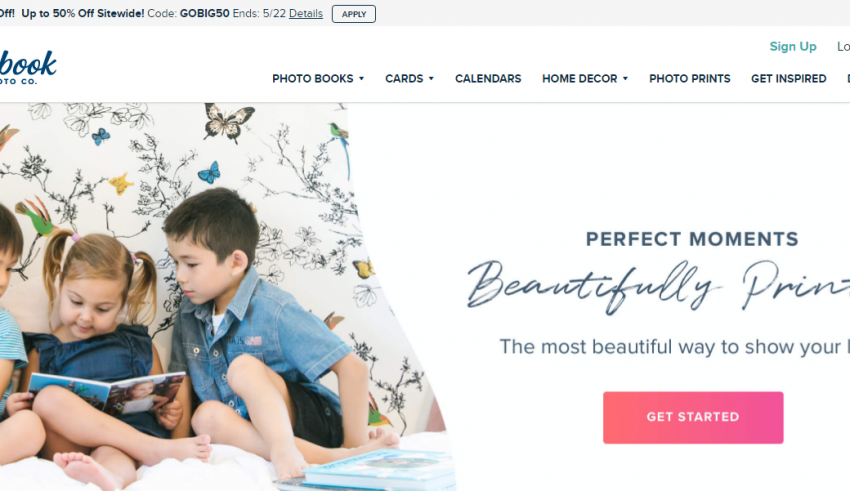 Mixbook is an online photo designing tool and photo product service that lets you create and print customized photo books, cards, calendars, scrapbooks, canvas and photo prints, yearbooks, etc. It is one of the best destinations to get a specially printed photo book of your own, with some of your best memories laid out in a tangible form.
If you have been looking to get such a product for yourself or your close ones, we can help you make the right choice by giving you a detailed review of this website. After knowing its pros and cons, you will be able to decide if Mixbook is the perfect destination for your photo printing needs.
About the Company & Website
Mixbook was founded by Andrew Laffoon and Aryk Grosz while they were students in the University of California, Berkeley. It is headquartered in Palo Alto, California, and serves customers all over the world. It started with printing yearbooks but ultimately developed into a photo printing service that is loved by all.
On visiting their website, you will be greeted with a splash of colors and several wonderful ideas for your customized product. They also have deals and discounts for new as well as existing users.
Placing Your Order
Mixbook's photo editing software is very easy to use and offers a wide range of choices for backgrounds, templates and clip arts. You can also search for suitable options according to your requirements. Apart from the available options, you can choose to upload your own images for the backdrop of the photo book and also insert tiny photos in place of clip art.
After choosing the layout, clip arts and photos for each page, you can give it for printing and also get a realistic preview of the finished product. There are also options for choosing shape cutouts, borders, effects and color palettes. Adjacent thumbnails also show the recently used colors and effects for better comprehension of the users.
Mixbook has three photo types (landscape, square and portrait) and seven sizes to pick. There are four different covers for the photo book, namely softcover, glossy, matte and leather. You can choose among three paper textures, like semi-gloss, pearl finish and premium lay flat.
Things to Like
The best thing about Mixbook is that it gives the customers complete creative control over the end product. You can upload images to be used as background and clip art, you can decide where each photo goes and you can choose the template and layout of the photo book.
The layouts on offer are hugely varied and have placeholders for text and photo. You can also move, delete, resize and rotate the pictures, along with adjusting exposure, color, effects and shadows in and around your photo. The end product will look like a professional magazine or scrapbook if it is done right.
Pros
Easy to place order
Variety of editing and customizing options
Complete control over layout and effects
Background and clip art is also customizable
Excellent paper quality
Recurring discounts and offers
Beautiful end product to be expected in general
Things Not to Like
Although Mixbook has a long record of providing best quality products to its customers, you may sometimes find yourself in possession of a mediocre product. A few users have complained that they received photo books with crumpled covers and average print quality. But they can be returned or replaced without any extra cost.
Another issue is that sometimes the pictures tend to be overexposed and too brightened for a good view. That may compromise the picture quality and ruin some of its subtle effects. Mixbook also requires the last two pages to be empty and places its logo on the back cover, which cannot be removed.
Cons
Inconsistent quality of end product
Overexposed images on occasion
Last two pages cannot have photographs
Compulsory logo on back cover
No option for a gift box
Final Thoughts
Mixbook is the right choice for you if you are looking for a superb quality photo book and do not really worry about the price. It lets you put in all sorts of effects, edits and customizations to create a beautiful end product that you can proudly display to your friends and family.
It will not cost you much if you opt for the regular books but you might have to shell out some extra bucks to get professional quality paper or add more pages to their standard book size. All in all, it is worth it in the long run. You can also look out for their offers and discounts to get a better deal on the product of your choice.
Users are generally confused whether to opt for Mixbook or Shutterfly when it comes to creating photo books but you will find that Mixbook surpasses Shutterfly in many areas in terms of flexibility and consistency. The price ranges of these two companies are also almost alike, which makes it a difficult choice for customers. However, if you want a glossy, pretty-looking photo book or calendar, you can give Mixbook a try and we believe that you will not be disappointed.