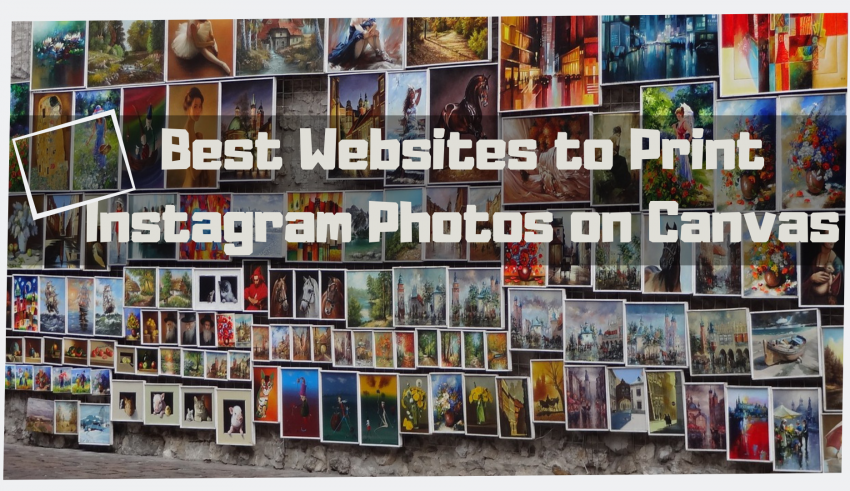 Do you have some of your best memories on Instagram? Have you ever felt the need or urge to immortalize the photos in some other form to have them closer to you? You can do that now because it is a very real possibility. There are several websites that can print your Instagram photos on canvas, pillow covers, paper, postcards, etc. It is a beautiful way to preserve your special memories or make a gift for your loved one.
Your Instagram obsession will get a whole new kick with these exciting opportunities to make your photographs more special. You can decorate your house with these pictures or make great customized goodies for yourself and your loved ones. As we all know, customized gifts are a perfect way to win people's hearts. So, you can do these or more with the help of the cool websites listed below.
Check out the 10 best websites where you can print Instagram photos on canvas or other things to make your home and personal collection more beautiful.
ClickToCanvas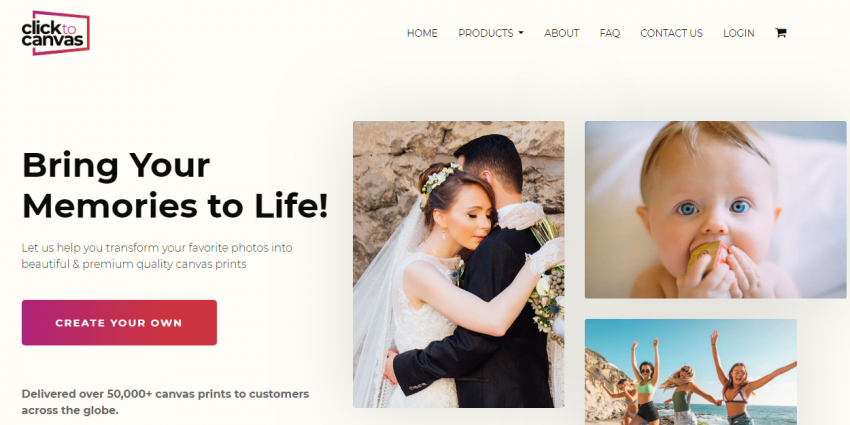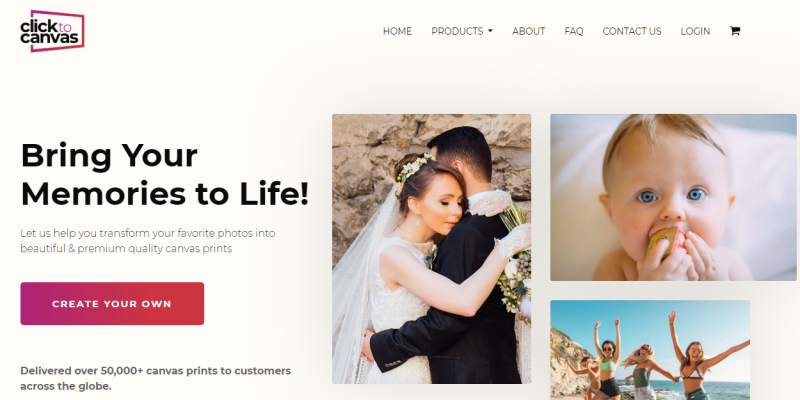 ClickToCanvas.com is the overall best choice when it comes to quality and pricing; if you are looking to print your favorite Instagram or Facebook photos- this is the place to do it! The process is quick and easy, the user-friendly system allows you to easily select photos from your Instagram or Facebook albums or even upload directly from your camera roll!
Tired of looking at your favorite photos on your phone's small screen? Bring them to life with a wide range of sizing options- one of the coolest features of ClickToCanvas is their massive sizing, they offer prints as big as 6ft by 6ft! You can also choose from custom edge options to beautiful frames in multiple colors and finishes.
One of the biggest draws is the unmatched quality they provide and the fact that they offer nationwide Free Shipping; ClickToCanvas prints direct- unlike many of the other companies in the market. This means you aren't having to pay an inflated markup on your canvas prints. They also ship directly from their printing facility in Dallas, Texas. You can trust that you won't get nickel and dimed, the price you see is the price you pay.
As the overall best choice on the list, it's clear to see why thousands of customers choose ClickToCanvas to bring their memories to life; our test order was flawless and the quality was amazing!
Canvaspop.com is the best website to go to, if you want to print your favorite Instagram photos on canvas and hang them up in your home or workspace. If you are tired of staring at your precious photo on your phone's small screen, check out this website and get it printed on canvas easily for your home. You can get a single painting as well as a wall mosaic with the help of this website.
Canvas pop prints pictures on canvas, ranging until a size of 20"X20" with a wood frame of the best quality and also laminated with bulletproof matte finish for the perfect results. Do not worry about the quality of your photograph as they use advanced technology to make the quality of your photographs better and turn them into a painting-like quality. Their service ensures that there will be no image degradation or stretched out pixels, just beautiful memories in a tangible form.
Canvas World turns your digital photos into canvas prints to give them a big, beautiful presentation for your home. You can print sceneries, portraits, and even collages for yourself or as a gift to your loved ones. They boast of providing the best, fastest, and most satisfactory services to customers. To create your perfect gift, you can visit their website and choose a gallery wrap option, orientation, and size for your print.
All you have to do is upload your photos, take a look at the preview, and confirm your order on the website. Collages can be created with no extra charge, with low quality photos enhanced and retouched for a better look. The prints are on high quality canvas that are hand-built and long lasting, with three different types: Multi panel canvas prints, Canvas collage, and Instagram canvas prints. The product is delivered at your doorstep in a small period of time.
If canvas print is not your thing, you may want to check out Stitchta for a different experience. They print your Instagram photos on a variety of objects like handmade throw pillows, coin purses, tote bags, zipper pouches, and other fabrics. The materials used are linen, cotton, woven cotton, and canvas. Now, you can have your Instagram photos close to you at all times and show them off to the world as well.
The best factors of this website are that it is easy to use and understand, offers reasonable prices and attractive discounts, and also offers expert advice on how to choose the best design to suit your photo of choice. As they print on fabrics, it is important to choose the best photo without any flaws or size issues. Give your best friend a throw pillow with a personalized collage or make a purse with a meaningful image for yourself.


CanvasDiscount.com is a canvas printing company which helps you print your photo on a good quality canvas to make it look like a hand-drawn painting. The service they provide is of high-quality and with really affordable pricing, going as low as 5 bucks.
They also have various other products and services like photo blankets, pillows, puzzles, star maps, wall décor and much more. The provide 110% guarantee of lowest price and if you can mail them a company providing better price and if everything checks out they will give you an extra 10% discount.
Canvas Champ prints Instagram photos in many different canvas sizes, which you can choose on their website. All you have to do is choose the appropriate size, opt for a filter on your photo, and customize other aspects if necessary. You can choose the photos to print directly by logging on to your Instagram account here. Decide all the specifics and send them to print the product.
Their wide range of sizes and customizable options makes this website a good option for customers. They also give quality guarantee on their products and offer customer service to register claims and complaints. For better results, they let you use Instagram effects directly in your canvas and give exactly the same tone of photo as is seen on your social media account. This is a great way to keep your memories alive for a long time and make an impression on people who see it.
Social Print Studio prints your Instagram photos on anything on everything, like diary covers, notebooks, wall calendars, albums, ornaments, etc. You can also make customized posters, photo strips, classic frames, stickers and many other things here at very reasonable prices. You can also make fridge magnets, wood prints, postcards, and greeting cards here.
They have a wide selection of products to print images, which is a huge plus point. They are known for their high quality products and great customer service. From wall art to festival ornaments, you can get anything here. However, be sure to place your order carefully as it cannot be edited later. They also do not ship orders on an urgent basis, so decide what you want and place your order with some time on your hands.
Canvas on Demand
If you want a personalized piece of memory to keep close to gift to your friends and family, visit the website of Canvas on Demand. They have a motto of "Make Sweet Memories" and help you get the product of your choice in a few easy steps. They are easily customizable and come in reasonable rates for a happy experience. Established in 2002, they have won over customers with great products and easy service.
They offer photo retouching and restoration options, as well as cool effects to enhance the visuals. You can get in touch with their customer support any time for your doubts and queries. Find handcrafted products here, with a professional finish and high quality materials. Check out their available options and grab the one that suits your needs best.
Sincerely Postagram
Postagram lets you have your favorite photographs in the form of postcards and greeting cards. They have their own app where you can choose the best photo from your social media account and create a customized card for printing. You can ship the cards anywhere in the world for a very reasonable price and zero efforts on your part.
This is a really inexpensive site to give gifts. It creates and mails the card to the specified address without any hassle. They keep you updated by changing the card designs periodically according to the season. Express your love and care through these personal cards and win your friends and family over with a heartfelt gesture.
Get your own Instagram prints with Persnickety Prints on a variety of objects, like photo strips, journals, calendars, etc. They have extremely low rates for prints and you can choose the size you want. They print photos in four thick press papers, namely matte, pearl, linen, and art. Easy customizations and a wide variety of choices are available in this website.
From retro prints to wallet photos to huge enlargements, do whatever you want to do with your photo with minimal effort. And the bonus is that you will get your money back if you do not like the product after it reaches you. This website is known for its cheap rates and quick service. Make collages, posters, and lots more with Persnickety Prints by providing the photos of your choice.
Canvas n Décor is a top of the line printing company in the US and Canada that has been serving customers for the last decade and more. They have great printing equipment, quality control mechanism, and photo art experts at hand to provide the best experience to customers. You can create a gorgeous collection of canvas prints from the photos on Instagram.
They have different sizes of canvas available for printing and also incorporate filters and effects from Instagram into your photo. The photos are printed on high quality matte canvas with inks that do not fade over time. The product is high definition, UV protected by the lamination, and wrapped on a sturdy wooden frame. When it reaches your doorstep, it is ready to hang with all the essential tools already included. The products are shipped quickly and efficiently and the customer service is good as well.
As the name suggests, here you can get simple canvas prints of your Instagram photos easily and effectively. But this website offers much more when you look at it. They guarantee 100% satisfaction for the customers by offering the most reasonable prices in the market. Just visit their website and order the product of your choice in a few simple steps online. Then sit back and just wait for your product to be delivered.
Your efforts are only up to deciding which photo you want to get printed. Simple Canvas Prints lets you import the photo directly from your social media account, both Instagram and Facebook. Editing options are also available here, including toning, color correcting, and making it clearer before painting. They also have professional designers available to guide you on ideas and execution about your personalized product. You can also get a digital preview before you decide to go ahead with the product. After finalizing all the details, your canvas printed product reaches your house quickly and effortlessly.
All these and many more websites are available on the Internet where you can turn your digital memories into real, tangible ones. Decorate your home with personalized goodies or gift them to your loved ones.
It is now effortless, cheap, and hardly time-consuming to place your order. So if you are thinking where to print Instagram photos on canvas, or where to make personalized gifts from Instagram, we have got you covered. From photo frames to fridge magnets, everything around your house can be personalized and beautified to give it a unique touch.
So, do not think too much. Go ahead and print out the special photo that you love to stare at when you open your social media profile.