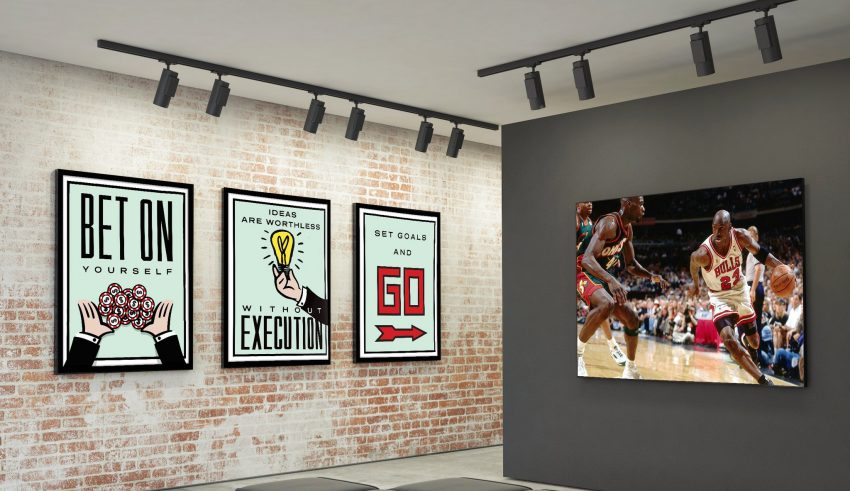 Canvas paintings, photos or even art is the new trend. Not much maintenance is needed to keep one, they're fairly cheap to get and your imagination is the only limit to what you can get on the walls of your house or your office. While canvas wall art might not be everyone's cup of tea – they surely beat having empty walls.
Large canvas wall art is a big decor scene for people living in the cities, big house or small. Big canvas prints might be cheap in comparison to buying a painting but the quality is an important factor to consider before buying one such thing for your house.
There are many big canvas prints companies out there, however, very few of them will give you the perfect balance between pricing and quality. Here is a list of some of the best canvas wall art or print companies you can find out there.
Before jumping in, you have to consider that some of these are the best at one particular style or type of canvas printing. You must go through this list entirely and pick the ones that fit your needs best. With that,
Here is the list of 10 Cheap & Best Canvas Prints Services for Big Canvas & Wall Art Companies online for 2020:

Canvas World Prints is one of the most extensive canvas wall art companies on this list. They provide you with multiple options in terms of how you want your large canvas wall art done. The categories you can pick your prints by are: Subject, Color, Room Type, Style and more. Their "Man Cave" section has everything you need to deck out your personal space. Perfect for entrepreneurs, home theatres, offices and anywhere that needs some huge art!
If you might be interested, they're big canvas prints bestsellers are some of the very best wall art pieces which you can find online. CWP is ever present even in terms of their customer service, they have multiple channels for inquiries and the return of orders is hassle-free.
As the #1 pick on our list, their combination of amazing subject matter and giant sizes make them a clear winner!
---
Canvas cultures is radically different in their approach to canvas wall art in comparison to GBC. They are more inclined towards the artistic, abstract, modern and culturally driven wall art. It is reflected perfectly in their collection of canvas wall art which is: Crypto, Inspiration, Lips, Money and Pop culture. CC is also more social media connected than some of the other entries on this list. They have a strong presence on Instagram and will feature artists for using their hashtags.
Theirs is a more vibrant and dynamic collection of large canvas wall art, it might not be your taste. Also, don't expect these to some very cheap. According to their website, there are real artists working on each and everyone of these.
---
Ikonick might not be the biggest, most diverse or even the best priced canvas wall art but it has the backing of cultural giants like Gary Vaynerchuk and Scooter Braun. That in itself is enough to warrant the quality and style standards of the company. Much like CC, Ikonick also focuses on the modern aspect of canvas wall art. Even their tag reads as "Modern Inspirational motivational art canvas prints".
Their original collections of big canvas prints involve: Money, Ali, Travel, Space, Lips, Inspirational, Sins, Trending, 8th Damon and NBA. That pretty much speaks about their approach to canvas wall art prints. Its fresh, youthful, dynamic and radically different. Their large canvas wall art are an attack on the senses with their colours and graphics in the best ways possible. If you're looking for something more reserved and drawn-back, this one's not for you.
---
Rolling back to the more traditional, reserved and diverse collection of canvas wall art prints – Icanvas gives you just that. They give you a boatload options in large canvas wall art to shop on their website based on everything from colours, types of rooms, abstract art, TV & films, vintage and even floral prints. For the more options hungry crowd out there, this will suffice your variety appetite. You get even more options to pick from categories such as Street art, pop art, photography, patterns and much more.
Best thing about IC is that you can find all variations of canvas wall art on their website. They'll give you something more withdrawn and something more visually striking, colour-loaded as well. Just to browse through their huge canvas wall art would take you hours to days based on how lost you get in their beautiful designs.
Also Check: Top 10 Wholesale Liquidation Companies in the USA – 2020 (Reviewed)
---
Canvas World gives you affordable, museum quality canvas wall art prints. It is literally something you would read on their first page of their website. In terms of pricing, this has got to be your best option on this list. That's not to insinuate that there is some compromise in quality, because there isn't. People who are looking for something that will assault their senses or feed into their power hungry fantasies, this is not for you.
Beautiful and colour rich canvases you can hang in your home which is occupied by family? These will fit the bill. Want to gift someone something inspirational, calming or serene to hang in their home or office wall? These will definitely fit the bill. These canvas wall art prints will pretty much fit into everyone's tastes. Because they're extremely tasteful. Not to imply that a "Wolf of Wall Street" big canvas prints designed in cocaine isn't tasteful, Yikes!
---
How Canvas Pop markets themselves, it is clear that their primary focus is on printing custom, need-based canvases and not original designs. They give you multiple size, print and material options for your prints, YOURS. Yep, They do have some original design. However, it is clear that those are an afterthought. They have very good gift options and they are very reasonably priced as well. Even printing your own custom canvases is very well priced.
As soon as someone would look at their website, they would get the idea if it is for them or not. If your primary focus is something personalised, CP will probably do the best job on the list for you (most well balanced between pricing and quality). So, if you are looking into custom large canvas wall art prints, here's your boy!
---
It would be an unfair assessment to narrow Uprinting down to a single category such as "Canvas Wall Art" because they're not. UP will probably print everything and on anything. They're a printing company before a Canvas printing one. They do a good job at canvas wall art prints as well and their prices are quite reasonable as well. If you are looking for something that gives you more options to pick from, this one will not feed that frisky and unpredictable appetite of yours. It's quite straight forward with what it does.
No special collections about dollar bills or large canvas wall art of colourful lips here (not that there's something wrong with them). You should not be quick to dismiss them over this fact alone. The site is big and loaded with options, customisation options and printing materials/options. Simply due to the variety you might end up finding something that you may like. Not a dedicated website though.
---
Read Easy Canvas Prints Review
One thing to mention is that Easy Canvas Prints have very good sales offers and discount options on their website. Plus they carry a lot of accolades from industry, reviewers and customers. This they wear on their sleeves as a symbol of pride. ECP is very customer service oriented in their approach to the business. If you're someone who's buying big canvas prints for the first time, you'll appreciate their work.
They let you visually assess how a piece of art would look in your home via an inventive "Create your canvas" option which lets you see how a canvas would appear in a household. They too are more focussed at custom printing solutions with an option of collections not available at all. Not for people looking for trending canvas wall art they saw in their douchie bosses office.
---
While Canvas Champ is not getting any awards for creativity in the brand name department, they do have something novel at offer. Disclaimer: not one of the best large canvas wall art printing companies on the list but they do have some good pieces and prices at display. Canvas Champ create a balance between the personal printing solutions as well as their own modest collection of wall art available online. Lots of options in terms of sizes and categories at offer here.
Not going to impress you if you're an enthusiast as what they have at offer is more to fit everyone's sensibilities of what to hang onto walls. They do provide variety such as Pop-art, Paintings, Collages, Acrylic, large wall displays and different material prints (such as wood, metals, etc). People shopping for gifts or simple designs to hang in their homes will find a place of comfort here.
---
Their website claims that they are rated #1 in terms of museum quality canvas wall art prints. While nothing can be substantiated about that claim, what can be said is that they're prices are damn cheap. These are probably the lowest prices on the list (minus a few more expensive pieces on the website). They are customer centric in their approach as well. You can print directly from your social media handles (Facebook and Instagram). They do have some original pieces at offer but nothing will make you drop your pants.
As the name suggests, SCP is a simple big canvas prints website with a focus on the simpler thing and for customers who are not into complicated demands. You can get good quality custom prints at cheap prices, browse some original pieces and pick whatever you like at a very competitive pricing model. Large canvas wall art pieces at their cheapest!
---
Snapfish, much like Uprinting isn't a canvas wall art centric website. They simply print photos onto different materials and objects with canvas being one of the many options available. This company's is one of the best in terms of getting custom photographs printed onto canvas materials.
If you're looking into printing a family portrait or if you're a photographer that is self obsessed over your own work – you can plaster them all across your home/office walls and then everyone can finally have a justifiable reason as to why they elbow you in walkways or public places. Don't we just love people who put their own pictures as wallpapers on their cellphones…Good times!
---
That was our list of t some of the best canvas wall art companies available out there. Remember to go through the websites of the ones you've picked to compare prices and quality which fit your needs. This list of "Large canvas wall art companies" was in no particular order or importance (ascending or descending).
Hope you liked it!