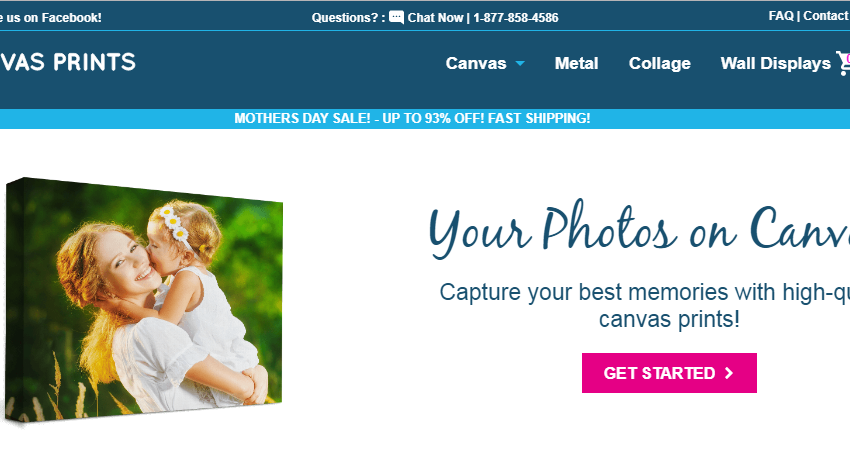 Easy Canvas Prints is a simple and inexpensive photo printing website from where you can get customized photographs and gift options for yourself and your friends and family. As the name suggests, you can easily get your favorite photographs from social media printed on canvas for your home or office space. But since there are so many similar websites on the internet, how will you know which one is best for you?
If you want to get a canvas print done but are confused whether to use this website, we have a detailed review to help you make your decision. From features to sizes to customizations, you can learn about everything here. So, read on to find out whether Easy Canvas Prints is the destination for you.
Basic Features
This on-demand canvas print service has its own specific pros and cons, which you should know before purchasing anything from here. Depending on your requirements and specifications, you can deduce whether Easy Canvas Prints is the deal for you. You can order your item by providing the photograph, choosing the size and applying edits if necessary. You will get a good and special product in a few easy steps and at a very low price.
This company is based in Austin, Texas, and has been serving customers for more than ten years. It has also been promoted by major channels like NBC and PDN. If you are still not convinced, let us take your through their pros and cons for a better decision making process.
Website Look and Feel
The website of Easy Canvas Prints is simple and efficient. If you visit their home page, you will find the special offers and themed gift options right at the front. From Valentine's Day to Mother's Day, you have special print and customize options for every occasion.
There is a simple "Create Your Canvas" editor on the home page, which will take you straight to the options for creating, editing and submitting your order. You can get a preview illustration of the finished product before you place your order. You can also get an idea of the product's size and whether it will fit to scale in your room.
Based on that, you can decide where to place the photograph and how to work your home décor around it even before it arrives. As soon as you upload the image of your choice, you will get suggestions of the most attractive display and collage options to take a tread away from the conventional designs. For each of them, you will get a preview. You can also make adjustments to the design with a very easy option.
Things to Like
The website UI is simple and pretty easy to figure out. It can be used and navigated by anyone with simple instructions and a few easy steps. The edits are simple and every step offers you clear dialog boxes to get on with the proceedings.
The products are super cheap. It is highly doubtful that you will find these products at such cheap rates anywhere else on the internet. They often have massive sales and discounts up to 90%, hence offering you a great deal every time.
Their prices keep going up and down so if you keep a tab on your desired specifications, you will get a great deal. If you want to add extra materials to the order, like hanging equipment or special frames, you will need to pay a nominal amount to add them.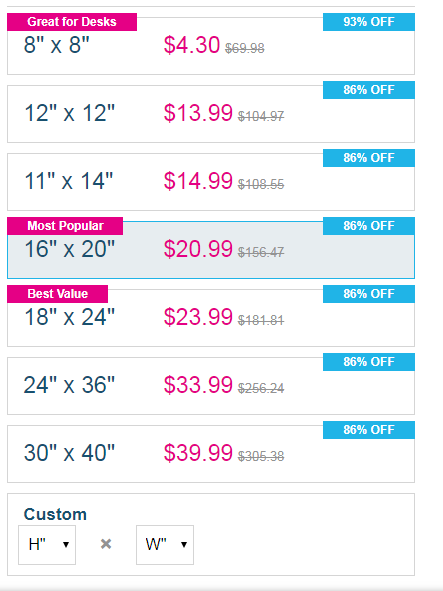 Pros:
Easy to place order
Simple and efficient UI
Unbeatable prices and deals on products
Recurring offers and sales
Prices keep going down periodically
Things Not to Like
What may disappoint you is that there are not as many advanced editing options as you desire. Once you select the size and shape, there are very limited options on how to customize it. So, you will probably end up with a very traditional piece of canvas photograph that is nevertheless good-looking, but not as quirky as you would want. Post-production changes are very few, so are wrapping and border options. You may not like the basic designs they provide.
Apart from customized canvas prints, there is a very small range of products available. When compared to websites that let you print your favorite photograph on pillow covers, coasters, wood, etc, this might be seen as a drawback. Also, if you have custom requests for an item, you might be disappointed by the turnout.
Another major issue is that their delivery time is too long. Your product will reach you only after a few weeks. So, you need to have a lot of time and patience at hand before you order from here.
Sometimes, their work may seem amateur and basic, when compared to some other websites. It is highly probable that your photograph might appear blurred or pixelated on a big canvas. Unlike some other websites, they do not use photo enhancing tools for the best results. If you send pictures of low resolution, you will not be informed of the blurriness and will get a finished product at hand directly.
Cons:
Lack of advanced editing options
Limited frames and borders available
Difficult to make post production changes
Only prints on canvas and no other materials
Long waiting time for product delivery
Picture quality might be compromised
Final Thoughts
If budget is of the essence, this is the best website for you. They will give you the best deals guaranteed. And if you are looking to print high resolution photos in a small or average size, you may want to try out this option. Your product will be of decent quality.
But if you are looking to display the photograph in a slightly bigger size at your house, office or a gallery, you might want to rethink this option. They do not provide professional quality material, nor do they let you make many changes and customizations to your product. Only basic photographs and collages are accepted, with frames and borders.
The bottomline is that Easy Canvas Prints makes canvas printing accessible to everyone without burning a hole in the pocket. For common people who are only looking for decorating their house or office space, this is a good option to try out. Easy to use, basic and budget-friendly are their advantages, so if that is what you are looking for, you are good to go. If, however, you want something more prominent and professional, you might want to check out some other websites before making a decision.