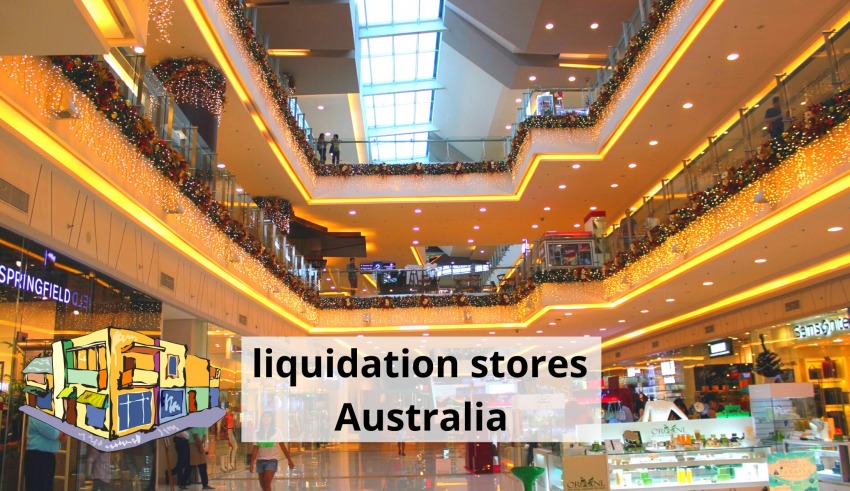 Liquidation stores offer the products at wholesale prices to buyers. The stores send the products out mainly to clear their stocks for the new stock on the store. These discounts always attract buyers and the wholesale options clear out the shelves fast. Other liquidation stores are present as well to sell the products of a company. As a company is going bankrupt or going out of business, they may want to sell the products. This is where liquidation stores in Australia come into play.
This service is also chosen by the companies that are shifting to a distant location. They sell out all the materials from the closing branch. Dissolving a company and restructuring it remains in the minds of many company directors.
They must take the value of the products that they can sell for paying their dues after declaring bankruptcy and closing the company. For them, liquidation is a stressful but the most suitable option. Taking the help of liquidation experts makes it simple for companies.
Introducing our new group for Buying and Selling liquidation goods and merchandise!

Link: https://www.facebook.com/groups/937259116458055/
Find exclusive deals and merchandise opportunities!
Here is the list of the 10 Best sites of Liquidation Stores in Australia-: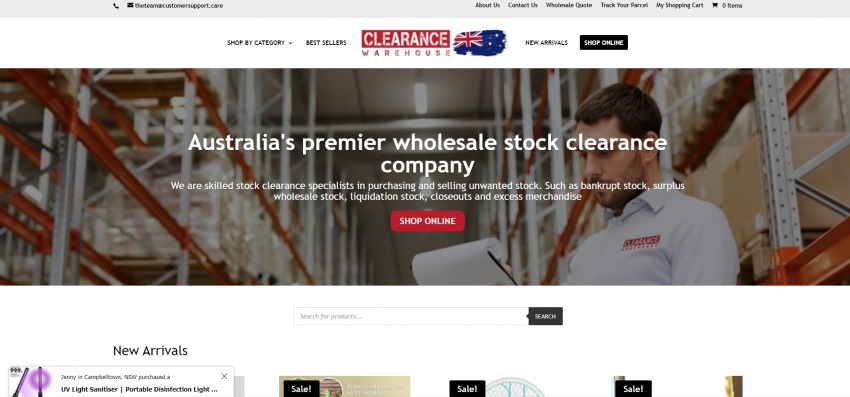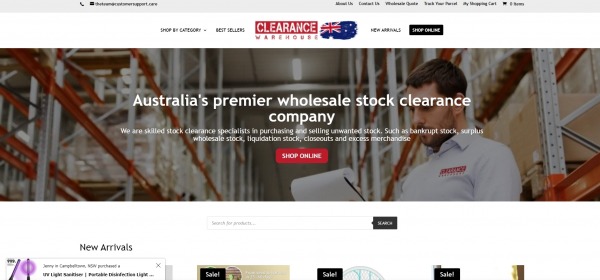 This is one of the leading stock clearance wholesale companies where buyers can get products at the cheapest prices. Clearance Warehouse specializes in buying liquidation stock, wholesale stock from the companies, and selling at discounts. They have complete security for product sales and payments and offer both online and direct buying services.
Partnering up with the best delivery companies they are sending out wholesale products even during a lockdown. Buyers can order a quote for the bulk orders for their business as well. They are perfect for indoor clearance and the attractive prices bring more people. Liquidation material assets are available at these liquidation stores in Australia at a cheap price range.
All the products are quality tested and sent out to the users. The hassle of getting improper orders due to refurbished or excess products coming from another company will never be there. Starting from home products to office appliances there are different categories of products. Buyers can also check out the new arrivals or best sellers with further order tracking to build up transparency with orders.
---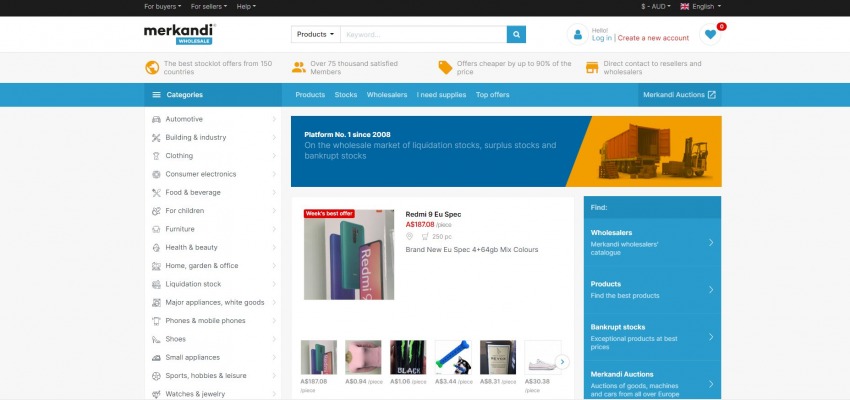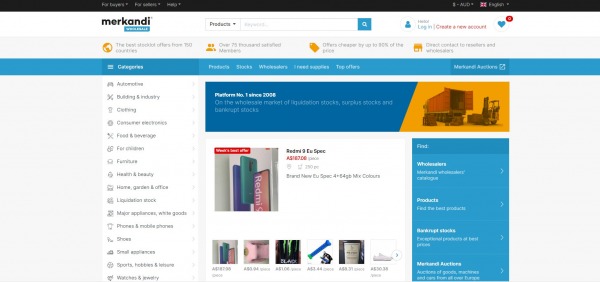 Merkandi Wholesale is not a brand from Australia but has branches around the world. This has been one of the top wholesale markets and they are experts at selling surplus and liquation stocks from bankrupt companies. They offer the stocks at unbelievable wholesale prices from about 150 countries.
The wholesale prices tend to be even less than 10% of the actual value. These are excess stocks with their quality tested for people to buy in bulk. Buyers can directly contact the resellers and wholesalers. They can buy the items in bulk for their own businesses. Different choices are available and products at liquidation stores in Australia are the cheapest.
There are so many options that people are going to always buy in bulk if they get the chance. Merkandi makes sure that people get the exact thing they buy from the sellers. An additional option for the auctions is also present on the website. People can place their best bet for the products they need.
---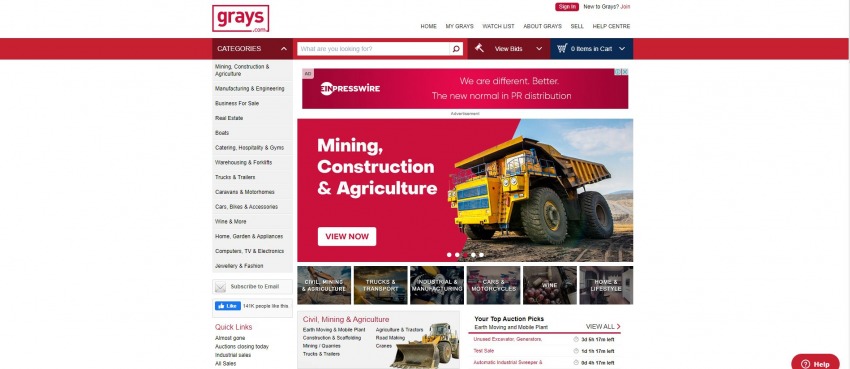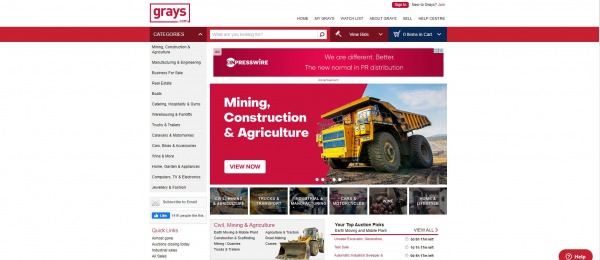 Grays.com is not just a website to get daily use products for discounted prices. They have auctions for cars, boats, trucks, and even real estate. The different products for manufacturing, mining, and construction are rarely available online like Grays.com offers. But above all businesses for sale are the most unique things.
But it is not just for the people investing larger amounts. There are smaller products available at the cheapest prices like fashion products, gardening, and home appliances as well as electronics. The most common items that visitors buy are electronics. All these items are from liquidation assets from the companies and are really cheap.
The most exquisite collection of Grays.com is the different types of wine they offer. Starting from the red wine and white wine from brewers of Australia, there are exported choices too. The discounted prices for these wines start at only $5.99 from the bids. People order boxes of wine at the price of a single bottle. With extensive choices of refurbished products from liquidation the wine collection attracts buyers to Grays.com.
---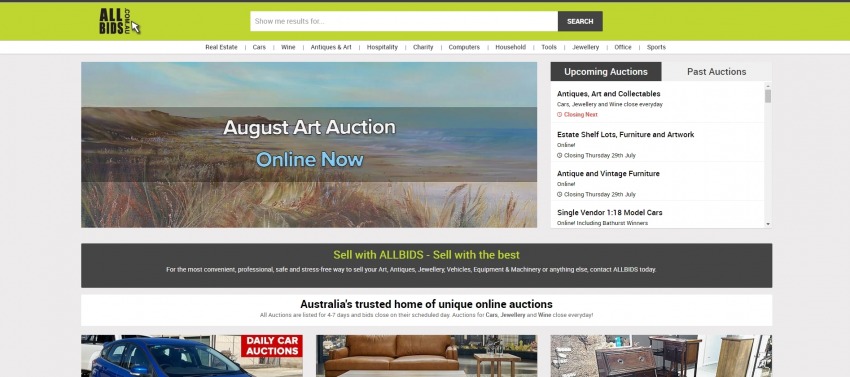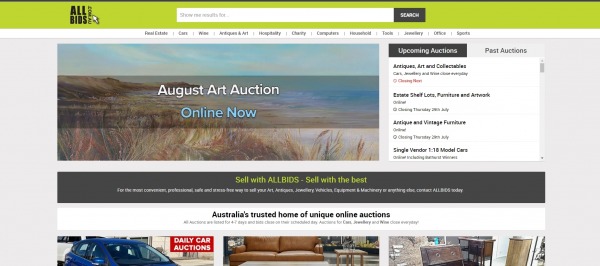 AllBids is the home of the most unique online auctions in Australia. People can bid for cars and real estate from the auctions. So, every detail of the cars, real estate, or even home and office supplies is checked. AllBids makes sure that they detail all about the product and its condition so that people can bid with transparency.
Computers, sports equipment, and jewelry have some of the cheapest rates. People bidding on these get the products at a discount of about 70-80% from real prices. Electronic devices and jewelry end up in the auction more often. In this tech-savvy world getting refurbished items at such discounted prices is a steal. These are assets left after bankruptcy which companies sell to liquidation stores in Australia to reduce their losses.
Among all of this, the most unique feature is art and antiques. A rare collection of jewelry, vintage rugs, and collectible toys are just a few items that people can buy here. It is a heaven for art and coin collectors. They can improve their collection at just a few bucks. This irresistible price range attracts people to order from AllBids all the time.
---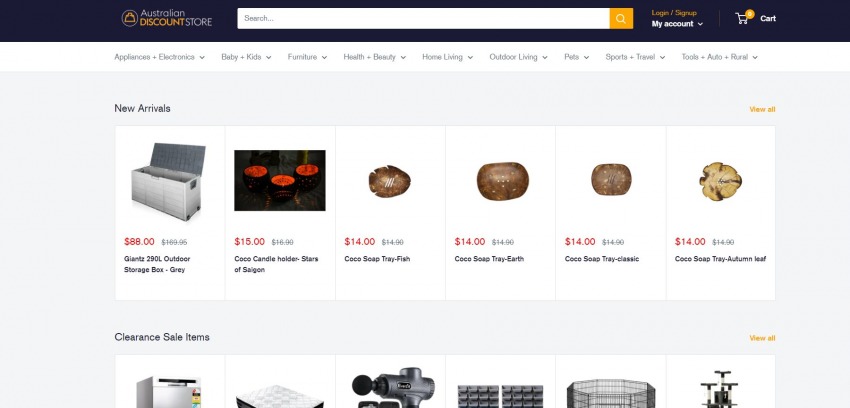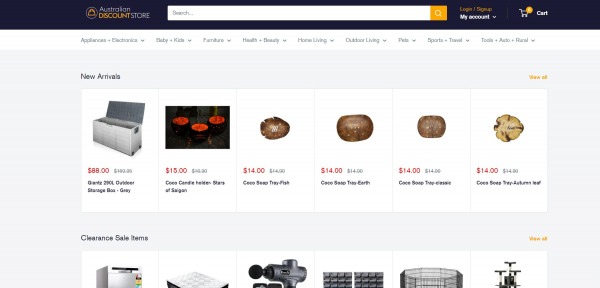 From liquidation stocks or left-out stocks, buyers get huge discounts on the products available on the Australian Discount Store. Different choices of home living and outdoor living products are available for bidding. Some unique product choices they offer include lighting, furniture for different rooms and offices, gardening equipment, swing, and accessories for the pools.
Pet supplies are perfect for pet lovers. They can buy the supplies they need and also pet food in bulk for the future. Baby and kids' products like toys, storage units, bikes, and nursing are perfect. All products are perfect for kids and even adults. All of these are way less compared to retail prices. Now buyers can buy every fitness product for their home at the cheapest prices.
Australian Discount Store has the biggest list of electronic appliances for home and work. These are all from stock clearance of products. Kitchen, cleaning, and other household appliances are all present to buy from here. Getting the best possible discounts for the larger equipment is best to set up the whole house
---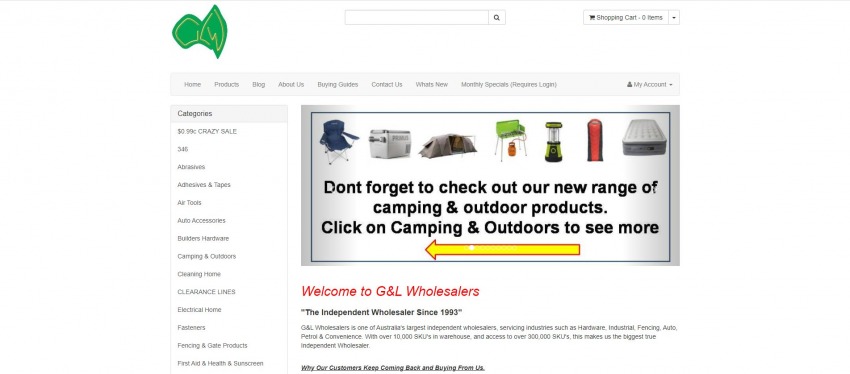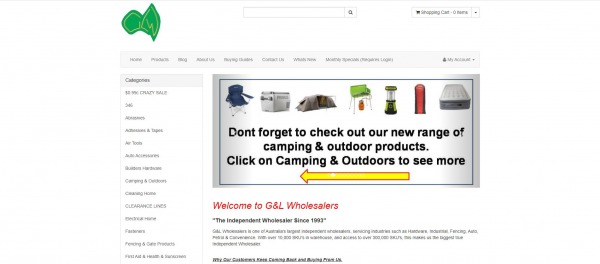 G&L Wholesaler is an independent wholesaler that has been with the service for more than 25 years. They are part of different industries starting from toys to oils and hardware. They have a long list of products for the people to order with the best prices and constant product support. It offers a buying guide to their buyers who want to order the packages.
Apart from there are always new wholesale products and monthly specials listed separately to attract buyers. Prices are perfect for bulk orders and people from all around Australia can get them as they need from one of the best liquidation stores in Australia. All the products come with a return policy with an order tracking facility.
They offer some of the uncommon products on the wholesale market like pet supplies, camping and outdoors, garden supplies, and many more. But above all, the best facility is less than a $1 sale which offers products at the cheapest possible discount rate. G&L Wholesalers make the best out of company liquidations.
---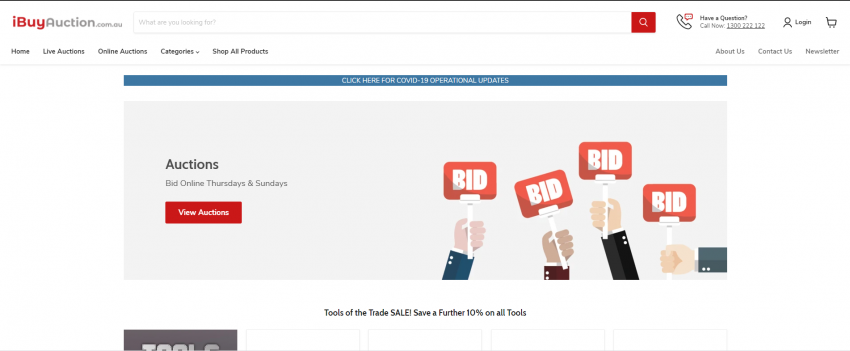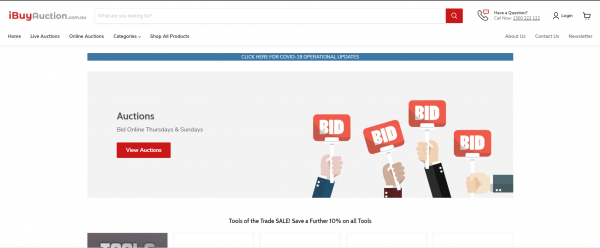 iBuy Auctions is not just an auction website. It sends out product orders at discounted prices too. Products range from baby products to home appliances. Multiple health and beauty products are available for the cosmetic needs of women. This is completely uncommon among discount websites.
Electronics, home appliances, and furniture available on iBuy auctions are from the best companies. Home and garden tools are with these appliances are perfect for building the interior. Outdoor tools help with getting the camping gear. But a separate travel section is there to help with needs to getting the best backpacks.
But above all, there are Sunday auctions and Thursday auctions. Buyers can bid on varied products and get them for even cheaper prices as they are from liquidation stores in Australia. Stock clearance of these products offers them a discounted price. This low price is bound to attract people to buy. The live auction of different products keeps people close to the website.
---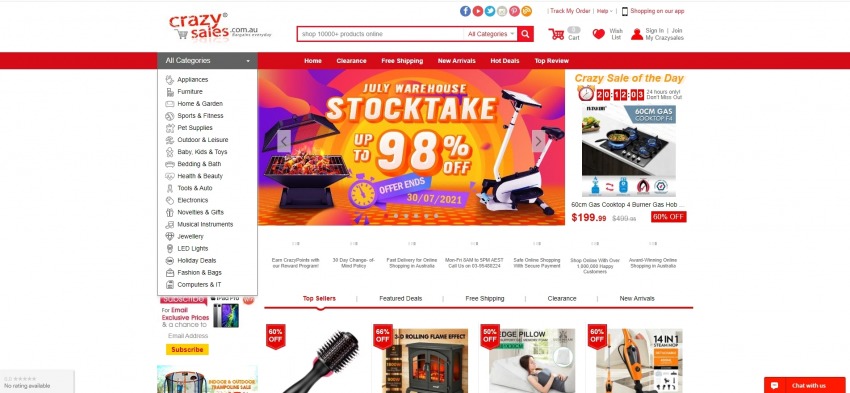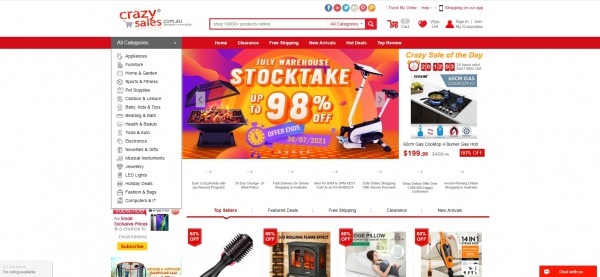 Crazysales lives up to its name with the deals they offer to their customers. Warehouse sales range from 70-90% or more discounts on product prices. The commonest choices are home décor, furniture, and appliances. There is a reward program with fast delivery of the products. A special 30-day change of mind policy is there to let the buyers return the products if they are not satisfied.
Even with all these discounts, the product delivery is trustworthy. Special offer holiday deals and deals of the day are live for the highest discounts. Fashion products, gadgets are computers are available both brand new and refurbished. But the most unique product here is the musical instruments that is least likely to get from liquidation stores in Australia.
Gifts and jewelry for every occasion are a perfect choice for forgiving someone. When it is from Crazysales, then the product will be authentic and good enough as a gift. As thousands of products are here, there will definitely be millions of buyers.
---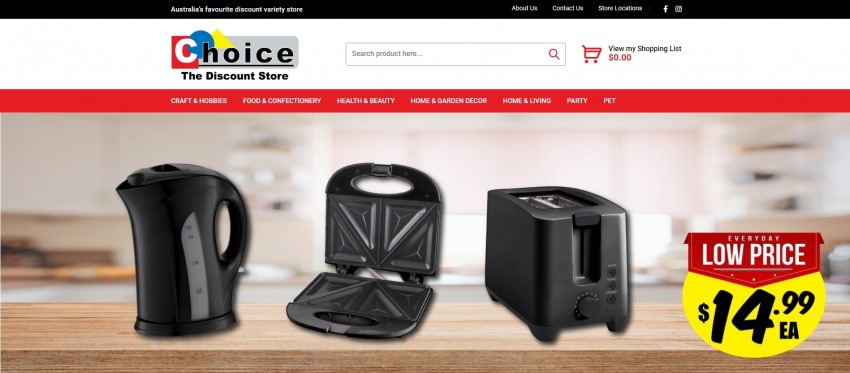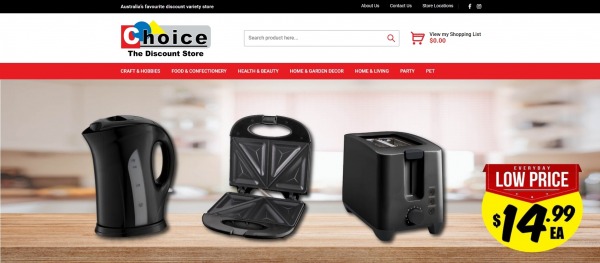 The choice is a special discount website. From items of health to party requirements, everything is there. But the most unique thing that they cater to is all hobbies and crafts. Art and craft supply and also craft storage requirements are available at cheap prices. Budding artists wanting to buy the products are going to love the choices.
Healthcare and beauty products include first aid, skincare, and deodorants the cosmetics. These are from the best brands at way less than the retail prices. Home décor and appliances for decorating the home cuts down the cost with many discounts. Apart from all of this, there are basic products for daily life.
All these products are available at wholesale prices. Prices are low enough for people to buy in bulk. Every product is brand new and just available at this price because of the liquation of prior stocks. Such Choice discount stores are present throughout Australia. These stores have a strong customer base for all these products.
---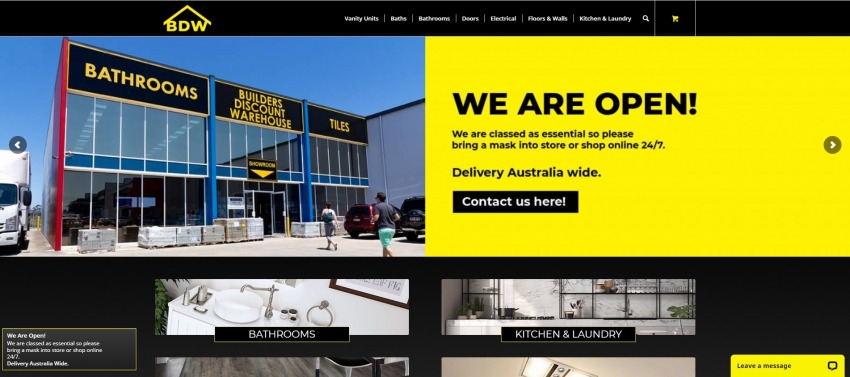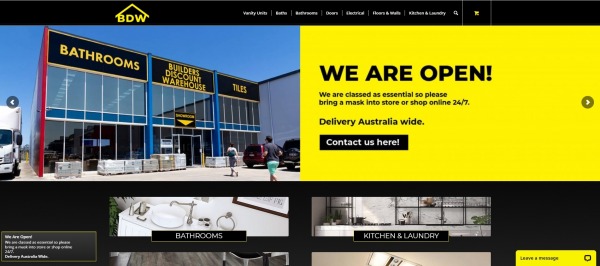 BDW is a famous company that offers building supplies at wholesale prices. They have multiple wholesale stores around Australia. All these stores send out online orders and in-store orders. Australia-wide delivery of all the products makes it easy for the buyers to get bulk products from anywhere.
Building materials starting from door, electrical to kitchen materials, everything is available. All the products are necessary building materials that buyers can choose as they require. The bulk orders are perfect for the builders and the warehouse also takes care of materials sent out through company liquidation to these liquidation stores in Australia.
Getting discounts in every single order attracts people to buy the building materials. The perfect shipping gives all the building products properly. Shopping online makes it even simpler to get the plans.
Conclusion
Many online and offline stores offer wholesale orders all around Australia. Wholesale orders come at extremely low prices as compared to the real value. This makes it suitable for budding businesses to take up the products they need from liquidation stores in Australia.
Starting from building materials, household items, and office stationaries these facilities send out everything they can get their hands on from the wholesale liquidation company closure sale. Old companies have some great products which are eligible for further use. These product ends up on the shelves of liquidation stores for new buyers to buy at the cheapest possible prices.