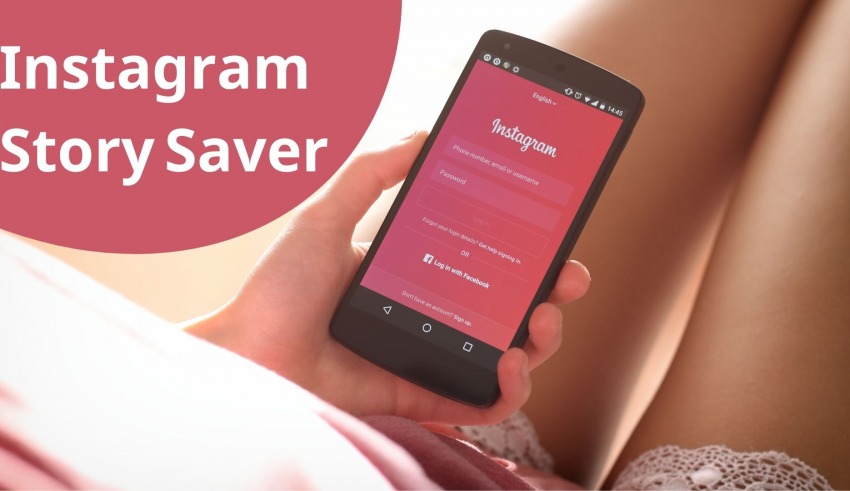 Instagram stories are one of the most viewed features on the platform. People spend quite a significant amount of time looking at stories. The main feature of stories is that they are available only for 24 hours. After this timespan, they disappear. If you like a story you can have it as a screenshot but the quality is not good.
Tools such as the Instagram story saver help you find and save the stories that you view. The features of these applications even help you to view stories anonymously. With the help of these downloaders, you will be able to save any story that you view. In this article, we have listed the best story downloaders for Instagram.
Here below is the list of The 10 best Story Saver for Instagram:
Story Saver for Instagram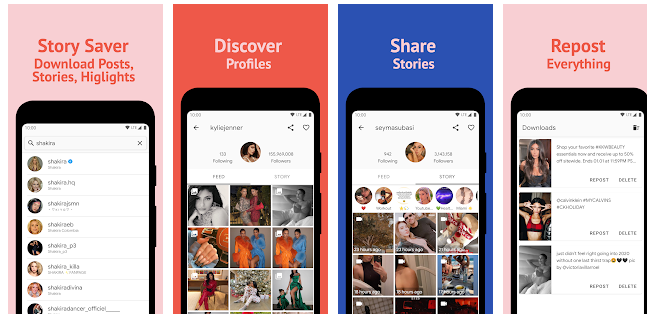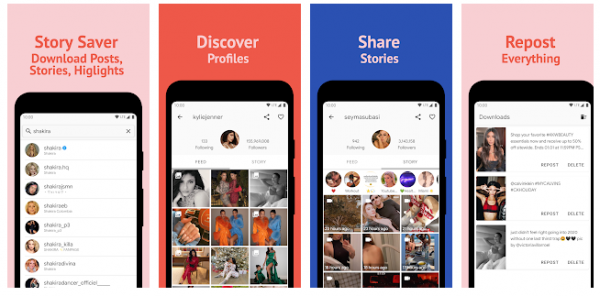 Story Saver for Instagram is a mobile application that lets you download stories. The application has been developed by HAIR studios. It is available only for mobile platforms.
The application is available on the google play store. The application is rated as 17+ on the store and listed in the photography category. This is quite a popular application.
It has a rating of 4.5 stars out of 5 on the Playstore. It has been rated by more than 3000 people.  The application contains advertisements on its platform. You can also make in-app purchases as listed on the play store.
The application is free to use for people who download it. The only payment is if you want to get rid of advertisements on the platform. While the advertisements do hamper the user experience a bit but they are easy to manage and never too annoying.
Their application is very simple to use. People who are new to the application will be able to use it within a few minutes. You have to log in to your account and then can use it to download the stories.
The application supports the download of videos and images from both stories as well as highlights. You can even use this tool to save Instagram posts. They have a quick 3 step method to download stories from any user you want.
One can easily re-uploaded on Instagram through their application. As a bonus, you can share those stories on Facebook and Twitter as well.
---
FastSave for Instagram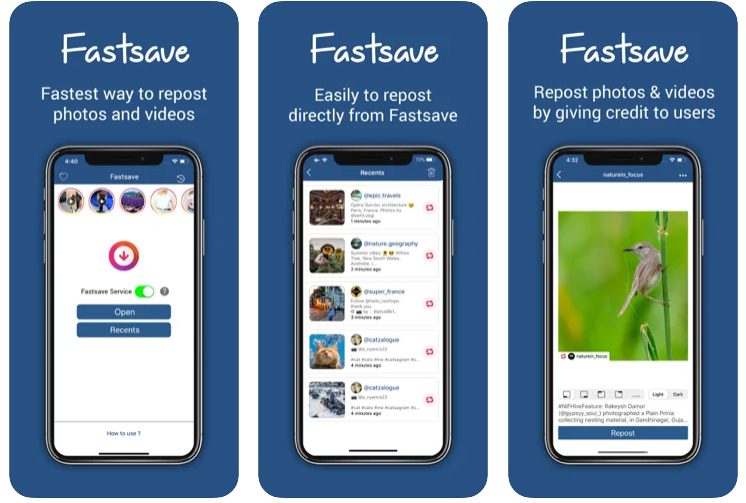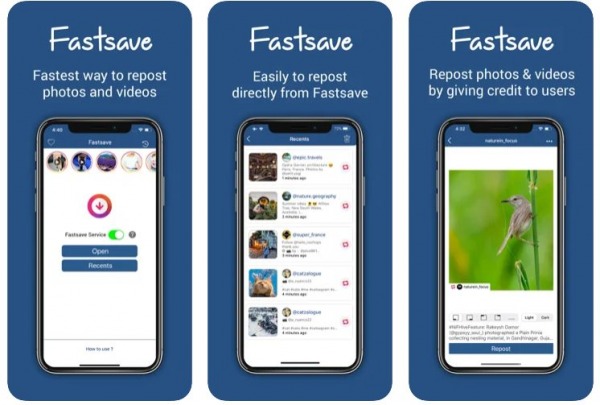 FastSave is one of the best tools for Instagram story saving. The application is immensely popular which can be seen in the amazing reviews that they have got. They have been rated 3.9 stars out of 5 on the Google Playstore by over 1 million people. The application is classified on the Playstore as available for all age groups.
FastSave is located under the Social and Photo and video applications categories. The application is free to download and contains advertisements. FastSave is extremely quick at downloading photos and videos uploaded on stories. They provide you with the option to reshare it on different social media platforms.
The application displays all of your downloads on a dedicated space at the top of the main page. This makes it very easy to find your downloads. A great feature that FastSave has is a secret locker. They have the facility of a secret locker built into their application. You can securely store all of your downloads here for privacy reasons.
Long pressing the downloaded photos and videos give you details about the user. You can even view all the photos you have downloaded as a slideshow. You can contact them through their email.
If you have any concerns or issues that you want them to address. FastSave is a great application that you should try to download content from Instagram stories.
---
Reposter for Instagram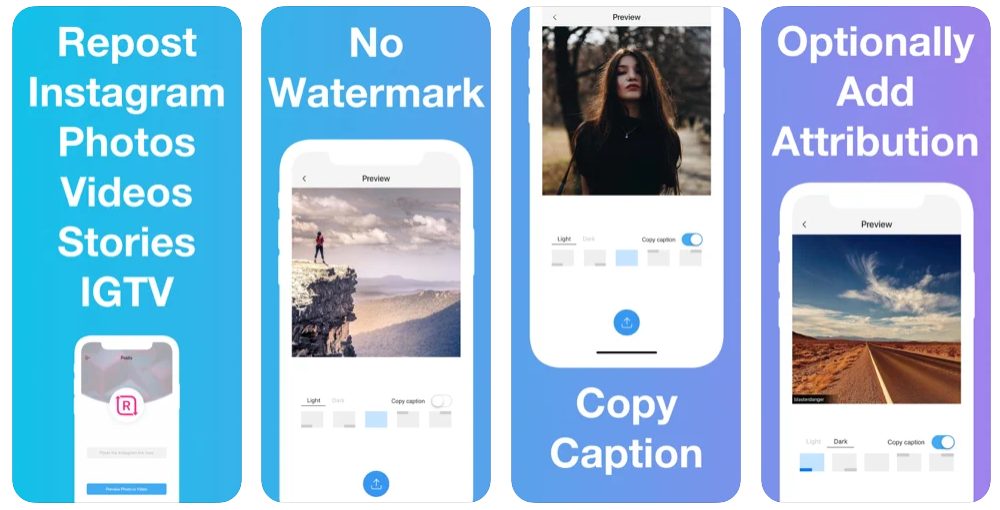 Reposter is a story saver for Instagram that is available only on IOS. This is an exclusive application for Apple users. The application is available for free in the Apple Appstore.
New Marketing Lab, Inc has designed this app. It is one of the best options on the IOS platform. The application has a rating of 3.5/5 on the Appstore. This application ranks 166 in the Social networking category on the Appstore. The application is free to download while they have options for in-app purchases.
This application supports not only the downloading of stories but much more. You can use the application to repost the content as well. One can repost to your feed or your story.
You can add attributions before reposting the content. They support the download of multiple videos and photos. When downloading the content they do not put any watermark on the image. This is a great feature that prevents the aesthetics of the content from disruption. The application has a feature that allows you to schedule reposting the content. You can decide in advance the date and time when you want the content to be a repost.
You are also eligible to repost unlimited downloaded content. The developers provide high-speed downloads and reliable software to their clients. If you are an IOS user you should try this application.
---
Story Saver for Instagram by HEX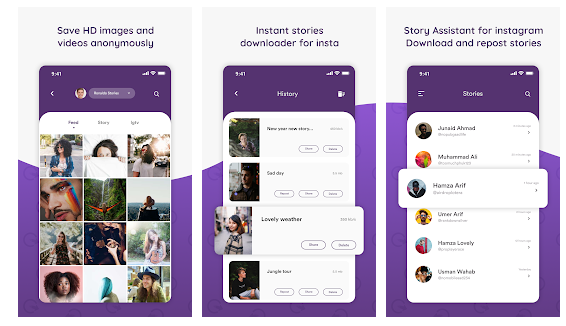 TheHexStudioX has developed a great story saver for Instagram. It has arguably one of the fasted download speeds. This makes downloading stories and reposting them a breeze. The application is available on Google Playstore.
The application has been rated by over 700 people. It has amassed 4.5/5 stars on the Playstore. It is suitable for everyone. This app is listed under the category Tools. You can install this application for free and does not have any paid packages. The developers have ensured that they provide quality services for free.
The story saver is great at downloading stories. Using the program you can download images and videos with a single click. They have support for downloading HD pictures from the stories.
Their tool allows you to repost images to your Instagram without the need for downloading the photos on your phone. You can repost the images from your stories by adding hashtags and captions to those posts.
You can search profiles directly from the app and view their stories anonymously. The developers have used a very simple and minimalistic interface on their application. This reduces the confusion to the minimum and improves utility to the maximum. They have features that allow you to post on different social platforms.
---
Story Saver: Video Downloader Repost Photo Insave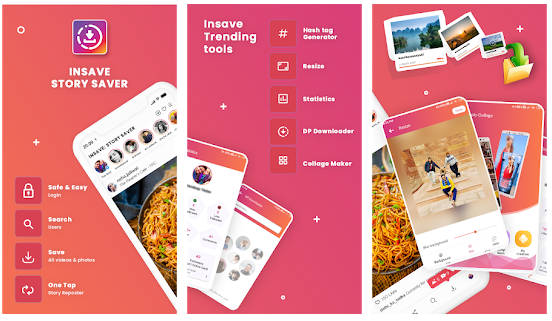 This story saver for Instagram is a great tool. The application has an average rating of 4.5/5 on the Playstore. The application aims to offer a convenient way of downloading content from Instagram stories.
This application contains advertisements. They also have in-app purchases in the form of paid packages. The application supports you to download multiple posts at once. This helps you to save a lot of time as you do not have to individually download every piece of content.
They even allow you to customize the location and the folder where you want your content to store. The download speed is good and you will not face problems in this regard. A great feature that a user loves is the auto-download.
When you program this feature on the app your stories will automatically download from Instagram. They also support downloads from highlights. The app is easy to use and very convenient.
---
Story Saver by Sara Tech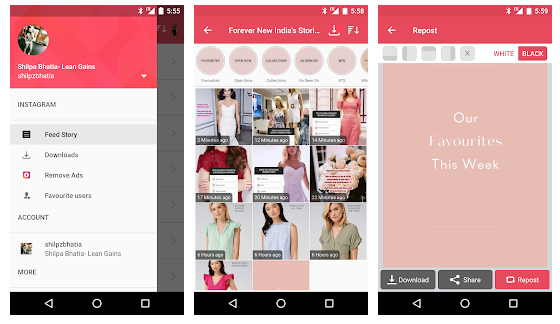 Sara Tech has come out with a great tool. This tool is spoken about quite a lot when discussing the best Instagram Story savers. The application has the approval of the users who have showered praises on the application.
When you go on the application you need to log into your Instagram account to proceed. This app does not sell your data to any other websites or applications.
They work hard to mantain your privacy. They maintain a well-functioning application that offers a great user experience. Their application focuses on speed. They provide speed in downloading as well as surfing their application
When you select a viewer, all of their stories are displayed in a grid format in the application. This makes choosing and selecting the exact stories you want to download very easy.
Using the app, you can download from your list of followers or you can search for the profile through the app itself.
---
StorySaver by Patigo Tools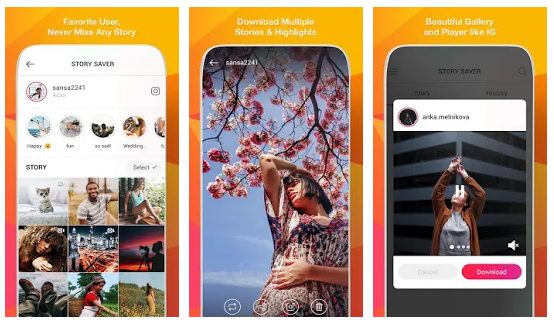 Patigo Tools are amazing developers who have created a top-notch story saver for Instagram. The application is highly rated by the community. It has amassed 4 out of 5 stars on the Playstore.
The developers have worked intensely on the application over the years to make this application one of the best in the Industry. The application is listed under the category of tools on the Playstore.
The application has numerous downloads on the store. The users of the application have come out in praise of the tool and the speed that it offers. The application does contain advertisements but is free to use.
These advertisements do obstruct your user experience from time to time but it is not too much of an issue. You can trust this application to perform well and you can take out your work.
Their simple 3 step method is very easy to configure. You will be able to understand how to operate the features within a few minutes. This is a trustworthy application.
You can trust them with your information. When you open the app you have to log in through Instagram. The company does not store your information and your accounts are always in your possession. You do not lose any privacy or security by using their application.
---
StorySaver+ for Instagram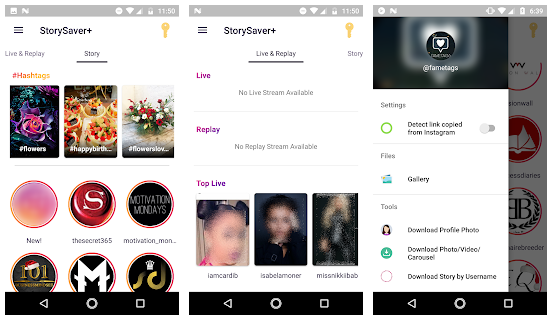 StorySaver+ is an extremely efficient story saver for Instagram. Abhinandan Chakraborty has developed this feature-packed app. The application is available on Google Playstore and has over 500k installs.
This application has been optimized for Android 4.1 and above. The application has a very small size of 6.3 MB. This allows you to have a great tool for downloading stories that do not take up much space on your device. You can download this app for free and has regular updates
This app is one of the most consistently developed applications. The developers have put focus on delivering a complicated too, that is very easy to use. The app allows you to download stories at lightning speeds.
Apart from just downloading stories, you can download highlights, carousel posts, feed posts, and IGTV videos. The downloads are done in high quality so that you can have maximum satisfaction from the downloads.
The application has some special features that are generally not seen among its competitors. You can watch Instagram live videos directly from their app. This allows you to view the live videos anonymously.
This is a very handy tool that is feature-rich. They come out with frequent updates that add more features to the already exhaustive list. If you are looking for a story downloader that can be used for multiple purposes, this is the ideal tool for you.
---
Story Saver for Instagram from GMbuddy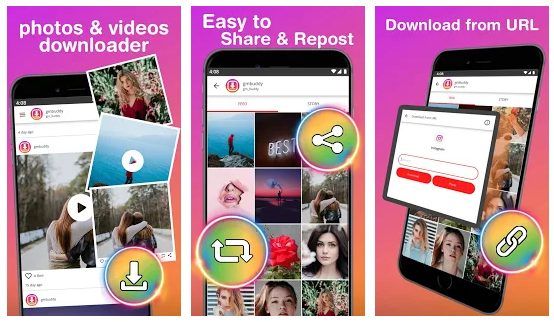 This is a superfast story saver for Instagram.  The application is widely available for android devices. The app is sitting at more than five hundred thousand downloads. Your device needs to have a minimum of Android 5.0 to be able to download and run this application.
The application is just under 9 MB in size and a great tool for low storage devices. The application is suitable for the audience of age 12 or above.
The quality of the application has positive reviews. The majority of the users have left it a rating of 5 stars. Overall the application has a rating of 4.4 out of 5. The developers promise that you will have a safe experience when on the application.
The login to Instagram that you have to perform is completely safe. There is no chance of your data being leaked as they use high-level encryption tools. The application contains advertisements but they are not excessively annoying.
They have provided you with the option to enabling dark mode which is preferred by quite a lot of the users. If you feel unsafe logging into your Instagram account, you can download posts through URL. The app keeps on receiving regular updates that improve upon the software.
The UI is simple but powerful. You will not miss out on any features while having a seamless experience. This tool has the potential to be the best in the category with a little more work on it.
---


Storysaver.net is an online story saver for Instagram. There is no need for any downloads to your pc or mobile devices. As it is an online tool it is helpful for users who do not have storage space for applications on their devices.
Not having to download an application also helps you to save data and much of the confusion of setting it up.
The website is easy to navigate. An average person will find no difficulties in using their services. The Instagram stories can be downloaded with a single click.
To begin downloading stories, you need to enter your Instagram id and log on to it. This will help you access Instagram's platform and view the stories available.
Their website is optimized to be accessed from mobile devices as well. You can download stories on an Android or IOS device by using the browser. Go on to their website, log into your account and begin the download.
All of their downloads take place without a hitch. Being an online tool and having quick download speeds has made them a fan favorite for downloading stories.
Using this tool is much more convenient than sending downloaded posts to your Pc from your phone. If you want the downloaded content to be stored on your computer this is the ideal tool for you.
---
Conclusion
The applications mentioned above contain some of the best Story downloading tools over various platforms. The tool that would be ideal for you depends on the exact purpose you want them for.
The majority of these applications have a repost feature. This helps you to ost the downloaded content on your social media account switch ease. We have made sure that in the list we cover options for PC, Android, and IOS.
Using the applications mentioned above will make downloading stories very simple. The great quality that you get along with the simplicity of these applications should be a key feature for you to download these applications. Use these applications and bid farewell to the problems of saving, reposting, and downloading stories.