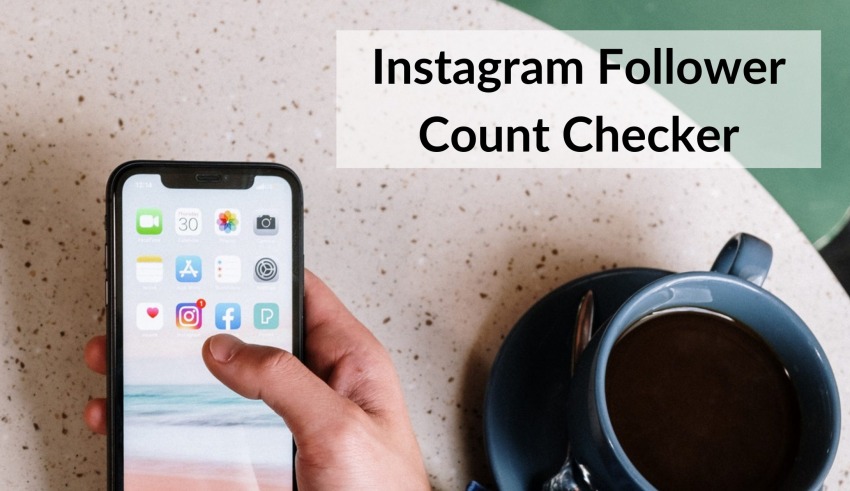 Instagram is no longer just a photo-sharing app. People are using Instagram in cut-throat competition. No matter what you do having more followers is a must. We may be well above 10k followers on Instagram, but our curiosity never ends! 
Instagram follower count checker is a great tool for keeping a tab. Moreover, you need to know who is adding and who's leaving, right? Sometimes influencers keep track of who's following and who just left through these checkers. Now you can too! 
Today we will share a list of the 10 Best Site For Instagram Follower Count Checker. Unfortunately, Instagram does not let you track followers in any way! This is why these checkers are so cool. 
Managing your followers is so important nowadays! However, most of these apps are similar yet very helpful. All of them take help from Instagram analytics. If you are troubled with who's following and who's not then this is it. 
Hundreds of companies and thousands of influencers are worried about their Instagram followers' count. This is why these websites are so crucial. You don't need to log in to your Instagram account to keep a real-time Instagram followers count. 
What are the features of an Instagram Follower Count Checker?
No registration requirements

– If you want to know about your follower counts, you don't need to register yourself. There is no requirement as such that you need to log in via mail ID or share your phone number. These apps and websites do not track your behavior or google account. 

No password sharing

– You do not have to use any passwords with these apps. Moreover, you do not need to share your Instagram password either. These web apps work independently. If you ask us that's the best part of using these checkers. 

Completely anonymous

– Nobody, literally nobody gets to know that you are using this app! Moreover, being anonymous helps too. You see someone special leave your followers count and your app will immediately tell you. But there's zero chance of them knowing that you already know. 
Here below is the list of best sites for Instagram Follower Count Checker:
 "Follower Analyzer (Instagram)"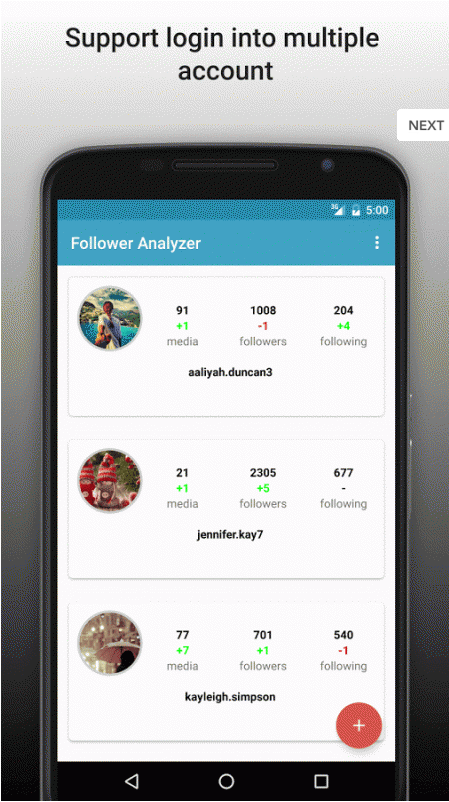 Do you fascinate some Instagram account? Do you want to know awesome secrets? What secrets, you ask? Well, what about finding out who comments the most on that profile?
 Let's now talk about their unique features – 
You can view which of the accounts are not following you back. Now you can decide what you wish to do with these accounts. Some accounts are too amazing for you to unfollow straight away! However, sometimes you have got to unfollow them.

Moreover, you get to check who unfollowed you. Sometimes, just sometimes it may not matter that much. But you know in your heart that you want to keep a track of it. 

Track the new followers so that you can analyze ways of entertaining them.

One of the best features is to be able to track your fans. You can keep a track of who comments the most and engages with your content. How about you reward them with unseen content or some other privileges? 

Check out people/accounts who never interact with your posts

View those accounts that never comment on your posts or engages with your posts at all

This app lets you check out the most viewed posts 

Moreover, you can analyze any competitor's account to see their engagements like – who comments the most, who's tagged the most, etc., on their profile. 
What are the app permissions required? 
This Instagram Follower Count Checker requests that much permission on your device as is necessary. This app asks for permission to store the data you see on your SD card or device. Moreover, if you want you can unleash the true potential of the app by paying for it. 
Note – There are 2 important factors at play here – 
You just need an Instagram account to see all the data

Kindly use phones with at least 2 gigabytes of RAM.
The premium version allows you to sign in to multiple accounts at the same time, remove your ads, and provide you with an unlimited analyzer. 
---
 WowMaking's "Followers & Unfollowers Analytics for Instagram" (APK)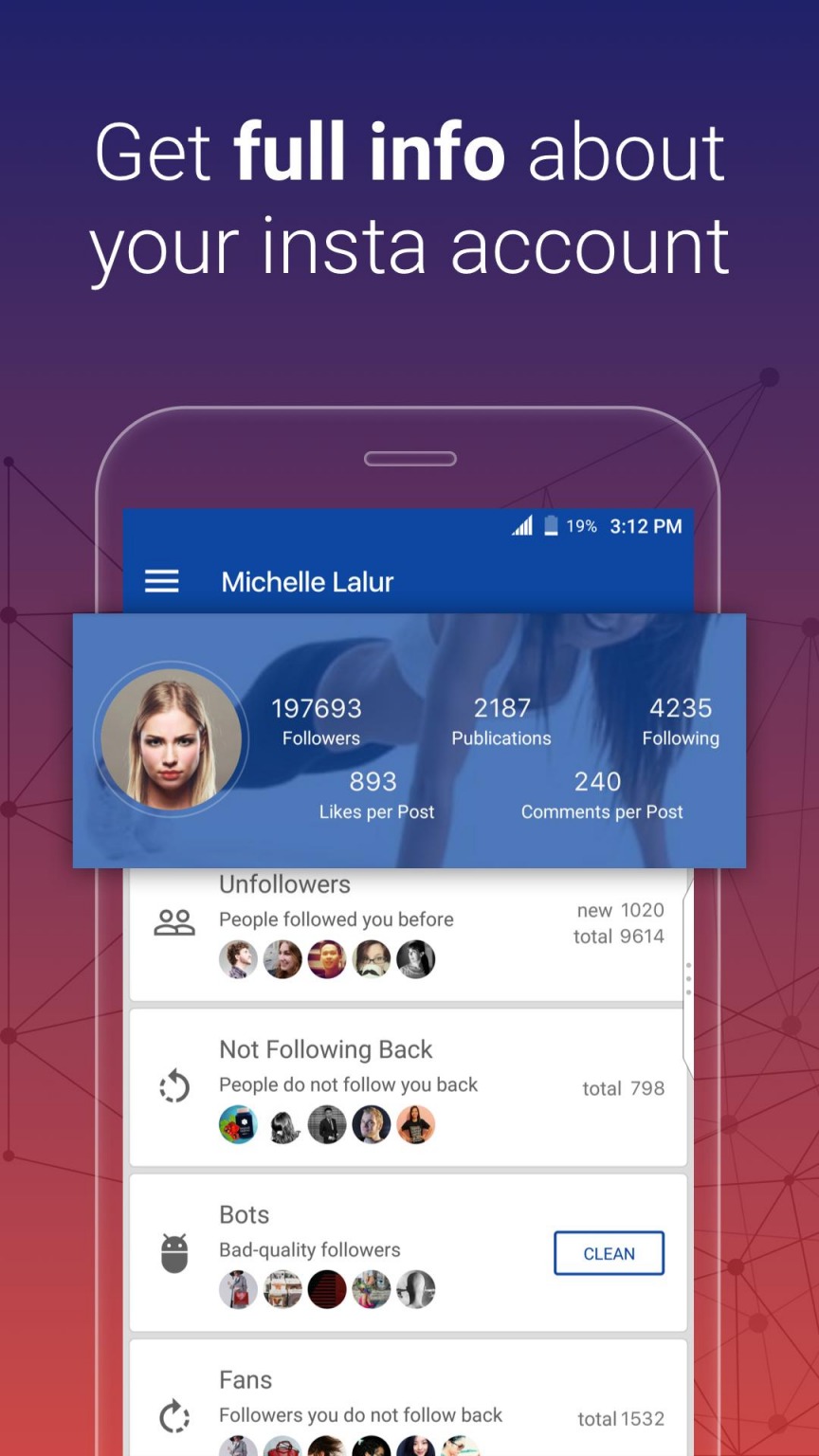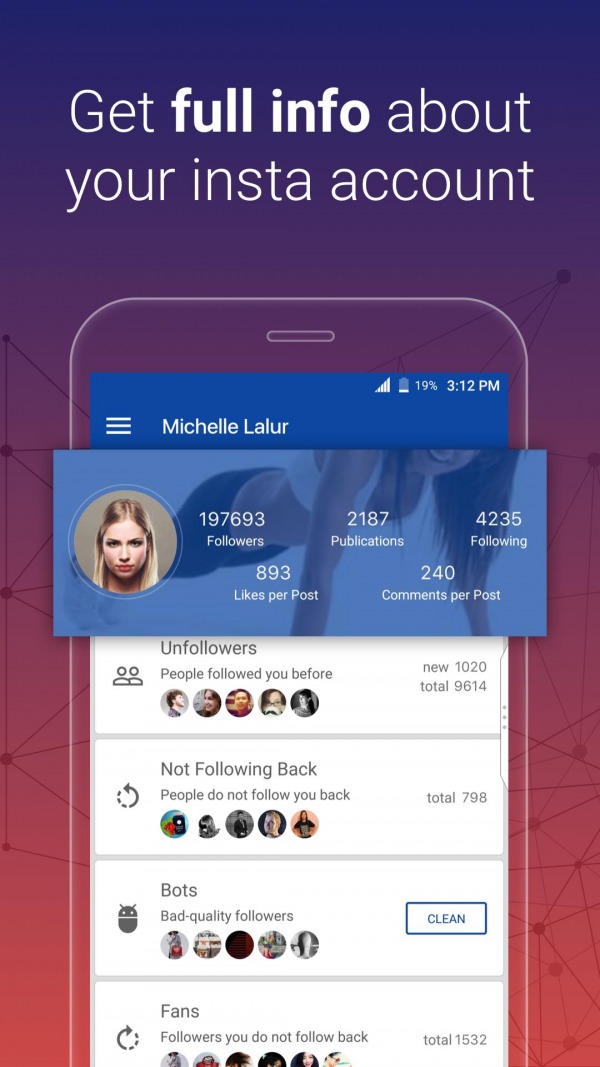 Download it
This app does a great job of analyzing any given Instagram account. Statistics in real-time helps this particular app to monitor any account or your account smoothly. It's super easy to install and lets you monitor any account you want. 
Who is the target audience of this app?
Influencers 

Instagram shops

Marketing agencies

Individual accounts wanting to have better analytics
You can now stay on top of which posts performed better than others. This way you can create more posts of the same nature. This Instagram followers count checker works perfectly well on almost any device out there. 
Why should anyone use it?
Super easy user-interface

Works on any mobile phone OS

Anyone can use it to check on any IG account

Never evaluated valuable data 
What are the drawbacks?
It did not receive any new updates from the developers recently

It lacks advanced features

Might be slow on your device
---
Component Studios' "Followers for Instagram!"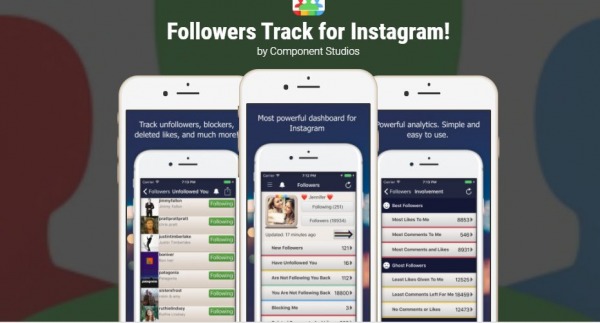 This Instagram Follower Count Checker is the most reviewed app in this category. Users seem to love this app's simplicity. Yet, that's just the beginning of some cool features one can say about this app. 
More often than not, it's regarded as one of the most powerful, accurate, versatile, and fast followers tracker apps there is in the market. 
What features can you expect from this app?
Keep an eye on accounts that do not follow you back. You need to keep a healthy balance between which accounts are allowed to do that and who are not. And with this app, you get to set your limits. Understandably, celebrity accounts will not follow you back. 

Also, realize people whom you don't follow back. Maybe you have missed out on following back. It does look bad if it's someone close to you or is important to your business. We often miss out on valuable notifications too! 

Keep track of who is following or unfollowing you repeatedly asking for your attention

Moreover, track the accounts that have recently unfollowed you. It's time to unfollow those who do not follow you. 
Note: This app is not affiliated with Instagram in any way whatsoever. Also, remember that they cannot help you get more followers either. It's just an analytical tool to keep a better track of your Instagram handle.
---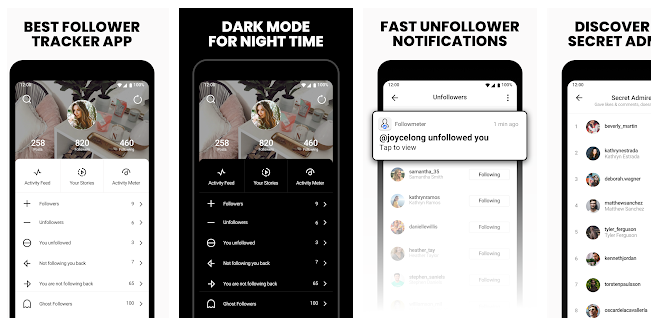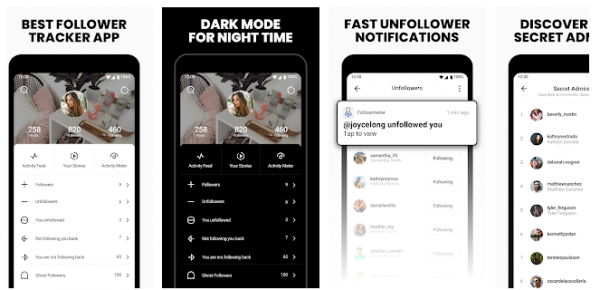 Download it From Playstore
One of the better features here is that with a premium upgrade your posts will be visible to other users of this app. From there people can see and follow you. Their discover feature enables accounts like you to gain more traction from another source. 
With a 3 million+ user base, this app is perfect for you. Let's see what features they provide you – 
Track all the unfollowers at the same place 

Find out who or which accounts are not following you back.

Check out who or which accounts view your stories the most and how consistently

View accounts that checked your account but do not follow you (applicable for public accounts only).

Track those who like your posts the most 

Check out profiles that watches everything you do on Instagram but do not interact with your posts 

Find out ghost followers who are merely numbers and do not interact with your posts at all

Keep track and find out who or which accounts blocked you

See which posts got the most engagement.

A feature by the name  "Activity Meter" can track your engagement rates

You can add your account to the "discover" section and gain more traction from the app itself. 
---
Prakash Desai's "Ghost Unfollowers for Instagram & Fake I.G. Clean"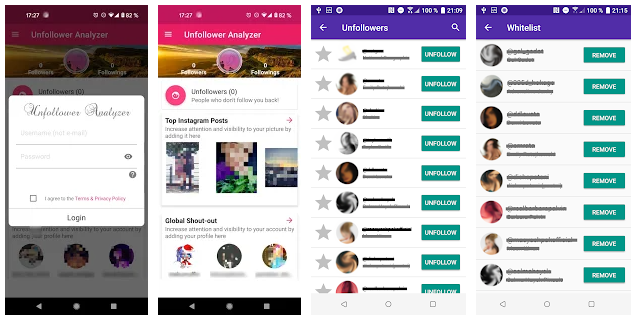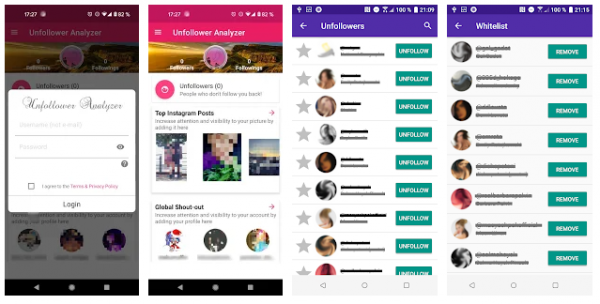 Download it From Playstore
Tired of people who just follow but do not engage with your posts? We know we are. Well, this app is just for you then. Get rid of those ghost Instagram accounts out there. Many Instagram accounts don't even post or do anything. Removing your fake followers will indicate that you are not here for the quantity alone. 
Moreover, removing fake IG profiles can help you increase organic reach too! 
Track followers who have not interacted with any post of you for the last 100 posts. Track and delete your Instagram accounts/followers with ease. You can carry out a mass unfollow up to 60 unfollows per hour.
---
 Mobile X made "Reports + Followers Analytics for Instagram"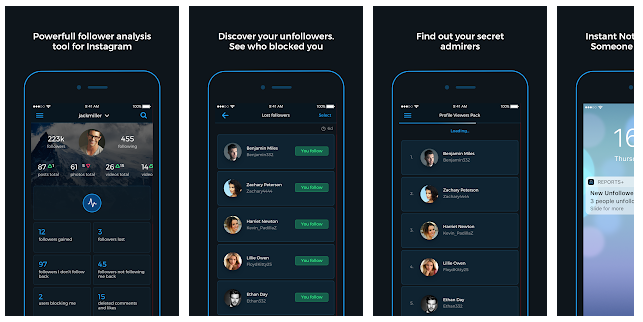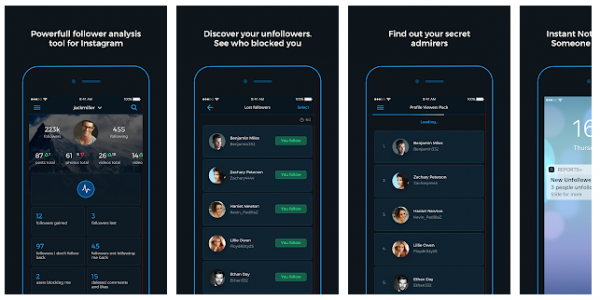 Download it From Playstore
This one is a king of this category for android users. This Instagram Follower Count Checker offers a lot for free. Let's check out what they are offering and see how they deliver it  – 
Analytics delivered to you for your Insta account

Keep a record of your follower losses and gains with accurate precision

Moreover, keep a tab on how your posts are performing too

Schedule your posts with this app seamlessly

Reward the best followers who always support you

Figure out who unfollowed you

Find out which accounts like and engage with accounts more

Remove the accounts from your following list if they don't follow you
There are so many more features you can tap into once you pay for their premium services.
---
Appyfurious LLC's Tracker for Instagram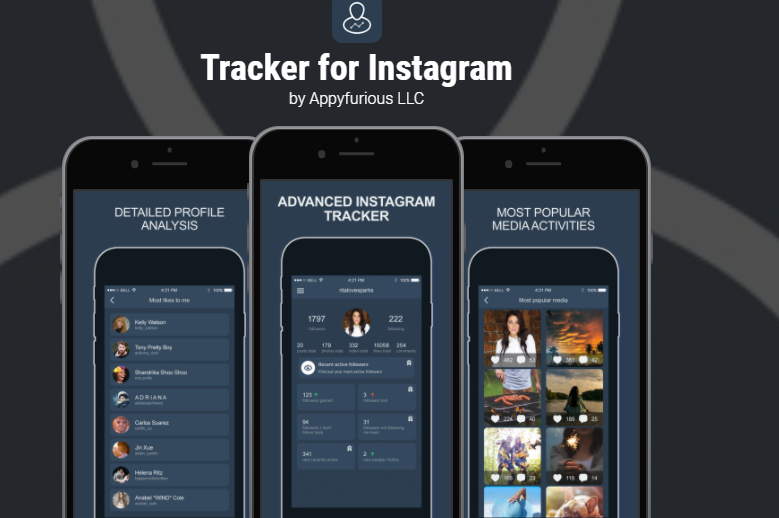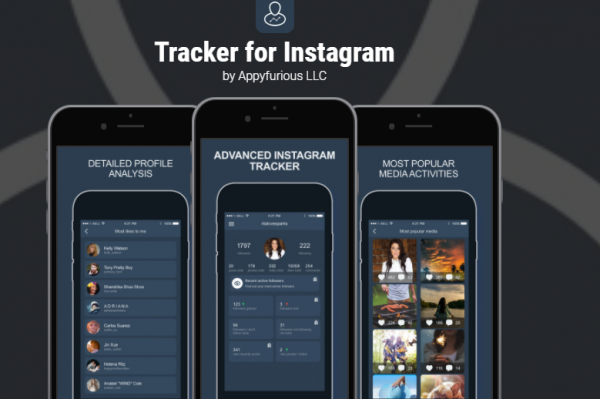 Track your Instagram account in the best possible manner with this tracker. Keep a tab on who's engaging in your content. Moreover, gain a perspective as to how your audience is working. Some posts work better than the rest. 
It's important to see that number. It's not always about how many of the number of likes you get. There are more actionable insights as to the reach of your posts in general. See for yourself which type of content is working in your favor. 
Its premium access will cost you $9.99 every month. But, if you ask us it's worth the while and your money. Figure out who stalks you but never engages you or understand which of your followers are totally dormant. You can have them removed too! 
However, you need to see both sides of the aisle as user comments/reviews are highly polarised. Most people have either rated them 5 or 1 star.
---
 Quadro Tools'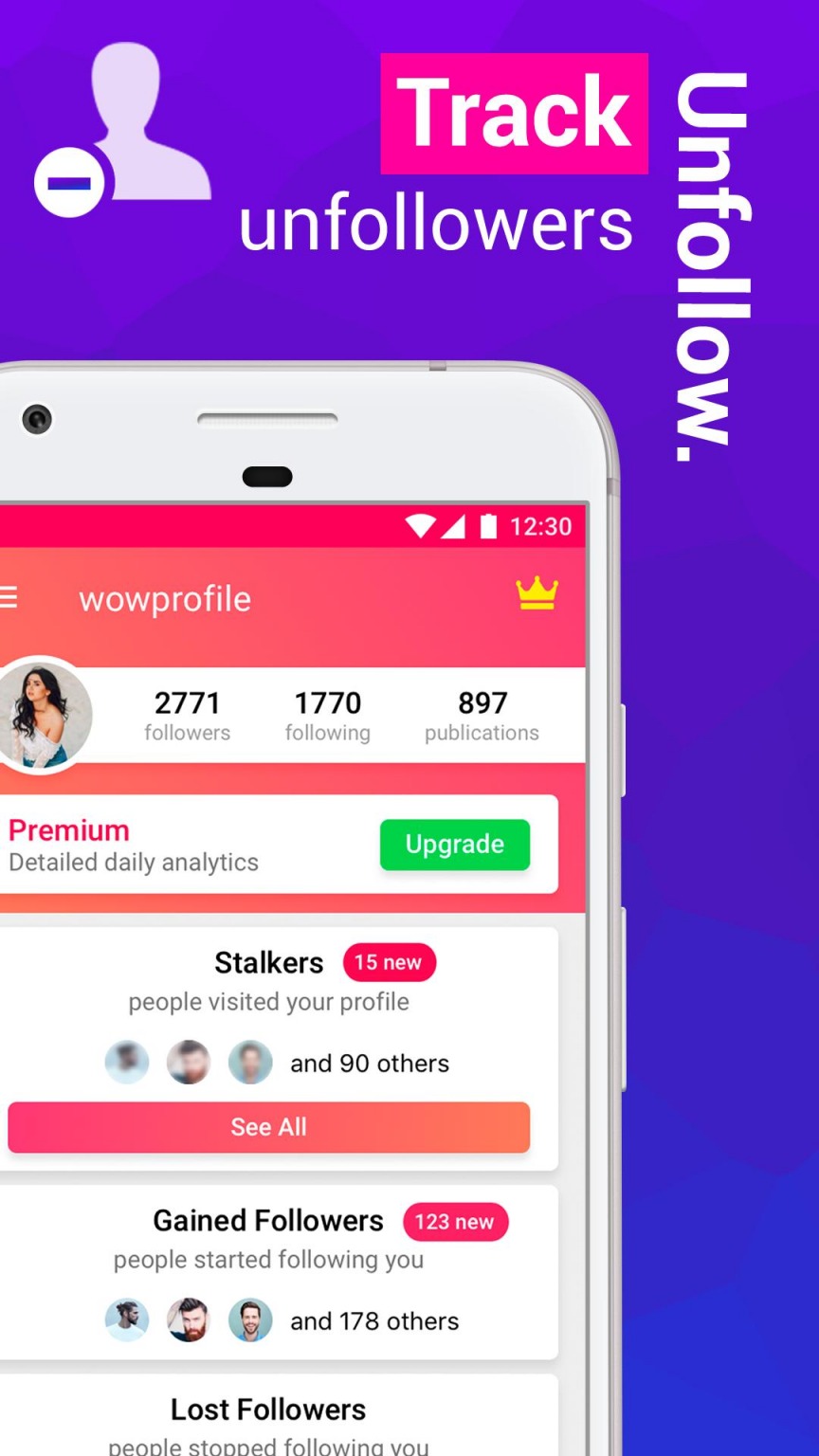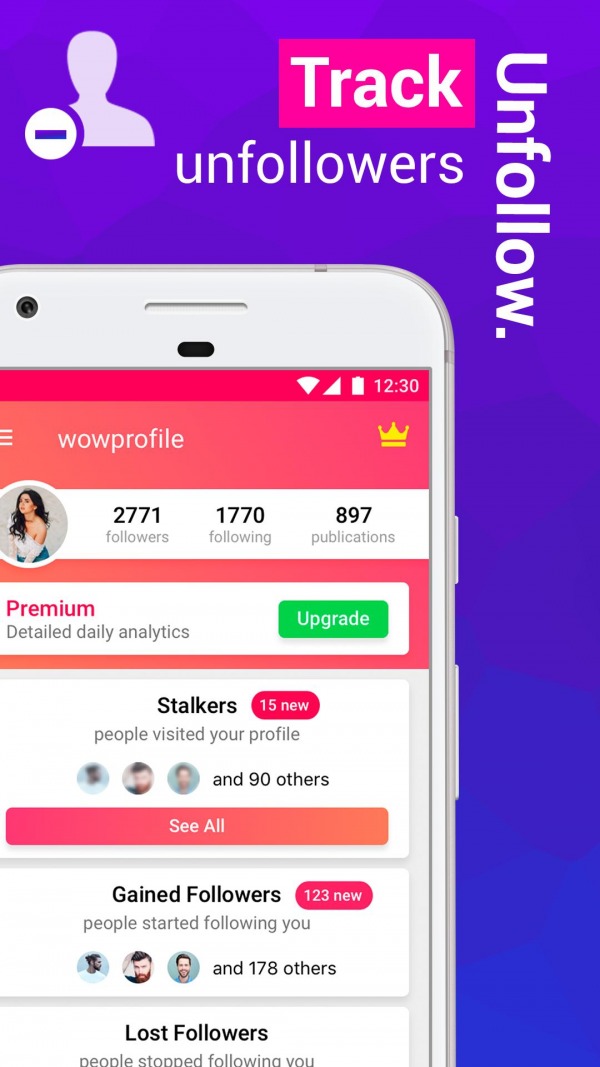 Download  it
This android app, like most android apps, has ads. But that's just one downside if you hate ads. With over 800 people rating it as 5 stars, it's going well for this app. This app is pretty awesome when it comes to tracking your account. However, you need to see the negative reviews or 1-star ratings as well. Nevertheless, give this a try and then figure out if this works better for you or not. 
It's advisable that you try the free version first and then go for their premium version.
---
MonoMosaic's "Followers Insights for Instagram"
This one is quite a famous app in this category with an average of 4.5 ratings across iOS and android operating systems. Take decisive actions against followers or accounts with proper data insights and analytics. 
This app is developed by MonoMosaic and has recorded over 10 million-plus downloads from Playstore. In case of any issues, you can contact them at [email protected] anyways. 
What features will you love about this app? 
Keeping a track of your growth will be easy

See for yourself the follower rise percentage, likes, and comments on posts and their percentages 

Figure out the best content, the ones which are performing great works best for your audience

Learn what engages your audience and take action accordingly

Monitor more than one Instagram account simultaneously

Get exciting insights about your Insta profile

Fast & easy access and user interface 
Note – Use the premium features for free.
---
CC Soft's "Followers Tools for Instagram" 
This app made by CC Soft is one of the best web apps for Instagram Follower Count Checker out there. Manage your account with amazing analytics with this app. This app provides awesome features for free (although there are ads). You need to pay for additional features in their premium features option. 
There is no limitation as such for following/unfollow or block/unblock accounts. Create a separate list for unfollowing. Every lost follower will be accounted for with this app. 
Moreover, you can find out who all has blocked your account. Some photos and videos work better and some do not. Find out with their premium option every last detail of your posts. Analyze which of your posts are working best for your audience.
---
Conclusion
People and businesses are using this service to get actionable insights. Keeping a track of your posts on your Instagram account is a key variable to success. Leave nothing to chance. Seize this opportunity and take decisive actions to gain better engagements. 
On that note, we end our list of the best Instagram Follower Count Checker. Hope you liked it. You can comment and let us know which of these apps worked for you the best. Catch you next time and until then goodbye!