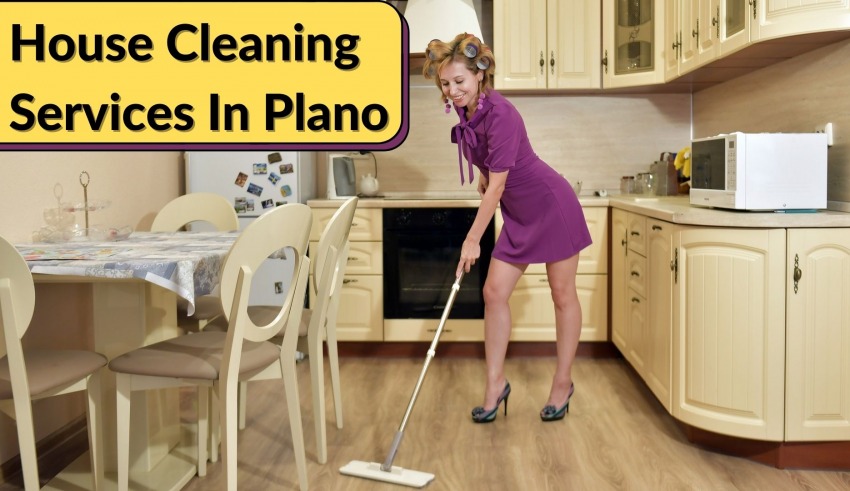 For a variety of reasons, a clean and tidy home is essential. It enhances the aesthetic appeal and encourages visitors to admire it. For the inhabitants, a clean house is usually preferable. Sweeping a whole house may be tedious and laborious, as no one likes to spend their free time scouring for filth and bugs in every nook and cranny. As a result, a lot of people use house cleaning services in Plano.
It takes effort and time to keep your house tidy. Your house will ultimately require a deeper, more thorough cleaning, no matter how carefully you complete all of the normal everyday duties.
Why not leave the buckets, brushes, mops, and special cleaning supplies to the professionals? There are several benefits to hiring a professional cleaning service for your home. Regular cleaning within the house may help to preserve the possessions and surfaces in good condition. Because they are clean and do not take up filth or rust, they endure a long time.
When it's all said and done, you'll have an unrivaled sense of accomplishment. After a hectic day, returning home to a clean and well-kept home may seem like a breath of fresh air. You may feel depressed and down in the dumps if your house is a mess and you ignore it. Everyone enjoys keeping their home tidy and clean, and they will go to great lengths to achieve this goal. Following that, you may need expert assistance.
Here are some house cleaning services in Plano to lookout for: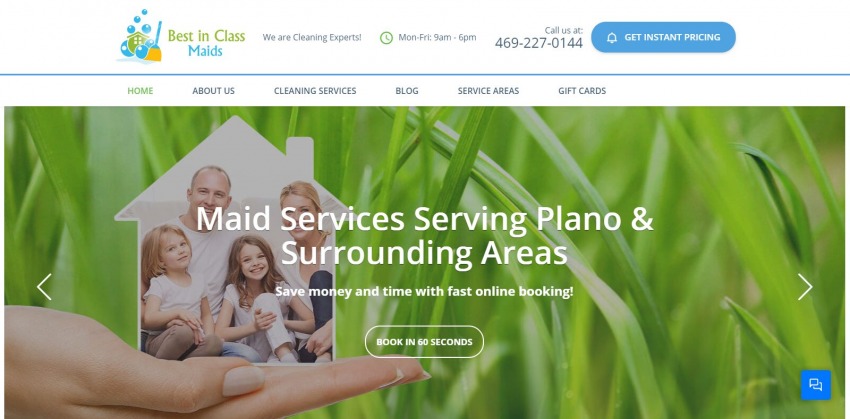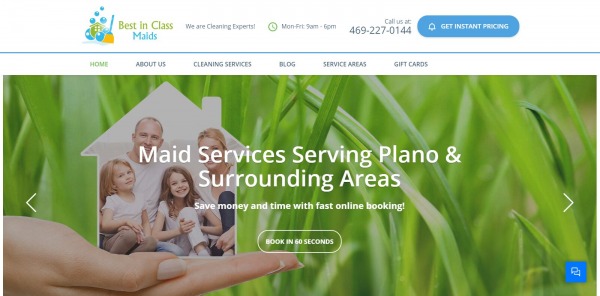 Best in Class Maids is dedicated to offering complete house cleaning services to its core clients, and in order to do so, they follow stringent guidelines that are applied consistently across the field. They are completely certified and licensed, so you may employ them with confidence and It is vitally essential to them that their clients have faith in their services.
Being one of the oldest house cleaning services in Plano for the past 10 years, they have ample knowledge and experience. To ensure that your cleaning will be of the greatest quality, each cleaner is thoroughly vetted, background checked, interviewed in person, and tested.
Best in Class Maids is the key to maintaining a lovely house while giving yourself more time to do the things you like. For a free estimate, you may call them at any time.
Each and every customer at Best in Class Maids is treated with the greatest level of quality, service, and value. You should be able to relax and focus on other things while knowing that your house is in good hands.
If you are dissatisfied with their service, please let them know within 24 hours after your clean so that they may correct the problem.
---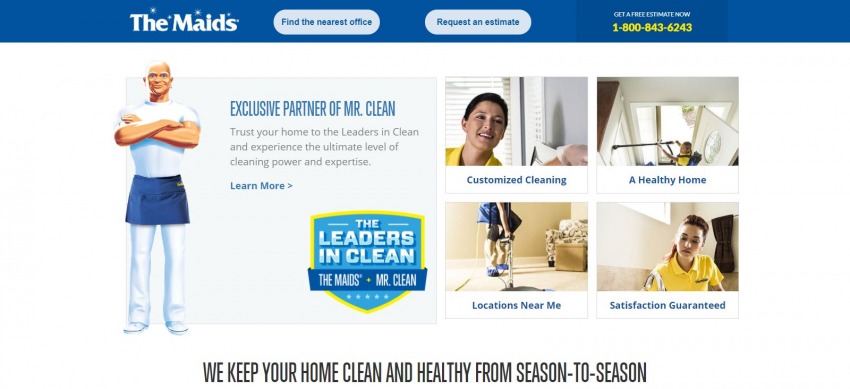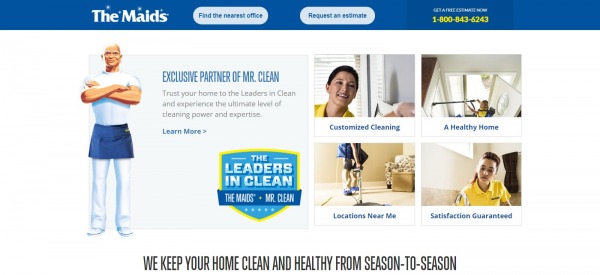 They provide various alternatives for your housekeeping requirements, from seasonal cleaning services to their most popular weekly and monthly cleaning services.
It's a pity to squander your Saturdays scrubbing toilets and washing floors when there's so much to do in Plano. They like cleaning for you. You need to get out more, so give them a call and get a quotation for home cleaning. Consider going out with friends and family on Saturday to shop and eat at Plano's distinctive locations.
It seems far more appealing than cleaning the house. Consequently, when you get home late at night, your home is already fresh and clean, thanks to the fact that you hired The Maids to clean your Plano home. You can relax and enjoy your favorite activities thanks to their house cleaning services in Plano. 
To avoid the transmission of infections, they clean frequently touched places such as light switches, cabinet pulls, and doorknobs, and they utilize commercial-grade vacuums with HEPA filtration to eliminate up to 99 percent of pollen, pollutants, and other allergens, so your family can breathe easier.
They are the only house cleaning service in Plano that focuses solely on health-related cleaning.
---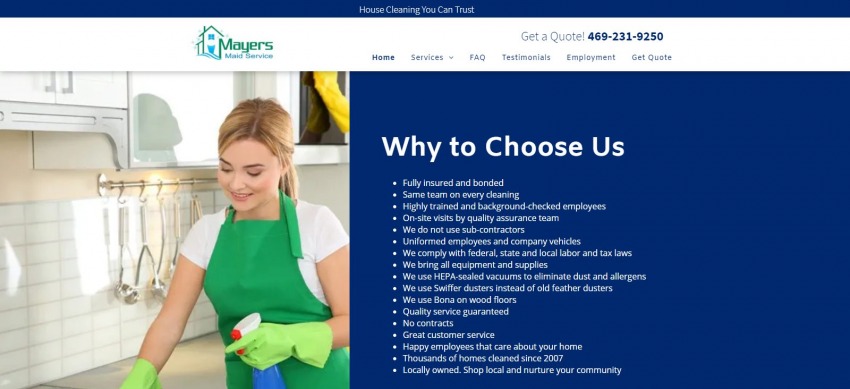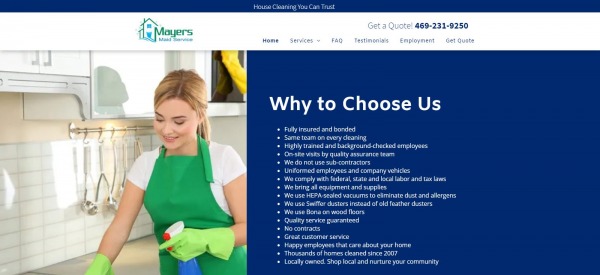 Mayers has been in business for ten years and their customers couldn't be happier with their service. Their expertise and attention to detail impress so many people that they hire them on the spot.
Mayers Maid Service has a fantastic reputation as a result of its team's dedication to providing exceptional customer service.
Mayers Maid Service is licensed and bonded, as well as having liability and accident insurance to protect your house. They also ask that you fill out the feedback form on their website after each cleaning to let them know how they may improve their service. 
They also value consistency, so once a crew has been assigned to your house, they will do everything necessary to guarantee that the same staff comes to clean it each time.
To offer you the high-quality and detail-oriented cleaning your house deserves, all of their team members are carefully trained and monitored. Managers inspect houses while they are being cleaned on a frequent basis to verify that the service given is of the highest quality.
Because they adapt their services to your specific needs, costs vary from one house to the next. Prices are often determined by the size of your property and the frequency with which cleaning services are required.
The rates are always competitive, and they know that with us, you'll get a superior house cleaning service at a lesser cost. Cleaning time is determined by the location's size and requirements. They guarantee that the staff will work on the area for as long as it takes to do the task properly.
---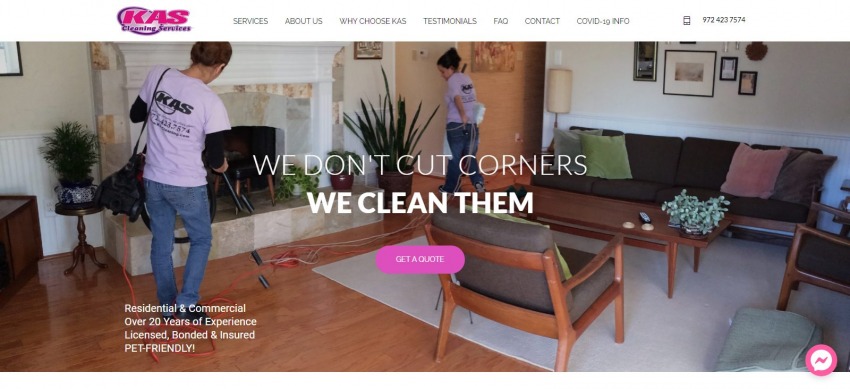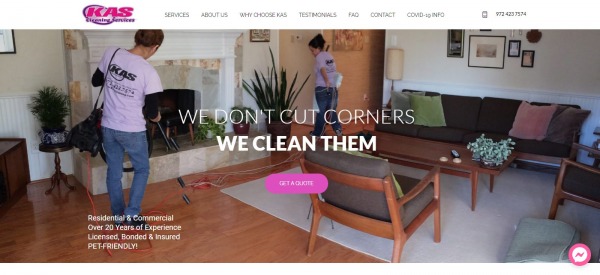 KAS CLEANING SERVICES was founded by a mother and her two children, who took a concept and made it into a reality through their hard work and commitment.
They founded their business in the year 2000 and have remained faithful to themselves ever since. Many women who began out like them, women who came from low backgrounds and aspire to be successful in life, have found work at KAS. It is one of the oldest house cleaning services in Plano. 
The staff aims to provide service that is timely, comprehensive, and dependable. They've been offering professional cleaning services for almost 22 years and have established long-term connections with both clients and employees.
Clients and employees who started with them in 1999 are still on their rosters. Only a few cleaning businesses can make that claim. They take pleasure in their job and are committed to providing you with the best possible cleaning service.
Honesty, ethics, cooperation, and excellence are KAS Cleaning's guiding principles. They cherish every one of their clients, from the long-time customers to the newcomers.
KAS may have begun with nothing, but with confidence and determination, they have grown into a strong firm with an extensive portfolio that serves all of Plano, and they continue to give their one-of-a-kind comprehensive service.
It's a maid service that places a premium on open lines of communication. So, instead of speaking to an answering system, you speak to an office manager or assistant manager when you contact their offices.
---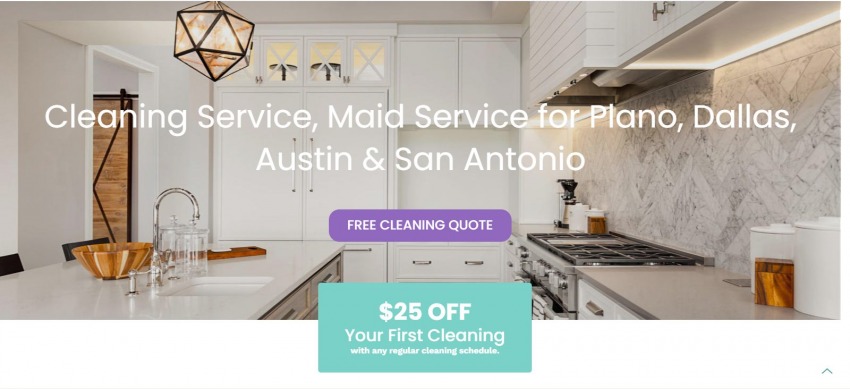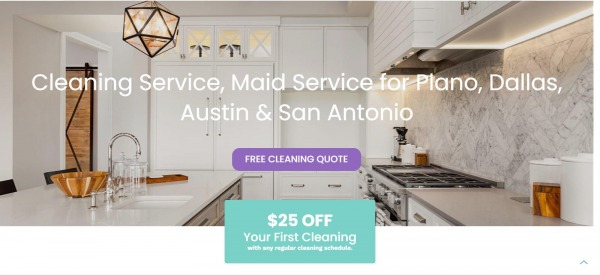 My Maid Day is a cleaning business that is run by a family. The objective and goal of our company is to become your preferred cleaning service. My Maid Day goes above and above for their customers and ensure that their work will meet their expectations.
They will take care of everything for you and ensure your complete pleasure. They provide excellent pricing and competent, professional cleaning services for your house or workplace.
My Maid Day provides a wide range of services for both residential and commercial customers. All of these services are tailored to your individual requirements.
Service quality is their number one priority, and they don't cut corners. My Maid Day believes in word-of-mouth advertising, and they pride themselves on providing top-notch quality house and maid cleaning services.
Customer service is at the heart of all they do, as seen by the amazing testimonials they receive from happy customers. Allow the ability to clean your house the way you want it. They will organise and schedule the visit based on your schedule.
All are so involved with their life that they appreciate the demands of busy working people who frequently don't have time to clean as thoroughly as they would want.
When you engage them, you can rest assured that your home will be cleaned to your satisfaction. They meet with you for a consultation so that you can inform us about your unique needs. They provide you a free first quote so there are no misunderstandings.
---
Also check: 10 Best Roofing Companies In Plano Tx You Should Try In 2021
---


Maid Brigade is thrilled to be bringing the most cutting-edge cleaning and disinfection technologies to maid service and house cleaning.
They have continued to pioneer advances in house cleaning and cleaning technologies well beyond ordinary domestic cleaning services since they first opened their doors.
The trustworthy green cleaning method has always prioritised customer welfare and the creation of a living area that is both healthy and beautiful.
Pathogens, bugs, and malware are a worry for everyone, therefore they understand the necessity of providing safe cleaning and disinfection services. Their multi-surface cleaning solution with electrolyzed water is ideal for cutting oil and removing residue from your home's surfaces.
They can offer 360-degree hospital-grade disinfection on high-touch surfaces such as light switches and doorknobs when combined with PUREmist, their electrostatic spray disinfection technology.
Maid Brigade is devoted to serving customers fairly, with the decency, respect, and gratitude that they all cherish, from top management to front-line staff.
They think that if these values guide every encounter with its consumers, the firm and its workers will gain your trust. It's vital to them that the maids not only leave you with a cleaner, healthier home but also that they assist you to relieve the stress of cleaning.
They usually allow their clients to select how they wish to spend their time.
---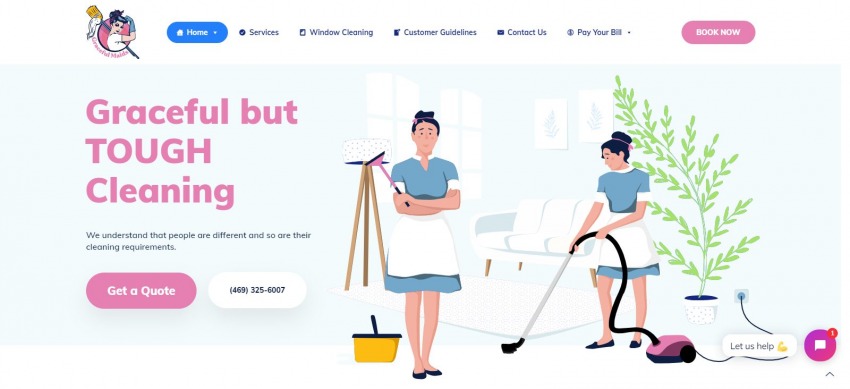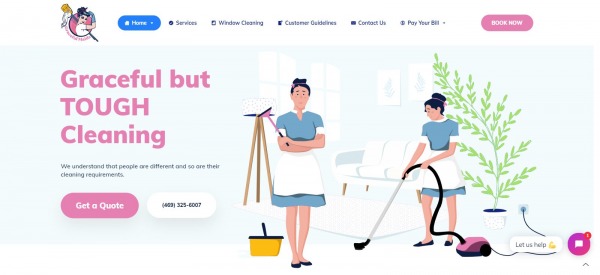 Graceful Maids is a Plano-based cleaning company owned and run by women. Residential maid service, post-construction/make-ready clean-up, and move-in/out cleanings are some of their specialties.
They are capable of completing any task, no matter how small, large, or difficult. They strive to deliver a professional, experienced, dependable, committed, and competitive service to all clients with every service they do.
Graceful Maids is dedicated to delivering the absolute finest cleaning service in the region. You can contact them for all of your cleaning requirements.
Once you hire Graceful Maids, you can count on them to keep lines of communication open, pay special attention to the smallest details, and demonstrate a dedication to your full pleasure.
They provide a 24-hour clean guarantee to all customers; if you notice anything included in your clean that was not finished, they will come out and fix it, and they will always strive for customer happiness. They aim to give you and your family a safe, clean, and disinfected environment in which to spend your leisure time.
The teams have years of industry expertise, allowing them to serve their customers quickly and efficiently at a cheap cost.
You will receive a text the day before the service with an anticipated arrival time. You will receive a text or phone call 20 minutes before the cleaners arrive on the day of the service.
---
Also check- 10 Best Plumber in Plano, TX You Can Hire In 2022
---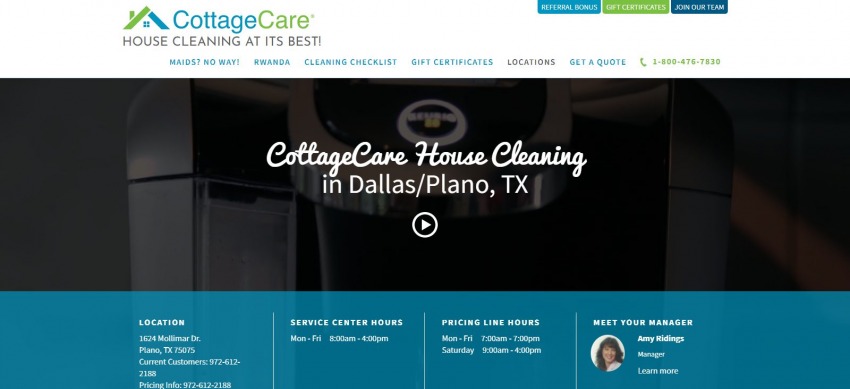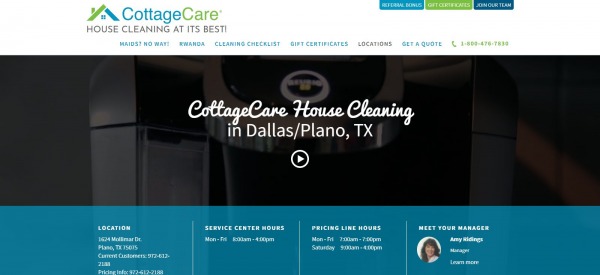 CottageCare emphasizes that all clients should be treated fairly. They give you an estimate based simply on the size of your property and the frequency with which you clean.
Other cleaning businesses do a walkthrough before providing an estimate, only to inflate the price depending on how lovely or dirty your property is.
They understand that their clients do not want to be tied down to long-term contracts. When you're locked into a cleaning contract, the quality of your cleanings might sometimes decline over time.
By allowing clients to select when to start and stop service, they demonstrate their trust in and value for each cleaning. They recognise that their clients' lives are stressful, and they don't want to add to their stress.
Do you have to postpone your appointment? There won't be any issues. When you change or reschedule an appointment with CottageCare, you will never be charged a fee. They are delighted to have worked with their clients for over 5 years on average.
Since its inception in the mid-1970s, CottageCare® has had a long history of employing ecologically friendly cleaning solutions. They were environmentally friendly before the present all-natural product craze.
Every product they employ is non-toxic and non-abrasive, ensuring that the environment, their clients' houses. Their crew members performing their services are all protected.
CottageCare has always been like this and will continue to be like this. They are one of the most renowned house cleaning services in Plano. 
---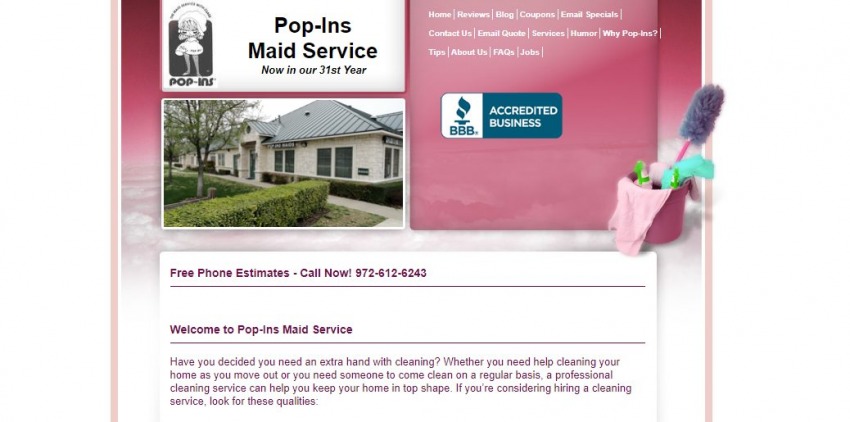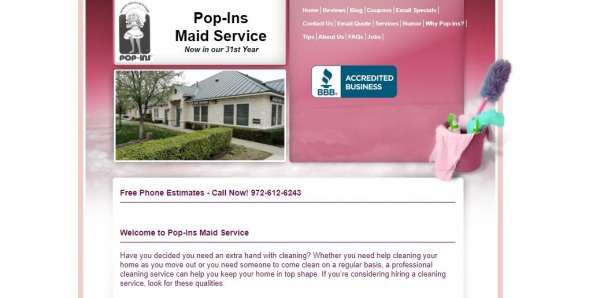 Pop-Ins Maids Service puts your needs first. They encourage consumers to contact with them, and they will honour all of your cleaning requirements.
If you have specific demands for how your house should be cleaned, such as which cleaning chemicals should be used, be sure the cleaning service you pick is prepared to comply. When a good house cleaning service cleans your home, they will follow your instructions.
Pop-Ins Maid Service  will not leave until the project is completed to your satisfaction They ensure that you will be satisfied with the cleaning service, and for their deluxe and maintenance cleanings, they will work longer than the stated task time at no additional fee until you are satisfied.
When you subsequently discover that anything wasn't cleaned properly, they will come back and repair it at no cost to you. Seek for a business that has a satisfaction guarantee and will address any issues you may have with their work.
Employees are thoroughly trained experts, with some having years of cleaning experience. They recruit, interview, and screen applicants before hiring only those who meet their stringent requirements.
These people are then given extensive training in order to provide you with excellent service. Since 1983, they've cleaned hundreds of thousands of houses and have a work quality ratio of 98 percent or above. It is one of the best house cleaning services in Plano.
---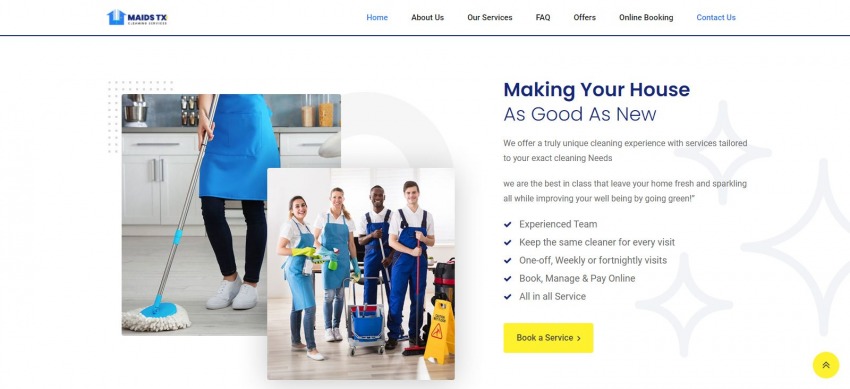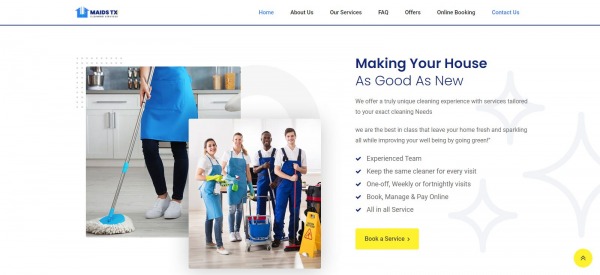 Plano, Dallas, and the surrounding regions are served by MaidsTX Services, a premier home cleaning service. They promise a flawless clean every time. They urge you to compare their work and costs to those offered by other cleaning companies in the region. They'd be delighted to gain your confidence by providing you with the greatest house cleaning and maid services available.
Their expert commitment to each customer's unique requirements is what sets them apart from the competition. Their prosperity depends on this. Regular visits and inspections of our contracts provide the highest level of client satisfaction via meticulous attention to detail.
They can clean, neaten, and tidy just about any space. Maids TX provides a genuinely one-of-a-kind cleaning experience by tailoring services to your specific cleaning requirements. They are the finest in their class, leaving your home spotless while also boosting your health by becoming green.