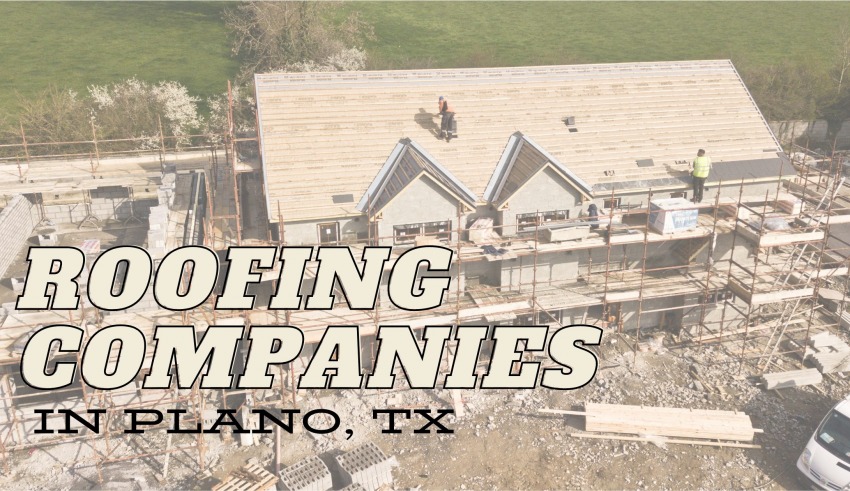 Roofing companies in Plano are needed by both homeowners and commercial buildings to fix any issue that their living or workspace might have. The roofing does not just include installing a roof, but a myriad of other issues that need to be fixed as well. One of the commonest issues is roof leaks, as water can drip down slowly and cause a lot of damage to both the roof and your property. These problems are not that visible until they cause major damage, so it is important to get the roof checked regularly. Here are Some of the best roofing companies in Plano.
You can't do it from the ground, you would have to go up to see the condition of the roof. You can also examine the underside of the roof for water damage or stains, which should give you an idea of how much fixing it needs. Roof caps can be dislodged, needing repair services to put them back in position as well. You could also opt for a complete replacement if it keeps getting dislodged.
The roof valleys and drip edges that drain the water from the roof can become loose and water may fall on one edge of the home, instead of the drain. Such things need to be fixed as soon as possible, or it could lead to major damage to your home and roof as well. You will have to spend unnecessarily on something that could have been easily prevented.
Take a look at the list of the best roofing companies in Plano, Texas, to help you decide which shop can be your go-to for such problems.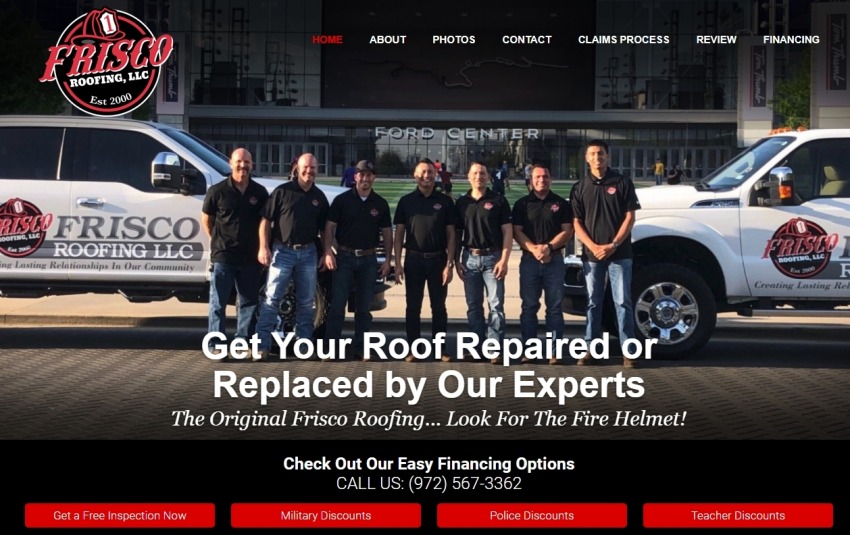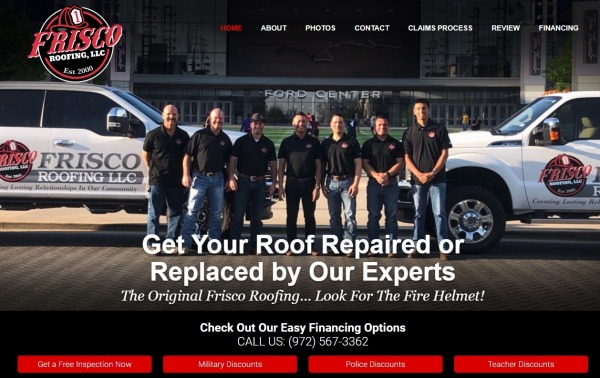 Established over two decades ago, this company has managed to rise through the ranks by providing excellent service to its customers. They are a locally operated store with certified professionals working with them, so your home will be in good hands. They have all the roofing services – fixing the roof caps or installing an entirely new roof, they will do it for you easily. Frisco aims to create lasting relationships with their clients which will show that they care about their clients and the business both. They have won the hearts of hundreds of customers with their splendid services.
On their website, you can see the profiles of their technicians, who talk about their qualifications and family. You can view their portfolio on their website to see the kind of work they have done in the past, and whether it has been to your satisfaction. They even have reviews of clients on their website – which is something not most companies have. Their clients have raved about them a lot and many of their customers come through referrals. They will even help you out with the insurance claims process which can save you a lot of money.
---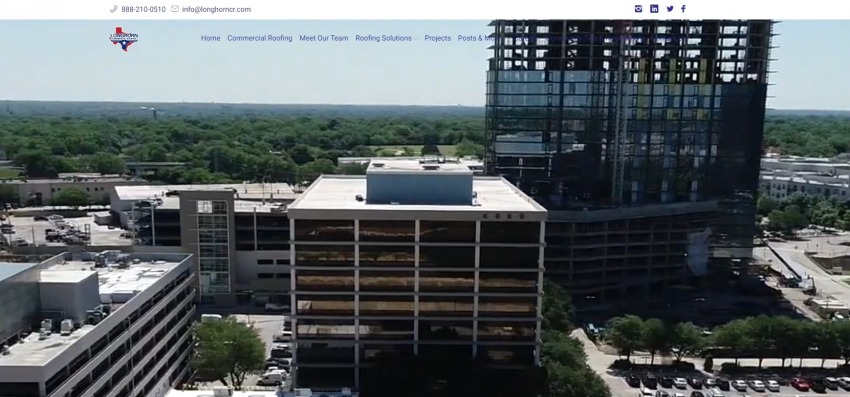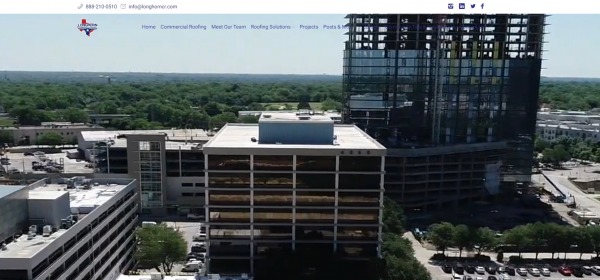 Longhorn Roofing focuses on commercial roofing services mainly and has a vast portfolio of clients who have been highly pleased with their work. They are even planning on expanding to the residential sector in the coming year, and we believe that this new venture will be a hit just like their commercial roofing one. They do everything from roof repairs to inspections, so you just need to give them a call. Longhorn have professionals and experts on their team who have all the required qualifications, and who will put customer satisfaction above all else.
Their website is built well, with their feature where customers can chat with their support executives. They even have their portfolio upon it, so you can view their past work before hiring them. Their clients come through referrals because they have managed to help out all their customers rather well, which makes it easy to keep the chain of referrals going. Their customers have nothing to worry about once they hire them, they help out with insurance claims and also offer great discounts.
---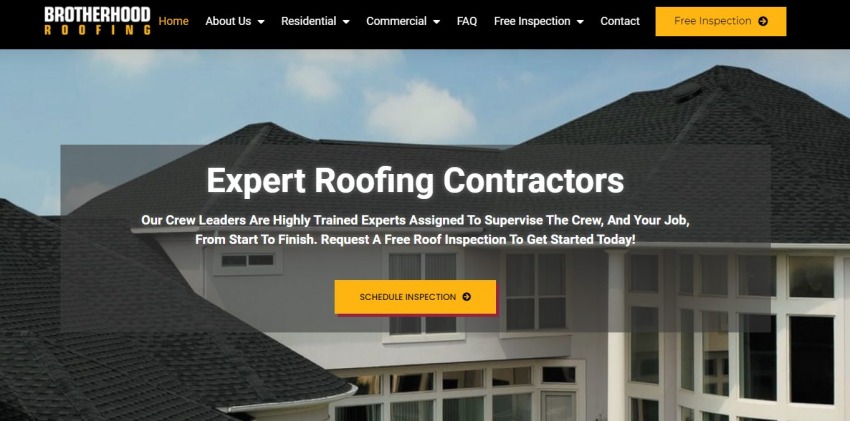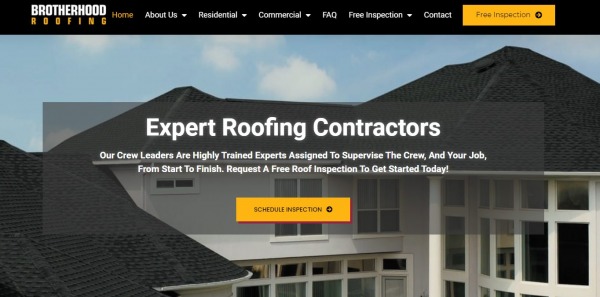 Brotherhood Roofing companies in Plano has been in the business for over 25 years now, making them experts in this industry. They have certified professionals who will take a look at your home and do the repairs at your convenience. Some of the services they have are roof installation, gutter installation, downspout installation, gutter cover installation, and flat roof services. They are experts in storm restoration and insurance claims as well, so you can certainly check out their services once. You can get in touch with them for a free roof inspection too, they will do the job just right at a time that is suitable for you.
On their website, you can check out the work they have done in the past, as they have extensive expertise in the field we are sure that their portfolio won't disappoint you. They know that every roof has a lifespan and despite proper maintenance, they sometimes give out. You can schedule a regular check with them so that more damage won't be caused to your property because of a damaged roof. They even do skylight installations and painting services, so you won't have to look elsewhere for your roofing requirements.
---


Firefighter Roofing is a family-owned and operated company that's been in the area for over 15 years. Being old school, they are one of the few companies that treat customers with the respect they deserve. They get the job done efficiently and on their own time. They take your requirements and budget into account before starting their work. Firefighter Roofing also believes that running a business isn't just about the money, but also about building lasting relationships with their clients and making the community a better place. They can be your go-to roofing companies in Plano if you try them out once.
Their services include roof repair, leak repair, roof inspection, and re-covering among other services. They offer military discounts too. People come to this center through referrals and have been satisfied with the work done keeping the chain going. If you need a professional service center, this is the one to go for. You can view their portfolio on their website, along with the reviews given to them by their clients. You can ask them any questions you have regarding the services and the work to be done on your roof, they will help you out gladly.
---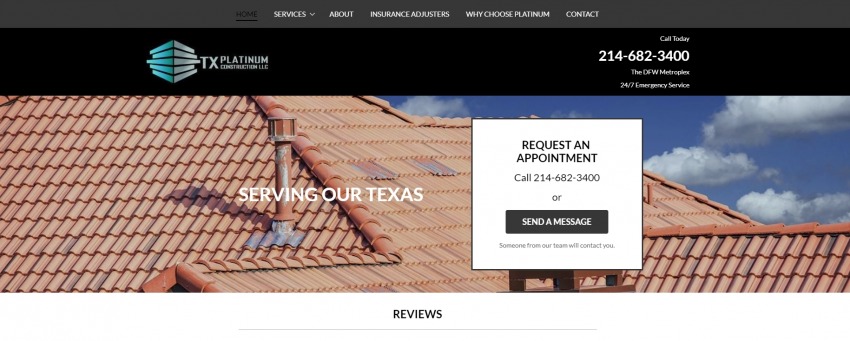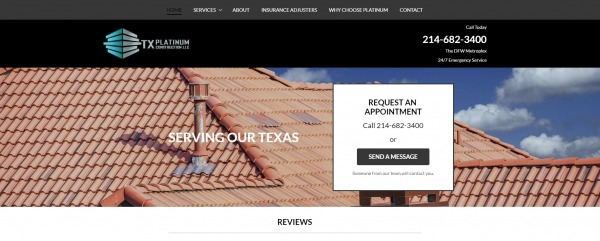 TX Platinum Construction is a popular choice among the residents of Plano, Texas when it comes to roof repairs. They give importance to the fact that home improvements shouldn't cost a fortune to anyone who wants to do it. Their prices are reasonable and don't burn a hole in your pocket. They have developed their services to fit a certain budget, so we are sure that you would be thrilled with their services if you hire this company. They even have energy-efficient home improvement solutions, so you are even taking care of the environment if you opt for this company.
Even, They accept insurance claims, you just have to work with their helpful customer service to work through it. They will even help you through the claims. The company offers a free home inspection with every service you order, so you can get your home checked at no additional cost to you. They also have amazing discounts for senior citizens and first responders, and also military men and women get a whopping 10% off on their orders. This makes them one of the most popular roofing companies in Texas, and a choice that you can certainly trust.
---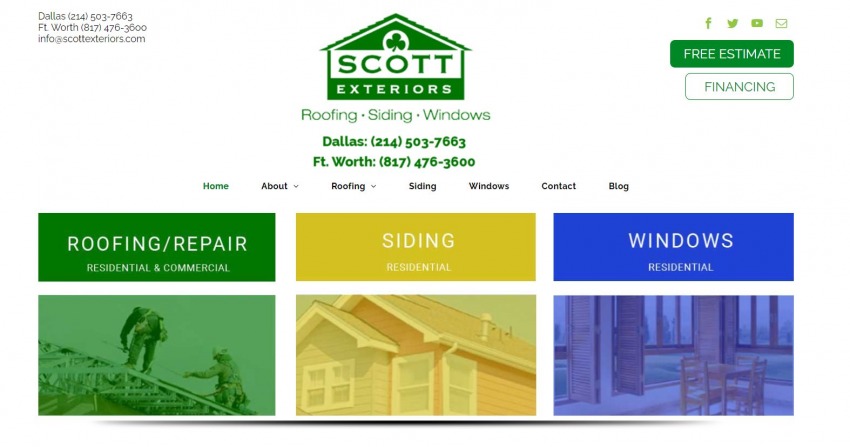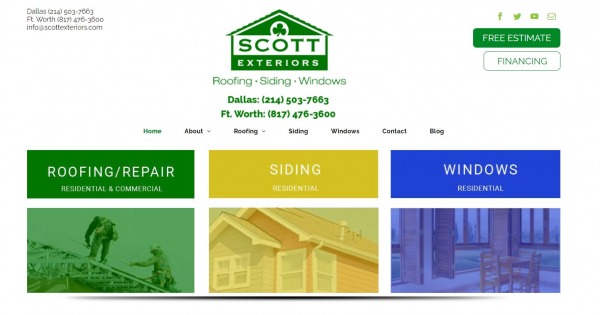 One of the leading roofing companies, Scott Exteriors provides a variety of services except that as well. They do work like roof installation, window installations, siding repair, skylight repair, roof inspection, and roof sealing among many others. They are a fully licensed and insured company that can take care of all your roofing requirements. Their website has a portfolio of the work they have done in the past, and even the reviews they got for it. They have a great team of certified experts who are helpful and even give you tips on how you can maintain your home better.
One of their customers said that while they were doing the repair work, the neighbors were so impressed that they asked for the contact information of the crew. By assigning a quality control person, they went above and beyond to ensure that the work they do will be of the best quality and match their client's expectations. Everyone who worked was very professional, which earned the company many loyal clients. You will save more money by letting them do a thorough inspection, instead of waiting for the damages to occur.
---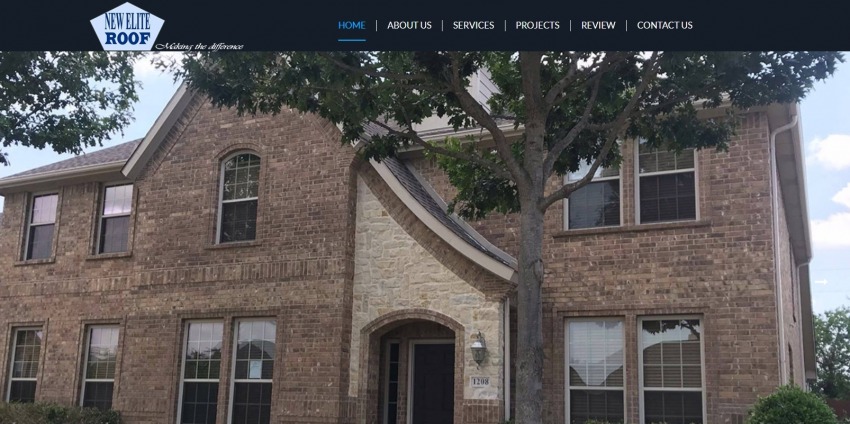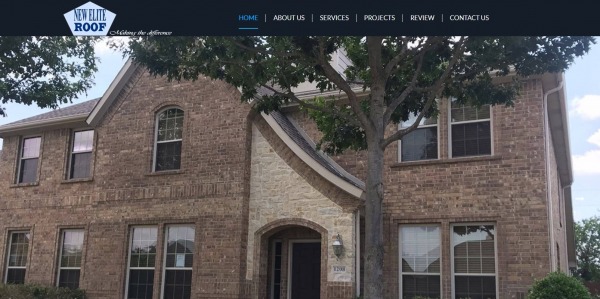 A brilliant initiative, New Elite Roof is one service center that finishes most jobs in just a day. This is a great option for those who have less time and want the job done quickly without compromising on the quality. You also get a lifetime warranty and amazing customer service. They offer roof replacements, gutter repairs, roof cleaning, inspections, and many such services that can keep your home looking good. They have over 10 years of experience in the industry so you know that your home is in the right hands.
Even, They have worked with both commercial and residential buildings, and even offer a free inspection with every service that they do. They offer military discounts and discounts for senior citizens as well. They believe that each project is unique and requires a lot of precision and work hard to achieve their client's vision. Also, They accommodate your demands and help you figure out how to fit them into your budget by making valuable suggestions. Their customers have said that while cleaning the roof, their workers made sure that the roof was structurally sound as well, with no extra charge to them, showing that they care about giving a good service.
---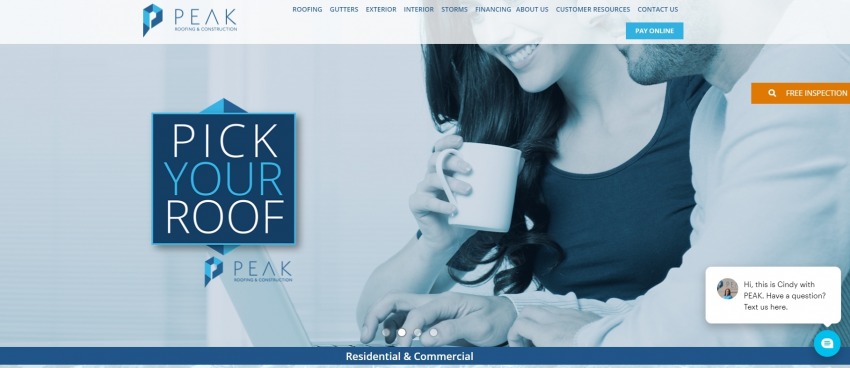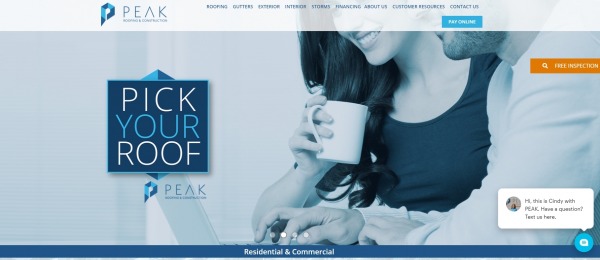 This is a locally owned and operated roofing company that has many clients due to its wonderful way of servicing and taking utmost care about customer satisfaction. They do the total roof care package for both commercial and residential buildings. Their team even does the sliding glass, skylight, and gutter repairs, so that their clients get the full deal with one company instead of going to different places for some service. The company was established in the year 2012 and has been rising through the ranks ever since then with the quality of its customer service.
The company has professionals in the field working for them, who love what they do. They guarantee that once you opt for their services, you won't be looking anywhere else. Even, They help you out with the insurance claims and their helpful customer service representatives help in managing the work in your budget. They aim to be at the top of the field, by making their clients happy with their work and giving them no chance to complain. You can see their portfolio on their website, which should give you enough reason to hire them for your home.
---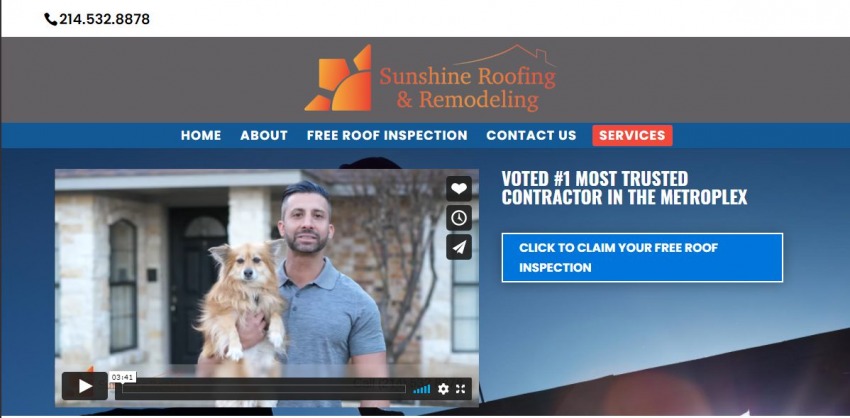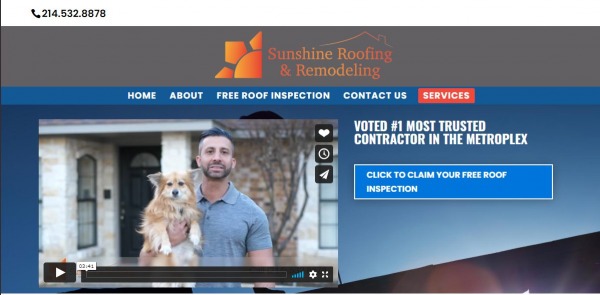 Sunshine Roofing and Remodelling is a wonderful company that has been around for a long time now. They have roof services, gutter installation, inspections, and whatnot. One of their clients said that they handled all the inspections of their home with utmost ease and gave good suggestions, instead of ripping them off for an unfair amount. They even gave suggestions on colors, which was a huge help as the house looked like it had a new lease of life after the color of the roof was changed to a more modern speckled grey instead of a boring brown.
Other clients have also claimed to love their services and keep returning and referring them to others. You can get a free roof inspection from them, by scheduling it at a time of your convenience. You can also check out their amazing website that will give you an idea of the kind of work they do in the community. They guarantee that their clients will be 100% satisfied and looking at their track record, we are inclined to believe them.
---
Dwell Roofing And Exteriors
One of the leading Roofing companies in Plano, Dwell Roofing and Exteriors boasts of a vast clientele that trusts them with their homes. They do roof inspections, copper gutter installations, downspout repairs, gutter cleaning, flat roof services, roof installations, and whatnot. They have amazing discounts for both first-time customers and returning clients.
One client said that while other companies tried to stick the bill on them with just an inspection, or simply didn't cooperate with their insurance company, this was different. They had a remarkable experience when they hired this company and no longer had to worry about their home or other costs.
Also, They had fair prices and even helped with insurance claims, which is something every customer looks for. They even give you pointers on how you can care for your roof and home better, to prevent such damages.
Another client said that while installing a gutter, the company helped him through the process and cost, ensuring that they stay within the budget while doing the work. You can see their past work on their website, you will be happy to notice that many of their clients have praised them a lot and referred them further to family and friends.
---
Conclusion
Roofing companies in Plano should be provided by experts only, which is why we have helped you out by drawing up an entire list of them. These companies have specialists on their team with enough experience who can manage to do the job within a couple of days only, or in even lesser time.
Many of them offer free estimates, so you can compare them and try to find the one that fits your budget the best. They are very helpful and will let you know the details of their services as well, without making you feel embarrassed about not knowing your stuff. These companies offer services like roof replacements, fixing roof leaks, fixing roof valleys and drip edges along with positioning and installing roof caps.
Having a roof over your head will mean nothing if it is not maintained properly. You need to do regular checks of your home, either by yourself or by hiring someone, so that you can stay ahead of these problems and tackle them easily when the time comes to do so.
Roofing companies in Plano will make the repairs on your behalf, preventing excessive damage from occurring. You can rely on them for further repairs too if you are satisfied with their services. Having all roofing problems solved is very essential to maintain the look of your house.
We hope that we were of some help to you in deciding which Roofing companies in Plano you want to go with. All of them have been lauded by their clients, you just need to find the one that is the right fit for your home.