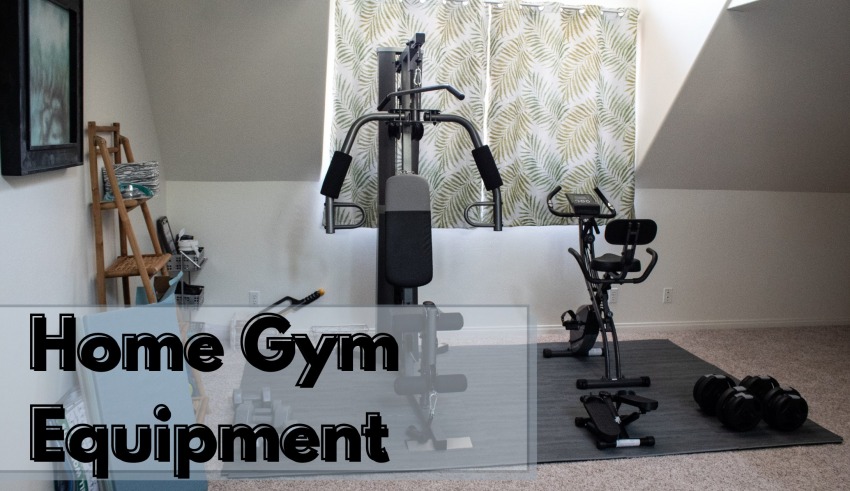 Over the past few years, the home gym landscape has changed drastically, encouraging people to dedicate space to work out in their homes or garages. Once considered a luxury, home gyms have become a part of every fitness trainer's life. Be it a simple yoga mat, weights, or high-end cardio machines, there are many portable at-home gym equipment is available in the market to suit everyone's needs. It is one of the best investments you can make to save time and money on yearlong gym memberships. Moreover, with a home gym, you get the freedom to work out anywhere at any time. If you are looking to set up a home gym but are confused about which one to buy,
we have curated a list of the 15 best home gym equipment .
Moulyan Portable Home Gym Equipment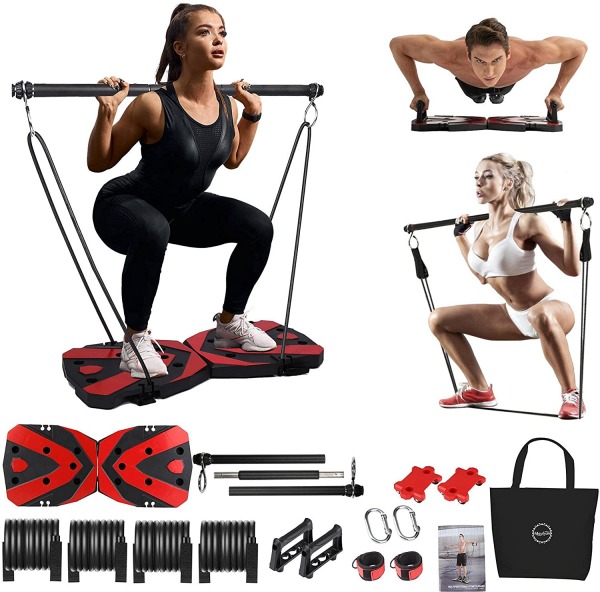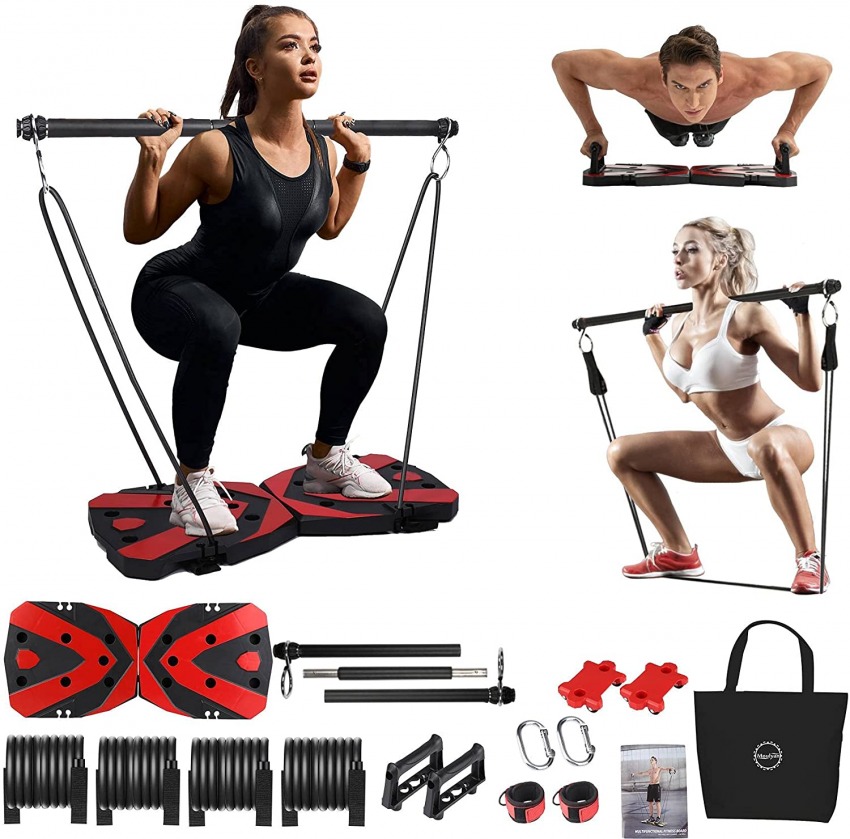 Moulyan home Gym Equipment is a complete fitness package that comes with 12 exercise accessories. These accessories include a push-up stand, triceps bar, heavy resistance bands, abs workout, Pilates bar, and full body at home gym equipment for both men and women.
All the accessories can be used individually or in combination to provide more possibilities for workout options. Moreover, these equipment have maximum versatility, which makes them perfect for deadlifts, squats, rows, presses, and many more workout routines from the comfort of your home.
Rated as the best home equipment by most customers, Moulyan products are perfect for people looking for a high-quality home workout station. All the equipment is made exclusively from structural aluminum alloy bars. Thus, eliminating the chances of deformation or snap.
Moreover, the base adopts a higher strength and hardness with a maximum weight capacity of 242lbs. This helps in performing more intense full-body workouts that'll train all of your six major muscles groups – the arms, shoulders, back, chest, abs, legs, and hips.
Whether you are a beginner or advanced trainer, Moulyan portable home gym workout equipment is the best home gym equipment to buy at just $129.99.
---
Sportsroyal Power Tower Pull Up Dip Station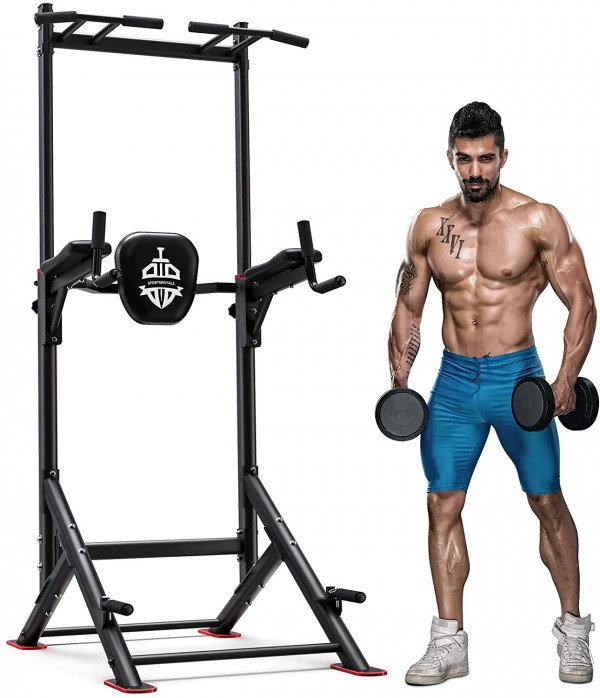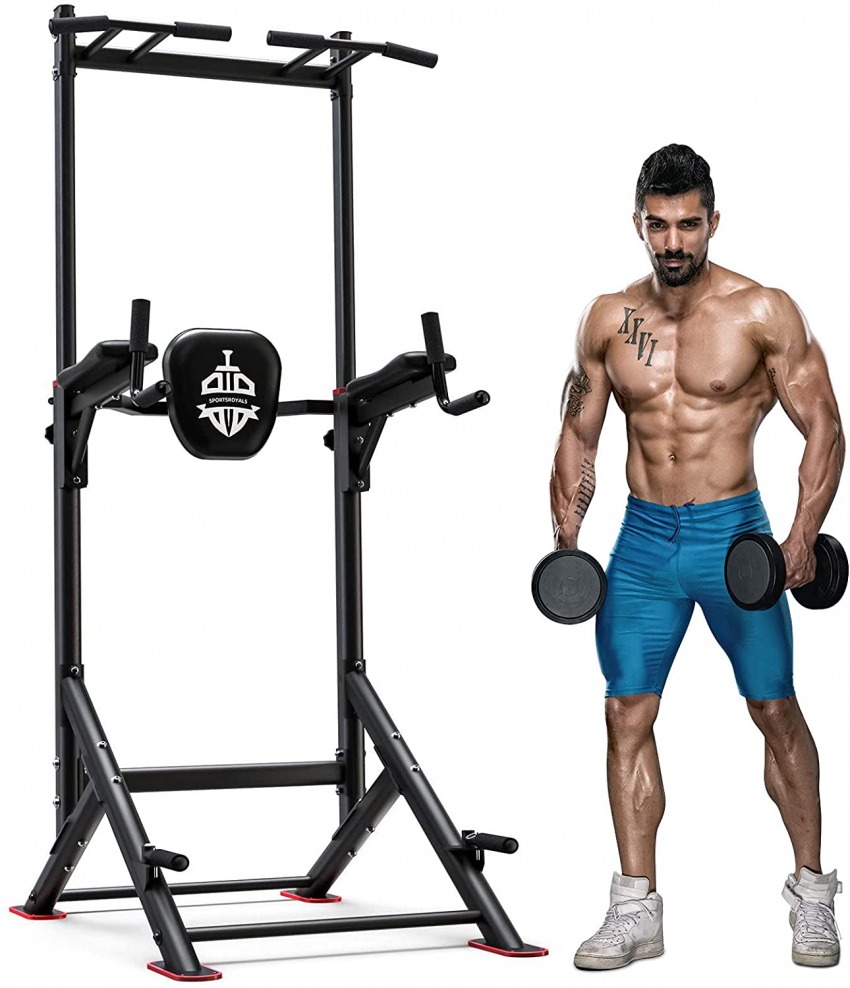 Next on the list of best home gym equipment is Sportsroyal Power Tower Pull-up Dip Station. It is an adjustable multi-function strength training at-home gym equipment made from 1.5mm thick premium steel tubing. This material is highly durable, corrosion-resistant, and bears maximum strength up to 440lbs.
It consists of 6 adjustment height levels, 7 backrest adjustment positions, 3 push-up customized angles, 10 degrees tilted anti-slip armrest and 4-in-1 station fitness equipment.
Additionally, the Sportsroyal Pull-up Dip Station comes with a unique dual triangular base on both sides, which provides double stability during workouts. Further, the three crossbar reinforcement makes this equipment even more stable.
The ergonomic design is customized to support a variety of upper body and strength workout routines like push-ups, pull-ups, leg/knee raises, and dips. Besides this, the adjustable handles in the pull-up frame allow you to perform multiple postures and exercises to shape your whole body.
---
Ativafit Adjustable Dumbbell Fitness Dial Dumbbell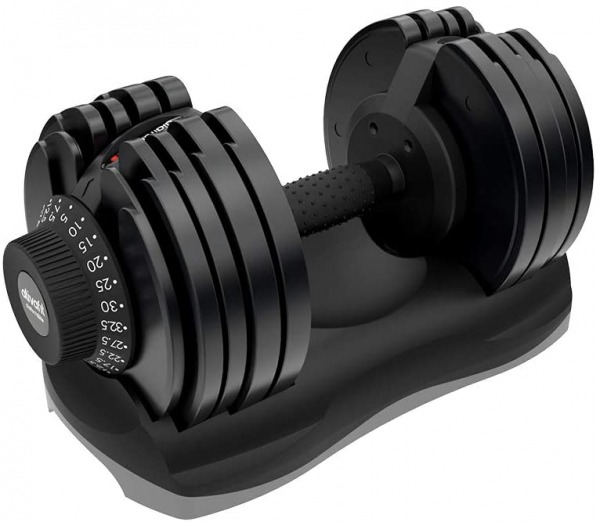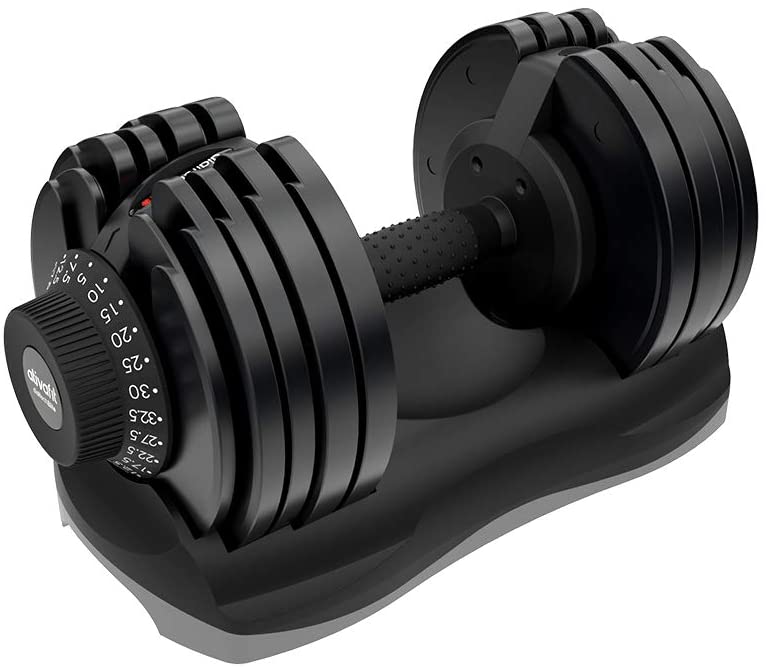 Ativafit believes in the core values of Freedom, Attitude, Confidence, and Energy. This company manufactures one of the best home gym equipment that trains your muscles and improves your stamina. Its adjustable dumbbell fitness dial dumbbell is one of the smartest at-home gym equipment that can be used to exercise every area of your body.
Be it lunges, shrugs, curls or raises, you can adjust this 71.5lbs adjustable dumbbell to switch weights quickly according to your strength and needs. It is a compact yet powerful at-home gym equipment that combines 17 sets of weights into one on the gratis plastic tray provided with the dumbbell. This occupies less space and gives you the freedom to store it anywhere in your home.
For just $243.09, the Ativafit adjustable dumbbell fitness dial dumbbell is one of the best home gym equipment you can buy.
---
The EnterSports AB Wheel Roller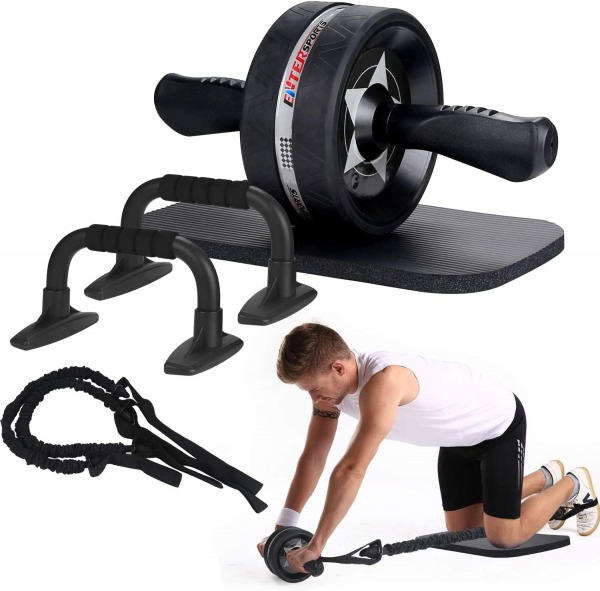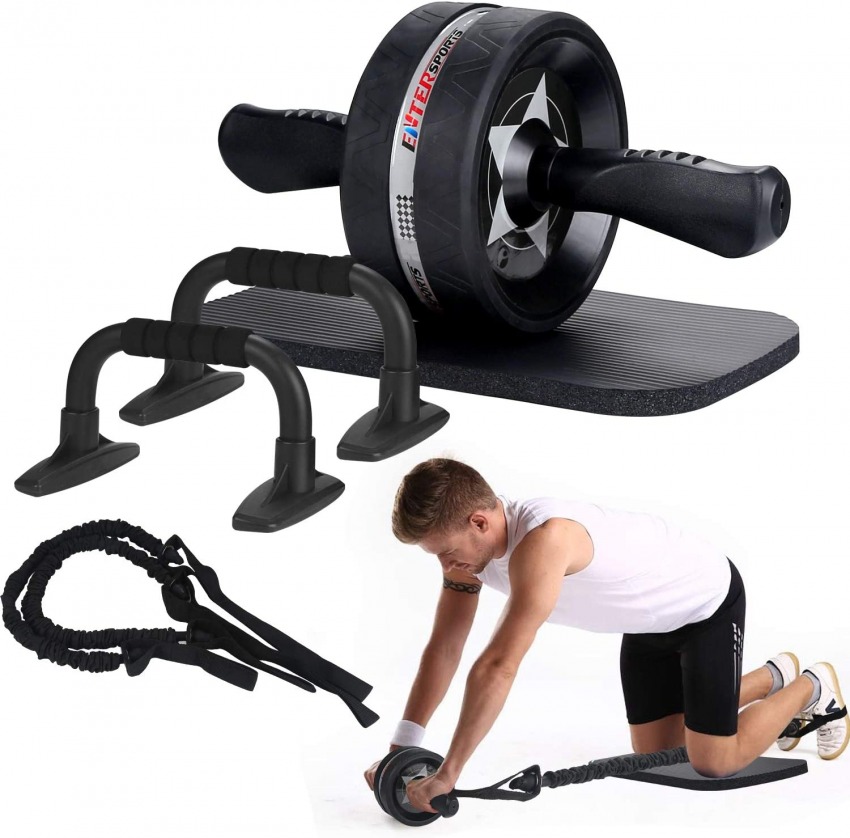 The EnterSports AB Wheel Roller is a 6-in-1 exercise roller wheel kit that comes with resistance bands, a knee pad, and padded push-up bars. This allows you to train your muscles and get the most out of your workout in a short time.
The roller wheel is around 3.2'' width that provides superior stability and unrestricted movements while performing intense workouts. Further, it can withstand up to 600 pounds of weight without wobbling. Thus making it one of the best home gym equipment for abs workouts.
Looking at the built of the equipment, it is made from stainless steel, non-slip TPR, and durable PVC which provides maximum strength, comfort, and safety. Moreover, you can use it anywhere in the home without the fear of damaging your carpet or the floor.
The ab wheel roller is primarily best for core training including your hips, flexors, shoulders, and back. This at-home gym equipment not only helps to strengthen your lower back but also reduces the risk of muscle injury. What makes this the best home gym equipment is that you get all of this at just $26.98.
---
Kitclan Dumbbell Set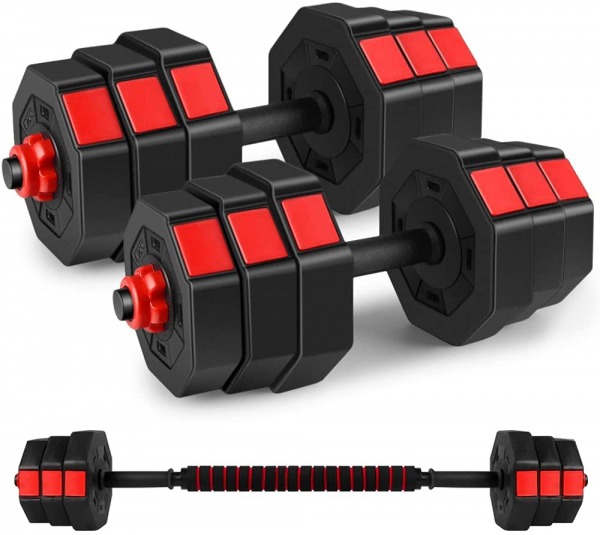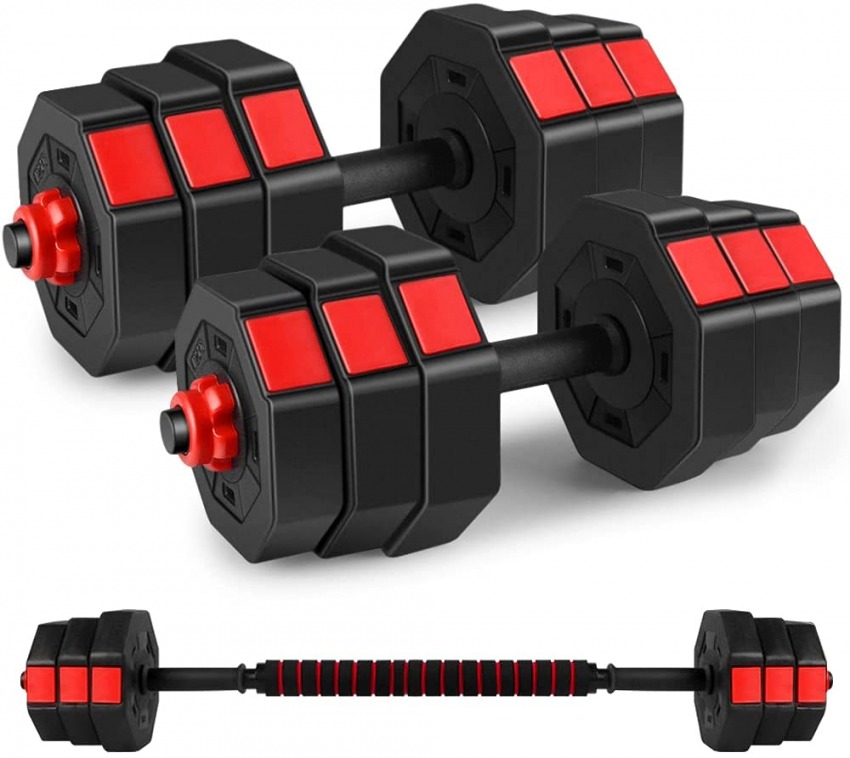 Another powerful dumbbell set on our list is the Kitclan 44lbs/66lbs dumbbell set with adjustable weights. It is one of the best home gym equipment for both men and women who like to customize their weight settings to meet different training needs.
The Kitclan dumbbells are made from polyethylene and cement mixed substances. This kit consists of unique octagon-shaped dumbbell plates that provide better stability and prevents rolling. Even the handles of the dumbbell are coated with rubber to prevent slipping from hands. It also has a connecting rod that can be assembled as a barbell as well to help improve leg muscle training. The connecting rod is covered with foam to provide a comfortable grip.
Kitclan dumbbell sets are perfect for weight fitness while running, walking, and cardio exercises. It helps in burning extra calories, and belly fat. It also helps in physical therapy. Further, you can use this home gym equipment to train various areas of your body such as legs, knees, buttocks, abs, triceps,  and biceps.
---
TRX PRO3 Suspension Trainer System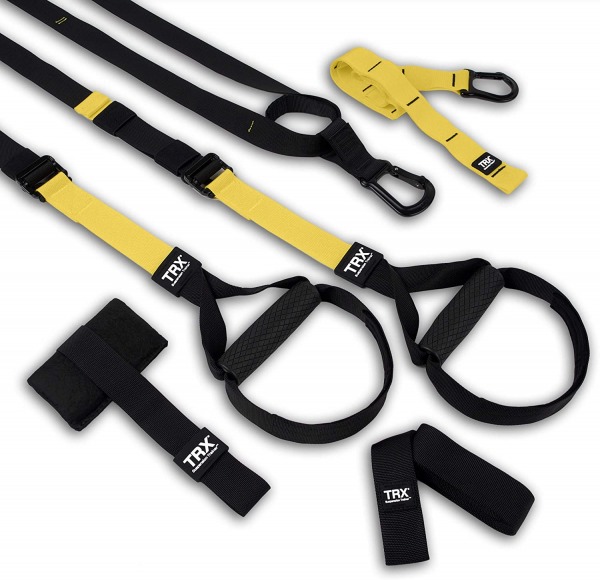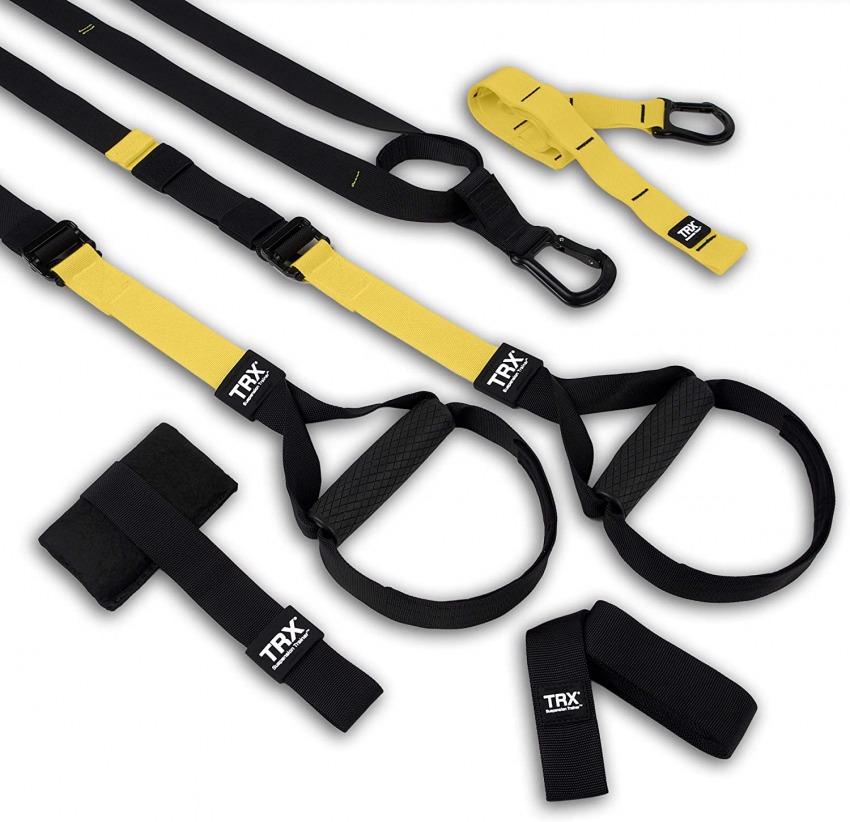 Looking for intense full-body workout gym equipment? Then TRX PRO3 Suspension Trainer System is the best home gym equipment you can get. This at-home gym equipment is popularly used by most professional trainers, pro athletes, fitness pros, and also worldwide Olympians.
All the equipment in the TRX trainer system is tested for safety to support up to 350 pounds of weight and 900 pounds of resistance. To help you get the best out of this equipment, TRX provides 8 video workouts and an 8-week workout program to train you completely. These videos give you the ability to challenge your potential and achieve your fitness goals at home.
TRX trainer system consists of 3 suspension anchors made with the highest grade webbing. The durable textured rubber grip handles and padded foot cradles provide a comfortable grip while working out. TRX at-home gym equipment effectively helps in building muscle, improving flexibility, increasing endurance, and burning body fat. You can get this trainer system on amazon at $219.95.
---
Viajero Pilates Bar kit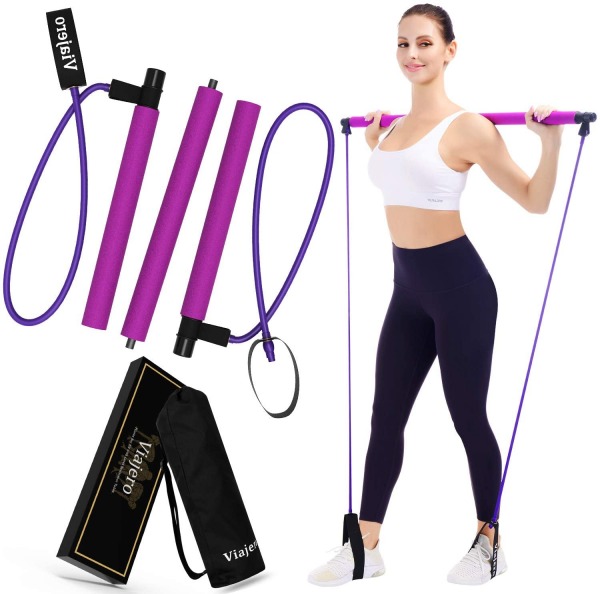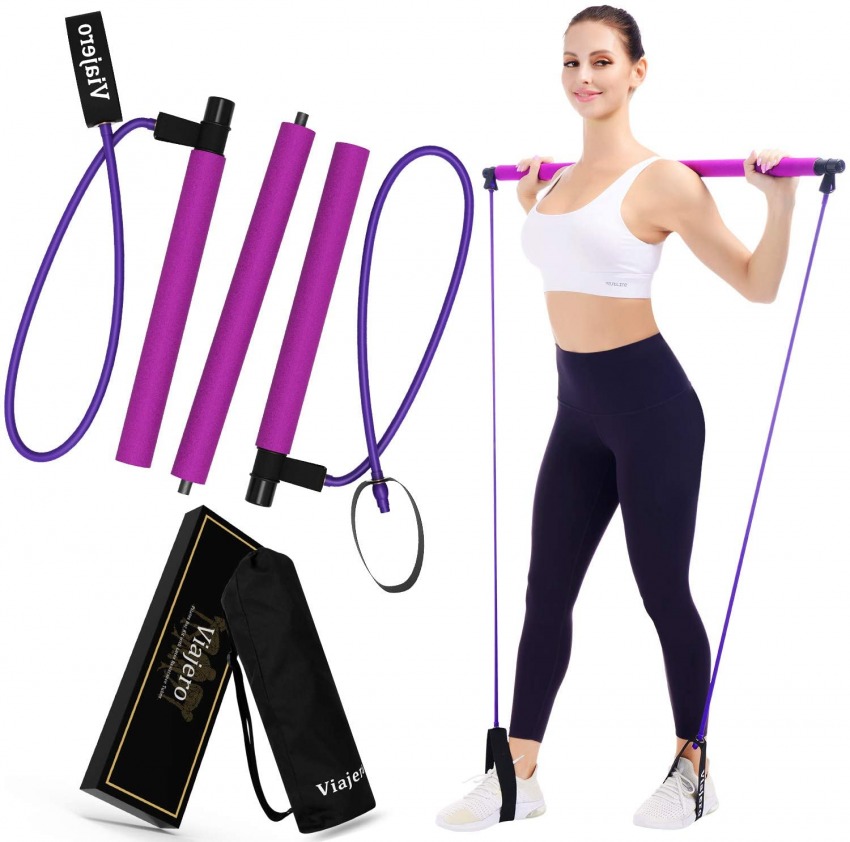 For all the Pilates lovers we have amazing at-home gym equipment with easy storage and portability. Viajero Pilates Bar kit is uniquely made with 2 natural latex resistance bands and 3 section assembly removable design. This acts as multi-functional home gym equipment that trains the full body.
The 3 section assembly consists of removable 15-inch bars made from a solid iron pipe that provides durability and support. You can use it individually or assemble the three sections into a 46.4-inch long bar by simply twisting the ends together. The rods also have an EVA foam cover that provides a comfortable, non-slip, and anti-sweat grip while working out.
Coming on to the natural latex resistance bands – these can be stretched around 6 times their length without any breakage. Thus providing maximum tension for performing a variety of yoga strength exercises. Viajero Pilates Bar is very versatile and can be used to build muscle, shape your body, lose weight, and for cross-fit training. Be it squats, curls, bench press, or rowing, you can perform all home gym exercises using this equipment.
Lastly, what makes this Pilates bar the best home gym equipment is its lifetime warranty and a complete workout guide e-book and video to assist you in your workouts. Besides this, its super affordable price of $25.98 makes this a must-buy.
---
BRAYFIT Full-Body Workout Door Gym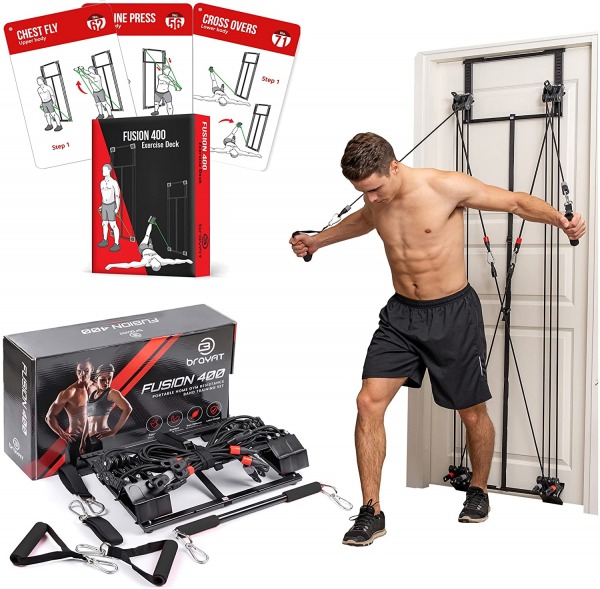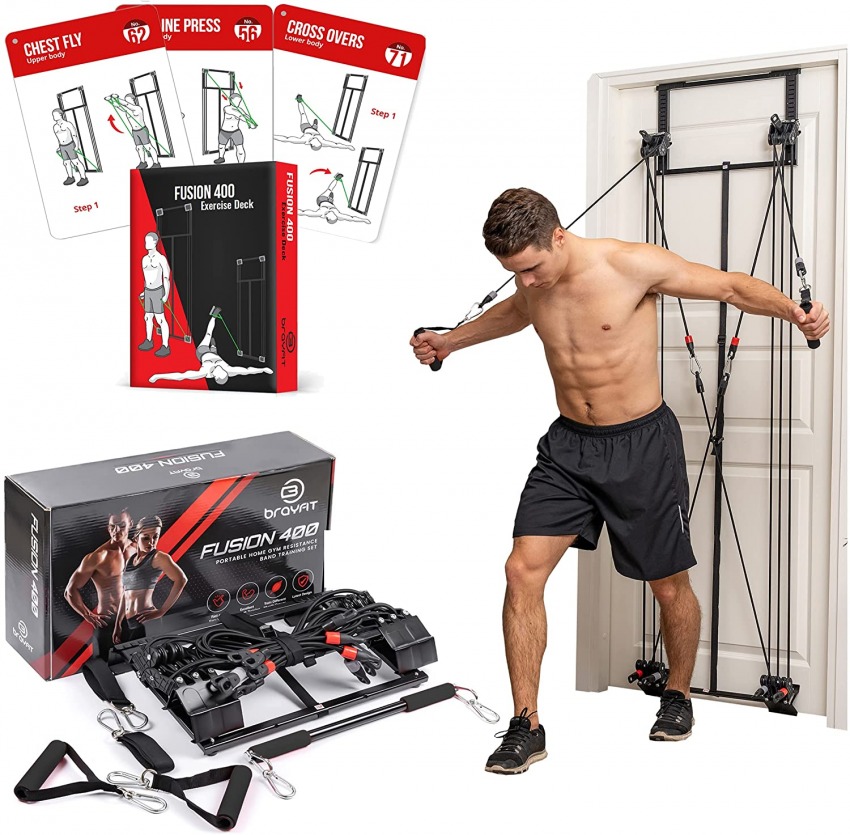 Adding to the list of best home gym equipment we have a BRAYFIT full-body workout door gym with well-crafted power cords, stranded rubber resistance, and padded ankle and wrist straps. Each attachment consists of an external webbing that provides extra support and stability.
Additionally, it also consists of a straight workout bar for squats, curls, and an innovative exercise training deck to complete your full-body workout. Priced at $129.85, the BRAYFIT door gym is one of the best home gym equipment suitable for all fitness levels.
In just 15 minutes or less, you can perform full-body workouts, build muscle, burn fat, increase endurance and improve flexibility. The cross binding cables further assist in rowing to build your chest muscles. Once you buy this at-home gym equipment, you won't need to purchase any additional accessories.
---
SHINYEVER Portable Home Gym Workout Equipment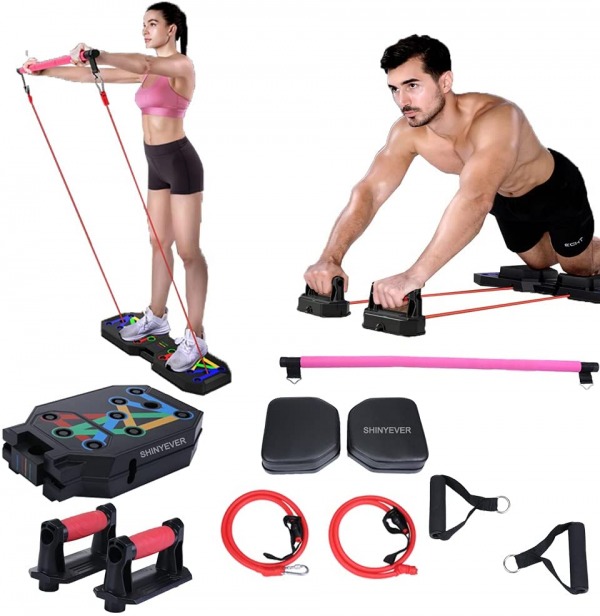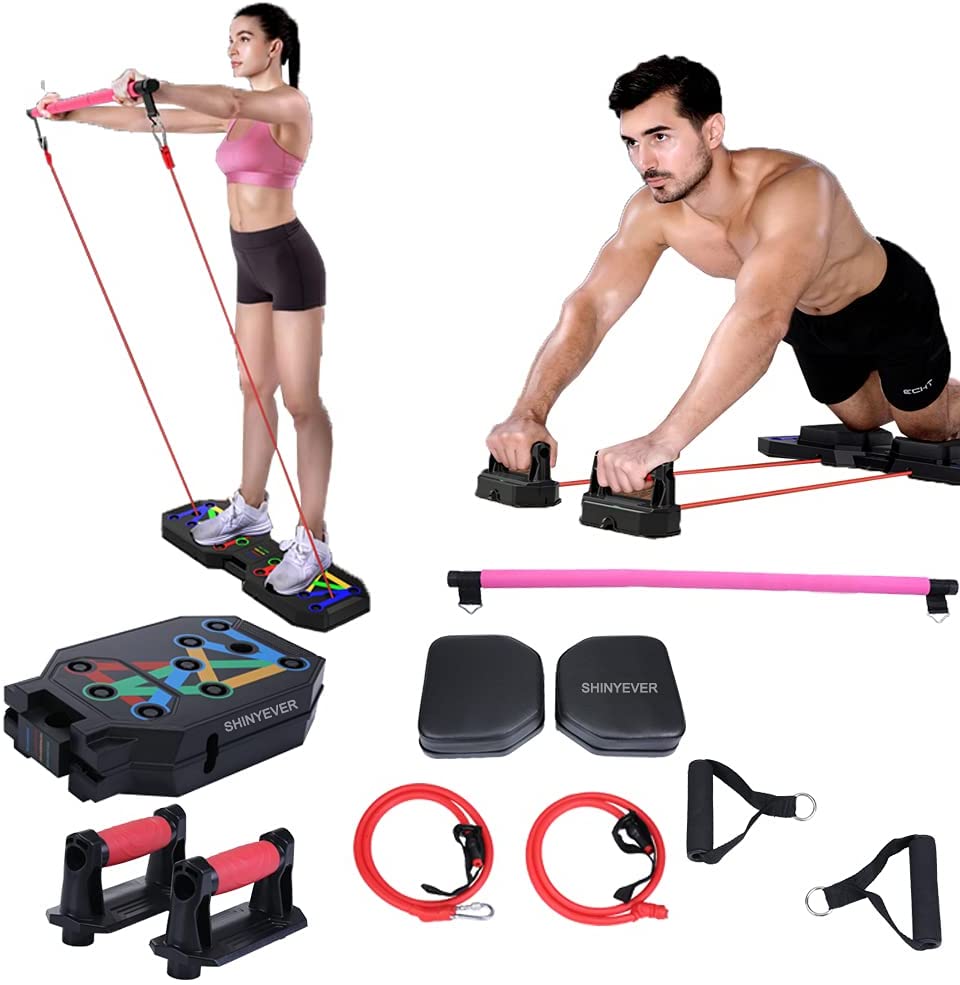 If you are looking for ideal portable at-home gym equipment, SHINYEVER is the best option. Considered as one of the best home gym equipment, it comes with a set of fitness tools and resistance bands such as a Pilates bar, elastic ropes, push-up board, knee pads, and foldable base.
You can use this equipment for resistance training, cardio training, improve flexibility, increase endurance and burn body fat. The premium anti-slip and durable material help to maintain stability. Moreover, it prevents deformation of the tools which makes it suitable for heavier exercises. The maximum capacity that the base can withstand is 300lbs.
At just $59.99, you can purchase portable home gym equipment that can be used in your home, office, and beach.
---
Mikolo Fitness LAT and Lift Pulley System for home workout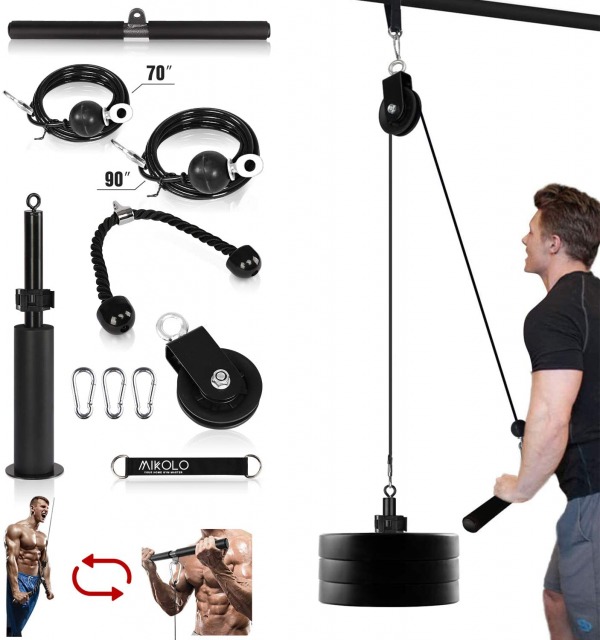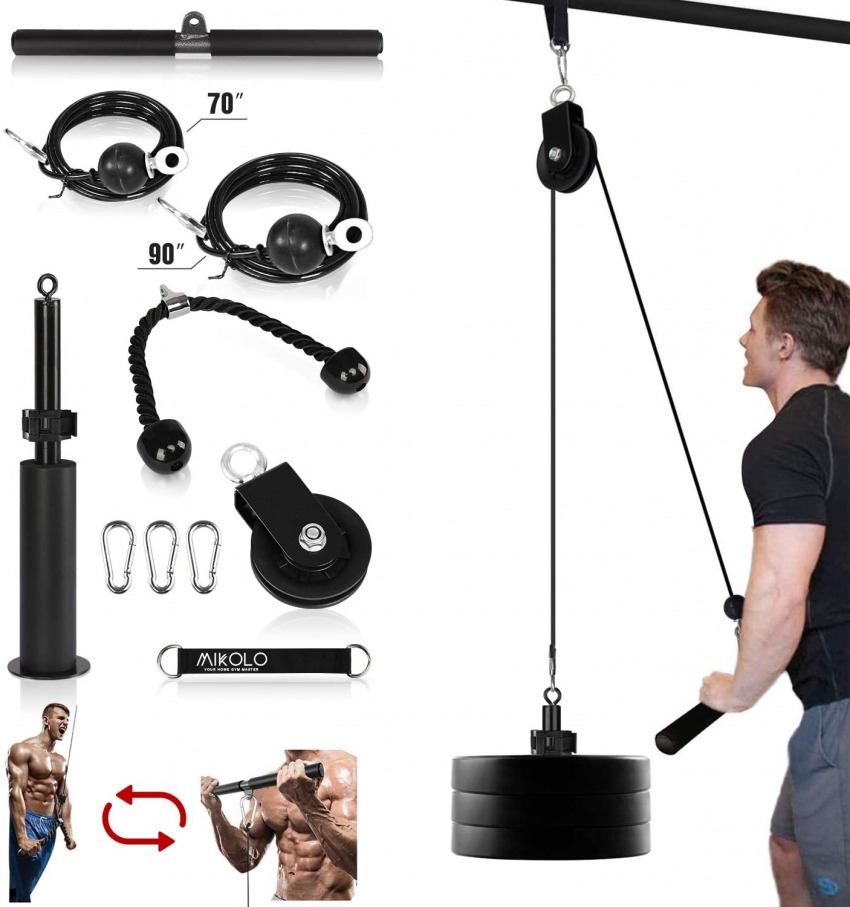 Next on the list of best home gym equipment is Mikolo Fitness LAT and Lift Pulley System with a 70" and 90" high strength sheathed dual cable machine, and an upgraded loading pin for a bicep curl, triceps pull down the back forearm, and shoulder workout.
The break-proof ball design of the cables and heavy-duty alloy buckle prevents the rope from breaking. Moreover, it provides adequate protection. Additionally, the upgraded loading pin with barbell clamp helps to fit standard and Olympian weight plates (up to 280lbs).
This at-home gym equipment comes with 2 exercise modes – pull down and lift, along with detachable handles that allow you to train multiple areas of your upper body. The silent pulley ensures no extra noise during your workout, making it the best home gym equipment at just $57.99.
---
BodyBoss 2.0 – Full Portable Home Gym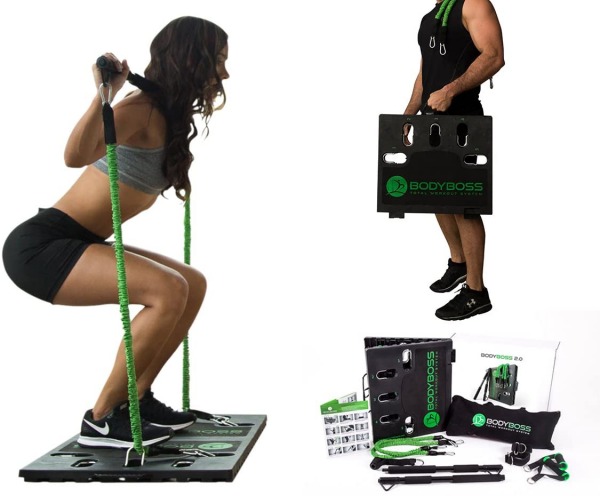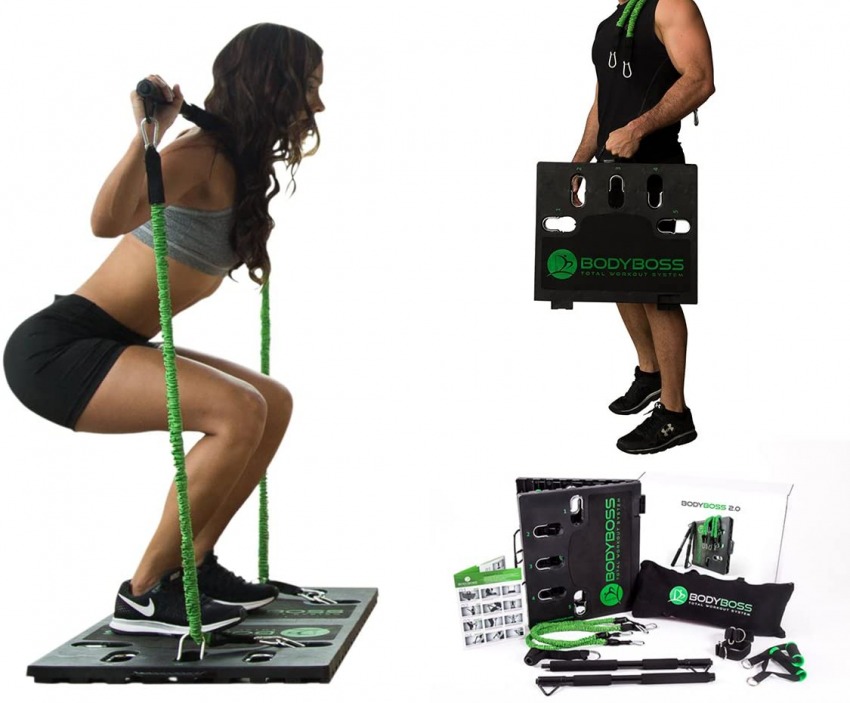 This fully portable home gym workout equipment is designed to simulate all the bulky machines you see at a gym. It is the World's no.1 portable home gym equipment that helps in upper body workouts, lower body workouts, boxing routines, individual body part exercise, and cardio resistance training.
Ranging from $107.90 – $250.02, this at-home gym equipment may be slightly expensive as compared to other tools. However, it is versatile and helps you reach your fitness goals every day from the comfort of your home.
It is compact which makes it easy to carry anywhere. You can take the fold-up vector fit platform and attach the cloth-covered resistance bands and handles to perform more than 300 different exercises.
---
Fusion Motion Portable Gym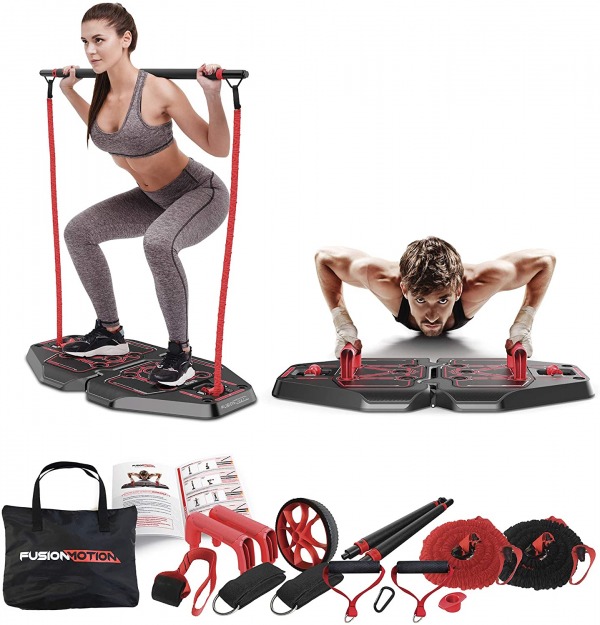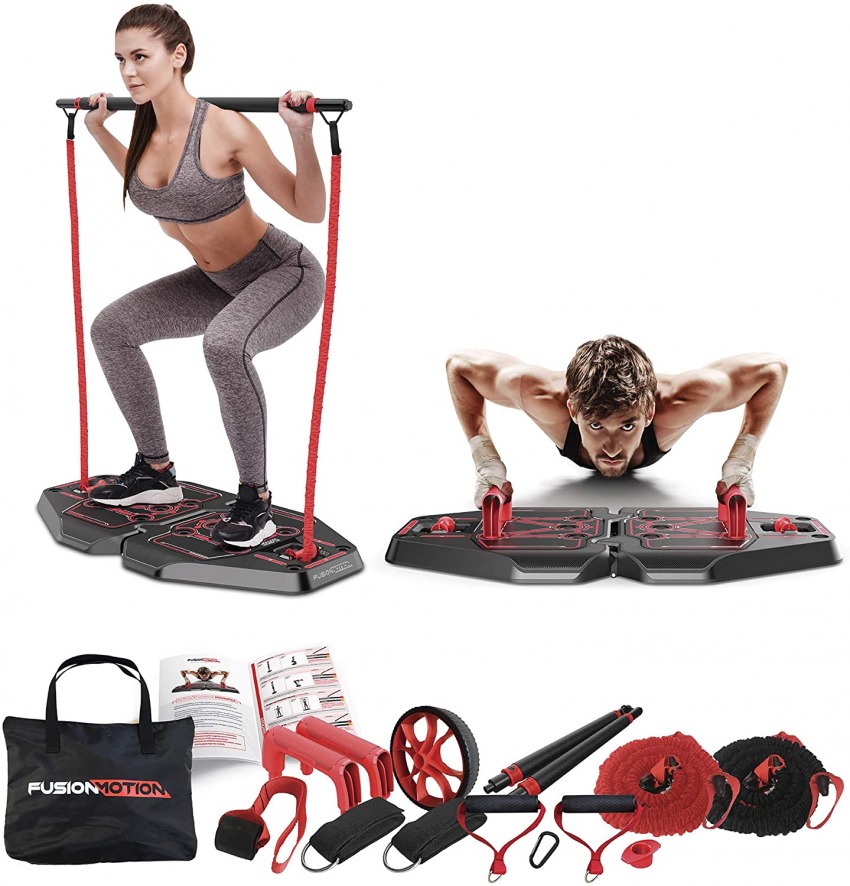 The Fusion Motion Portable Gym comes with 8 different accessories that help to maintain your regular gym routine. These include triceps bar, ab roller wheel, heavy resistance bands, pulleys, and more. Use these attachments to work on your arms, legs, and butt. Moreover, with the static and dynamic handlebars, you can achieve perfect push-ups to strengthen your core. The ab roller wheel is designed to burn your belly fat and tone your abs.
Besides this, you also get a heavy-duty door anchor and dynamic pulse attachments that assist in hardcore resistance and cardio sessions. All the accessories are made from structural polyethylene that can withstand a maximum of 290lbs during intense workout sessions. You also get a detailed instruction guide that helps you perform over 200 different exercises to shape your body and tone your muscles.
Fusion Motion Portable Gym is one of the best home gym beginners as well as advanced trainers.  With a lightweight folding base and easy carrying handles you can tone, shape, and firm your whole body anywhere in just 20 minutes or less. Get your hands on Fusion Motion Portable Gym at $129.99.
---
Luyata Ab Roller Wheel kit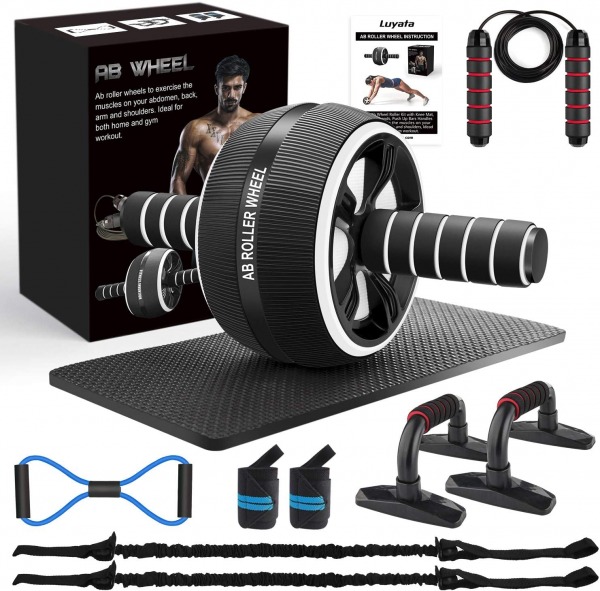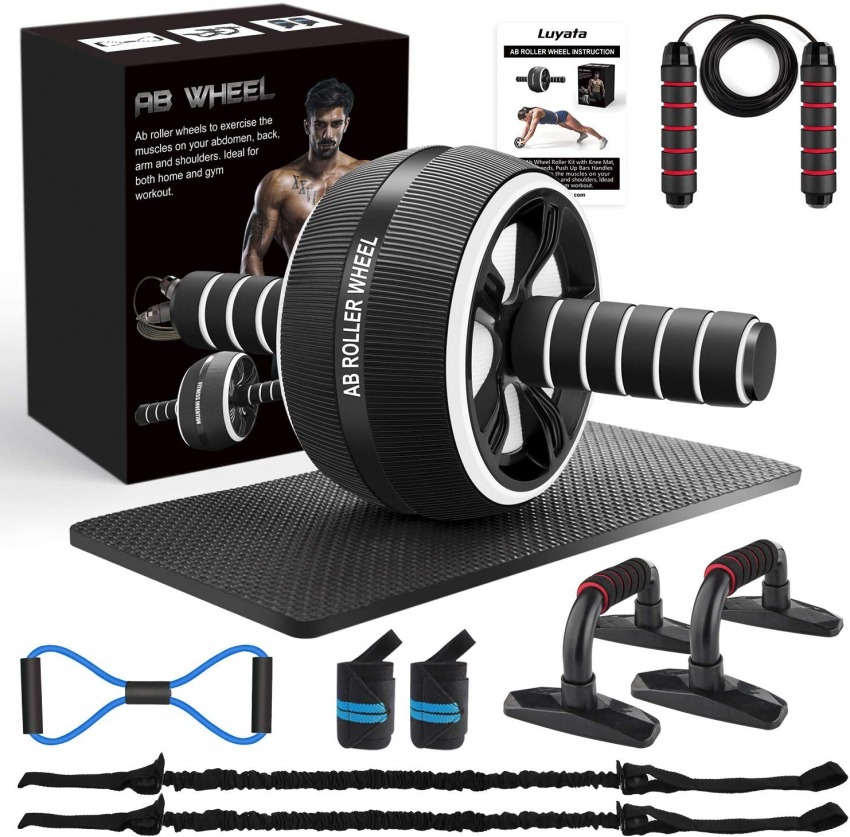 The Luyata ab roller wheel kit is a super-comprehensive exercise set that aims at building stronger and bigger abdominal muscles. This kit consists of one ab roller wheel, a thick foam knee mat, 2 resistance bands, 2 push-up bars, and 2 wrist wraps. Along with this you also get an 8-shaped stretched band, jump rope, guide book, and a gift box package.
The ab roller wheel is ultrawide with 3 thick wheel rollers that can hold up to 440lbs. Made from premium non-slip rubber and stainless steel, this home gym equipment ensures stability and durability. Moreover, it never damages the floor or carpet.
The other accessories like the resistance bands and jump rose are excellent for providing resistance on the way out and a controlled return. This allows your muscles to get the most out of each exercise in a short time. The price of the portable ab roller wheel kit is around $26.98 with a 30-day money-back guarantee and a 1-year warranty.
---
Brobantle Battle Rope for Home Gym Workout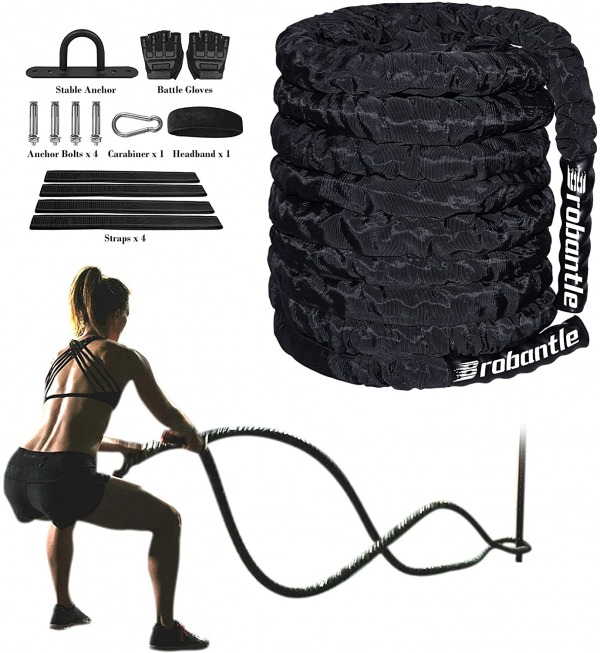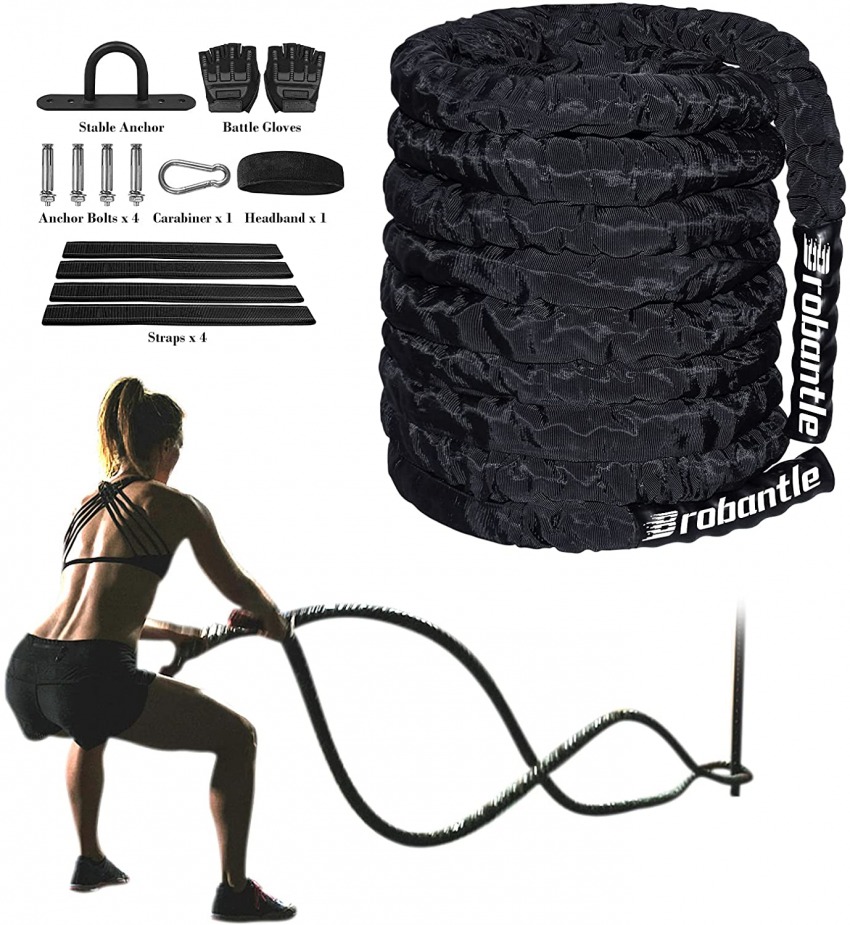 The Brobantle battle ropes are made from durable polyester filaments with an extra protective coating to provide a comfortable grip. Moreover, the battle ropes have high tensile strength which prevents breaking, loosening, or abrasion. It is the best home gym equipment for beginners a well as fitness enthusiasts.
With this equipment, you also get a complimentary pair of gloves and a sweat head towel to prevent calluses or bruises on the palm. Whether it is your home or outdoors, use this portable gym equipment anywhere. It is also one of the best choices for sports training. Use it alone or team it up with other at-home gym equipment for intense workouts.
Priced at $59.99, Brobantle battle ropes come with a 45 days money-back guarantee and a 1-year warranty.
---
Total Gym APEX  Indoor Total Body Equipment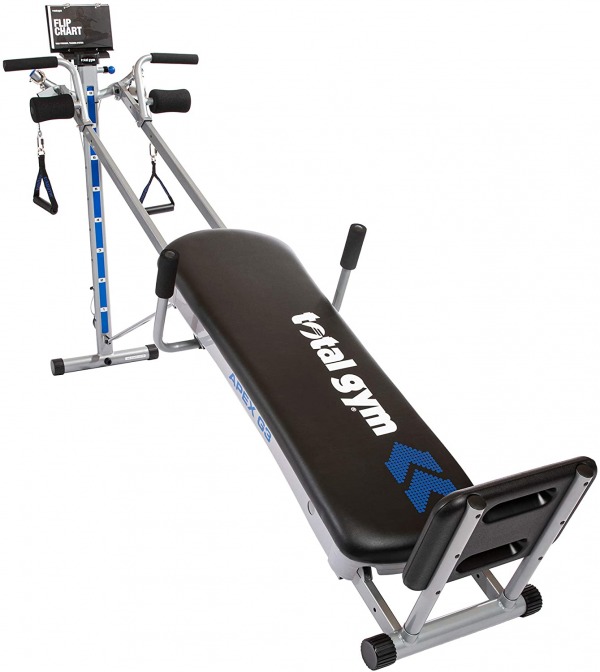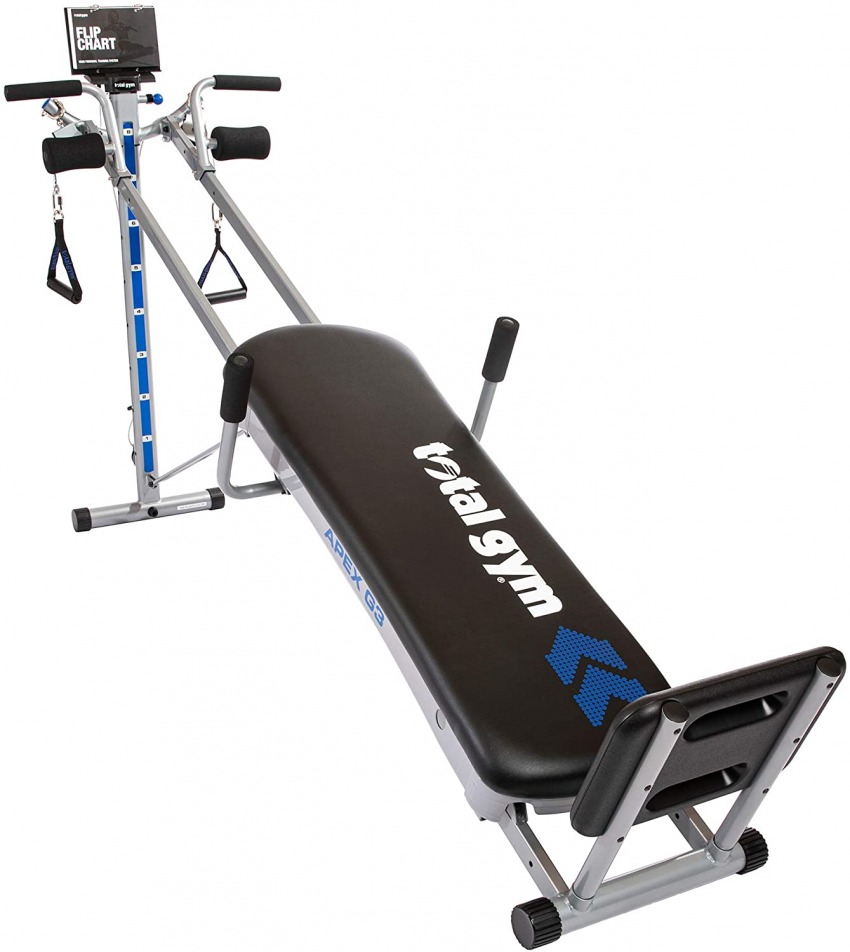 As the name suggests, this home gym equipment is made for a variety of workouts to strengthen your whole body. With 8 levels of resistance and more than 70 exercises you can perform low impact, high impact, and fluid movements with easy transitions from one exercise to the next. Some of the accessories that come with this kit include a squat stand, wing attachment, dip bars. The padded glide board is supported by a premium steel frame with auto-lock adjustments to suit your height.
For $488.05, it is the best home gym equipment for toning, strengthening, and conditioning muscles of the upper and lower body. Further, you can use it for body sculpting, health maintenance, weight loss, and more.
---
Conclusion
Be it a cardio machine, abs roller, Pilates machine, or weight training dumbbells, you will find every single at-home gym equipment in the above list to suit your needs. These are one of the finest and best home gym equipment that will help you turn your home gym dreams into reality.
However, before purchasing any equipment, make sure you consider your fitness needs, workout routines, space, and budget. Also, compare the quality and versatility of all the gym equipment listed above. Use this list as a guiding point to find the best home gym equipment for yourself. I guarantee you will not be disappointed at all.