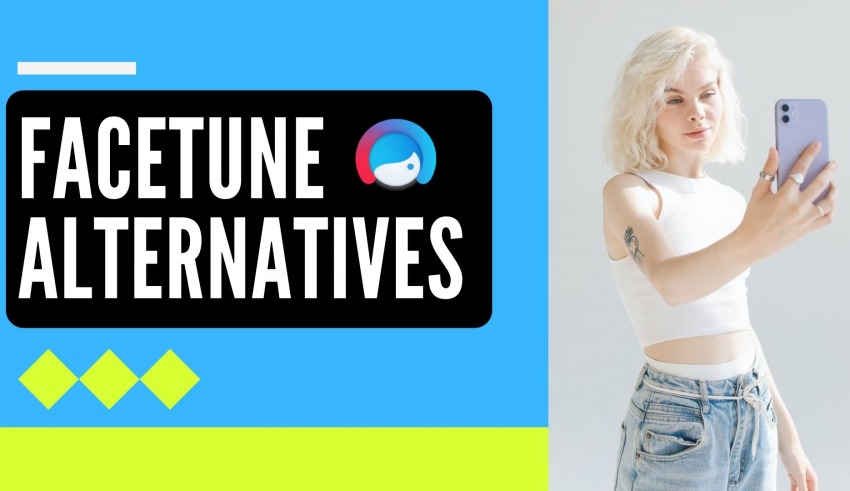 People are getting increasingly habitual about taking selfies and photos wherever they go. Now, this doesn't even have to be a special event or outing, selfies are also a popular boredom cure. Facetune is one of the most amazing photo-editing applications, mainly geared towards editing selfies. It was launched back in 2013 and has consistently provided great features for its users.
You can use their premium features to give a professional finish to your photos and post them on social media. It comes with beauty enhancement tools, filters, etc. that can give a unique touch to your selfies.
It also allows its users to upload the edited pic directly to their social media accounts from the app itself. The photos come with a finished look of having been edited by an expert, which is good for increasing your social media engagement rate.
However, the app is pricey, so not everyone can use it. It is also not recommended for beginners who just want to dip their toes into editing, no one wants to pay for something they aren't going to use that often. If you are just looking for an editing app to have fun with, this is not the right fit for you.
This is why we bring you the popular alternative for Facetune. Yes, you read that right, you don't have to necessarily spend a few bucks on something that you can get for free too. We have compiled a list of the apps most similar to Facetune so that you can reap the same benefits without sowing the money.
Here is the list of the 15 Best Facetune alternative
Camera360C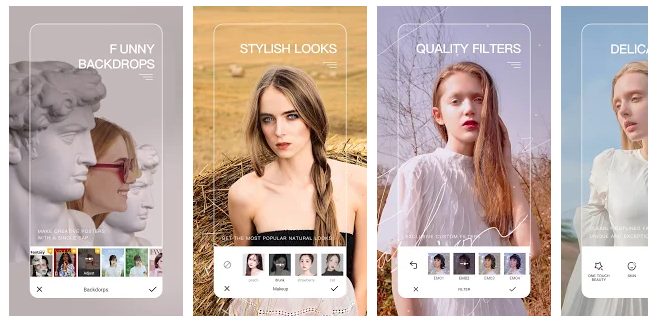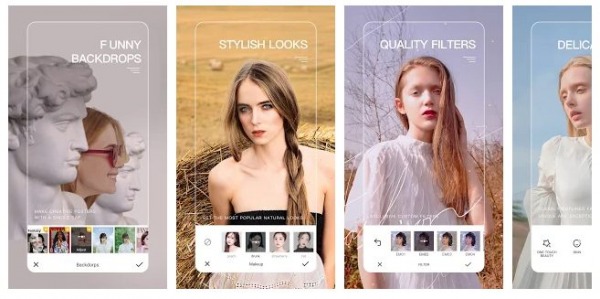 The first best Facetune alternative is Camera360. It is a popular choice for those who are on a budget and just looking to dabble in editing. This app can make your pics go from drab to fab in a few clicks! It allows you to edit all the photos you need and give them a professional look, even without a lot of work on your part.
It has a wide variety of options for users, ranging from beginner to expert. Their easy mode is good for those who want some automatic editing done, and gives pretty great results.
You get other options like their "effect" cam, "selfie" cam, and "funny" cam, all of which are awesome in their way. So not only do get an app that gives you professional editing tools but also caters to your fun-loving side with its features.
If these options are not enough for you, they also give you the choice to download more from their store. It takes some getting used to but is worth the time you put into it.
---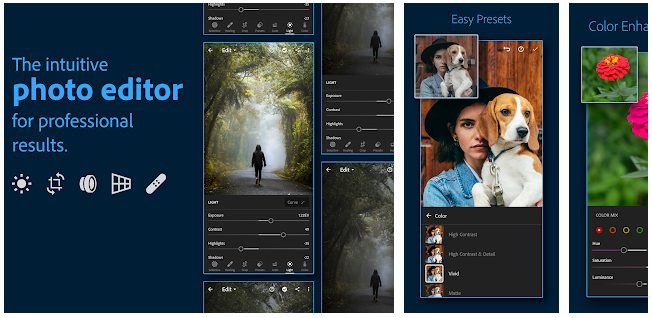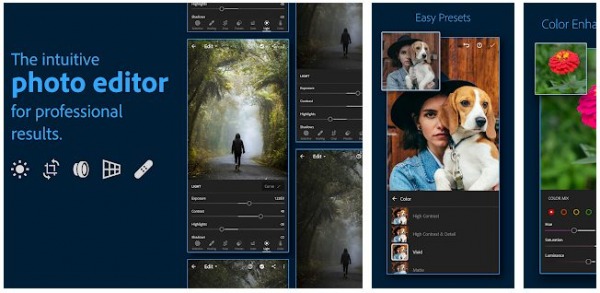 Google Play
Another in the list of Facetune alternative is Adobe Lightroom. If you haven't heard of this app yet, you have been living under a rock. This is possibly the most popular editing app known to the world, not just for selfies but every pic that you can click.
It comes with an extensive toolbox of editing software and takes some time to learn all the features of the app properly. For selfies too, it comes with a bundle of features you won't find everywhere. For using the app you need an account, as it is with all the Adobe apps, but that is alright.
It allows you to create custom pre-sets and looks that you can use to create your brand. You can correct the different aspects of a photo, right from texture to temperature.
It also has tools like the red-eye remover, blemish remover, etc. After editing, you can post the image on social media directly from the app or save it for the future. It is extremely easy to use, even for beginners.
---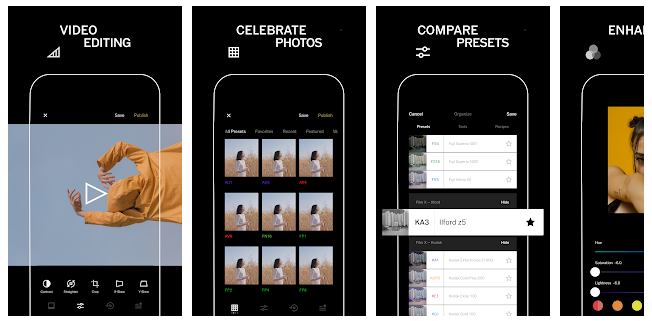 Google Play
VSCO is a popular mobile app that has been all the rage since it launched. It is a great alternative for Facetune as it has a lot of features in the free version itself. It arms the user with a bevy of editing technology, which takes their skills to the next level.
Even the raw images captured on the app look pretty good, as the colors are vivid and features are sharp. It also has a ton of pre-sets, which beginners can make use of and experiment with to create their custom filters.
The app also grants you access to the VSCO Journal, which is a community where users can share their images and look at other pictures for inspiration. They also have in-app purchases of new pre-sets and filters.
You can also share your pictures instantly through the app, without having to juggle between platforms. VSCO is a cool app to have, although it may be a little difficult to navigate it first. But once you get the hang of it, you certainly won't be facing disappointment.
---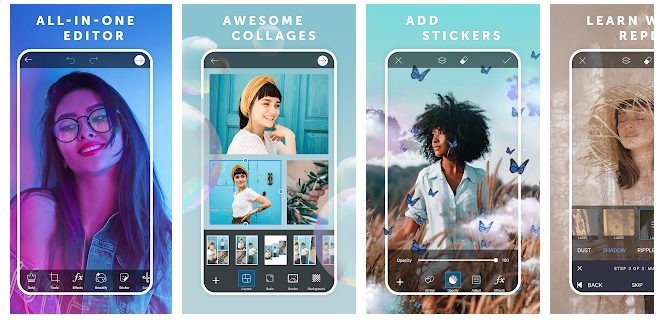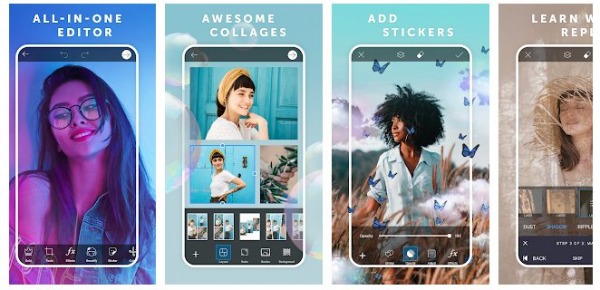 PicsArt is another app that has risen in popularity constantly since its launch. It is a very versatile app that comes with a ton of features for you to work with.
It is simpler than another Facetune alternative. This app has so many functions, that it can be a little overwhelming for a beginner to use, but for experts, it is like a dream come true. It has a busy community page on the app, which shows the increase in its user base.
Since it has a wide array of tools, it is easy to get lost in it. To ensure that doesn't happen, you can look for tutorials online to help you through it.
They have all the basic tools and then some. It can even overlay your photo on top of another image and blend them seamlessly. Their effects tool lets you manipulate the texture of your image and even simple color corrections. It has a comprehensive lay of tools, so it is easily navigable. You can even use stickers over your photos and create custom stickers as well.
---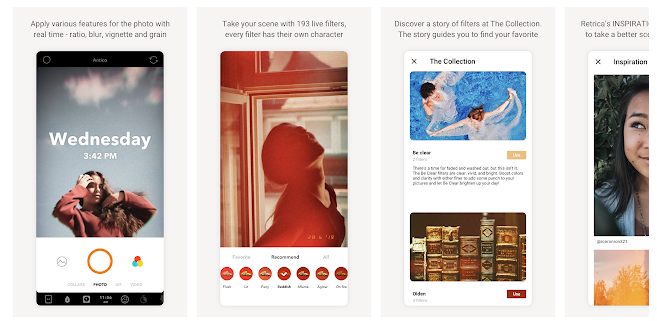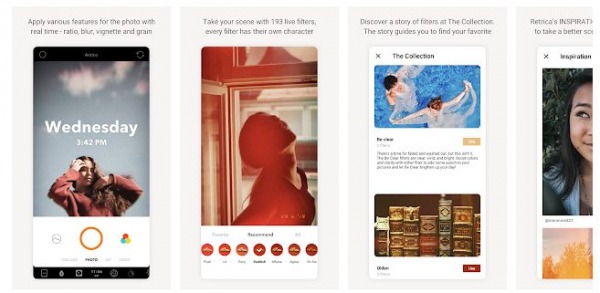 If you are just tired of the modern-image look with the big eyes and pouty lips, this might just be the right app for you. As you might have guessed from the name itself, the theme of this app is retro. You get more than a hundred vintage-themed filters that you can use on your photos, to give them a unique look. Your 70's and 80's vibes will certainly find some satisfaction while working on this app.
If you can't choose a filter, let the app decide. The "random" button can surprise you with a variety of filters and then you can make the choice. The only con is that you don't have the option to resize the Retrica logo watermark, which can impose on an important part of the photo. While you cannot share the photo directly on social media platforms, you can save it and then do the same.
---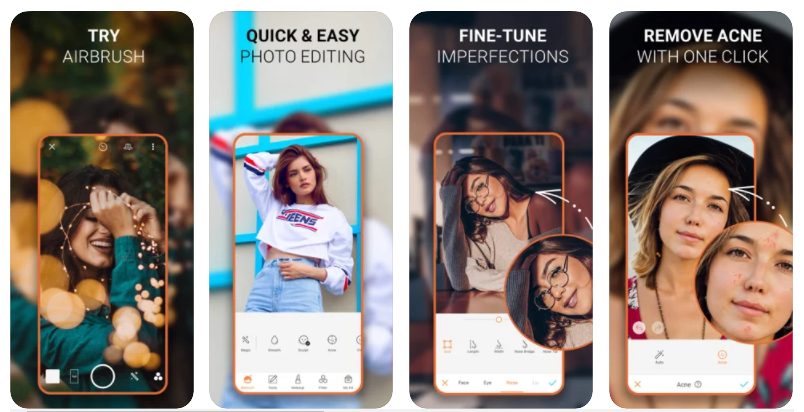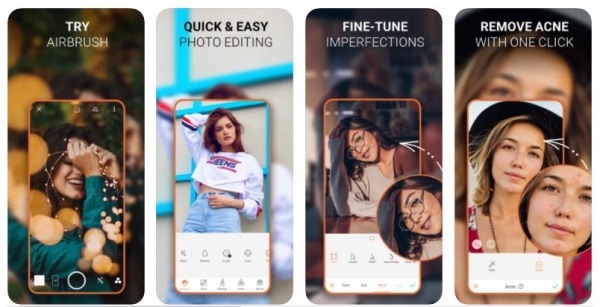 Another great alternative for Facetune is AirBrush. It has several filters that can make your selfies look a lot more appealing. It comes with options such as acne remover, blemish removers, teeth whitener, and many more that are capable of adding some pizazz to your photos.
If you want to improve your aesthetic game on social media, this is a great app to have in your toolkit. It has filters that can modify the texture of your skin, giving it a smooth and uniform look.
It also has make-up filters, that is, it comes with options to add blush, contours, eyeshadow, etc. So if you feel too lazy to put on some makeup and create a look, this app can save you loads of time.
You can still post makeup selfies with a fun touch when you use the filters of this app. This filter comes at a price, but if you are someone who needs a social media presence most of the time, it is a good idea to invest in it.
---


RetouchMe is a great app that can be considered as a Facetune alternative. Users get to pick the type of filters they want and send it to the editors on the app. This costs a little but is a good choice for those who want to get professional services for their photos.
There is also a free version available, with multiple tools at your disposal for a DIY edit. The tools in this app allow the user to not only edit the face but the body as well. You can also change the background if you feel like a different scenery will add value to your edit.
They have recently updated the app to include even more additions for edits. Now, they have an accessories section that allows users to add tattoos and body piercings as well, which can give a certain edge to your pics. Right now, users have to pay for this feature but we hope that the popularity makes them reconsider.
---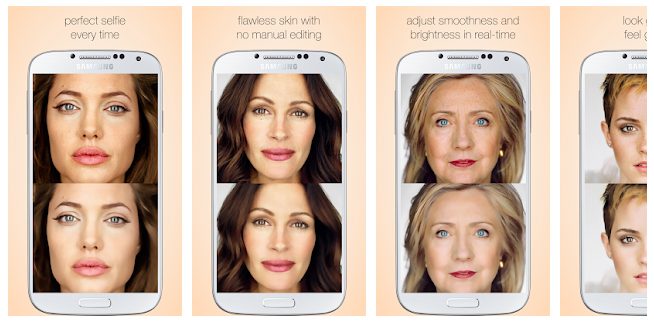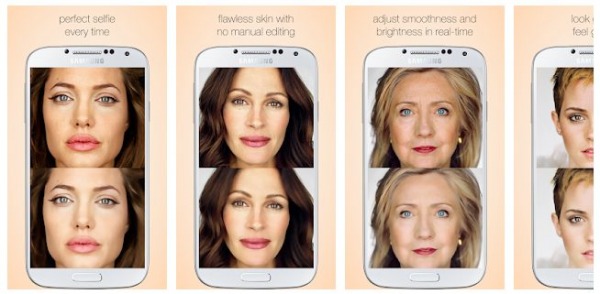 CreamCam is a mobile app that runs on both Android and iOS devices. It functions a lot like Facetune and has basic photo editing and image enhancement tools.
You know the smooth and glowing skin you've always dreamed of? Well, cosmetics may not be able to give that to you, but this app sure can. With a few clicks and adjustments, your skin will look perfect in all the selfies you take, making it difficult for you to choose what you should post on social media!
Their "Brightness Slider" is a useful tool and allows you to manipulate your skin tone for days when you feel too tanned or too pale. Its recent updates have equipped it with video editing software as well, so with enough time on hand, you may find yourself experimenting with that too.
It is very fast and easy to use for all, the only limitation being that it shuts down suddenly at times. This is something you can live with as it is completely free to use.
---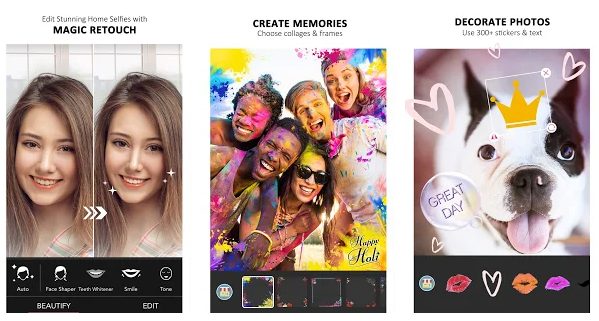 YouCam Perfect is a great Facetune alternative, as it has tons of filters for you to choose from. The app has many options that can enhance your features. You can also use the auto-beautify feature they have and set a timer to take pics.
You can even get rid of the nonsense in the background so that all the focus is on you. Another most interesting feature of this app is the ability to make anyone look like a supermodel.
No, we aren't just talking about the usual filters here. This app has features that can influence your height in photos, and even change the proportions of your body very tastefully.
The result does not look edited, as the app ensures that the editing remains uniform and adjusts accordingly. It does the perfect job of being an editing app. So for anyone who just wants to learn about editing even a little, YouCam Perfect is the perfect camera for you!
---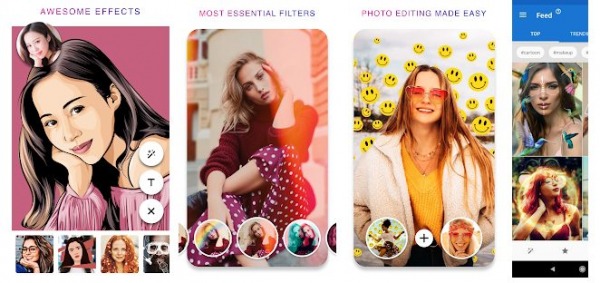 This app is an all-in-one tool that comes with so many features, you will get tired from just browsing through it. It has a bunch of fun and exciting filters that can give a sepia effect or even an oil painting look to your snaps. You can include unique textures in the image such as sand imprints. With a few clicks on your phone, you can transform the picture into having a professional feel to it.
Sadly, it is only available for iOS users as of now but will hopefully change soon. There is no charge for you to work on this app, however, you may find their advertisements annoying. But it's a small price to pay for something free to use. It has an intuitive interface, good for people who are just learning to edit.
---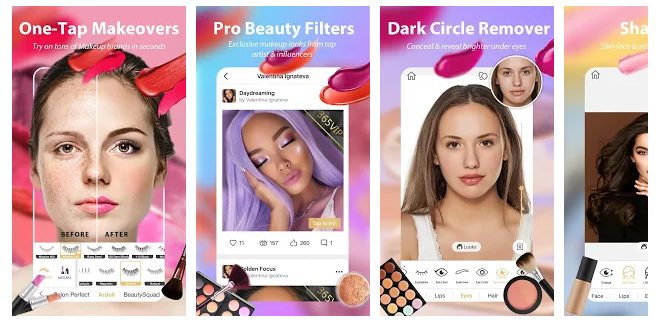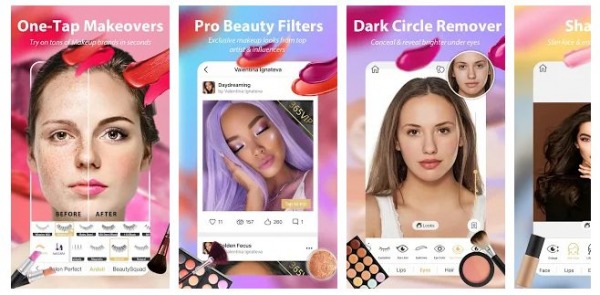 Perfect365 is a multi-faceted app that works wonders on your selfies, just like Facetune. It is available for both Android and iOS platforms. The app is available in more than 3 languages that show its ability to include diversity.
The app comes with constant, useful updates that ensure that their customer base has all their editing needs met on this very platform. It provides you the ability to have trendy makeup looks with a few taps on your phone.
The app is slightly heavy and drains the phone's life faster, so you need to check how much it affects your phone's performance. If you are someone who has one of the latest phones whose battery life is longer, this app might be a good fit.
It also allows users to quickly pick out designs for the photos and edit themselves into them. Their several filters have been the talk of the town, making this editing app one of the most widely used ones.
---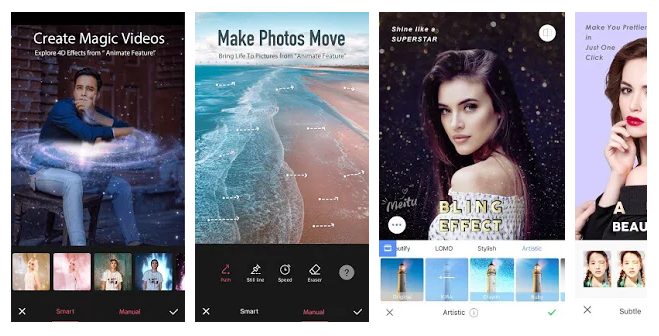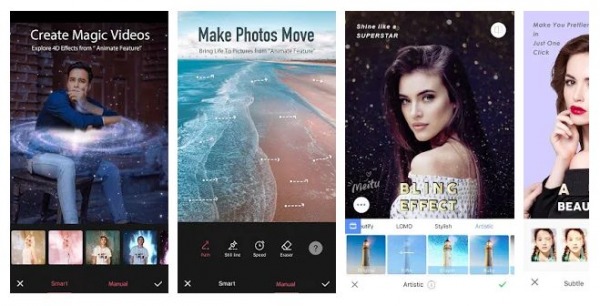 Meitu is great fun to work with, as it is a highly intuitive app with a large user base. The app is constantly updated to add new features and remove bugs. It is one of those ideal apps that work just as well for experts, as it does for beginners.
When you download Meitu, you will be pleased to notice, that it has several options available for you to choose from. You can easily browse and experiment with different effects and make creative looks.
Honestly, their editing is so cool that the final picture looks like you just had a facelift! You can make your blemishes disappear, hide your wrinkles and even make your face look slimmer, so you don't have to worry about looking bloaty in your pics.
For those who are regular on social media, this app is a lifesaver. After all, you can't be expected to look perfect all the time, and social media demands perfection regularly.
---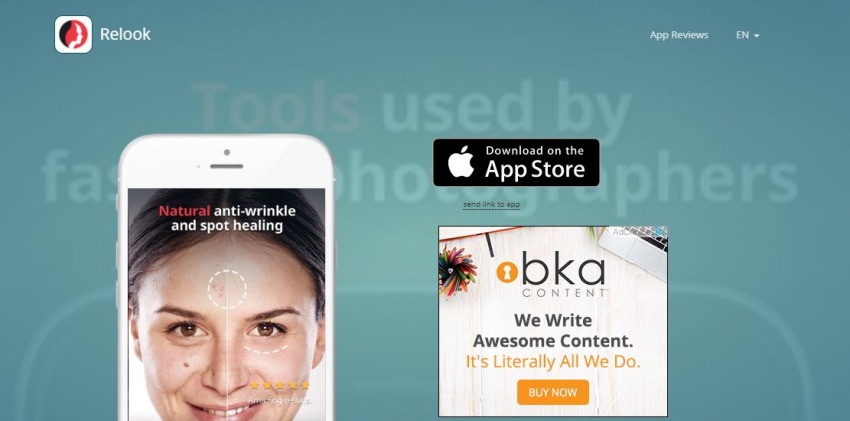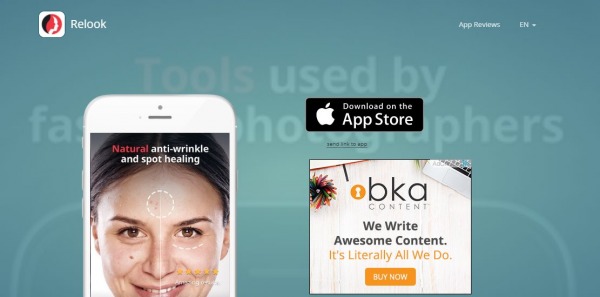 Relook is as good as having a professional tool in your toolkit. The reason it is so highly popular and one of the best alternatives for Facetune is that the editing software it has allows users to edit their pictures professionally.
With this app in your pocket, you no longer need to worry about how you look in your photos because this is a one-stop shop in itself. It has a "Bright-3™ technology" that users can utilize to make their snaps look extraordinary.
Their built-in makeup filter allows users to retouch blemishes, remove scar and acne marks, whiten their teeth, etc. It has multiple features available, that users can use to retouch their photos and give them a professional and high-quality finish.
Sadly, this app is currently only available on the iOS platform, which we hope changes soon. It also costs quite a bit to add new features. However, the edited photos are immediately back up to the cloud storage, so you don't have to fear any loss of pictures.
---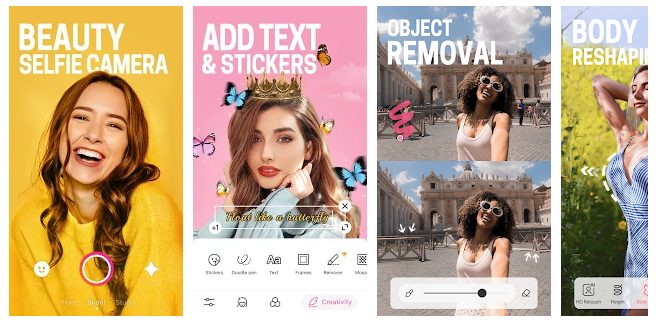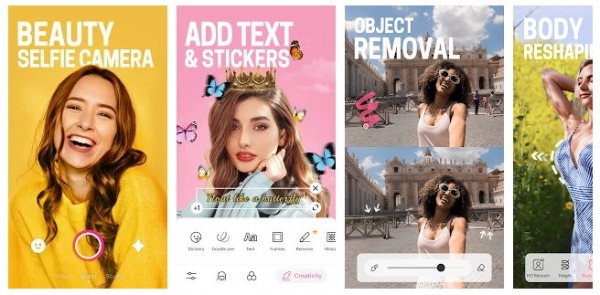 As its name suggests, this app can beautify your selfies to an extent you didn't think was possible. You can retouch your images with their blemish remover, teeth whitener, and acne remover tools. It is also capable of making your skin look extra vibrant, adding a glow to your selfies that make it seem very natural as well. You can share your photos directly on social media from this app.
You also get the option to add makeup to your selfies and change the size of your eyes to make them look bigger. It is easy to use this app in general, although some features might require precision. You can import existing photos on this app to retouch them or click your photos directly through the app. A feature called "Magic Brush" allows you to add text and stickers, to give them a fun vibe.
---
 MIX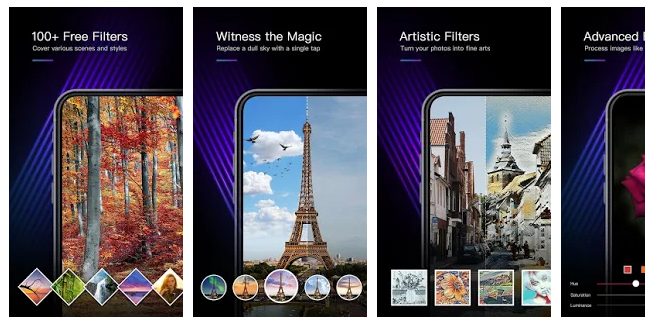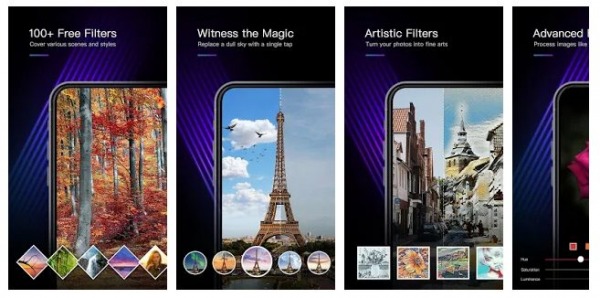 Last but not least Facetune alternative is Mix. It is a popular alternative to Facetune, due to the number of filters it boasts of. With over a hundred different filters to choose from, their users never complain about the dearth of editing effects.
It has a variety of pre-sets that are readily available for those who want to take their editing game to the next level by retouching on pre-sets. However, we do have one bad news. This app is currently only available for iOS users and not for Android.
A plus point of this app is that it comes with its community. You can interact with fellow users of the app on the app itself, and share your work. Who knows, it might inspire someone's creativity! Another good thing about this app is that the edited images are backed up on the cloud storage pretty quickly. It also has a very user-friendly interface that removes any problems a user may face, even if they were beginners.
---
Conclusion:
These 15 are the best Facetune alternative. They all have their unique features as well, and while they may not be the perfect match for Facetune, they get the job done. They are great at enhancing your skin tone and making the texture appear smooth.
We have given the summaries for each of these apps to make the choice easier for you. You have many options to choose from in this article itself so now you don't have to rummage through the World Wide Web for something that can suit your editing needs.
We know for a fact that selfies are here to stay. Even if they may be considered narcissistic or a cheap imitation of actual photographs and art, there is a certain charm to the fact that anyone can be their photographer.
To capture memories or make moments, you don't need to have professional training or even another person. You can easily be your cheerleader that is the power of selfies. Editing apps appeal to this mentality, which is why they have become such a hit in recent times.
All of these apps are equipped with a ton of features for quick editing and for inserting cool filters as well. You can try downloading two or three apps according to the features you find interesting and try them out to see what comes as a natural and right fit for you. Your social media game will certainly improve a lot by having one of these apps on hand.