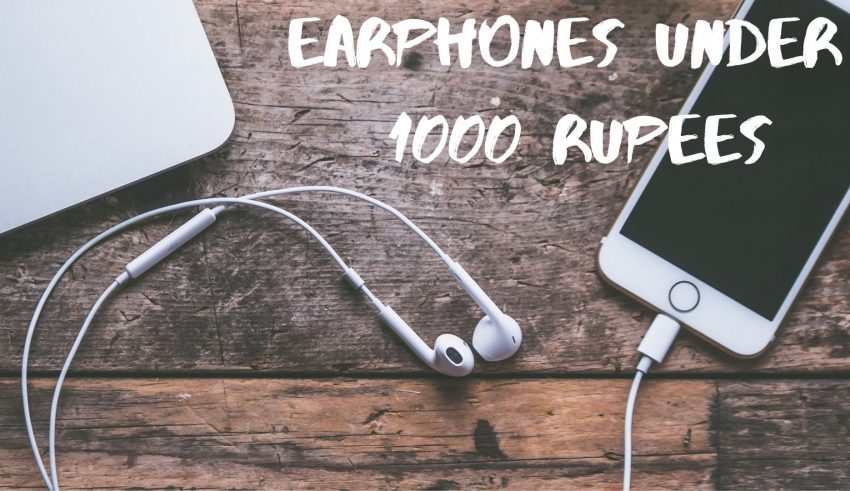 Music is a beautiful art form that helps you connect to your soul, transcending you into another realm of euphoria and ecstasy.
With resounding beats and crystal clear sound, earphones are the channel that connects you to the music of your choice. So what are you waiting for? Check out our compilation of the best earphones under INR 1,000 and get grooving to your favorite tunes.
Here Are the Best Earphones Under 1000 to in India:
Wired Earphones
Specifications:
Hand free calling with mic
Balanced Sound
Metallic shinny finish
1 year manufacturer warranty
Secure fitting earbuds
Sony is one of the well-known companies in the region of earphones and MDR-EX150AP is one of the best choices in the defined price range. The bass quality and high clarity of sound offered by this earphone is truly admirable.
Perfect for sports activity, it is comfortable to wear and its metallic finish gives it a touch of exquisiteness that is highly preferred by many. It comes with an inbuilt mic which enables you to make crystal clear calls anytime and anywhere. All in all, it is one of the finest picks.
---
Specification:
Mic: yes
3.5mm headphone jack
1 year warranty
Pure Bass
Quality Sound
While talking about earphones, the JBL company has to be in the list for their finest sound devices. The JBL C150SI earphones offer a powerful bass experience unlike any other. Moreover, in terms of its design, it is equally enchanting due to its premium metal finish. It comes in three different sizes of earplugs and has an angled fit which ensures a comfortable long period use without any distress.
This headset can be used with all your android devices and features a quick launch access to your mobile assistant. The one button remote of this earphone allows you to manage your calls and switch to your music in a complete hands-free mode.
---
Specifications:
Flatwire: Stays tangle free
Heavy bass
Mic with button to control calls
1 year domestic warranty
Clear Sound
Emerging as one of the best earphone companies, boAT manufactures its earphones in a highly detailed way keeping in mind the affordability factor. Coming in a variety of colours from simple black to raging red these earphones lets you dwell in your own musical world completely drowning out the unwanted noises from your surroundings.
It comes with highly sensitive 10 mm drivers ensuring a peaceful musical experience away from the hassle. The flat cables of this earphones warrant that they remain tangle free even when put them in your pockets. The headset features a polished metal finish which not enhances the sound quality but also makes it long-lasting.
---
Specifications:
Powerful bass
Precise Metal
Connector type: 3.5 mm
With microphone
In the ear earphones
True to its quality and design, the 1More Piston Fit is a highly endurable earphone. Featuring a variety of colours – Blue, Pink, Silver and Space Grey it sure sets a fashion statement with its unique and stunning design.
The clarity of the earphone is stunning as well. It also has a decent bass enhancement feature. While offering you with a good musical experience, these earphones are worth a try. It also has a 1 year warranty service within which the 1More India either repair replace the originally defective parts of the earphone.
---
Specifications:
Stay tangle free with flat wire
3.5 mm headphone jack
Microphone
Button with mic to control sound level
2 Years Warranty
These pair of stylishly designed earphones are compatible for regular use. It is long-lasting and its soft silicon earbuds are comfortable to the ears and hence can be used continuously for a long period of time.
The cable of the headset is also flat wired that decreases tangles and makes it easier to manage. This earphone perfectly enhances the bass and is highly clear and precise with its sound quality. The headset comes with an inline microphone button that allows you to answer your calls and switch between your music tracks and calls.
---
Specifications:
With Mic
Extra Bass
Pure sound quality
Button to answer calls
2 years domestic warranty
With its perfect design and extremely good sound quality, it is no surprise that House of Marley Smile Jamaica earphones are quite popular among the music lovers. These earphones are unique and exquisiteness drips from each of its features.
The fabric of the cable makes it much sturdier as compared to others and it also has the advantage of being tangle-free. The clear and powerful sounds provide you the esteemed musical experience that the brand is well known for.
---
Specifications:
Sweat Proof: Yes
Foldable/Collapsible:Yes
Deep Bass: Yes
Water Resistant: Yes
Windows, Android, Mac OS, Vista
The earphones are designed in a detailed way to deliver outstanding performance and crystal clear audio to its users. Moreover, it has been designed keeping in mind the comfort of the people using it, hence they fit in your ears entirely and are comfortable to wear making it ideal for longer usage.
Put these earphones on and forget about the world around you. Its noise isolation feature lets you feel the music down to the core and the clarity of the audio is also highly appreciable.
---
Specifications:
Cord Type: Flat Wire
With Microphone
Cord Length: 1.2 m
1 Year Manufacturer Warranty
Headphone Type: In the Ear
Satisfying to the ears as well the hearts, these earphones try to deliver the best aural experience to their clients.
Especially designed for the travellers, its advanced features ensures that you have an uninterrupted listening experience as it completely tunes out the unwanted background sounds. Moreover its highly comfortable fit makes it the ideal earphone that can be worn to a gym during your work out sessions.
---
Specifications:
With Mic
Extra bass
6 months warranty
3.5 mm headphone jack
Button to manage calls
While its highly affordable features attracts attention of many, it is equally captivating in its looks and features. It features a 3.5 mm headphone jack and an inline microphone for answering calls and managing your playlist.
It passive noise isolation feature is amazing that lets to step into your own world of your favourite tracks and audios that are played through the earphones with optimum precision and clarity.
---
Specifications:
Sweat Proof: Yes
Foldable/Collapsible: Yes
Deep Bass: Yes
Best sound quality
Powerful bass
The Obin Hs-01 Super Bass earphones are unbeatable both in their design and quality of their sound. It offers you an experience unlike any other. It is built with the finest quality of materials which ensures a premium sonic experience and comfortable fit making it ideal to be used for longer periods of time. It adds the extra spice to the bass which enriches the beats and gives you utter delight.
An inline microphone with a control button lets you make and receive your calls without having to reach your mobile. These earphones are compatible with both your Android and iOS devices.
---
Bluetooth Earphones
Specifications:
With Mic:Yes
Charging time: 1.5 Hours
Colour: Spirit Lime
Connectivity: Bluetooth
Deep Bass
Water Resistant
These lightweight and comfortably fit earphones are easy to manage and has been designed in such a way that it stays secured in its position even when you are moving or working out. You need not worry about these earphones slipping off of your ears. It features 8 hours of playtime while 160 hours on standby.
These fashionable earphone is elegant to look and are even water resistant so that even in uncontrollably hot weather you can carry out your work out sessions without any concern.
---
Specifications:
With Mic
Not Deep Bass
With Remote to control sound and calls.
Manufacture warranty
Coming in exclusively two colours- black and white, the PtronAvento earphones offers you an abode of your favourite playlists to which you can listen to without any discomfort from your surroundings.
It tunes out the noises and lets you drown yourself completely in your musical nirvana. It comes with an inbuilt mic which allows you to manage your phone calls without having to take out your handsets from your pockets.
---
Specifications:
Bluetooth connector
Bluetooth version: 4.0
Wireless Range 10 m
Charging time 2 hours
With remote to control music and sound level.
Giving you the elite experience of the musical world, this Bluetooth headset provides flawless and crystal clear sound ensuring that you completely enjoy your time while using the device. The earphones offer perfectly sound and decent bass enhance provision for a soothing and blissful experience.
The headset is so designed that it stays put in your ears and is comfortable to wear. This headset enables you to enjoy a long period of playtime with only 2 hours of charging time. It hands-free mode allows the user to answer their call with ease without reaching their headsets.
---
Specifications:
With Mic:Yes
Bluetooth version: 4.0
Wireless range: 5
Charging time: 2 Hr
Equipped with a neckband for a secured and comfortable fit making it hard to be pulled out easily, the earphone gives tough competition to others in this field with its soothing and perfectly clear sounds that we all yearn for.
The wireless range of this headset is 5 meters and can be continuously used for a long time with the charging time being only 2 hours. It is compatible with all your devices and also its sound quality is incredible.
---
Specifications:
With Mic:Yes
Powerful Bass Technology
3-button Remote with Mic
1 year domestic warranty
Deep bass
Treat yourself to the incredible sound quality of these earphones which is an utter bliss to your ears. They provide an impressive bass experience and their large drivers are equipped to deliver quality sounds which are soothing. The latest Bluetooth version 4.1 lets you to connect to any device and ensures a strong connectivity.
One of its notable features is its 3 button remote with an inline microphone that helps you to switch between your tracks, manage your calls and control the volume levels. The multiple choices in the earbud sizes gives you a comfortable listening experience.
---
Specifications:
With Mic:Yes
Bluetooth version: v4.0
Inline Remote: Yes
Connectivity: Bluetooth
Pure Sound
Wireless range 10m
It features a unique ring necked design to ensure that the earphones stay secured in their respective places. It is easy to carry and much easier to manage. Get these earphones and have a comfortable and immersive sound experience. Moreover, so as to ensure that you never miss out on your important phone calls it vibrates notifying you at the moment someone calls.
Its intelligent noise reduction feature enables clearer calls and audios. While it supports standby time of 30 hours, you can uninterruptedly listen to your favourite tracks for about 8 hours.
---
Specifications:
With Mic:Yes
Bluetooth version: 5.0
Wireless range: 10 m
Battery life: 8 hr
Charging time: 2 hrs
Stylishly designed and made from the finest materials, Nu Republic Jaxx 3 earphones are comfortable to wear and fit perfectly in your ears. It also has the behind the neck design which decreases the chances of the earphones falling out of your ears. Enjoy every beat with enhanced clarity and impressive performance.
They come with 10 mm dynamic drivers which delivers rich and clear sound to its user and also has the additional ability of producing 3D sound. It comes with a built in microphone which offers a quick launch access to Siri or Google Assistant. It admirably powerful battery supports continuous play back time of about 8 hours making it the perfect companion while travelling.
---
Specifications:
With Mic:Yes
Bluetooth version: 4.2
Wireless range: 10 m
Battery life: 10 hr
Charging time: 2 hrs
The perfect companion of a music lover, these earphones deliver crystal clear sounds and high quality audio. This headset is the best choice while you call your loved ones. As it features an in-built microphone, it ensures hands-free management of your calls and music. The Bluetooth headset comes with a smart lock feature that prevents it from falling out of your ears as you work out.
It also allows direct access to your mobile assistants with the help of a voice command. These earphones are compatible with all your devices including smartphones, tablets, laptops and Bluetooth enabled televisions.
---
Specifications:
With Mic:Yes
Connector type: Bluetooth
Charging time: 1h
1 Year Warranty
Sweat Proof: No
Foldable/Collapsible: No
Deep Bass: No
Take all your favourite music tracks together and drown yourself to the powerful and appreciably soothing musical experience with the help of these earphones.
The incredible quality and admirable clarity along with its attractive design captivates each one of those eyes that falls on these pair of headsets. Moreover, it is resistant to water ensuring that you can listen to your gym motivating tracks even when you are working out. It comes with a built-in mic and also features domestic warranty of 6 months.
---
Specifications:
With Mic:Yes
Bluetooth version: 4.1
Wireless range: 10 m
Charging time: 1.5
Flatwire
Pure Sound
These wireless earphones are especially designed so that they can be used during a sport activity without being worried about the earphones slipping off every now and then. Its wireless range is about 10 meters and features a play time of 6 hours with its standby time being 200 hours. The sound quality of this Bluetooth headset is amazing. Step into a peaceful world of your own musical world and escape your noisy surroundings with the help of these earphones.
Listening to your favourite numbers never sounded this exciting! Get grooving to your most loved beats and celebrate life with earphones that fit your budget while delivering immaculate sound quality. Which one's your favourite? Do leave your thoughts below.