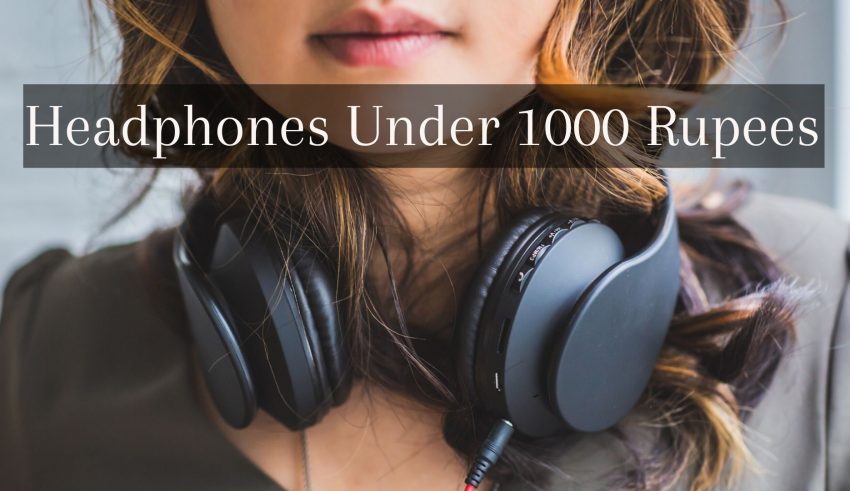 Everyone has a unique taste in music. Some like rock, metal, and jazz, while some can't get enough of hip hop, Bollywood, and classical, and yet others enjoy combinations of various genres. However, in the contemporary world full of distractions, most of us find it difficult to peacefully enjoy the music we love.
You may have considered getting a pair of headphones for this very purpose, but the plethora of options may have left you confused. But don't worry, because we've got your back. We bring to you some of our recommendations for budget friendly headphones. Wired or wireless, minimal or ultra-fashionable, you'll definitely find something that sparks your interest:
This uber cool headset is not only extremely affordable, it can also be paired with Google Assistant. Add to that a microphone, and you get the efficient, hands-free life you've always wanted. The Motorola Pulse Max is a supra aural headset, which makes it lightweight and very travel friendly. It is an over the ear headset and therefore covers your ears, instead of simply sitting on them. But the list doesn't end here. This headset features a detachable cable, which makes carrying it even easier.
A detachable cable means that you can easily replace it if it ever stops working, which will significantly increase the lifespan of your headset. Crystal clear sound, extra bass, and value for money—this baby offers everything you can ask for in a pair of headphones.
---
If you're all about elegance and minimalism in everything in your life, this headset is a match made in heaven for you. The sleek and modernly designed Sony ZX110A is ultra lightweight, and won't strain your neck. It also boasts a unique inside-folding feature, which will allow you to take it with you anywhere you go. However, an Instagrammable body is not all this headset features.
It packs a punch with its 22000 Hz frequency response and 30mm drivers, producing ultra high quality sound. The cable is sturdy and durable, which means that this headset will give your money's worth. Moreover, it is extremely affordable, making it a perfect gift option.
---
The boAt BassHeads 900 has an excellent customer rating on Flipkart, and for all the good reasons. Crafted especially for music lovers, this product features 40mm Neodymium drivers which offer a balanced yet powerful sound. Available in black and white variant, this headset is ultra lightweight and will let you enjoy your music for hours without discomfort.
A sleek, foldable design makes them highly portable and travel friendly, which means that you can groove on the move! Fun fact: boAt is an Indian brand, so if you've ever thought that just India cannot produce headphones at par with international quality, let this homegrown beauty prove you wrong.
---
JBL is one of the most trusted brands when it comes to sound. An amalgamation of superb comfort and crisp sound quality, the JBL T250SI features a 3.5mm gold plated jack and supreme quality magnetic drivers that deliver an incomparable listening experience. The headband and the earcups are padded, which means that you'll never have a moment of discomfort while you have this headset on.
It is also lightweight and features self-adjust earcups that offers a snug fit. The two cable lines are enjoined with a Y-splitter, which makes the cable very durable. This supra aural headset promises a powerful bass, and will be a great companion for your morning run.
---
Who said that you can't enjoy excellent sound quality while on the go? The Sony 310AP wired headset is collapsible, and ideal for people for people always on the move. It comes armed with a mic and a one button universal remote, allowing you to answer calls freely, without having to reach for your phone.
This headset promises well-balanced sound, which means that you hear your music exactly like the artist intended. Moreover, it is extremely lightweight, and available in variants of blue, red, and black, so you can pick a colour that catches your fancy. Fold it up and take it with you in your backpack or handbag and you'll never have a moment of boredom, whether you're waiting for the train or taking a walk home.  
---
The JBL C300SI features an eye-catching design that is super minimal yet tremendously stylish. Its high powered magnetic 40mm drivers ensure a pure, clear as crystal sound that you would expect from a JBL headset. It promises a powerful bass response with bass you can feel in your bones, thus providing a top notch listening experience.
The 3.5mm jack is gold plated, which means that it will deliver all the highs and lows of sound with exceptional detail and clarity. Moreover, it is equipped with self-adjusting earcups that are crafted in a lightweight fashion to ensure supreme comfort. This headset is also not bulky or difficult to carry, making it a great option for the gym or the park.
---
If you're a gamer looking for a headset that won't make you feel the pinch, the HP H100 one is a great option to consider. Firstly, this headset looks like something out of a science fiction movie. The ultra modern black design will give you an uber cool look whenever you put it on. The straps on the top are long, knit and durable, thus ensuring comfort and style.
The 35mm driver is endowed with a microphone and built in volume control that will enhance your gaming experience exponentially. It works equally well with gaming consoles, audio players, iOS, Android, and PC, and all smartphones, so compatibility is something you do not need to fret about. Lastly, the bass quality is extremely high and will give you a bang for your buck.
---
The Cosmic Byte GS410 is something you should add to your cart right away if you want a gaming headset that is high quality but fits the budget. Equipped with a flexible microphone and an in-line remote to control sound and mic, this headset will make gaming easier than ever before. This baby combines magnificent sound quality and unparalleled comfort. It offers a deep bass and exceptional sound clarity that will let you hear even the faintest of sounds in your games.
The padding on the headband and earcups is super cushiony, and will ensure that you don't feel uncomfortable for hours. Additionally, it has a flat cord, which means that it will not get tangled even if you store it in a bag. The design is highly durable and will last you for a long time, giving you your money's worth. It is compatible with PC, PS4, Xbox One, and smartphones, and is available in blue and grey variants. 
---
The Kotion Each G2000 is an ultra stylish headset, designed especially to suit the needs of gamers. This black and blue headset features glaring LED lights on the earcups and the microphone, which adds dimension to the atmosphere of the game. The robust 50mm magnetic Neodymium driver lets you enjoy lucid sound with a vivid sound field and sound shock feeling, which is compatible with a variety of games.
It also features noise isolation, which means that you can enjoy a smooth gaming experience without distraction from external noises. The earmuffs have been created with a skin-friendly leather material and highly soft earpads which ensure long lasting comfort. It also comes along with a velcro cable tie, which will prevent the cable from entangling. Get your hands on this headset ASAP, and you will never regret it.
---
This on the ear headset from Panasonic is so chic to look at, you'll never want to leave home without it. The sleek, lightweight build is available in two brilliant colours- blue and black. The design boasts a foldable feature, making it highly convenient to carry these headphones everywhere you go. Dual 30mm Neodymium drivers provide a clear and powerful sound. The headband and earpads are padded and softly contoured for comfort.
The flat wire ensures that you have a seamless listening experience without having to detangle the cable again and again. Moreover, the cord is 1.2 metres long, offering additional flexibility. If all of this wasn't enough to convince you to get this headset right away, it's currently available on an excellent discount on Flipkart. You are sure to go to a musical heaven with this one!
---
Bluetooth Headphones 
The SoundLogic BTHP001PX_BK is the physical embodiment of the phrase 'Good things come in small packages'. This sleek and stylish headset offers everything you could ask for in a pair of headphones. This over the ear headset will cover the entirety of your ears instead of just sitting on them, thus offering high comfort. It cancels passive noise, offers extra bass and has a battery backup of up to 8 hours for a smooth and undisturbed listening experience.
It is armed with powerful Bluetooth V3.0 HD drivers that seamless connect wireless to all your devices—phones, music players, tablets, computers, etc. Along with Bluetooth, this chargeable headset also offers AUX connectivity, so you can enjoy your music even if you forget to charge it. It also has an in-built microphone to let you enjoy handsfree calling. Apart from that, it has a built in SD card slot and FM radio tuner. Is there anything this headset can't do? We doubt there is.

---
This pair of Bluetooth headphones is not only affordable, it is also ultra stylish. The iBall Pulse-BT4 features square shaped earpads that have a soft padding to ensure maximum comfort for your ears. It has been crafted with a minimal yet eye-catching design in mind, and is foldable, making it very travel friendly and convenient to store in your bag.
It is also quite lightweight, allowing you to carry it with you everywhere you go. An over the ear headset, it comes with a USB charging cable and has a battery backup of up to 9 hours. It is equipped with a built-in microphone, and has buttons on the earpads so that you don't have to reach for your phone to change the song or answer a call. The Bluetooth version is a powerful 2.1 + EDR, which ensures fast data transmission. This black coloured headset is sure to make heads turn when you take it with you for your morning run!

---
The iBall Decibel looks so cool, you'll never want to take your eyes off it! This Bluetooth headset is integrated with Alexa Voice Assistance for a complete handsfree experience in multiple aspects of your everyday life. The built in microphone will allow you to answer calls, create reminders, and even play music, all from the comfort of your couch. Apart from Bluetooth, this headset also offers connectivity via AUX, MicroSD card, and FM radio, so that you never run out of music to listen to.
The earpads have been constructed with ultra soft skin friendly material, ensuring that you don't experience any pain or discomfort for hours with this headset on. The headband, too, has a soft padding. Additionally, the headband is foldable, making it super travel friendly. The Lithium Ion battery is chargeable and will last you for an average of 6 hours. Moving on from the technical details, the iBall Decibel is of a classy black colour, and gets full marks for style.

---
Jogger B from Intex is an on the ear Bluetooth headset. As the name suggests, it is designed especially for joggers and people who are always on the move. These headphones are foldable in a unique inward fashion, and will occupy minimal space in your bag. The LED display provides an additional cool factor, and control buttons to play, pause, and control the volume of your music will make your life easier. The built in microphone allows you to answer calls on the move.
Almost every review on Flipkart raves about the excellent sound quality this headset offers, and that is a very good reason to trust us when we say that it will knock your socks off with its crystal clear sound that will let you enjoy even the smallest detail of your favourite tracks. The SD card slot means that you don't always need your phone to enjoy music, and its low power consumption will offer you an undisturbed listening experience for hours. Finally, the sleek black build comes with padding for the earpads, and will provide optimum comfort.

---
If you're all about making a style statement in whatever you do, this highly fashionable pair of headphones is what you need to get right away. The Maono AU-D422L is jam packed with features you will absolutely love. It is armed with Bluetooth v4.2 technology, which provides stable connectivity and will let you enjoy music or phone calls without any interruption, even if you're far away from your device. The foldable headband makes storing this headset a breeze, and the earpads are enveloped with a memory protein padding which will stimulate to the shape and texture of your ears, thus offering you unparalleled comfort.
The headband is flexible and will snugly fit your head shape, and a solid build means that this product can take a beating for a long time. It features a controllable colour-changing LED light which you can adjust according to your mood. The powerful 400mAh battery will last for up to 7 hours, and you can simply plug in the AUX cable if you are too lazy to charge it. Ultra functional and even more fashionable, we highly recommend this headset.
---
The PTron Kicks 481 has been crafted with a streamlined, modern design. It is loaded with features like wireless Bluetooth transmission, one-key call back, and FM radio. Its noise cancellation feature will ensure an immersive experience with no external disruptions. It can also be converted into an MP3 player because it has an SD card slot, which provides you the option to enjoy your music without any device, while the high quality speaker along with a powerful bass system will take you to musical Nirvana.
This headset can be charged with a USB cable, and the 400 mAh battery will last for a long time. Not only is it lightweight, it is also foldable and extremely easy to store and carry. These state of the art headphones are available in three gorgeous variants—black, white, and blue.

---
The Deals On 1971 P47 is an over the ear headset which is so comfortable that you'll not even realise that you're wearing it. It is available in seven variants—black, white, blue, red, green, gold, and pink—so whether you're sporty, girly, classy, or minimalistic, you'll find a variant that reflects your personality the best. The earcups feature buttons to play, pause, skip, and control the volume of your music. It has a lightweight and foldable design, and the earcups have padding to cancel external noise and provide seamless comfort.
The best part is that it is supremely affordable, and still gives you the look and feel of a premium quality headset. The built in microphone allows you to take phone calls on the move, and the external buttons for answering calls, redialing, and rejecting calls will give you a fully handsfree experience. It also offers connectivity via SD card, AUX cable, and FM radio, so that you can enjoy your music however you want. With this headset, planning a silent dance party will be a cakewalk!

---
Class and style take physical form with the Rhythm&Blues A450BT headset. An on the ear wireless headset, it is equipped with Bluetooth v4.0 with a 10 metre transmission range, so that you can dance, work out, or simply have a relaxing time away from your device. The powerful 40mm Neodymium drivers offer a balanced yet powerful sound that is clear as crystal. Powered with an ultra modern lithium polymer 200mAh battery, these headphones can work wirelessly for up to 8 hours, and can be used with an AUX cord if you're not in the mood to charge them.
They are ultra lightweight, and the earcups are covered with a cushioned padding for supreme comfort. The foldable design allows them to be stored easily, and lets you take them anywhere without having to worry about space. The built in buttons make your listening and calling experience smoother, and the noise cancellation feature lets you enjoy some uninterrupted me-time. Finally, the modern black build with minimally reflective earcups looks extremely elegant, and is sure to make heads turn.
---
Conclusion
All of our recommendations have high online ratings, which is testimony to the fact that these headsets are truly amazing, and an excellent reason why they should be in your cart already. Don't miss out on the incredible festive deals and get your hands on your favourite pair of headphones now!