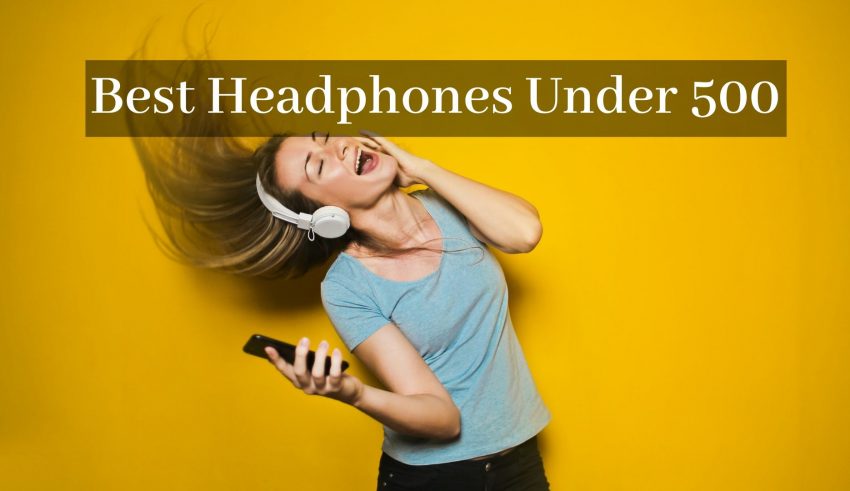 No matter how amazing your smartphone is, you can't enjoy it to the greatest extent if you do not own an equally amazing pair of headphones. A good quality headset adds so much to our tech experience and daily life in general. Not only does it allow you to listen to music, it also comes in handy when you're on the go and want to watch a movie, listen to the news, or even listen to an e-book! It can truly allow you to escape from the world around you and steal a few moments of leisure.
However, with the innumerable options in the market, headphone shopping can be quite a task. Wired, Bluetooth, extra bass, portable—there's just so much to choose from. But sit back and relax, because we've narrowed it down for you.
Whether you're looking to replace your old headset or get your first pair, this list has got you covered:
With Mic
Flat Wire
Warranty 1 year
No Deep Bass
No Water Proof
The SoundMagic P11S does complete justice to its name. Loaded with powerful 40mm drivers, this headset features a frequency response of 20 Hz – 22000 Hz. It offers crystal clear sound quality, allowing you to enjoy your music just like the artist intended. It is armed with a microphone, making it convenient to answer phone calls on the go.
Additionally, it also features a button which allows you to play or pause your music, or answer calls without having to reach for your phone. The red and black colour combination looks ultra slick, and the slim design adds to the style quotient. The flat cord ensures that no time is wasted on detangling, and a foldable design makes it super easy to carry it in your bag or store it in your drawer.
---
With Mic
Over the ear
1 year warranty
Not powerful bass
Pure sound
If affordability and excellent sound quality had a baby, it would be the Zebronics zeb-pleasant. Priced at just Rs. 330, this pair of headphones offers deep bass and a frequency range of 20 Hz to 20 kHz. The build is very minimal and sleek, and looks quite fashionable on the head. Buttons for volume control and a built in microphone allow you to multitask on the fly.
The 3.5 mm jack means that you can pair this headset with almost every smartphone and laptop. It is equipped with a 2 metre long cable, which will make it very easy to carry your phone in your pocket while you have your headphones plugged in. Also, it is extremely lightweight, and will never give you a headache. We highly recommend this if you're on a budget!
---
Excellent voice
Without Mic
Noise Cancellation
Stereo Bass Headphone
The Signature Vm-46 is yet another marvellous option for a budget headset. It delivers amazing sound quality, and the top notch stereo bass will have you dancing to your favourite songs. It also boasts of a noise cancellation feature, which will let you enjoy your music in peace without any disturbances from the outside world.
The headband is foldable, which means that you don't have to worry about space constraints while storing these headphones. Moreover, its over the ear earpads feature a soft cushioning that guarantees long lasting comfort. The 3.5 mm jack makes this headset compatible with all phones and computers. The glossy, pitch black design will never go out of style. It comes packed in a classy gold box, and makes for a good gift option. 
---
1 year warranty
With Mic
On Ear Headphones
Light weight Design
Pure Sound
This pair of headphones does not only look gorgeous, it also offers a performance that will give many expensive headphones a run for their money. The Motorola Pulse 2 is filled to the brim with amazing features, and has a large frequency response range of 18 to 23k Hz. The speakers are armed with 36 mm drivers with neodymium magnets, and produce impeccable sound that is clear in all the highs and lows.
The bass this headset offers will knock your socks off. It is also loaded with an in-built microphone and a button for volume control and answering calls. The ultra sleek, no nonsense design is available in two equally stunning variants- black and white. The earcups feature a soft padding for ultimate comfort. Finally, a lightweight and foldable design means that this headset is travel friendly and easy to store.
---
Powerful Bass
Pure sound
Soft earpads
Over the ear Headphones
With Mic
The ubon UB-1270 is an on the ear headset which brings together style and utility, while still remaining light on the pocket- both literally and figuratively. It features a detachable aux cord, which significantly increases the lifespan of the headset while also making it easier to store and carry it. Secondly, it has an inward folding headband which adds to the travel friendly factor.
The built in microphone offers a truly handsfree experience, whether you want to make an important call for work or have a Skype session with your friends. The sound quality and bass it has to offer is absolutely clear as crystal, and will let you experience your favourite music or movies at an optimum level. Finally, the minimal design looks very stylish on the head and is available in two variants- black and white.
---
Lightweight headphones
Without Microphone
Pure sound
Excellent Bass
Philips is one of the most trusted brands when it comes to electronics, and the SBCHL 40 headset lives up to the quality and standard you would expect from Philips. Don't be fooled by the ultra slim build, because this baby packs a punch with its crisp, lucid sound reproduction. The earpads are equipped with a soft covering to help prevent any discomfort, and the stainless steel headband is so thin, it will never feel bulky on your head.
An impressive frequency response range of 18k to 20k Hz paired with 30 mm drivers delivers an exceptional listening experience. This extremely lightweight pair of headphones is very simple to store and travel with. Lastly, it features bass beat vents which ensure air movement and enhance the quality of sound with a deep bass.
---
Clear Sound
Powerful bass
Headphones With mic
Over the ear headphones
The Panasonic RP-HF100ME-K is an on the ear stereo headset with an eye catching design that is minimal yet tremendously stylish. A wide frequency range of 10 Hz to 23k Hz allows you to fully enjoy all the highs and lows of your favourite songs, and powerful dual 30 mm neodymium speaker drivers reproduce a sound that is clear as crystal. The bass is powerful yet balanced.
These headphones are endowed with an integrated microphone and a control button, which means that you never have to take your phone out of your pocket to answer a call, and the collapsible design allows for highly convenient storage and portability. The built is very slick and lightweight, and has a minimal matte black finish for that timeless fashionable appeal. You're sure to go to musical Nirvana with this headset!
---
If you're looking for budget headphones without having to compromise on quality, the Zebronics 1001H might be the perfect match for you. It features an external microphone that is flexible, making it a great option for those who have to make a lot of phone calls because it allows the mic to be close to your mouth, thus capturing your voice clearly.
It offers a wide and impressive frequency response ranging from 8 Hz to 20000 Hz, and is armed with a robust 40mm driver for high grade sound reproduction and a rich bass and treble. The 3.5mm jack offers endless compatibility across an array of devices, and a button for volume control lets you enjoy your music just how you like it. Finally, the earpads are enveloped in an extra soft cushioning for endless comfort.
---
The Ubon Ethnic Style UB-1250 is an on ear headset that combines a 40mm driver and CSR chip to offer you magnificent sound quality and a powerful bass and treble. A foldable headband means that these headphones will occupy little space in your bag and are super easy to travel with. The earcups are cushioned to ensure optimum comfort and, and the memory protein material of the padding allows the headphones fit snugly on your ears to offer a seamless listening experience. The design is also extremely lightweight and will never strain your head or ears.
The connector is a standard 3.5 mm, which is compatible with all phones and computers. Available in three ultra chic variants- red, white, and black- these headphones have been crafted with utmost sophistication in mind. 
However, if you absolutely detest getting caught up in detangling headphone wires, here are some Bluetooth headphones that we highly suggest you have a look at:
---
Whether you're rushing to work or simply relaxing at home, the Ubon GP-1360 Champ will let you enjoy your favourite songs hassle-free and in superior quality. This pair of headphones offers a high sound quality and a powerful base, all packed inside a matte, sleekly crafted design. It features a unique finger contoured housing design that enables the user to adjust the headset without any difficulty, therefore providing great comfort.
The earpads are covered with a soft padding, which ensures that you don't experience any discomfort. They can be folded inwardly, which makes them compact and easy to travel with. This headset is available in three snazzy variants- red, white and black. The headband says 'Born to be free', and you can truly experience freedom from the constraint of wires with this product.
---
The SNEHI SH12 is our next recommendation for Bluetooth headsets. This smart pair of headphones offers wireless connectivity not only via Bluetooth, but also through FM radio and a built in SD card slot, thereby increasing the ways in which you can use and enjoy these headphones.
The earcups feature a padding to provide comfort to the ears, and are also equipped with buttons to control your music- pause, play, forward, volume control-and buttons to receive phone calls.The high-end magnetic speaker offers you ultra clear sound and a smooth bass effect that'll put you in a good mood whenever you play your favourite tracks. Finally, the USB chargeable Lithium Polymer battery lasts for up to 4 hours and you can always plug in an AUX wire if you're not in the mood to fetch for your charger.
---
This headset looks so cool and futuristic, you'll want to have a photoshoot with it. The bright blue earcups are connected through a foldable headband that is super sleek and minimal. Overall, the design is very ergonomic and offers high convenience when it comes to storage and portability. The earcups feature buttons to answer calls and to control your music. The battery lasts for up to 4 hours, and can be charged with the USB cable you get with the headset. You'd think that this seemingly tiny product won't have more features, but let us stop you right there, because it also has an integrated SD card slot that allows you to enjoy your favourite music even if you don't have internet connectivity, and a microphone that lets you answer calls on the move.
---
Those were all of the headsets that made it to our list of recommendations. We included headsets from a variety of categories- wired, Bluetooth, on ear, over the ear, and so on.
We also tried to incorporate mostly budget-friendly options so that budget constraints won't hinder you from finding a headset that truly suits your needs. Headphone shopping can be quite daunting, and we hope we've made the task a little easier for you. Now, what are you waiting for? Click on the links and get shopping!