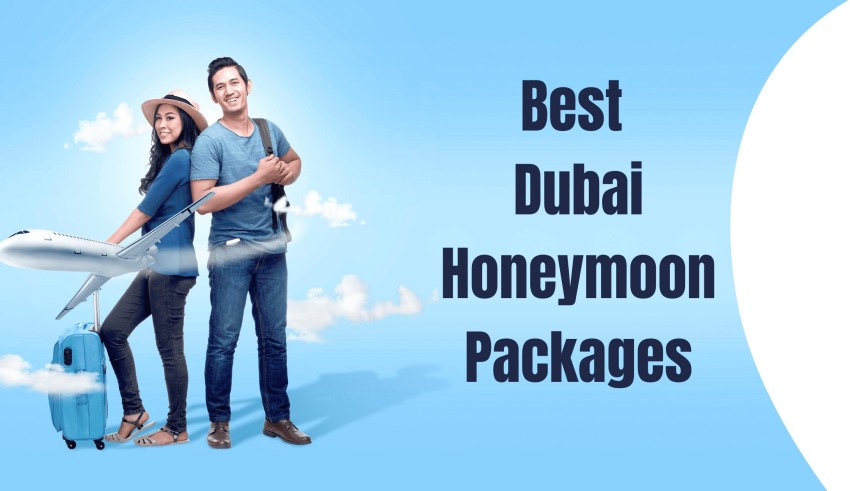 Dubai can be the dream getaway for newly married couples. Some of us have a taste for the finer things in life. If you fall into this category, then you better gear up and get ready for the best couple of vacations of your life. In this small blog, we have put together the best Dubai honeymoon packages that you can try out. Some of them are highly affordable, given the features and smaller time limit.
We halve also listed some expensive packages for your honeymoon in Dubai, but even those should perfectly fall into your budget if you are prepared to leap. You might also want to check out our list of the best luxury yacht rentals in Dubai since it is the best feature, the city has to offer for couples. 
Best Dubai Honeymoon Packages:


This is a 7-day and 6 nights package starting at 49,998 INR per person. The package is completely customizable according to your needs. This is a three-star package and takes care of all your basic needs. They provide the perfect blend of lavish and restraint depending on your budget.
There are various features you shall get here including romantic settings, shopping trips, a great experience of Dubai's nightlife, and a Desert Safari as well. This honeymoon in Dubai package is crafted with great care and love to help couples get the most of everything. 
The highlights of this trip include an evening dhow cruise in Dubai creek as well as onboard dinner. You will also get to visit Burj Al Arab and Jumeirah Beach within this package. Other than this, you will be given a city tour of Dubai and an experience of the famous Meena Shopping Bazaar.
Make sure you carry all the essential travel accessories to perk up your trip even further. But this is not all, the package right here will also give you a chance to enjoy poolside activities at Dubai Dolphinarium. You will also get an Abu Dhabi city tour and visit Ferrari world through this Dubai honeymoon package.
---


This could be the package you are looking for. When it comes to the most affordable Dubai honeymoon packages, it does not get better than this. This is a six-day and five nights tour of Dubai. Within this trip, you will get to see all the great highlights of the city. Once you have arrived here, you can enjoy the greatest attraction, including the Dow Cruise, Dinner, City Tour, Dubai, Dolphinarium, and much more.
Within a week, you will be able to enjoy the most important and culturally significant events of the city. The price of this package is 50,000 per person and has to be booked for a minimum of two people. The highlight of this entire trip will be overnight desert camping. Your tickets to Burj Khalifa as well as Dubai Dolphinarium are within this package. Breakfast, as well as dinner on the cruise, are also included. Your stay in the hotel for five nights is also included in the package. 
However, you will have to pay for some commutation on your own once you reach Dubai. We also have a list of the best taxi services in Dubai that you can refer to for cheap and convenient transportation. There will be many amenities available to you in this package. Such as nature, water activities, cruises, adventure-themed outings, romantic outings, etc. You are recommended to carry your passport, tickets, travel insurance, other necessities like sunscreen and water bottle, etc.
---


Simplified Dubai honeymoon packages are one of our favorites in this list of honeymoon vacation packages, in Dubai. This is another one among our fully customizable plans on the list. This is a 4 nights 5 days romantic getaway trip that will turn out to be one of the most happening vacations of your life. You will not only get to see important landmarks like Burj Khalifa, Dubai Mall fountain show, and Dubai Aquarium but also partake in adventures like Delhi Safari.
You will get to be on the Dhow Cruise, and maybe see some of the most amazing clubs in Dubai. If you are looking to have a party that you will never forget, you should go for this luxury Dubai honeymoon package. You don't have to worry about where to stay in Dubai for your honeymoon, or how to afford food and travel. 
The cost of this plan is 34,999 per person. you will only have to pay ₹5000 in advance if you want to confirm the booking of this package. Yatra has always had affiliations with some of the most reliable agencies in the country. Hence, we are sure that you will find these up to your expectation as well. Many things are included here- like Wi-Fi, parking and toll taxes, shared vehicle booking, drivers' allowance, road tax, fuel charges, and much more.
---

If you wish to make the most of your romantic trip abroad, then this package can help you out immensely. This is a 4 nights and 5 days package that has been crafted specially to ensure that you have the most memorable time together. You can visit the best beaches in Dubai, sightsee the most important landmarks, go on lavish cruises, roam the bazaars, and so much more. Highlights of this package include a romantic Dhow cruise ride at Dubai Creek.  
You will even get to sightsee the entire city of Dubai. Other than this, you can explore Burj Al Arab Hotel, purge, Khalifa, Jumeirah Beach, and more. Naturally, also make sure you have the best time on your desert safari. It is probably the most enticing feature of Dubai and has to be experienced at least once.
The package also includes a trip to the Aquaventure waterpark. If you want, you can request a private luxury transfer venue, and customize your honeymoon package. Naturally, customizations shall take an extra cost. Other things you might want to look out for are the amazing barbecue dinner, cultural activities, Palm Island tour, etc.
---


 The best part about this package is that it is a lavish five-star package. Moreover, it is completely customizable for people who want to include some extra facilities. You shall get to experience the basic highlights, such as experiencing a Dhow cruise, a city tour of Dubai, visiting the Dolphinarium, and enjoying a Desert Safari.
Other than this, you will get to visit Abu Dhabi and tour it at your own expense. You will also get to visit the coveted Atlantis. Customer service provided under this package is immaculate. As soon as you arrive at the Dubai International Airport, you will be greeted by their representative. 
Get ready for the best ride of your likes as you experience dunes, Dubai Museum, Jumeirah, mosque, and much more. You will also get to see Ferrari world, theme parks, the dolphinarium, leisure parks, Aquaventure park, and much more. If your travel is going to be so extensive, you should make sure that you have filled your virtual suitcase. You will also get plenty of time to spend at leisure. Hence, make sure that you have your private itinerary. You will also get to see the Bollywood park in Dubai.
---


This is a 4 days and 3 nights honeymoon package in Dubai. It is a purely 3-star package and its costs start at 652 USD per person. This is the most luxurious honeymoon package in Dubai. He concludes amenities like bed and lodging, sightseeing, safari, and transfers. Even though it might seem costly, given the facilities, the cost is very low. You will get to enjoy the Dhow cruise with an international buffet. 
 It had many other exciting add-ons, including cultural performances like belly dance, fire show, and Tanura show. You can even customize your trip to include only vegan food. The itinerary is very extensive and you can check it out from the link above. In case you're wondering, yes, you will also get to see the Jumeirah Beach, Atlantis, The Palm, and many of the world's most exotic locations.
---


This package is featured by Makemytrip. It is one of those rare packages that will allow you to stay at the Atlantis. Because of its exclusive nature, the cost is quite high and starts at about 80,000 per person. You will spend two nights at Dubai Palm. The rest of your four nights will be spent at the most luxurious hotel in Dubai.
This travel agency will also take care of all your visa requirements and paperwork. You can easily customize the plan and add activities according to your needs. There will be little cost of customization since most of the things have already been taken care of.
No matter how many activities you add, the price will still fall below 80,000. Of course, in case you want to do something out of the box, then there are chances that you will have to pay extra. There are hardly any other packages that let you stay at Palm Jumeirah at such affordable rates. You will only be given the best rooms with the perfect view of the ocean. 
---


This is a six days and five nights honeymoon package. Because among the rare packages that also allow you to stay at the Palm Atlantis. The package is available in five-star, four-star, and three-star hotel ratings. The five-star package starts at 56,053 INR per person. You would first arrive in Dubai and be transferred to your hotel. After that, he will be taken on the Cruise for the evening.  
That would be a lot of wonderful things for you to see throughout the tour. The best part is that you will experience Dubai's culture like never before. You will get to see all the local attractions including Meena Bazaar, Gold Souq, union flag pool, Jumeirah Mosque, Dubai Water Canal project, saga world, etc. At the same time, you will get to see handpicked artwork, jewelry, Islamic art and calligraphy, and gold and silver furniture. If you want to get to know Dubai in the real sense, then there could not be a better package.
---


This is a wonderful four-night and five days Dubai honeymoon packages. Any person who knows Dubai can tell you how coveted JW Marquis Hotel is. You shall be able to enjoy most of the boy with the help of this little package. On the first day, you shall arrive in Dubai and will be taken to your hotel. After that, you will spend your evening in Dubai Creek on the Dhow Cruise.
You will also get to enjoy a lavish international meal. On the second day, you shall visit the Dubai Museum, Jumeirah Mosque, Burj Al Arab, and the Palm Island, as well as Dubai Mall. On the third day, you can enjoy the Desert Safari. The fourth day will include visits to Burj Khalifa, Dubai, Aquarium, as well an underwater zoo. Yeah, sure that this package shall be able to give you the dream vacation at any move you've always hoped for.
---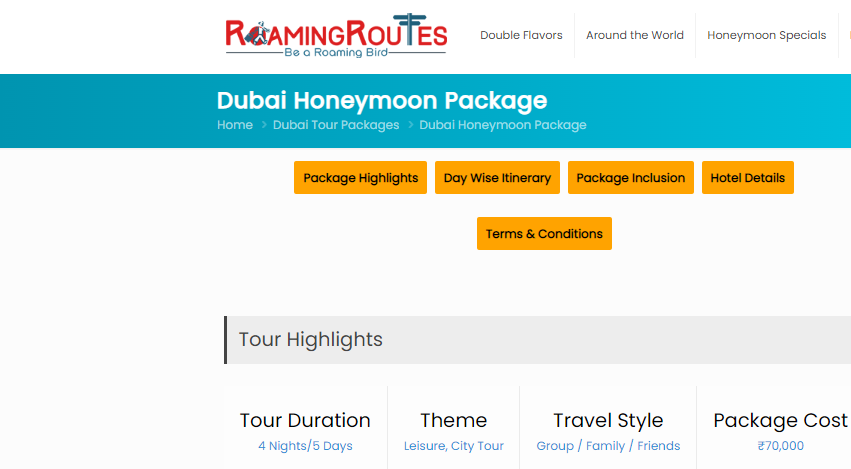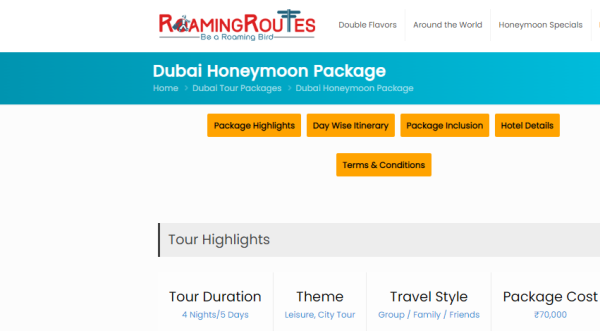 We are ending this list with a lesser-known honeymoon package for Dubai. It is a purely five-star package that includes many amenities that are not available anywhere else. The best part about this package is that they ensure you stay at the most quality hotels. You can be sure, that they will never compromise in terms of quality when it comes to food, lodging, etc. The communication, as well as the comforts that they provide, should also be extremely luxurious. 
We will also be able to get the basic touring facilities from this site. You shall be taken to your hotel on the first day and that they can aboard the Dhow cruise. The next day, you shall visit the Desert Safari. The third day, you will have a visit and tour of Dubai while on the 4th day you will visit Ferrari world as well as Emirates Palace Hotel. On the 5th day, you shall indulge in Dolphinarium as well as water activities. On the 6th day, you shall spend at Aquaventure Water Park as well as the Lost chambers. 
Conclusion:
We are sure that the list above has covered all your needs as well as answered all your questions. We are sure that you will be able to find the best honeymoon Dubai package to buy according to your requirements. If you do not want to employ a national agency and want to contact someone in Dubai itself, then you should surely check the best agencies in Dubai. On this note, we would like to conclude our article. In case there is anything you would like to know more about, do leave a comment below.