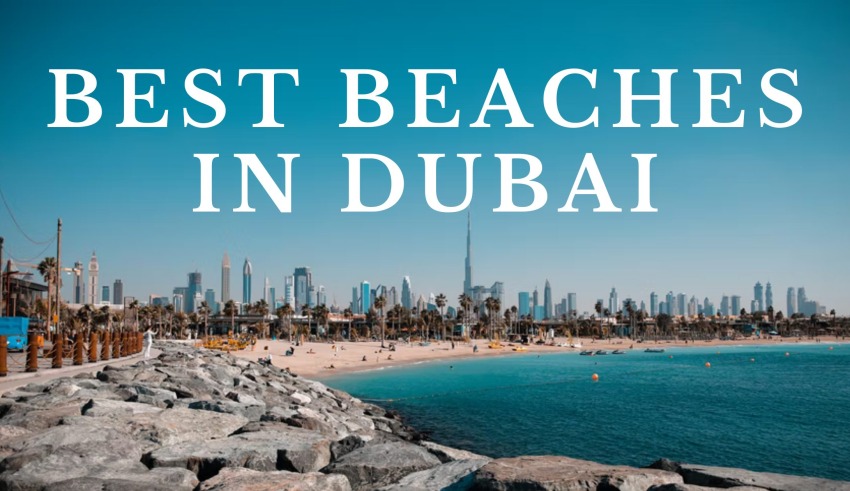 If you are one of the fortunate people who are well off financially then one of the places to visit is, Dubai. It is known for its luxurious feel with top-tier resorts, luxury hotels and majestic sky rises. There are also many beaches in Dubai for people who love the sea. Today, we are going to take a look at some of the Best Beaches in Dubai
Many of these are public beaches in Dubai that you can visit for free. There are many resorts and hotels alongside these beaches which can often help heighten the experience. The government of Dubai is always ready to welcome tourists and ensures that all destinations including beaches are up to the standards and maintained regularly.
If you are looking for the best beaches Dubai then let's get started with the list.
JBR Open Beach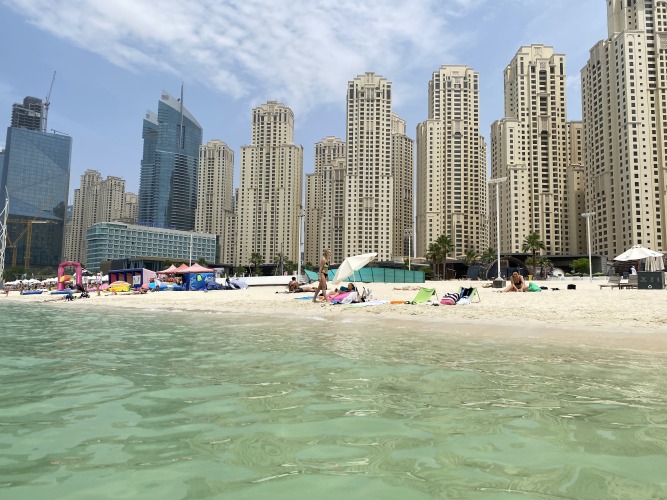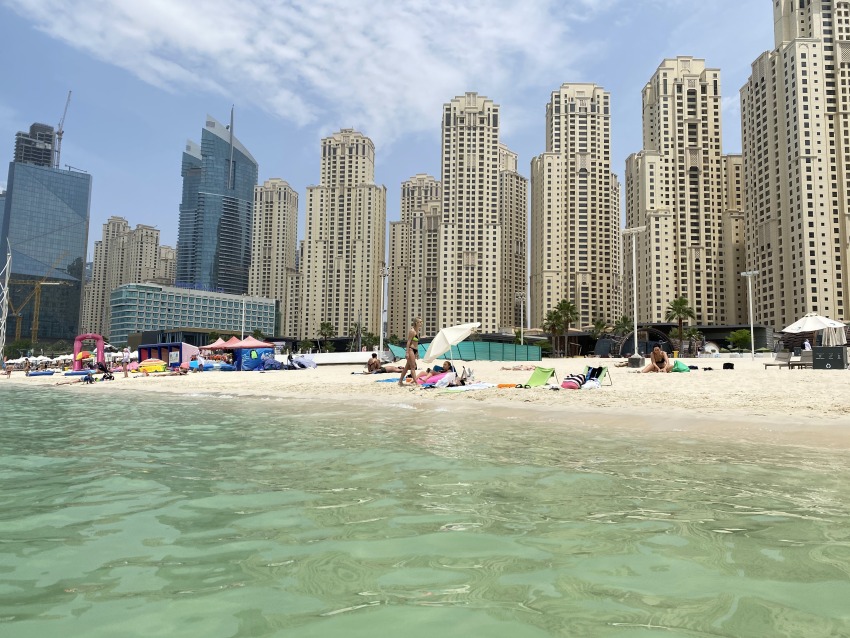 Let's start with the biggest beach in Dubai, the JBR Open Beach. It is one of the best beaches in Dubai and thousands of people visit this place to relax and enjoy the sea atmosphere. This beach extends most of the JBR area and is open to the public.
There are certain parts of the beach that are meant for hotels but don't worry most of the beach is open so you can have a good time regardless. It is not a deserted place and you will find a lot of facilities along the beach. It is a very clean beach as respective institutions are quite vigilant about keeping the beach clean.
You will find all kinds of shops to buy snacks and delicious foods to munch on while you take in the beauty of the place. The water of the beach gives off a beautiful green-blue coloured look. Another beautiful feature of this beach is the sand. It is very soft and has a very fine and powdery texture to it. There are many designated swimming areas where you can enjoy swimming.
There are lifeguards on duty who are always alert trying to keep the public safe. If you are looking to surf on this beach then you will be slightly disappointed as there are no such currents for surfing. It is a place to just relax in the seawater that is just the right temperature. You cannot go for a swim after sunset, however, you can still visit the beach at night as it is open to the public.
---
La Mer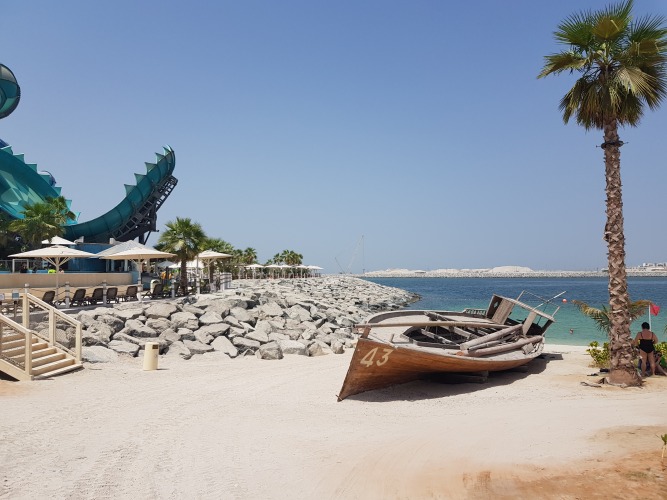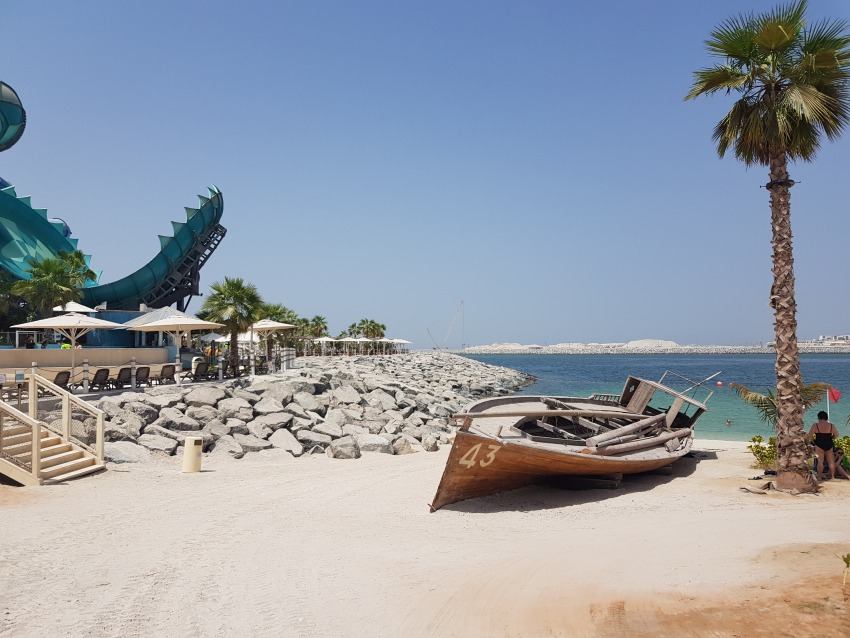 Unlike the JBR beach, La Mer isn't an old beach. It is one of the newest beaches in Dubai. It is one of the best places to enjoy in Dubai if you like beaches. The place has been created especially for people to relax and have fun. La Mer is one of the must-see places in Dubai and the beach here should also be on your checklist.
If you like water sports like water bike riding and similar activities you will find many opportunities to do them here. It is a safe beach that has been curated with all kinds of fun stuff that you can experience. Every morning the beach is cleaned so that the visitors can have a clean and optimal experience.
If you want to take a break and enjoy local merchandise and cuisine, then you can step out of the beach to the nearby open-air mall which is filled with many shops, and restaurants offering different kinds of items and tasty dishes.
There are many hotels and apartments near La Mer. If you have the budget for it you can stay here and enjoy the man-made picturesque beauty. This is again a free beach but if you have travelled to this place via a vehicle then you will need to pay for parking unless you spend a particular amount on some restaurants and use their parking spot. But if you are looking for the best public beaches in Dubai then La Mer is probably a good option for the best beaches Dubai. You should give it a try.
---
Umm Suqeim Beach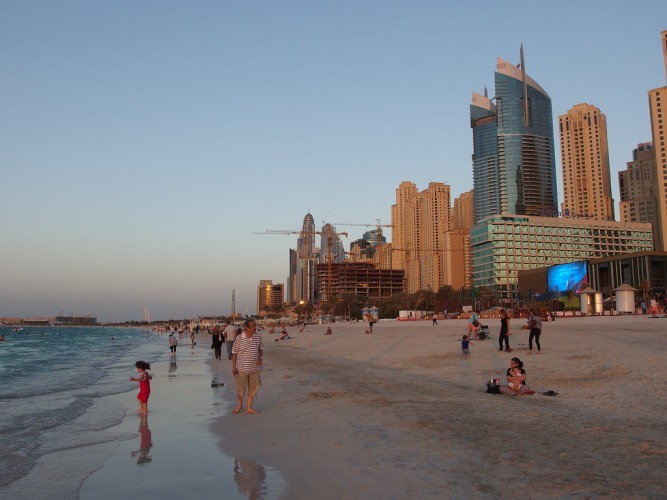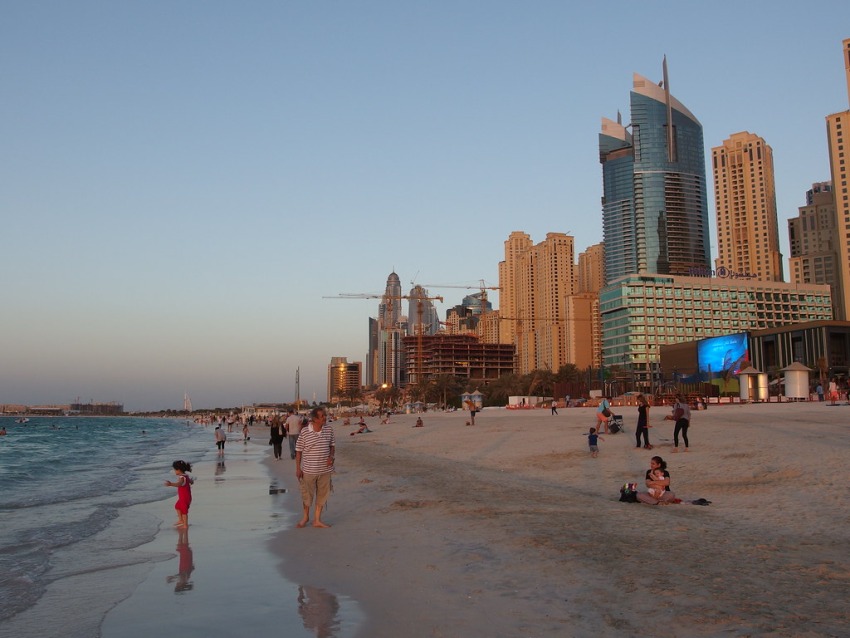 One of the most popular hotels in Dubai is the Burj Al Arab Hotel. The Umm Suqeim Beach is situated near this popular hotel. So, when you visit this beach you can not only take in the amazing view of the vast sea but also the man-made beauty of the Burj Al Arab Hotel. Umm Suqeim Beach is rightly called the sunset beach.
It is one of the best locations to watch the sunset in Dubai. A lot of people visit this beach each day to enjoy the red-orange sun spraying reddish-yellow rays all over the western sky. Since the view of the sunset from this beach is so spectacular it is one of the best beaches in Dubai where you can click pictures of the sunset.
But the biggest advantage of this beach can become the biggest con as well depending on how you look at it. Since the beach is popular for sunset, it tends to get quite busy before evening as people pour in huge numbers to enjoy the view.
Umm Suqeim Beach is one of the public beaches in Dubai. It is open 24/7. It is a free and open beach for people to enjoy. So, you can visit the beach anytime you want within some restrictions. There are changing cubicles to get into your beach clothes and various showers that you can use after you get off the beach. You can swim here in the dark. But you won't be allowed to swim after midnight. If you are looking for the best beaches in Dubai then visit Umm Suqeim Beach.
---
Kite Beach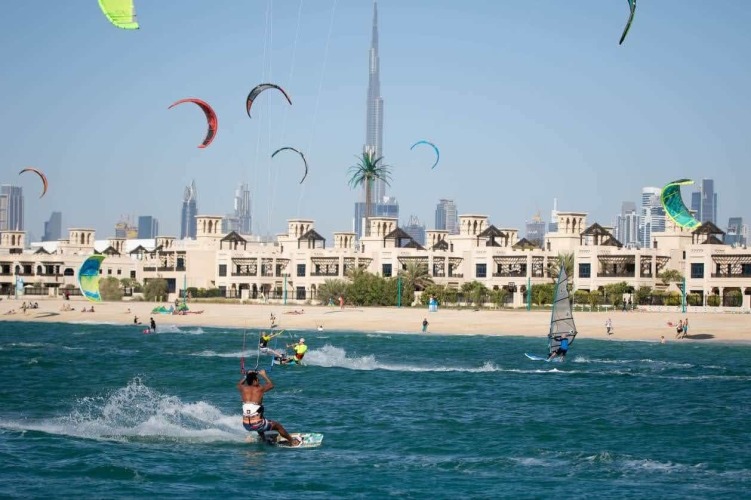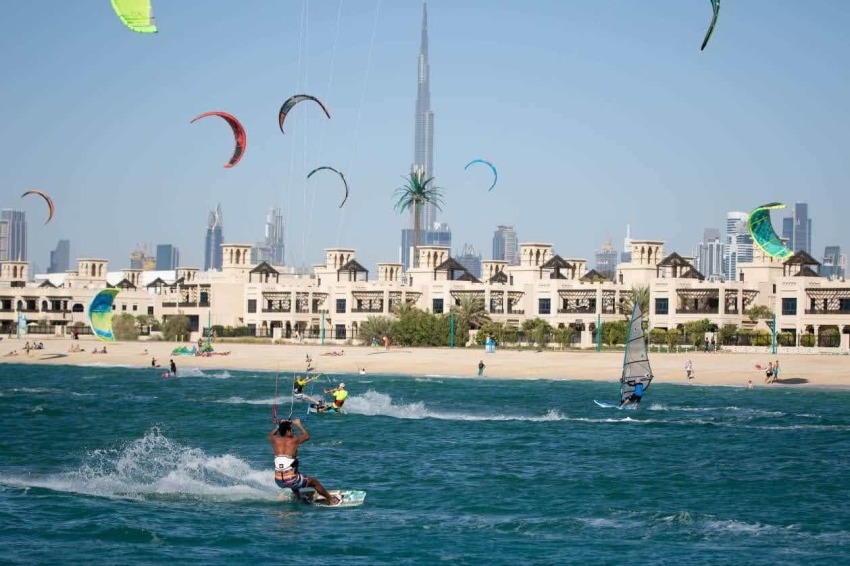 Up next, on our list of the best beaches in Dubai is the Kite Beach. This is another popular spot for locals and tourists alike. It is a fun place to hang out and spend your time if you are planning to visit Dubai. Doesn't matter who you are with, be it friends, family or children you will have a lot of fun on this beach.
It is also a beach for fitness fanatics as it has a lot of open space and many activities to do. It is one of the ultimate outdoor locations in Dubai. The sand on this beach is of white colouration and can be quite appealing to the eye. However, it is not the softest sand, it is filled with shells and stuff. The beautiful scenery of the place mixed with the positive and fun vibes and the uplifting surrounding can inculcate positive feelings and uplift the mood of anyone.
Visit the beach to just let loose and enjoy yourself. The food near the place is amazing. You will find local street foods to gourmet dishes to delicious and tasty desserts. Even if you are looking for more healthy foods you will find them here. There is something for everyone at this place making it one of the best beaches in Dubai. The reason why this beach is named the Kite Beach is that it is popular for Kitesurfers. You can even rent kayaks and paddleboards to have a fun time in the sea.
---
Al Mamzar Beach Park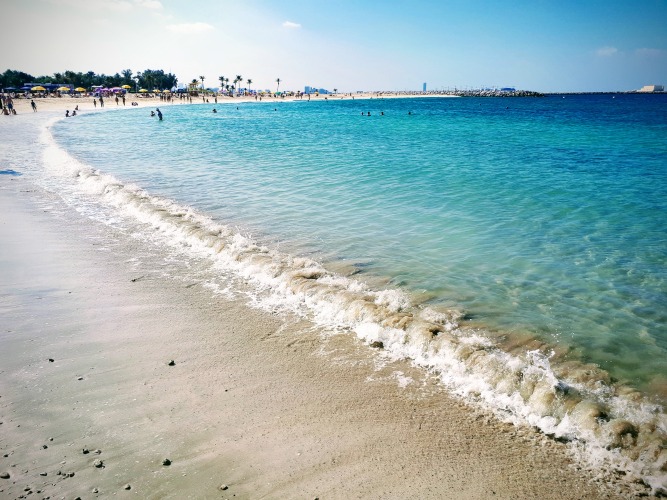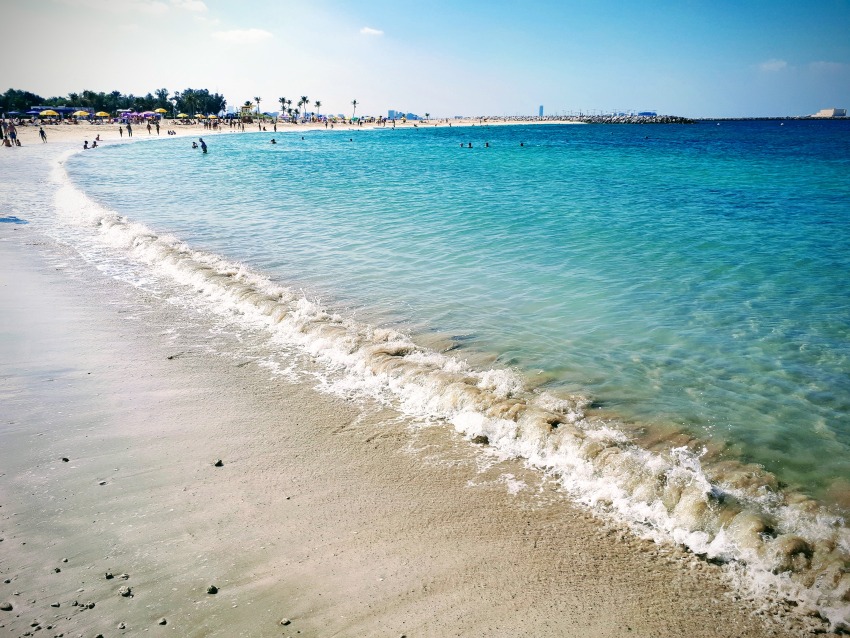 If you are looking for a nice family beach to enjoy then you can always visit Al Mamzar Beach Park which is one of the best beaches in Dubai. There are a total of 4 beach areas in this park where you can enjoy the view of the sea. If you have kids then you are in luck as there is a playground area for the kids in the park.
All four beach areas are open to the general public. So, this is one of the public beaches in Dubai. You may not have to pay extra bucks to enjoy the beach, the playground or the swimming area but there is an entry fee for the park. It costs AED 5 per person to enter the beach which translates to around $1.50 per person. If you are someone with special needs then you can enter the beach without having to pay an entry fee. The beach is also free for children under 2.
So, if you have a toddler you don't have to pay their fee. The committee has decided to keep two days of the week as the ladies' day. These days are Mondays and Wednesdays. Only boys under 4 are allowed these days along with women and girls. There are showers, bathrooms, and changing rooms on the beach.
If you just want to have a sort of natural experience without necessarily paying an entry fee for the beach then you can visit the Al Mamzar Open Beach which unlike the other beach does not charge any costs.
---
The Palm Jumeirah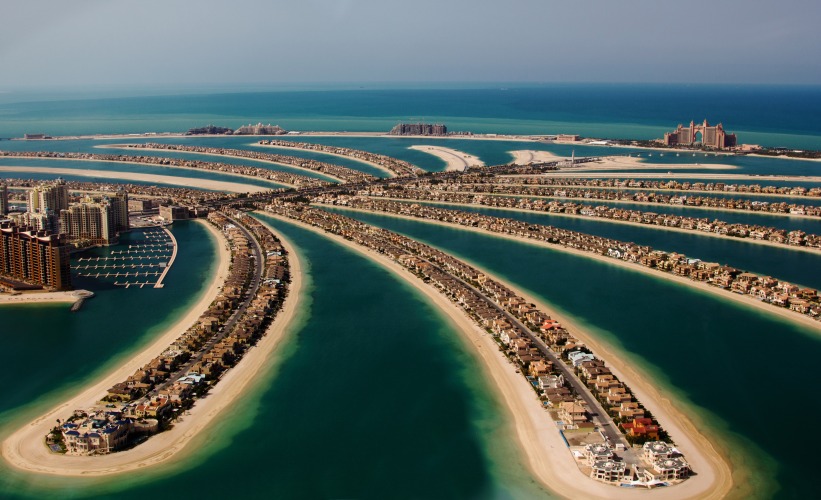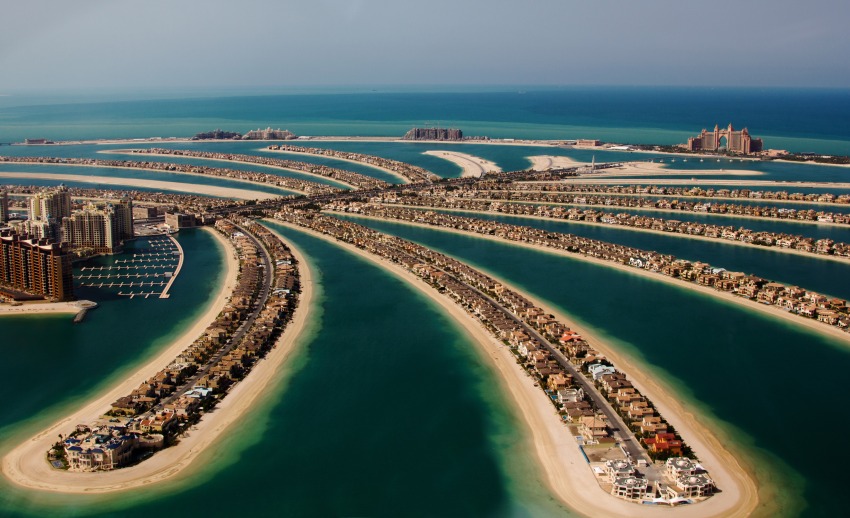 There are many popular and picturesque images associated with Dubai. One of these is the Burj Khalifa, the tallest building in the world and another one is the Palm Jumeirah. Dubai has done everything it can to create some amazing structures that attract tourists from all over the world.
The Palm Jumeirah is one of them. It is a huge man-made archipelago that projects into the Persian Gulf. If you are looking for free public beaches in Dubai then The Palm Jumeirah is not the option for you. It is not a public beach. If you have got the cash to spend then you can rent an apartment or a hotel room that has a beachfront in the Palm.
There are many luxury hotels on this stretch of land. The beach here is filled with white sand. There is a popular resort on the Palm called the White Beach. It is a top-level beach club where you can have a lot of fun. It is part of the Atlantis resort and is open to the public. You have to pay an admission charge to enter the club. A good portion of the entry fee can be redeemed if you buy enough food and beverages from the club.
If you don't want to spend too much then there is another beach club called the River Beach Club. It is a mid-range club and is also open to the public but it costs around $30 per person. If you are in Dubai then The Palm is one of the most iconic places to experience.
---
Marina Beach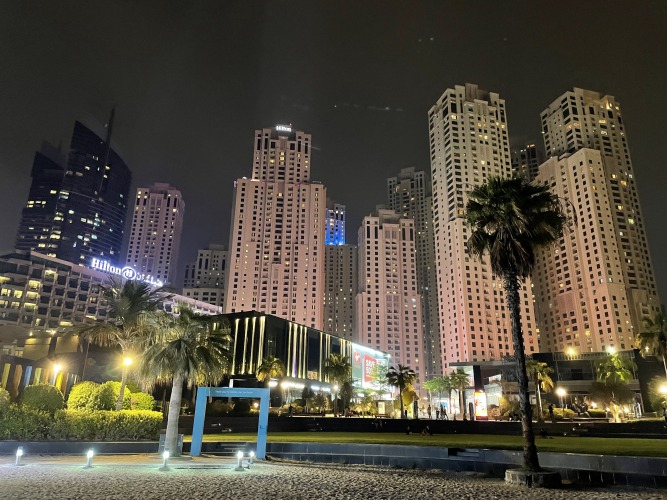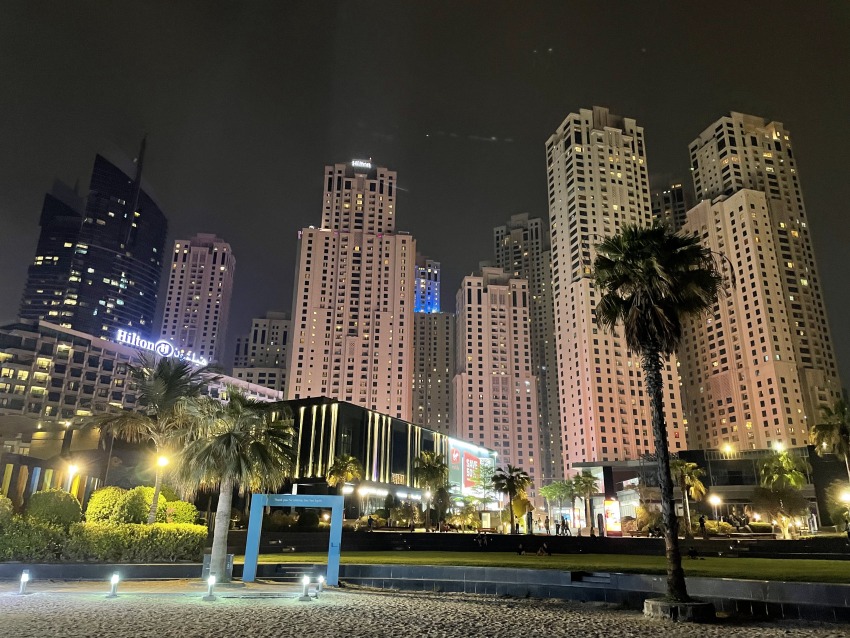 As you have already seen from the above entry, Dubai is kind of up there when it comes to building artificial structures. They have the money to do it and they do it with style. Dubai Marina is a district in Dubai. It is very popular because it is another artificially built canal city.
It stretches along the Persian Gulf is around 3 kilometres in length and covers an area of around 4.9 square kilometres. This place was established back in 2003 and during a census in 2018 this place had a population of around 55k. It is expected that the entire place can sustain over 120k people once all the development gets completed. Since the district has been built along the Persian Gulf you will be able to find a good beach or two there.
One of the most popular beaches in Dubai is in the Dubai Marina area called the Marina Beach. Dubai is known for its beaches that have that soft, white sand and the Marina Beach is one of those beaches. It is a beautiful beach that offers a lot of fun activities to the visitors.
Since most of the beaches are very near to the actual bustling life of the city you always have access to all kinds of facilities. You can also see the giant observation wheel, the Bluewater, from Marina Beach. There are restaurants, shops etc. near the beach as well.
---
Ajman Beach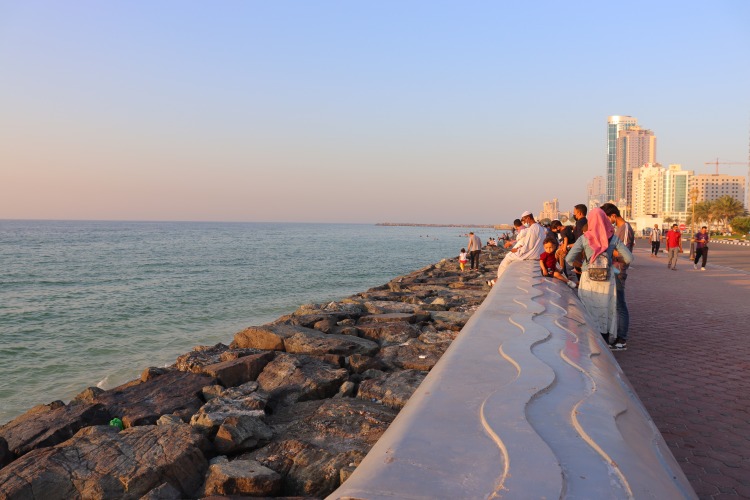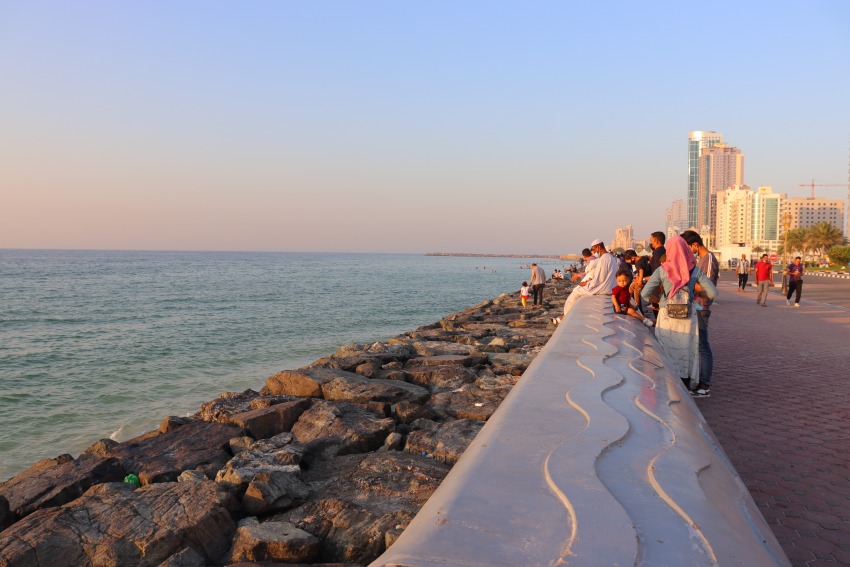 If you want to visit a beach that is not too crowded but still is kind of fun to enjoy then one of the choices is to visit Ajman Beach. It takes around 40 minutes to drive to this beach from Dubai. Very few tourists know about this beach. It is kind of a hidden gem that you should definitely check out if you love visiting beaches and are looking for beaches in Dubai.
Since this place is not directly inside the city the prices here are much more affordable but the quality does not degrade. You can find quality hotels and resorts here as well without having to worry too much about crowds. There are many hotels in the area that have a part of the beach as their private place.
So, you can heighten your experience with quality care and relaxation all the while enjoying the beautiful view of the sea swimming in the warm waters and feeling the sea breeze. There is a museum nearby as well called the Ajman Museum which used to be a fort built in the 18th century. This is a great place to visit as well if you like history. So, give Ajman Beach a visit next time you are in Dubai.
---
Black Palace Beach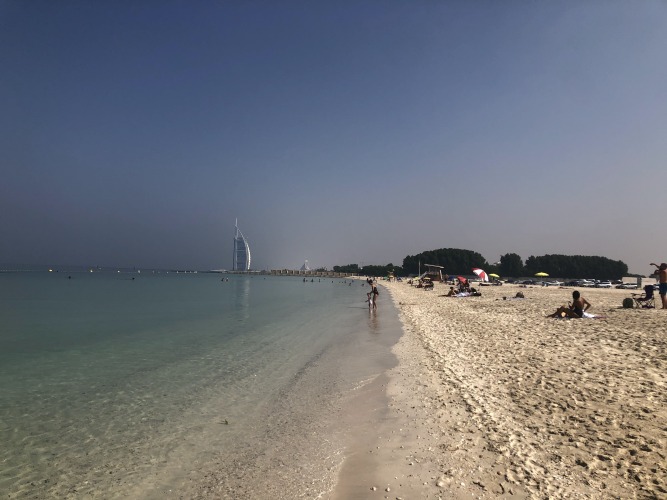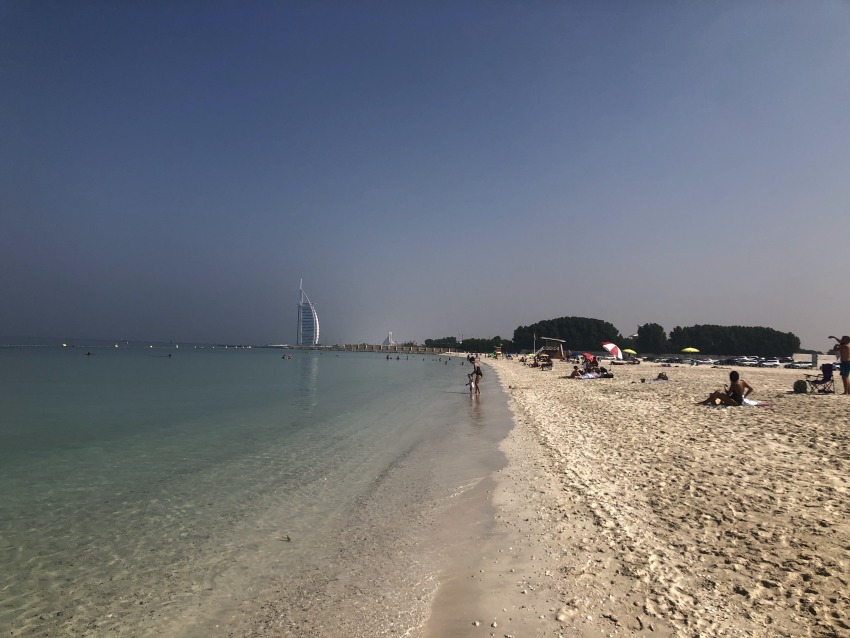 If you want to explore more wild beaches that don't have too many people or even vendors then you can visit Black Palace Beach. It is a wild beach that stretches between the two iconic structures in Dubai viz. The Palm Jumeirah and the Burj Al Arab Hotel.
This stretch of sand does not have any facilities like Bathrooms or showers but to ensure the safety of the people visiting the beach there are lifeguards present. You will find golden sand on this beach. The beach is wide and the sea as usual had that bluish-green colouration. The parking and entry to the beach are free.
---
Mercato Beach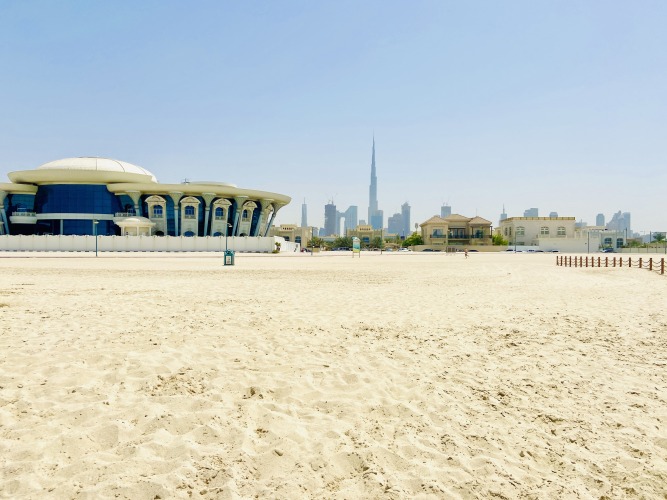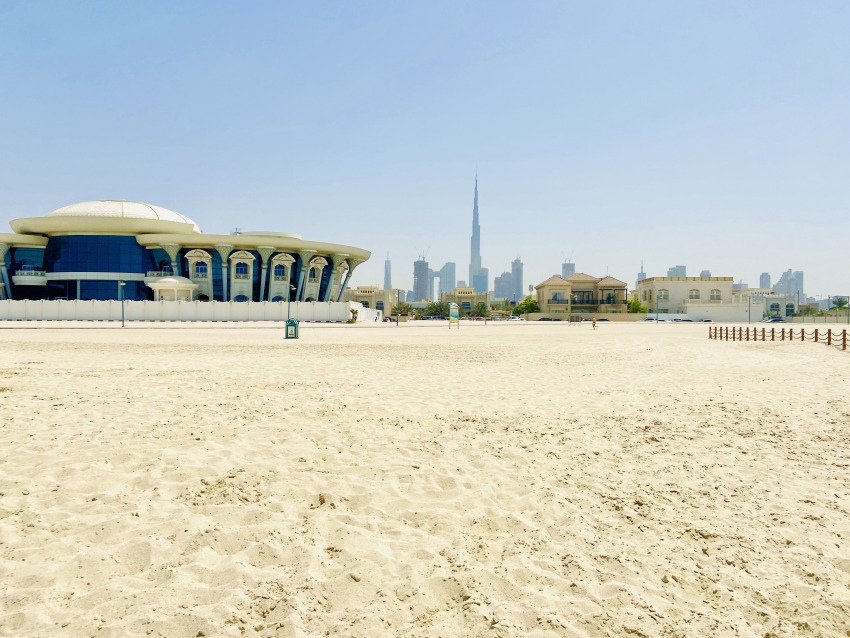 Mercato Beach is another free beach that is open to the public. It stretches along the Jumeirah beach road. Unlike the previous beach, it is a popular place for tourists and you have to pay for the parking. There is a beach library as well. So, if you just want to sit and read a book while relaxing on the beach, it is possible.
A great attraction of this beach is not the beach itself but the mall that is very near to the beach called the Mercato Mall. There is a supermarket in the mall filled with all kinds of products and merchandise giving you lots of options for food and shopping. You will find a jogging track on the beach and there are changing facilities and bathrooms available.
Conclusion
So, these were some of the best beaches in Dubai that you can visit to have loads of fun. As we mentioned many times Dubai is a place that has been developed to wow the visitors. The entire city has been well-crafted with meticulous attention to detail. The same goes for the beaches as well.
All of these beaches are very well maintained and many of these are free and open to the public. If you have money to spend then you can also book a resort or a hotel to heighten the experience. But if you just want to go to some free and open public beaches in Dubai you can do that as well. There are lots of options. We hope you found useful info about the best beaches in Dubai from this post. Happy travelling!