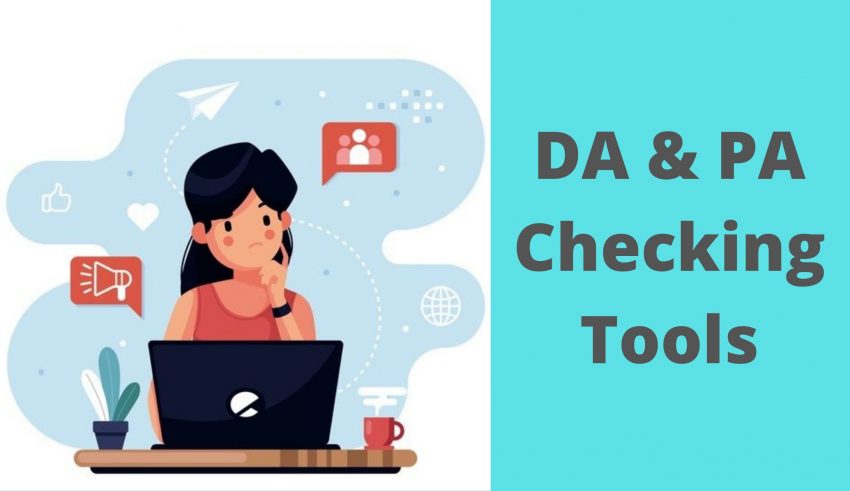 What is Domain Authority(DA)?
 DA is a metric that was developed in efforts of predicting the quality of the domain and how it will rank on search engines. It assigns a search engine ranking score called DA score to each domain that ranges from 1 to 100. The domain that scores closer to 1 is weak as compared to domains that rank closer to 100. A brand new domain starts at 1 and then grows gradually.
There are a few factors that would affect your DA scores that you can adjust to rank better and improve reach and engagement. Factors like linking root domains, type of backlinks, DA of the linking domains, total backlinks all play a role in your DA score. One thing to note, however, is that DA is not an official metric by Google but with years of updates of Google's algorithm, it has stood true in a lot of cases.
What is Page Authority(PA)?
Page Authority is a value assigned to the websites for their ability to rank their pages in the search engines. Page Authority works similarly to DA but for individual pages, as compared to the whole domain. If the page authority score leans towards the higher side of things, the better is its ability to rank content in search engine results. PA will help you optimize each page on your website to make it rank better.
What is MozRank?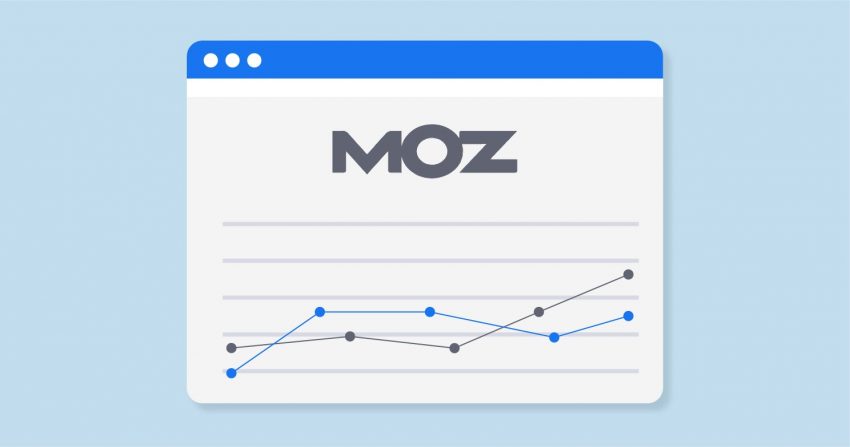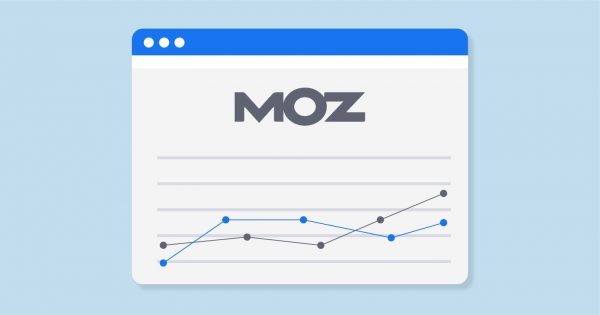 If you are using these tools to calculate your DA and PA scores, you will also see another score called the MozRank. MozRank is a metric that is used to calculate the strength of external links pointing to the page. The quality of the linking domain is more important than the quantity. It ranges from a scale of 1-10, with 10 being the highest.
To determine the Domain and Page authority, you need the help of a few tools to determine it. Here is a list of 10 DA and PA checker tools to keep you on top of the game.
Here are the Best DA & PA Checker tools For Your Website: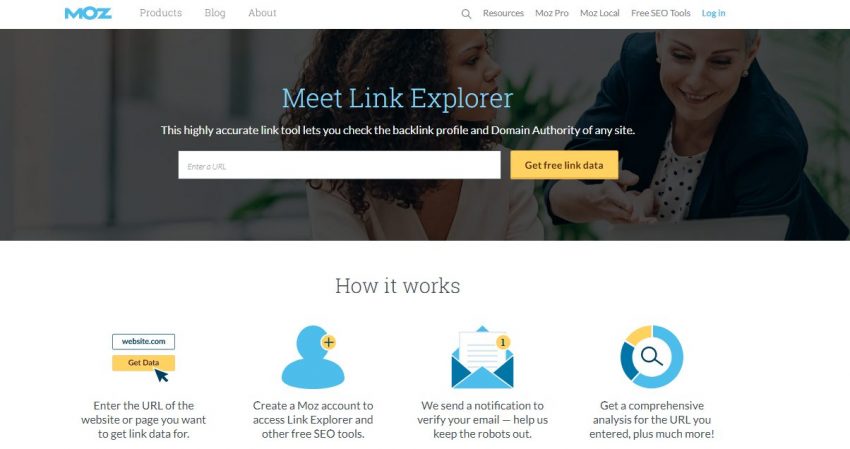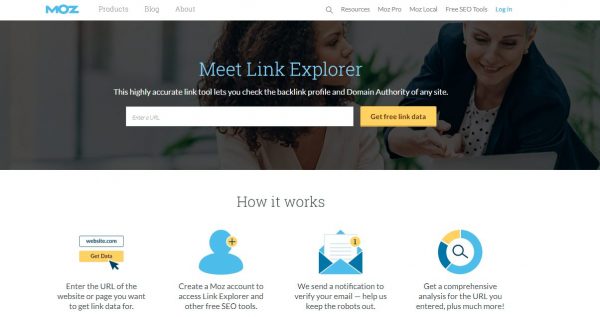 Moz Link Explorer is a great tool that allows you to check several domains analytics such as domain authority, inbound links, ranking keywords, anchor text, linking domains, and top pages. Moreover, link explorer is an excellent tool to use for analyzing domain authority. It predicts the domain ranking potential through domain authority scores between 0 to 100.
Not only can you see your DA score and your competitors, but you will also find additional features that help with your site's SEO and ranking of keywords in competition with other sites in this niche.
Top pages feature those pages that have the highest page authority. This tool is very accurate that is updated daily and uses a bigger index to calculate the scores. It is the best and only ad-free tool to check domain authority. Since it is also official, you do not have to worry about checking if the score is legit or not.
Link explorer also allows you to see the total number of linking domains, inbound links, type of backlinks, anchor text, spam score, ranking keywords, discovered and lost backlinks, and more. It is your one-stop-shop for all things SEO.
Unfortunately, there is a limit to 10 queries a month that is available for free users. But, if you download the free chrome extension called MozBar, you can bypass this limit.
---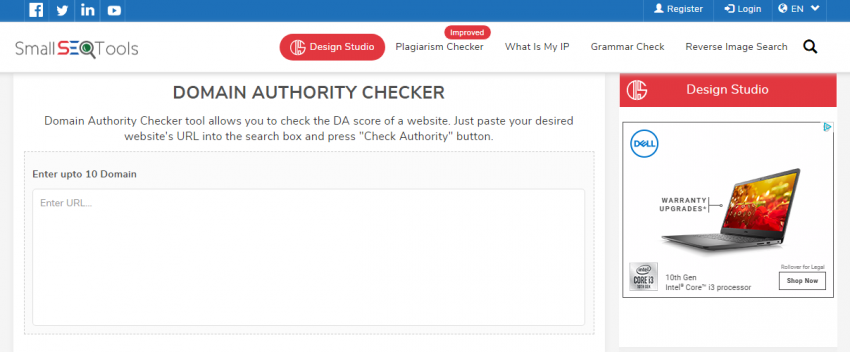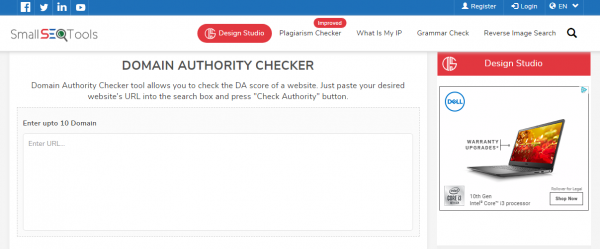 Small SEO Tools Domain authority checker is one of the best and most popular free tools that allow for checking the Moz DA of any website. The free DA checker tool is fun to use and will show you the accurate DA of any website.
It is built on a heavily reliable platform that can quickly determine the strength of a specific URL and how well it would rank on the search engine results page. It has a better set of features and benefits than any other tool on the internet, and even better, you do not have to pay for it.
This DA checker tool does not just show you the DA of a website, it also shows you the website's page authority, Moz Rank, IP Address and Location, Google Index and Google Cache. The results also lead you to find backlinks domain ratings and the website SEO score for that website you just searched.
A small SEO tool's DA checker is a great option when you want to bulk check domain authority. It allows you to add up to 50 domain names, one on each line and the tool provides scores for each of them individually.
You can even take it a step further and download the result as an excel sheet that you can use for easy access. It is fast, reliable, and easy to use. Unfortunately, the user experience is hindered by the number of ads on the page that makes it look cluttered.
A lot of marketers monitor their website's authority to build dominance and gain a better ranking in a search engine results page. Additionally, they would also keep an eye on the competitor's site to make sure they are still ranking well. People spend tons of money on tools that help with DA and PA. However, with small SEO tools, you can achieve all that and more for free.
---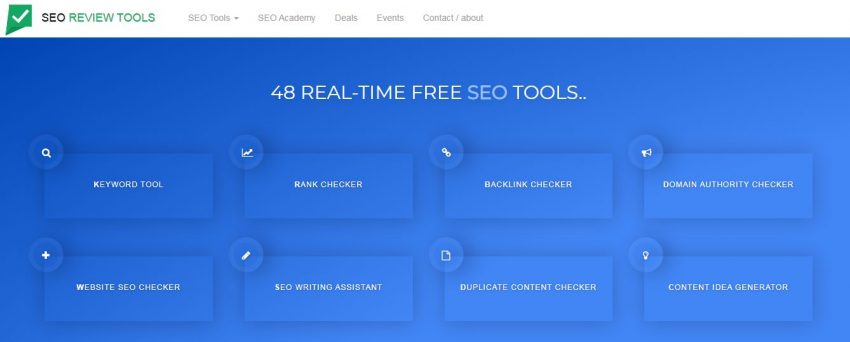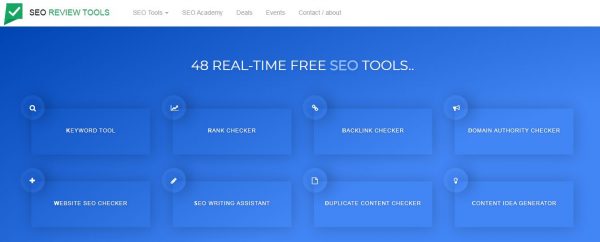 SEO Review Tool DA Checker is one of the best free DA checker tools that is developed by the SEO Review Tool. It is a basic tool that only allows you to check one domain at a time.
Other than the DA and PA scores it even shows you the external links to the domain, social shares for the URL entered, and the website's age. The tool does have a friendly user interface and ease of usage that makes it a breeze to work with.
However, having to enter Google captcha for every entry does slow down the work a lot. Moreover, you can easily bypass it by registering for free, though that is a disaster yet to unveil itself in the form of a flooded inbox.
---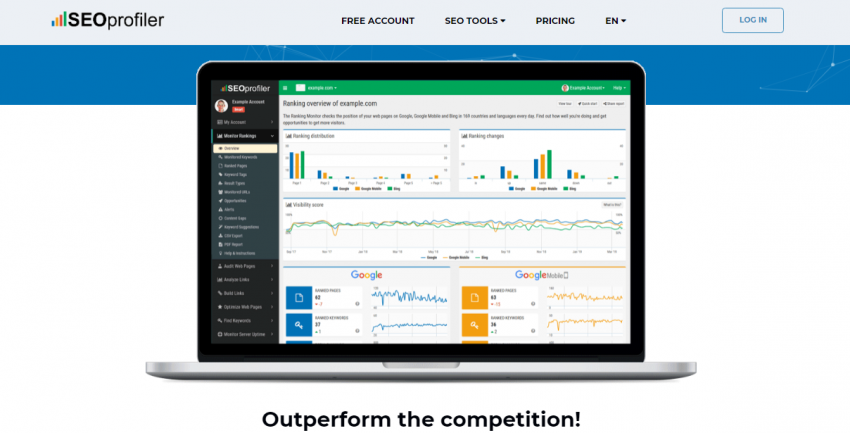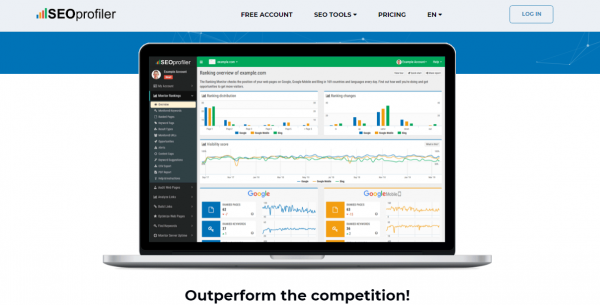 SEOProfiler is a cloud-based Internet marketing tool that is known to assist a lot of websites in attaining high ranks in search engines. Along with this, websites gain more traffic and therefore more customers. With an SEO profiler, websites are assured that they can follow search engine guidelines for SEO and better ranking.
It has tons of features that help you rank better and ultimately keep you and your website happy with customers and views. It allows you to use this tool for a variety of purposes like keyword research, link building, social media monitoring, Domain authority checker, Page authority monitoring, and more all on the same platform.
You can start with a one-week free trial to see how you like this feature before deciding to buy any of the premium plans:
Standard: $69.95/month
Smart: $99.95/month
Professional: $249.95/month
Enterprise: $999.95/month
The standard premium plan should give you all the features you need, but it is good to know that there are more options.
---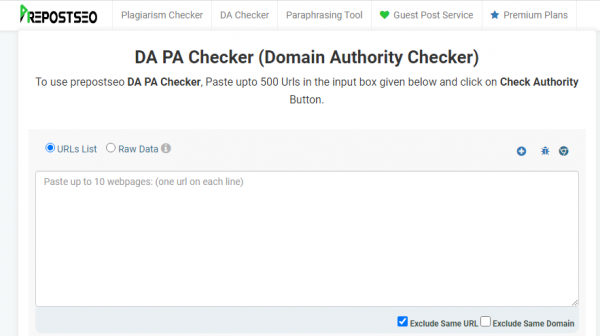 Prepost SEO DA Checker is a great tool for bulk checking more than 50 domains at once. You may be a professional in this field and may need more than the 10 options to check domains authorities, which is where this helps. Bulk Domain Authority Checker allows you to add up to 100 domains at once and check their scores in a matter of a few seconds.
There is no additional captcha or subscriptions required. The result shows you the DA and PA score, Moz rank, IP address as well as the indexed pages in Google. This is a new feature that rarely any other tool provides and can be very significant for your site's ranking.
Moreover, you can also download this result as an excel spreadsheet to view and analyze later. There may be a few banner ads here and there, but they can be easily overlooked.
---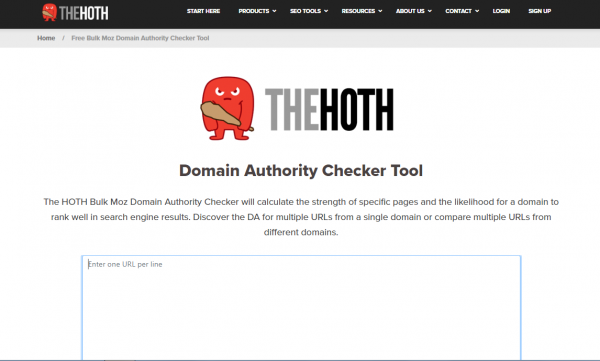 The Hoth DA Checker is a well-known SEO service provider. Along with other SEO services, they have other tools like the Bulk MOZ DA checker. This tool is limited to only 25 URLs per check and it requires you to add an email and complete Google's captcha before showing the result.
You get a few results like:
The DA and PA
Moz Rank
External rank
The user experience is smooth. If it were up to you, you do not need to give an email. The emails are too spammy and you get a lot of mail per day. There are a few advantages to this and it gets the job done, however, it is not the best tool to check your website's domain authority.
---


A website SEO checker is a free tool that allows you to check your domain's authority. SEO is a huge part of gaining engagement with a website and retaining customers. But with advancing time and technology simple keywords alone cannot make your page rank.
You need to check your domain's DA with DA Checker. You can use WSC's domain authority checker for checking the domain authority of multiple sites by pasting one domain URL per line.
With the DA checker you can see:
Age of the domain
Number of external backlinks DA checker
Number of links Dofollow and Nofollow
Quality and authority of these backlinks. You can easily check backlinks using this tool backlink checker
Reference number of domains links
Moz Spam Score is taken into consideration
Adding to the domain authority checker, WSC also has other tools like domain age checker, HTML/XML sitemap generator, page authority checker, spam score checker, backlink checker, etc. There are tons of other tools that will make your site rank better.
---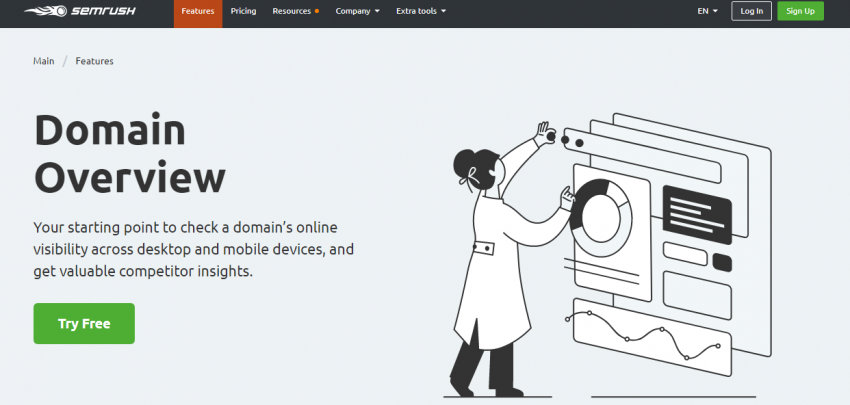 SEMrush is one of the best SEO suites that have multiple tools for site audits, domain analysis, keywords, content analysis, PPC performance, backlinks checking, competition spy and more. This wide range of analysis tools come in handy for digital marketers and bloggers who wish to audit their sites.
One of the best features of SEMrush is the domain analysis tool. This feature allows for competitive intelligence based differentiation that is based on the domains comparison. The monitoring system is one of the best that provides key details of the competitor's domains.
Additionally, you can also find out the common keywords that are being used on a website and dig deeper into the search engine result pages for more keywords. SEMrush is an amazing site to check domain and page authority for digital marketers, businesses, bloggers and more. SEMrush subscriptions begin at $99.95 per month, but you can also choose to pay by a monthly basis at $83.28 per month. Before committing to any of the paid plans, SEMrush offers a 7-day trial period.
---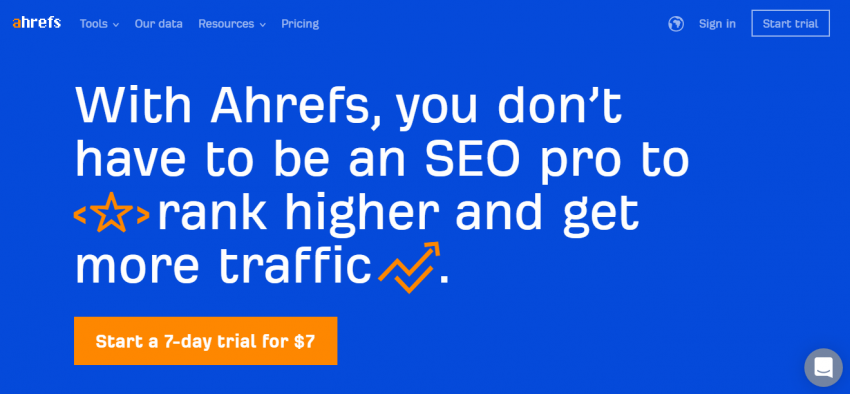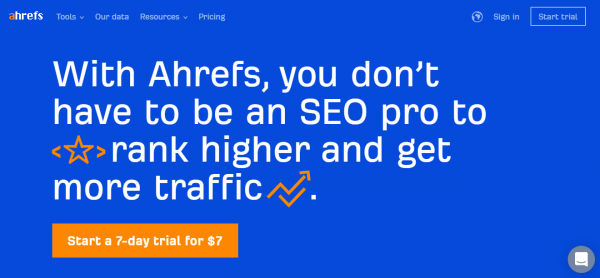 Ahrefs is one of the industry's well-trusted SEO management tools that immensely helps digital marketers, SEOs, bloggers and more people. The tool helps in conducting competitive analysis, backlink analysis, keyword research, content research, rank analysis, website monitoring and more.
Sine domain authority is directly connected to the search engine optimization and organic health of the site. Once a website starts to get attraction through social media, backlinks, and SEO the elements like Page authority and Domain authority start to get better. The more a site performs better organically, the higher are the chances to improve its domain authority.
A tool like Ahrefs helps the marketers, bloggers and businesses to keep track of their backlinks, referring domains, anchor texts, top landing pages and other competing domains. This keeps them constantly changing and adapting to what they see is working to keep them up top. Ahrefs offers a 7-day trial for $7 for you to get a feel of how the tool is.
---

 Site Checker is an SEO suite that has a lot of tools that help analyze and aid in the betterment of your site's SEO score to rank better on SERPs. They have a variety of tools like On-Page SEO checker, website rank tracker, SEO monitoring, website health checker, and more.
It has everything you would need to analyze your domain and site's health. SEO is a combination of so many tactics, like keywords, backlinks, anchor texts, keyword analysis tools, Page authority, and Domain authority. You must have a few site analysis tools in one place to make your job easier. The site checker has three packages starting at $14 per month.
---
Conclusion:
 Knowing your competitors is an important part of owning your website and getting it to rank among the search engine result pages. By calculating how strong or weak your competitors are it becomes easier to plan your content, website, marketing strategy and so much more.
The front is what attracts customers to the site, but everything else is why they would see and come on your site in the first place. Domain authority may not be a very important aspect of your website, but it is a good metric to judge where you stay in the group amongst your competitors.
This is why it is important to use tools like Domain Authority checker and Page Authority tools that are more than necessary to perform competitor analysis.