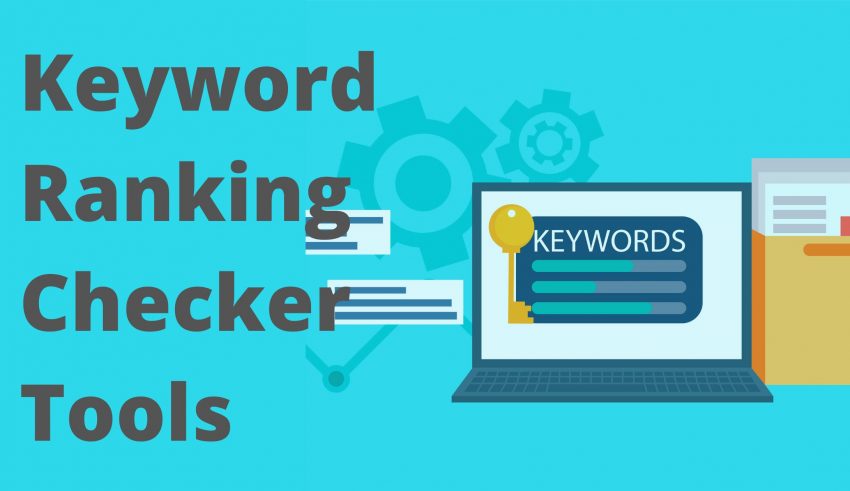 The 21st century has seen the rise of many innovative job openings. And this being the digital age, there is no surprise that most have these new career opportunities are online-based. One such lucrative career option is the role of a blogger. That being said, not anyone and everyone who have a passion for writing can take on the role of a content creator.
Being adept in SEO has now become a necessity if you really want to make a career out of such professions. And the role of keywords is indispensable in any write-up you create.
One quick scroll through any keyword generating tool such as SEMrush or Ahrefs will offer you a list of keywords relevant to your topic which you must then include liberally in your article.
But your work as a blogger does not end once your article has been SEO-optimized. You must now ensure that your article is continually ranking well in Google, i.e. the first few pages of said search engine. And this is where you would need the assistance of a trusty keyword ranker.
We have curated a list of the best tools to track and check your google rankings via efficient keyword management. These listed free online keyword ranking tools will easily help you achieve your target positions on Google.
Best Keyword rankers and Google position tracker tools: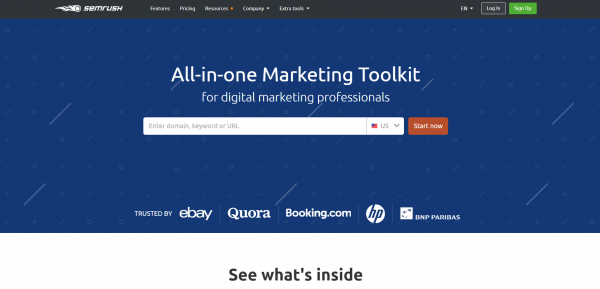 Starting the list with the most popular and widely used SEO ranking tool, SEMrush provides just about everything you need to boost your articles and online presence. To check your keyword ranking on the tool, you simply have to copy-paste your article link to the site and the tool immediately dispenses results by pinpointing which keywords are helping you rank in Google.
This feature is available under the Rank tracking option wherefrom you must select "position tracking". Additionally, you may also research said keywords to find out your immediate competitors. SEMrush is also available for both Google and Bing – so you can reach and understand a wider scope of audience. The tool is extremely popular owing to its accuracy level and simplicity.
So, needless to say, it is not absolutely free, post 14 days if you want to continue enjoying SEMrush's services you will have to subscribe to their paid account. But we promise you, it's going to be money well spent.
---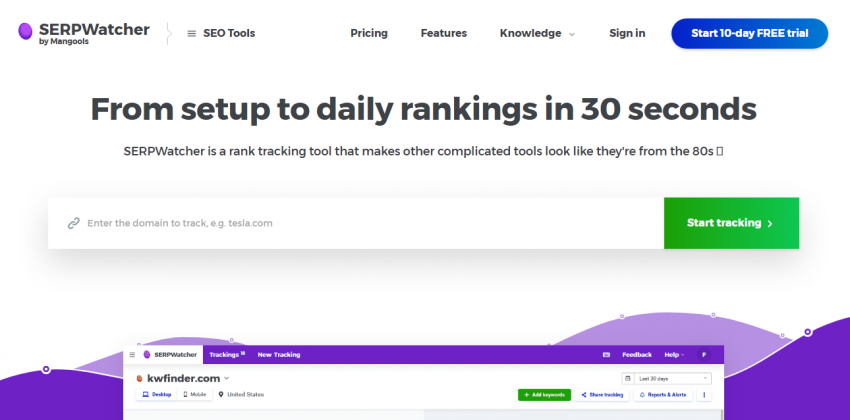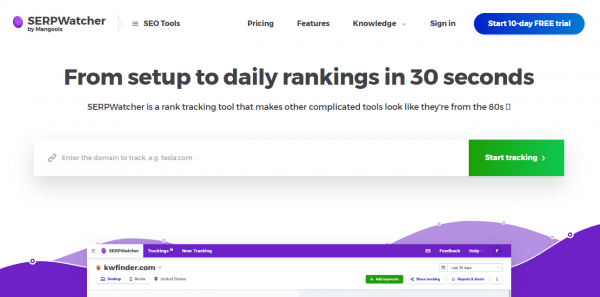 Operated by Mangools, SERPWatcher lays special emphasis on providing you with a more round-about analysis of your domain. The rank tracker tool is packed with a great UI and is quite helpful in tracking your overall progress. What we love about the tool is that it offers results as per your geolocation and even showcases how differently desktop and mobile users take notice of your blog or advertisement.
This makes it an indispensable tool for business. After a free trial run of about 10 days, you will have to subscribe to their paid plan. Their paid package enables you to track as many as 1500 words, depending on your plan. There is, however, no restriction as far as the number of domains is concerned.
Additionally, SERPWatcher comes with important tools such as keyword finder, SERPchecker and more. When you tally the plan pricing with advantages you can reap, we assure you, SERPWatcher will have you hooked.
---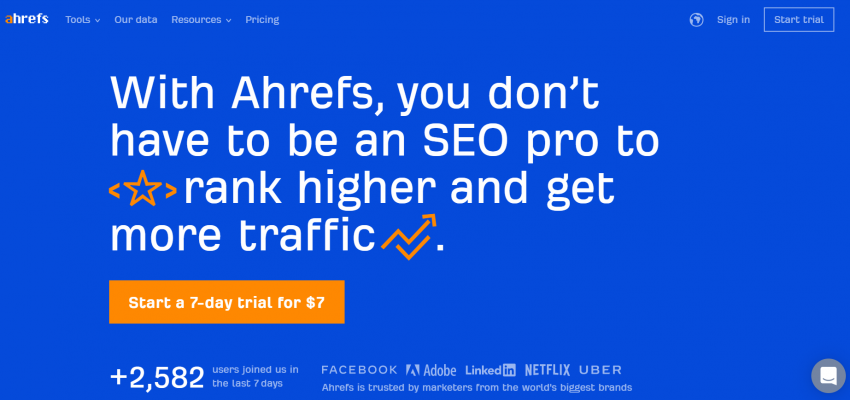 Ahrefs, another mega-popular SEO ranking tool, has been around for some time and it is only gaining more traction as days go by. Often lauded as one of the best keyword rank trackers out there, Ahrefs does not need you to insert keywords of your own. Once your domain link has been put in, the tool will automatically identify and highlight the keywords that are helping your website rank.
Ahrefs also specifies the ranking based on your country, which is quite an important feature if you are trying to target an audience based exclusively on location. Moreover, Ahrefs also offers a list of your competitors, which in return helps you stay ahead of the game.
It is worth mentioning that Ahrefs comes bundled with various other tools such as keyword research, site audit, content exploring and so much more. Ahrefs may be a tad bit on the costlier side, but its exemplary service is sure to help you grow your business in more ways than one.
---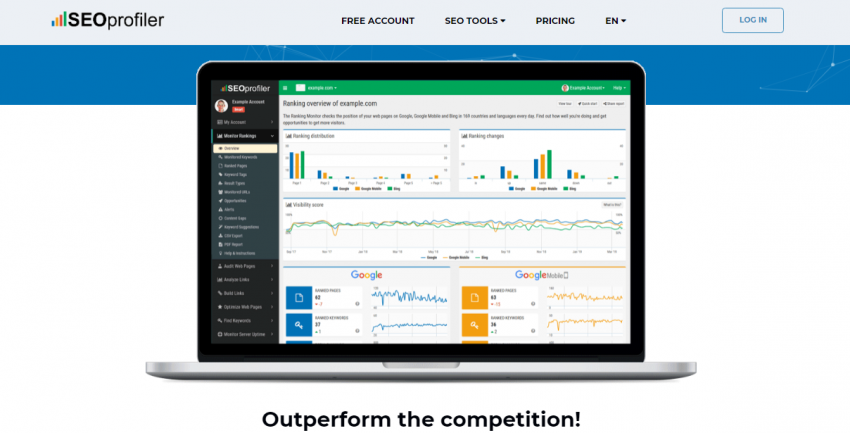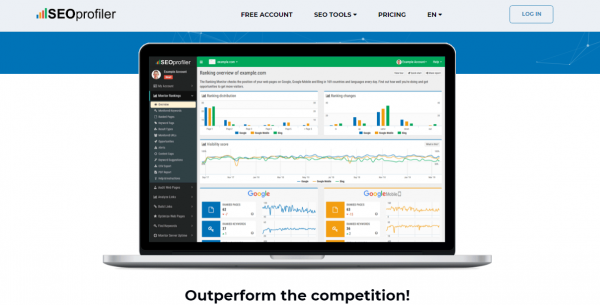 Unlike the other tools in this list, SEOprofiler is more of a website promotional service than a position tracker. Don't get us wrong, the tool also offers a keyword ranking feature but it just has so much more to offer. With the help of this tool you can not only track keyword progress but also attain a comprehensive report from various search engines.
Furthermore, the reports are available in the form of charts and graphs which makes comparisons that much more simple. Through SEOprofiler you can also keep tabs on all your business contenders' rankings. SEOprofiler takes their services up a notch by alerting and advising users on how to increase their actions via actionable tips and detailed researches.
---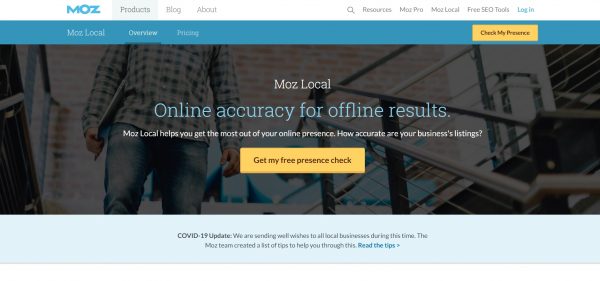 For those of you who share the belief that simplicity and efficiency go hand in hand, Moz Rank Tracker is ideal for you. With the help of Moz, you can check your rankings in all of the popular search engines in as many as 200+ countries. Unfortunately, this feature is available only for desktop rankings. Mobile rankings are only provided at national and local levels, but you may resort to Moz Local if you want to explore physical locations as well.
Moz also identifies your competitors and informs you about their SEO strategies thus invariably ensuring you're always a step ahead when it comes to website visibility. With the help of Moz the reports you receive will come with rankings, site crawls and comparisons. If you so desire you may even attach crucial notes of your understanding to these reports.
---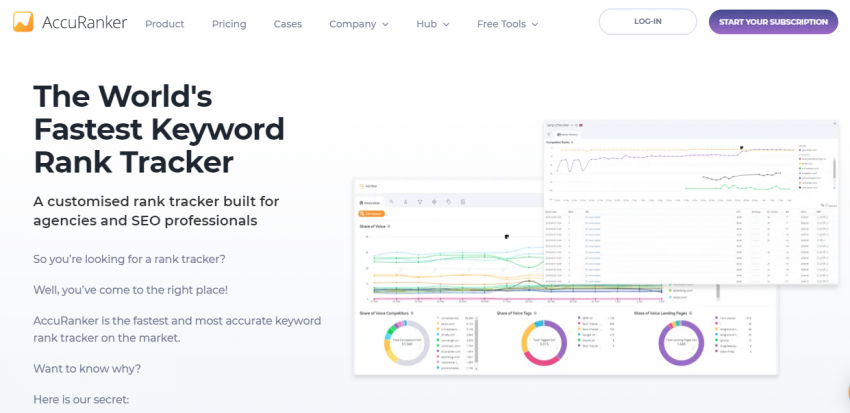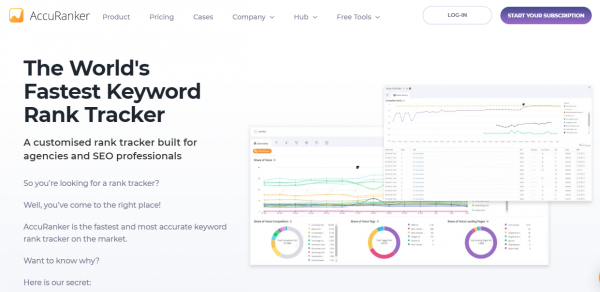 Ending the list with a bang, we have one of the most popular, systematic, and methodical SEO tools, the Accuranker. If you are hoping for a long term association with any keyword tracker service, we recommend you choose Accuranker. Not only does this tool inform you of your tracking in Google but it also widely used to analyze Bing and Yandex ratings.
The tool is intelligent and uncomplicated enough for even an SEO rookie to understand its features and functions and use them to their advantage. The tool is also extremely fast and has accurate reports ready for your analysis within a jiffy.
It is essential for every business to start out by influencing their immediate community at first and Accuranker understands that better than any tool out there. You can use its service to set your target location to any country or even more than a country. The service has various plans based on how many keywords you want to track, so choose any that fits your business criteria the best and get started on improving your website visibility.
---
What better way to check your search engine position in than to trust Google's very own Google Rank Checker? The tool comes in the form of a free extension and lets you keep track of your website ranking for all countries. To avail the service, you just have to insert the keywords you have in mind and it will immediately showcase the position of the said keywords. It's oh-so-simple and well, it's free. What else could you possibly need?
---
Conclusion
Keyword position checker tools are essential to get a business up and running in this digital age. A website that reaches millions has endless scopes. These aforementioned tools will equip you to scale your business and help it reach new heights. So, compare the tools and select one that suits your business needs the best and we assure you, they will make your online advertising work as simple as ABC.