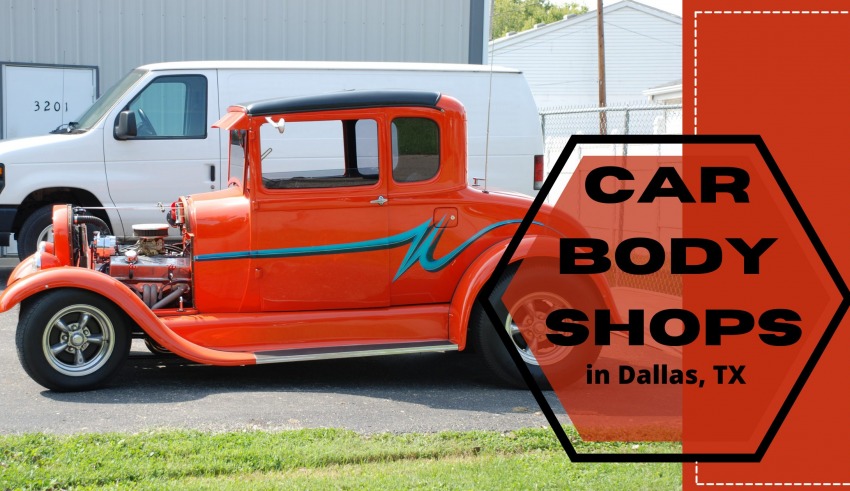 Accidents can cause quite a burden on your daily life. Your car is damaged which takes out your means of commute and it causes psychological trauma on you. People who own a car and use it daily can face a lot of problems when their car's damaged. They need it fixed affordably and in a reasonable time frame so that they can get back to their normal life. Today, we have decided to list some of the best car body shops in Dallas.
These shops have a lot of expertise and experience when it comes to dealing with collision-damaged cars and even normal maintenance and repairs.
They offer a wide variety of services and can work on almost all kinds of cars be it a domestic or a foreign model. So, if you need a good car body shop in Dallas, then this is the list you will need. 
Here below is the list of 10 Best Car Body Shops In Dallas, TX:


Let's start the list with Ames Collision Center. This is one of the best car body shops in the Dallas, Texas area. It has good services and does car body repairs. They provide different kinds of body repair services and if your car is of European build or is a European model then much better.
This is because the Ames Collision Center specializes in body repairs when it comes to European models. The company always welcomes its customers. You can directly walk into their shop or set an appointment. To ensure that it has a good place in the market the company tries to stay at the top of its game by keeping the service quality top-notch.
Ames Collision Center knows that to be the best you need to provide excellence. To do so, the company keeps its service quality high with skilled craftsmanship. But just providing solid repair jobs is not enough. A business needs to treat its customers well and Ames focuses on that aspect as well.
You can tell that the company is pretty confident in the quality of its job as it provides a written lifetime warranty on all the repair jobs that it does. If any problem occurs with the repair job the company will always be willing to assist you and get it fixed. The website of the company has a lot of comprehensive details and info. You can take a look at the complete services it offers on the website. If you want to do so, you can even reach out to Ames Collision Center for a free estimate.  
---


Next, on our list of the best car body shops in Dallas is Jose's Body Shop. This is a popular car body shop that provides different kinds of repair services. This shop has received great reviews from the people who have got their cars repaired in this shop.
Many of the clients return to this shop if they need more repairs and keep getting highly satisfactory services from the people at Jose's Body Shop. The company knows how to take care of its customers and understands what good customer service is. It will always keep you informed about the process and provide you with all the updates.
Everything is handled very professionally. Another attractive point about Jose's Body Shop is that the company is not going to charge you unreasonable rates for the repairs. It ensures that the services are very affordable. But besides the affordable rates, it ensures that the quality of the repairs does not go down.
Lower rates do not mean any compromise on the quality. So, if you are looking for a shop that provides services of high quality at reasonable rates then you can check out this shop. The company does not take a long time to do the repairs.
So, you do not have to wait for a long time to get your car back. Jose's Body Shop is one of the best car body shops out there in Dallas. The company will take you through the entire process and will charge you a good price and do quality jobs. You will find all kinds of repair services in this shop. 
---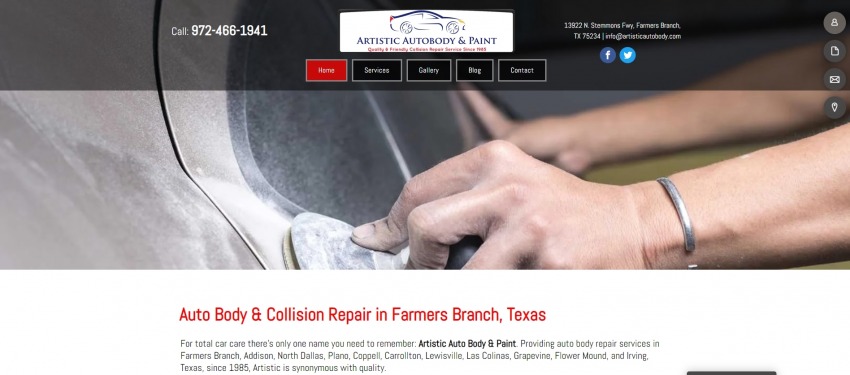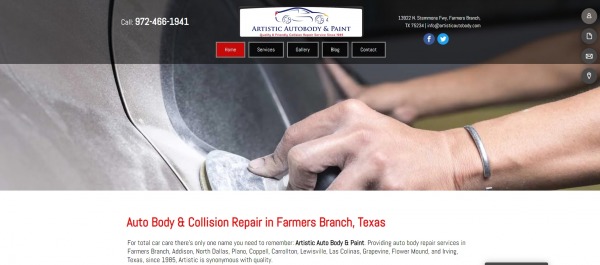 Artistic Auto Body and Paint Inc. is a car body shop located in Texas. The company is very good at providing quality services when it comes to repair jobs. The staff here are highly skilled and they know how to take care of a car.
Artistic Auto Body and Paint Inc. started in 1985 and has continued to provide excellent service and care for over 36 years now. The company has good knowledge about different kinds of repair jobs and will diligently work towards fixing your car.
The services mainly fall under two categories: a complete and comprehensive diagnostic of your automobile. You will get to know all about the condition and the shape your car is in. Then the other service provided is maintenance and repair.
The company will get your car up and running by repairing all that's deprecated and broken and fixing it up so that you can start using your car again. The maintenance team will also ensure that your car is not only running but is also in a good condition so that you are safe while driving it.
Artistic Auto Body and Paint Inc. is a family business. It doesn't treat you like just another customer but rather provides a service that feels more personal. All the mechanics that work here are highly skilled and have relevant certifications.
They will breathe new life into your car. So, if your car has been totaled or you have been thinking about giving it up for maintenance and repair then Artistic Auto Body and Paint Inc. are one of the best car body shops in Dallas that you can take your car to.
---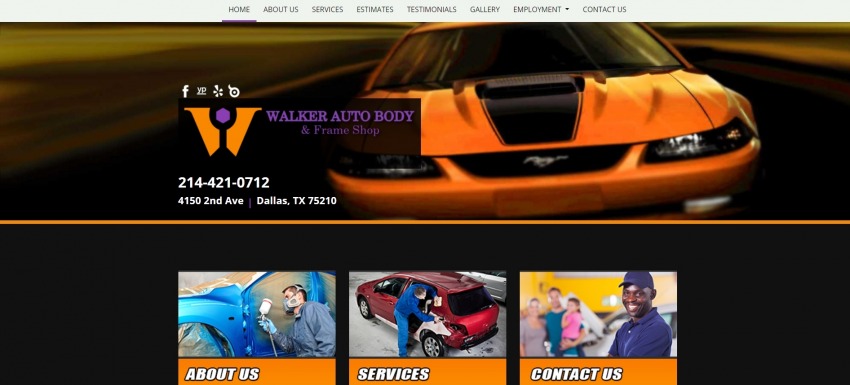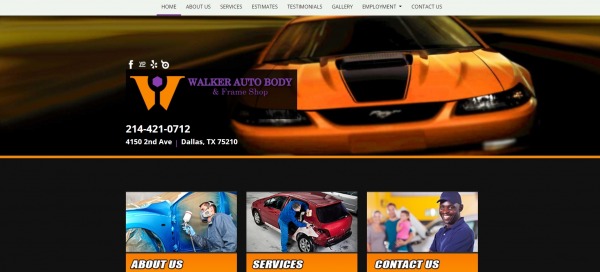 Walker Auto Body and Frame Shop started in 1981. This is a company that is committed to providing top-quality services to clients for over 40 years. That's a long time to stay up and running. This means that this car body shop must be doing something right to keep pulling in customers year after year. To ensure that all the customers get a top-quality repair and maintenance job the company follows a four-step process.
These include service, quality, technology, and warranty. By sticking to these steps they can provide top-tier services consistently for every customer. Walker Auto Body and Frame Shop is a family-owned business. The company has always hired skilled mechanics and technicians who know their way around a car and can fix the problems for any customer.
It provides top-quality paint jobs to make your car look shiny and new. It does top-quality repair jobs when it comes to the frame and the body of your car. The shop is located in Dallas, Texas and anyone who lives there and is looking for the best car body shops in Dallas can visit this shop and get their car repaired.
To ensure that the customer is happy with the service and doesn't have to overpay for the parts and the services the company works closely with the clients informing them about the relevant steps involved in the process.
So, this way you can decide on which parts to use, be it dealer parts or aftermarket parts based on your budget. You can find a full list of services provided by the company on its website. 
---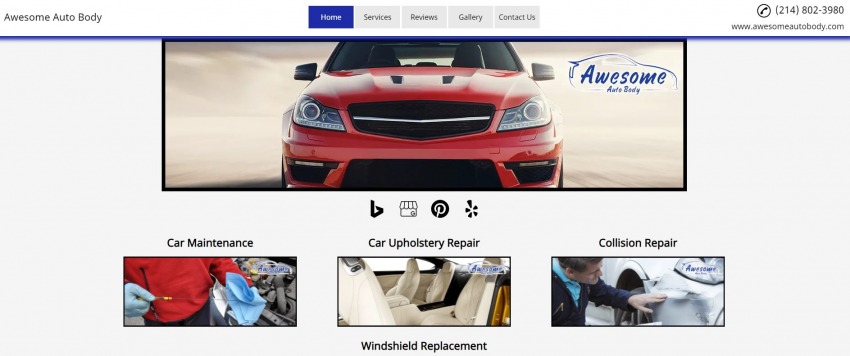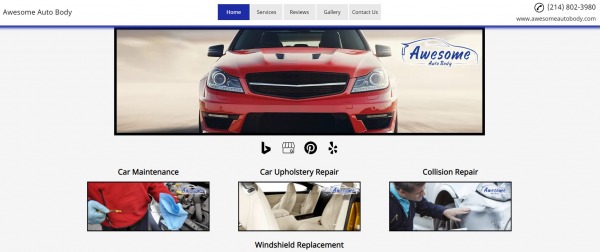 Up next, we have Awesome Auto Body which is another car body shop that you visit if you are in Dallas. This company is an expert at auto repair jobs and collision services.
It ensures that the quality of the service provided is very good and the expectations and needs of the clients are met. The technicians that work at Awesome Auto Body are all ASE-Certified and are of I-Car Gold Standard. Thus, when you bring your car into the shop for repairs you can be assured that you are handing it over to people who know what to do.
The technicians are highly skilled and know their way around all types of cars, be it domestic models or foreign ones. They even have expertise in repairing and doing maintenance jobs on luxury and high-end cars. Awesome Auto Body is trusted by its clients. People who want professional repair jobs done with top-quality accuracy and precision trust the shop. The company tries to go the extra step to ensure a better customer experience.
It provides pick-up and drop-off services. This means that you can get your car picked up, repaired, and then dropped off where you want. It makes it a lot easier for people who may not have the time to bring in their car or maybe their car is not in the right condition to drive. Besides this the company also has discounts. So, if you are a veteran or a single mom looking to get your car repaired then Awesome Auto Body will try to provide good discounts for you.
---
Also check: 10 Best Car Paint Protection Film In Dallas, Tx In 2022
---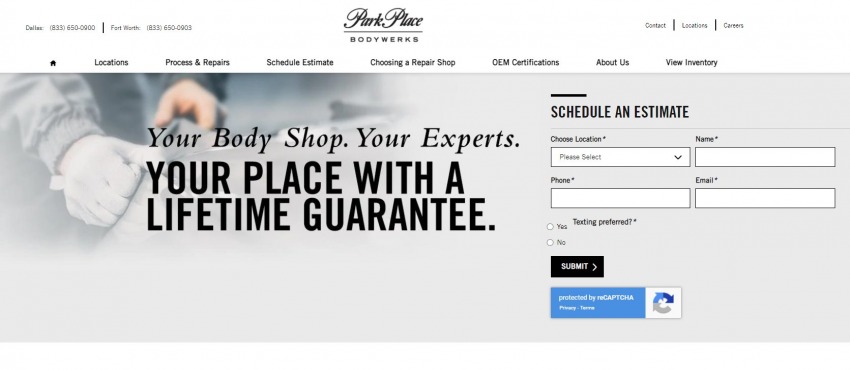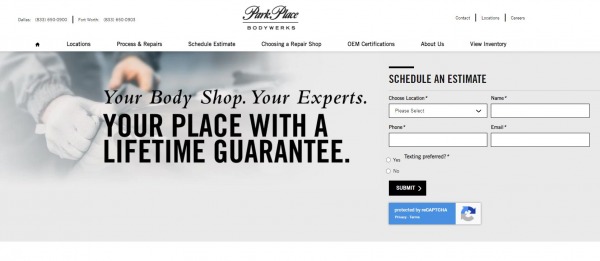 Park Place Bodywerks is a car body shop in Dallas that specializes in different kinds of vehicles. If you have a luxury or high-end car the company will do the repair job and if replacement is needed then all the parts used for replacement will be completely original coming straight from the manufacturer.
So, you don't have to worry that your luxury has been repaired with some low-quality aftermarket parts. The company claims to be the best in the business when it comes to collision services and paints and repair jobs for cars. Park Place Bodywerks is located in Texas.
You can find them in Fort Worth as well as in Dallas. The company has been certified by top luxury car manufacturers to do repairs and maintenance jobs on their cars. The company knows how to restore your vehicle and make it look new. If your car has been in an accident, or it has been damaged, dented, or scratched you can bring it directly to the shop and get the damages repaired.
All the jobs are done by professionals and skilled technicians who have all the required certifications to handle automobiles and perform maintenance and repair jobs on them. The main goal of the company is to provide you with an experience that excels in quality and can be found nowhere else in Dallas.
Some of the services that Park Place Bodywerks provides include custom paint job, Collision repair, frame straightening, structure repair, full detailing, paintless dent repair, and much more. So, give them a visit if you want to go to one of the best car body shops in Dallas.
---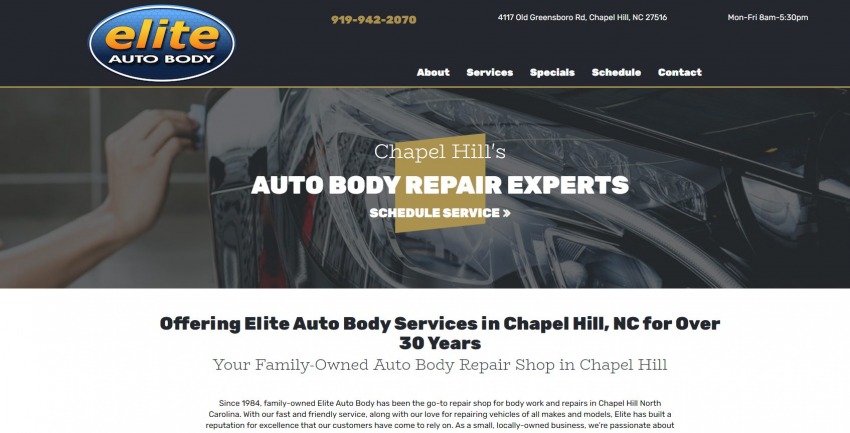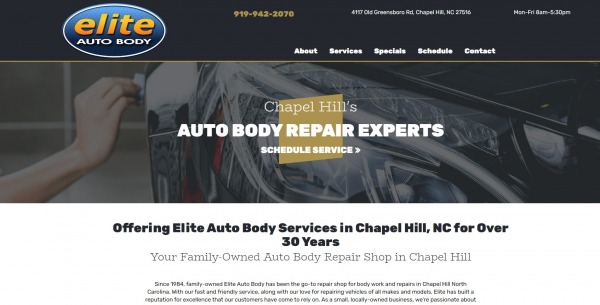 Elite Auto Body Shop has a team of expert technicians who are ready to assist you when you need a solid repair job or want some collision services to fix your damaged car.
Accidents are unfortunate. They cost you a lot of money besides the trauma of the event. Elite Auto Body Shop can help you with the former problem. This is a car body shop that deals in providing collision services to fix your car up so that you can start using it again without any problem.
The technicians have a lot of experience and the right expertise to take on any kind of repair job and to deliver within the time estimate provided. The jobs done are of quality top quality. Besides, the top-tier expertise helps the shop be quite flexible with the kind of jobs that it takes on.
Thus, you can get a bunch of different maintenance, repair, and collision services from Elite Auto Body Shop. The shop also has a variety of advanced equipment and tools that helps them in doing maintenance and repair jobs of luxury or high-end cars that require more precision and accuracy.
To ensure the safety of the customers and to provide a nice -drop-off post-drop-off experience the company follows all the safety guidelines of the industry to make your car safer to drive. If you are worried about whether this car body shop works on the mode of your car then don't worry. The shop is completely equipped to handle any make or model when it comes to automobiles.
---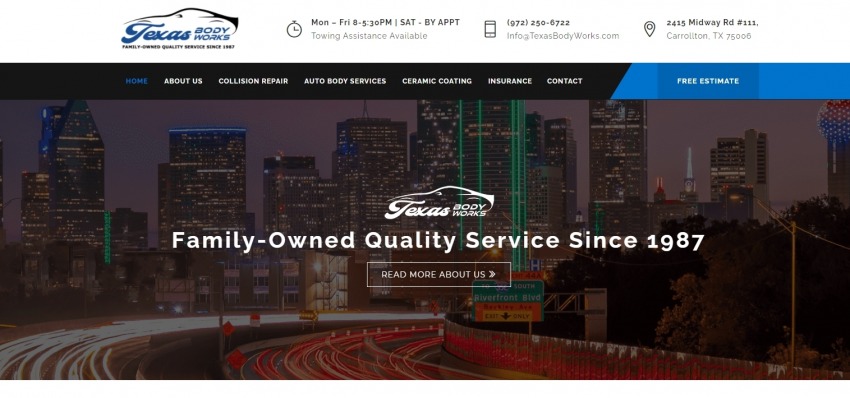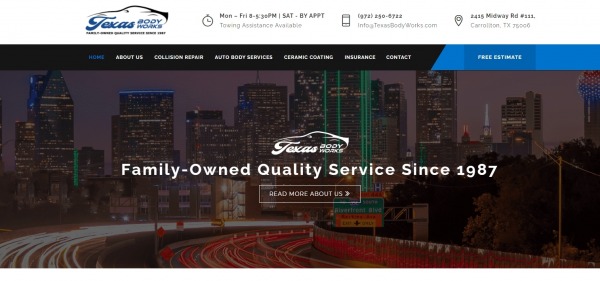 Next on our list of best car body shops in Dallas is Texas Body Works. This is a car body shop that started in the late 80s and even after 30 years it is still providing top-tier services to clients. This family-owned business's main goal is to ensure that the customer is satisfied with everything. Good quality customer service is something that the company has been always gunning for.
The good thing about that practice is that if you want to keep the customer happy and satisfied you have to not only build a good relationship with them but also do a solid job on their car. Thus, it makes the company ensures that all facets of the business are working in the best way. The technicians working here are not only skilled but they keep upgrading their skills and expertise to work with different kinds of new equipment to provide the best service that your car needs.
They are very well equipped to handle both domestic and foreign models and can perform maintenance services, collision repair, and auto diagnostic on any kind of car. The company ensures that each of the services they provide when it comes to the repair jobs and the paint jobs are up to industry standards. So, if you want a body shop that takes good care of your car and delivers it to you on time then visits Texas Body Works.
---
Also check: 10 Best Car Ceramic Coating In Dallas, Tx You Must Try In 2022
---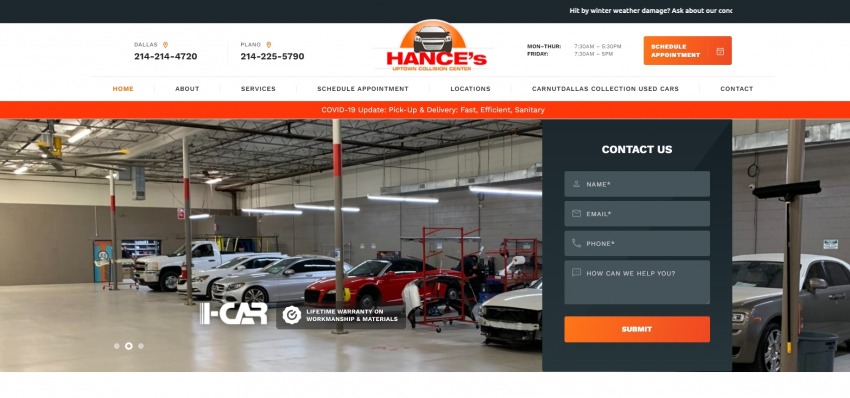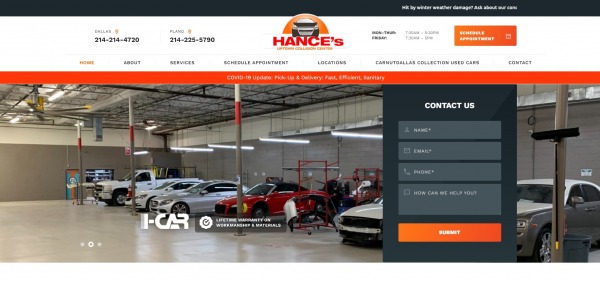 This is a car body shop in Dallas that has had a lot of experience fixing damaged cars. The company has been at it for over 65 years and is still going strong. If you are looking for personalized auto collision repair then Hance's Uptown Collision Center might be a good fit for you.
The company has a lot of experience and expertise in handling different kinds of collision services and repair jobs. It is also quite adept at handling insurance claims related to automobile accidents. The shop has different branches in and around Texas and if you are in Dallas you can roll right into their Dallas branch for epairsrepairs or other kinds of car services.
The main priority of the company lies in dealing with the customers properly. It wants to ensure that a good relationship is developed with the client. A happy client is a returning client. So, good customer service is something that you can always expect from Hance's Uptown Collision Center.
The company is bent on doing business the right way i.e. with integrity, honesty, and fairness. When you bring your car to Hance's you will be ensured that your car will be taken care of and everything will be conducted fairly and reasonably whether it is the repair jobs or collision services or the price charged.
Besides Dallas, you can find Hance's car body shops in Plano. Visit the website to know more about the services that the company provides. You can even schedule an appointment if you like. 
---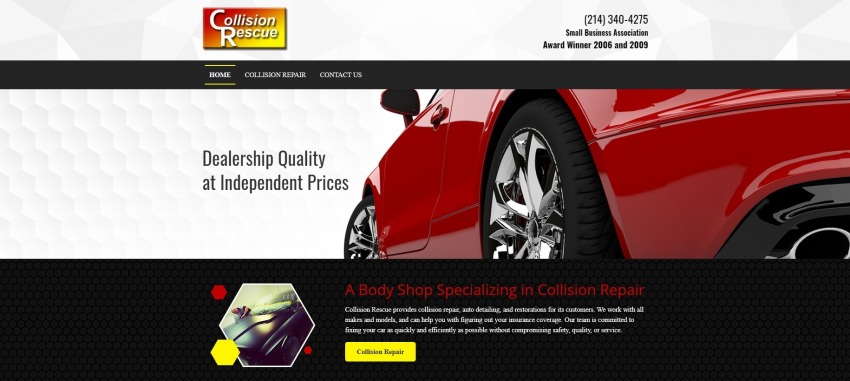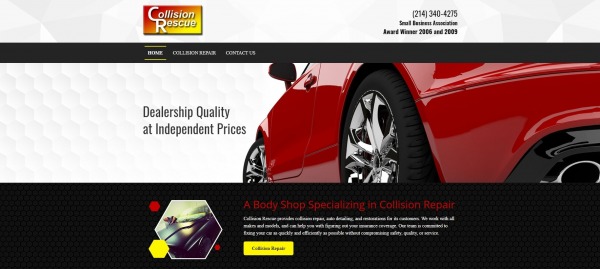 Alright, let's end the list with Collision Rescue which is another good car body shop in Dallas. The services offered by the company can be divided broadly into three categories.
It provides restoration, auto detailing, and collision repair. Like most of the car body shops that we looked at in this list, Collision Rescue is also a family business. It is still operated by them. The company can service and repair different kinds of cars of both domestic and foreign build.
It has a safe and friendly environment with top-tier and skilled technicians who have good knowledge about car repair and maintenance. Collision Rescue was started by Danny Jordan. Danny loved cars and decided to start working in a car shop when he was just 16. His gig involved painting cars. But soon this small side job ended up becoming his whole career.
He joined Chevrolet and became one of the top technicians there and had managed over 100 employees at the company. After being in the industry for over 30 years, Danny was armed with enough knowledge, experience, and expertise to open his own car body shop business providing high-quality service to customers.
The company has even won awards from the small business association for the outstanding work it does. The team that works at Collision Rescue has the right skills to fix your car efficiently in less time while ensuring that your car is very much safe to take out on the road again. So, if you are in Dallas and want your car serviced then one of the best choices you have is Collision Rescue.
---
Conclusion
So, that's the end of our list of the best car body shops in Dallas. Almost all of these shops have a website. You can visit the website to know more details about the shop and the services they provide. You will also find the relevant contact information to set up an appointment. We hope you get your car fixed quickly and affordably.