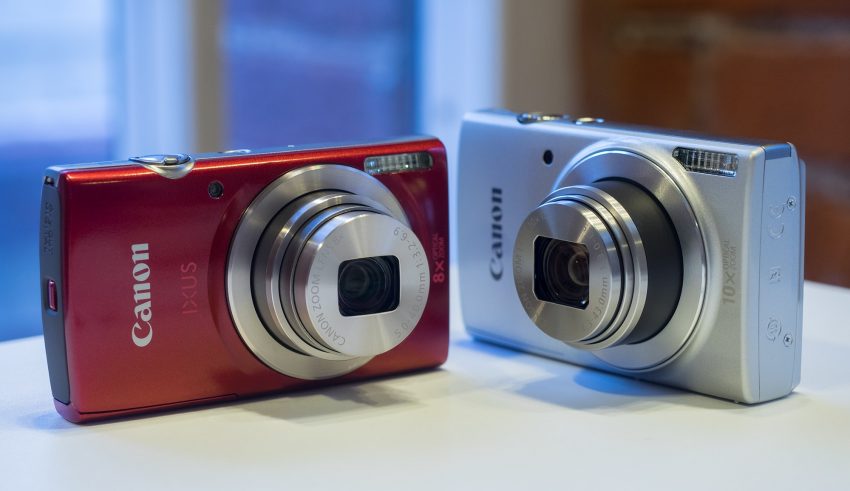 The Canon IXUS 185 shares most of its features with its twin brother, the IXUS 190. Only difference between the IXUS 185 and the IXUS 190 is that the IXUS 190 comes with built-in WiFi while the IXUS 185 gets only WiFi. Headline feature of the IXUS 185 include a 20 megapixel CCD image sensor, a 10x optical zoom offering an equivalent of 24-240mm in 35mm format, intelligent image stabilization for stills and videos, 720p HD video recording, a smart Auto setting, and a set of creative filters which can be applied to your images for different looks.  The camera is offered in three different color tones – silver, black and blue.
With the IXUS 185, Canon has taken an approach "if it ain't broke, don't fix it." Naysayers would say why invest time and money into a segment where the market has evolved quite a bit over the past few years since the advent of the camera fitted phones. But if you look at the details, you would see that this stylish looking camera has been able to hold its own and have performed rather well even in today's selfie driven crowd.
When it comes to design, the Canon IXUS 185 is the slimmest camera Canon has made till date. It is meant for carrying in your back pocket. It has a glossy shell which sits comfortably in your palm. The camera has a flat appearance, which is quite typical for cameras such as these, but because of its small size and lightweight, it is not difficult to operate it without a grip. Front of the camera is occupied by the 10x zoom lens. The lens retracts fully into the body despite the width of the camera being roughly the same width of an adult finger. The lens can be extended to 16X digital zoom if you so wish, but that is something I would recommend to avoid. Flash settings run the usual gamut of auto, manual flash on/off, plus a further slow synchro setting and red eye reduction that needs to be separately implemented within the camera menus. Flash range is from 50cm to three metres.
Back of the camera is dominated by the 2.7-inch 240K dot LCD screen. Specification of the screen is quite basic compared to today's standard but it somehow gets the job done despite having some obvious drawbacks. One of those is the strange color cast that appears on the screen when you are shooting in low light conditions.
Images produced by the Canon IXUS 185 are pretty average in quality, which is what you expect from a Rs.7K point and shoot. Still in bright lighting condition, the camera produces decent images, but don't even think about using it in low lighting conditions. As lights go down, the images become noisy and almost unusable. Noise performance of the camera is pretty disastrous. Images start becoming extremely noisy only at 800 ISO and at 1600 ISO images become horrible. As far as autofocus performance is concerned, again it does well in bright light. In low light forget about focusing with this camera.
Overall the Canon IXUS 185 is a decent camera for its price point. Don't expect it to deliver something that it is not meant to do, but as long as you stick to taking those family snapshots on travel, you will be ok.
Canon IXUS 185 Specification
20 MP camera
Easy mode and date stamp feature
8x optical zoom
Ratings
Design & build: 7/10
Features and performance: 7/10
Image quality: 7/10
Value for money: 7/10
Canon IXUS 185 Price
Canon IXUS 185 Sample Images
YouTube Reviews
Also Check: 10 Best Digital Cameras Under ₹35000 to buy in 2018
Featured Image : Prophotos.ru