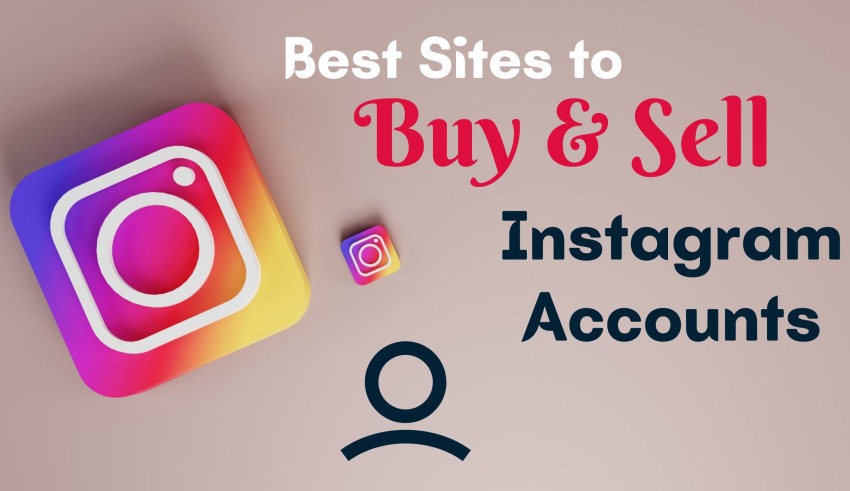 The influence of social media has been drastically growing since 2015. Beginning from Facebook and then the youth craze shifting on to Instagram, the social media is currently a toll having the largest possible audience. Be it for corporate or personal use, the photo-sharing platform is capable of soaring your presence to a new height.
Instagram is one of the most creative ways to showcase your talents and find like-minded people who can help you improve your skills. Along with that, Instagram has also proven to be one of the strongest advertising platforms for various businesses.
By sharing their products and highlighting the services they offer, businesses have grown tremendously with the help of proper marketing and visually appealing designs.
Buying and selling of Instagram accounts:
This is a concept some people might not know of. Yes, it exists! People buy and sell their Instagram accounts. This particular trading takes place for various reasons. Some just do it to earn money and others do it for promoting a brand or their newly started venture.
However, this is not permitted by Instagram and hence, the whole account can be taken down anytime. Due to this, it doesn't make much sense to invest too much into this method.
In most cases we see this happening for commercial purposes. Buying an already active account on Instagram and using the pre-existing followers and activities for promoting a business can be one of the quickest and most effective ways of digital marketing.
This gives the buyer the advantage of an already engaged audience. This way, they can grab the attention of people just as effectively as one can through advertisements.
This procedure does have a standard method of dealing and also a verified set of rules. As we see it, this is not entirely or directly a legal process. However, it does not break any laws either.
The trading taking place is bound by certain rules and regulations and done on a legal basis. Any account that has plagiarized content, photos originally belonging to someone else, or reposted from other accounts are not eligible for buying or selling.
All the accounts are verified by the trading company before they can be out in the market to be traded. When any person sells their account, they give the ownership of the username as well.
Best Places to Buy & Sell Instagram Accounts:


One of the leading Instagram trading companies is Fameswap. They provide a platform for people to buy or sell their Instagram accounts. It is one of the most trusted sites for this particular activity.
They provide quick and efficient services. Their safety policies are also well maintained and strictly followed. They have ground rules set for the trading and make sure their customers follow it.
The payments are also done via reputed sources that ensure the safety of the transaction. All accounts that are to be up in the market for selling are closely monitored and checked by the team.
Fameswap is one such company that provides 24/7 customer support even after the purchase has been made and the transactions are cleared. For any complaints or queries, they have a strong communication channel.
They also provide encrypted messaging services. The buyers and sellers can directly get in touch and talk about the relevant details.
---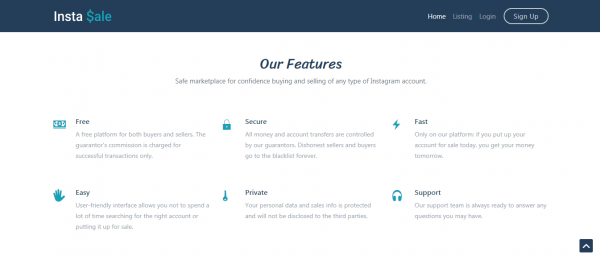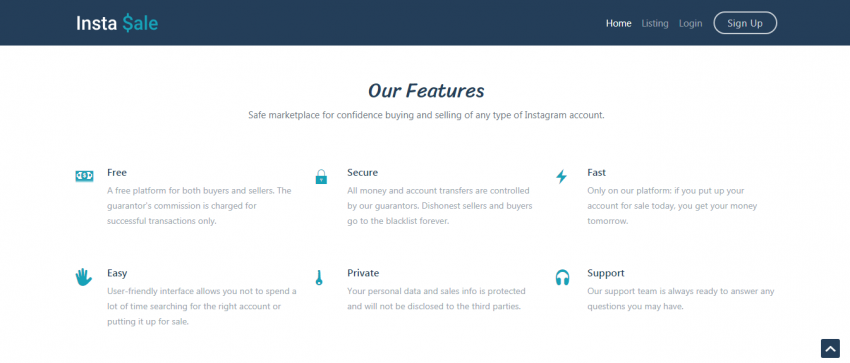 Another market place to find an ideal Instagram account for your business promotions is Insta sale. This website also provides the medium of choosing Instagram from a pool of well-established and engaging accounts in various industries.
They provide a vast range of categories like travel, beauty, nature, fitness, sports, and many more. For safety purposes, all the accounts are checked by the team and verified for trading.
The website also states various advantages of choosing this method. They talk about how setting up a business profile from scratch can be time-consuming and difficult to kick start. However, when buying an account with all the niche requirements, it is faster to spread the word about your business.
All the information relating to payment for both seller and the buyer are kept confidential and hence, they ensure the safety of the data.
The website is also designed in a user-friendly way in order to minimize complications.
---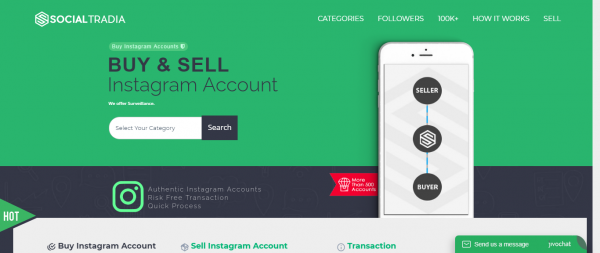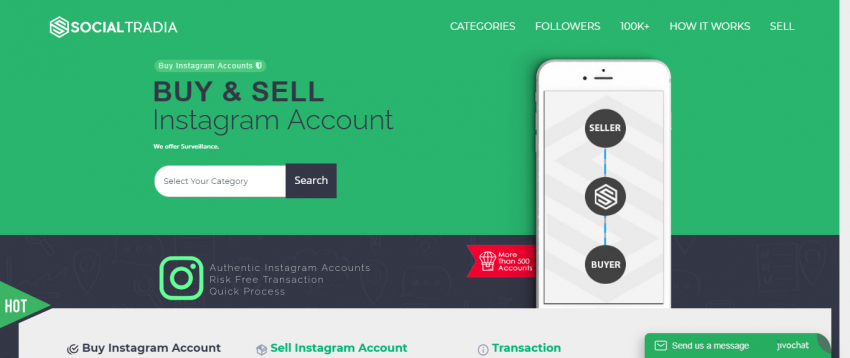 Yet another interactive and meticulously designed website for Instagram account trading. Social Tradia is a Toronto-based firm that deals with buying and selling of Instagram accounts.
They have an amazingly eye-catching website that has all the details you need to know about the account trades. Social Tradia has a well-described blog on its profile stating the merits of choosing to buy Instagram accounts over mere followers.
They have their services categorized on the basis of industry and number of followers. On the homepage itself, you can find a drop-down menu giving you options for industries on Instagram, and next to it in the drop-down menu for classification of accounts on the basis of followers and engagement.
They make sure that all the transactions are carried out safely using reputed payment methods. They also ensure the delivery of accounts to the buyer within a minimum of 3 hours and a maximum of 3 business days. The credentials of the account are delivered directly to the buyer's email address.
---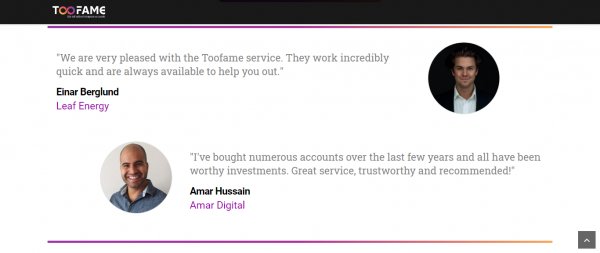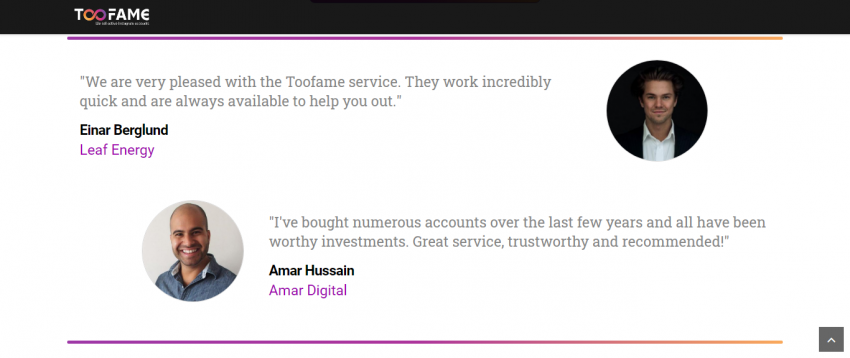 With 5 years of business, Too Fame has gained popularity among the public. With over 700+ satisfied customers and handpicked accounts, Too Fame is one of the most trusted Instagram account market places. They provide a platform to buy and sell Instagram accounts.
Along with that, they also provide a guarantee on the followers of the account being real and not just mere bots. This raises the performance bar of the accounts too. They assure that the accounts available on their platform are genuinely and strategically grown.
Their experience in this field has made them pretty good with their job. And also, efficient. They provide services within 24 hours of payment.
They have studied their field of work vividly and desire to serve only the best. For this, they also have a 7-day refund policy for dissatisfied customers. They are constantly working on improving the quality of their product.
---


E-flipo is again one of the best places to buy and sell Instagram accounts. The reviews about this website portray the excellence of their work. They not only sell accounts, but they also have tie-ups with influencers who can help in promoting your brand.
They assure safe payment methods and provide verified accounts to their customers. All the accounts given by the seller are thoroughly verified by the team and then put out in the market for sale.
One feature that makes them stand out is them providing a detailed analysis report for the growth of the accounts that they sell. This helps the buyer in making an informed decision regarding their purchase.
This helps them choose a more suitable product for themselves. This also creates a foundation of trust and satisfaction among the customers.
The influencer support provided by them is also a fascinating way of growing one's internet presence using shoutouts.
---
There are so many different types of websites out there for Game of Thrones, One Direction, and other celebrities. But what about those who are not famous? It's easy to find a reputable site that will provide you with the best tools for buying an Instagram account.
With such a wide array of choices on the market, it can be hard to decide which one is best for you. That's where Player Up comes in! They have scoured social media marketing sites and have brought together the top 7 platforms currently working in 2019!
Player Up is a website that helps you sell and buy Instagram accounts. They provide a safe and secure environment for you to find an account, match with the seller, contact each other, make an agreement, and conduct the transaction.
With Player Up's easy-to-use interface as well as its straightforward transactions process, it is just a matter of pointing your browser to Player Up for buying or selling your Instagram accounts.
Accfarm
Accfarm is a unique service that helps you buy and sell Instagram accounts. No other website matches the authenticity, popularity, and expediency of its service. They have been in business for over 2 years now, with an average score of 5 out of 5 stars (based on their customer reviews) on various marketplaces.
Accfarm has a reputation for being the best site to buy and sell Instagram accounts. The company has been around for many years and was started by an Instagram model who came up with the idea for the platform.
If you are looking for a new account to promote your business or yourself, this is where you'll find it. Accfarm is considered by many as one of the most reputable spots to pick up a new account to boost your profile visibility, so go ahead and grab yours today!
Surgegram is the site to buy and sell Instagram accounts. When you're done with your account, whether you need to recover from a hack or just want to cash out before Instagram inevitably changes everything, there is no better site for selling than Surgegram.
Buyers can find authentic and verified accounts on this site at extremely reasonable prices — as much as 50% cheaper than what other sites may charge when you buy an Instagram account with 100k followers from Surgegram.
Sellers can take advantage of this huge savings by listing their accounts for sale, knowing that buyers will be drawn in by the huge discounts offered here.
They offer a safe and easy way for users to find buyers or sellers of Instagram accounts, as well as tools that make it possible to list and sell your account yourself. Whether you're looking for a way to get out of the game or looking for your big break, Surgegram is there with an account waiting just for you.
Bulk Accounts Buy is an online platform where Instagram users from around the world can sell their accounts and trade their followers or even buy Instagram accounts with 100k followers. This is a perfect opportunity for Instagram enthusiasts to take their social media marketing to the next level without the need for capital investment or waiting weeks for payment.
With bidding options that start at only $0.02 per follower, it's easy for anyone to get involved in this excellent venture. In addition to its simple user interface, this website also has an excellent support team that you can use to answer any questions you may have.
Whether you're looking to do this for personal, business, or commercial reasons, Bulk Accounts Buy has all the features you need and more. If you're searching for other Instagram accounts that are related to your niche or interest – take a look at our Lists of Followers as well!
Bulk Accounts Buy is also easily searchable by usernames. Find the account with a username that matches what you're looking for and they will help find any associated accounts in seconds!
It's difficult finding a good Instagram account these days. In fact, the owner of even one very popular account can make hundreds-even thousands-of dollars a month. That's why you need to be on the lookout for websites like FreewaySocial that can help you profit from your adorable pet or baby photos. Your user base won't be as big as they are now, but it will still provide other people with ample opportunity for making money from their own accounts.
FreewaySocial is thus the best site to buy and sell Instagram accounts. They provide both buyers and sellers with 2-week exchange security. With or without their trust, your account is verified by FreewaySocial before you decide to buy it so that you know your privacy is always in the safest hands possible.
Accs market.com is the best site to sell and buy Instagram accounts. If you're looking for a real account with a lot of followers, you can easily find one on our website. All of their accounts are carefully managed and monitored preventing any kind of spamming or abuse. You will be able to monitor your account's performance anytime you want by using their advanced analytics tools.
They accept PayPal, credit cards, and Western Union as forms of payment when you buy a verified Instagram account. You can also trade your account with other people or purchase someone else's account before they delete it. With so many great features, you'll find that we're the best website in terms of buying Instagram accounts at a reasonable price that suits your budget!
Want to sell or buy Instagram accounts? Account Warehouse can help you find the perfect accounts for your needs. Their website is focused on providing verified Instagram accounts of high quality and they offer a quick and simple process for finding just the right account.
With their easy service, you won't need to spend hours scouring the internet for Instagram influencers with high followings, as they will do all that work for you. All of their members are verified and in good standing with Instagram's terms of service so that they're completely safe to be purchased by brand new customers too!
Account Warehouse, the marketplace for social media influencers and buyers, has made a list of the best sites to buy and sell Instagram accounts. From professional fashion bloggers to foodie vloggers, all the way to personal trainers with more than 100k followers, there are tons of different types of Instagram accounts on this marketplace.
Buying or selling an Instagram account just got a whole lot easier! That being said, if you're looking to build your own following or need more followers in a hurry, look no further than Account Warehouse.
Accs-market.com is a site that advertises itself as the best website to buy and sell Instagram accounts, which is one of the most popular social media platforms. If you've been thinking about starting your own Instagram account, or you're wondering how to improve your existing one, then this is the website for you.
Accs-market.com offers users a safe and reliable platform that caters to both buyers and sellers of Instagram accounts to find new friends, collaborators, clients, and business partners. Accs-market.com is thus one of the best websites where you can buy and sell Instagram accounts for a low price. So, if you're trying to get started with your own business or be one of the first in your group of friends, this is the best place for you.
This site has been online since 2009 and it's been getting steady reviews every month. As an added bonus, they offer additional perks such as customized hashtags, a private messaging option, high conversion rates, and quick delivery. All orders are processed within 2 hours while some could take less than an hour! It doesn't matter how large or small your order is because their service works well with all sizes (the smallest order starts at $10).
InstaTradia is the perfect site to buy, sell, and trade Instagram accounts. Users can find a wide variety of accounts for sale with different packages available. If you're looking for some cheap Instagram followers, this is the perfect place to do so.
Here, you can find over 5,000 accounts with followers to spare. They only deal in high-quality sellers, so if you want guaranteed results, this is the place to be. Whether you're looking for an account with 500 followers or 500 million followers (yes, they exist), InstaTradia can help.
You can also create your own account on InstaTradia and list it for sale at only $9 a month! It has never been easier to make money off social media by selling an Instagram account. That's just one of the many ways that InstaTradia makes it easier than ever before to make money online.
Z2U is an app that allows you to buy and sell Instagram accounts. Here you will get a chance to buy a verified Instagram account, so you know exactly what you're getting. Additionally, these accounts are likely to have more followers and engagement than a normal account would because they have been purchased or sold by other users on Z2U.
Z2U is a well-known website for buying and selling Instagram accounts. Z2U has taken the beauty industry by storm with its easy interface and a great selection of high-quality Instagram accounts. This site is perfect for anyone looking to go into business in this field. Plus, they have the option to upgrade to premium!
Z2U is one of the most reputable sites that exist today, so you can be sure that if they offer a service, it will be of high quality. Their service is incredible, their prices are unbeatable, and they offer a great selection of high-quality Instagram accounts. It has grown tremendously since it started through word-of-mouth marketing and organic growth.
FAQs:
How to Sell an Instagram Account?
If you want to sell your Instagram account, you can do so with the help of a third-party app. Individual account holders can sell their Instagram accounts if they match specific criteria. You may be able to sell your account for a higher price than you anticipated. Many websites, such as the ones we discussed above, will offer to purchase your Instagram account.
How to Buy an Instagram Account?
Buying an Instagram account can be difficult, but it is possible to find a legitimate Instagram account for sale on the market. It is important to remember that buying an Instagram account will not only allow you to explore different ideas and views, with the potential to change your life but also open up new channels for advertising.
There are various apps, such as the ones described above, that will help you to save time and money by letting someone else purchase your Instagram account on your behalf. These third-party apps offer an easy way to earn money without having to deal with the difficulties of being an Instagram model.
Where can I buy an Instagram account?
If you've been looking for a way to make your Instagram experience even better and engage with other, like-minded people, you may need to consider buying an Instagram account. Plenty of third-party app sellers have websites that offer accounts at varying prices, which are determined by how desirable the account is and the number of followers it has.
This blog post contains everything you need to know about buying an Instagram account – including where to buy a verified Instagram account, how much it will cost, and what precautions should be taken when doing so.
Guide
Things To Consider When Choosing To Buy Instagram Accounts
If you're like many others trying to get in on the social media craze, you may be considering buying Instagram accounts. There are many benefits to buying Instagram accounts, but there are also considerations that must be taken into account.
Do a background check on the seller you buy your followers from: 
For example, you might ask if they are a scammer or if they have been banned from the site.
Verify that you're buying real followers:
Find out the number of people who follow the account and then compare it to the number of people who like posts on it. The numbers should be similar for accounts with a high following-to-like ratio.
Make sure that what you buy is worth your money: 
Ask how much time and effort it will take for them to deliver, as well as how many followers your purchase gets you.
Be Sure About the Return Policy:
Before ordering, make sure there's an easy return policy in case things go awry.
Make Sure that the Seller is Legitimate:
Make sure they are legitimate and that they can deliver what you're paying for.
Understand shipping policies
Shipping rates and times will depend on the seller, so find out what to expect before buying.
Set realistic expectations about how long it takes for followers to arrive after you buy them:
It may take a few days for them to appear, depending on how fast the seller is able to deliver your purchase.
Know when the followers you buy will stop following your account: 
How long do they stick around? This varies from company to company, so ask questions before buying.
Read what is OK and not OK to do with your account before buying:
You need to know that the seller won't try to get you in trouble with the site or hack your account.
Beware of shady sellers who promise you something they can't deliver; they should be easy to spot because they will post their email address and phone number online.
Additional Points:
Most importantly, it's important for the buyer of an Instagram account to assess their motivations behind wanting an account.
Any extra features you want to add, like private messaging capabilities.
Follow the seller's social media accounts to see if they fit in with your account.
Ensure you are buying from a reliable seller.
Check out reviews on the website or store you bought from.
Determine what kind of followers you want before purchasing them.
Make sure you know all the rules of the platform you are using.
Be wary of sellers who use automation and bots.
It's important that you're able to trust the person selling you followers, so take these considerations into consideration before buying any new followers. If it feels fishy, don't buy any followers from that person or company – chances are, it won't work out in the end.
Conclusion
In conclusion, buying a verified Instagram account can be a great way to make money with little to no effort at all. You will have access to anywhere between 1000 and 50,000 followers, depending on the account.
Whether you are trying to promote your brand or simply just trying out something fun, there is no reason why not to take advantage of these opportunities.
Hence, among various methods of digital marketing, buying and selling of Instagram accounts is something to look forward to. These have been the latest business tactics to promote and enhance the presence.