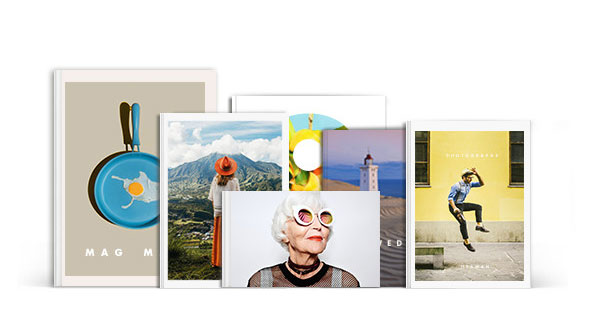 Blurb is an online portal to create photo books and associated items by customizing them with your own pictures. It has tools to create magazines and photo books by amateurs and professionals alike. If you want to make more out of your favorite photographs or create a professional photo project, Blurb is an option for you. But so are hundreds of other similar websites. How will you know which is best for your needs? Read on.
Blurb is a fairly good website to make a notebook out of pictures and customized templates. You can also make entire books out of this website. For reference, you will also find samples of their work on the home page. But we know that is not enough reassurance for you. So we have a detailed review of Blurb, covering all the aspects of its service.
Before committing to this website, check out our impression about "bookifying" your photos through Blurb.
Creating Your Product
Blurb is primarily intended for non professional users who want to create photo books for their own use. They provide predesigned layouts and options to enrich your book as well. In a few, easy steps, you will be able to create the photo book of your choice.
The simplest way to create a photo book on Blurb is through Bookify. For placing your order, you need to follow a few simple steps. The first thing to do is to choose a size. Size options range from seven inches to thirteen inches. The orientation can also be selected according to your need. You can opt for square photos, portrait mode or landscape format. Further, you can choose the appropriate style amongst those in offer.
After finalizing everything, just place the order and wait for the finished product to arrive at your doorstep.
Templates and Styles
There are four basic styles that you can choose from: Clean and Simple, Elegant, Bold Black, and Fun and Funky. In the first style, the pages are filled with your given photos. In the Elegant style, the background remains white on all pages. The Bold Black option gives a black background to the whole book. The Fun and Funky style lets you choose different colors for the background. However, the templates are same for all styles and you can also add text in the placeholders.
There are text-only layouts as well, which have format for styling books. It has reserved places for the title, copyright, and text. The page layouts can be chosen according to the number of photos you want to place on a single page. You can zoom in or out of the photos, rotate them and fit them horizontally or vertically in the placeholders.
Related: Easy Canvas Prints Review – What to Expect, Pros and Cons
Things to Like
Blurb is a simple tool for creating a photo book and adding text to it as well. There are options to choose different layouts and templates, so that you can choose the number of photos to fit in each page and also where to put them. Simple placeholders will help you to drop the photos in required spaces. If you increase the size of the photos to take it beyond the borders of the placeholder, you will be able to get it in its original orientation without having to conform to the template's restrictions.
For professional purposes, Blurb gives a simple, clear and easy service. In a few, easy steps, you will be able to get the product of your choice. Simplicity and usefulness is the key of this website.
Pros
Easy to use
Efficient designs and templates
Cheaper than many other photo printing services
Options to add both photos and text
More creative control over project, including option to upload own PDF
Comes with book styling guidelines
Decent image, paper and binding quality
Offers overnight shipping
Things Not to Like
If creativity and fun are your priority, Blurb is definitely not for you. Its selection of templates and layouts is restricted compared to other such websites. After choosing a particular layout, you will not be able to reshape of move them. Any attempt to add or resize photos to a page will change the page layout unexpectedly. There are no photo effects or filters on offer here.
Blurb will be satisfactory for you if you are in love with black and white. There are only black borders for photographs and no way to add colors. Once you select a border, it will be automatically applied to all the photos in the book, except the cover photo which does not have a border.
Background options are also very limited and you will be hard pressed to find anything apart from solid colors. Texts are also fixed in their places and must be aligned the same universally. There is very little no scope of creative input in these templates.
The printed book, after it arrives, may turn out to be dull and somewhat boring.  The picture quality is decent but not that great compared to other sites. Whatever you choose will be printed accurately, but the results may not impress you extraordinarily. For professional book printers, the end product will be satisfactory, but if you are a creative soul, its limitations will really stand out.
Cons
Limited style options
No edit or effects available
Rigid placeholders and borders
Dull and somewhat boring color options
Background options not varied
Little or no scope to express creativity
Final Thoughts
After going through the Blurb website and seeing the end product, we think it is safe to infer that this website is great for formal or semi-formal projects, especially book printing or photo book binding. It has simple, easy templates and predesigned formats to make the work of users easier. The price range is also significantly lower than websites like Mixbook or Shutterfly.
However, if you are looking to create a vibrant, creative and highly personalized photo book, Blurb might disappoint you. Its limited creative scope will dampen your expectations and leave you wishing for more. Its border options and background colors are very limited, so are the templates. So, you have to first decide whether your priority is efficiency or creativity. Based on that choice, you have your answer on whether or not to opt for Blurb.