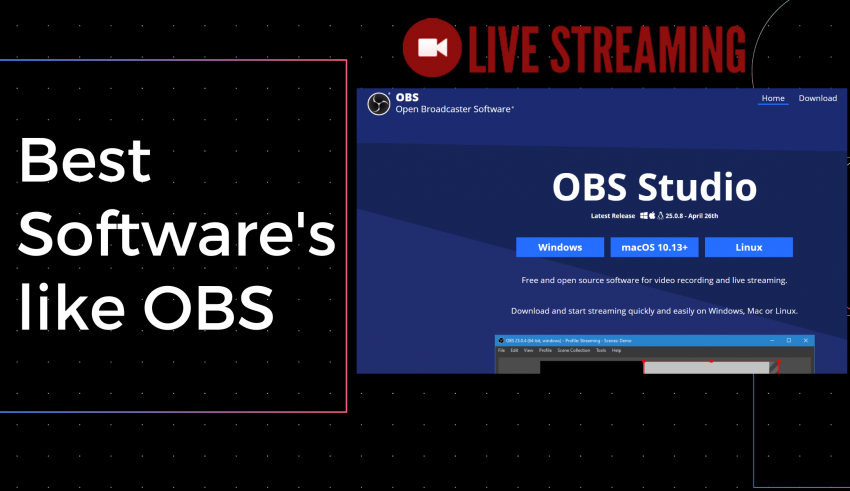 Open Broadcast Software (OBS) is a free and open-source cross-platform for streaming and recording programs written in C, C++ language. OBS id is available for Microsoft Windows, Mac, and Linux.
It is available in 55 languages. It provides a real-time source and device capture, scene composition, encoding, recording, and broadcasting. Data is transmitted via RTMP and can be sent to any RTMP supporting websites such as YouTube, Twitch, and Facebook. 
 OBS is probably the most often choice for live streaming. But, now there are a lot more new software's developed which will give you a better user experience and available with better features than OBS. Also, OBS files take more space in the CPU and are of the heavy size you cannot depend on OBS for lifetime. You must try these new Softwares and find the best one for you.
Here Is The List Of Top 9 Softwares That Can Successfully Replace Obs Studio:


[ryvl video_url="https://www.youtube.com/watch?v=ny2KFkso__A" auto_play="yes"]Click Here to Check How to Install XSplit Broadcaster [/ryvl]
X Split is a live streaming and video mixing software developed by SplitMediaLabs. It offers two products under XSplit, one is X Split Broadcaster which is used for video mixing and the second is X Split Gamecaster used for live streaming and screen recording. It is available in 10 languages and works on the Microsoft Windows operating system. It is a complete package of live streaming and screen recording with a lot of updated functions. It can easily replace OBS.
If you are streaming from PS4 or XBOX using a capture card, this is the perfect software for you.

By taking a monthly subscription you can broadcast to multiple streaming platforms simultaneously. 

If you are a beginner then you can opt for the free service but by taking a monthly subscription you can avail of many new features which will definitely increase your user's experience. 

It works better than OBS as it uses significantly less CPU.

Its functionality can be extended via plugins(it offers 5 plugins). Functions such as whiteboard, image slideshows and video playlist can be added.
---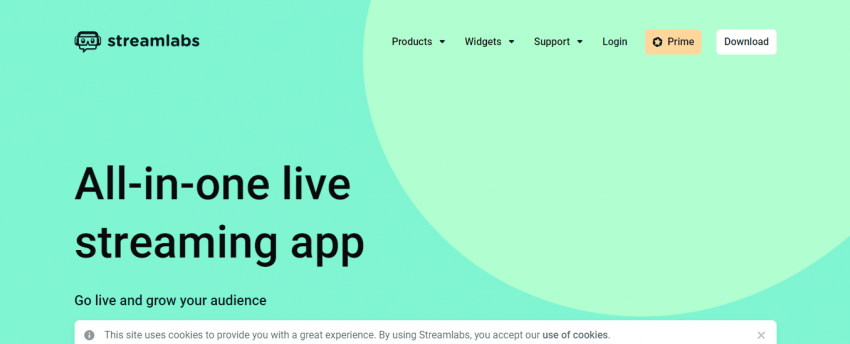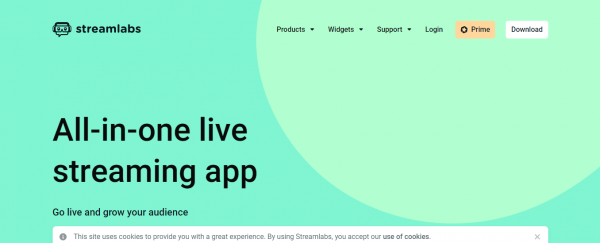 StreamLabs OBS is a live streaming software owned by Logitech and developed in January 2018. It is an all in one application making streaming easy for everyone. It is available for Windows 10/8/7 and Mac operating systems. It is one of the best options for recording and streaming to twitch, YouTube, and Mixer.
It is free of cost, quick, reliable and trusted by many popular streamers such as Ninja,  Summit 1G, Lirik and Imaqtpie. It offers smart and game-specific encoding which leads to lower CPU usage. Most of the functions present in it are similar to OBS however a lot of functions are also unique from OBS.
With a huge number of free themes, StreamLabs have made it extremely easy for new streamers to start as soon as possible. 

There are now facemasks similar to Snapchat which can make entertaining your viewers even better.

It is a great tool for individuals streamers who want to make money through live streaming.

It gives a professional interface with stream alerts, chatbots and a lot more tools for streaming. 

Many features that can be accessed in OBS only through plug-in are standard in SLOBS . It includes social widgets, thousands of free overlays, video editors and other interesting stuff.
---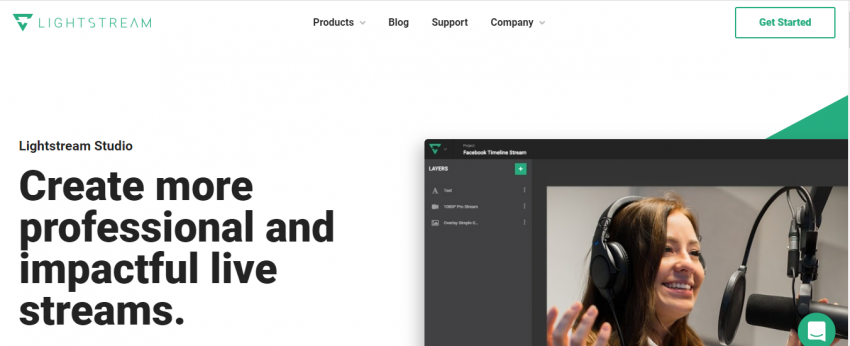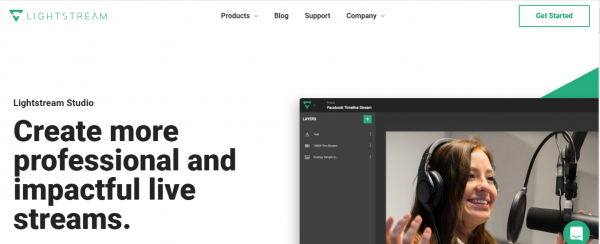 Lightstream is a cloud based streaming software developed by Stu Grubbs in 2014. Cloud based software means that it takes sources from your PC but all the composition and encoding is done on Lightstream Servers. This will lead to less CPU usage but at the same time it will not Compromise with video quality.
This one is unique because it is  a browser based streaming platform. It supports all streaming related tools which are available in other streaming softwares. It is the best choice of beginners for open broadcast software. However if you are an advanced streamer and looking for a professional level software then this one will not fit for you.
It is suitable for both windows and Mac users as it runs on limited resources and has less hardware configuration.

It is free for both personal and commercial use. 

If you need to use different applications at same time to produce a single video then this software is best suitable for you as it supports co-op servicing with other softwares.

If you are interested in live shows with webcam then Lightstream is the perfect choice.

The best feature of it is that it allows two or more persons to stream in a single video.

If you want to live stream but you don't have a very powerful processor or you need CPU power available for other things then Lightstream is a perfect choice.
---
Also Check: How to Grow Your YouTube Channel Organically
---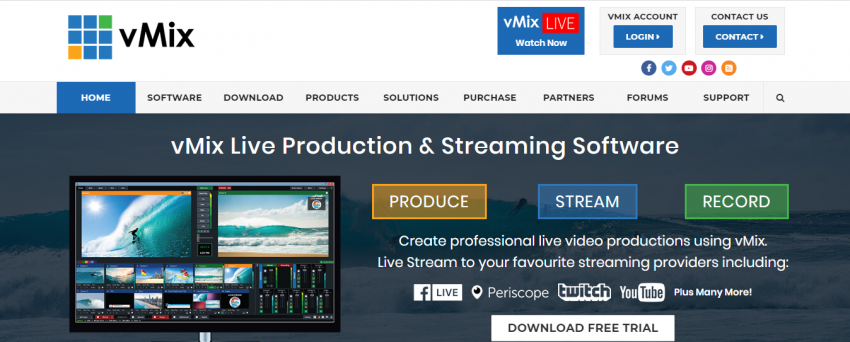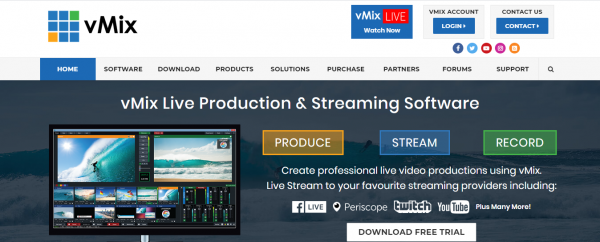 VMix is a live streaming and video mixing software developed by Studiocast PTY ltd. It is available in 9 languages and written in VB.NET language. This one is best for professional streamers. You can use this for both live stream and screen Recording.  Its latest version also supports 4K video format.
It is ideal for windows users who are looking to live stream as you get the best from VMix by using all its features. This software contains every aspect to make sure you can do everything with your stream. V Mix can be considered as the best flexible live streaming software for everyone.
This is a paid software. It costs $60 for a lifetime license. The best thing is you can try the software as a free trial for 60 days and the trial version is similar to the full version.

Different features like Live Mixing, Multi Cam video recording, switching between screens, in game recording all are present in it.

You can also add any kind of external media i.e. audio, videos, text, images, virtual effects, PowerPoint presentation even when the stream is going live.

The only drawback is that it is available for Windows only.

It supports a wide range of inputs including webcams, DVDs, sound cards, playlists, NDI and PTZ cameras with remote controls.

There are more advanced packages available for this software such as  $350 for professional HD streaming, $700 for 4K streaming, and $1200 for the full package containing all advanced professional features.
---

If you love to live stream gaming videos but found it difficult to operate various software then this one is made for you. Wirecast is a live streaming software developed by Telestream in 2018.
It is written in C, C++ and Objective-C languages. You can do everything with your streams, create any type of content with a great quality and very easily. Its user interface is very easy to operate. It is available for Mac and Windows. It is the best one for streaming games, webcasts, live videos and eSports.
It is a paid software however a trial version is also available. It comes in two versions: Studio and Pro, and both are of professional level. Wirecast studio costs $695 and Wirecast Pro costs $995.
It gives you the feel of a studio on your computer screen with attractive graphics.

It regularly adds new updates that keeps it bug free and also constantly adding new features.

Its latest version offers multiple plugin, viral-cam enhancement, touch bar compatibility for MacBook pro users.

You can record your screen and at the same time record from your webcam without using third party applications.

Studio version provides features like animated 3D tiles and graphics, unlimited capturing and encoding whereas the pro version is 1 step further, it provides high resolution ISO recording, live scoreboards, 3D virtual set, instant replays, NDI output and much more.
---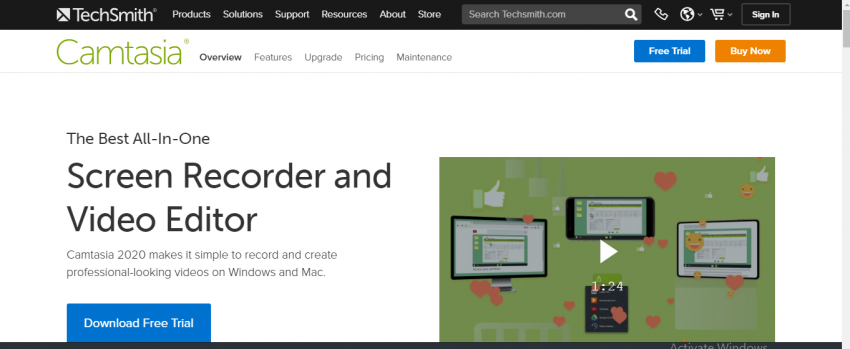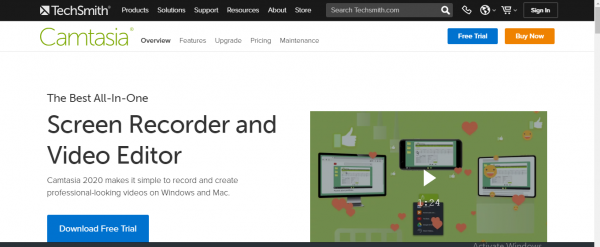 Camtasia is a video creating software developed by Techsmith in 2002 works on operating systems Windows and Mac. It is the best alternative for OBS if your main purpose of using broadcasting software is to record screen then Camtasia is perfect choice for you. It is paid software but its prices are binge worthy.
It offers a pro level editing function that makes it a complete package for screen recording purpose. It has every tool you need regarding putting text, zooming, trimming, highlighting and the videos will always be created in high quality. You can easily save them to a computer or share it with YouTube.
It costs $199 for lifetime license. However in this price it offers a complete package of pro level editing tools.

If you are looking for a combination of screen recording software with a robust video editing software then it is the right option for you.

It is a great choice for recording tutorials, demos or webinars.

It also has an easy to learn interface that's why it is very easy to use.

You can use it to edit any type of video. The wide range of tools such as transition effects, pre-installed effects, free music, intro videos and so on will lead to a perfectly edited video.
---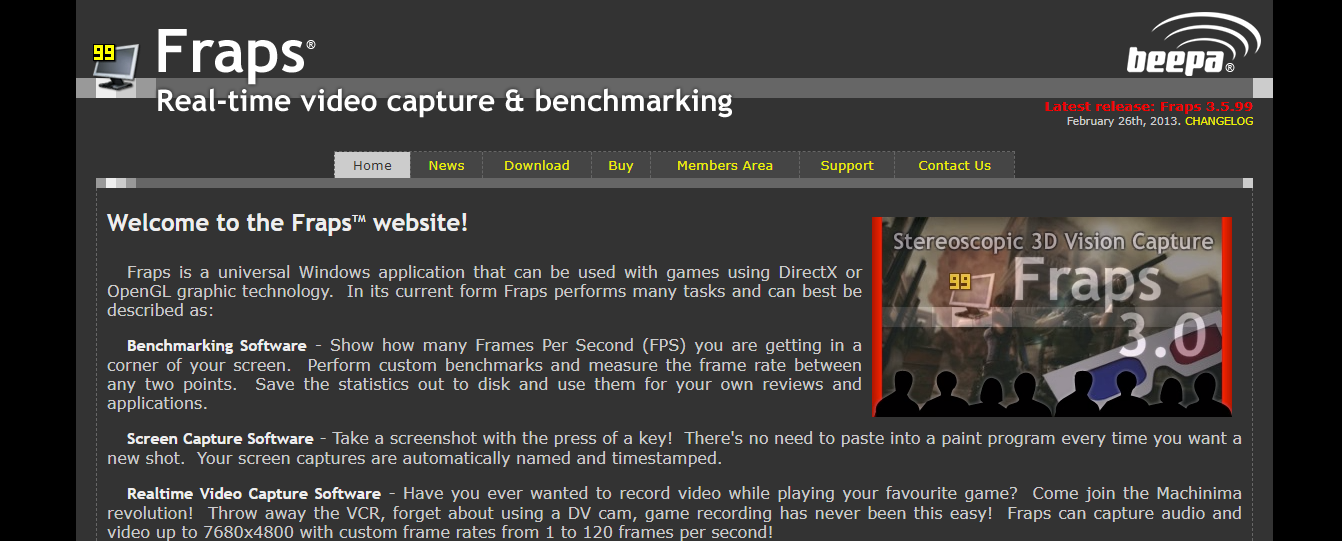 It is developed by Beepa Pty Ltd. And released in Feb 2013.  If you just want to record your gaming stream for fun or a causal user then Fraps is for you. It is easy to use and best suitable for the users with minimal needs with screen recording software.
It can be operate on Windows Operating system. You can record your video in any custom frame rate i.e. between 1 to 120 frames per second. It may appears to be lightweight and beginner's option but still it is fairly powerful.
It has all basic features required to record any game streaming. If its developer add few updates in it then it will surely stand out among its competitors. 
It is the simplest software from all and also very easy to use.

It is very old and only available for windows. Still it has a very big user and community base.

Although, this is free but if you want some extra features then you have to pay $37 for subscriptions. 

You can also take a screenshot during recording and it will automatically save.

Unfortunately, there is no update in this software since 2013 and this has left fraps lagging behind in the competition. 

The good thing is that it supports upto 7680×4800 resolution.
---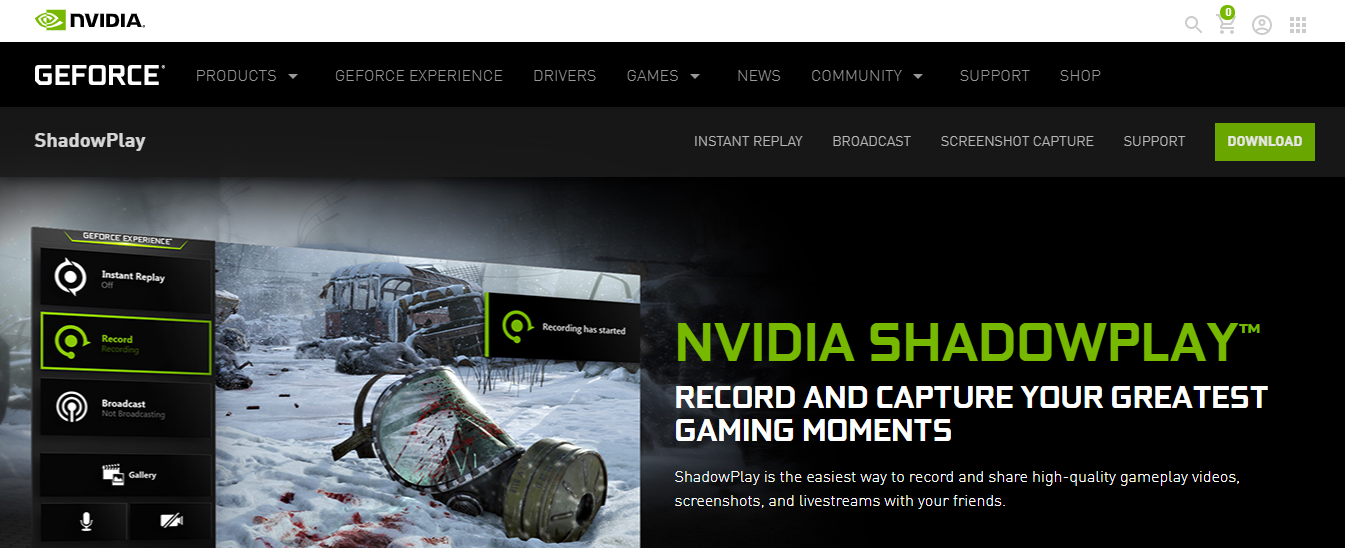 Developed by Nvidia Corp, Shadowplay is intended mainly for gamers. It is able to give a break to your CPU. It means if your computer's processing is slow or you want to use your available processing power for another work then this is the best software for you. However it is free of cost but you have to purchase NVidia Graphics Card. It is a great tool for local recording.
The best thing is it encodes using the GPU(Graphic Processing Unit) rather than CPU. It means that your computer's performance remains unaffected. 

While Shadowplay is a very fast encoder, still you'll be completely satisfied with the stream quality as it sometimes tends to blur some of the details of the game.

It also doesn't have functions like Overlays, Multisource displays and plugins.
---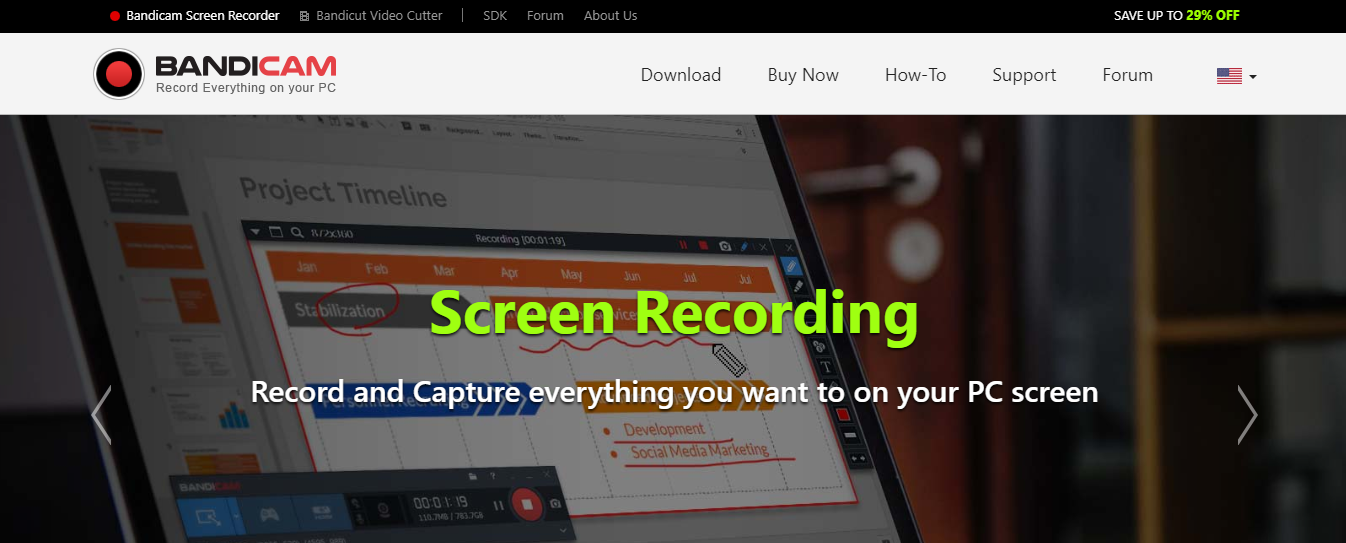 Bandicam is a screen recording software package developed by Bandicam Company and released in 2009. It is able to record gameplay and screen recording all in a lightweight package. It is available in 50+ languages. You can record specific areas on a PC,
or can capture gameplay that use one of many common graphic technologies. This software can also record 4k video with a capture rate upto 120 frames per second. Bandicam allows for image capturing in BMP, PNG, and JPEG format.
It offers two modes i.e. 'Game recording' mode and 'Screen recording ' mode.

Game recording mode allows you to record gameplay without lag while showing FPS. Its recording quality is excellent however it is a little bit difficult to use.

Screen recording allows you to record everything present on your screen such as PowerPoint presentation, excel spreadsheet, web browser and so more.

It also supports a real-time drawing feature which allows you to draw lines, boxes or highlights while recording the screen.
---
Conclusion:
This is all with the list of vest 9 alternatives for OBS. If you focus only on live streaming than Xsplit, StreamLabs OBS, VMix, Wirecast are the best ones for you. However, if your main focus is screen recording then Lightstream, Camtasia, Fraps, Nvidia Shadowplay, Bandicam is a good option.
If you wish to give less load to the CPU then Lightstream, Nvidia Shadowplay is a smart choice.Every software has its own features some of them are similar to others and some are unique.
Before deciding which one is perfect for you, first of all determine what you actually need from a software, what kind of features you want, then after go through them all and choose which one is best for you.