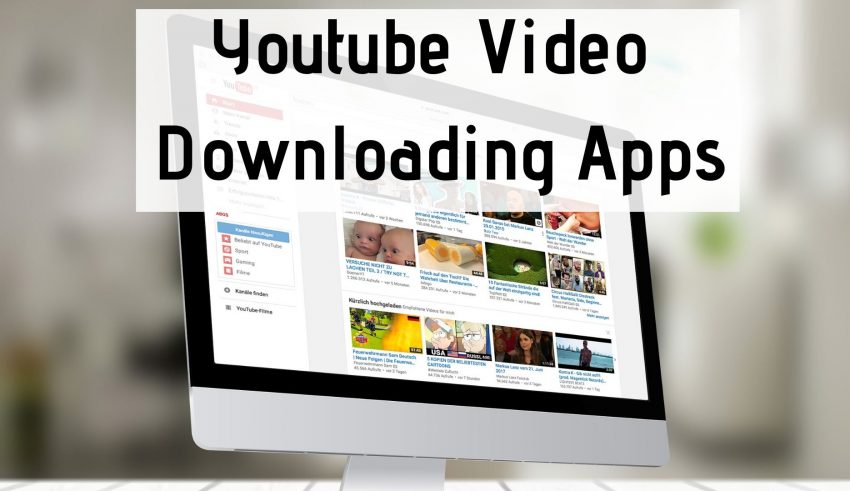 Since the last decade, video streaming has come to dominate the online space and traffic. Not only does it make the content more accessible by making it visual and interactive, but it also appeals more because it reduces the overall time span so people can access and see more in the same number of hours as compared to textual, static content.
Streaming music videos, is the most popular online activity, especially among Millenials, who can engage with the visual video form for a better experience of listening to music because of its creative visuality.
Online videos, however, come with their own set of drawbacks; even though they have made accessing visual content easier, they survive on consuming immeasurable loads of Internet data every single time you choose to watch them online and they also rely on constant Internet connectivity.
YouTube, perhaps the most popular video streaming application also comes with several of these restrictions. It prohibits offline streaming and direct downloads. To fill in the gap, here come the wonder called video downloader apps and video sharing websites. These apps allow you to download and share videos for unlimited and convenient accessibility.
The following is a listicle of the top YouTube video downloading apps that can be your go-to alternative for online streaming: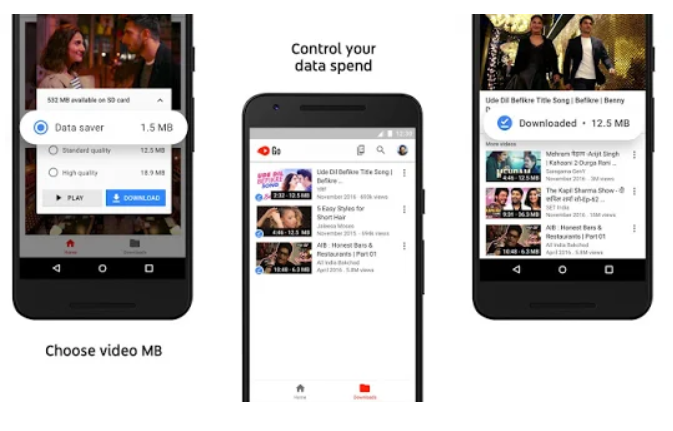 Get It On Google Play
Perhaps the best alternative to the official YouTube app, only minus the advertisements and the option to play videos in the background! Like YouTube, you can save videos for offline viewing, but with this app, you can also directly download videos from YouTube without paid subscriptions.
The Android app was launched by Google (and therefore, it is completely legal, unlike other apps!) for meeting the needs of an Indian audience while being conscious of data usage and Internet connectivity. It also enables the sharing of high-quality videos without an Internet connection.
---
Videoder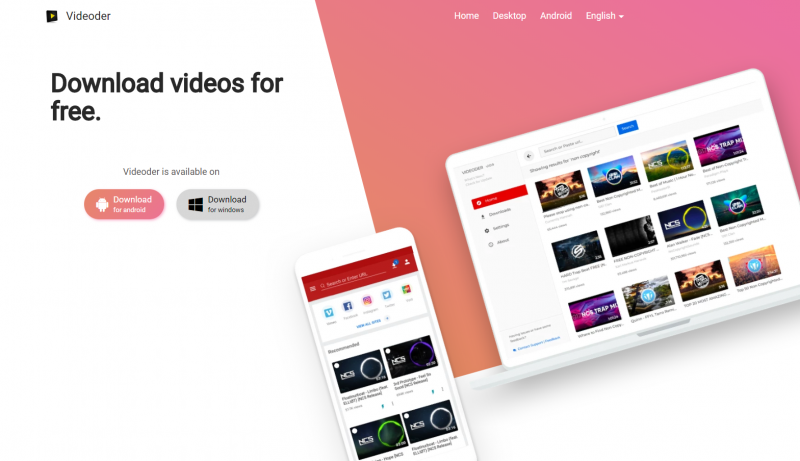 This video downloading app facilitates downloading of videos from several other websites apart from YoutTube, such as Facebook, Twitter, and many others. This app creates direct links for downloading videos.
So, effort and time can be saved to switch back and forth from the apps. It's available for use, both on the Android phone and Windows or Mac desktops. However, it's not available on the Play Store and has to be downloaded from its official website. It comes with an excellent user interface with night mode and a choice of themes.
---
Best Instagram Videos Downloader
---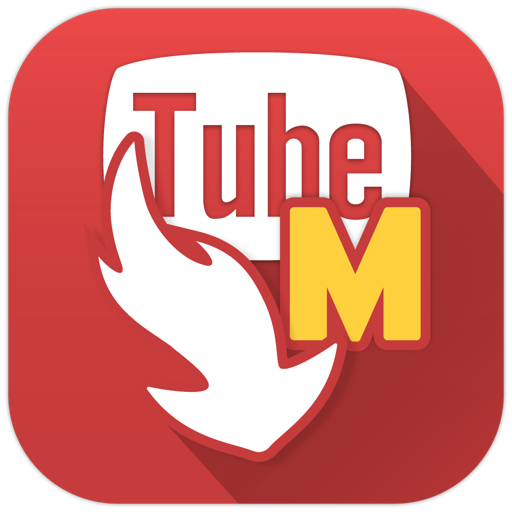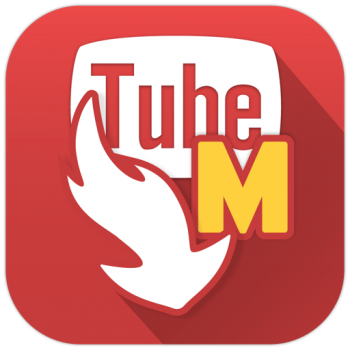 This Android app for downloading YouTube videos has several beneficial features – simultaneous downloading, background downloading, and an inbuilt media player and even a browser.
So, you can continue to surf the Internet or keep listening to your favorite music and the app will continue the downloading in the backdrop. The downloaded files can then be saved in your phone storage directly and in the desired format and resolution or can also be saved in the app itself as a playlist.
---

This app is your top stop for all things related to videos. It not only converts videos into mp3 formats, but one can also use it to edit and compress videos. It facilitates video downloading from other websites such as DailyMotion, Facebook, etc.. and for downloading, this app requires copy-pasting the link to the video.
With this app, you can download the videos in high resolution and store them in your phone memory for easy access later. The best part about this app is that it comes without ads and pop-ups! Also, the creators are always in process for adding more tools related to videos, such as trimming, creating GIFs, and so on. Be on the lookout!
---
Snap Tube

This app, which was found in 2016, allows a fast and convenient platform for downloading videos from a large number of websites, which can be accessed later without an Internet connection.
You can also save music videos in mp3 audio format to save storage space. It allows multiple downloads and in multiple resolutions. A great feature of this app is that it's available in several regional languages which accounts for its wide reach among a diverse audience.
---
InsTube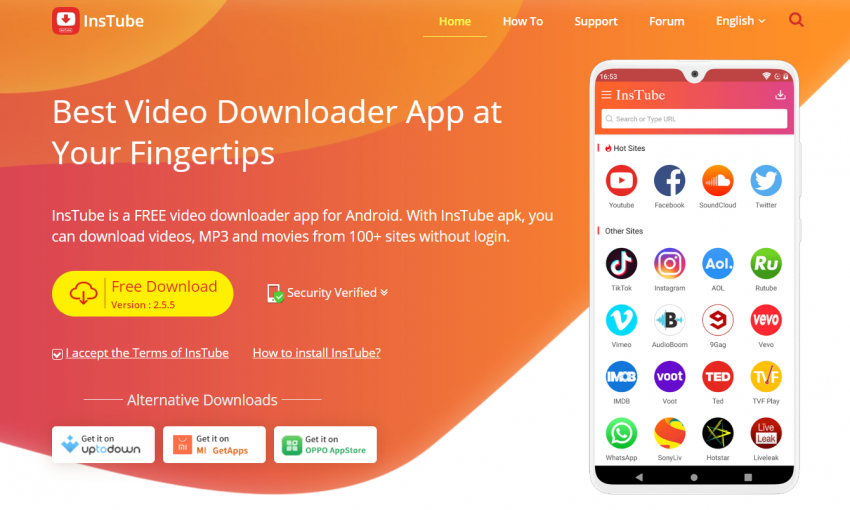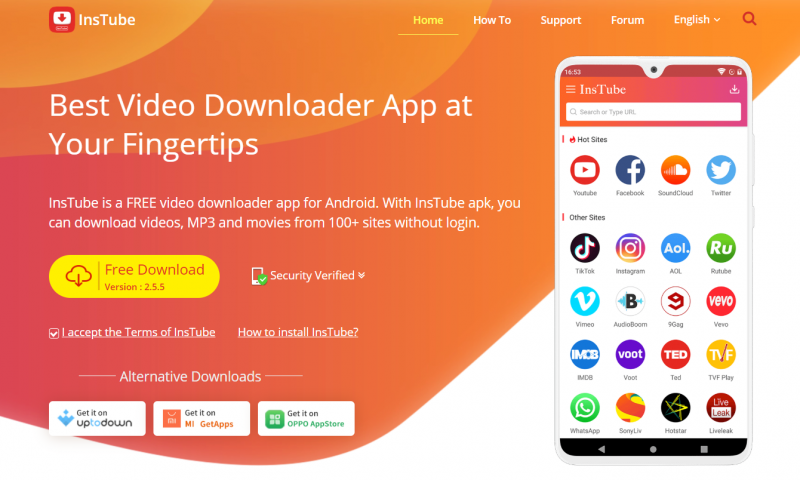 InsTube allows a user-friendly interface with the choice of customizing the app settings like bookmarks and hidden mode. High speed (which doesn't get affected even while batch downloading) is the trademark for this app, along with HD video downloads and inbuilt music and video player; you may choose the video quality before the download begins. Like others, it also enables video downloading from several websites including social media channels.
---
Also Check: Best Sites to Buy Youtube Views
---
VidMate
Another Android video downloading the app, VidMate offers to download videos of different categories, such as movies, TV shows, and music videos with the convenience of a click by clicking on these tabs provided within the app.
This app is also available in HD and hence, allows high-definition quality of downloaded multimedia files. The HD app is most compatible with devices having Android 4.0 and later versions. You can save videos from YouTube, Vimeo, DailyMotion, and several other portals. It is free and comes with many download features suiting everyone's needs.
---
YT3 YouTube Downloader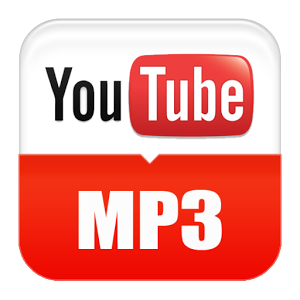 This video downloader app allows you to convert videos from YouTube in mp3 and mp4 formats with speed as fast as lightning. It comes with a flat design and will show the most related results for your search query.
The unique feature of this Android application is its lyrics support – you can read (and sing along!) the lyrics within the app, as you play your music. It comes with commendable download speed and even allows an audio preview before the download begins.
---
NewPipe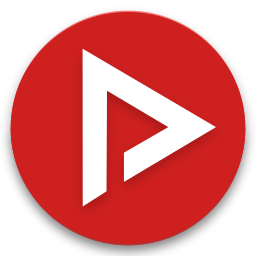 Install App
This Android app is lightweight, open-source, and functions nearly like YouTube. You can play the music in the background while surfing the Internet or while downloading the videos. It is free from advertisements and in-app purchases and provides high-speed downloads, in favorable formats and resolutions.
Also, the downloaded videos can be played with subtitles.  It doesn't store user data and hence, ensures complete privacy. Moreover, the app requires very less storage space in your phone and therefore, won't be heavy on the phone memory.
---
YMusic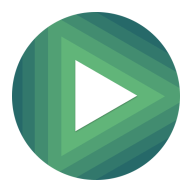 This app has the best of all features – you can listen to music while the screen is locked! Enough said. It allows users with easy accessibility and the choice of playing videos in the background.
You can also create a playlist within the app that can run without an Internet connection. However, it only allows downloading in mp3 audio format and so, you would not be able to watch your downloads in video forms. You can save your audios in multiple quality options provided by the application.
---
iTubeGo

This video downloader app allows users to convert videos from more than a thousand music streaming websites such as YouTube, DailyMotion, SoundCloud etc.. in a number of formats. It is compatible with a wide range of devices – Android phone, iPhone, iTunes, iPad among others.
It enables high definition downloads, bulk downloads such as downloading of entire YouTube playlists and it comes with a file manager where all your downloads would be arranged in chronological order. It has a smooth performance and is one-hundred percent secure.
---
VideoProc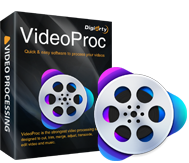 This app is a video processing software with GPU hardware acceleration that speeds up all of its functions. It has a number of editing options – cutting and cropping, adding effects, merging and also, subtitles and you can operate all this within seconds. Its multi-functionality does not end here; it also allows users to remove noise, enhance the videos, make GIFs, add watermarks and fix the fisheye.
Undoubtedly, it offers a high quality video downloading experience in the convenience of a click with its inbuilt media downloader engine that enables video downloading from over a thousand websites.
---
Gihosoft TubeGet

This video downloading software is based upon the one-click download system that can download even entire YouTube playlists. It allows saving videos in high resolutions and requires copy-pasting the link to the video to download them. You can also add subtitles to your videos and choose to convert them in mp3 or mp4 formats.
This app is compatible with Windows, Mac, Android and iOS devices and can download from a wide range of streaming sites. The app comes with a clean, ad-free interface.  It is both available as a free version or a paid premium version.
---
Dentex YouTube Downloader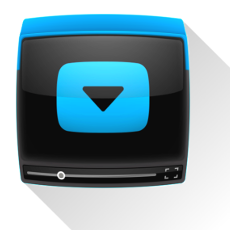 This YouTube downloader for Android is fundamental for its smooth performance and high speed functioning. Users can select from a range of output formats and quality of their video downloads.
It consists of a separate tab that shows all your downloaded files in a sequential manner. It also allows you to pause and resume your downloads and delete already existing downloads as and when you want.
---
Conclusion
So, these free YouTube downloader, third party applications can be your go-to solution for online video streaming. From converting videos to watching them offline, these apps bring the convenience of watching videos right onto your smartphone screens without encountering issues of Internet connectivity.
For the modern millenial of today, who is always on the go or for the elders who prioritize convenience, these apps bring entertainment, information, trends, news and what not, right at your fingertips, minus the paltry inconvenience of Internet!