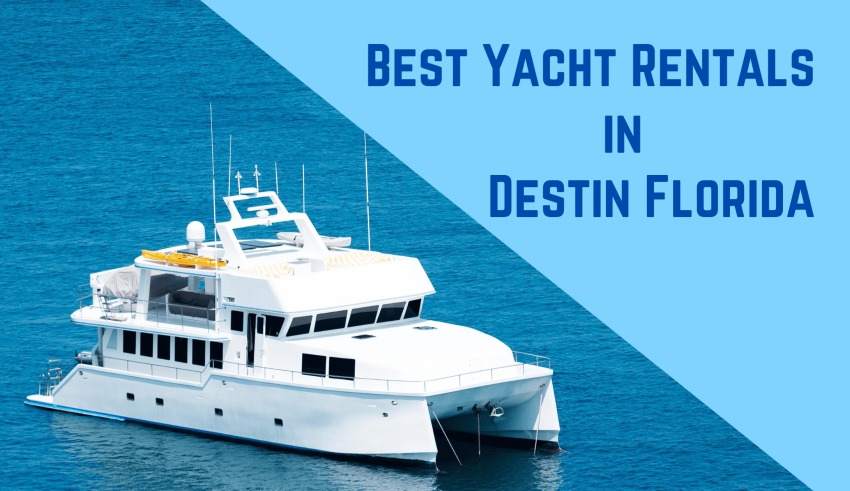 Are you from Florida and want to rent a yacht for a party? Now for the people of Destin, there are multiple yacht charters available for rent. Starting from corporate meets and parties to just hanging around the coast with family everything is possible with yachts. Rent the best yacht you need with further amenities that you want. In addition, some of the most luxurious yachts from around the world are present as a part of the yacht rental destin fl. All you need is to set a budget and then look for the best choice that comes in it.
Best Yacht Rentals in Destin Florida


Parrot Head Yachts offer the finest yacht charters throughout the year. Starting with the 2-hour personalized experience there are options for a 4-hours brunch excursion, a 'HAPPY HOUR' excursion and also a complete coast excursion for 8-hours. Parrot Head Yachts create all their choices thinking of common client needs from yacht rental destin fl.
They also offer monthly memberships or $100/month which comes with the best offers like free merchandise and a 30% discount on services. Even at the end of one-year people can an additional $1200 off for any cruise offered by Parrot Head Yachts.
They have charters for all occasions and the packages start from only $1500. With Parrot Head Yachts you are going to have the best time celebrating and enjoying with your loved ones. Just roam free on the water and expect the best experience ever.
Address: East Dock, 302 Harbor Blvd, Destin, FL 32541, United States
Phone: +1 850-980-5824
---
Also Find: 15 Best Yacht Rentals in Singapore
---


Destin Vacation Boat rentals have multiple options available for you. Adventure tour of the Crab Island, booze cruise and fireworks cruise are just a few options available to people looking forward to having fun. With a boat capacity of 49 people, it is good enough to host a party on the luxury yacht rental destin fl.
They have gone beyond the fishing experience so that people can expect unique things like sunset cruises. Either rent the best yachts and powerboats or even jet skis for the cheapest prices. Private renting costs $3300 for a large yacht party and it is available for all types of parties.
Book for yachts in advance by calling 850-650-2623 and they offer coupons and discounts for private charters. Plan the perfect day with your family as Destin Vacation Boat Rental is already offering so many options where everything goes according to you.
Address: 102 Harbor Blvd, Destin, FL 32541, United States
Phone: +1 850-650-2628
---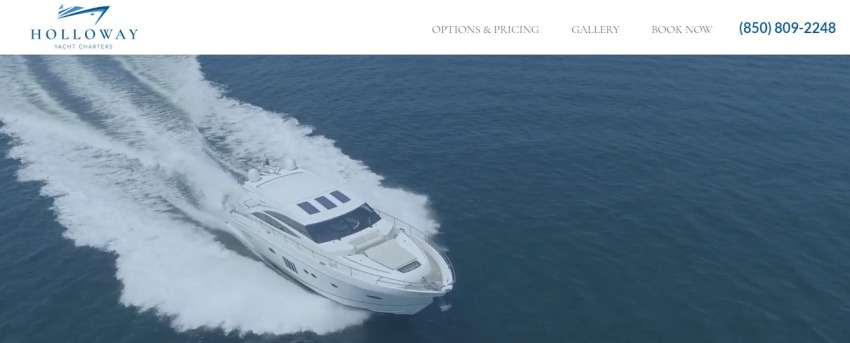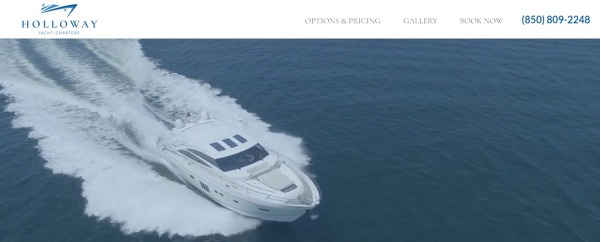 With the luxury of your own private yacht, experience the sceneries of Destin, Florida with the best ever view. Holloway Yacht Charters have yacht rents based on time or the type of party. Further, they serve special packages for all occasions starting from the bachelorette, anniversaries, birthdays to corporate parties.
The most famous among all are the sunset and overnight charter. The great view of the sunset is perfect to enjoy and experience with your family. You can have six people staying overnight or even charters for straight eight hours for a small party on your choice of private yacht rental destin florida.
You must choose Holloway Yacht Charters for huge open spaces, a surrounding music system, banquet seating, a swimming platform, bow area with three rooms studded with TVs. Finally, spend your leisure time moving around the waters with your loved one.
Address: 530 Beach Dr, Destin, FL 32541, United States
Phone: +1 850-809-2248
---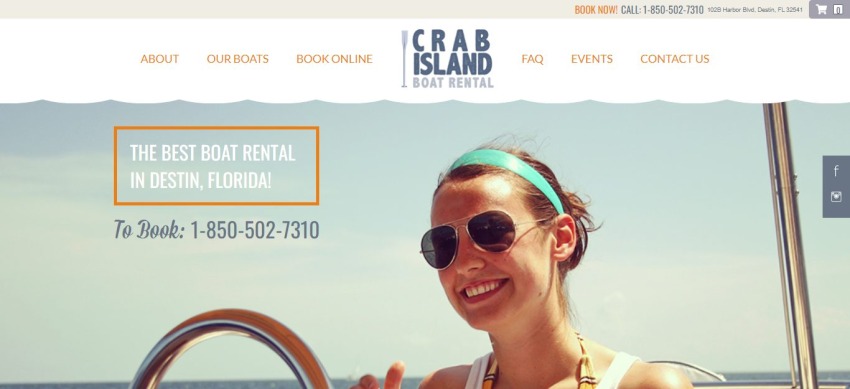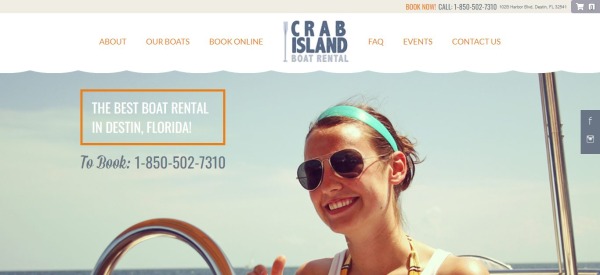 Crab Island Boat Rentals is all set to give you the ultimate experience of Florida. They have all ranges of boats from jet skis to luxury boats. Make your choice exactly like you need as the cost will be within your range. Furthermore, luxury boats are available to have a great experience with the family for just $500.
Exclusive events are happening at Crab Island constantly. So, look for the event and choose the perfect time for you to visit. During the events, there is a huge rush for booking Crab Island Boat Rentals. So, book for the choice of boat charter in advance.
It is really easy to choose out of so many options, but they always ask for pre-orders. It helps them get you the package that you are expecting while having a great time on the water.
Address: 111 Calhoun Ave, Destin, FL 32541, United States
Phone: +1 850-502-7310
---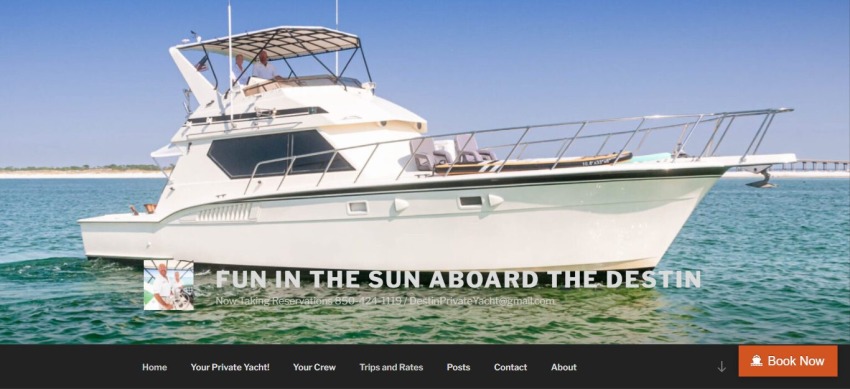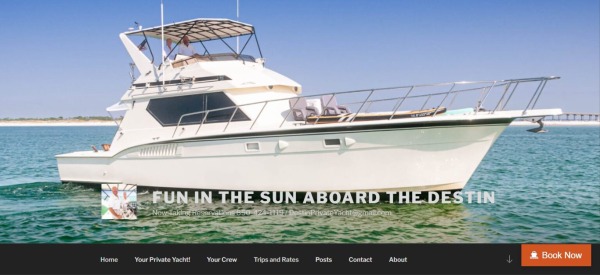 Now you have the chance to have your very own private yacht with your timings to roam around the waters of Florida. Exclusive yachts are studded with a perfect crew taking care of all you need while on the charter.
Many people try the family excursions to Crab Island and Noriega Point as it is a complete delight. Experience the sight from sunset cruise or Thursday night fireworks are equally famous. The packages start from only $325 per hour with additional crew charges. You can choose the number of hours you need out of the best luxury yacht rental destin fl.
Just call them for reservations at 850-424-1119 and they will get in touch with the reservation as you want it. With all the positive reviews about the crew, you are surely going to expect the best from Destin Private Yacht Charters.
Address: 314 Harbor Blvd, Destin, FL 32541, United States
Phone: +1 850-424-1119
---


A fun pontoon charter with two waterslides to experience the water with the family. Double Fun Pontoon Rentals is more about fun with family and friends than very specific charters. With the double decks, people can experience a huge shaded deck or even an open sundeck for yacht rental destin fl.
A powerful engine with complete safety parameters catches the eye of a family as it can carry 14 people. So, choose one out of Okaloosa Island or Fort Walton Beach and experience the best. The plans for the complete day start from just $595. All you need to do is call them at 850-316-4224 and you will get your charter.
There are multiple places to visit around Florida using the Pontoon rentals. Look for the place you intend to visit and book a few days in advance.
Address: 390 Harbor Blvd #2, Destin, FL 32541, United States
Phone: +1 850-316-4224
---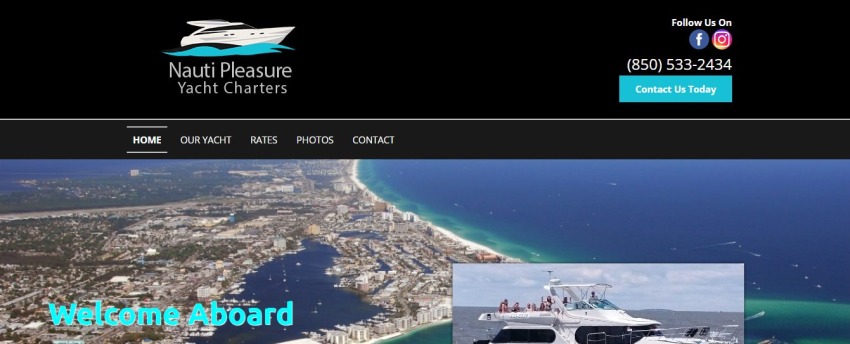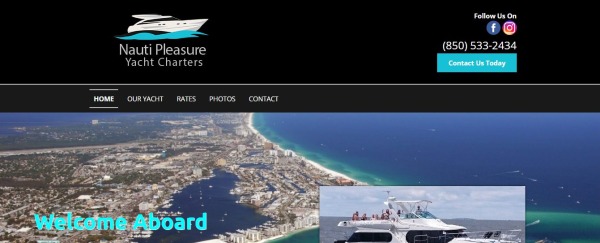 Nauti Pleasure Yacht Charters is one of the few world-class certified yachts renting facilities. Reservations are available for 3-hour charters at $850 only with extra crew charges. In the 50-feet luxury yacht get the experience of a lifetime while you are planning on experiencing the best charter.
The yacht is equipped with all amenities for having lunch with family or a longer stay inside the air-conditioned rooms. A great music system just adds to the ambiance with chilled beverages available for you on the deck even during summer.
They are one of the fewest charters where 24-hour service is available. You can choose overnight charters as per your needs. Nauti Pleasure Yacht Charters have every provision for yacht rental destin, florida.
Address: 981 Hwy 98 East, Suite 3-121, Destin, FL 32541, United States
Phone: +1 850-533-2434
---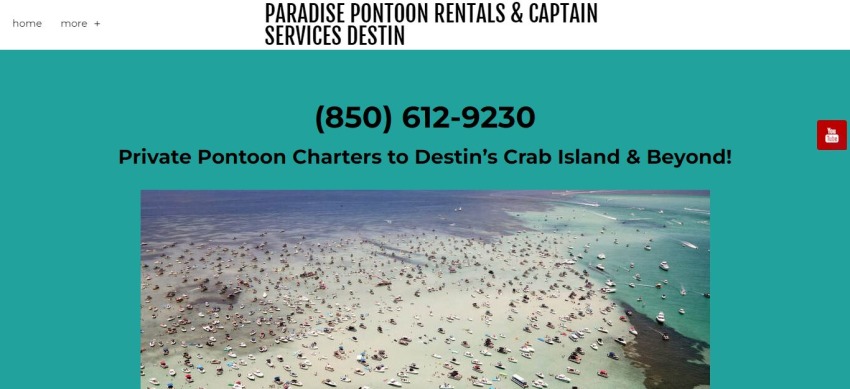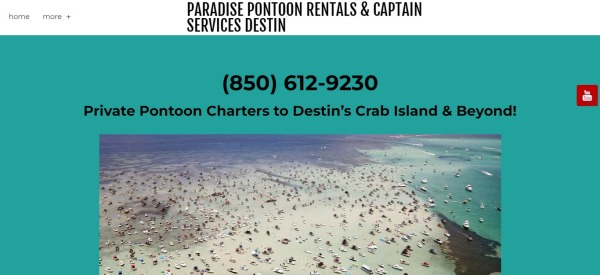 Paradise Pontoon offers the best services to rent a pontoon for a joyride. The party for 6 starts at a really low price of only $550. So, do not spend a huge amount just having a 5-hour experience of watching dolphins.
For a larger crowd ask for the rates and book immediately. At present, there is a dedicated plan for water sports together with all additional amenities included. Do not miss the opportunity as they are offering many things with the plan for free. Grab your beach costumes and head on to Florida for an excursion with the dolphins.
Either contact Paradise Pontoon at 850-797-5344 or chat with them live on the website. They take bookings from 8 AM and even plans for larger parties are available. All it takes to save is prior booking.
Address: 5 Reddin Brunson Rd, Destin, FL 32541, United States
Phone: +1 850-612-9230
---

Smile-n-Wave is one of the fewest pet-friendly charters from Destin. An online booking feature is available on the website with multiple options. They offer party cruises for weddings, watching fireworks or snorkeling and also cruises for ash spreading and memorials.
Give the perfect end to the journey of the life of your loved one. This is something unique with no other charter offering such a facility. Looking at the sunset enjoy every moment as plans only start from $300. You can also offer gift cards for trips and surprise your family members with yacht rental destin.
The highest chosen tours are snorkeling and dolphin tours. Smile-n-Wave is even better for parties as charters are well-designed to host multiple people. Book your plans today and make the best of it.
Address: 404 Harbor Blvd Slip 5, Destin, FL 32541, United States
Phone: +1 850-368-5921
---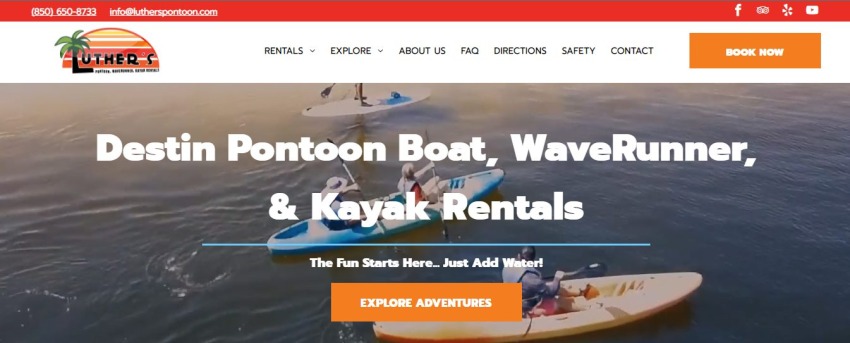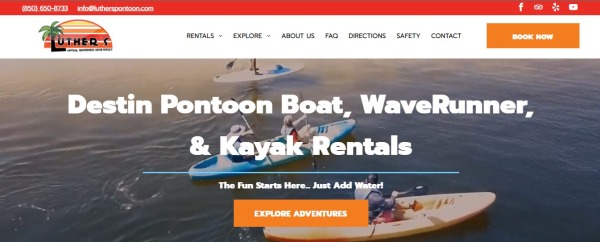 Luther's is one of the iconic places with different boat rentals. It has a set price of only $37.50 per person with the option to book entire boats for yourself. Spring and fall seasons come with the highest discount. So, plant the rentals at those times and you will have a great experience at prices way lower than your budget.
A great lunch is always an additional benefit while renting boats. Enjoy events, fishing charters and water activities, with the pre-booked pontoon or wave runner. People who like the adventure must try kayaking with the luxury yacht rental destin, florida.
It will be a once-in-a-lifetime experience if a pod of dolphins shows up. Luther's Rental is giving people the experience that they desire at the most competitive price in the market.
Address: 200 Harbor Blvd, Destin, FL 32541, United States
Phone: +1 850-650-8733
---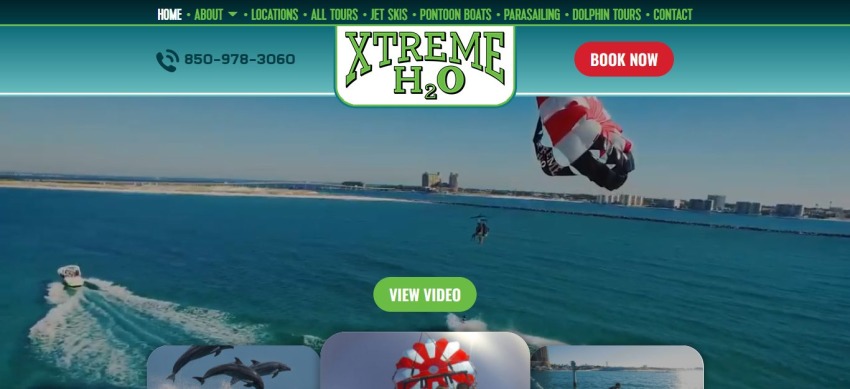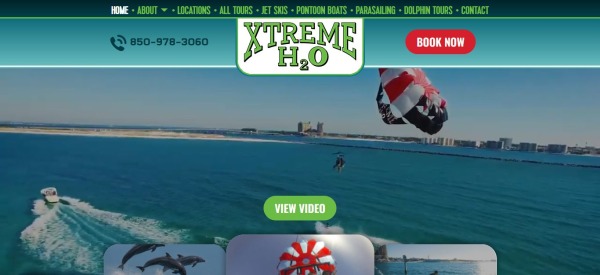 No other charter offers half-day rentals for $550 for a double-decker slide pontoon. Contact Xtreme H2O for parasailing, wave runner, pontoon and boat rentals. They further offer upfront services even for the luxury yacht rental destin, fl.
850-978-3060 is the number that you need for advance booking. They have the best customer service and the client testimonials prove that there is no hidden cost and no idle time. You can book charters in the same way from Crab Island or from the harbor as you need them.
Xtreme H2O offers you the option to experience the waters of Florida like never before, with parties, dolphin tours and many more. Follow their blogs for all the newest updates.
Address: 7 Calhoun Ave, Destin, FL 32541, United States
Phone: +1 850-978-3060
---
Also Find: 10 Best Yacht Rentals in Abu Dhabi
---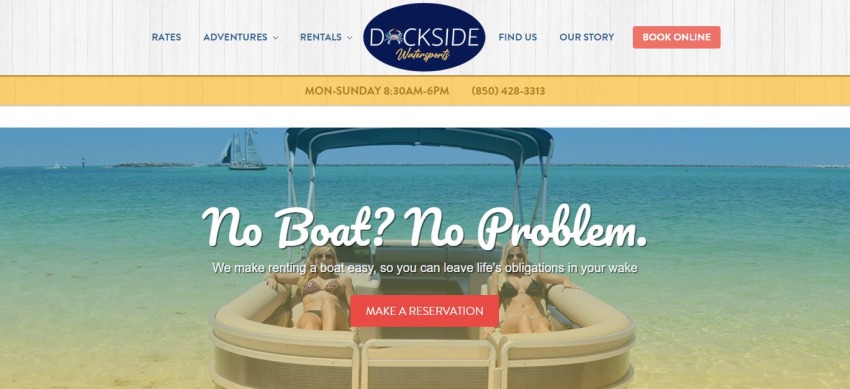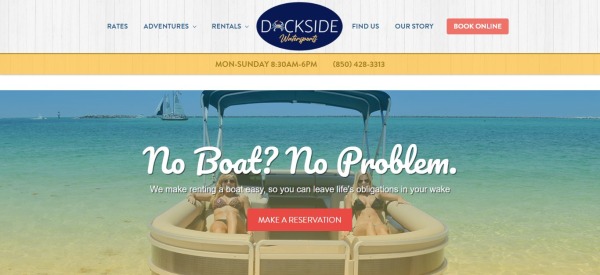 Renting boats online for adventure tours just got a whole lot better. Even if it is your first time renting a boat, try their number. They are going to lead you to your choice. You can choose your boat which you would love to take for a party or just a ride while relaxing on the water.
All you need is to choose your day for reserving the specific boat and make the reservation. A plan on the waters of Florida is just three clicks away with Dockside Watersports. So, just chase the sunset while you explore Crab Island.
Dockside Watersports is the best for groups of 10 people as you can just move around the water without any defined destination. Spending time with friends and family is all that counts.
Address: 390 Harbor Blvd, Destin, FL 32541, United States
Phone: +1 850-428-3313
---


Cruisin Tikis offers prices per person to get expenses as per the people at the party. Sunset cruise and harbor lights cruise are available for only $59 per person. This is perfect for yacht rental destin if you want to spend time with your loved one.
There is a price drop for all packages during all seasons except summer. If you bring the drinks, they have coolers with perfect sitting areas to share a drink with your friends. Cruisin Tikis is ideal for experiencing something new while spending the least.
Call them at 850-200-0573 and either book your place or fetch the gift cards. Sightseeing tours are going on with social distancing allowing only 6 people on a boat.
Address: 288 Harbor Blvd, Destin, FL 32541, United States
Phone: +1 850-200-0573
---


Aloha Pontoon rentals offer multiple boats and jet skis just for roaming around the harbor. Furthermore, dolphin tours for hours make you and your family roam around the waters of Florida and beyond towards the Crab Island.
Aloha offers 7 days of service for rentals out of different regions. At first, book the boat immediately by giving a call to 850-269-3333. Bring your whole squad with you and together you can your friends can experience the best charter ever.
Address: 404 Harbor Blvd, Destin, FL 32541, United States
Phone: +1 850-269-3333
---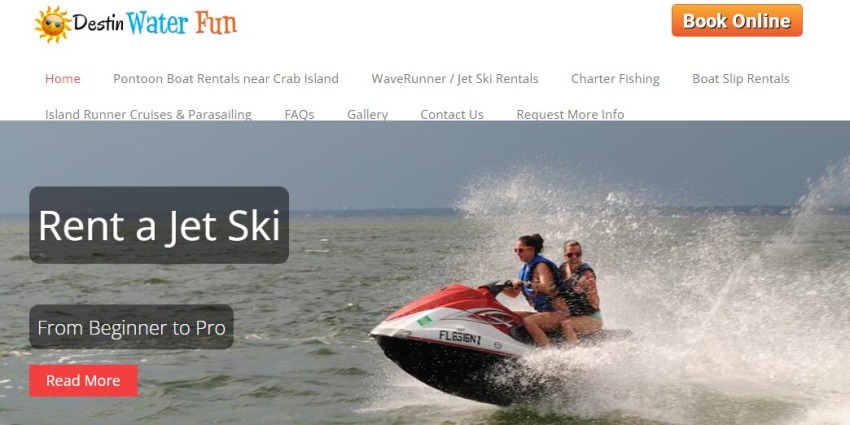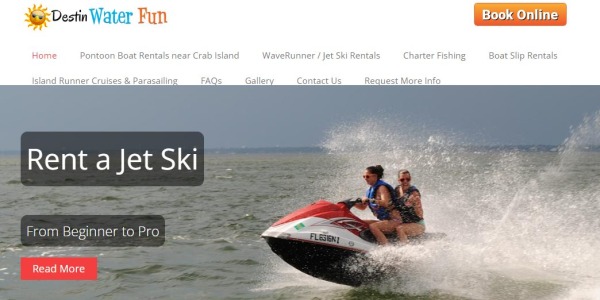 Destin Water Fun offers the best facilities for water sports and boat rentals. Further they offer parasailing services and offer the option to take food from the best places at the harbor. You can have a great family time with all these people letting you have a great lunch on the boat.
Not just the Crab Island charters, but you can have your bachelorette party or fishing party with them. Now they are giving both discounts and gift cards for the season. Experience summer like never before with the cheap yacht rental destin florida. Everything is possible with Destin Water Fun. So, ask for bookings and get the ideal package within your budget.
Address: 214 Harbor Blvd, Destin, FL 32541, United States
Phone: +1 850-898-1204
Conclusion:
Florida is all set to become the hub for all yacht rentals with so many charter companies popping up. With hundreds of yachts available for rent just place the booking in advance to get the yacht rental destin service on time. Advance booking is available on the websites of the companies so that people can pre-book their yacht before the occasion. In conclusion, the best yacht rental companies take care of everything to help people stay away from hassles and have the best experience.