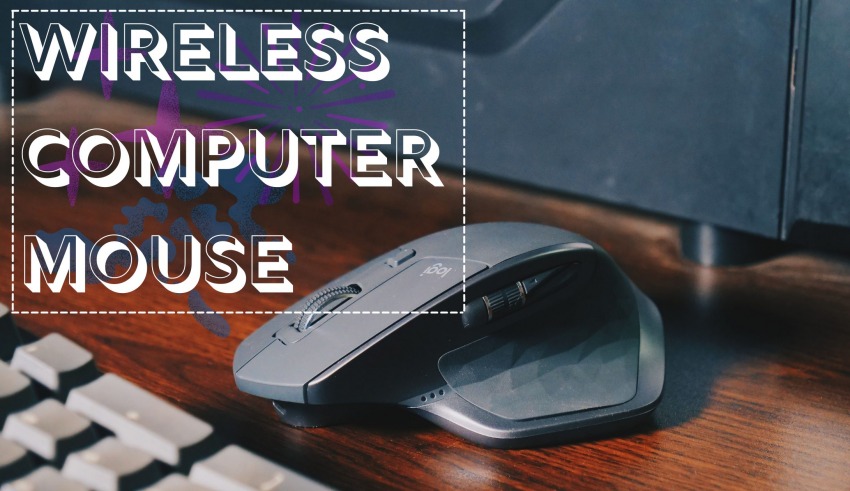 In today's modern world, many devices are equipped with wireless connectivity. Having no wires prevents people from being restricted in the way they move. Modern technology has made it possible for devices such as phones, computers, and even thermostats to be wireless. There are numerous wireless mice on the market now – however, deciding which one is right for you might be difficult; hence this article will enlist the best wireless computer mouse options. 
Wireless mice are the best way to create a minimalist look at your workspace or desk. When you have a Wireless Computer Mouse, you do not have to deal with cables. People tend to complain a lot about cables with mice. This takes up a lot of desk space and becomes tangled easily. With no wires, your mouse can be used wherever you like. It is impossible to achieve the same freedom with a wired mouse as with a wireless one. Working from any location is possible with a wireless Computer mouse.
You are not physically bound to your computer. In this sense, wireless mice are ideal for individuals who use large screens for presentations or for those who use computers for entertainment. You can control your computer and screen from anywhere in a room.
Here is the list of the 10 best wireless computer mouse you can buy in 2021. 
Logitech M510 Wireless Computer Mouse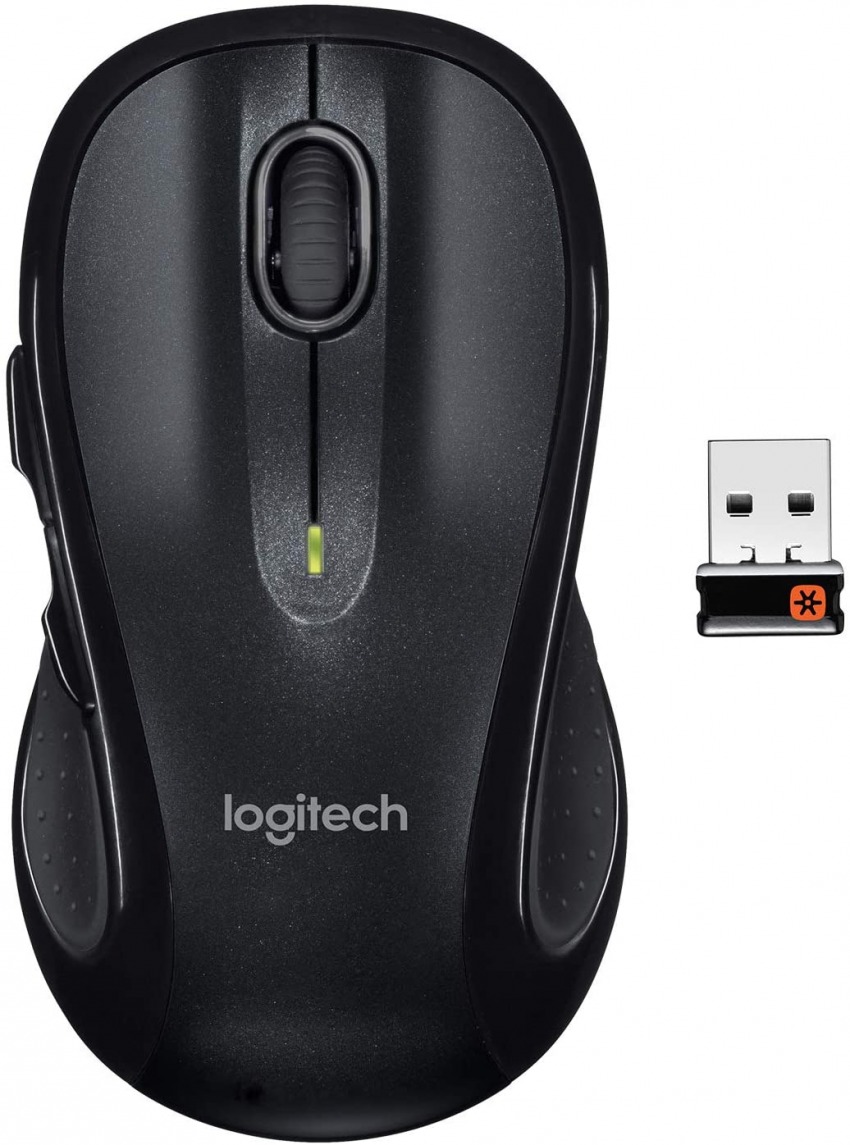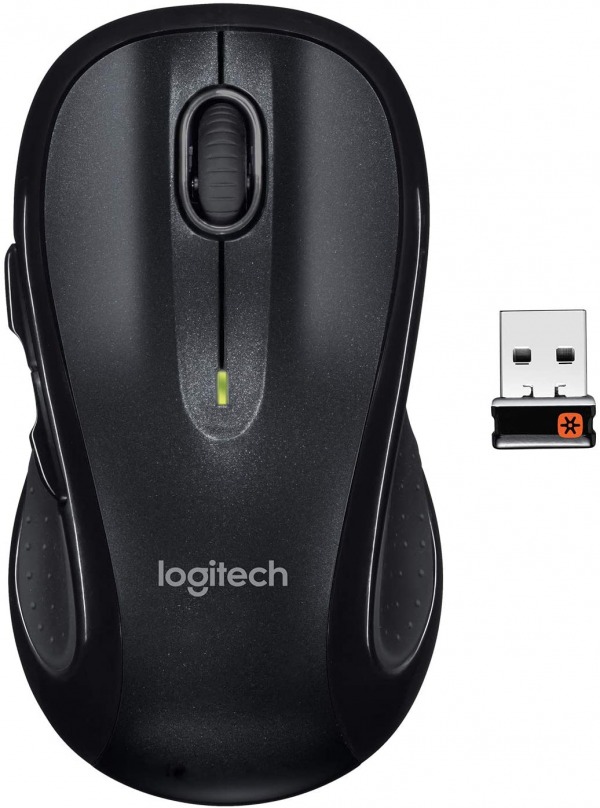 The M510 is designed for hours of comfort. The ergonomic design and rubber grips make it easy to work from anywhere, whether you are at the office or at home. A rubber wheel allows you to scroll line-by-line and a tilt wheel allows you to scroll horizontally from left to right through large spreadsheets or images.
For smooth, responsive control on virtually any surface, high-precision tracking is key. Thanks to Logitech Options, you can customize the five buttons to do faster. Controls can be either configured to switch applications, open browser windows, or change DPI speed to exactly what you want. 
Designed to meet Logitech's high standards of quality, the mouse is built to the same high standards that have made Logitech the leader in mice and keyboards worldwide. With an on/off switch button and automatic sleep mode, the M510 works for up to 24 months without requiring batteries.
In seconds, you can start working with the USB receiver by simply plugging it into your computer. As well as providing strong, reliable connectivity, the receiver can also be used within 10 meters (33 feet).
With Logitech UnifyingTM technology, you can connect up to six peripherals through the same receiver at once. Compatible with Windows® and macOS®, the M510 is also available for Linux. It is also a certified product that works with Chromebooks.
---
HP Wireless Mouse X3000 G2 (28Y30AA, Black)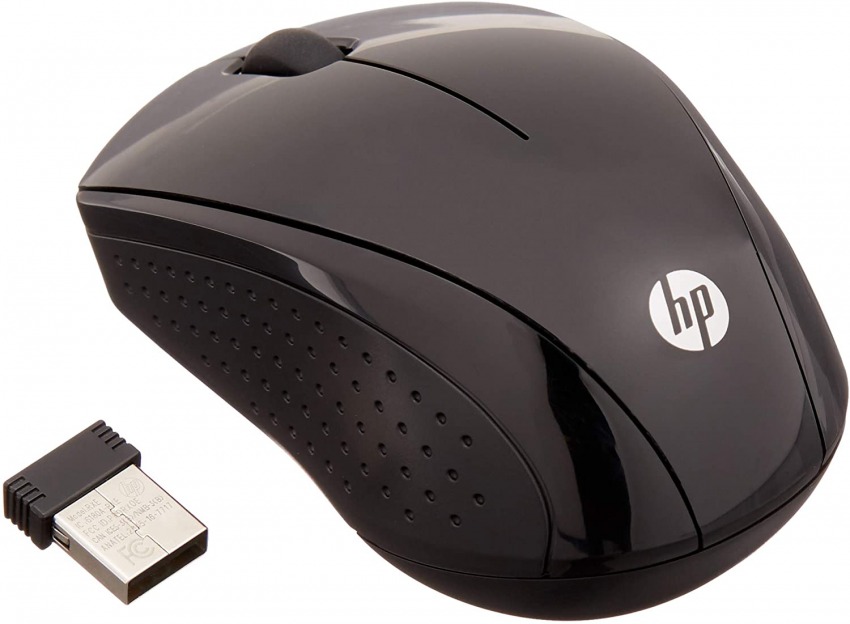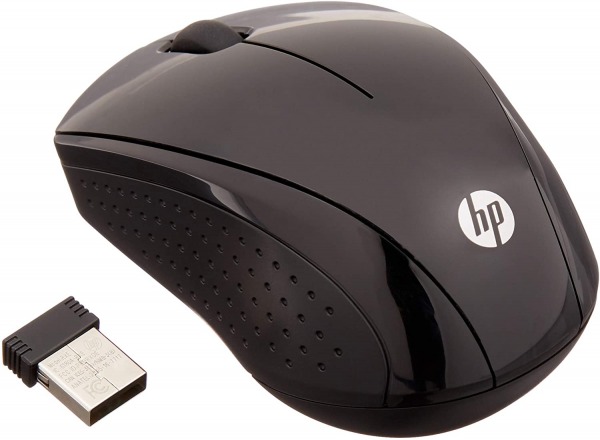 Connect and communicate better, work better, and play better. Designed in accordance with HP standards and guidelines, the HP Wireless Mouse 220 effortlessly combines sleek design with powerful, advanced features. It is easier to stay connected with a reliable 2.4 GHz wireless connection. Designed for 15 months of everyday use with efficient battery life. Comfortable for long periods of time in either hand due to the contoured shape. One-year HP standard warranty makes things easy. 
Nano receivers are easily stored inside mice to make them portable. For enhanced productivity, the device features three buttons and a scroll wheel. It provides ideal control thanks to its well-designed side grips. Pack up and travel light with this travel-friendly mouse. This dynamic sensor delivers precise movement on a wide range of surfaces thanks to Blue LED technology.
---
Logitech M525 Wireless Mouse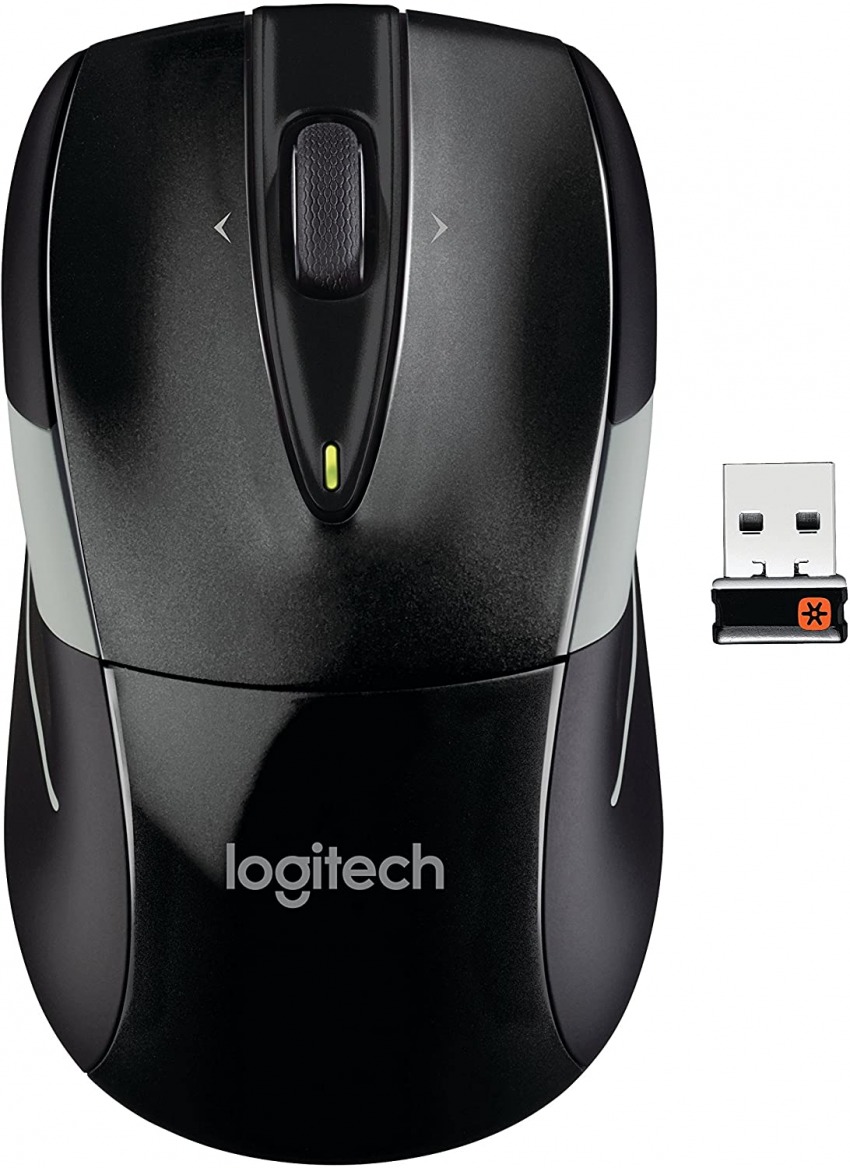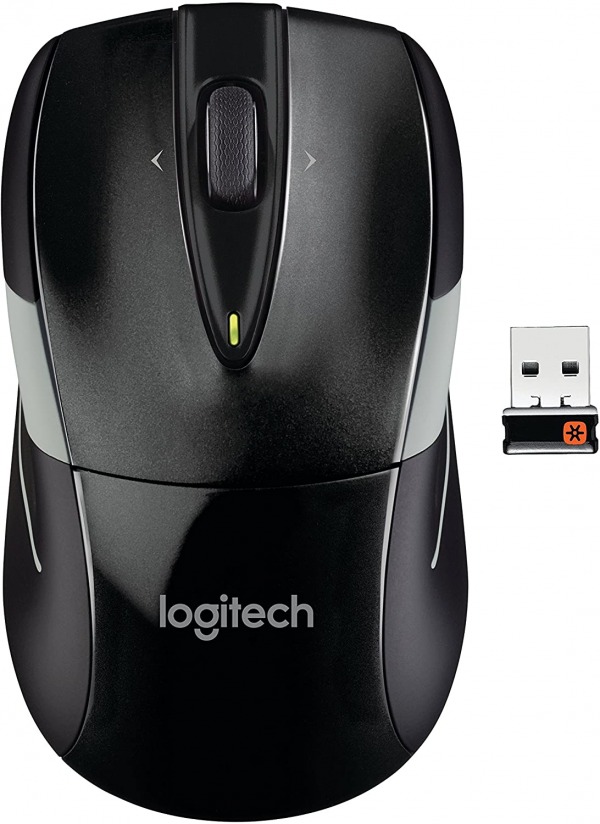 A device that is ready for anything, comfortable, fast scrolling, and with a battery life of 36 months—the M525 is loaded with features. Designed in an ambidextrous shape with rubber grips and rubber wheels, the tool provides comfort when working. This wireless laptop gives you high performance no matter where you are: at home, in the office, or anywhere else.
A comfortable ride is built into the M525's design. Whether you are at work or at home, the contoured design fits your hand naturally, so you will be more productive for longer. As a result of the ambidextrous design, it can be used by left- and right-handed individuals. In addition to speed and precision, this wheel lets you swiftly scroll through long pages or focus on specifics. By tilting the wheel, large spreadsheets and images can be easily slid side-to-side for easy viewing. 
 With the USB receiver, you can begin working in just seconds without needing to install anything. Up to ten meters (33 feet) from the receiver, a strong, reliable connection is provided. Featuring Mac OS® and Windows ® compatibility and Chromebook TM certification, the M525 supports both Mac and Windows ®. Based on Logitech's commitment to quality, the mouse is also built using the same high standards. The M525 is also reliable and durable and runs for up to 36 months without requiring any batteries, thanks to a switch that allows users to turn it on and off.
---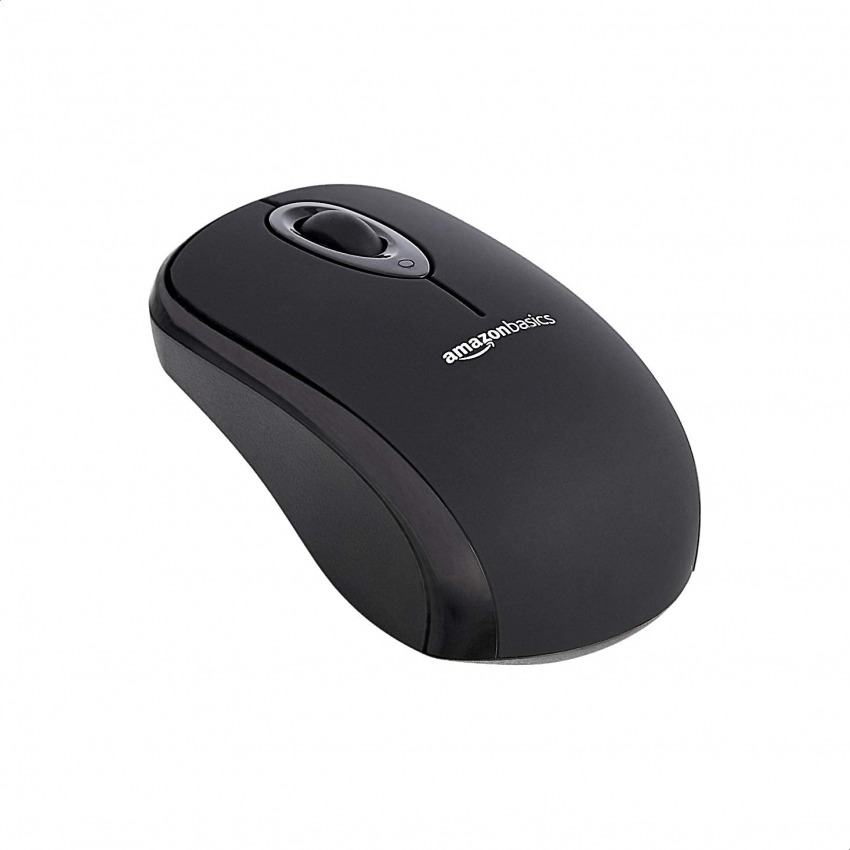 Make sure you have a steadfast connection and wireless comfort with the Amazon Basics Mouse. An optical three-button mouse with a nano receiver that works with desktops, laptops, and netbooks is available. With its affordable price and fast, responsive connection, it is an excellent choice for home, work, or travel.
It takes seconds to set up the AmazonBasics Wireless Mouse. Remove the nano receiver from the battery compartment* and replace the back cover. Now, just plug it into the USB port on a computer with a mouse, turn on the mouse's power switch (located on the bottom), and you are ready to go. When not in use, the Nano Receiver can also be stored on the mouse in order to keep it connected to the computer.
In addition to its optical and three-button design, this optical mouse has a 2.4GHz wireless connection to the nano receiver, making scrolling and clicking convenient, as well as highlighting text smooth and responsive. Despite its sleek, contoured shape, AmazonBasics Wireless Mouse is extremely comfortable to use even over the course of an extended period of time.
---
TECKNET Pro 2.4G Ergonomic Wireless Optical Mouse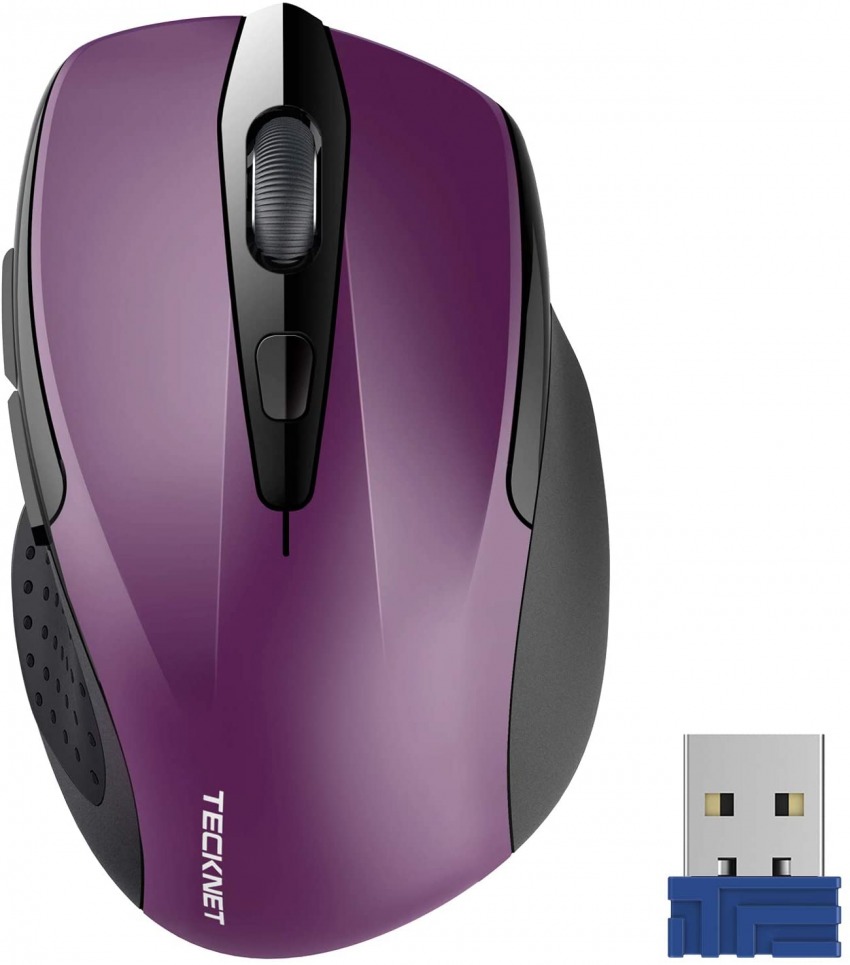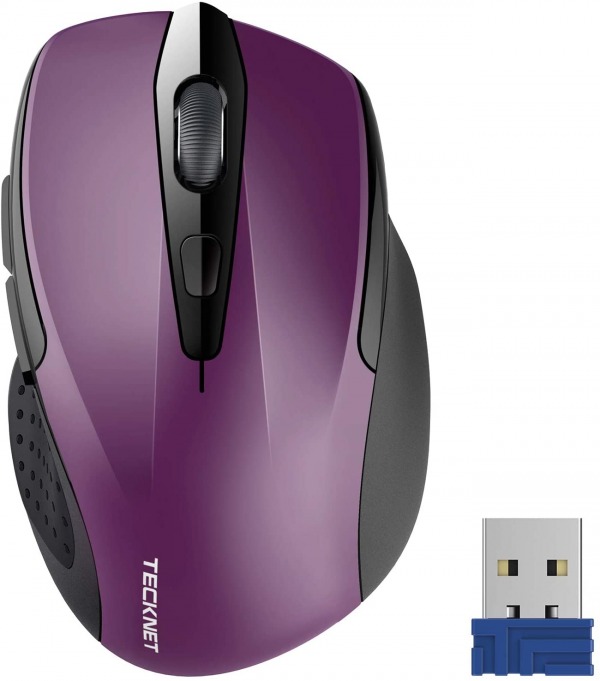 Includes a small USB Nano receiver (located at the back of the mouse) so that you can connect it to your PC and then forget about it. 5 Customizable DPI Levels (2680/2000/1600/1200/800) – pick the speed that is most appropriate for you. An indicator of the battery level lets you know how long the battery will last. Intelligent auto-sleep conserves energy (depending on user preferences and computing conditions, battery life may vary). Precision and intelligent cursor control are provided by Wave technology on many surfaces. Using the TeckNet Co-Link technology, it is not necessary to re-establish pairing following signal interruptions or shutdowns 
With its increased working distance of 33 ft/10 m and no delays, dropouts, and interference, iDAS® provides a reliable connection. All-day comfort is provided by the contoured shape and soft rubber grips. The program is compatible with Windows XP, Vista, 7, 8, 8.1, and 10. Supports notebooks, Chromebooks, PCs, laptops, computers, etc.
---
Lead sail Wireless Computer Mouse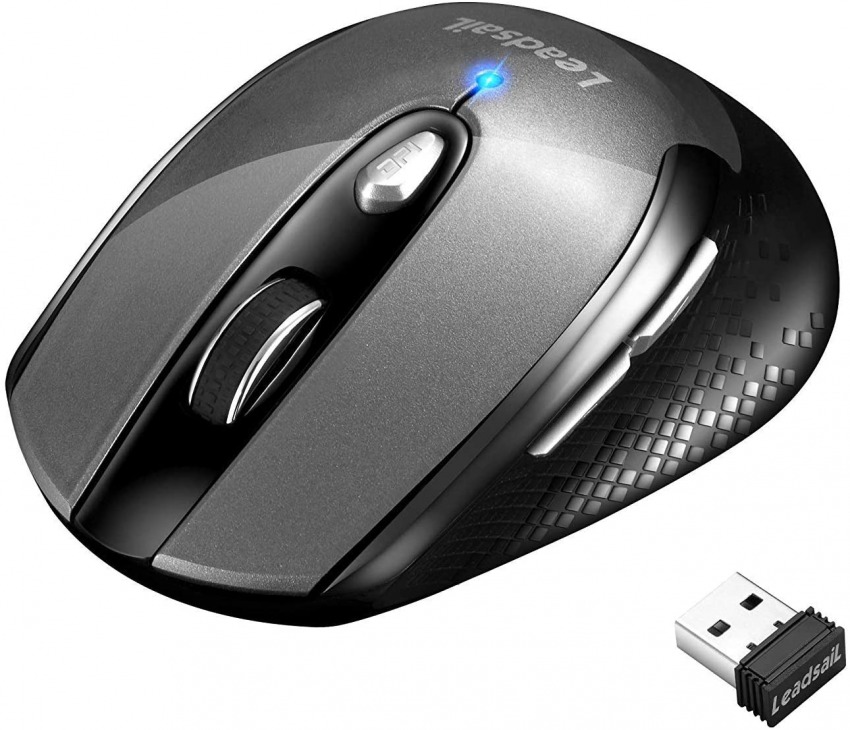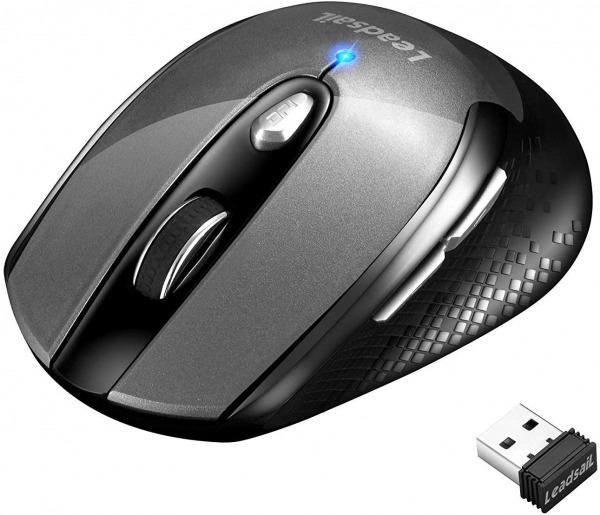 The mute clicks make your work easier and let you focus on what you are doing instead of worrying about annoying others. With a transmission range of 50 feet to 15 meters, this 2.4GHz wireless mouse connection is immensely powerful and reliable. Plug-and-play is supported by the Mini USB receiver (stored in the battery slot).
You can choose between 800,1200,1600 DPI, depending on your needs. A wireless computer mouse is equipped with a Nano receiver (which is located at the back of the wireless mouse). There is no need for a driver, and the wireless mouse for a laptop can be directly plugged in. A multi-million keystrokes test was performed on this laptop mouse to guarantee extra durability. This cordless mouse has a power-saving switch on the back. When it has been idle for 15 minutes, it enters sleep mode. You can wake it up by pressing any button. There is one AA battery inside this device. 
For maximum comfort and support, wireless mice have slim shapes, sweat-resistant finishes, and skin-friendly finishes. Added comfort is provided by the ring, and middle finger rests. Your hand will not slip when you scroll with the rubberized scroll wheel. For laptops, desktops, and netbooks, this optical mouse is smooth, precise, and cost-effective. This mouse is perfectly compatible with Windows XP, Windows, Windows Vista, Mac OS X, and Windows 2000 Server.
---
Logitech M705 Wireless Marathon Mouse for PC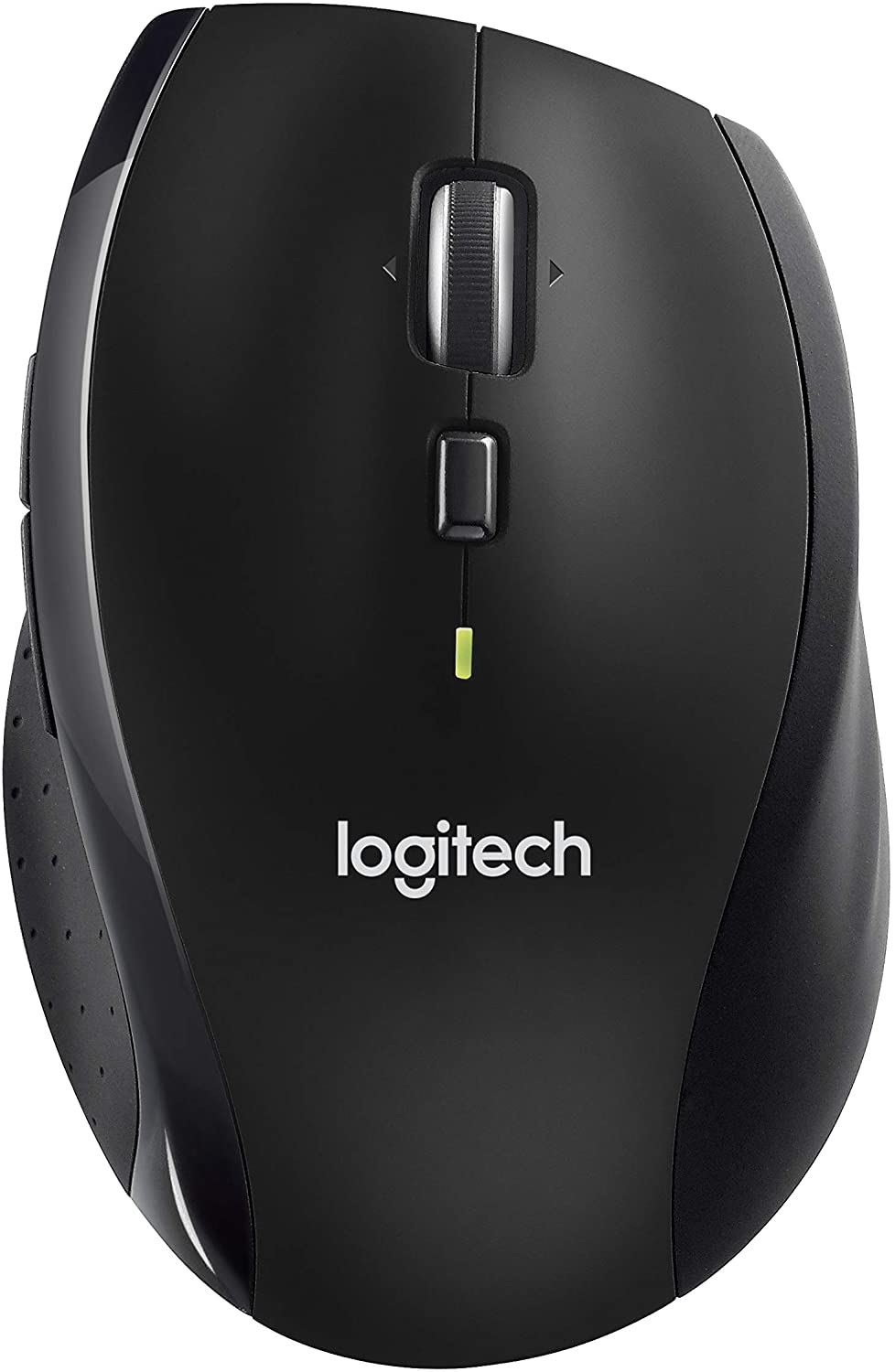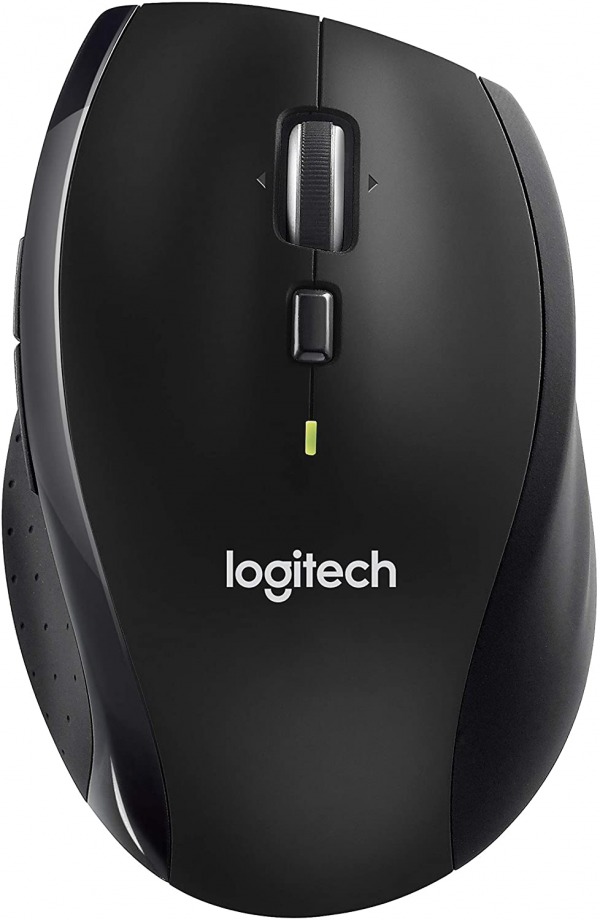 Improve your scrolling, your tracking, and your productivity. Scroll with speed or precision with dual-mode scrolling, so you can fly through long web pages or go line-by-line. With a click, you can change modes. You can control your cursor with greater precision at 1000 dpi. The tilt wheel makes horizontal scrolling easy when you are looking at spreadsheets, big images, or web pages. Logitech Options allow you to customize your experience.
It offers more than 36 months of battery life with its super-efficient engineering and automatic sleep power-saving mode. You can go up to 3 years without having to change batteries. You can remain productive longer with this full-size, contoured shape that follows the natural curvature of your hand. In addition to rubber side-grips, this design is right-handed for added comfort, so you can work comfortably, even for extended periods of time. 
The UnifyingTM USB receiver gives you a reliable, strong connection that stretches up to 10 meters. With this one receiver, you can connect up to six devices and not worry about lag or dropouts. MacOS® and Windows® are compatible with the M705. The Work with ChromebookTM certified product ensures productivity, no matter the environment.
Logitech Options allows you to customize all five buttons on M705, including the thumb, controls conveniently situated on the left side of the device. You can easily create shortcuts for opening browser windows, jumping to full-screen, opening applications, and more. Improve your productivity by moving quickly through spreadsheets, images, and web pages. Easy customization is made possible by intuitive software. 
---
Logitech M720 Wireless Triathlon Mouse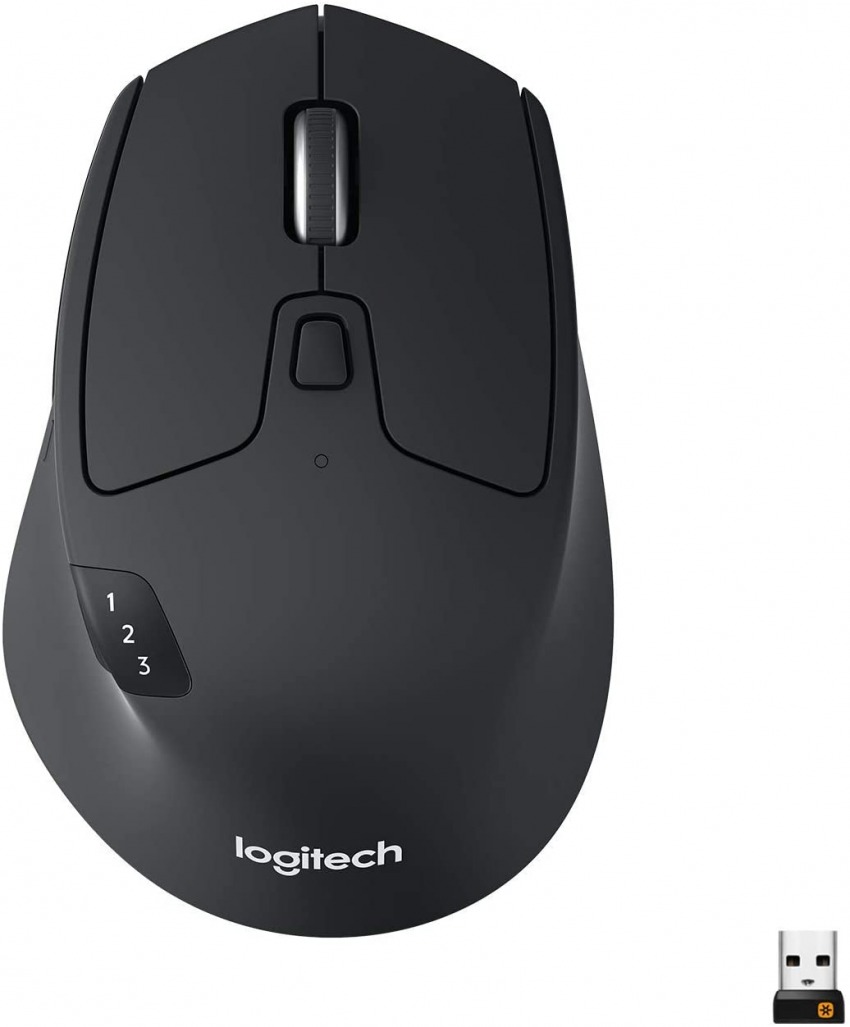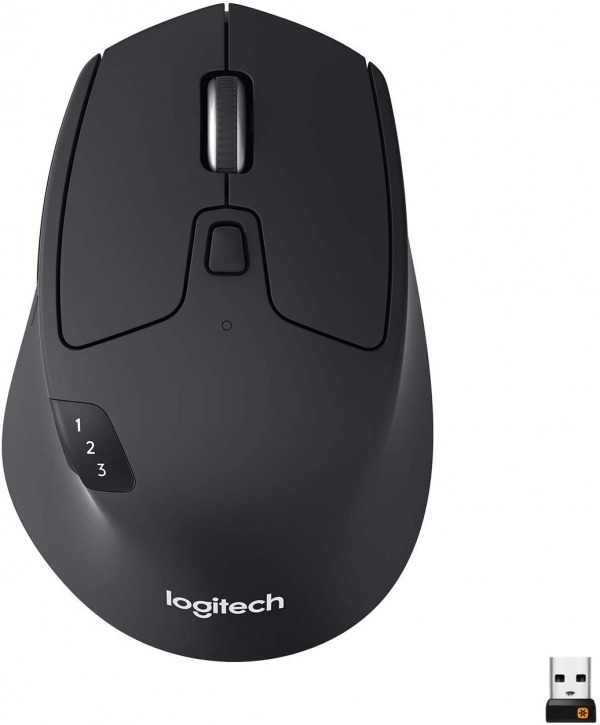 Experience unparalleled comfort, durability, and versatility with this high-precision mouse. M720 gives you the power to accomplish any task with extra controls, dual-mode scrolling, and adjustable dpi tracking. The dual connectivity and multi-device capabilities keep you in your groove, even if you must work between two computers. The sculpted shape and up to two years of battery life let you accomplish whatever you need to do all day long.
Your hand's natural curve is perfectly aligned with the full-sized contour, so you remain productive longer. With this right-handed design, you will be able to work comfortably, whether you are at home or at work, for lengthy periods of time. Improve your scrolling, your tracking, and your productivity. Featuring dual-mode scrolling, you can scroll at lightning speed or use a switch to read long pages line-by-line. Tilt-wheel navigation also allows horizontal scrolling. It is good for large spreadsheets, large graphics, and web pages. You can track virtually any surface with their high-precision tracking and adjust their dpi. 
M720 is compatible with Windows®, macOS®, ChromeOSTM, Linux®, and iPadOSTM, making it easy to work with it regardless of the device or operating system you use. The Logitech Unifying receiver lets you connect up to six Logitech peripherals with one USB receiver, either via Bluetooth® wireless technology or via the wireless Logitech Unifying receiver. A thumb button and two side buttons give you easy and fast access to controls right where you need them.
Download Logitech Options Software on Mac or Windows to customize the back-and-forth motion on the web. Connect your computer, laptop, and tablet seamlessly with M720. The Easy-Switch button allows you to connect up to three devices at once and switch between them. With FlowTM, you can move documents, images, and even whole operating systems between computers with ease.
Based on the same high-quality standards that have made Logitech the industry leader for keyboards and mice, the mouse is no different. Due to the auto-sleep power-saving mode and the on/off switch button, M720 is durable and reliable, and it works for up to 24 months without changing the batteries.
---
Logitech M720 Wireless Triathlon Mouse With 2.4G USB Receiver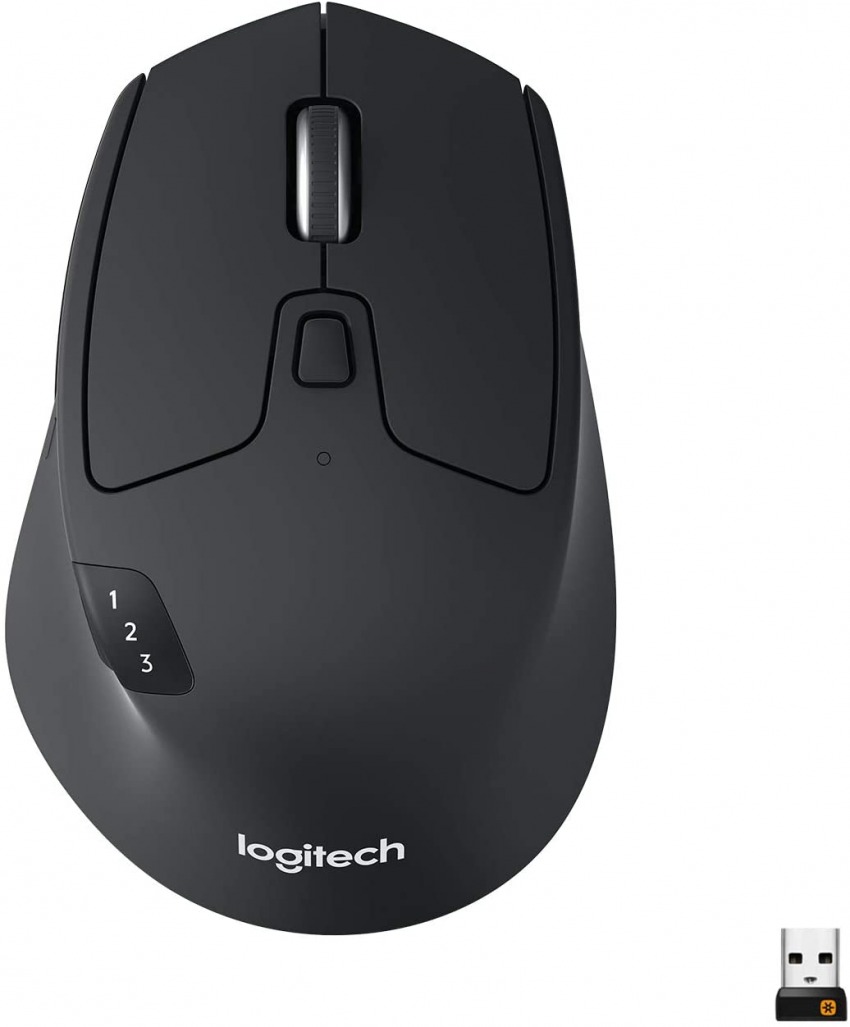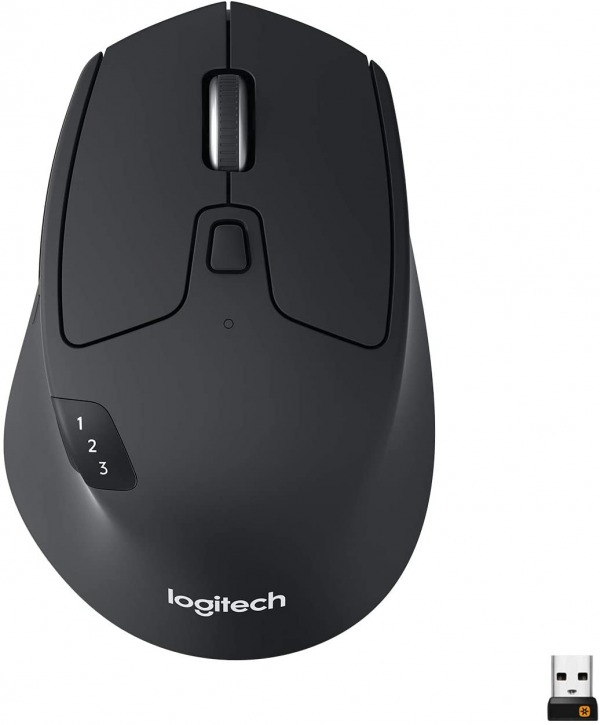 Offering you the best touch experience thanks to a lightweight honeycomb shell. Thanks to the durable strength of the material, you will never have to worry that it is too fragile for the mouse to last. During a long period of use, the advanced ventilation keeps your palms very cool and fresh, ensuring your comfort and a fantastic gaming experience. Stable connections and precise tracking are possible with 2.4GHz wireless technology.
It is possible to use the USB receiver at any time and from anywhere by connecting it to the USB port. The distance between two mobile devices can never exceed ten meters with 2.4G. The KM-1 mouse can be activated by clicking the on/off button, and you can change its light effects by pressing the LED button repeatedly. If you want the best gaming experience you can set your screen to rainbow mode, stream mode, breathing mode, pure mode, or turn off the light. It is one of the Best Gaming Mouse.
The DPI speed switch can be adjusted from 800 to 1600 and from 3200 to 4400, allowing the speed to be easily controlled. Connects your USB receiver directly to your computer's USB port without requiring any additional drivers or software. It has six buttons: Left button, Right button, Forward button, Back button, DPI button, and Scroll wheel. 
Windows 98/2000/ME/NT/XP/VISTA/7/8/10/11/MAC OS are all compatible with the software. Computers, notebooks, laptops, MacBook's, etc. can all be adapted to it.
---
Conclusion 
Mentioned above are the best wireless computer mice that are designed to fit the human body. By using it, your hands, elbows, wrists, and arms can remain in a natural position. Many of these have a classic shape designed to resemble the hand in a weightless environment. If you hold it vertically, you can grab it using a handshake grip. You can use both types to increase productivity, reduce fatigue, and prevent common conditions such as mouse arm syndrome, carpal tunnel syndrome, and repetitive stress injuries. 
If you switch to an ergonomic mouse, you will be more productive and energetic, just as if you made any other changes for better health. It is often hard to believe you waited so long to make a change when you get rid of harmful elements or behaviours and replace them with healthy ones. So, what are you waiting for? The mice mentioned in this article are not only efficient but also a way to keep your health in check.