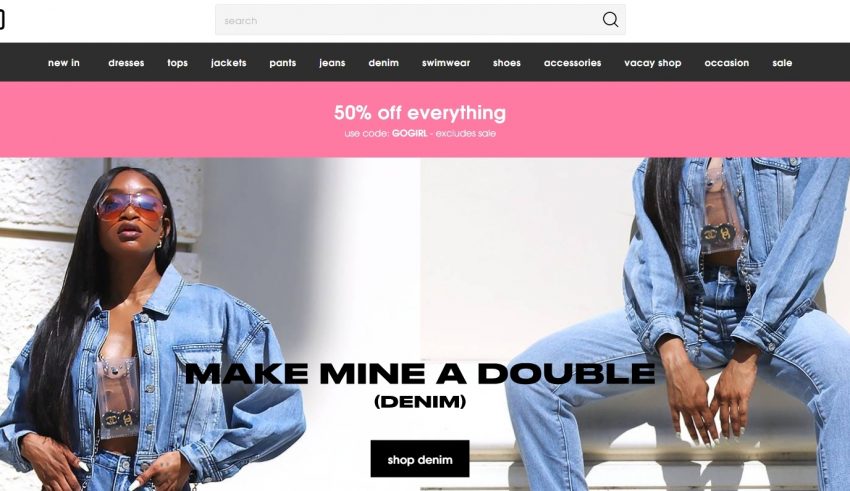 Over the years, MISSGUIDED has positioned itself as an indispensable part of the fast fashion industry. With its website giving the greatest Kardashian Vibes, it is sure to impress. Missguided is every girl's best friend, giving her the best clothes and helping her embrace herself.
Throughout their selection, a hint of an empowering and fearless woman pervades, seeming to give the advice to its customer to not be afraid of her curves anymore, to accentuate them and show the world what she has got, regardless of her waistline. Plunging necklines or body-hugging jumpsuits are not to be judged and leopard prints are to be adorned. Tall, petite, maternity or plus size, Missguided does not leave any woman behind- for each one has the right to her body, the right to be herself, and most importantly the right to be proud of herself.
Disclaimer: The order of the sites does not in any way indicate the ranks of the websites. The opinions in the article purely belong to the author. 
Here we have compiled for you a list of the best shopping sites like Missguided that you should check out if you love it as much as we do!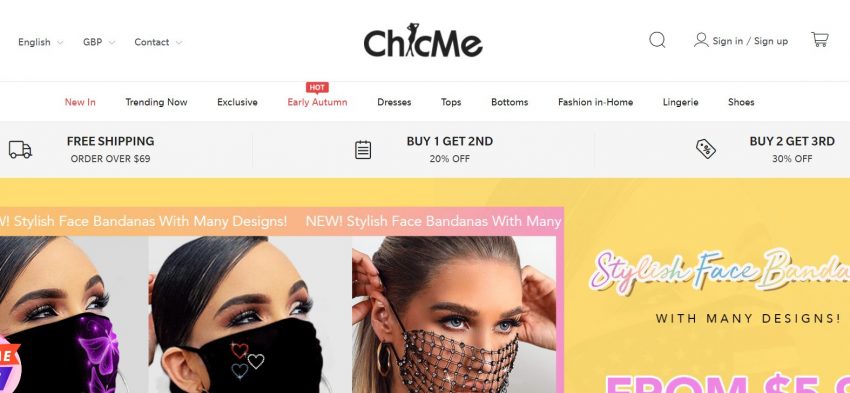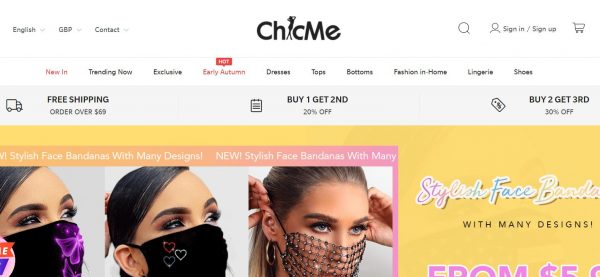 If you are wondering about the best stores like Misguided to shop from next, ChicMe has to be on top of that list. The online shopping destination, which is immensely popular all around the world, is based out of America. It is one of the most sought-after online clothing stores for women in their 20s, across genres and styles.
Whether you are looking for the latest handbags or the classiest glasses to pair with your dress, ChicMe has it all. There is simply no end to the variety and kind of accessories and clothing you can browse on this trendy online store. Out of the many stores like Misguided available on the internet, few have such impressive collections as ChicMe.
Besides, variety and style are not the only reasons you want to be here. The kind of crazy discounts and attractive offers ChicMe provides is enough to lure any woman to its website. If you are a fashion lover and like to keep your wardrobe updated with the latest trends, ChicMe is the place you would want to shop next from.
---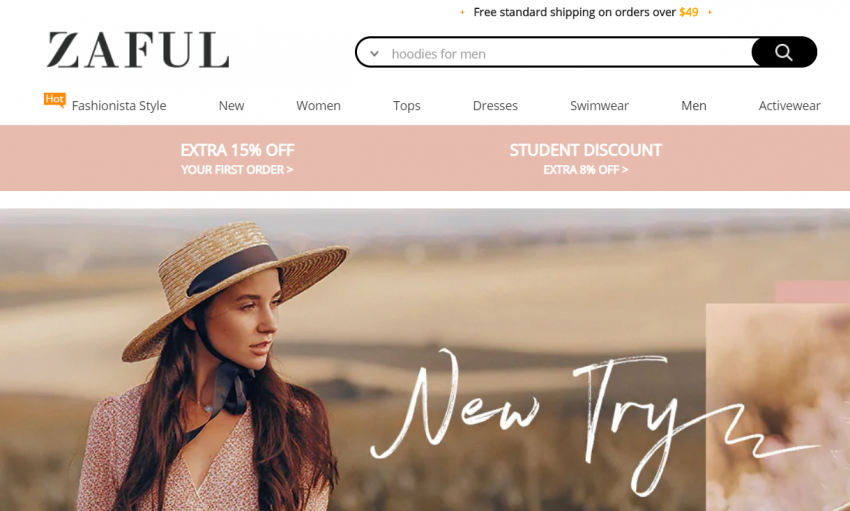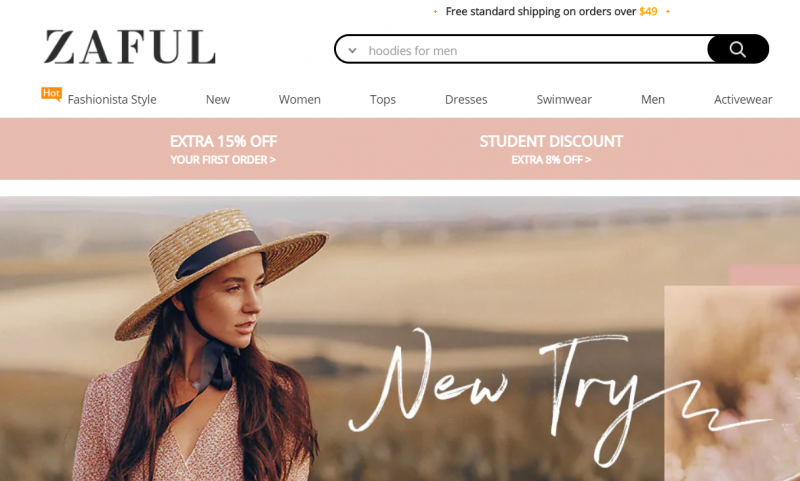 Very often, women find it difficult to land on a safe and quality online store like Misguided that offers clothing at reasonable prices. If you happen to be someone who is also looking desperately for an affordable yet quality online clothing destination, Zaful is the right place to be at.
The online shopping destination is considered a one-stop solution for all types of buyers. Zaful is known to offer trendy, affordable clothing for both men and women. There are so many categories and labels to shop from that one is sure to get all starry-eyed. The range of elegant wear for all occasions is complemented by collections of sportswear and accessories. Besides, the store does not compromise on quality, even though its offers are really affordable and relatively pocket-friendly.
Zaful is one of the best alternatives to Misguided in terms of style quotient, quality and trends. It even gives out coupons from time to time, including to new shoppers on its platform. So, what are you waiting for? Rush and begin browsing the multiple offers and items at Zaful immediately!
---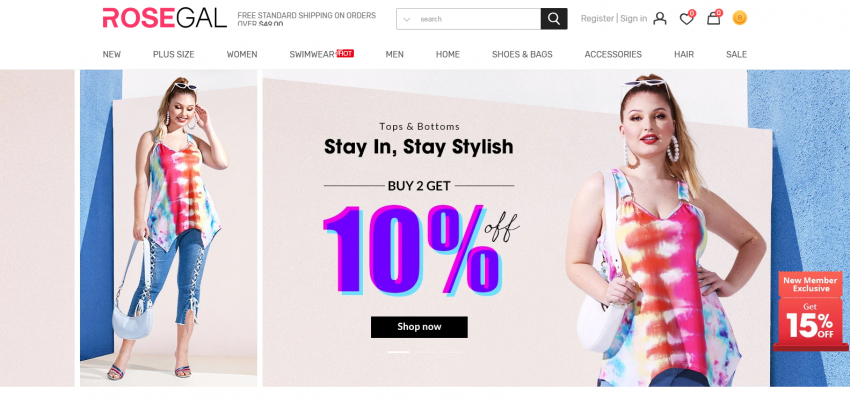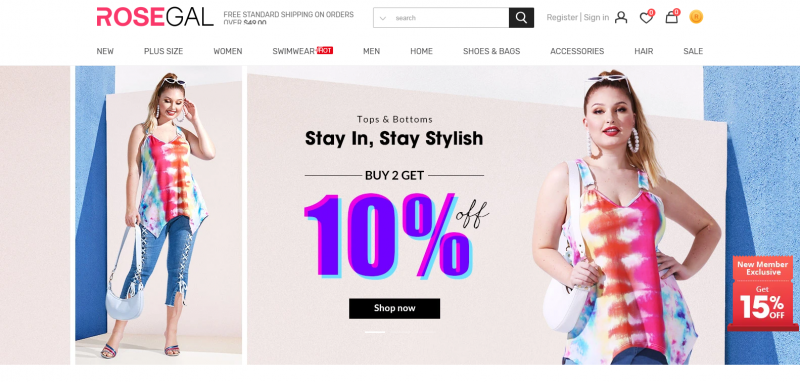 Very often, online clothing stores do not live up to the expectations of plus size women. The dresses offered on online platforms hardly ever manage to satisfy the curvy woman's needs, whether aesthetically or ergonomically. If you are someone who has been facing the same problem when it comes to online shopping, Rose Gal is the place you would want to be at.
The online store has an enviable array of cute and feminine outfit options for curvy females. It happens to be one of the few stores like Misguided in terms of style and quality that caters to plus-size clothing so elegantly.
Besides, the store is the perfect place to shop for different occasions all year round. Going to a prom? Rosegal has you sorted. Looking for a vintage piece to rock the themed party? There's no need to look beyond Rosegal. Trying to pick something out for the upcoming Halloween? Rosegal has it all in stock. It is almost as if all our prayers for the perfect outfit has been answered with the added bonus of your desired size!
---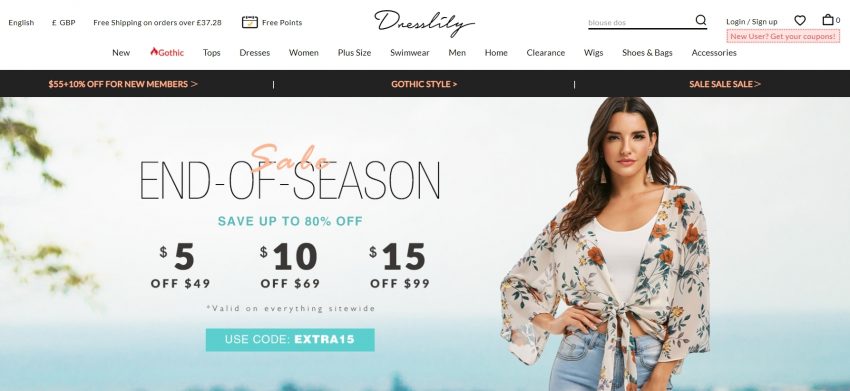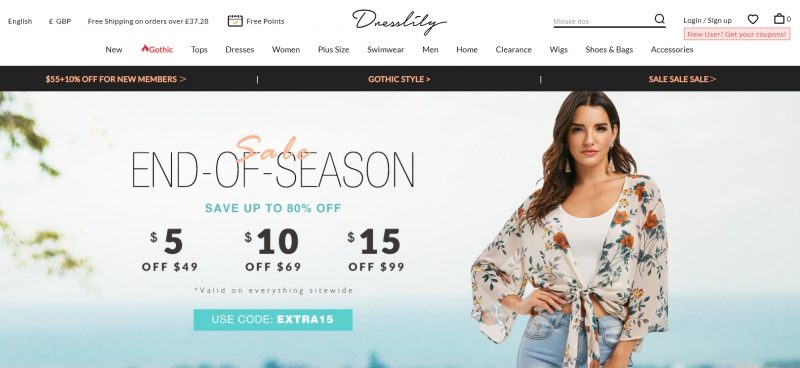 Quite often, buying clothes online can turn out to be an expensive task. Not all online stores sell at reasonable prices. Besides, there is almost no scope for bargaining, unlike buying from thrift stores physically. However, not all of us wish to spend all our savings on a particular outfit every time. There are times when we are in the quest of a budget outfit for an occasion or two.
When searching for online clothing stores like Misguided, you are bound to come across the trendy online shopping destination, Dresslily. The chief reason to explore this store would be the crazy discounts they have to offer on all variety of clothing. Dresslily has been in vogue for quite a few years now and is used widely because of its line-up of offers on all kinds of wear.
The company, however, is often in the news for glitches in their customer service. Having said that, there's no harm trying to explore the items for once, considering they are super affordable and with a huge variety. If you are ready to take a gamble and check this site out yourself, Dresslily is one of the best alternatives to Misguided.
---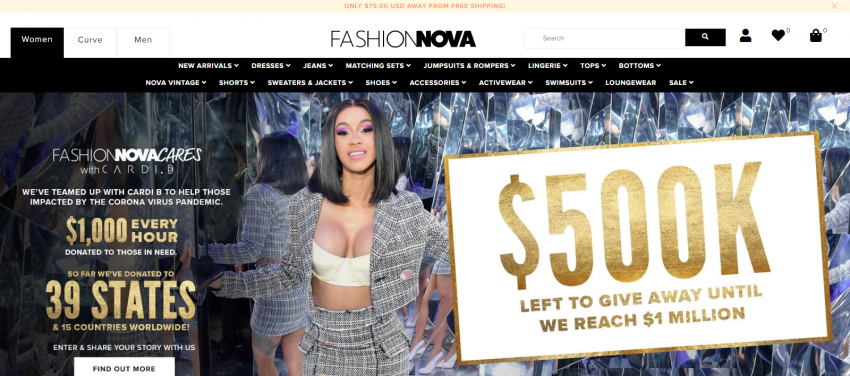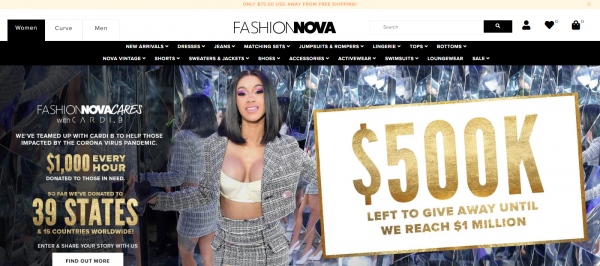 The 'Nova Style' makes the rules and breaks the rules. Fashion Nova likes to believe in the #NovaBabe who is nothing less than bad-ass, fashion-first and is always on the list, no matter what! The kings of launching new collections, Fashion Nova has never settled for less or old, each day brings a new surprise and a new rocking outfit!  And their website seems right out of a popstar's wardrobe, completely on-point!
Rather than relying heavily on their customer's install tags or even social media influencers, Fashion Nova struck the right chord at the heart of it all- the celeb women who knew how to slay it and sell it!
Nothing less than Cardi B works for them, who is unofficially their official ambassador for eternity!  Kylie Jenner, Brianna Perry, Dream Doll are among the list of other A-LIST celebrities who have endorsed Fashion Nova or in their lingo- who are now #NovaBabes!
So when are you becoming one?
---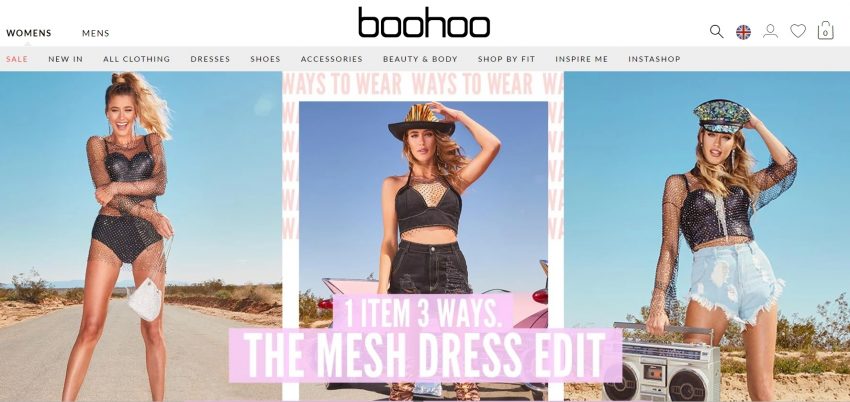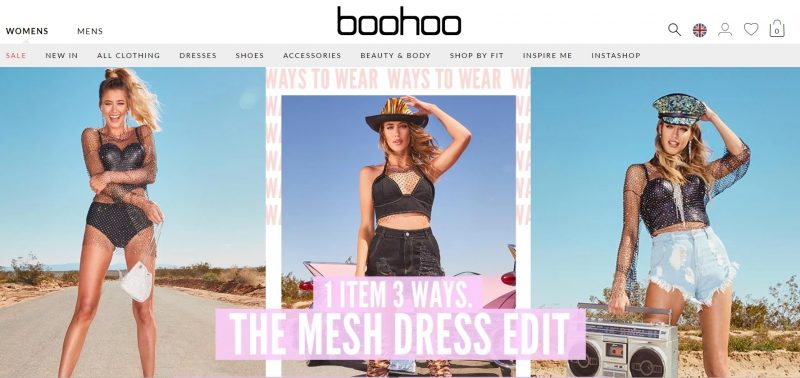 They are 24/7, they drop 500 products a week and they give you all the discounts- practically the cheapest in the entire industry! Their philosophy – they don't take life or fashion too seriously.
Their range of beauty products is commendable, all of the most famous brands under one roof. Their collection of apparel under 'Work from Home' is by far one of the biggest and one of the best ones in the industry. One visit to their website and it is immediately clear, Boohoo does not fit into the mold, it is eccentric, it is extravagant, it is euphoric and it is proud of itself!
With special programs that give Next Day Delivery along with the most glamorous discounts, Boohoo also has a student ambassador program so that you can get free clothes every month, tickets to the best celebrity parties and be the 'mean girls' of your own college. Go and order from them today! Because this store is just Fetch!
---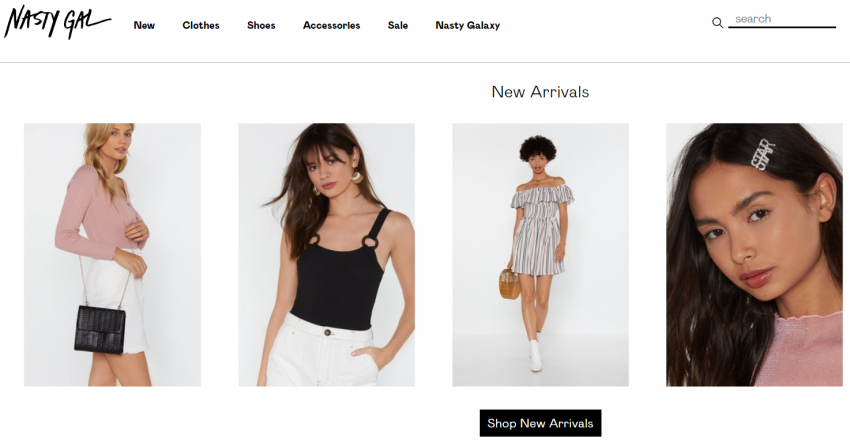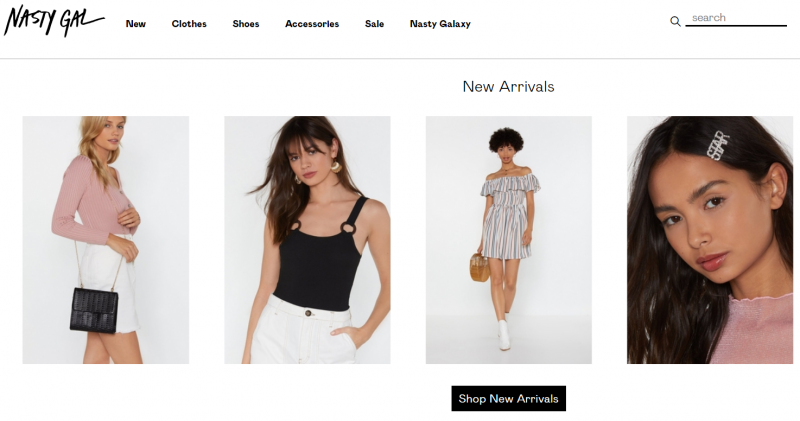 Nasty Gal started in a tiny San Francisco apartment stacked with killer vintage, a single laptop and an ebay account. Thirteen years later, they have outgrown that apartment, moved to LA, and today they are bigger and better than ever.
Their philosophy is inspired rightly from their own founder Amuroso, who published a bestselling book #GIRL BOSS, which was turned into a Netflix Series (Yes, it is true!).
Nasty Gal's collection is the least nasty in comparison to the others. It is classy, trendy and yet not too gaudy. Nasty Gal has tactfully and masterfully combined elements of the fast fashion industry with the fashions of the lesser trendy but more comfortable and rather 'possible' to wear clothing. It has provided an original platform to women who want to look trendy, of the season but do not suddenly want to morph into Kim Kardashian. It is a store that truly understands the meaning of 'being yourself' unlike some of its competitors whose taglines don't often align with their clothing collections.
Nasty Gal doesn't throw at you frills and empowering slogans to shout, it truly allows you to wear those slogans, making you the person who YOU want to be, not who THEY want you to be.
It will be a worthwhile purchase and also the beginning to a long line of many more to come in the future. Go and order now!
---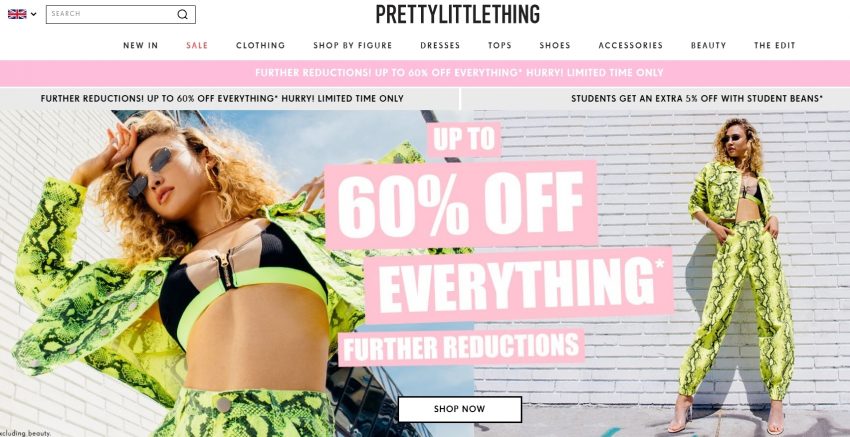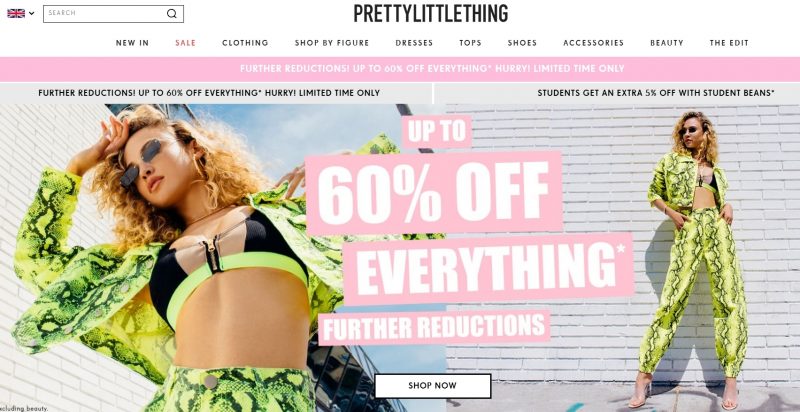 Unlike what the name suggests, Pretty Little Thing is the perfect site for everyone, whoever you are, whatever your size be- tall, petite, short or plus sizes. With their website, looking right out of Ariana Grande's Thank you, Next, Pretty Little Thing is no short of a 'fairytale brand' banking upon the power of its social media influencers rather than glossy magazines. And needless to say, their tactics have helped them to steal the crown of the online fashion industry.
Waiting to de-throne Missguided any day now, Pretty Little Thing is not ready to stop in is wake to own fast fashion altogether. They give their insta savvy shoppers, the best muses directly from the runway into their wardrobes.
And guess who all have worn their wardrobe? None other than Miley Cyrus, Michelle Keegan, Rita Ora, Jessie J and Nicki Minaj.
The brand has even collaborated with Kylie Jenner and Sofia Richie. Still think PLT is not for you ?
Go and shop Now! Yes, Now!
---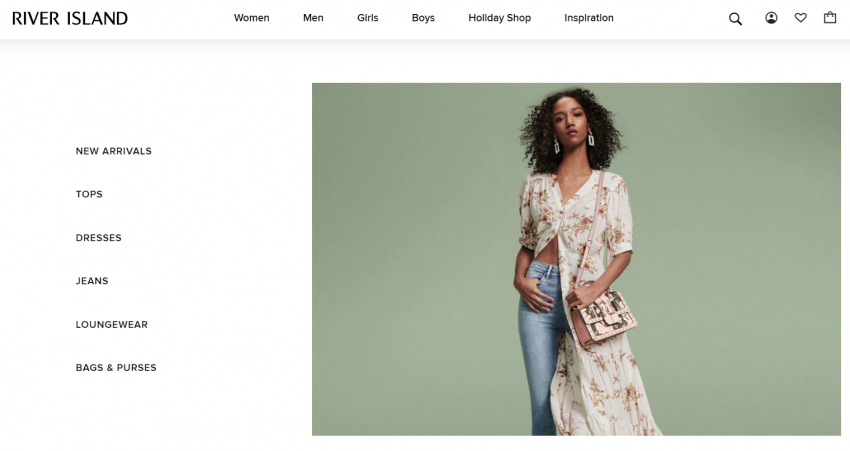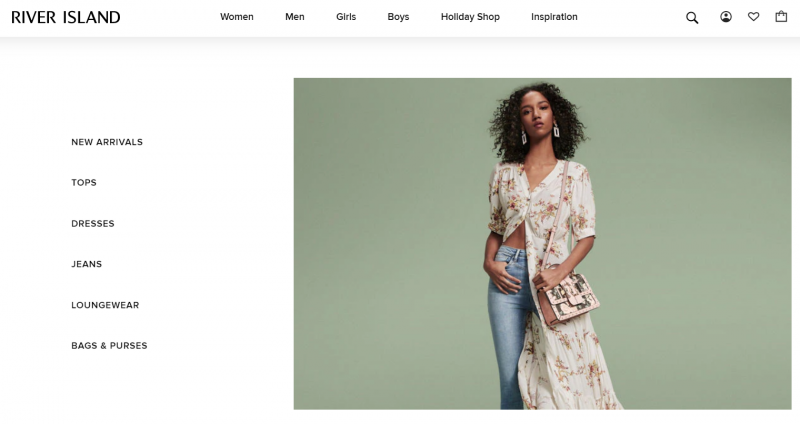 Set up in 1948 in London, almost all their products are created by their own in-house design team. Visit their stores and website, and you suddenly get a feel of a high-end luxury fashion brand- competitive with Ted Baker, Gucci, Ralph lauren, and Chanel, only at better prices.
Aimed at not just teen girls, River Island has a feel that caters to every woman of every age who does not hold back and wants to embrace herself in every way possible. They provide different types of clothes for different occasions according to your choice. Their clothes have a certain sense of style and touch difficult to find on other sites that claim to sell all the world's best online trends through their gaudy and unnecessarily coruscant clothes.
River Island's clothes have clothes that have more refined lines and flowing silhouettes, allowing you to easily use the same skirt for work and happy hour simply with a little mixing and matching. They even run an inspo blog that is sure to give you the greatest #OOTD goals for eternity!
River island's clothes are those that can be worn in high society representing an effortlessness few brands can muster. Giving you Eleanor Young vibes, River Island will awaken the crazy rich Asian in you!- only catch? You need not be rich to do it!
---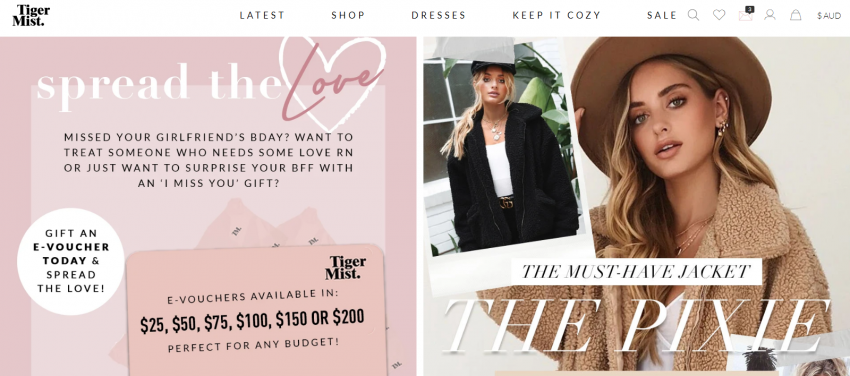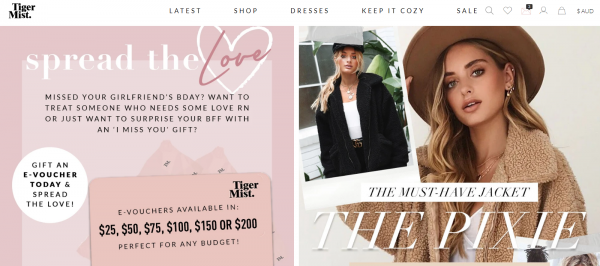 Even if you don't like their clothes, Tiger mist's website is bound to make you glued to your screen for at least half an hour- its like a high end mall, made up entirely of Prada and Gucci right on your screen! This website challenges online stores like Fashion Nova and Missguided head on with their models giving strong IDGAF vibes as compared to other shopping sites. They even have a special page for items below $20. From slumber tops to Lullabye knit, they seem to have perfected it all.
The only drawback of Tiger Mist seems to be their fail to include Plus Sizes along with sizes for all body types. Their store might sometimes seem to be full of models with impossible body types- ones that are almost suspiciously too thin but then again with vastly accentuated breasts and back sides.
Even though the clothes are a hit, Tiger Mist could surely rethink those who adorn them.
---
LULUS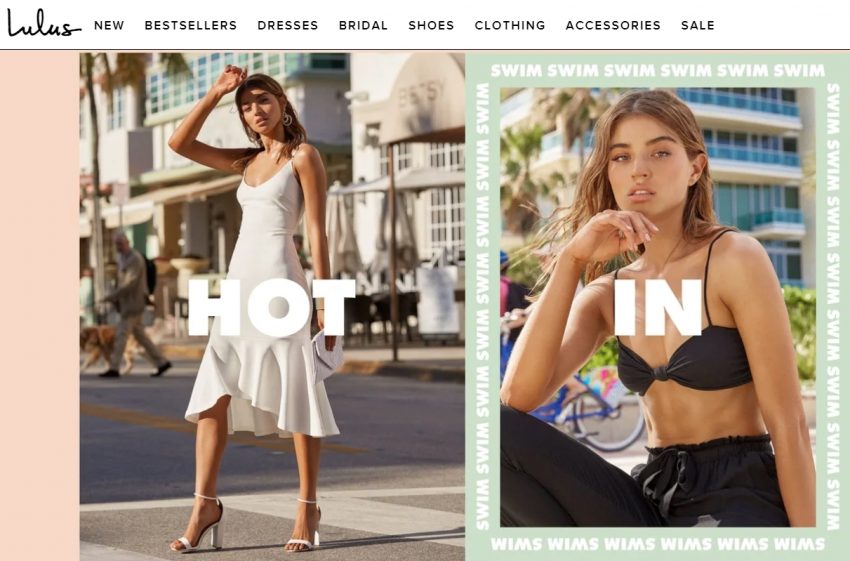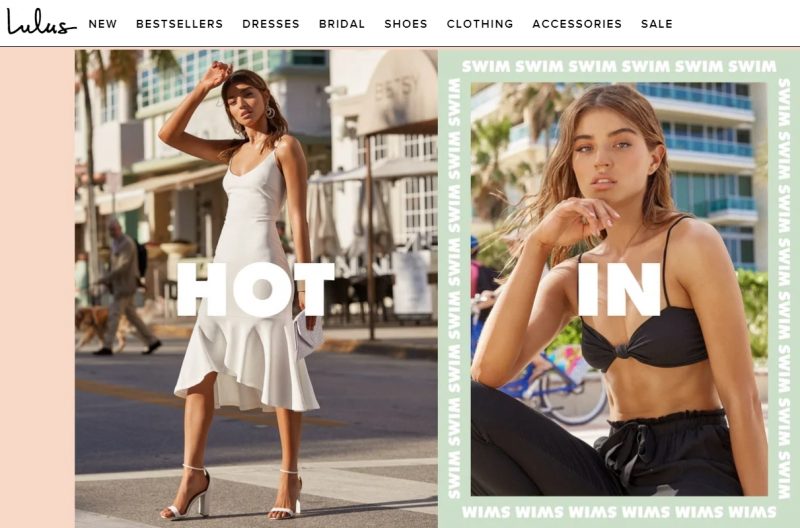 In terms of its collection Lulus seems a little less *missguided* (pun intended), offering clothes that are less body hugging and more viable/feasible as compared to other fast fashion outlets.
Giving styles that are insta- worthy, trendy and easy to wear (most of the times), all at the same time seems a difficult feat to achieve, but LULUS seems to have mastered it altogether. And the best part about Lulus is the 'sense of normalcy' that you are engulfed by, unlike most of its competitors. With its categories divided into even more categories, the store acts like a personal shopper for you- giving you the exact clothes for the right occasion.
A great example is their wedding collection divided into categories seen in few websites – wedding dresses, bridesmaids dresses, wedding guest apparel, bridal shower, bachelorette, honeymoon and what not. Their prices are also not too cheap and not too expensive- an assurance that its neither a scam to sell you overstock nor a rip off to burn a hole in your pocket.
The only drawback with Lulus, just like with Tiger Mist is its inability to offer Plus Sizes, but we are ready to ignore that flaw for all else Lulus has to offer.
So if you want clothes that look great, seem not to be trying too hard and yet still, turning heads when you walk in, then Lulus is the internet's blessing to you.
---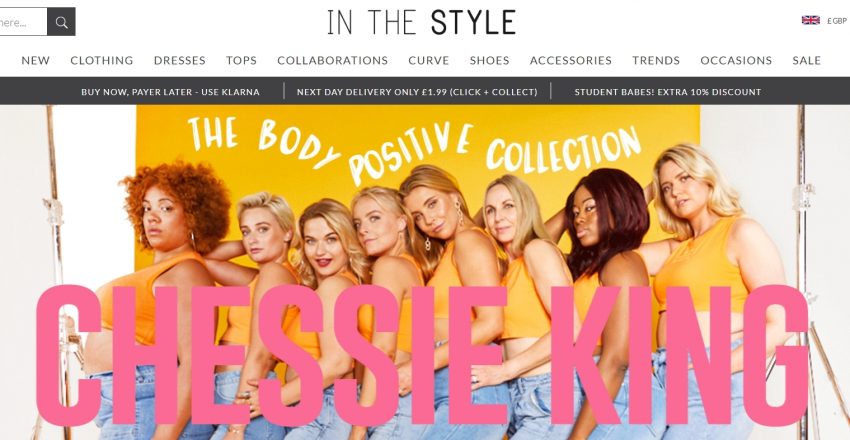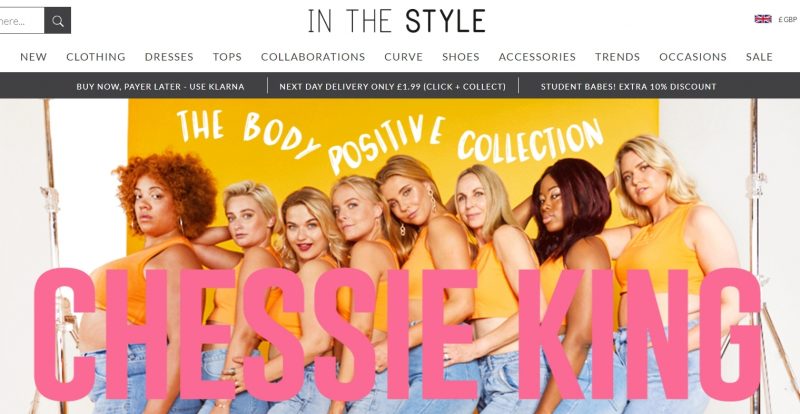 Offering celeb-inspired outfits at an affordable price is the USP of IN THE STYLE.  They have launched collections in collaboration with many famous personalities such as Lauren Pope, Charlotte Crosby, Billy Faiers along with insta OGs such as Sarah Ashcroft, Lorna Luxe and more recently Laila Loves and Steph Sa.
They have always tread the path of inclusivity and diversity and have hence included collections for all sizes and for all people. Just like most in the fast fashion industry, IN THE STYLE has also banked upon Instagram, directly giving their customers clothes which they saw on Instagram (the Vogue Magazine of the 21st century).
The advantage 'In the Style' has over the market is their cosmopolitan collection- one that includes clothes for the woman who wants to hide her curves and for the woman who wants to flaunts them. This has allowed it to capture both sides of the market rather than rigidly sticking to one kind of style.
It surely believes whatever your taste maybe and however you may want to present your body, the clothes that they offer you will always be on the runway and 'IN THE STYLE'.
---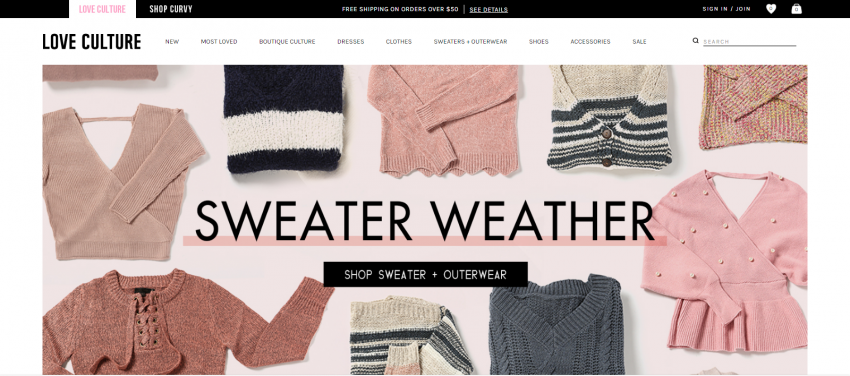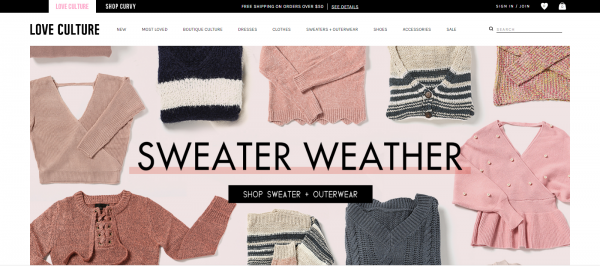 With a warm and inviting website feel, Love Culture makes the customer feel buoyed with its bright, uncluttered, pink and white atmosphere. They believe in up-to-the-nanosecond fashion and allow young women to shop on a budget. Founded by executives of Forever 21 in 2007, Love Culture has the essence of a pink-and-white, marble floor boutique right out of a Sophie Kinsella novel.
Each item of clothing seems to have been sourced from up and coming designers keeping in mind all the needs of a young woman. The entire atmosphere of the store puts one under a spell, giving the impression as if each dress were sewn carefully by the birds in Cinderella themselves. You shall never ever want to leave Love Culture.
---
Shein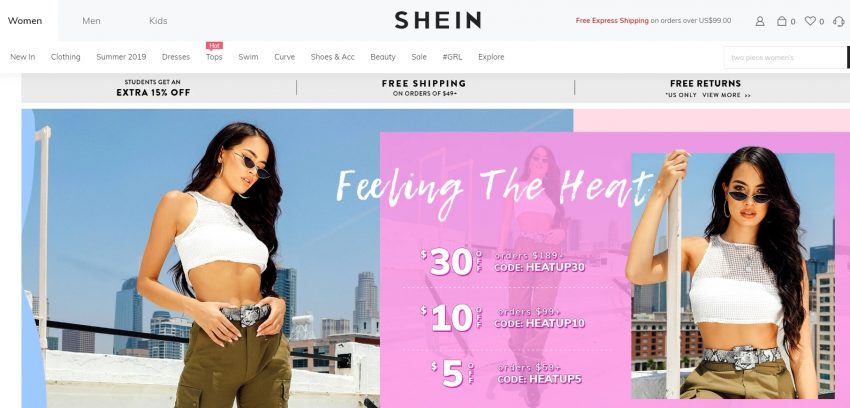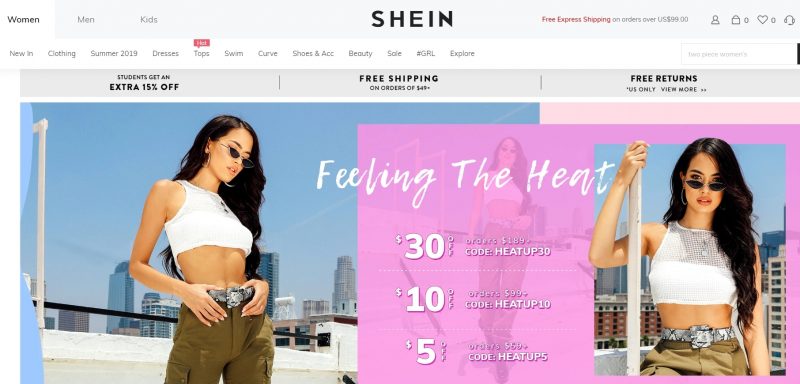 A classic fast fashion store which is designed specifically keeping in mind the needs of the true college student, who wants to look her best to be at her best!
Searching for THAT fashion trend you saw in THAT movie? Shein probably has it. From boho dresses to graphic tees, it is the first one to get its hands on the trends and deliver it to you in the most economical way possible, even more economical than 'Missguided' itself.
Now offering the newest in fashion for men, children and curvy women, Shein has left no one behind in its philosophy of fashion for all. There is nothing here that you will not find- your entire fashion mall in one corner of the internet!
---
Romwe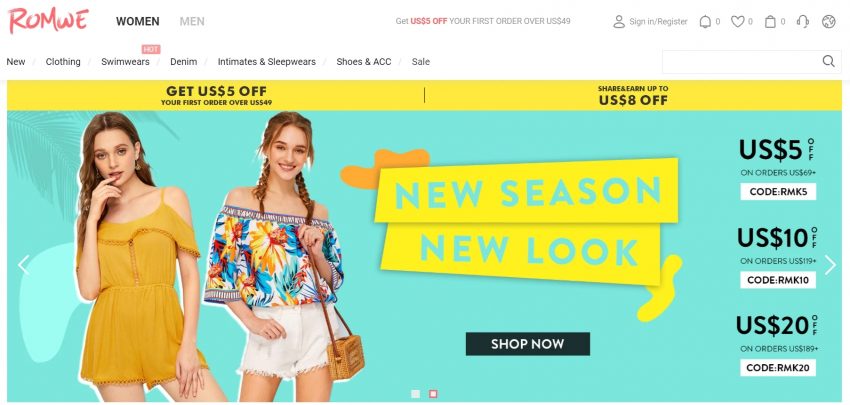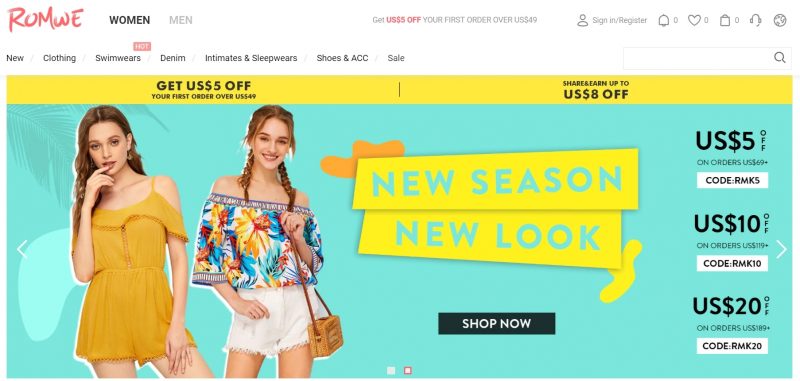 If you haven't heard of it yet, you are probably living under a rock. This new age website, catering to teen girls and the newly graduated woman, is just perfect for every personality.
Though to some its website might not seem aesthetically pleasing at first, this fast fashion giant nullifies everything with its DEEEP discounts. Steep prices that you are rare to find at any of its competitor's sites is what sets it apart. Prices that are a big part of its business strategy help to rake in audiences of young teenage girls who usually cannot afford to buy anything too costly on their tight budgets.
And Romwe promises them the best experience- all the season's trendiest clothes at nothing prices, giving her the confidence to bring out her inner Hailey Baldwin. Romwe also runs great student ambassador programs that help it to reach a greater audience, enticing its ambassadors with free clothes monthly in exchange for campus publicity.
As is visible, Romwe has tapped all possible channels to get to the fierce and devilishly stylish teenager at all costs!