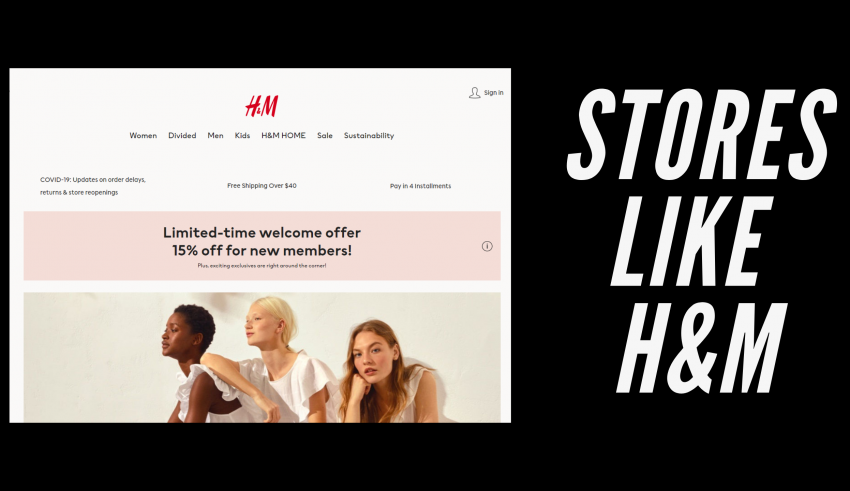 One of the most popular fast fashion brands out there, H&M is no new name to anyone! You've most probably shopped at an H&M, have a number of pieces from H&M in your wardrobe, and you probably love H&M for the sheer amount of variety it offers at its affordable rates. H&M started as a retailer aiming at providing affordable yet quality formalwear to its customers.
Over time it has grown into a more wide-ranged brand with funky bohemian pieces, dark academia pieces, and straight-up fashion statements. Apart from providing affordable clothing, it also has a wide range of items, ranging from the classic, simple, flattering pieces to the louder, unique pieces for those who like a little more experimentation and are willing to try to be a bit more daring in their styles!
So, if you love H&M and want to find some good alternatives to the place, we've put together a list of stores that you can visit to achieve a similar style!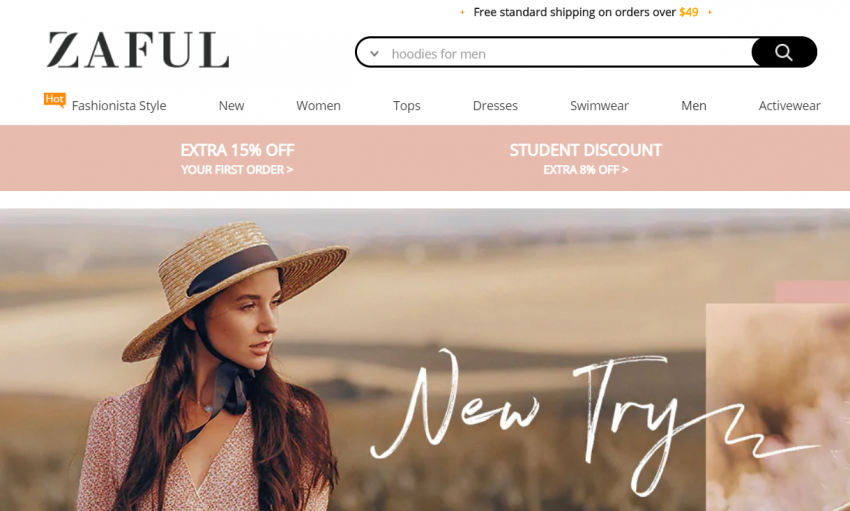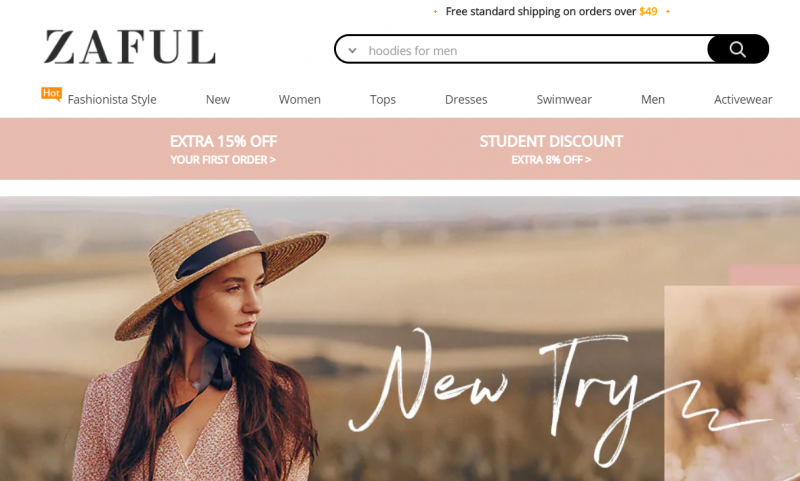 Zaful is another choice that we have seen many shoppers make while shopping for fashion accessories and clothing. They have a good range when it comes to different categories and styles and the price has been kept quite affordable.
You can choose from collections of casual wear, activewear, sleepwear, lingerie, swimwear and much more. Here too you can get products for as low as $5 but good ones do tend to be around $15-20. They always have exciting deals going on which can help you save a few extra bucks.
---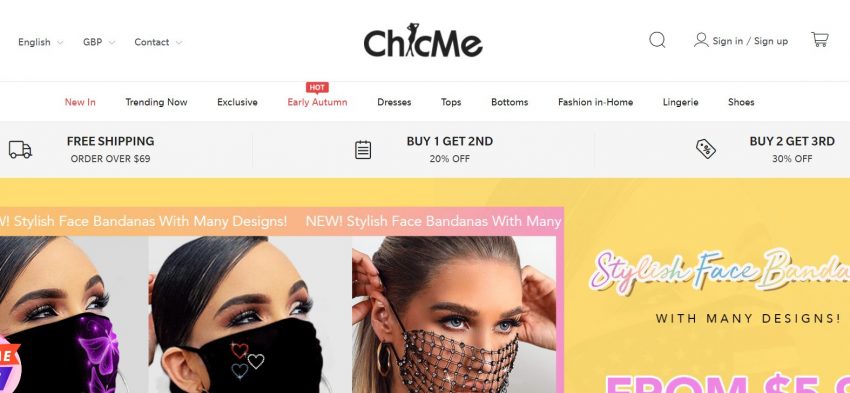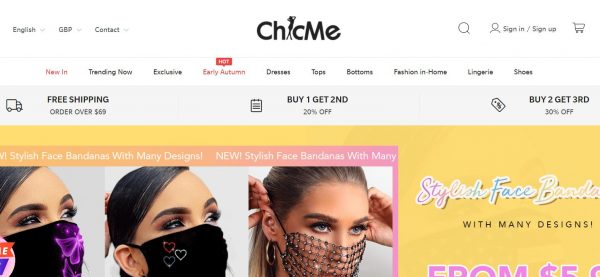 Chic Me is one of the most affordable stores on this list. This store claims to be different from other stores in its approach and is focused on women's fashion be it clothing or accessories like jewellery, watches, bags etc.
Chic Me has more than hundred of thousands of styles on the website and every day hundreds of new styles are updated. It promises that the prices are quite reasonable and will generally be 50-70% lower than the local. So, if you are looking for a cheap option check out this website and see if you dig it.
---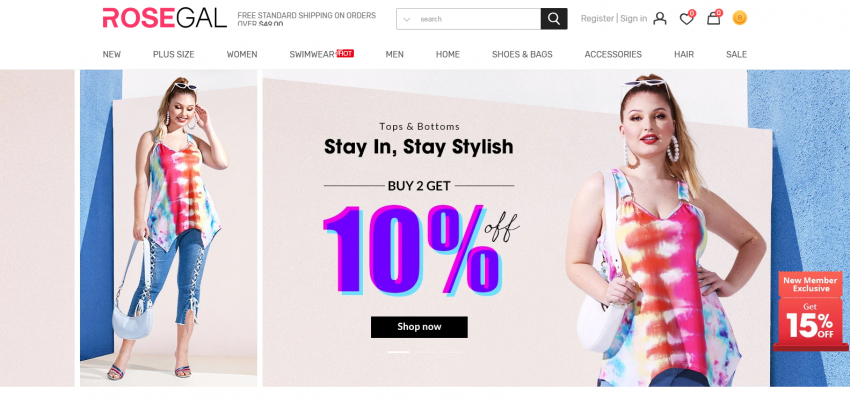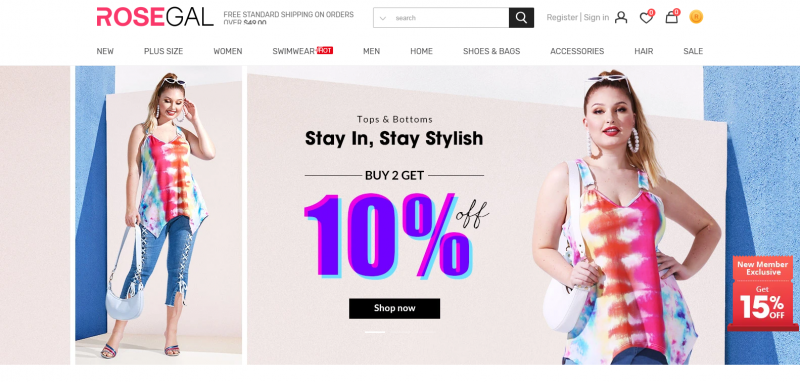 We liked the selection of items that Rosegal has on its online store. Multiple different styles segregated in different ways to make it easy for customers to find what they are looking for. Rosegal has a special section for plus size clothing.
Women who are plus size often find it difficult to find clothing geared specifically towards them. This is the reason Rosegal has made a different section for it. They also have regular sales and discounts to help you save extra bucks.
---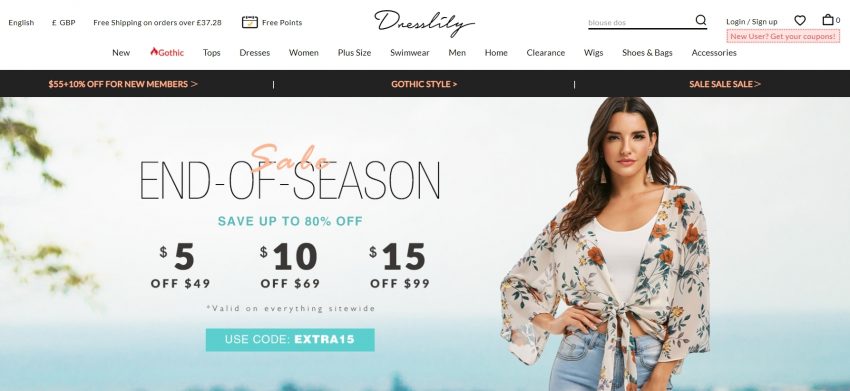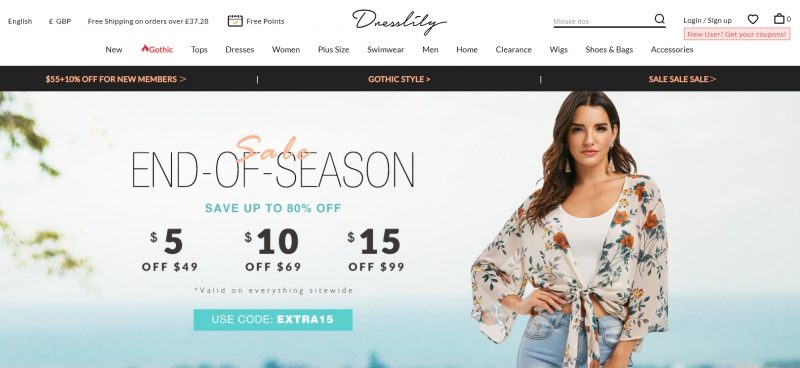 Dresslily is a good store to find some good quality dresses at a reasonable price. They have a nice selection of clothing items. They don't only sell trendy and edgy clothing but also vintage fashion. So, you can get stuff here which is not too "flashy".
You can find good quality dresses which are quite budget-friendly. Check out their collection of swimwear, lingerie, sleepwear, casual wear, activewear and much more. They also sell bathroom accessories, bedding accessories and tech accessories.
---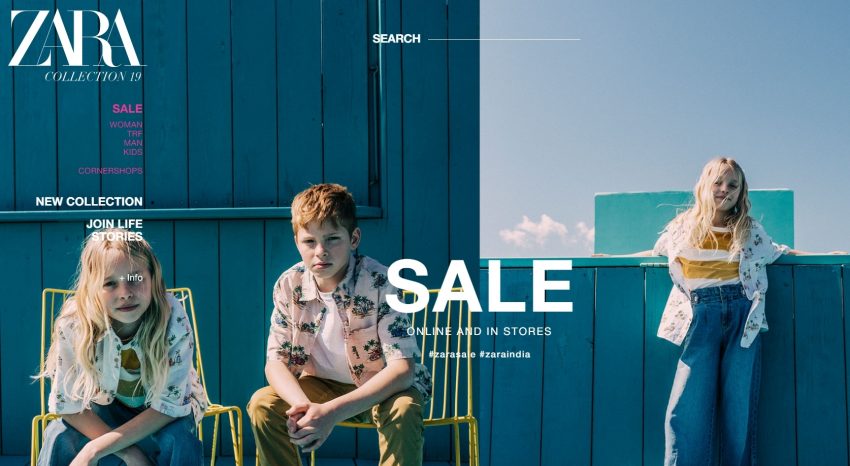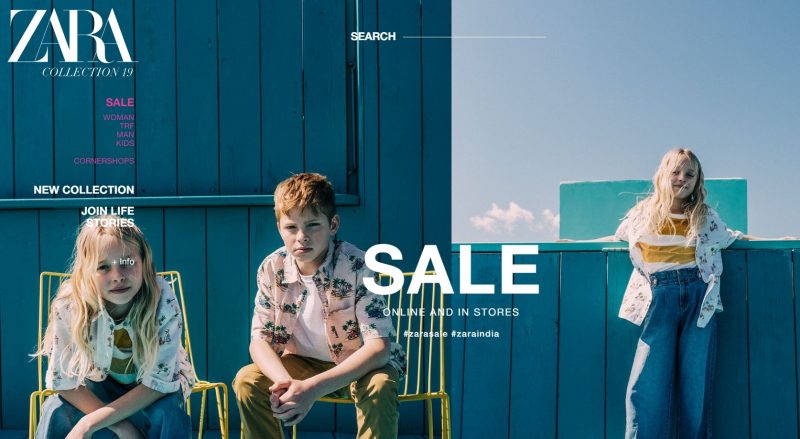 Everyone, and I repeat, everyone has heard of Zara. Producing collection after collection of clothing that ranges from power workwear to unique statement streetwear to partywear fit for New Years' Eve, Zara pretty much gives you something for everything. You can find the simpler, quiet yet sophisticated pieces as well as the eye-catching, head-turning pieces that you can try if you like some experiments. The range is pretty similar to Uniqlo's in that they give you something form every bit of the clothing spectrum.
With clothing for men, women, and children, Zara has a little bit of something for everyone, which is probably why it's one of the most popular fast-fashion clothing online stores out there. While it is on the more expensive side for fast fashion, we really can't let this one go, simply for the amazing clothes it provides us with!
---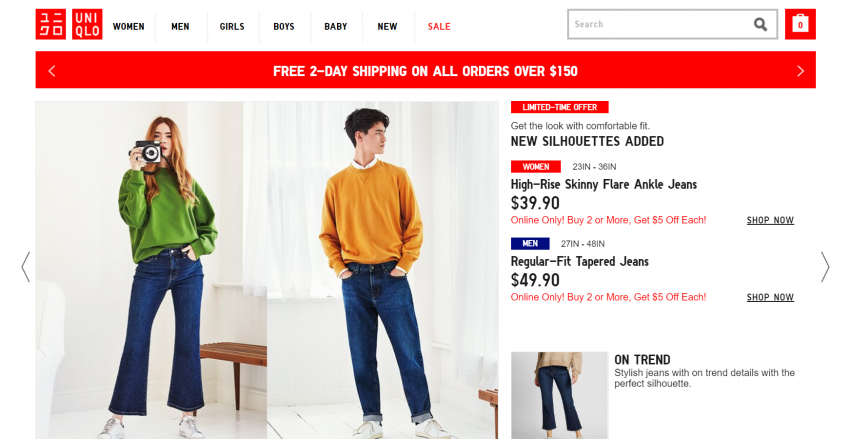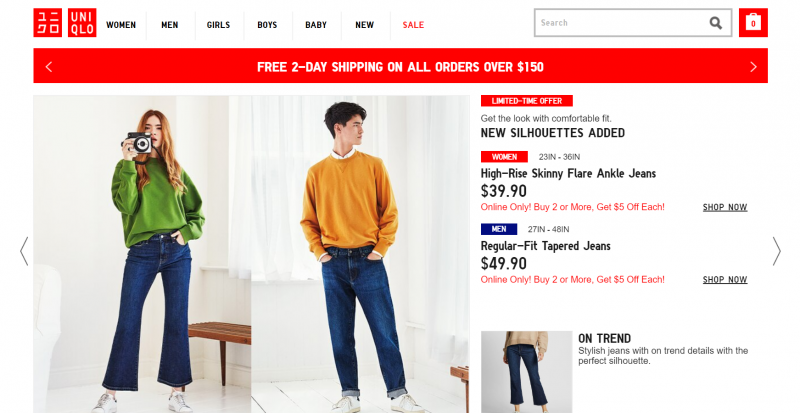 Uniqlo was started as a textile manufacturing company in Japan back in 1949, and over the span of more than 70 years, it has become a big clothing retailer that everyone's bound to know and have a few pieces from.
Uniqlo is known for their simple yet artistically versatile pieces, with their solid colours, classic yet flattering cuts, and clothing pieces that can be dressed up or down, letting the wearer project their own style onto the outfit. But simple pieces aren't all that the brand has to offer; scroll down far enough and you'll find extremely unique pieces with interesting designs and patters; real statement pieces that'll let your outfit speak for itself. So, if you love the quieter pieces at H&M, you're definitely going to love Uniqlo, and maybe even want to begin experimenting a little!
---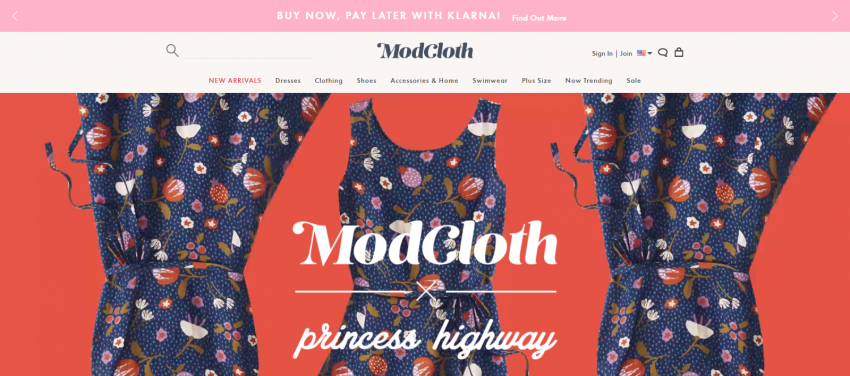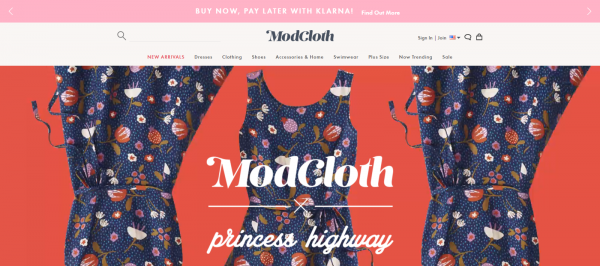 Next on our list we have ModCloth, an online fashion retailer that was started in Pittsburgh in 2002 with an aim to create gorgeous indie and vintage inspired clothes that appealed to a very niche audience. Over time they've grown increasingly popular, with the narrow niche now being universally appreciated and adored.
Modcloth is a brand that is pretty similar to H&M, but that little vintage twist that they've so mastered allows a little more experimentation and sophistication in their clothes. With tunics, graphic tees, and dresses that gather inspiration from the 50's and the 60's, ModCloth definitely has a huge range of styles, mirroring especially H&M's lovely graphic tee collection (including clothes from their collab with Ariana Grande which we absolutely love)! and you're bound to find a niche for yourself on their website!
---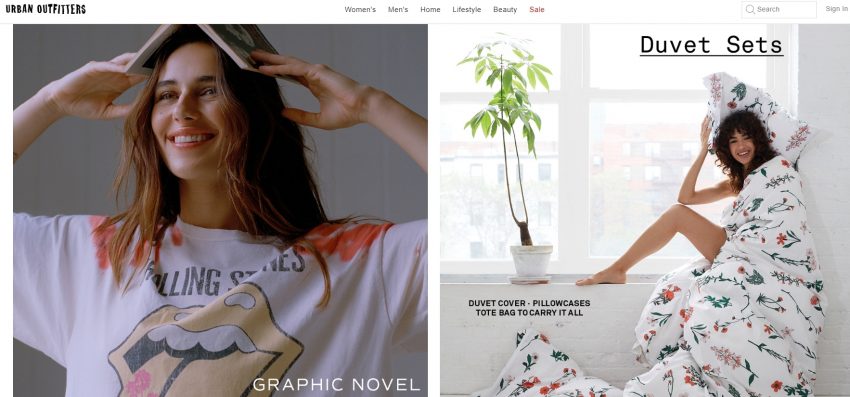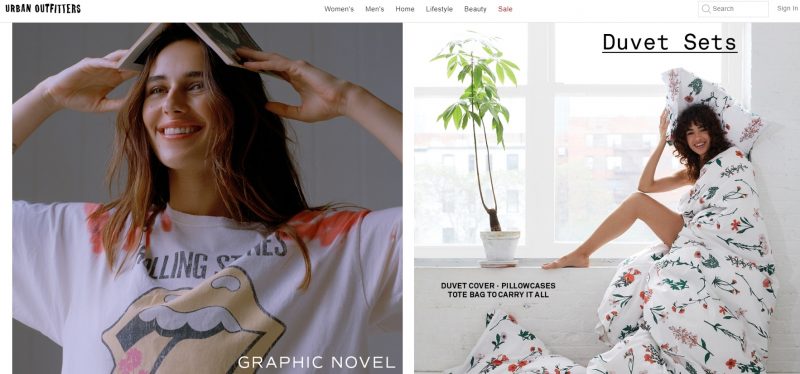 Urban Outfitters is yet another website that has its own in-house label as well as hosting a big number of popular brands, such as Nike, Levi's, VANS, Doc Martens, and more! The bigger brand that aren't fast fashion mean that some of the prices are quite hefty, but you can be assured that your clothing items are ethically produced! But, if you're limited by a budget, don't fret because Urban Outfitters has a huge collection of affordable clothing as well, with their own brand as well as a lot of others that aim at providing chic, trendy, affordable pieces to their customers!
A big name, every second person finds something they love in Urban Outfitters; its popularity, as well as its commitment to providing clothing that goes well with the times is what made us put it on our list! They pride themselves on staying on top of trends, and going to their categories you'll find one specifically tailored to the trends of the time. Be it tie-dye, the season's specials, necessary basics, and more!
---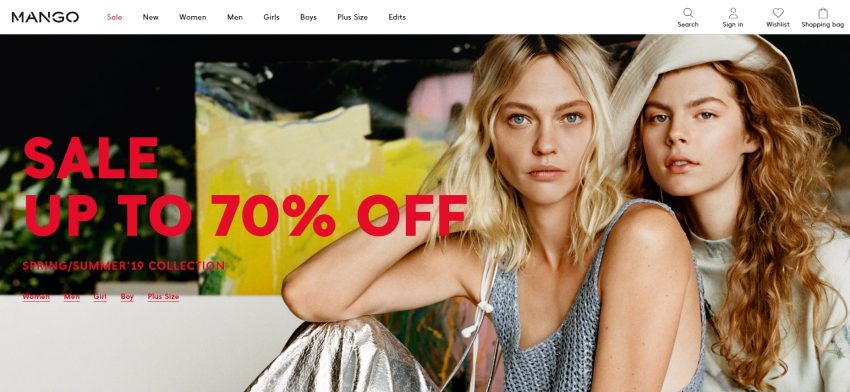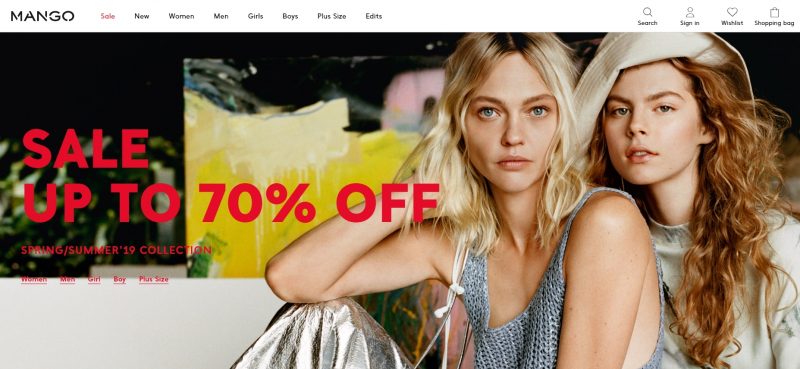 Mango is yet another name that we've heard relatively often on our trip to the mall. A high street fashion brand started in Spain in the 80s, Mango is a very popular retailer. While definitely being on the pricier side, Mango is actually pretty affordable for what it aims to do, and that is bringing to you clothing inspired by high fashion, in increasingly sustainable ways. Over the years, Mango has shown its commitment to sustainability and producing their products in ethical, and eco-friendly ways; something we can all truly appreciate.
Their clothes too have a sophisticated touch about them that doesn't in any way compromise of the fun and uniqueness that they come with! A great alternative to H&M, we're sure you'll really love Mango!
---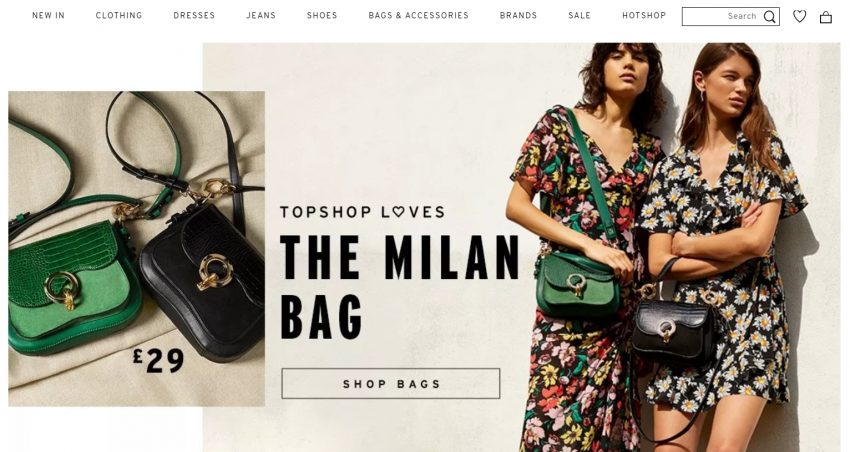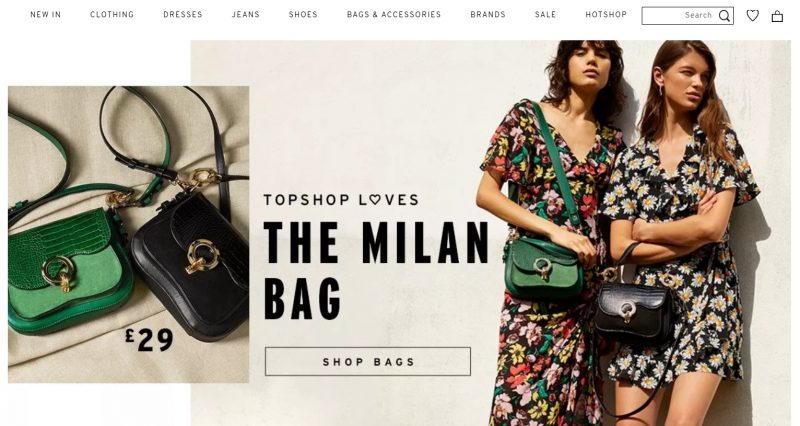 Even older than a classic like Zara, TopShop founded in the UK in the 1960s is the next brand on our list! And before we say anything else, we absolutely need you to check their jeans out! Topshop has the most amazing collection of the most flattering jeans you will ever have the pleasure to witness (their Jamie jeans and Joni jeans are especially popular)! If you usually have problems with finding the perfect fit, TopShop is the place for you!
Moving on, if you want some more of that fun, an edgy aesthetic that H&M has only recently begun experimenting (and thriving) with, TopShop has loads of options for you to peruse! With vintage-inspired pieces, TopShop adds a little bit more flair to their collection! And what's more, they have free delivery!
---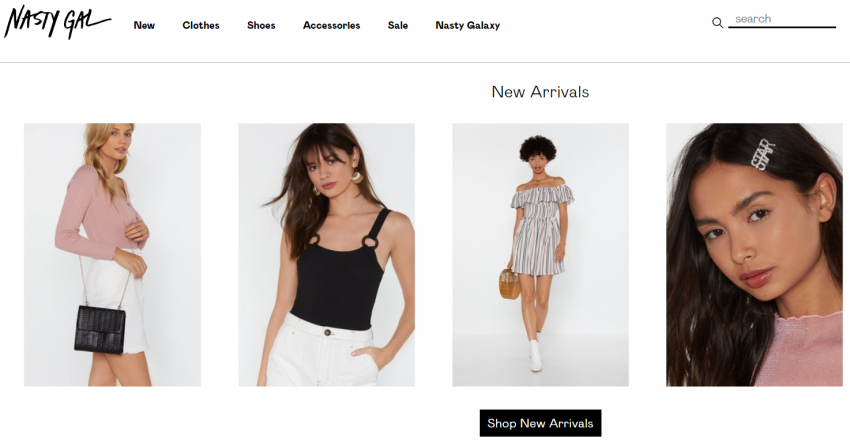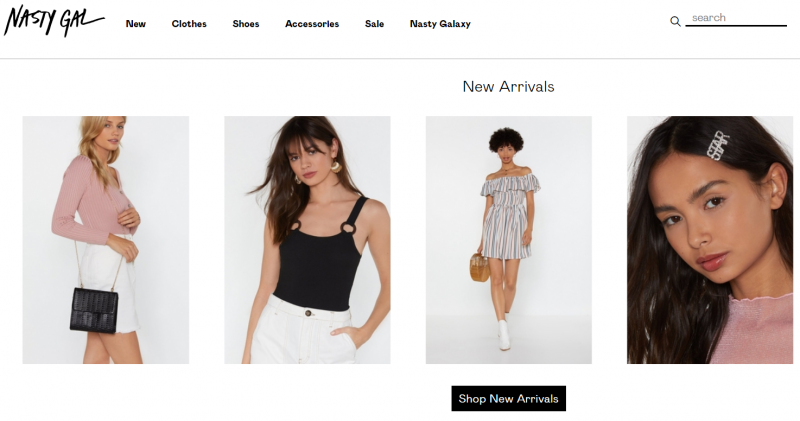 Founded in 2006, and also known as one of the fastest-growing retailers in 2012, Nasty Gal is one of the most popular brands which makes clothes tailored to the taste of young women. Edgy, Bohemian, Classic, Punk, you can find pretty much any aesthetic on their website, and there's a niche for everyone. What's more, is that they're also super affordable! Even without the sales, they keep having, they're known for their low prices which makes them, even more, loved among women everywhere!
Their wide variety of clothing leads us to believe that they'll be a great alternative to H&M, competing both with their affordable prices as well as the sheer range of clothing and aesthetic they provide! We all know how versatile and wide-ranged H&M can be, and if that's one of the main reasons you love the store, you're going to adore Nasty Gal!
---
Shein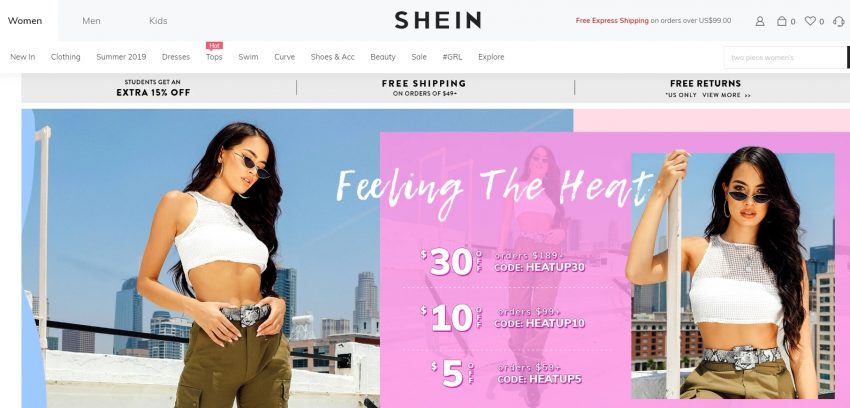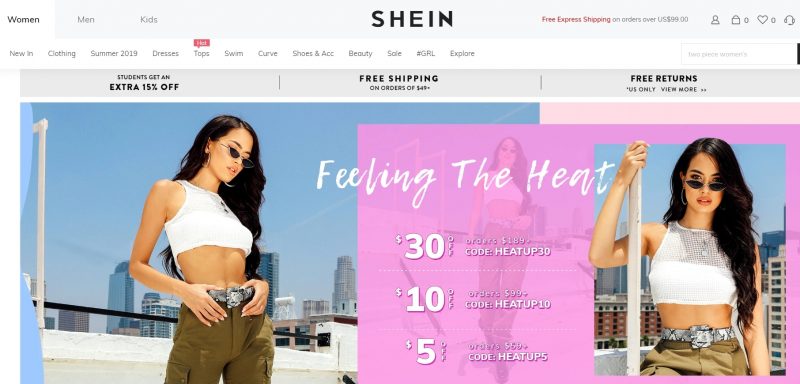 Many people who scout the net for trendy and fashionable clothing know about Shein. This is because this store has a huge selection of items with various different styles at affordable prices.
Most of what you will find on Shein looks very similar to various top-tier designer brands when it comes to style. But the price is quite less with an obvious compromise on the quality. Shein has been one of the top competitors in the market for more than a decade and has hundreds of thousands of customers all over the world. So, if you are looking for a store similar to H&M then check Shein out.
---
Romwe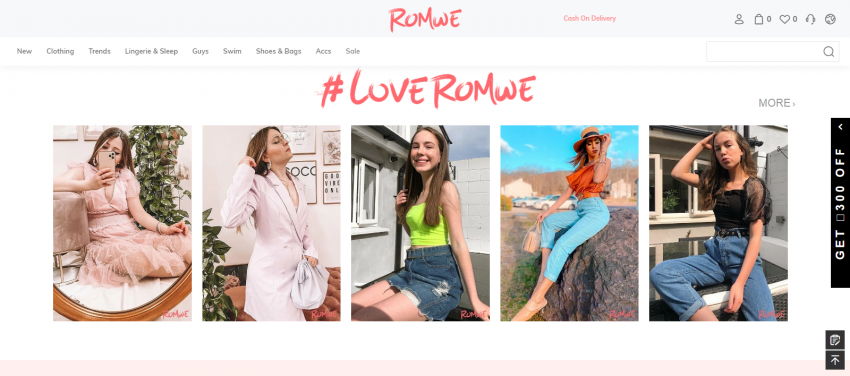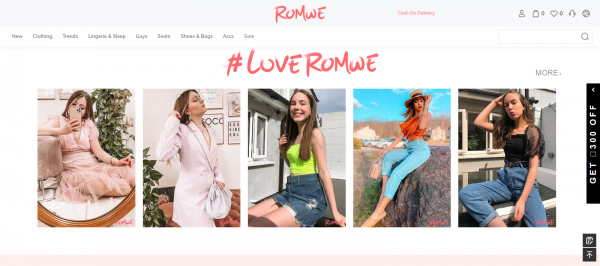 Another option that many people like to go for when it comes to affordable clothing with the latest style and trend is Romwe. It can become a good alternative to H&M of you are looking for reasonable prices.
Romwe is similar to Shein when it comes to designs and styles but where it wins is the price. Generally, the clothes and accessories that you will find on Romwe are priced less than Shein. There are many products which start at just $5. They also hold regular sales and have multiple discounts. You can expect 2 weeks delivery time on average.
---
And that brings us to the end of our list! If you feel like we missed out on any great stores, contact us and let us know, or simply tell us what you think about these alternatives because we'd love to hear from you!